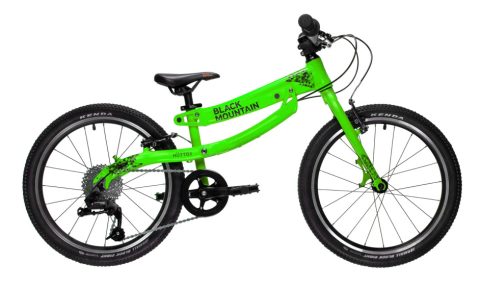 If your child fits the lower end of the Black Mountain HÜTTO, it's really worth considering, as it will save you money and hassle over time.
This is because it's got a very clever "growing" frame that increases in size so it will last a lot longer than a standard bike.
Having a bike that you know is going to last will be such a relief, as you don't have to do all this searching for a bike again for a while!   
There are 7 easy to use gears, which are operated by a grip shifter (which your child twists with their right hand), which will make the transition to a "big" bike nice and easy.
Black Mountain Bikes really are targeting the top end of the quality kids bike market, with not only a very well specified bike, but also their attention to detail with their customer service and commitment to the environment (all their packaging is plastic free).   We also like the fact that the warranty is transferable – a nice touch not found with other brands.
Upgrades available include mountain bike mode with disc brakes and suspension forks if you're planning to do a lot of off road riding, or a balance bike adaptor kit if your child is not pedalling.
Read more

about Black Mountain HÜTTO