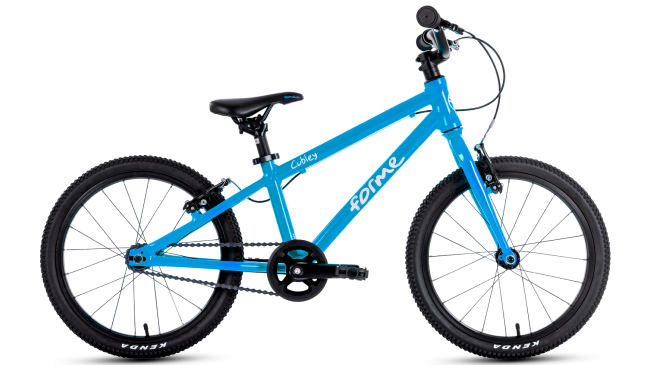 Reviewed and Recommended by Cycle Sprog
The Forme Cubley 18 has been reviewed by our testers and got the thumbs up!
Read our review
The Forme Cubley 18 is the newest 18″ wheel bike on the market and is proving a popular choice for kids who aren't quite ready for a 20″ wheel bike with gears, but have outgrown their smaller bike.
Forme is a UK brand, based in Derbyshire and with over a decade's experience of designing and manufacturing adult bikes. They're now taking that expertise and applying it to their junior range, which launched in 2020.
With the Cubley 18 you're getting a very lightweight bike (it weighs just 7.56kg) so your child will be able to pick it up and move it around themselves (useful for climbing up and down any steps or obstacles on their route).
You'll notice the difference too when you're carrying it or trying to put onto a car rack.
Forme have specified this bike to have all the features we'd expect from a quality kids bike.
So you get appropriately sized pedals which are designed to keep pressure off the rider's heel.  This helps your child ride faster and reduces the risk of their foot slipping off the pedal.
The components are junior sized, for example, the cranks are proportioned for a child's legs and the handlebars and stem have been sized for their arm length.
Kids want to ride their bike all year round so Forme have made the headset (the bit that connects frame and fork) fully internal to fend off foul weather and aid longevity.
Check out our full review of the Forme Cubley 18 to find out more on what we think of this bike.
The Forme Cubley 18 can be leased from the Bike Club - you pay a monthly subscription and when your Cycle Sprog grows out of the bike just send it back and upgrade to a bigger bike. 
Not the bike you're looking for?
Search our database of kids bikes to find the perfect one for your Cycle Sprog