Cycle Sprog is a website all about cycling with kids, which husband and wife team Chris Jones and Karen Gee set up in 2012.  As parents of two young boys, they had been through 5 years of transporting one and then two children by bike -  firstly for fun at weekends, and later as a method of getting to school each morning, and doing away with the daily "find a car parking space within 2 miles of the school" challenge.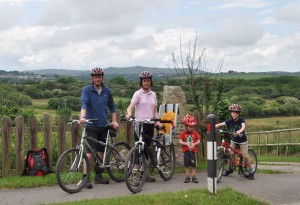 The idea for Cycle Sprog emerged out of frustration at the considerable time they were spending online trying to find solutions to our transport needs each time one of the boys grew.
"When we were moving from a trailer to a tag along and front seat combination, we were moaning about how little information there was online for parents who want to cycle with their children" says Chris. "When we realized just how much time we'd spent over the years looking up advice and finding places to buy seats, trailers, clothing and accessories the idea of creating a family cycling website aimed specifically for parents was born."
Cycle Sprog - the family cycling website
At Cycle Sprog we aim to provide an online 'handbook' for parents containing all the information they need to get cycling with their children.   The website launched in 2012 as a small blog about cycling with very young children, and over the intervening years we've grown to be the UK's leading resource on cycling with kids, of all ages and abilities.  At the same time Karen and Chris's boys have grown and the type of cycling they're able to do has become more adventurous too!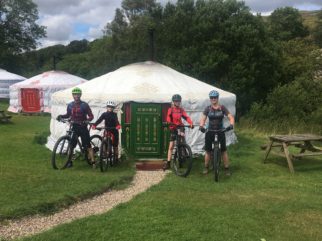 We don't sell any products directly on Cycle Sprog, instead at each step in the family cycling journey we provide friendly advice on the range of equipment that's available and links to online retailers to make purchasing hassle free.
However we firmly believe that your local bike shop provides the personal service and skills that just can't be found anywhere else and for this reason we also recommend local and independent retailers where possible. For some of the links to retailers we will get a small commission if you purchase a product, which pays for the ongoing costs of hosting and maintaining the website. Where a product has been provided to us for review we will always let you know this.
We also now accept sponsored content, but always from brands who share the same passion for cycling with children that we have. This, along with advertising income, is what allows us to keep running the website.
We're also grateful for the support of our wonderful readers who buy us cups of coffee to keep us going! As Cycle Sprog is constantly evolving, we'd love to hear if you have any ideas on what else you'd like to see on this family cycling website.
If you'd like to get involved in writing an article about your family cycling experiences please do drop us a line at [email protected]
The Cycle Sprog Team
Karen Gee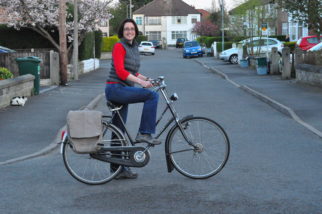 Karen loves cycling and writing, and when she was at school wanted to be a writer for a living.  After a career in the voluntary sector and then as a project manager for an insurance company her dream finally came true when she started working full time for Cycle Sprog in 2018. Karen also writes blogs for other cycling websites and family publications, having provided content for organisations such as Cycling UK, Sustrans and British Cycling as well as more bespoke publications looking for advice on cycling with children.  She was named one of Cycling UK's "100 Women in Cycling 2019".
 Chris Jones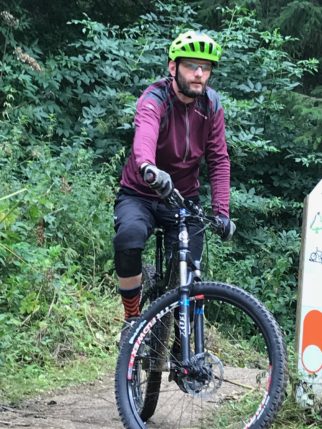 With an MSc in Transport Planning and Engineering and a love of everything to do with wheeled transport (bikes, cars, motorbikes etc), it was inevitable that Chris would want to cycle with his children.  When he gave up work to become full time dad, a rear bike seat was his first purchase. Now, over 13 years later the boys don't need him quite so much so he spends most of his time with bikes, either in his role as Cycle Sprog's Technical Editor (reviewing and photographing the best kids bikes and accessories on the market), or indulging his passion for bringing old road bikes back to life.
Our Cycle Sprogs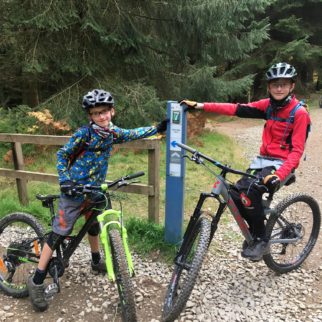 N and T are our Cycle Sprogs and they have grown up with cycling being a huge part of their life. They are often found putting some of the best kids bikes and cycling accessories to the test - they're equally at home on trails, roads or at the velodrome.  Usually Mum and Dad are somewhere behind them trying to keep up!
Penny Millar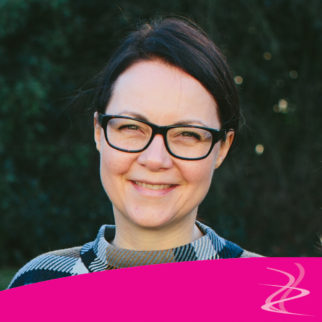 Penny Millar is a Virtual Assistant and is helping in the background with the day to day tasks needed to keep Cycle Sprog running smoothly. In early 2019, she left her corporate managerial role, she now runs her own business. Penny is likely to be the person you'll have first contact with if you get in touch with us via email or through the website.
Ellie Payne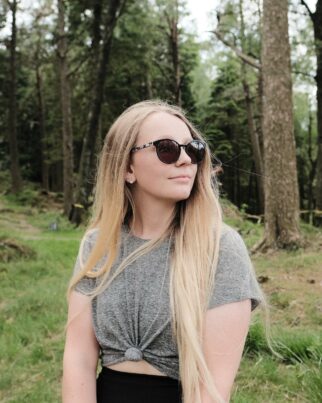 Ellie Payne is a new member of Penny's Pink Spaghetti Virtual Assistant team. She is helping us in the background with day to day tasks to keep Cycle Sprogs running smoothly. Ellie is also a photographer when she isn't doing VA work, if you check out her Instagram and website you can see some of her photography and adventures - summing up her love for the outdoors!
Steve Chapman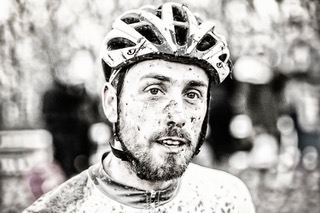 Steve is a contributor of words and a consultant on paid social media activity as well as being a technical advisor on all things children's cycling. Steve spent nearly 6 years at children's bike specialist Islabikes where he experienced the whole gamut of job roles, including Workshop, Technical Support and latterly the marketing department as the Events and PR Manager. Steve is a fully qualified mountain bike guide and mechanic based in Shropshire, where he runs a mountain bike coaching and guiding company called Rewild MTB. You can follow Steve's many bike-packing adventures on his Instagram.
Ewen Turner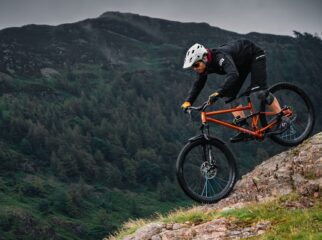 After over a decade in the outdoor sector as an instructor, coach and guide, Ewen accidentally became a journalist in the mountain bike world and has now mixed it all together, working in media, marketing and journalism. With two young kids on bikes and extensive experience of testing and writing about cycling, the time is perfect for him to be creating the best reviews, advice and content on kids bikes. When not reviewing bikes and kit, Ewen looks after our Instagram account to keep you all up to date on the latest developments and news at Cycle Sprog.
Cycle Sprog Contributors
We're really lucky to have some amazing contributors to Cycle Sprog, who are keen cycling parents who want to share that joy with others.  We're also blessed with a fabulous Facebook following, who kindly share their experiences and photos with us to help make the website much more inclusive and informative than we could make it with just our experiences. We can't list everyone who's written for us or contributed their knowledge, there's far too many. However special mention goes to our two long term and dedicated guest bloggers, Emma Young and Kathryn Yates.
Emma Young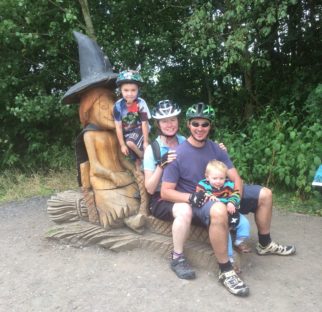 If you want to know anything about cycling in Yorkshire, Emma Young is the person to ask!  Not only does she work in the field of getting more people onto bikes, Emma also cycles throughout the county with her two boys and kindly writes about it in her guest blogs. Her boys are also part of our review panel.  Emma also runs the Child Friendly Bike Rides in Yorkshire Facebook Group where you can go for even more information, as well as the FamilyCyclingYorkshire Twitter account.
Kathryn Yates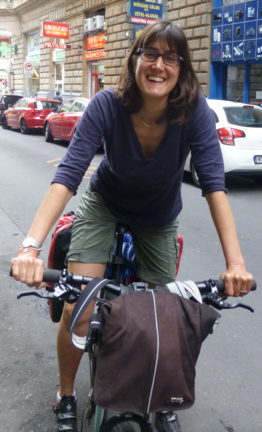 Kathryn Yates was a keen adventure cyclist before becoming a mum, and didn't let the arrival of her daughter and son slow her down. The family have been on loads of family cycling adventures, starting small when the children were young (Scotland, Denmark) and getting more adventurous over time (culminating in their recent family cycling holiday to Indonesia).  When she's not cycling, Kathryn supports emerging leaders and women entrepreneurs to embrace via her company Up+thrive. 
What to write us a guest blog?
We're always always looking for parents (and Cycle Sprogs) who are willing to share their experiences of cycling - please get in touch if you'd like to write an article.  We've even got a special Sprog Blog section just for younger bloggers!
Cycle Sprog review panel
We also have a wonderful panel of kids and parents who help us review family cycling products.  Our reviews will use a product for a number of rides and then review them from the point of view of a parent, together with the input of their child (where appropriate).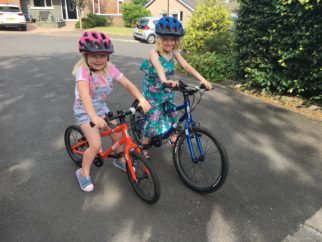 We hope you find something within our pages to inspire you and your family to enjoy cycling together! Karen, Chris and the Cycle Sprogs,
If you've enjoyed reading this article, please do sign up for our newsletter - we'll keep up updated when we have new articles which may be of interest. Thanks! 
Support Cycle Sprog!
If you've found this article useful you can buy us a virtual coffee (or two!) to say thanks and help us keep the Cycle Sprog website going. 
Other posts you should check out whilst you're here: