Have you ever fancied going on a family cycling holiday, but not got beyond the dreaming stage? Regular Cycle Sprog contributor and mum of two Kathryn tells us how she turned a dream of taking her two children on a family cycling holiday to Denmark into reality, with tips on keeping the kids from getting bored and how to pack all the gear you need for a cycling holiday.

Why did we choose Denmark for our family cycling holiday?
Having cycled in Holland a few times with our two children (Alice 8 and Tom 5), and also having had a family cycling holiday in the Scottish Islands, we decided it was time to try somewhere new. We looked at a number of potential destinations (including cycling along the Rhine in Germany or following part of the River Danube in Hungary) but in the end we chose Denmark as our destination.
Denmark is cycle friendly, reasonably flat apart from the hills, there is a reasonably priced ferry from Harwich to Esjberg and the promise of Legoland at the end of 6 days cycling meant everyone was persuaded!
How do you keep the kids involved and interested on a family cycling holiday?
Previously when we went on our family cycling holidays the children were young enough to either travel in a bike seat, trailer or on the back of a tandem, but this year they both wanted to cycle their own bikes. We adapted the route accordingly, travelling no more than 15 miles a day, and always had an option to stop sooner if required.
We utilized the train to cover larger distances, and used boats between the islands of Langeland and Aero to break up the days cycling and allow for rest, refuelling and a change of scene!
We gave Alice the responsibility of map reading on the smaller island of Aero. Cycle routes in Denmark are well marked by numbered posts so the margin for error was limited!
Where did we stay during our family cycling holiday to Denmark?
We love camping, and we varied where we stayed by making the most of Denmark's National DK camp sites. Some camp sites had a swimming pool, trampoline, adventure playground, an animal corner and all the facilities you could ask for, others just a long drop toilet, a tap for running water, a beach and an amazing view.
All were more or less empty when we went during the May half term.
What do you take with you on a family cycling holiday?
This is one of the two main questions we always get asked! We limit how many clothes we take. Each person has two outfits for cycling plus spare layers to keep us warm and dry.
We each have one non cycling outfit to change into for evenings or day trips. We have a 4 man mountaineering tent which is small and lightweight, but apart from that we more or less take everything you would on a camping trip with 2 young children including sleeping bags, rollmats, cooking equipment, a football, bucket and spade, sticker books, travel games and a teddy bear.
How do you carry everything on the bikes?
This is the second question we always get asked! Despite the children wanting to travel on their own bikes and have that independence, we still needed to have the option for Tom to use the trailer if he got tired or the weather turned bad.
With that in mind my husband had two rear panniers on his bike containing all our clothes, first aid kit and wash bag. He also pulled the child trailer, which contained the food, stove and pots and pans, but still had room for Tom to sit in if required, and have his bike strapped on the back.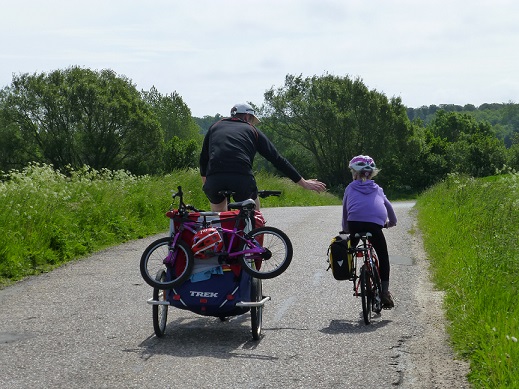 Outeredge flat bed cycle trailer review
I had been sent an Outeredge Trailer Base Frame With 20″ Wheels
to review. This was the first time we'd use a flat bed trailer (it's a sign that the kids are growing up that we no longer need two child trailers!). We used the trailer for the tent, sleeping bags and roll mats, which were all stored in canoe bags to prevent them from getting wet (although thankfully we had no rain for 10 days!).
They were kept from moving around by the placing them in Outeredge Wire Basket
and using the Square Cargo Net For Use With the Trailer Base
hooked over each side (both of which have to be ordered seperately from the trailer base).
The Outeredge trailer proved simple to put together, the attachment to the bike easy to add and remove, and moved smoothly despite the weight of our kit.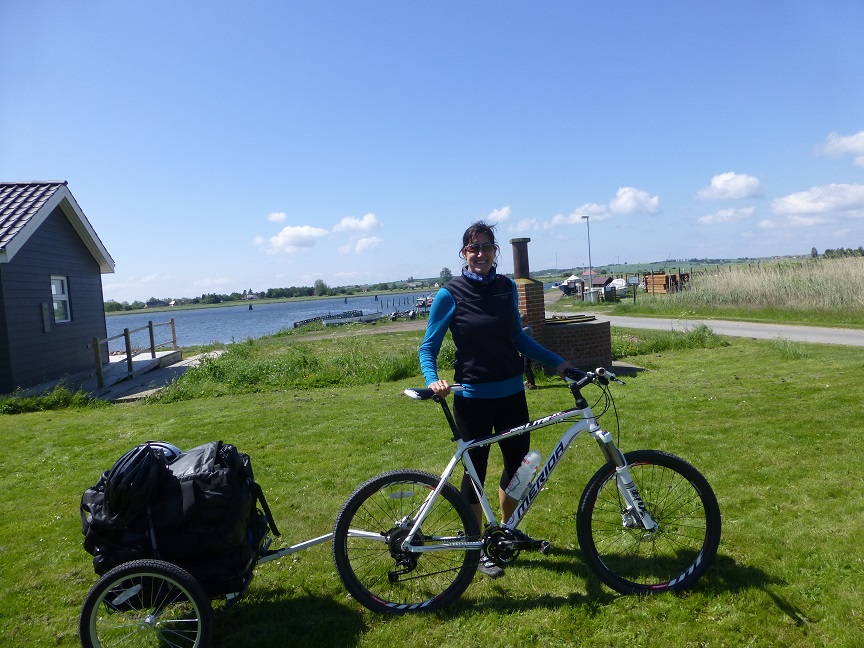 Panniers suitable for a child's bike – a quick review of the Outeredge 16 litre waterproof pannier
Alice had been sent a her own pannier to review – the Outeredge 16 litre cycling pannier
(RRP £33.99). She used this to carry her fleece, waterproof and other 8 year old daily essentials – loom band kit, colouring pencils and snacks. The Outeredge 16 litre pannier is well made, is fully waterproof and it's small size worked brilliantly on the back of her bike. It gave Alice the independence to stop and add or take off layers when required.
The small stowaway pocket in the top kept all her valuable things (camera, MP3 player) dry and easily accessible, and as the bag has a carrier handle she could carry it herself on to trains and boats and still have everything she needed. We had the yellow version to review, but it also comes in red and black, and can fit either the right or left hand side of the rack.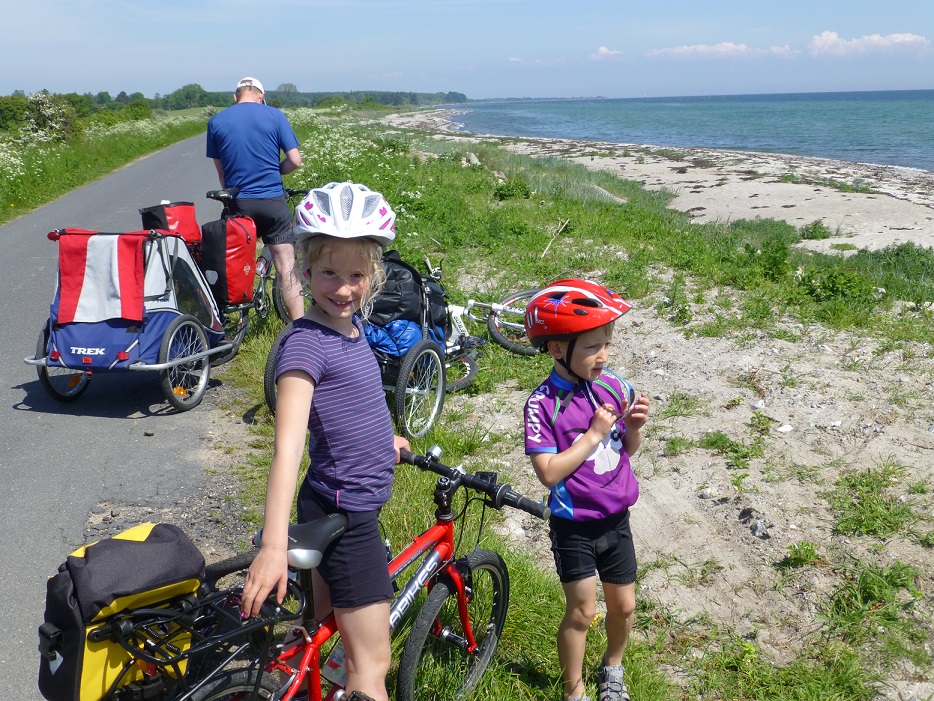 Planning a family cycling holiday to Denmark
We travelled by return ferry from Harwich to Esjberg and took the train from Esjberg to Svendborg. From there we took ferries to the family and cycling friendly islands of Tasinge, Langeland and Aero.
We also took the bus from Esjbery to Billund for our Legoland day out. If you're thinking of planning your own Danish family cycling holiday, here are a few good websites to get you started: To plan your cycle routes, visit the Danish Cycling Federation's on-line cycle route planning tool Most Danish passenger trains are operated by DSB who have an English language version of their website
The website Rejseplanen also lets you plan your journey, including options for travelling with bikes.
We used the DK Camping website to book our overnight stays on the larger sites, and discovered about the Nature Campsites from this article on Cycling in Denmark on the CycleTourer Website
About Kathryn: Kathryn is from the UK, but in Summer 2015 moved with her family (husband and two children, Alice and Tom) to Montreal. She works as a trainer, facilitator and coach, using her experience of cross-cultural working and cultural transition to support other families with relocation. Find out more about Kathryn at: https://www.linkedin.com/in/kathryneade
Kathryn and Alice were provided with the Outeredge trailer, wire basket and cargo net and the Outeredge 16 litre (small) panniers to review by Today's Cyclist. To find your local stockist visit http://www.todayscyclist.co.uk/dealer-locator.aspx