Are you planning a family cycling holiday that must be suitable for all ages? Cycle Sprog's Kathryn took the whole family – kids and grandparents – plus bikes, Scottish Island hopping on Colonsay, Jura and Islay during the Whit Half Term.
Why is Scottish Island Hopping a good idea for a family cycling holiday?
Our holiday was a great way to enable young-ish children to experience cycle touring and also enjoy an island hopping adventure. Cycle distances on the Scottish Islands are small and there is plenty to keep their interest.
The main challenge of Scottish Island Hopping with kids and bikes is the logistics. There is only one ferry from the mainland to Colonsay on a Wednesday and Saturday.
However a combination of chartered boats and the Jura passenger ferry makes this trip entirely possible, if you do your research in advance. In our party everyone cycled their own bike and we took two trailers for clothes, food, wine and camping equipment (2 people camped on the last night).
We had the option to use one of the trailers to carry our youngest child if the weather turned.
The whole family enjoyed our Scottish Island Hopping – our group was:
Alice (7), Tom (4), Nan and Numps (both 65+) and myself (Kathryn) and Richard (both edging 40!)
Day 1 : Tayvallich to Scalasaig, Colonsay via Correyvecken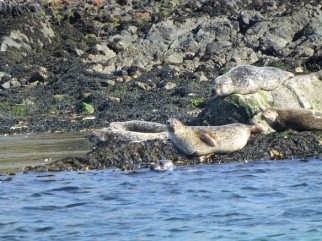 Our trip started from Tayvallich, where we left the cars for the duration of our trip.
We'd contacted Nick at Venture West and he took us in his passenger boat for the 3 hour trip via the Correyvecken, Great Race to Scalasaig on Colonsay.
Seal spotting was a wonderful way to start the holiday. On arrival in Scalasaig we stopped off at the Colonsay Hotel for dinner (the better option favoured by locals, we later found out may have been The Pantry, just up from the ferry terminal).
After dinner we cycled 3 miles to the Backpackers – £15p/p/night– sleeps up to 16 in two bed rooms; warm showers, large well equipped kitchen and dining area.
Cycle hire can be arranged if you're not taking your own bikes. There is a store on Colonsay where food can be pre-ordered and delivered to where you are staying, but we chose to bring our own.
Day 2: Kiloran Bay, Colonsay
We spent all day exploring the north of Colonsay by bike, and enjoyed a BBQ on the beach at Kiloran Bay. Kiloran Bay is a stunning sandy beach which is ideal for young children, and safe for swimming if you can bear the cold! It's only about 2 miles from the Backpackers. That night we stayed at The Avenue, one of the many cottages owned by the Colonsay Estate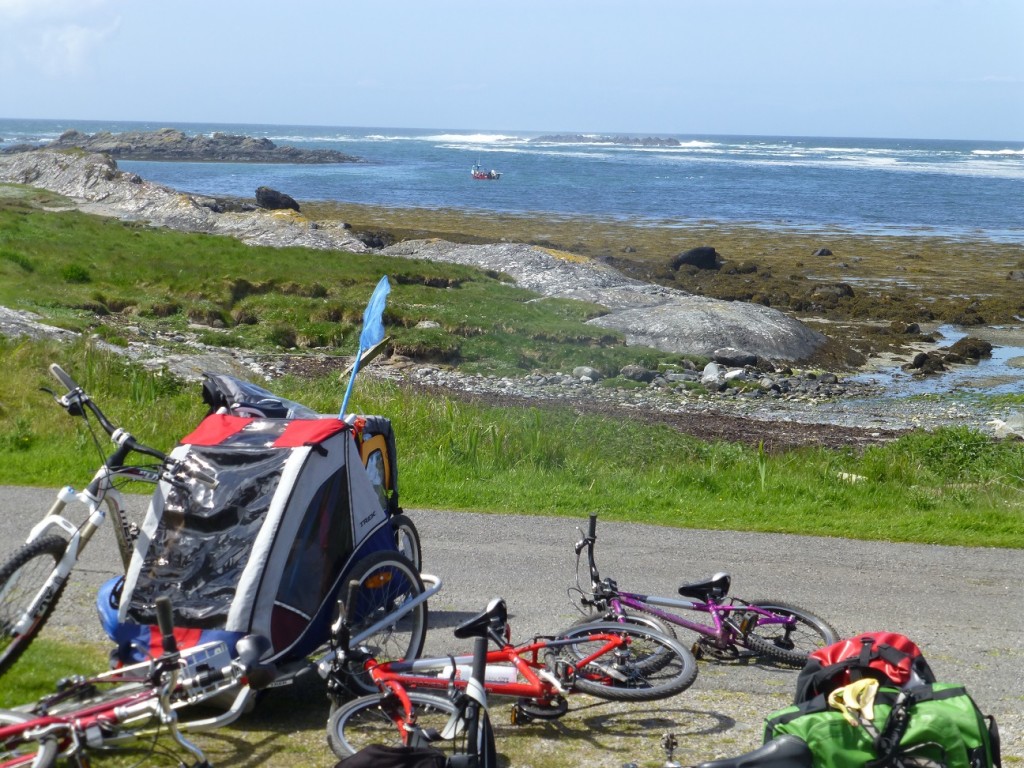 Day 3: Kiloran Bay to Craighouse, Jura
Day three saw us cycling 4 miles on the road around Colonsay back to Scalasaig. There was lots of stopping off on the way to admire the stunning views and let Alice and Tom play on the island's sandy and stony beaches.
Once back in Scalasaig we took the Calmac ferry to Port Askaig on Islay (70 minutes), and then hopper ferry from Port Askaig to Feolin, Jura (10 mins).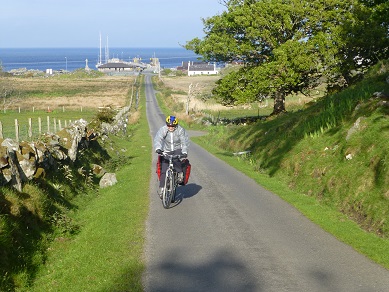 With more time you could have expanded the trip and spend a day or two on Islay. However the more picturesque parts of Islay are a considerable cycle away from the port, which is an important consideration for little legs.
Once on Jura we did the longest cycle ride of the trip – 8 miles on an undulating road, hugging the Jura coastline. There were plenty of deer to spot along the way.
Dinner, bed and breakfast was at the Jura Hotel, with the option to camp on the hotel grounds (although the facilities are currently closed as they are being renovated – due to reopen September 2013).
Day 4: Craighouse, Jura to Tayvallich
We spent the last day of our family cycling holiday on Jura swimming, riding to Corran Sands and having lunch at the Antlers Café.
The Jura Stores, the distillery and Antlers cafe are right next to the Jura Hotel and Corran Sands is about 2 miles away, so you can choose how much, or little cycling to do.
It was then time to catch the Jura Passenger Ferry from Craighouse pier back to Tayvallich (50 mins). It's advisable to book in advance especially if you have lots of bikes and trailers. T
hat was our Scottish Island hopping family cycling tour over. I really recommend it as a great destination for all the family and hope it's helped inspire your next adventure.
About Kathryn: Kathryn is from the UK, but in Summer 2015 moved with her family (husband and two children, Alice and Tom) to Montreal. She works as a trainer, facilitator and coach, using her experience of cross-cultural working and cultural transition to support other families with relocation. Find out more about Kathryn at: https://www.linkedin.com/in/kathryneade