Our family cycling holiday in the French Alps
At the start of the year, I began working with a Frenchman, who now lives in London.  Originally from the Hautes-Alpes region, he was delighted when I mentioned that I liked cycling, and proceeded to tell me all about how wonderful his home area is for road cycling. With great pride, he then showed me the routes that Le Tour de France takes through up and through the various alpine passes. When he learnt that my real interest was in cycling with children he got even more enthusiastic, explaining how a family cycling holiday in the French Alps would be just perfect.
I struggled to understand how somewhere that Chris Froome finds a challenge could be suitable for family cycling, but after being shown lots of photos of scenic routes along gently sloping valley floors I realised that not everything in the alps needs to be massively steep.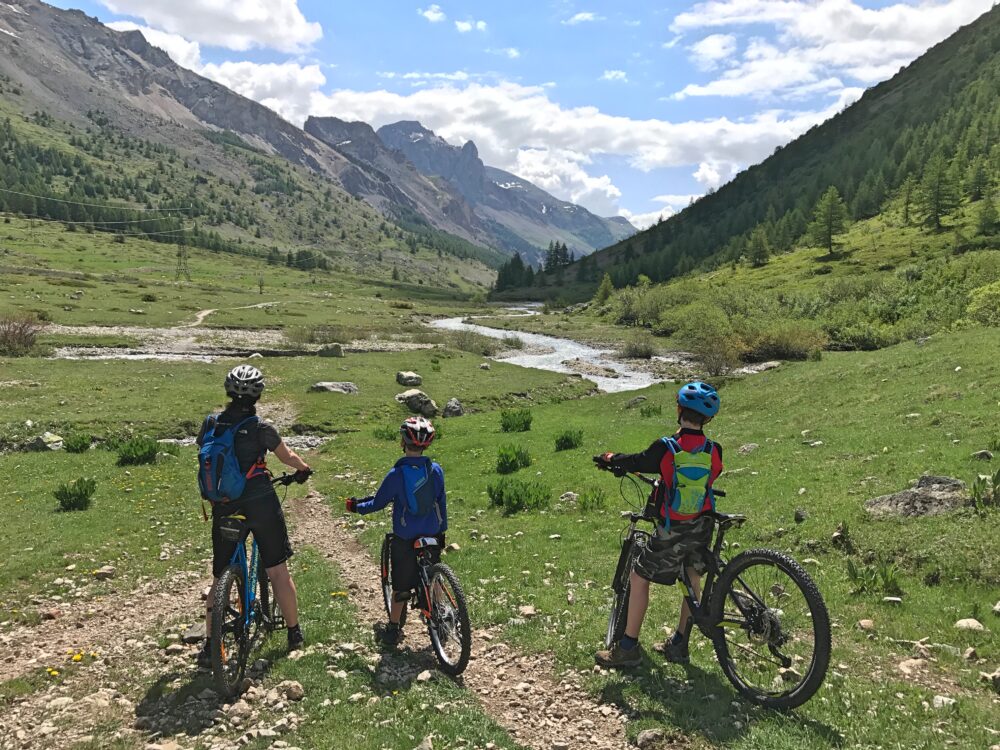 "You must visit" he told me, and I replied something along the lines of "Yes, it would be lovely to visit one day".  After several more weeks of him telling me how amazing the southern French alps are for family cycling and being subjected to  never ending supply of jealously inducing photos, he surprised me by announcing that his family would like to invite us to visit. "You can come and stay and see how wonderful the Vallée de Clarée and the Montgenévre area is for cycling with kids. Then tell all your friends and family, so they can come and enjoy a family cycling holiday in the French Alps too".  Well, dear reader, what is one to do when posed with such a generous offer???
Our family cycling holiday in the French Alps
Our family cycling holiday in the French Alps took place during the May half term, a time when the French schools are still hard at work. This meant that we were visiting in the low season – but what a perfect time for cycling with the kids.  The ski-resorts had shut for the year, and the summer season had yet to begin so it felt like we had the Alps to ourselves!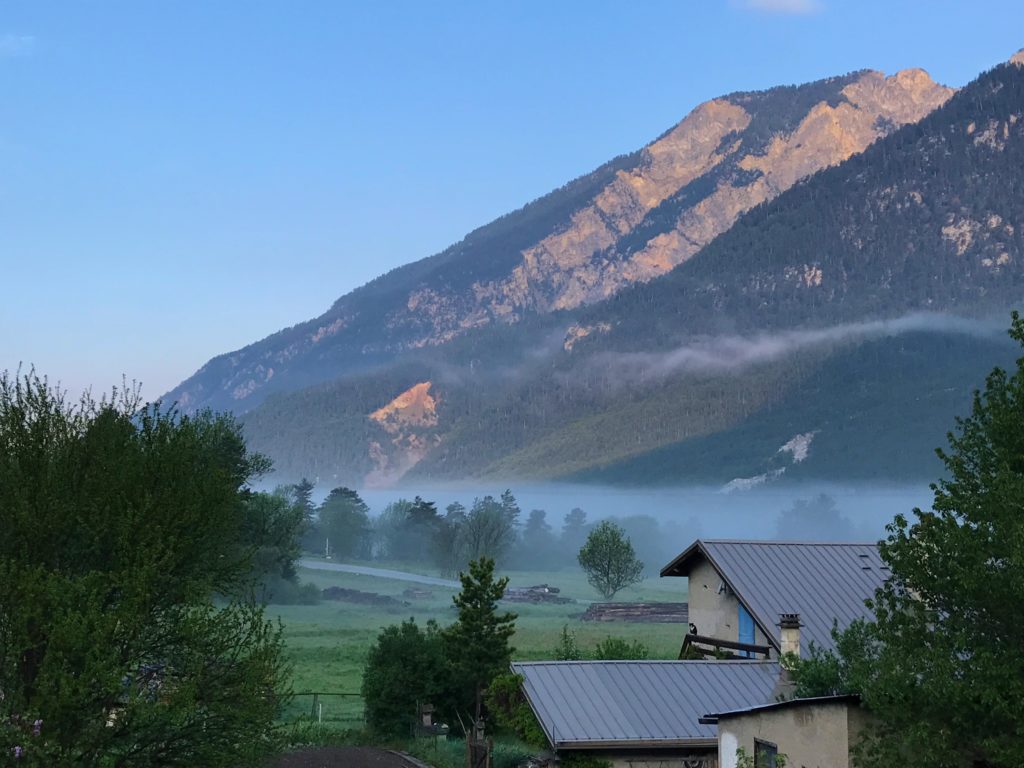 We stayed in the tiny village of Les Alberts, nestled at the start of the Vallée de Clarée, in a beautiful chalet called Maison Amalka, which is owned by my colleague's brother and sister-in-law.  I'm not going to go into detail about this quality family friendly accommodation here, as you can read our review of Maison Amalka if you're interested in arranging your own bespoke family holiday to the southern alps.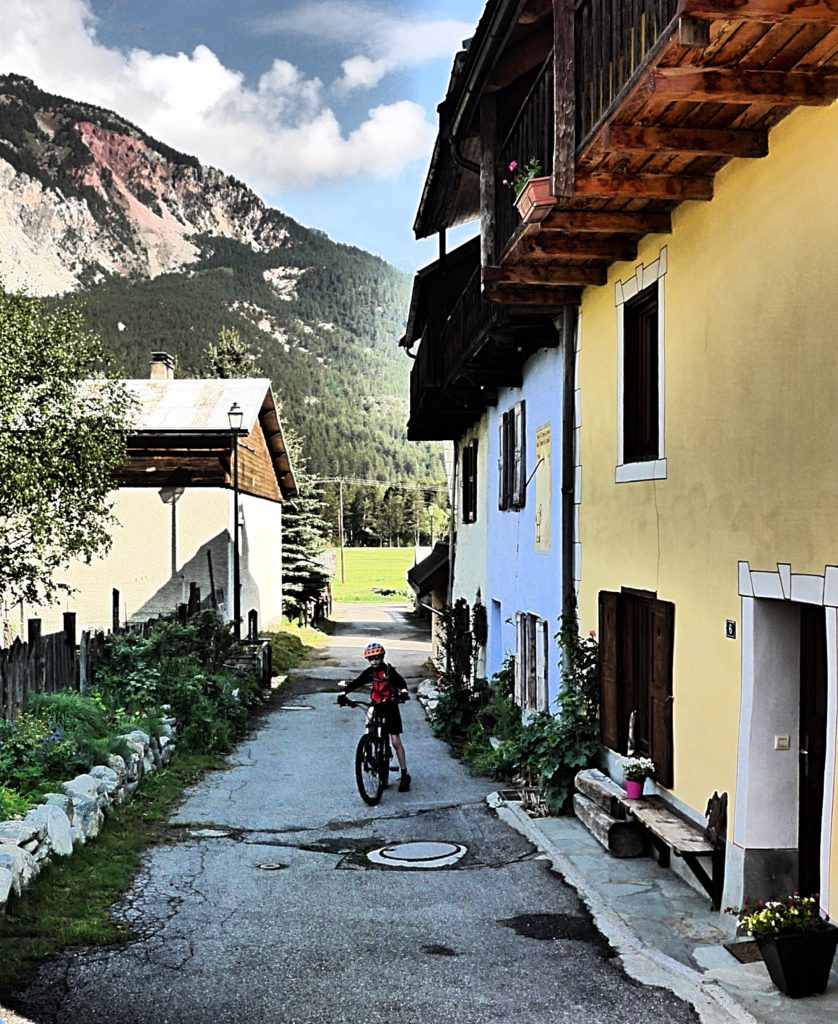 Our hosts, Florian and Marketa, had arranged bike hire for Chris, myself and our two boys N aged 11 and T aged 8, and had the bikes delivered to the chalet.  This made life easy, as when we arrived after lunch on our first day we could get straight out cycling.  Florian has spent his whole life absorbed in the outdoors, being a mountain bike and hiking leader during the summer and a ski instructor during the winter. Without a doubt, we were in excellent hands.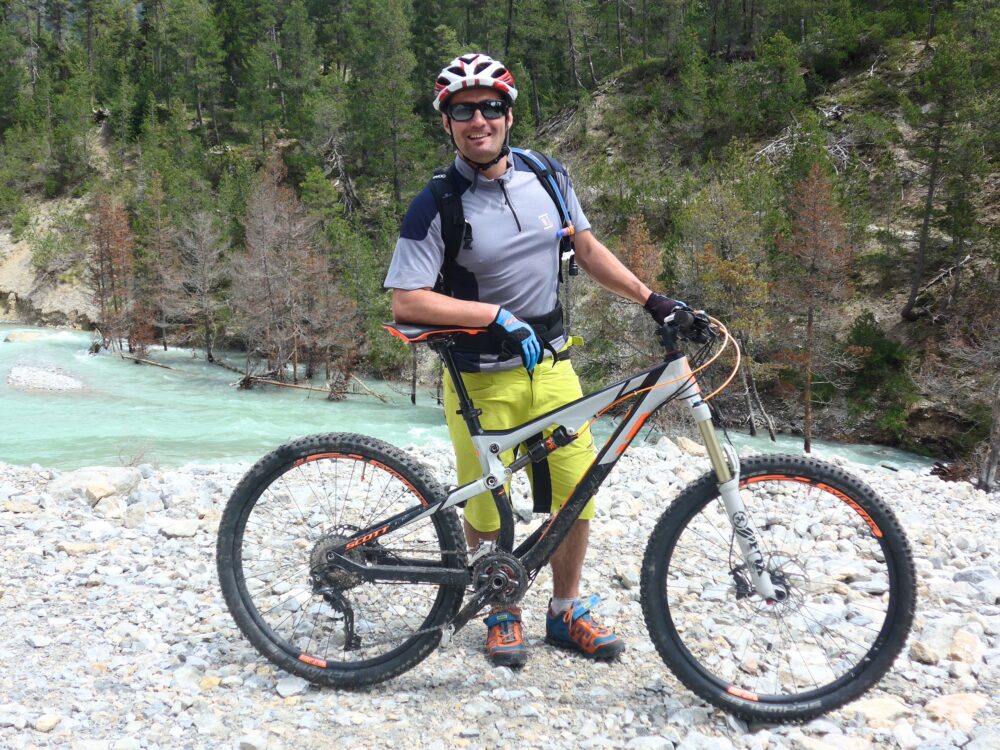 The first afternoon we rode from Les Alberts down the valley following the route of the River Durance to the small but beautifully formed Briançon, the highest city in Europe (allegedly – although Davos makes a similar claim!)  This gave us a chance to get used to the rental bikes, and for Florian to get to know our cycling capabilities.  The route took us about one and a half hours and was great fun with a mix of single track, forest trails and gravel paths. The fact that Briançon is famed for it's 17th Century military fortifications made the route additionally interesting for the boys.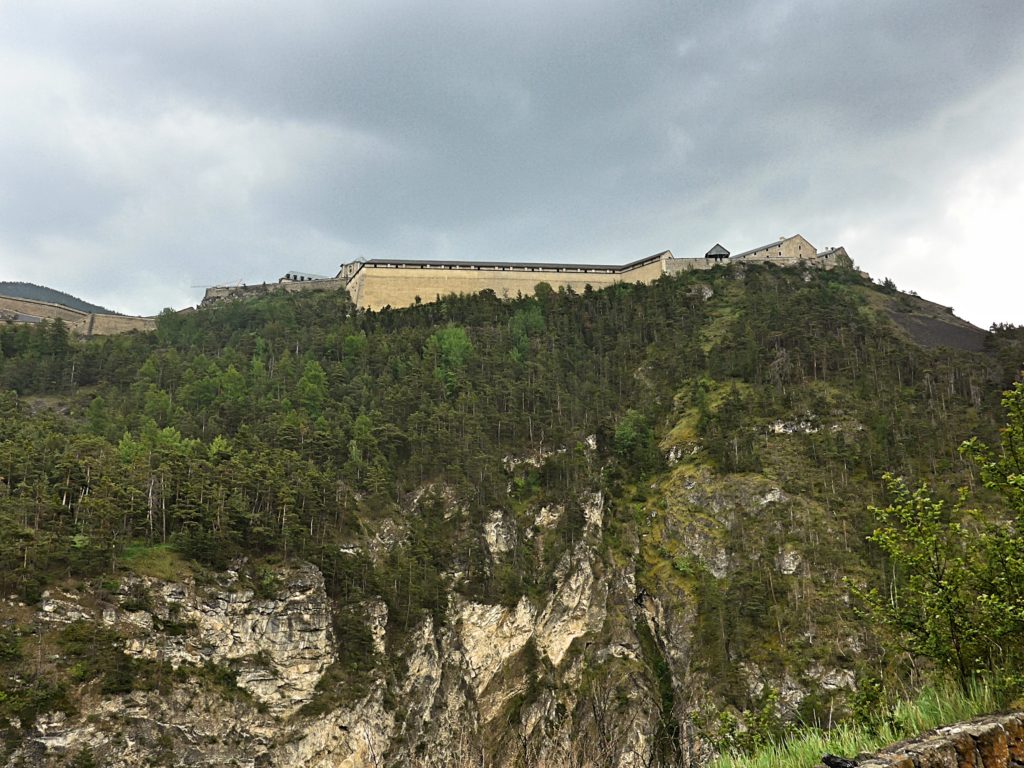 The weather was not exactly brilliant that day, so by the time we arrived at Briançon we were riding through torrential rain.  Thinking we were going to have to cycle all the way back to Les Alberts in a downpour, I could have hugged Florian when he announced that he'd arranged for the bike shop to bring the bikes back to Maison-Amalka and that he was going to drive us back in his van. What a legend – I was beginning to see the advantages of using a local guide!
You can read more about our first day of cycling in this post – Family cycling in the Alps – Les Alberts to Briançon
The next day we were up bright and early, as Florian had warned that the thunderstorms were due by about 2.30pm, and he wanted to take us along the Vallée de Clarée.  Well, what can I say? It was a perfect day of family cycling for us and our boys. A mix of road, gravel, single track, meadows and forest riding through an unspoilt alpine valley, passing by traditional villages and surrounded by towering peaks.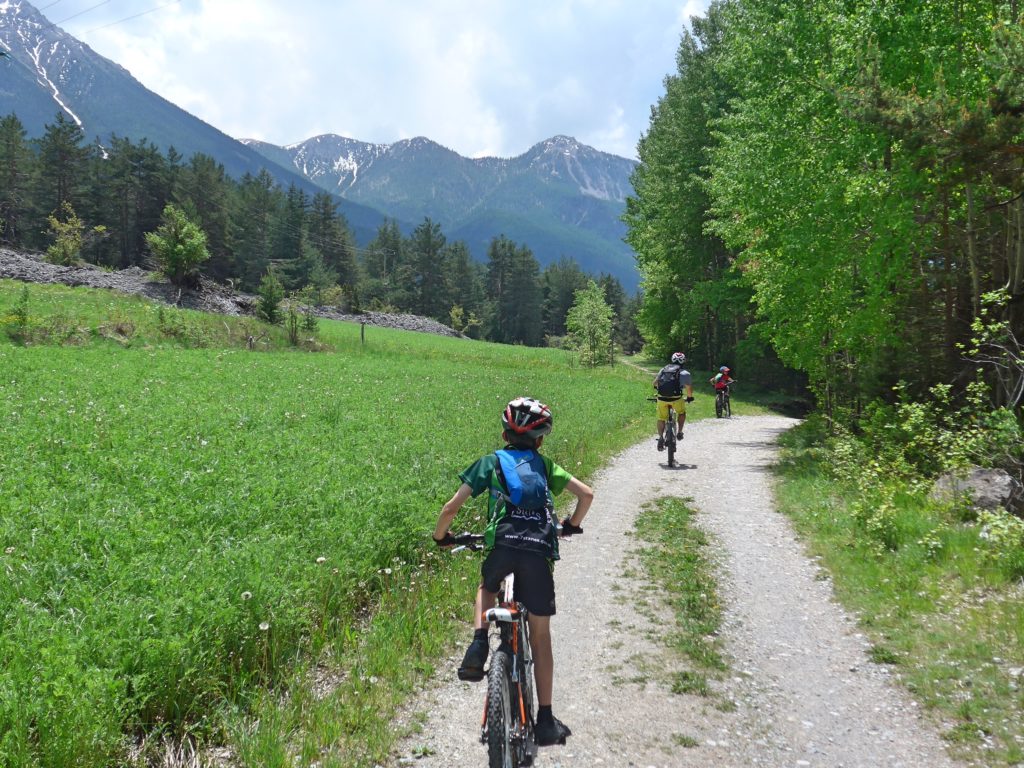 This post will be far too long if I go into the detail of the ride itself, so here's a link to our write up of our family cycle ride in the Vallee de Clarree.
We were back in time for some games of table football and pool at Maison-Amalka, just as the thunder started – perfect timing. Some of us were very keen to get some practice in!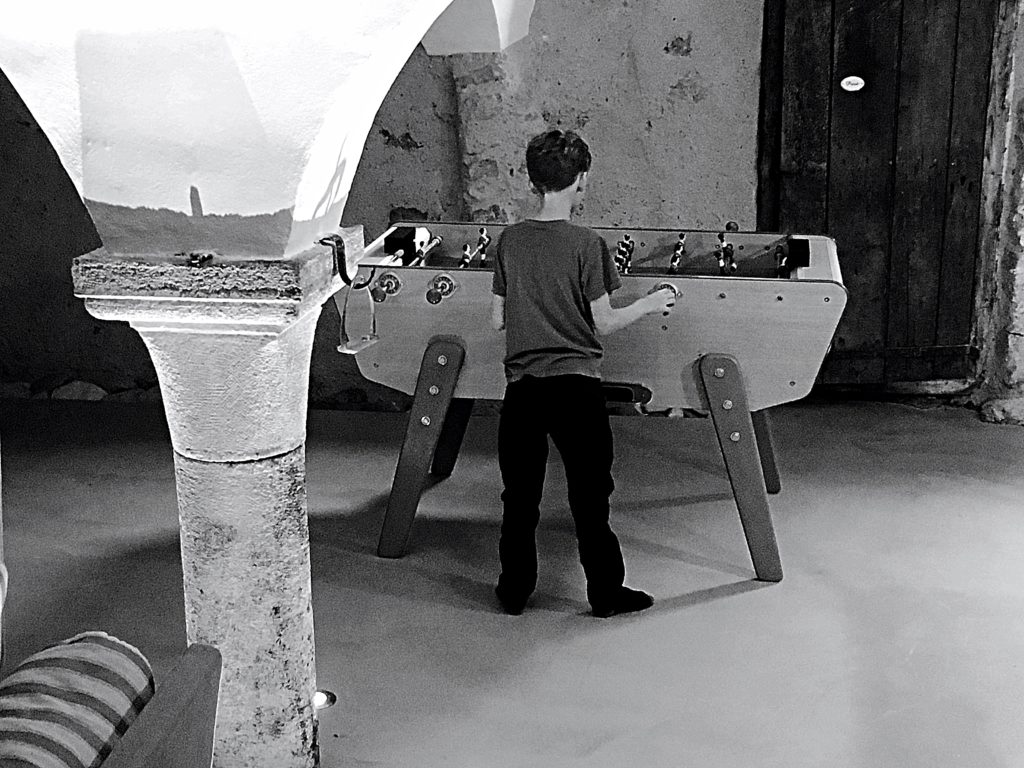 Next morning we were up early again, as Florian had arranged a real treat for us for our final day of cycling. He took us and our bikes in his van up, up, up from Briançon and dropped us at the top of the Col du Lautaret.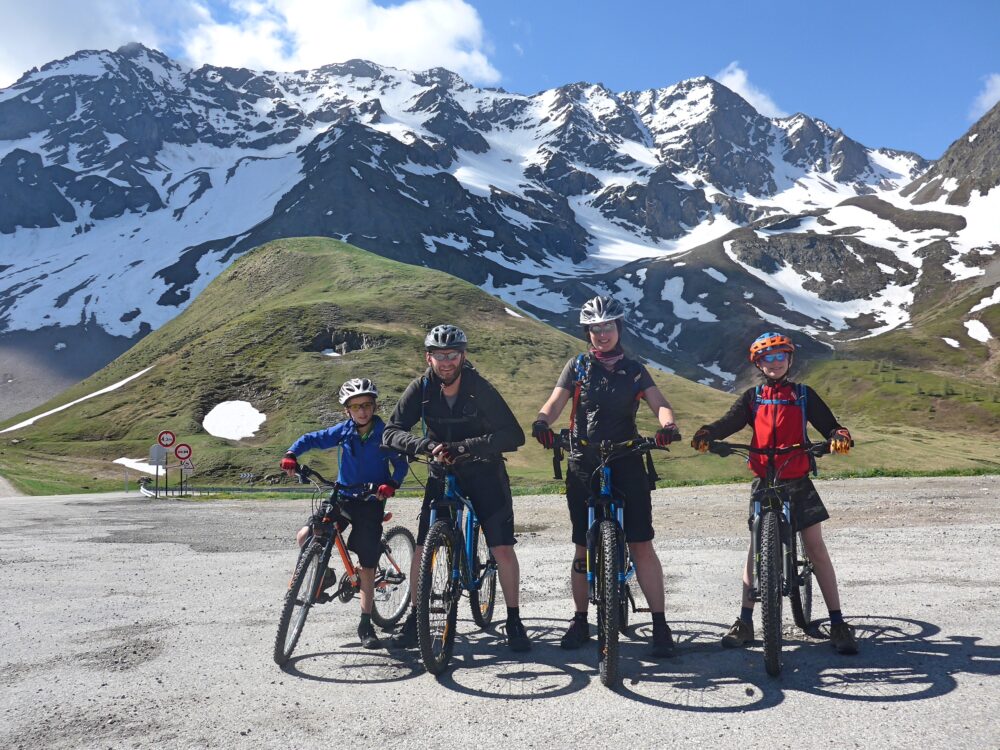 From this stunning start point lay 30km of downhill cross country  adventure all the way back to Briançon – whooooaaaaaa!!!!  For us, downhill usually involves uphill, which with kids can be a struggle, so to be able to just enjoy the descent was a real treat.   The route started very steep and rocky as we descended the steep side of the Col, and then, same as the previous day, was a total mix of single track, gravel paths, forest tracks and short on-road section. And the views…… Suffice to say, it felt as if we spent more time stopping to take photographs than cycling!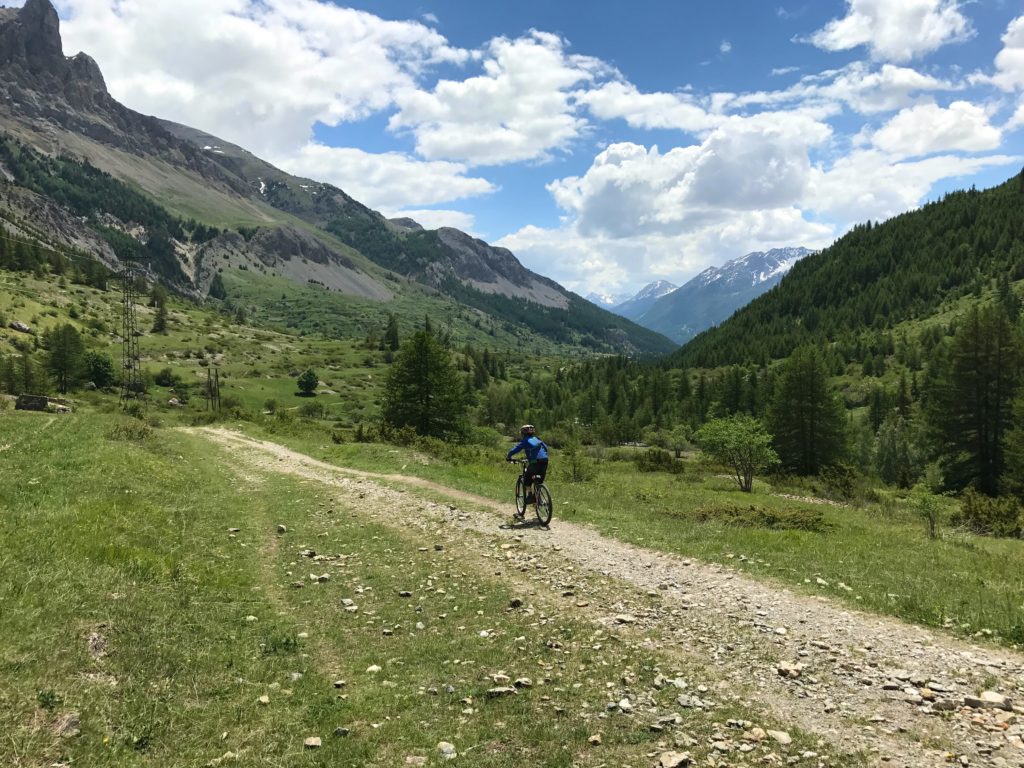 If you'd like more details, you can read our full report of our family bike ride from Col du Lautaret to Briançon.
So, with three incredible rides behind us, I can confirm I'm totally hooked and would totally recommend a family cycling holiday in the French Alps.  We didn't even go during the high season (July and August) when the bike parks are open.  Then it's possible to take your bikes up on the chair lifts and ride back down the waymarked trails that provide routes of varying degrees of difficulty (although the weather would be much hotter, and the trails much busier).
The time of year we visited (May half term) was perfect for us – the weather was hot but not too stifling, there were very few people around and we had our own little bit of paradise to enjoy.  We're already planning our return trip!
Practicalities of our family cycling holiday in the French Alps:
Where we stayed: We stayed three nights at Maison Amalka in the small village of Les Alberts, which is close to Montgenévre and the Italian border.  The owners specialise in arranging bespoke active family holidays, especially cycling and skiing.
Transportation: We flew from Manchester to Milan airport with EasyJet and hired a car with Avis for the 2.5 – 3 hour drive. Turin airport is half the distance away, if you can get direct flights.  If you have the time, then it's 10 plus hour drive from Calais to Les Alberts, but you always do a stop over in Paris en-route.
Cycle Guide: Our guide was Florian Schwey, who accompanied us on two rides and provided us with our route for the third day.
Bike Rental: We rented our bikes from Go Sport in Briançon, who delivered them to our accommodation before our arrival. If you prefer to take your own bikes, see our article on taking kids and bikes on planes.
Other articles you may find useful:
Disclaimer: We received our accommodation and cycle guide free of charge, courtesy of Florian and Marketa at Maison-Amalka.  Some links in this post contain affiliate links which mean we may get a small commission if you make a purchase. It doesn't affect what you pay, but helps us to fund the ongoing hosting of the website.