During May half term we were lucky enough to go on a family cycling holiday in the French Alps. We were invited to stay at Maison Amalka, in the small village of Les Alberts, which is close to the French-Italian border, the ski resorts of Montgenévre and Serre Chevalier and the town of Briançon. Les Alberts sits at the foot of the Vallée de la Clarée, a stunning valley that runs for 33km from Les Alberts through a number of traditional villages, gaining height from 1400m to 2000m at a waterfall at Fontcouverte.  The Vallée de la Clarée has been protected from development since 1992, which means it's like stepping back in time – no large resorts, no busy roads, just stunning scenery and lots of wildlife.  So, family cycling in the Vallée de la Clarée in the French Alps appears to have it all! Here's how we got on…..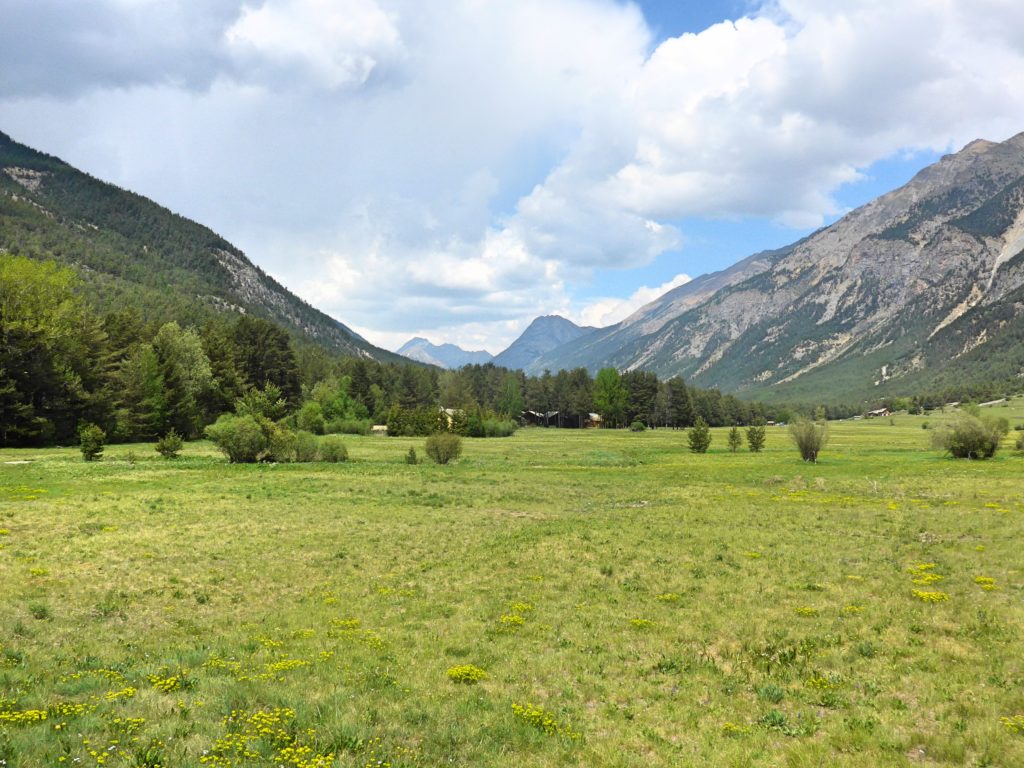 Family cycling in the Vallée de la Clarée in the French Alps
We left Les Alberts at 9.30 am on a sunny May morning, using rental mountain bikes. They'd been hired for us from Go Sport in Briançon by our guide Florian Schwey, and delivered to our holiday accommodation (Maison Amalka in Les Alberts). T aged 8 was riding a Montana Escape 24″ (a child's bike that's not currently available in the UK) while N aged 11 was riding an adult 27.5 Giant Talon 3, but in an extra small size. Chris and myself were kitted out with a pair of Mondraker Phase S hardtails in a stunning metallic blue.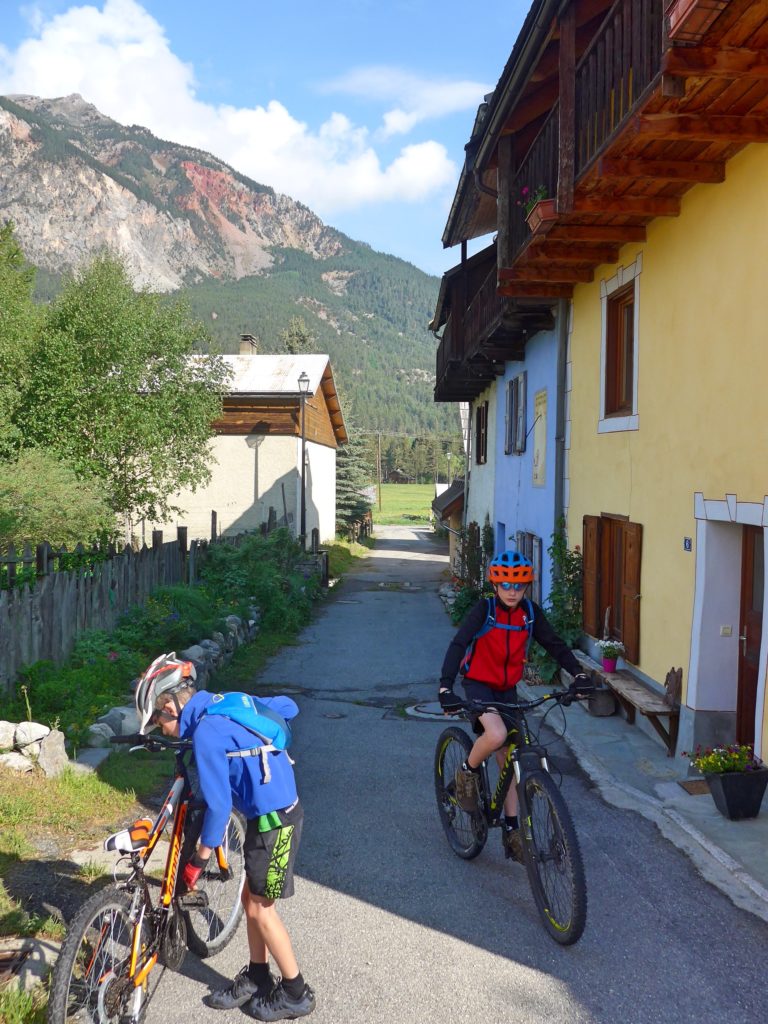 We started out on the quiet road (remembering to ride on the right-hand side!) with the valley stretching out invitingly in front of us.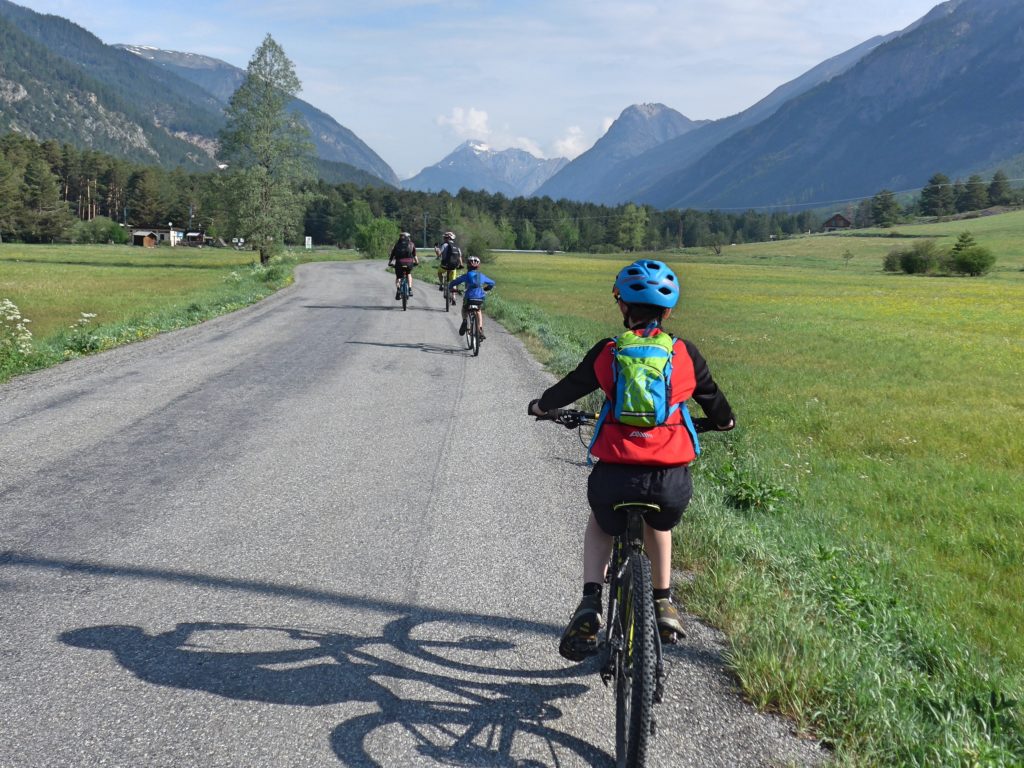 Before long we turned off into a campsite and picked up the off road trail that follows the Clarée river for the entire length of the valley, situated at times close to the bank, at others just a short distance away.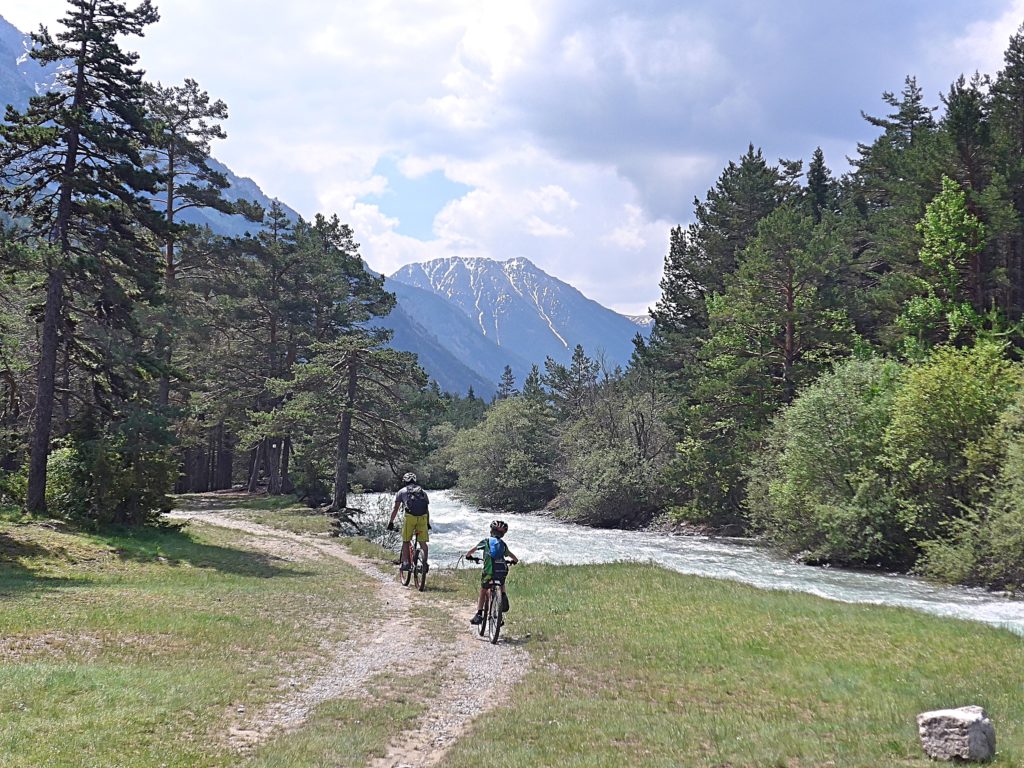 The route has everything I'd hoped for from a family cycle ride along an alpine valley.
Stunning views of snow-capped mountains – yes!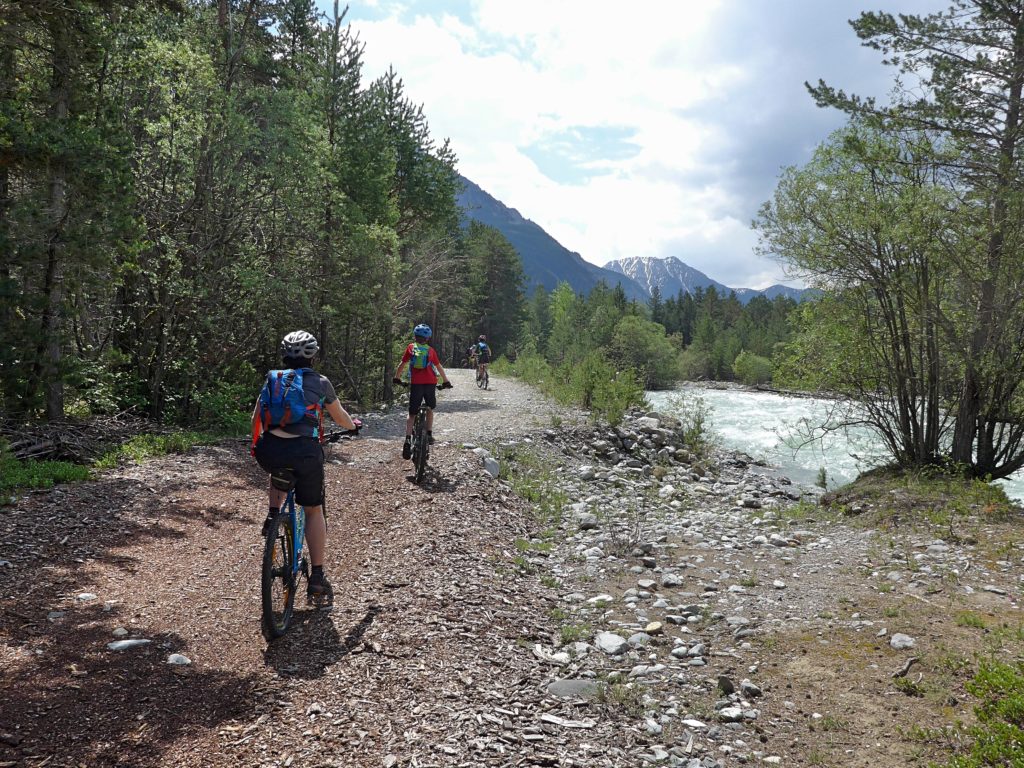 Traditional villages with a relaxed air and a collection of architectural gems to please the eye – yes!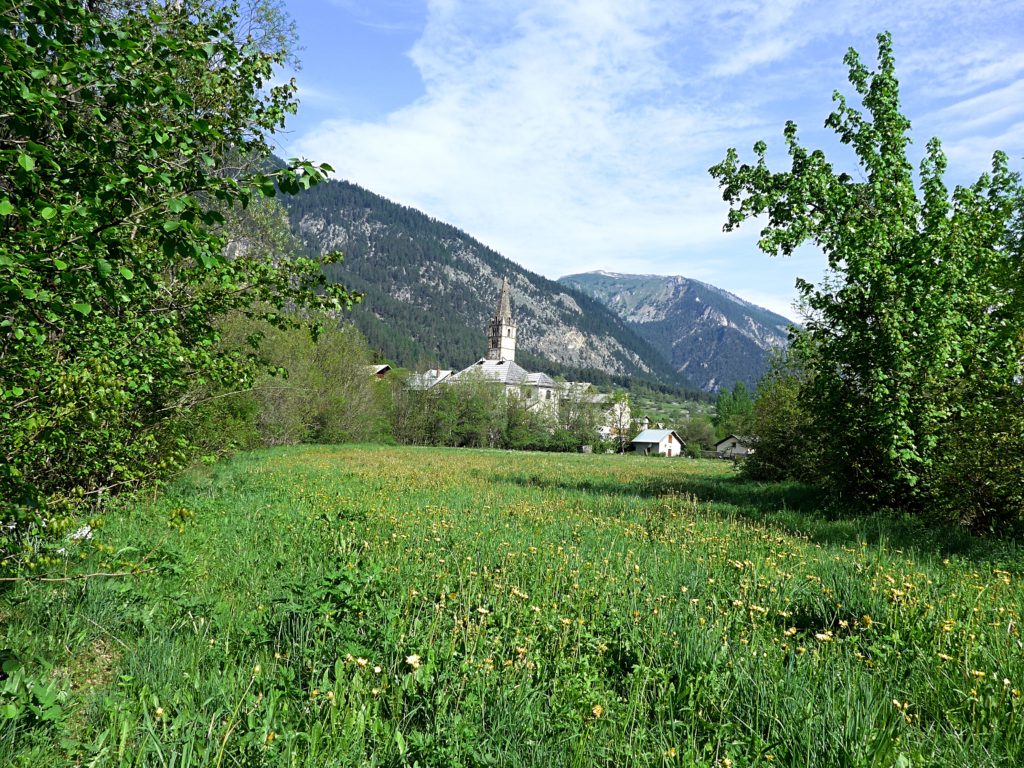 Cooling forests to give welcome shelter from the midday and singletrack riding over gnarly roots – yes!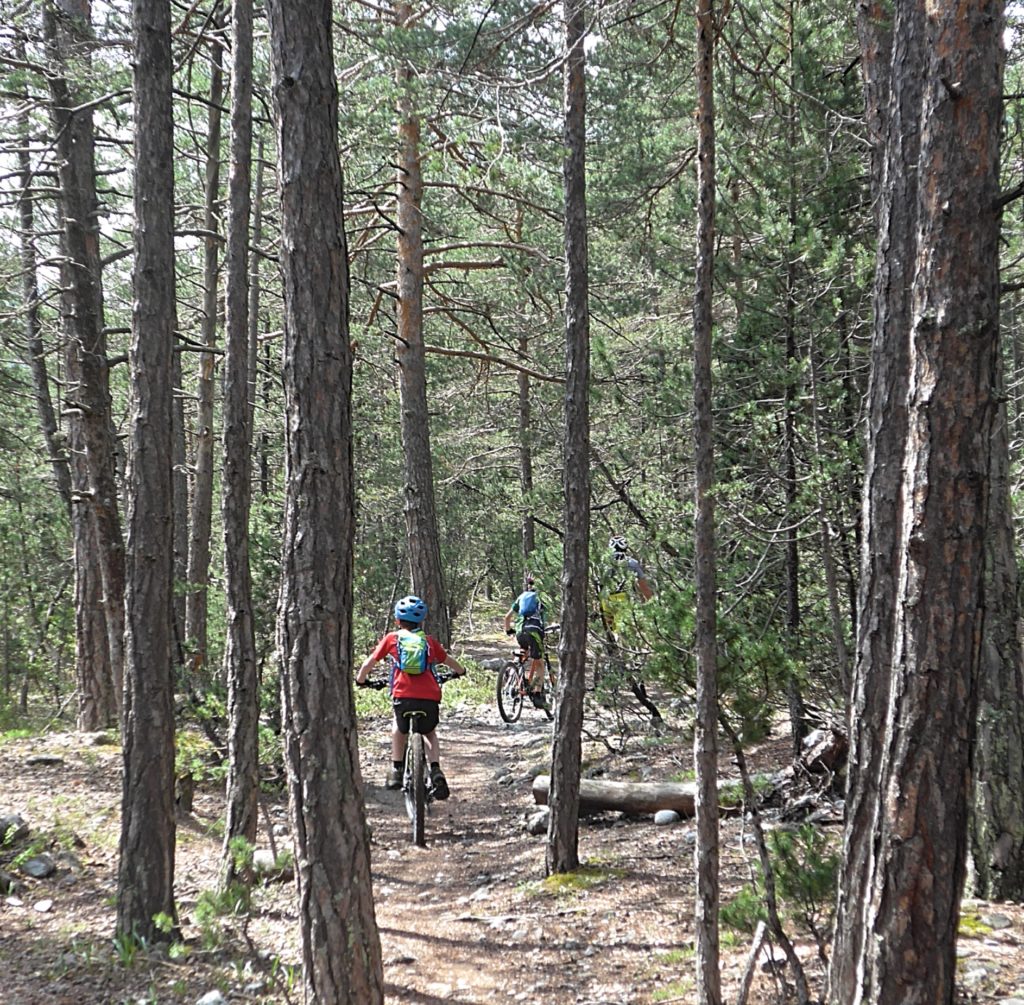 Open vistas along the valley, with nothing but the local sheep for company – yes!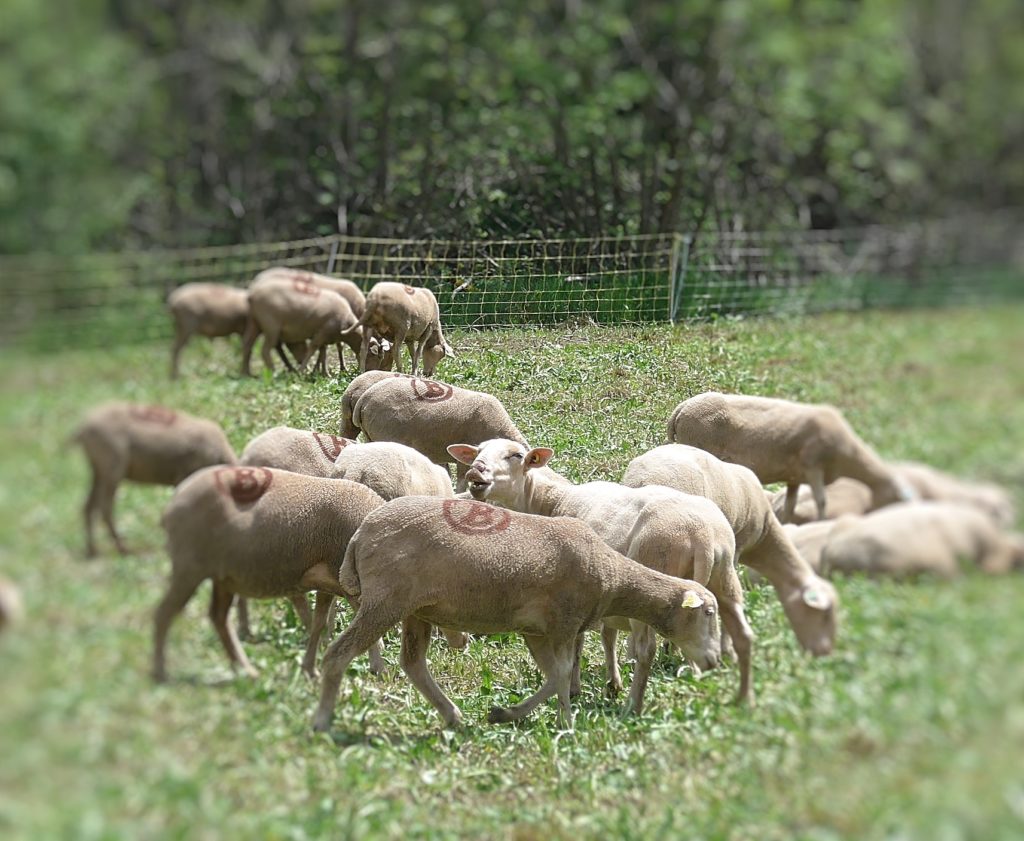 Florian told us that every June a festival takes place in Névache celebrating the centuries old tradition of moving the sheep from the warmer climates near Marseille to the head of the valley. This journey used to take the shepherds and their flocks over 3 weeks by foot, and so the festival commemorates this ancient tradition. These days the journey takes just one day by truck, but still the festival continues.
A fast-flowing river of meltwater for launching sticks into so that they dance merrily – yes!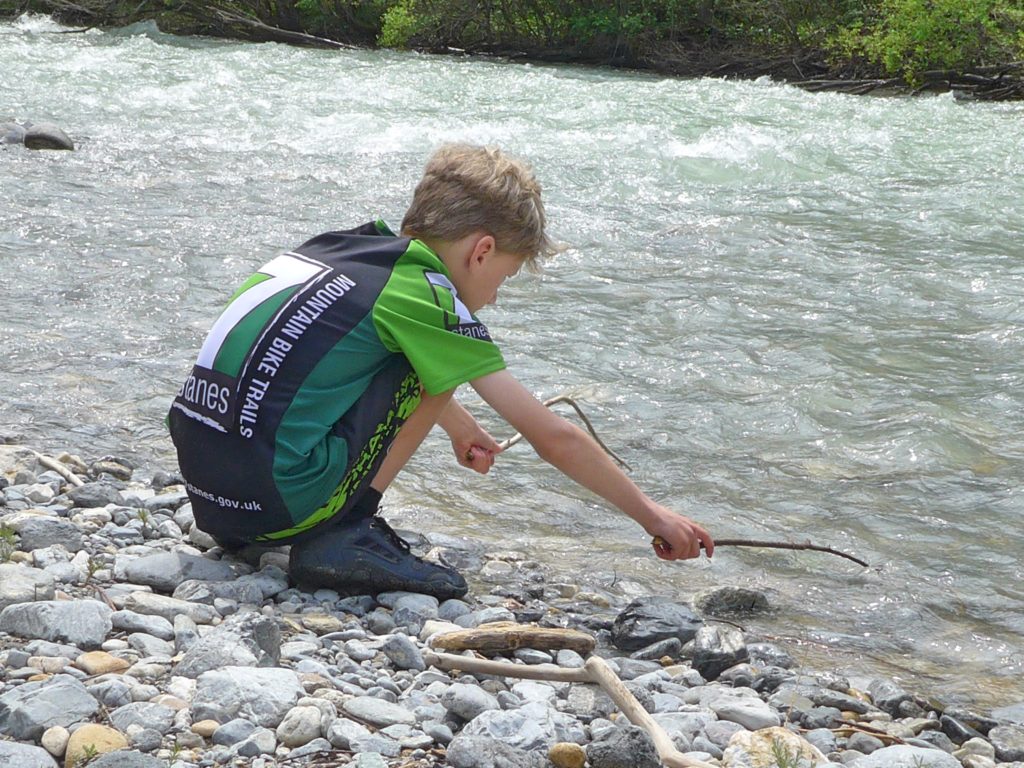 Alpine meadows, with lush green grass and beautiful flowers – yes! (although at this time of year is was a prevalence of dandelions and narcissus over other flowers)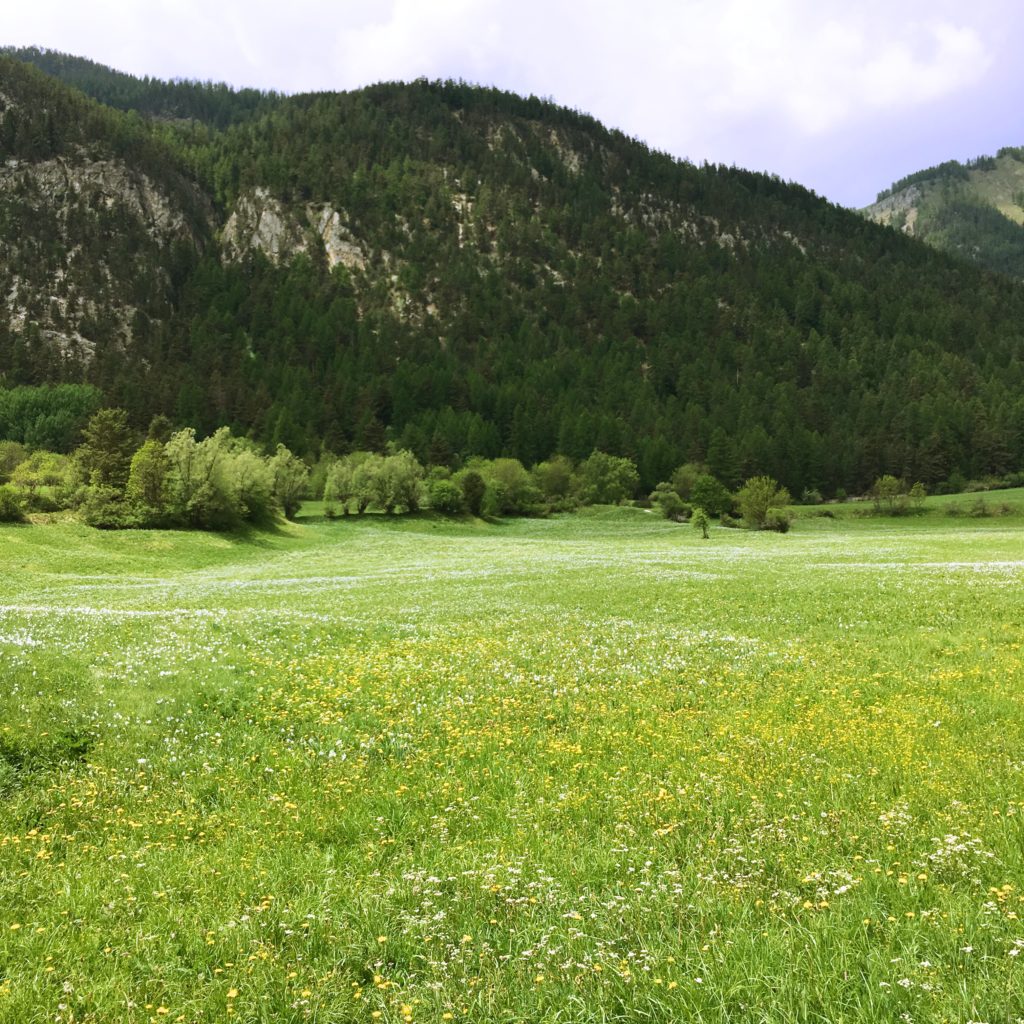 We made it as far as the Eglise Saint-Sébastien (Church of St Sébastien) which dates from 1745 in the tiny hamlet of Plampinet.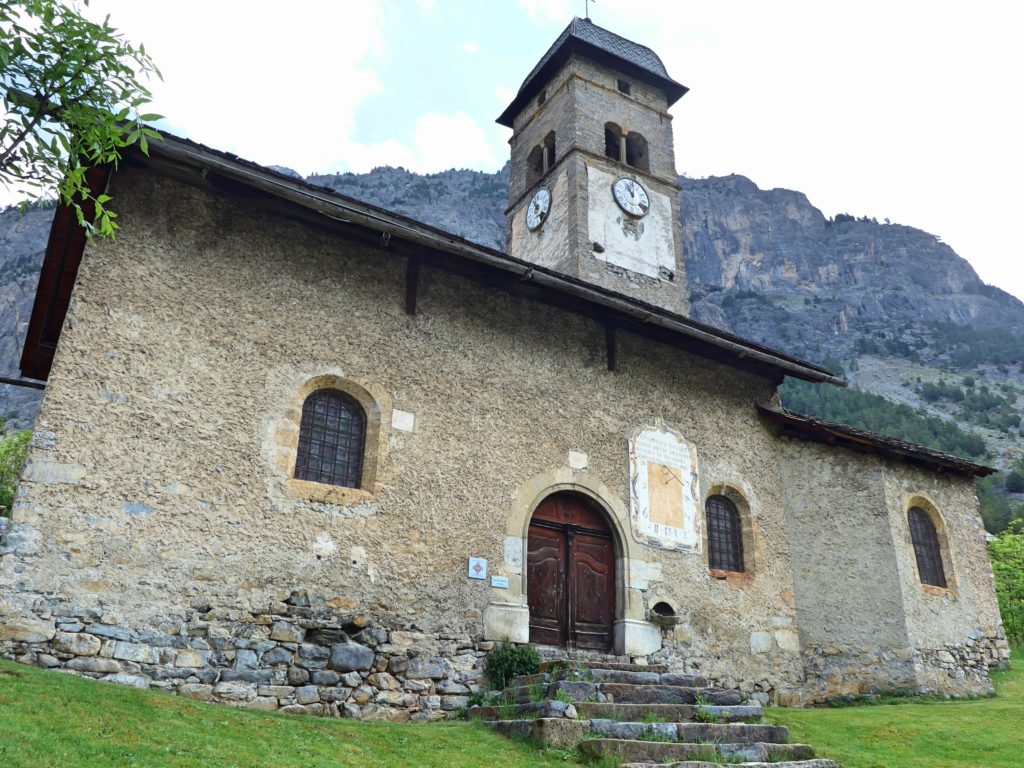 The 12km route had been a gentle uphill ride, with about 120m of ascent in total. There was nothing too strenuous, but the variety of different surfaces from rocky single track through grass and gravel to tarmacked lanes kept the riding interesting.  It took us one and a half hours with the advantage of a guide who knew the route, so we didn't need to consult a map at all. But we did stop to take a lot of photos – I challenge you to ride this route and not do similar!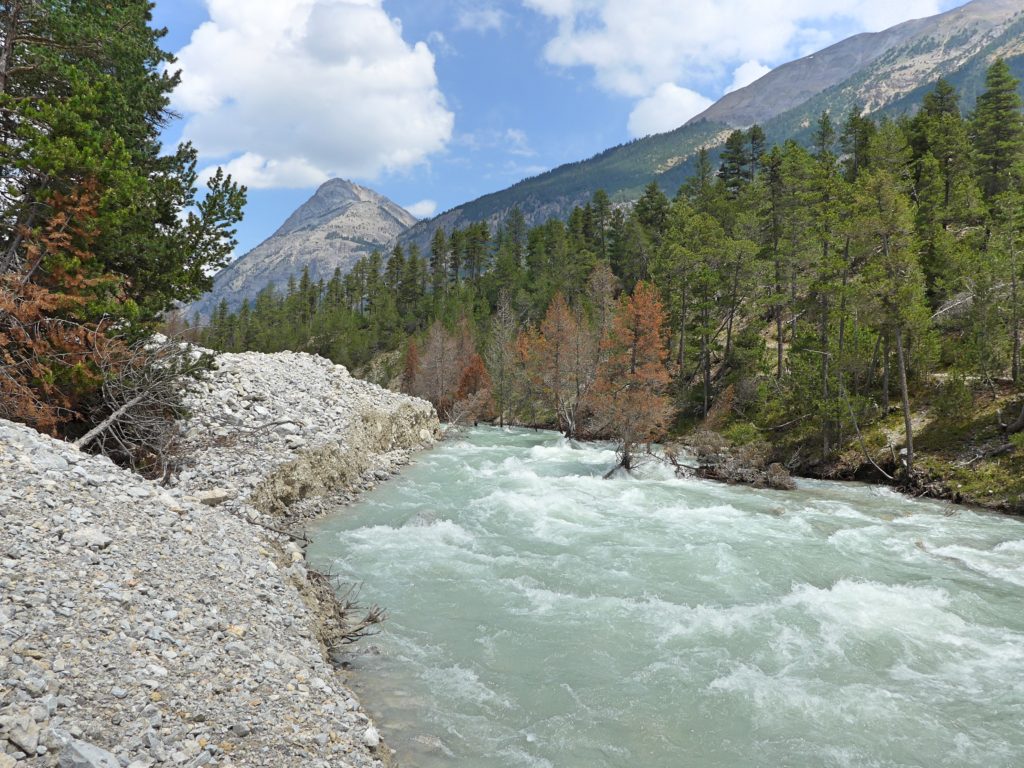 At this point, Florian advised that the next part of the trail to the final village of Névache and onto the waterfall at Fontcouverte was significantly steeper and that it may prove problematic for T on his smaller 24″ wheels and heavy steel framed mountain bike.
Being only 8 and riding the heaviest bike with the smallest wheels in the group is a real disadvantage. It's definitely something to be mindful of when you're planning a family bike ride on hired bikes, as it can often be difficult to find smaller kids bikes of a similar standard to the adult ones.  Here you can see how difficult he found it to lift up – it was interesting to see how this additional weight affected his ability to ride uphill – he's used to riding a lightweight bike rather than a heavy plain steel one, and found the additional weight a real disadvantage.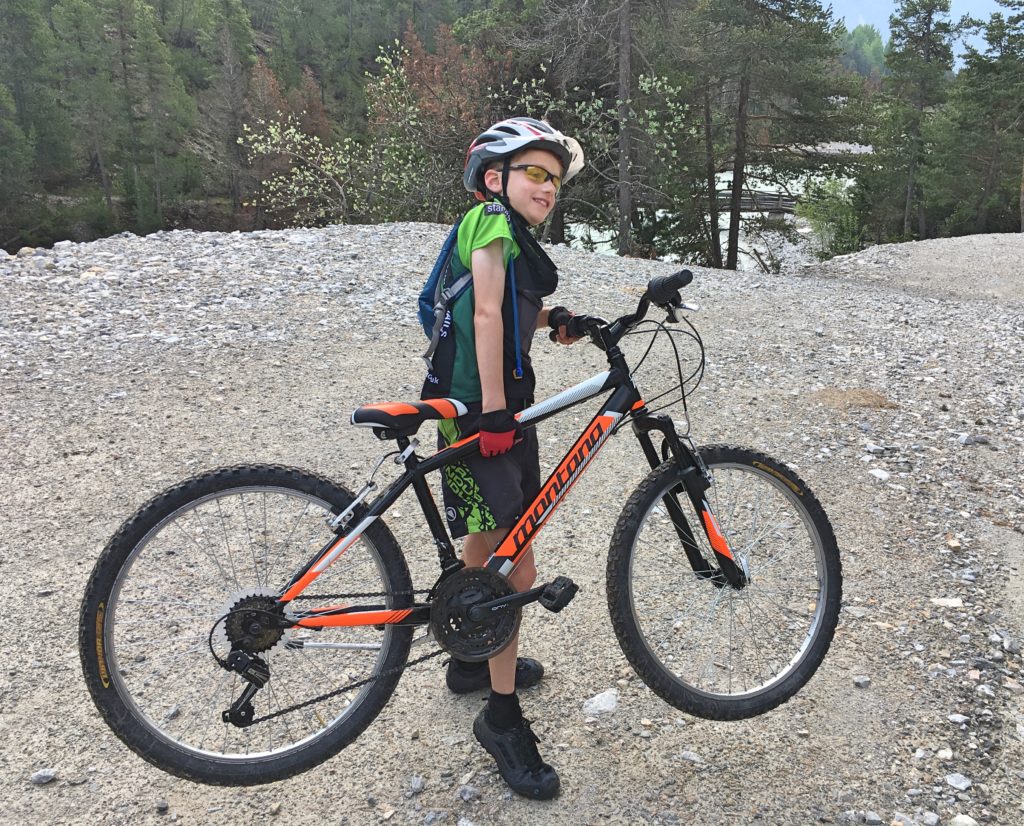 There was the option of continuing on road for a short distance, but with a thunderstorm due at 2pm, Florian suggested we turn around and ride the trail back to Les Alberts rather than continue and then having to ride back in a hurry along the road.  This turned out to be a great idea, as the ascent gained on the outward journey meant that the return leg was fast flowing and great fun.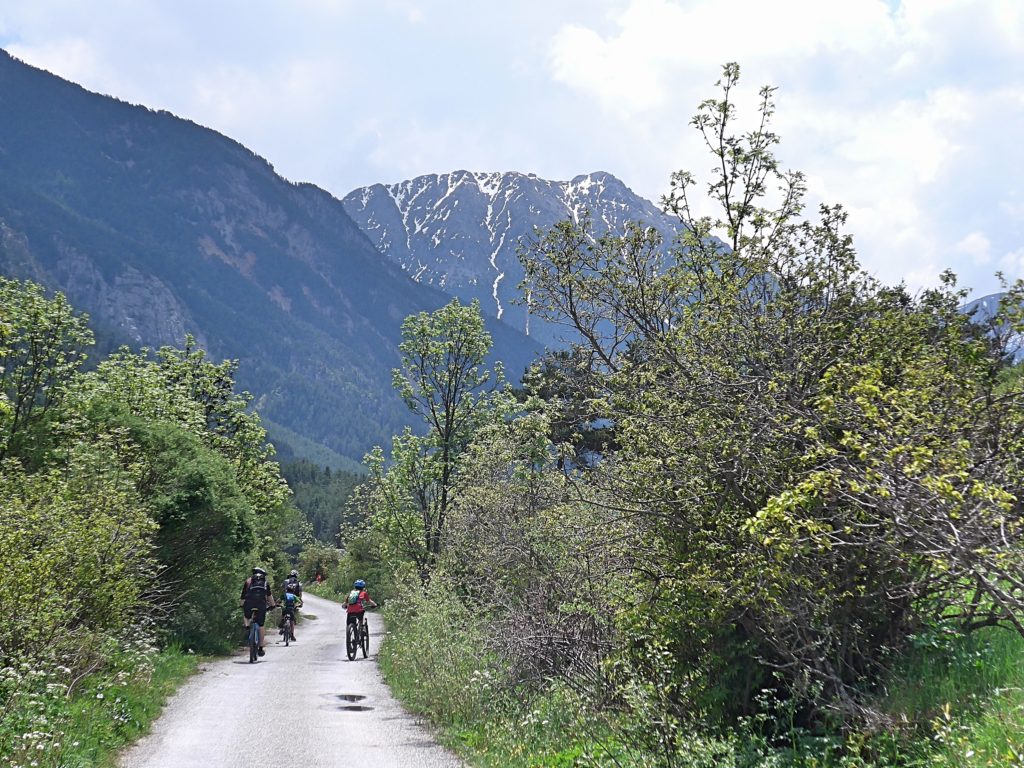 We stopped by the banks of the River Clarée to meet up with Florian's wife Marketa, who had brought along a picnic for us all to enjoy (what a luxury not having to carry all the food with us!).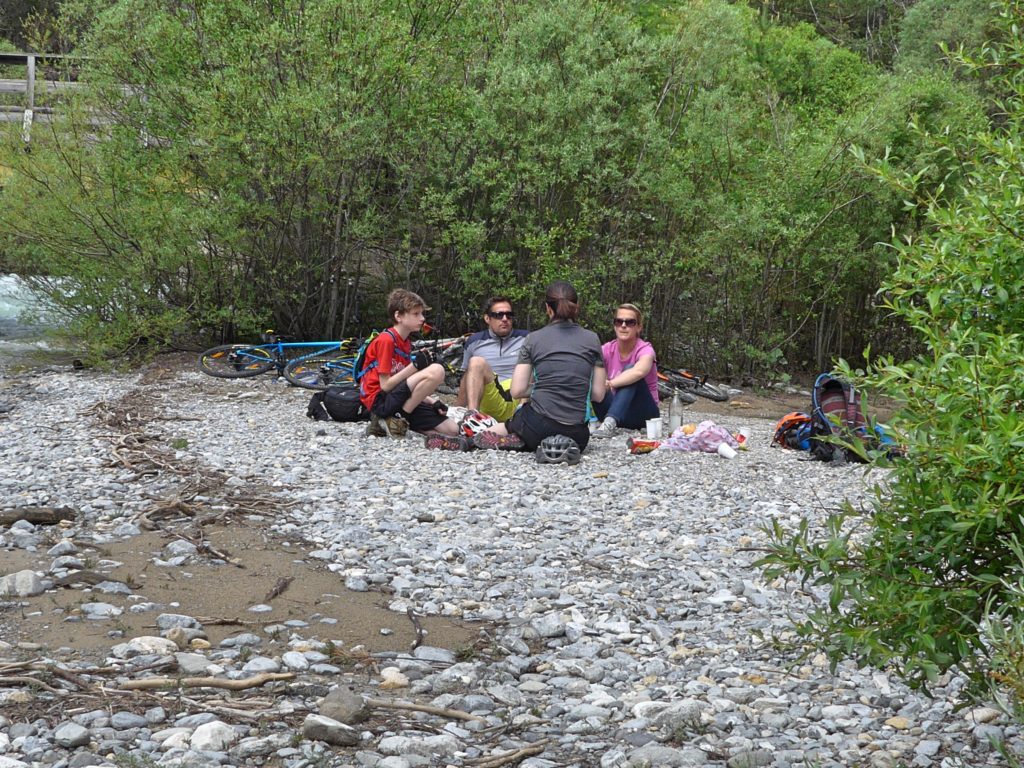 The boys were able to enjoy a spot of dam-building too – an essential part of our family holidays, so another box ticked!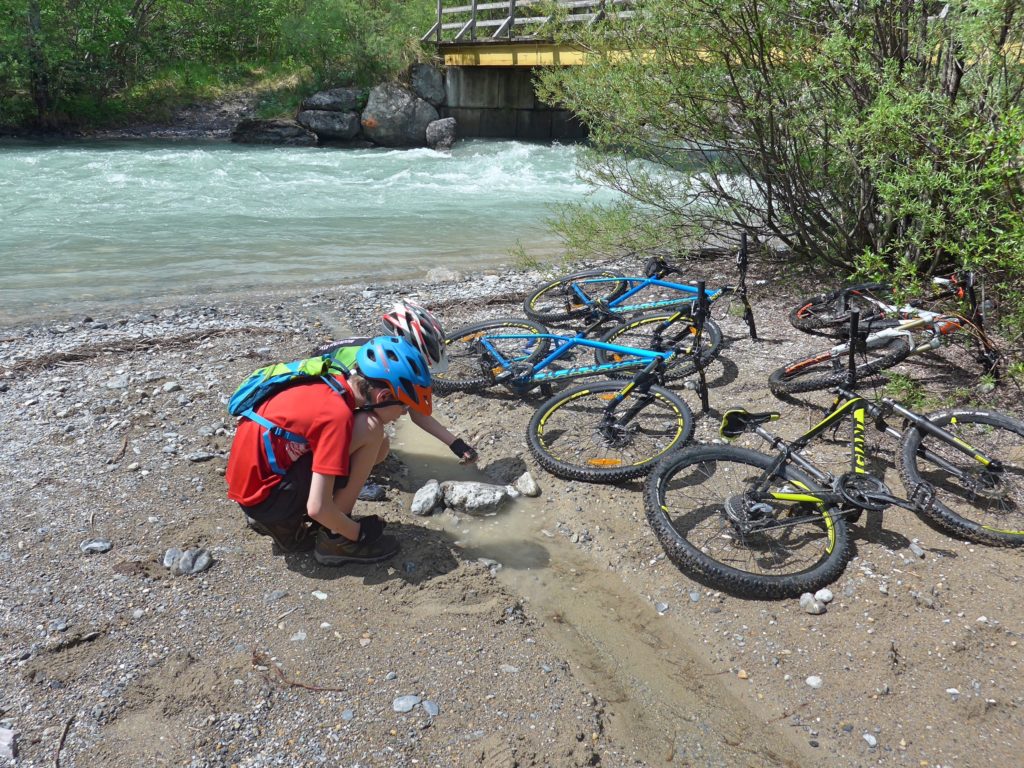 Obviously, as this is a valley this is a 'there-and-back route, but Florian varied it slightly, calling in at the village of Val-Des-Prés where we saw fabulous old public laundry building.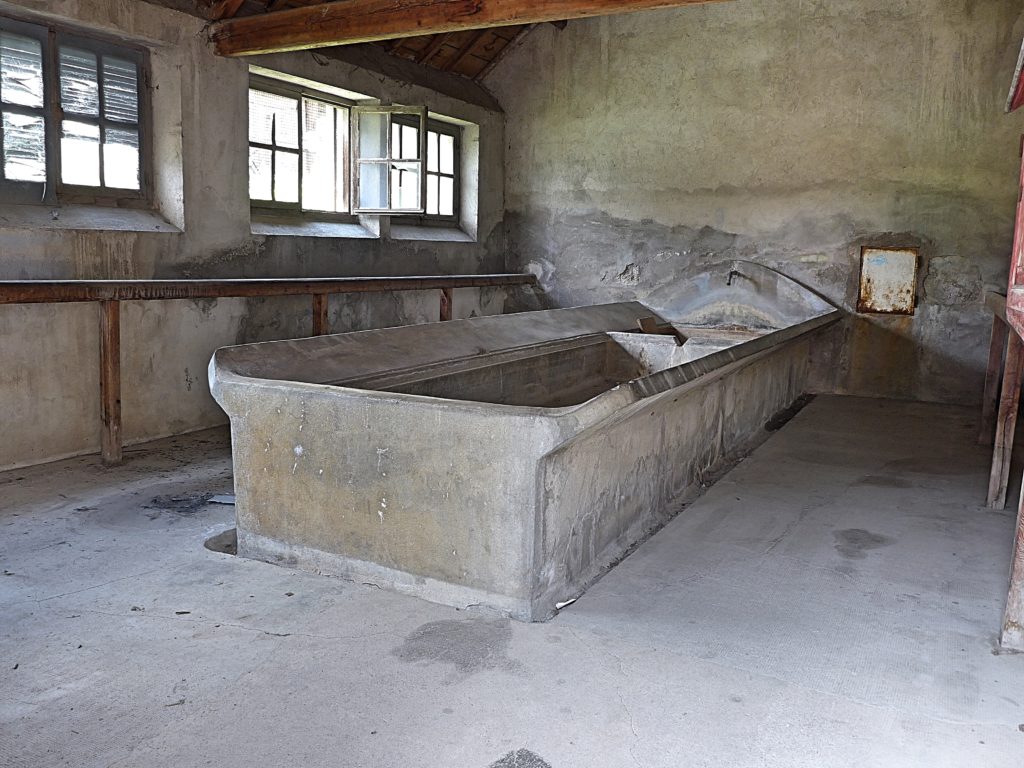 The sheer majesty of the french alps and Vallée Clarée is truly breathtaking, and there are reminders along the route of the sheer power of nature. This rockfall after a heavy rainfall several summers previously had dammed the river and risked the villages downstream. Florian told us it had been all hands on deck to bulldoze the rocks away from the river before serious damage was done.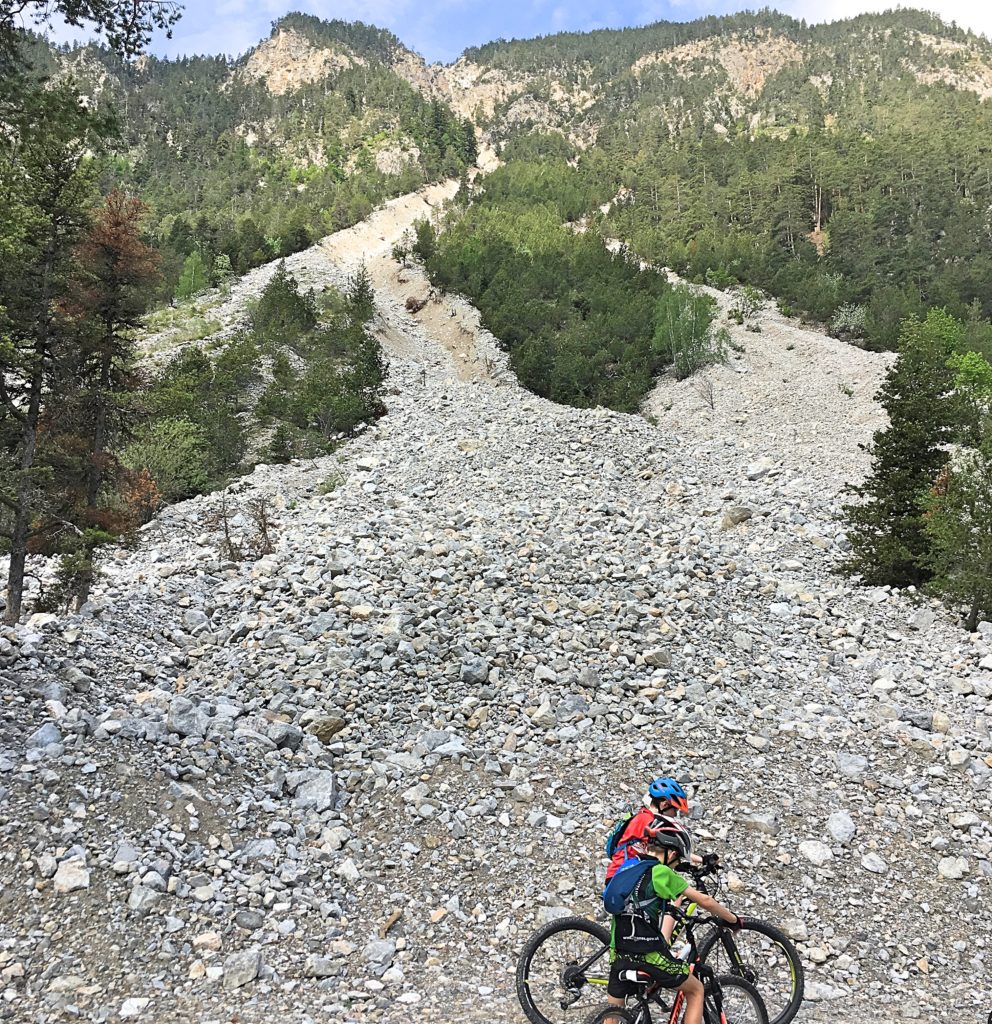 We continued along the banks of the Clarée for slightly longer than on the outward journey, meaning we could visit the meeting point of the wide and fast-flowing River Clarée and the much smaller River Durance.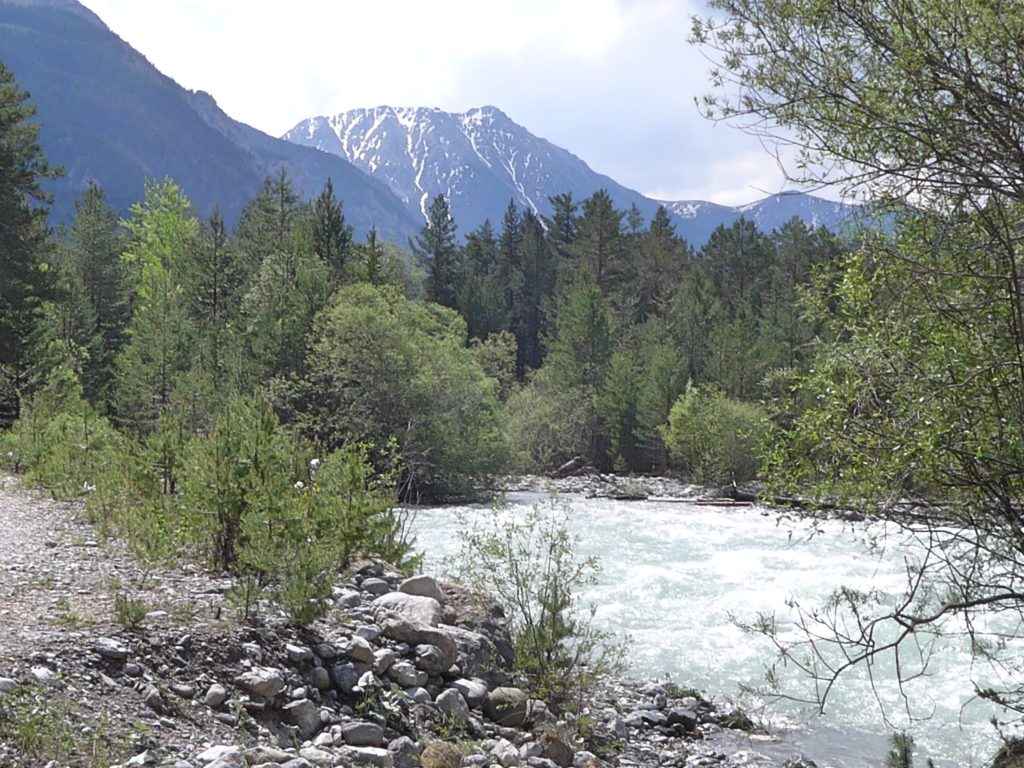 Florian told us that the Durance should be a tributary of the Clarée, which flows on into the Rhone, but the Romans determined that the source of the Durance was higher and therefore more important and so at this point, the River Clarée becomes the River Durance for the remainder of its journey.
We returned to Maison-Amalka via some final gentle tracks, with stunning panoramic views back down the valley.

I'd highly recommend family cycling in the Vallée de la Clarée in the French Alps. We visited in the low season during Whitsun half term. The French children are at school so the route was incredibly quiet – we saw several solo mountain bikers, a couple of runners and a few hikers in over 4 hours.  With the temperature in the low 20C's the riding was very pleasant.  During the summer holiday months of July and August, the valley becomes very popular and the road to the higher parts of the valley is closed to traffic (shuttle buses run instead).  It's worth noting the weather will also get much hotter during the high season.
The logistics of family cycling in the Vallée de la Clarée in the French Alps
Starting point:  The village of Les Alberts, just off of the Montgenévre to Briançon road.
Length of route:  We rode about 12km from Les Alberts to Plampinet meaning our entire route was about 24km. The route continues for another 11km to the waterfalls at Fontcouverte.   As this is a 'there-and-back route', you can make it as long or as short as you like.
Terrain: A mix of surfaces including tarmac, gravel, grass, forest floor, ranging from wide paths where you can ride several abreast through to stretches of single track.
Map: The local Institut Geographique National map of Briançon / Serre-Chevalier / Montgenèvre covers this area
Ascent:  We climbed 120m to Plampinet, and there is a further 800m of climbing to get to Fontcouverte. The ascent on the outward journey means the return is much more fast flowing
Bike type:  Bikes with off road tyres (i.e. mountain bikes or gravel bikes) Suspension recommended but not essential
Refreshments: There is a bar in Plampinet, and further shops and cafes if you make it as far as Fontcouverte. Some of the villages have fountains where you can refill your water bottle.
Toilets: None that we found – plenty of secluded bushes and trees!
Disclosures:  Florian provided us with his services as a mountain bike guide free of charge, as part of our complementary stay at his family-friendly chalet, Maison Amalka.
Amazon links in the post contain affiliate links, which mean we may get a very small commission if you make a purchase. This doesn't affect what you pay, but helps us fund the ongoing hosting of the website.
Other posts you may like: