If your child is wanting to ride their bike off road on muddy tracks, rocky trails, at pump tracks and bike parks, you may be thinking about buying a kids mountain bike (or even a small adult size if they're at that stage). In this article I'm going to be looking at 7 key areas you need to think about before parting with your hard-earned money on a  kids MTB, to make sure you get the best value bike possible.
The Cycle Sprog Guide to buying a kids Mountain Bike
In the article we'll look at the following topics:
Sizing of kids mountain bikes
Why weight is important
Cost of kids mountain bikes
Gearing – why chainrings matter
Suspension vs rigid forks on a kids mountain bike
Disc brakes vs v-brakes on a kids mtb
Components (including tyres)
1. Sizing – What age and height is the mountain bike you're looking at suited for?
Kids mountain bikes are mainly found in 24″ and 26″ wheel sizes, aimed at ages 8 and over, but there are some smaller 18″ and 20″ wheel bikes available, plus larger 27.5″ ones too.
Remember that bike manufacturers size their products differently to one another, plus each child varies in height. Always check out the manufacturers size guidelines and carefully measure your child's inside leg, especially if you're buying over the internet. The perfect mountain bike for your child's best friend might not be the perfect size for them!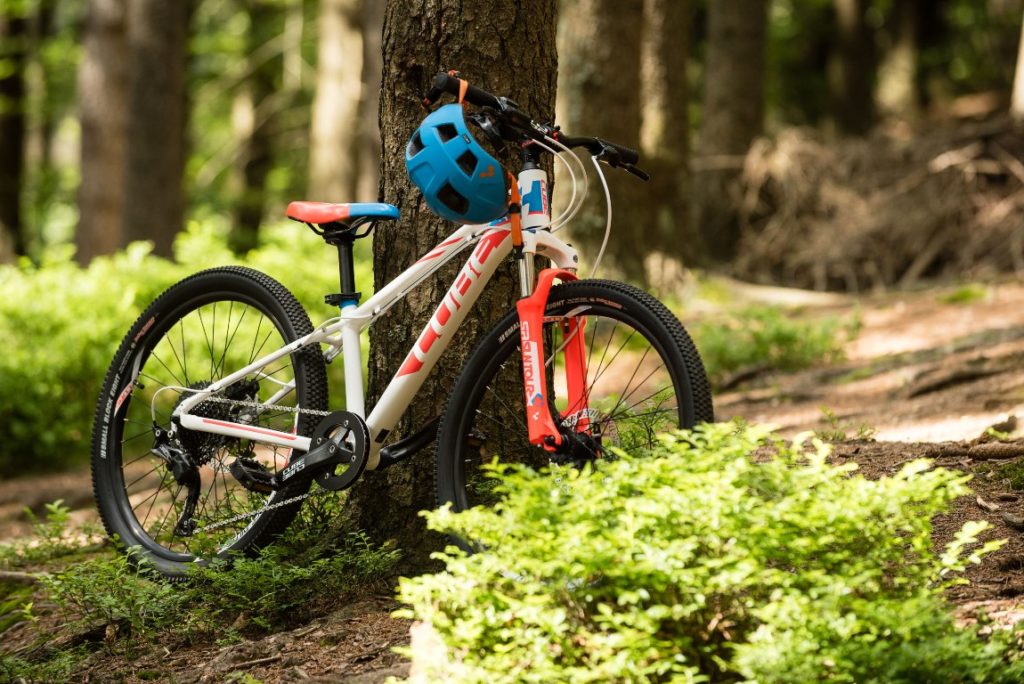 It's always best to check the fit carefully before you buy and not rely on the age guides. For example, my eldest (a very tall young thing) had moved onto a child's 26″ wheeled mountain bike aged 9, whereas my youngest will certainly be getting much more use out of the 24″ wheel mountain bike.
Thankfully most brands provide some overlap between sizes, so the transition from 20 inch to 24 inch and 24″ to 26″ is easier to manage when it occurs.
2. Is weight important when buying a kids mountain bike?
Yes – weight is very important!!  If your child is going to be trying to pedal up steep hills and mountains, then if the bike weighs a large proportion of their body weight it's going to be an unpleasant experience for them.  The general rule is that if you pick up the bike and think "wow, that's heavy, I wouldn't like to have to carry that back along a trail if they had a mechanical problem I can't fix, or decide they don't want to pedal anymore" then it's probably too heavy. Generally, the cheaper the bike, the heavier it will be.
You want them to be able to ride up most hills, and to be able to push the bike themselves if it's too steep, or their legs are too tired.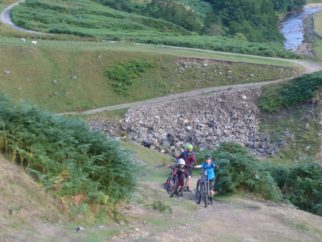 3. Cost – you get what you pay for with a kids MTB
You can pick up a kids mountain bike from your local supermarket or online discount store and pay less than £100. When I say pick up I don't mean that in the truest sense, as the reality is you'd probably give yourself a hernia. Sadly, kids bikes at this price are heavy and not built to withstand the rigours of mountain biking. They may look the part with 'suspension' front and rear, but that's where the resemblance to a mountain bike stops. The suspension will be for looks only, and won't work out on the trail.  A builder may have a use for the frame tubing though!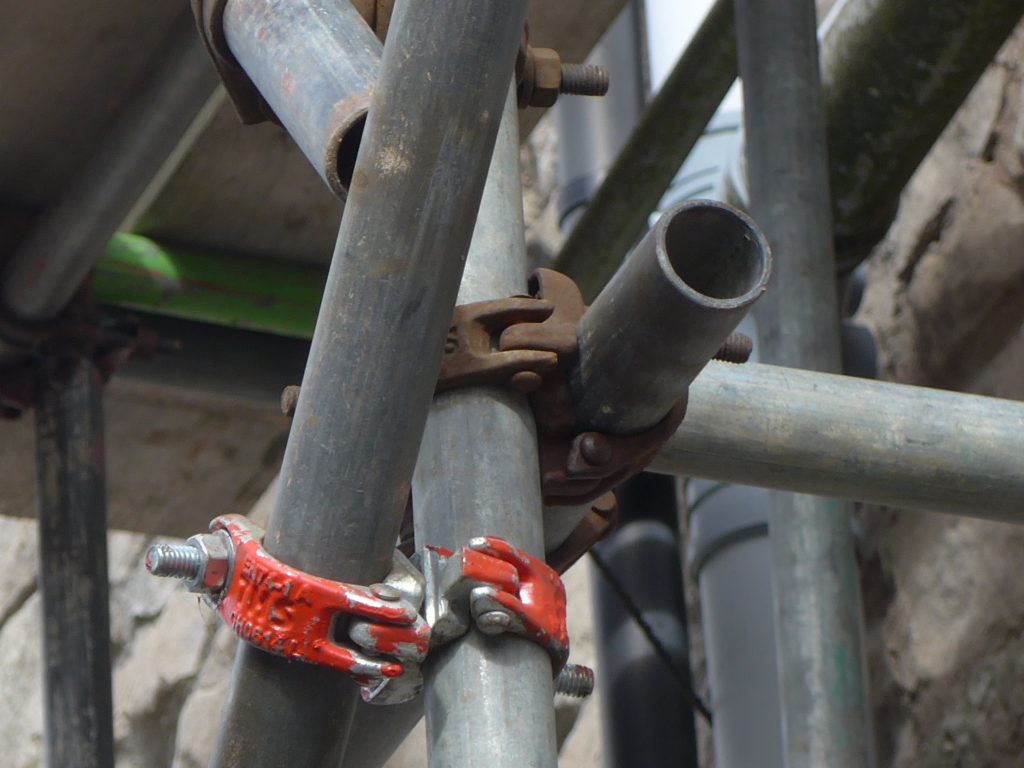 If your child is serious about going mountain biking then it makes sense to have the correct bike for the job. A decent kids mountain bike does come at a price, and you do get what you pay for.  In general decently specified kids mountain bikes start at about £400 and climb steeply in price from there.  Check out our post on  26″ wheel kids mountain bikes for under £500 for options at the lower price range.
If budget is an issue, which it is for the vast majority of families, there are several options to consider:
a cheaper hybrid bike – these come without the additional costs of mountain bikes -here we list our recommended options on decently specified yet cheap kids bikes, which will all manage gentle off road riding
renting a kids mtb – if you're only going to be riding several times a year it can be more cost effective to rent a mountain bike when you need it. Most trail centres have rental shops – book ahead to reserve as kids sizing can be limited
buy second hand – this is a great way to get a decently specified kids MTB at a cheap price. Our guide to buying a second hand kids bike will help you find a bargain!
4. Gearing on a kids mtb
There are two things to think about when considering the gearing on a kids mountain bike. The chainset at the front (the bit by the pedals / front gears – operated by the left hand) and the gears at the back (operated by the right hand).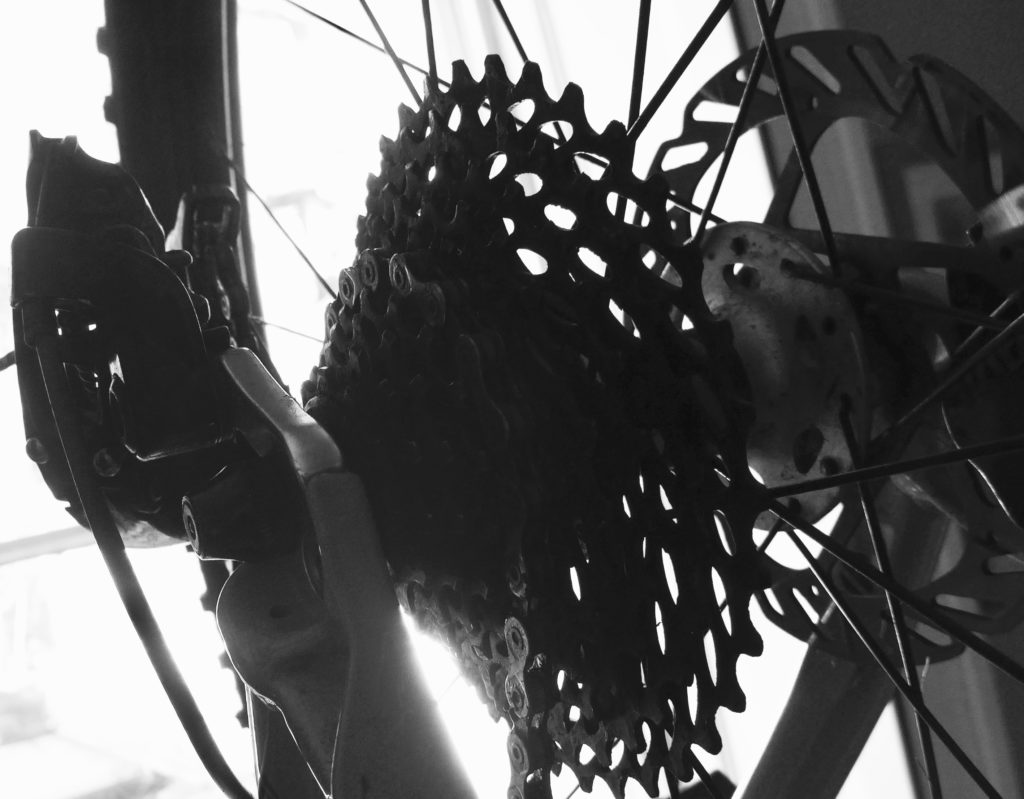 The number of gears a bike can be worked out by multiplying the number of chainrings at the front by the number of gears at the back.  So if you have a triple chainring at the front and 8 gears at the back, you'll have 24 gears. (3 x 8 = 24).
It's easy to think that more gears is better, but this isn't the case on a kids mountain bike.  Having a double or triple chainring means you have to think about changing gear with your left hand.  A single chainring means there is no left hand gear to worry about.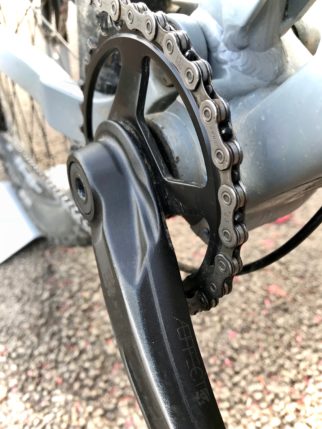 This makes changing gear so much easier for a child (and an adult!) A single chainring is also lighter.
At the rear, if you have a nice wide spread of gears, from a small gear for going downhills through to a nice big gear for climbing (sometimes known as a granny ring) this will work well.
Most quality kids mountain bike now come with a single chainring. It's simpler, lighter, plus there's less cables and less thumb thingies to twiddle and less things to go wrong.  Most cheaper kids bikes still sport a triple, with gear shifters for both hands.
You also need to think about how the gears are operated. Some bikes have thumb triggers, other handlebar twist grips.  If your child has any difficulties with strength or movement in their hands, then this can be important. Generally, the more expensive the bike, the easier the gears are to operate – it can be very difficult to get the gears to move on a really cheap bike.
5. Suspension vs rigid forks on a kids mountain bike
"Does a kids mountain bike need suspension?" is something we often get asked.  This is an interesting question without an absolute answer as it will depend on several different factors. For example, where do you live and ride most of the time? What is your budget? How adventurous is your child?
The type of riding and terrain you encounter will have a bearing on what will suit best.
You have three choices when it comes to suspension on a kids mountain bike.  Rigid fork mountain bikes, such as the Hoy Bonaly, come without any suspension forks: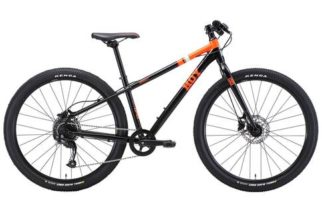 Front suspension bikes, (also known as hardtail mountain bikes) such as the Frog Mountain Bikes, have a front suspension fork: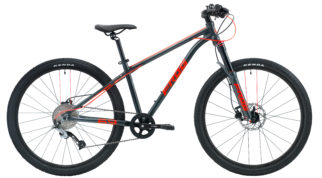 It's important to remember that in order to activate the suspension a fork must respond to your child's weight. If the fork needs a heavier weight than your child can provide, then the fork is useless. This is why we don't recommend a child rides an adult mountain bike.
Front forks can be either air sprung or coil sprung. Air sprung forks can be adjusted to adapt to the changing weight of the rider, so tend to be found on more expensive kids mountain bikes.
Full Suspension Mountain Bikes, such as the Cube Stereo Youth, have a front suspension fork and a rear shock: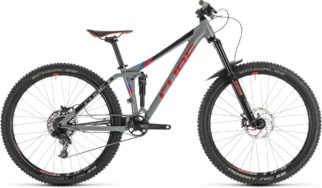 Rear suspension adds weight to the bike, but makes riding over very rough or steep terrain much more comfortable.  Very cheap full suspension bikes from discount retailers don't work.  If your child needs a full suspension bike for the type of riding they're doing, you'll already know that these bikes come with a hefty price tag.
So, to summarise, if your child is doing mainly gentle off road riding then rigid forks will suffice. If they're getting a bit more adventurous and moving onto some technical features on a trail you may want front suspension. A technical downhill rider who loves jumping will probably be looking for a decent suspension fork with a rear shock.
6. Disc brakes vs v-brakes on a kids mountain bike
V-brakes are the traditional type of bike brake, where the brake comes into contact with the rim of the wheel.
Disc brakes are newer and more powerful, and are better suited for stopping in wet and steep conditions.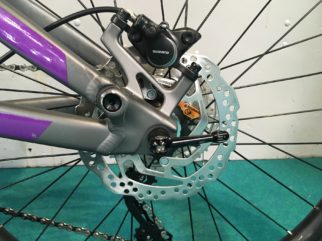 When you start to look at higher end kids mtb's then disc brakes start to make an appearance. They add cost and weight to the bike and are worth considering if you child is:
a) doing technical or very fast downhill mountain biking and
b) is a very competent rider, so knows how to use the disc brakes safely.
Remember that kids have cycled safely and happy with v-brakes for over a very long time, and it takes skill and experience to use disc brakes. If your child is a novice rider they may find the power of the brakes overpowering.
7. Components on a kids MTB
As with everything we've discussed so far, you get what you pay for in terms of components on a bike. A top price bike will have top end components which will be easy, fun and comfortable to use and long lasting. At the other end of the price spectrum, the very cheapest bikes will have components that are difficult to use and break or rust easily.
Some manufacturers build a range of bikes that are then sold at particular prices. To help achieve this (and be competitive with offerings from other brands) savings have to be made somewhere along the line. Often, a 'range' will have the same frame at its heart, but the quality of the groupset (the mechanical parts such as the brakes, gears, chain etc), wheels and other components will improve as the price heads north.
On kids mountain bikes items such as the saddle, handlebar grips and tyres can often be own brand or cheaper alternatives as it helps keep the overall price down.
Tyres
One item that can make a real difference to the quality and comfort of a ride (apart from a comfy saddle!) is where the bike comes into contact with the ground – the tyres. A decent set of tyres, suitable for the type of riding your child does, will pay dividends.
Having tried climbing wet, muddy passes with tyres designed for gravel had my wheels spinning and me pushing in parts. Same location, same conditions but with appropriate tyres and not only did I have traction, but also a greater level of confidence in the bike and a bigger grin on my face.  If necessary, you can always upgrade a decent frame with better quality tyres.
What to look for when buying a kids mountain bike – a summary
So, to summarise, before you buy your kid their next mountain bike remember:
Check the sizing is correct for them
Check the weight – if it is too heavy it's not going to be any fun to ride
Set your budget, remembering you get what you pay for at the very cheap end of the scale
Decide whether they need suspension for the type of riding they'll be doing
Look at the gearing and make sure it's not over complicated, but has a wide enough range of gears to get up hills
Decide whether they have the skills to handle disc brakes
Check the components such as tyres and saddles – but remember you can always upgrade these bits later
I hope you've found this article useful in helping you choose which type of mountain bike to buy for your child. If you'd like to buy us a coffee as way of a thank you, you can do this via this link
If you've enjoyed this article, please check out these:
Affiliate disclosure:  This post contains affiliate links – which means we get a small commission from anything purchased. This helps us to keep running the website, so thanks for your support!
This post was first published in April 2017 and updated in August 2022