If you're looking for a 24″ wheel bike for a child aged between 7 and 10 years of age you're probably looking for a bike that can be ridden further and faster than their previous bikes.  By this age, most children are able to pedal and change gear by themselves and are starting to want to explore further afield on their bike.  Buying a well made, correctly proportioned bike that your child is going to enjoy riding is SO important if they're going to enjoy riding it. 
Take a moment to GRAB YOUR FREE KIDS BIKE BUYING CHECKLIST which will help you record all the information you need to find the perfect bike for your child. 
What type of bike does a 7 or 8 year old need? 
As kids bikes get bigger, so do the different options. So you need to decide whether you're buying a specialist bike such as a mountain bike, road bike or BMX, or whether you're keeping your options open with a more versatile flat handlebar bike, known as a hybrid.
We recommend a 24″ wheel hybrid bike if your child is going to be doing a mix of cycling – this type of bike will allow them to cycle to school, ride bridleways and off-road trails and are great for riding green and blue graded routes at trail centres. They are also suitable for riding in U10's cyclocross races without having to invest in a cyclocross bike, and are great fun for beginners to ride around a pump track.
We are concentrating mainly on 24″ wheel hybrid kids bikes in this post. If you're looking for something more specialist then please visit these posts:
What features does a 24″ hybrid bike need?
The best kids bikes all have the following:
CHILD SIZED BRAKES – reliable brakes with levers sized for a child's hands to allow them to stop easily. All the bikes featured in this post have easy reach, adjustable brake levers.
EASY TO USE GEARS – ideally a single chainring (the gear by the pedals) rather than two or three chainrings. This means there is no need for a left hand gear shifter, making it so much easier for kids to change through the 7 or 8 gears available to them.  Having twenty-one or more gears is very complicated, plus there's just more to go wrong. All bikes featured in this post have a single chainring and child friendly gear shifters (either twist grip or thumb shifter).
LIGHTWEIGHT FRAME – if their bike weighs almost as much as them, then your child isn't going to enjoy riding it. It will be hard to move, almost impossible to ride up hills and will tire them out quickly. You will also find it hard to pick up and lift onto a car rack or to negotiate steps.  All the bikes featured in this post have lightweight alloy frames, rather than heavy steel frames found on some very cheap kids bikes.
What size bike does a 7 – 8 year old need?
The majority of 7 and 8 year olds will be getting ready to move onto a kids bike with 24″ wheels. However, every child is different and each type of bike is a slightly different size, so do make sure that you measure very carefully, or even better, test out a bike before you buy.
Please don't be tempted to buy big so your child can grow into it. They will struggle to control the bike, feel unsafe and not want to ride it. A total waste of money! You're much better buying a bike that fits them and then selling it on to fund the purchase of the next, correctly sized bike, as they get older. If they don't quite fit a 24″ wheel bike or aren't able to pedal themselves, then check out these other posts:
The best 24″ wheel kids bikes for children aged 7 years and over
Cycle Sprog is an family run, reader supported, website. We belong to several affiliate schemes so may receive a small commission from sales made from links on our site. We do our best to be impartial and recommend products on their quality not whether they are in a scheme.
Take a moment to GRAB YOUR FREE KIDS BIKE BUYING CHECKLIST which will help you record all the information you need to find the perfect bike for your child.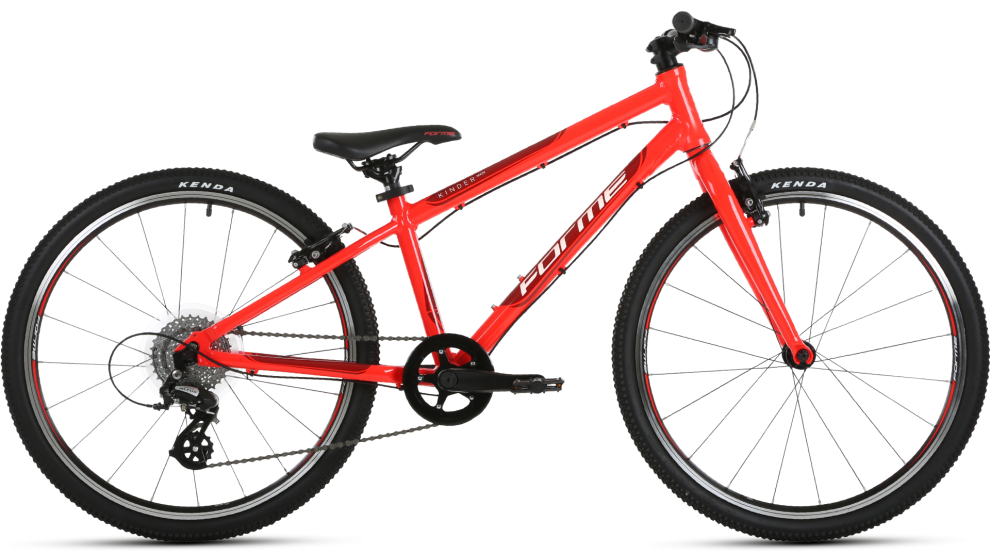 Forme Kinder MX24 Key Data: 
Price new: £330
Lease: from £12.05 per month
Inside Leg:  61 cm to 67cm   
Saddle to floor: 66cm to 74cm
Bike weight:  9.34 kg
Brakes: Tektro V Brakes
Gearing: 8 speed Shimano 11-34T cassette with 32T chainring with changes by Shimano Rapid Fire thumb shifter
Frame:  Alloy 6061
Tyres:  Kenda Small Block Eight 24″ x 1.5″
Available colours:  Red, Blue and Pink
Warranty:  Lifetime on Frame
The Kinder MX24 is Forme's .  Weighing in at just 9.34kg the Kinder is light for a bike this size, meaning it's going to be easy to manoeuvre. This is important as your child is likely to get more adventurous with their cycling at this age, and as they ride further they're going to have to deal with more steps, kerbs and other obstacles.
The gearing on the Forme Kinder is simple – 8 speeds operated by a Shimano Rapid Fire trigger shifter. The range of gears should be fine for most hills a child of this age is tackling – after all the bike is named after Kinder Scout in the Peak District (close to where Forme Bikes are based).  The Kenda tyres are good all terrain options found on many quality kids bikes in this price range.
If your child is growing quickly and you're not sure whether to skip to a bigger bike for them to "grow into", then you need to know that the Kinder MX24 is available on a monthly lease via The Bike Club.  A monthly subscription allows you to get a bike that fits your child now and upgrade it to the next size when they've grown and are completely ready for the next size up.
The Forme Kinder MX24 is a versatile all-rounder of a bike that will be just as happy riding some trails at the weekends as it will be doing the daily school (assuming we're all still going to school!)
You can read our first impressions review of the Forme kids bike range here. 
We've been sent a couple of the new Forme Bikes to review - here's our first impressions review of the Forme Kinder.
Cycle Sprog reviewed and recommended brand
This bike is available on a monthly lease from The Bike Club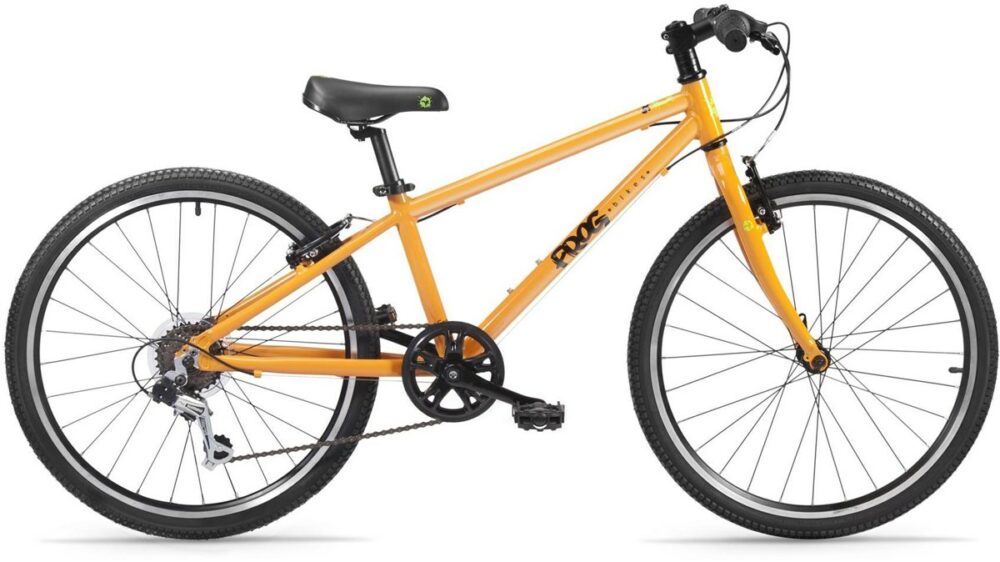 Frog 62 Key data:
Price: £340
Typical age range: 8-12 years;
Minimum inside Leg: 67cm;
Bike weight: 9.2kg;
Brakes: Tektro 836AL Aluminium V Brake Black;
Gears: 8 speed Shimano 32t x 11-32t operated by Shimano SLM360 Alivio (thumb trigger)
Frame: Aluminium;
Tyres: Kenda K184 24 x 1.75 hybrid tyres;
Available colours: Red, Orange, Black, Team Sky Black/Blue, Team Sky White/Blue, Union Jack, Green;
Warranty: 2 years - extended to 5 years for frame if you register the bike within 28 days of purchase
Frog Bikes are one of the best known and well-loved kids bike brands. They have a huge range of bikes that start with tiny balance bikes through to larger hybrids, such as the 24″ wheel Frog 62, as well as road, track and mountain bikes. Frog only make bikes for kids, so are able to concentrate on getting the important details for children correct.
The Frog 62 is sized for a child with a minimum 62cm inside leg (that's how the Frog naming convention works, which is an easy way to decide which bike your child needs), so maybe a bit big for smaller 7 year olds – in that case, the 20″ wheel Frog 55 may suit.
Weighing in at 9.25kg the bike is nice and light, meaning your child will be able to easily manoeuvre it as well as lift it up and over any obstacles on the way (think steps, high kerbs or debris on a trail).   The seat post and wheels are quick-release, making adjustments and maintenance easy.
There are 8 gears on the Frog 62, operated by a Shimano Alivio rapid fire right hand thumb shifter. There is a single 32 tooth chainring (the front gears) and this means there are no left-hand gears to worry about, making changing gears simple.   The range of gears at the back wheel go from a small 11 tooth gear (11T) for downhills through to a larger 32 tooth (32T) gear for climbing.  This should be sufficient for most children, but if you are riding in a very steep and hilly area you may need a slightly larger gear, usually found on a mountain bike.
Frog Bikes come supplied with two different sets of Kenda tyres, meaning you are equipped for both on and off-road riding. They also come in a vast range of 8 different colour schemes/patterns, meaning there really should be something to appeal to every young cyclist!
We've reviewed quite a lot of Frog Bikes over the years (although not this particular size) and we've always been impressed by their child-focused design and durability (the frame and forks come with a 5-year guarantee and the other parts a 2 year one).
If you've got an old Frog Bike that's been outgrown and needs selling get your Used Frog Bike quotation here.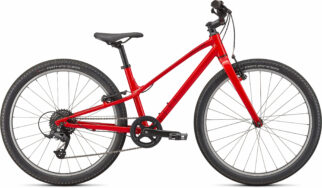 Price:  £419
Height range:  109cm – 147cm
Standover height: 58cm
Bike weight: 9.39kg
Gears:  8 speed (Sunrace 11-34t x 34T) 
Brakes:  V-brakes  
Frame and fork:  Aluminimum
Tyres: Pathfinder Sport, 24×2.0″
Available colours:  Orange, Teal, Grey, Red
Warranty: Lifetime warranty on frame and forks
The Specialized Jett 24 is brand new for the summer of 2021. With it's understated branding and 38cm growth range it's a good choice for a child who's got a lot of growing to do over the next few years. Specialize claim it should last 3 summers or 30 months, but that will obviously depend on how fast your child grows.   
The low standover height does mean your child can get onto this bike sooner than many other 24″ bikes and there's a handy extra hole for the pedals on the crank meaning you can extend the use of this bike and your child's legs grow.  It also has handy markings on the seat post and handlebars making adjusting the bike easy as your child grows.  To help, Specialized also provide an online Bike Fit tool – you simply input your child's measurements and they will tell you how to adjust the bike to fit. 
We've reviewed the slightly smaller Specialized Jett 20 and think the bike is ideally suited to urban and gentle trail riding, rather than tearing down mountain bike trails. An ideal choice for riding to school or heading off down the park at the weekends.
Buy Now
Cycle Sprog reviewed and recommended brand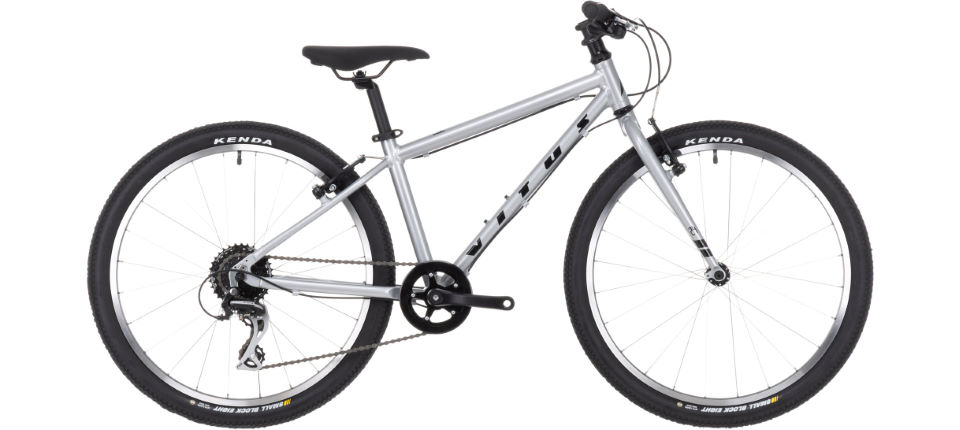 Vitus 24 Key data:
Price: £320
Typical age range:  127 – 142 cm
Bike weight: 9.4 kg
Gears: 8 speed Shimano Acera 32t x 12-32t operated by Rapidfire Plus thumb triggers
Brakes:  V-brakes – Tektro Rs 360a Adjustable Reach
Frame:  Aluminimum
Tyres: Kenda K1047, 24″ X 1.95″
Available colours: Silver, purple/pink, Slate blue/lime
Warranty: 5 year frame and forks, 2 year components
Vitus bikes are a great alternative to some of the more established kids bike brands. They've been building adult bikes for years, and in the past few years have added a well specified, lightweight and affordable range of children's bikes to their portfolio.
The entry level Vitus 24 (as shown above) is a great choice for cycling to school and on gentle off road rides. They also do a wider tyre version with disc brakes, plus a mountain bike, if your Cycle Sprog is intending to do more serious off road mountain biking.
We've reviewed one of their junior mountain bikes and were really impressed and have seen the rest of their range up close and were pleased to see the effort put into the design, including the geometry, child sized components and overall style of the bikes.
Cycle Sprog Reviewed and Recommended Brand
This bike is available via The Bike Club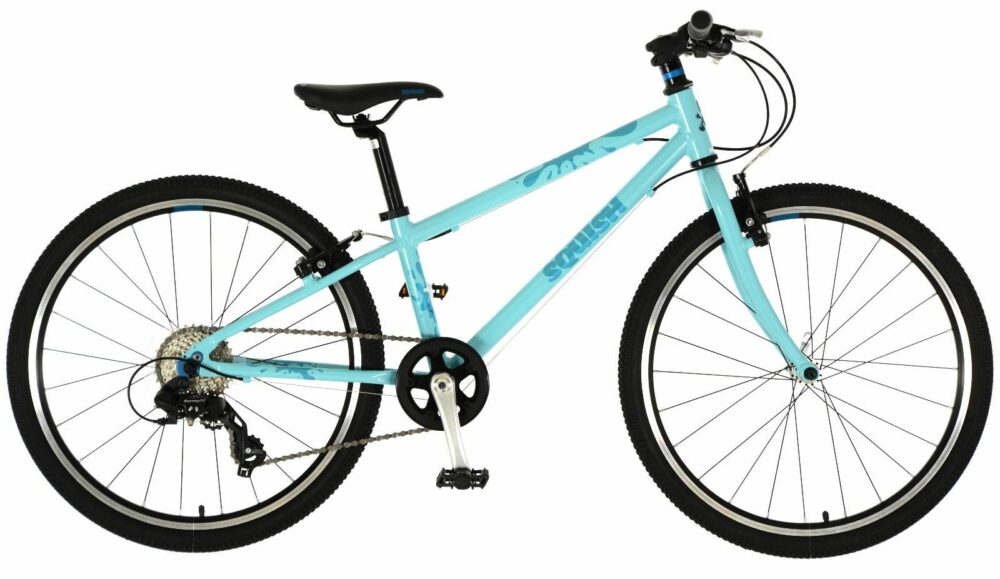 Squish 24 key data:
Price: £330
Typical age range: 8+ years;
Minimum Height: 127cm;
Inside Leg: 57cm;
Bike weight: 9.36kg;
Gears: 7 speed Shimano 32t x 11-32T operated by Shimano Rapid Fire shifters
Brakes: Tektro Mini V-Brakes Alloy;
Frame: Lightweight 6061 Triple Butted T6 Alloy Frame;
Tyres: 24 x 1.5" Cadence Lightweight Junior Tyres;
Available colours :Grey/green, mint/blue, orange/blue;
Warranty: Frame and Forks - 3 years; components - 1 year (excluding wear and tear)
Squish is a brand of kids bikes  who are gradually building up their portfolio of bikes. Their 24″ wheel hybrid offering is the cunningly titled Squish 24, which comes in at a very impressive weight of 9.36 kg fully assembled.
Specification wise, there's everything you'd expect from a quality 24″ wheel kids bike at the £310 price point, so I'm not going to list it all again. What is worth noting on the Squish 24 is that the minimum inside leg is shorter than many of the other 24″ wheel bikes, at just 57cm (see the table at the end of this post for the comparisons).   We've reviewed the smaller Squish 18, and found it to be a reliable ride.
AD:   Got an old Squish Bike to sell on?  The Bike Club have made it hassle free - click here for your valuation and to arrange a courier to come and collect your old Squish bike.  

CYCLE SPROG REVIEWED AND RECOMMENDED BRAND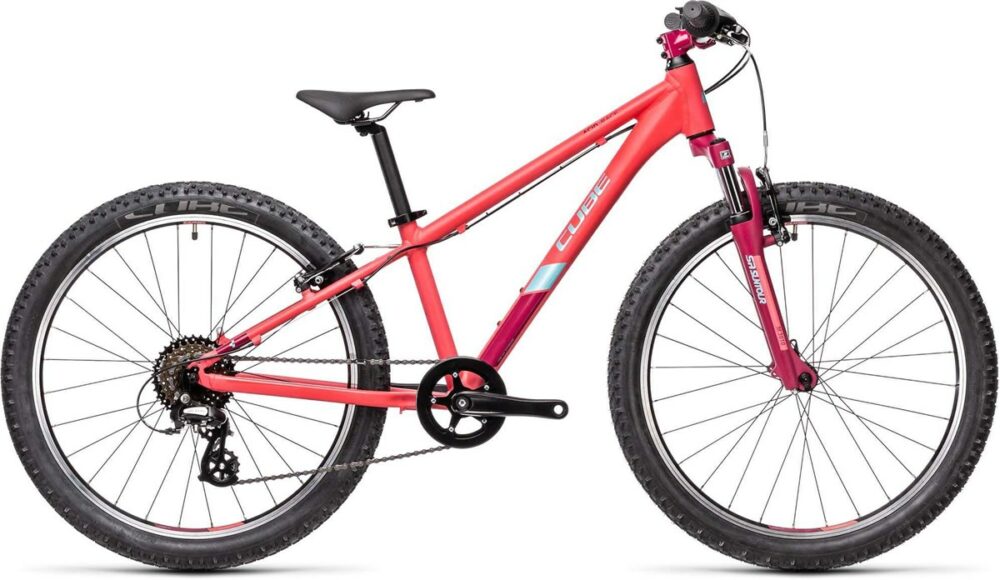 Cube Acid 240 2021 Key Data:
Price: £ 349;
Typical age range: 7-10 years;
Standover height: 60.5cm
Bike weight: 11.7 kg;
Brakes: Alloy V-Brake with Powermodulator;
Frame: Alu Lite 6061;
Suspension:  Yes – front
Gears:  7 speed, 13-34T x 32T, operated by Shimano SL-RS45  Revo Shift (twist grip)
Tyres: CUBE IMPAC Smartpac;
Additional features:  Water bottle mount; replaceable gear hanger; rack mounts
Available colours: Coral; Green; Silver/Orange
Warranty:  Frame 6 years; rest of bike 2 years
Cube has been busy refreshing their junior range and have brought in some great bikes for 2021.  The German brand has been hugely popular on the continent for years, and we've been very impressed with the bikes of theirs that we've reviewed as they're build with longevity in mind, very helpful when you're out on the trails!
If you're looking for an entry level mountain bike then the Cube Acid 240 is really worth checking out.  It is fitted with a suspension fork to smooth out the trail.  It has V-brakes which are perfectly adequate for most entry level riding, and has mounts for water bottles and racks which is useful if you're planning to be out on longer rides, or perhaps commuting to school during the week.
The gearing is simple to use, with a twist grip shifter to move between the 7 speeds.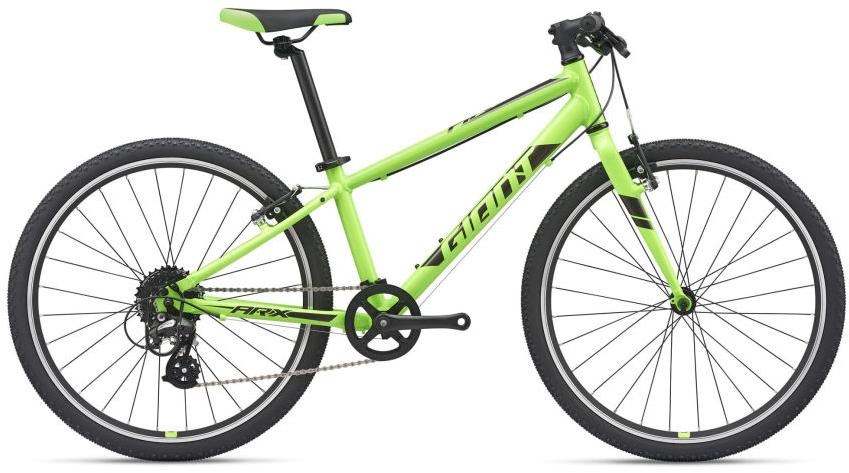 Giant ARX key data:
Price: £359
Typical age range: 7-10 years;
Height range: 130-150cm;
Gears:  8 speed 32t x 12-32t operated by Shimano Altus shifters (thumb trigger)
Brakes: Alloy, linear pull;
Frame: ALUXX-Grade Aluminum;
Tyres: Innova;
Available colours: Orange, Lemon yellow, Neon Green, Purple, Red;
Warranty: Frame - lifetime, Forks - 10 years, All other components - 1 year
Giant may be the world's biggest bike manufacturer, but they're slightly late to the party on quality kids bikes. They released this new range of lightweight kids bikes – the ARX – at the end of 2018, years after most other brands.  This means they've had plenty of time to watch the competition refine their product, and then come out with a decently specified, lightweight kids bike range to rival them, at a slightly cheaper price point.
As you'd expect, the Giant ARX 24 has many of the same features as the majority of the quality 24″ wheel kids bikes we've already featured.  However, in a sign of how confident they are with the quality of their bikes, Giant offers a lifetime warranty on their frames, plus 10 years on forks. Your child will have grown out of the bike long before then!
We've reviewed the Giant ARX 20 which is the younger sibling to this bike
It's a great looking bike, with grown-up styling, and one we expect to be seeing quite a few Cycle Sprogs riding in the years to come.
Cycle Sprog recommended brand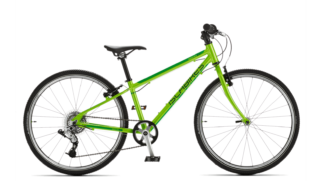 Islabikes Beinn key data:
Price: £470
Typical age range: 7+ years;
Minimum Height: 127cm;
Inside Leg: 57-68cm;
Bike weight: 8.3kg;
Gears: 7 speed 32t x 11-34t operated by SRAM 3.0 twist shifters
Brakes: Aluminium mini V-brakes;
Frame: Aluminium;
Tyres: Islabikes Mixte;
Available colours: Orange / Teal / Charcoal;
Warranty: 5 years on frame and forks and a 2 years on parts
Advert:  If you've got an outgrown Islabike that you haven't got round to selling on, why not get a quotation today from The Bike Club? They'll even send a courier with a bike box to come and collect it from you. 
If Frog Bikes are specialists in kids bikes, then Islabikes are obsessives. They were the first company to build quality bikes designed specifically for children and continue to be at the forefront in terms of innovation and quality.
If you can afford the price of the Beinn 24 you certainly won't be disappointed – the bikes are built to last, and to a standard that is almost impossible to fault. For this reason, a new Beinn makes a good investment, as second hand ones are snapped up quickly.
We've reviewed many Islabikes over the years, including the Beinn 26 and the Beinn 27 and never fail to be impressed by the quality and attention to detail. The bikes come with a 5-year guarantee on the frame and forks and a 2-year guarantee on the components.
The gearing on the Beinn 24 is very simple and easy to use with a Sram twist grip shifter. The Beinn comes with the usual spread of 8 gears from the  Sram 12 – 32 cassette which means it will get up all but the steepest of hills.
The range of inside leg measurements for the Beinn 24 is from 57cm to 68cm meaning this bike can be ridden by smaller riders.  It weighs in at just 9kg, making it one of the lighter 24″ wheel kids bikes available.
Cycle Sprog reviewed and recommended brand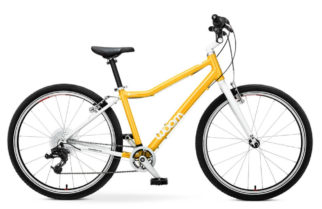 Woom 5 Key data:
Price: £485
Typical age range: 8-10 years;
Inside Leg: 64-75cm;
Bike weight: 8.8kg;
Gears: 8 Speed 29t x 11-32T operated by SRAM twist grip shifter
Brakes: Woom V Brakes;
Frame: Aluminium;
Tyres: Kenda Small Block 24″ x 1.5″;
Available colours: Blue, green, purple, red or yellow;
Warranty: 2 years
Another interesting choice, if you're looking for a well specified, lightweight kids bike that is a bit different to what everyone else is riding, is the Woom 5.  This is an Austrian brand who are now sold in the UK.  It's slightly more of an upright riding style than the other bikes features, so is ideal for cycling to school but it also has the Kenda small block tyres and 8 Speed 29 T by 11-32T gearing (operated by a SRAM X4 Twist Grip). This makes it fun to ride off road at the weekends and should get up some quite steep hills (which they have in Austria!)
The range of colours is also a bit different from most other brands, with the yellow pictured above and a light purple as well as the standard reds, blues and greens.
We've reviewed a couple of the smaller Woom Bikes and were incredibly impressed with the quality and attention to detail.  If you think of an Austrian bike built with the same quality and attention to detail as an Islabikes, then you can understand the price tag.
The inside leg measurement range is 64 – 75cm which means this is a slightly larger bike than some of the others featured on this page, making it ideal for taller / older children.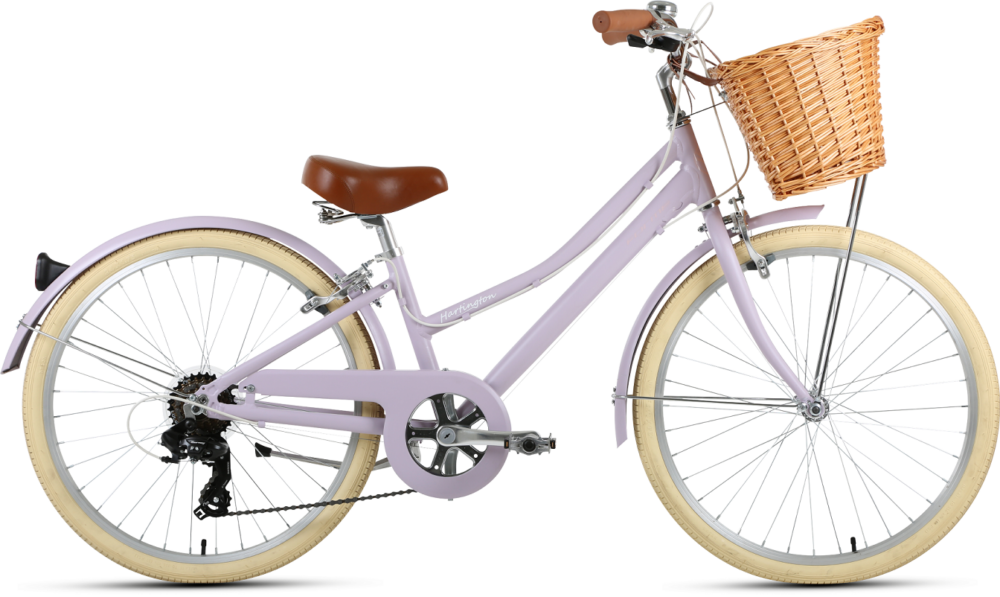 FORME HARTINGTON 24  Key data:
Price: £ 250
Typical Age range:  7 to 11 years;
Inside leg: 60 to 73 cm
Brakes: Alloy Caliper (V-brakes)
Gears: 7 speed 40t x 14-28T operated by Shimano SL-M310 rapid fire (thumb trigger)
Frame: 6061 alloy;
Tyres: Kenda 24 x 1.75″
Bike Weight: 13.68 kg
Available colours: Violet, blush, sky blue
Warranty:  Lifetime on Frame
If your Cycle Sprog is looking for a city style bike that has more of a Dutch bike feel about it, then the Forme Hartington 24 could be the bike for them.  It's a stylish bike with a step through frame, that is available in three pastel colour options.  It is equipped with mudguards and a kickstand as well as a basket.
The Forme Hartington is quite a lot heavier than most of the other bikes listed, so is suited to a more gentle style of urban cycling.
A few other 24″ wheel hybrids to look at
In this post, I've tried to list the best kids 24″ wheel hybrid bikes that are currently available. If these don't quite meet your requirements, then a few more to take a look at (which are all lightweight and with a single chainring) include:
Ridgeback Dimension 24 –  New or Used
Carrera 24″ wheel bikes – New or Used
Discontinued 24″ wheel kids bikes 
There's been a couple of ranges of quality kids bikes discontinued in recent years, meaning you can sometimes find a real bargain when hunting on eBay or second hand forums.
Genesis Alpha 24 (£399 new in 2016)
Dawes Academy 24 (£380 new in 2018)
Cycle Sprog recommended brand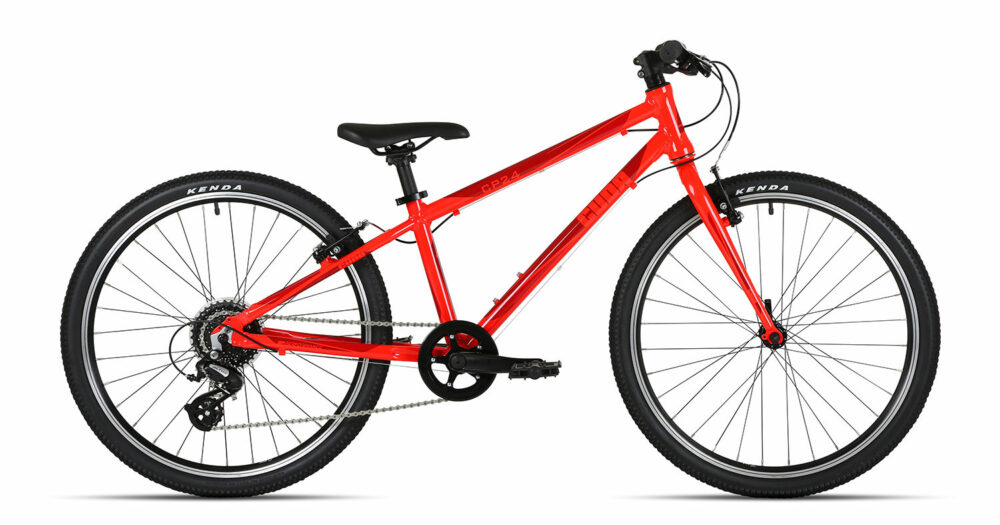 Islabikes and Frog Bikes are all well and good, but so many children ride them. If you want your child to stand out from the crowd a bit, then it's worth considering the Cuda Performance 24″ wheel bike (aka the CP24).  It's a well specified, lightweight bike that hasn't yet got the same coverage as the other brands, partly because they had a smaller distribution network than Frog Bikes. The range was discontinued late in 2019.
As with all the quality kids bikes, it has a single 32t chainring (remember a single chainring makes it easy to change gears as there's no left-hand gear shifter to worry about).  The 8 speed 11-32t cassette will give a good range of gears for most terrain and is operated by a thumb shifter.
Cuda does several different kids bike ranges, so be careful to look for the Performance (CP) range. These bikes are much lighter and better specified than the other ranges.  We've reviewed a few of the other bikes in the Cuda Performance range, which is why we are happy to recommend them.
The Cuda CP range formed part of the Bike Club's monthly rental scheme and whilst you can not longer get a new bike on this scheme you may still be able to lease a used bike when they get returned from their current owners.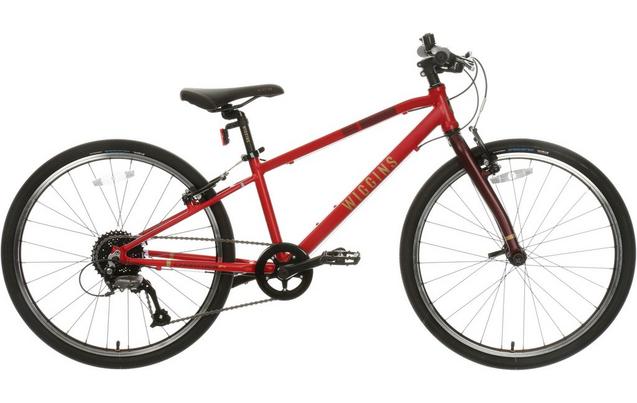 Wiggins Chartres Key data:
Typical age range: 8-11 years;
Minimum Height: 127-145cm;
Bike weight: 9.8kg;
Brakes: V-Brakes;
Frame: Ultra-lightweight double butted aluminium;
Tyres: Superlight Air Filled Vee;
Available colours: Red;
Warranty: Frame and Forks – lifetime guarantee – all other parts 1 year
The Wiggins Range of kids bikes is, as you've probably guessed, the work of Tour de France winner and Olympian Sir Bradley Wiggins.  It's was far the best of the various kids bike ranges sold by Halfords as it has a lightweight aluminium frame and durable child sized components.  Sadly the Wiggins kids bike range was discontinued early in 2021. 
Each bike in the range is named after one of the locations Wiggins rode through during victory in the 2012 Tour de France.
The 24″ wheel Chartres is aimed at children 127 – 145cm tall, and the newer version of the bike (pictured above) weighs in at a reasonable 10.2kg.  The earlier model was slightly heavier, but still a really great bike and well worth hunting down on eBay. 
Buy Used
I'd love to hear which 24″ wheel bike (or other size!) you end up buying. Do please leave a comment below or on our Facebook page.
If you've enjoyed reading this article, please do sign up for our newsletter - we'll keep up updated when we have new articles which may be of interest. Thanks! 
Other posts you may find useful:
Support Cycle Sprog!
If you've found this article useful you can buy us a virtual coffee (or two!) to say thanks and help us keep the Cycle Sprog website going.