A while ago we were sent a Giant ARX 20 kids bike to review. We wrote about our thoughts on the technical specification and appearance of this bike, but the most important thing is how it actually rides! Cycle Sprogs Katherine (age 8) and Jessica (age 6) have been busy putting it through its paces for us – and thankfully they both loved it! Dad was particularly pleased with the quick release seat height adjustment which allowed both girls to enjoy the bike. So, over to the three of them to tell us all about how the bike performed…..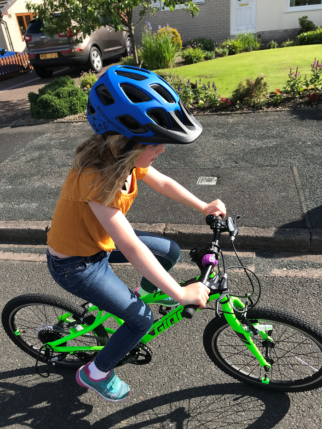 Cycle Sprog is an family run, reader supported, website. We belong to several affiliate schemes so may receive a small commission from sales made from links on our site. We do our best to be impartial and recommend products on their quality not whether they are in a scheme.
Review of the Giant ARX 20 kids bike
The Giant ARX 20 was tested during the summer so given we live in the English Lake District that meant during dry and wet periods. It was tested on main roads, cinder tracks, astro-turf and grass.
Katherine originally chose the Giant's colour scheme. She liked the brightness of the colour over the others as she said "I could find it easily in amongst the others at school, and when it's dark" and "it looked cool!".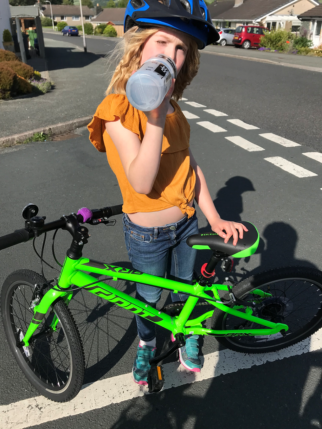 On first appearance, the Giant 20" looked larger and stockier than previous 20" bikes the girls had ridden (Katherine has previously tested the Hoy Bonaly 20). However, this did not show in terms of weight or handling ability. It gave a very stable ride.
The lightweight frame was well balanced for our girls, and the turning circle seemed to cope well with the girls need to squeeze around the tightest corners. It was easy to load into the car, pull up onto pavements from the road, and for the girls to lift up steps (total weight of the ARX 20 is 8.76kg with pedals).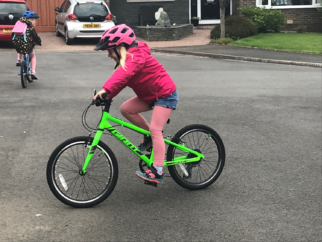 In terms of frame and size, again this looked more solidly built than other bikes they have used but to no disadvantage. Katherine is an average sized 8 year old and the frame was a good fit for her, with plenty of room to grow into. After a couple of months, Jessica decided to give the bike a go. This happened by accident but was enabled by the very simple seat height adjustment that she had worked out how to use whilst Katherine wasn't looking.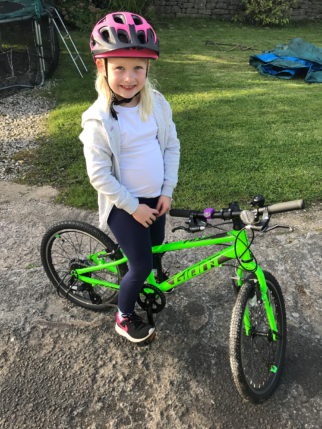 Jessica is 6 years old and after lowering the seat, quickly established a good riding position and felt comfortable on the bike. Based on this, I would estimate the Giant ARX 20 tested here would be suitable for our children from 6 years old to 10 years old as a minimum.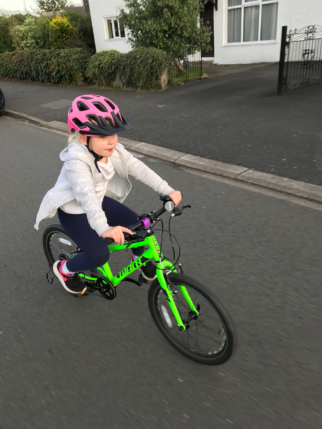 There were no discernible scrapes or marks on the bike after repeated use, and the paintwork remained clean and bright, despite the bashing it sometimes got. A real bonus if selling on after use.
The girls tested the bike on rides of up to 2 hours and reported no discomfort either from riding position, comfort and seating. As mentioned earlier, the simple seat height adjustment was a real bonus as the girls swapped rides on occasion.
The wheels and tyres (1.5″ wide) performed well in all weathers and on all surfaces – the tread we used was particularly good off road, on paths and grass. The children were able to reach good speeds compared to their school and cycling club friends, which was an important factor for both of them. They did not get left behind.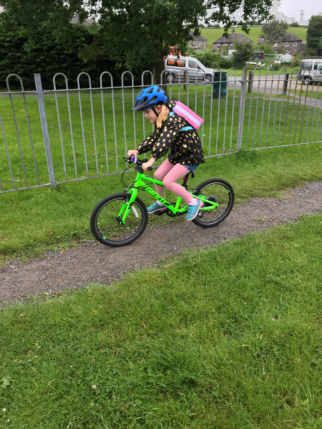 The rim brakes were sharp without being too jerky, the girls were able to stop quickly and slow-down in appropriate situations. The ability to stop quickly whilst on public roads was an important aspect of the bike from a parent's point of view and this particular bike performed well in those situations. The brake levers were well positioned for both girls to use, especially Jessica who has smaller hands, and she had no problems at all.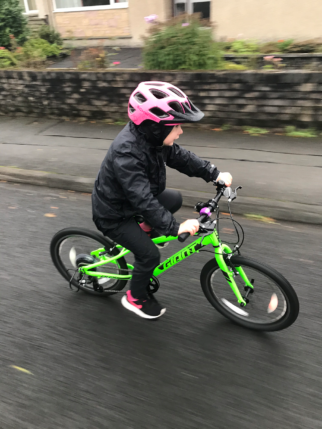 The Shimano Altus gear shift system had 8 gears which is slightly more than Katherine had used before, and it was Jessica's first experience with gears. The gear change was well positioned and it was not a distraction to riding when changing up and down, using the simple lever and push buttons provided. Katherine quickly got the hang of these and used the full 12-32 / 32T range (when reminded). The gears responded quickly and effectively to their use. Jessica took a little longer to get used to the idea of gears but it wasn't long before the novelty of moving them up and down became the norm, though, for a 6 year old, she didn't use the full range as often.
Going fast was the main objective and any gear that achieved that was good enough.
Overall the girls enjoyed the Giant, it looked the part and did what they wanted it to do. Katherine was a little sad when the trial period was over.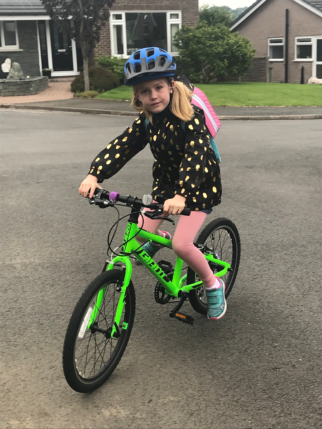 As busy parents, the bike was well built, though light, performed above my initial expectations, the quick release seat height adjustment was a very welcome added bonus and I would have been very happy with my purchase. I also expect it would retain good resale value over time.
Asked if they enjoyed their experience of reviewing the Giant ARX 20, the girls gave an over-whelming positive "Yeah!"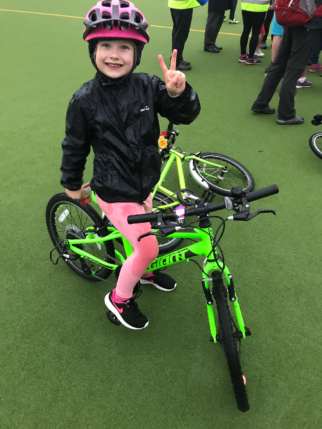 Thank you to Katherine, Jessica and Lawrance for this review, we're pleased that you enjoyed your summer trialing the Giant ARX 20!
Where to buy the Giant ARX 20

The Giant ARX 20 is available from Giant retailers across the country, as well as from a number of on-line retailers.
Disclosure: Cycle Sprog were loaned the Giant ARX 20 by Giant UK for the period of the review. We were not paid for this review and returned the bike at the end of the review period. We are affiliates of a number of bike retailers which means that if you make a purchase after clicking on their links we may get a small commission. This is what helps us keep the website going.
Here are some other posts you might enjoy: