When your child reaches about 6 years of age, they may well be ready to move onto a 20″ wheel bike with gears and the majority of children will be ready by the age of 7 years.
At this wheel size, things can start to get confusing!  There are many different styles of 20″ kids bikes, with each designed for a different purpose. For example, you have mountain bikes, road, BMX and cyclocross bikes.
However, what virtually all 6 and 7 year olds really need is an all-round bike that can be used to ride in the garden or park, on the road and on gravel and rock trails.
And that's where the flat handlebar hybrid kids bike comes in, and why we think these make the best 20″ wheel bikes for kids aged between 6 years and about 8.
Take a moment to GRAB YOUR FREE KIDS BIKE BUYING CHECKLIST which will help you record all the information you need to find the perfect bike for your child.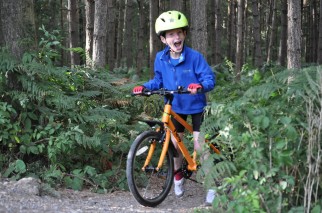 In this list, you won't find any bikes with suspension, nor with drop handlebars. Check out our other articles if you're looking for something more specialist for your 6 or 7 year old.
What makes a good bike for a 6 or 7 year old?
For this article, we've focused on good quality, lightweight 20″ wheel hybrids.
All the bikes featured have flat handlebars, a good range of gearing for tackling both flat and hilly terrain, plus tyres that are suitable for on and off road duties.
They're lightweight (under 10 kg) – so fun for a 6 year old to ride – and if looked after properly should be capable of being passed on to a sibling, or sold on to recoup part of the purchase cost.
Some bikes use a twist grip on the handlebars to change gear, others use a thumb trigger.  All gear shifters on the bikes we recommend are suitable for the small hands of a 6 year old, but the general rule (for all bikes, not just kids bikes) is the more expensive the components on the bike, the easier it will be to change gear.  If possible, get your child to try both and see which they find easier to operate. You can always get your local bike shop to swap them over if needed.
If you've not done so yet GRAB YOUR FREE KIDS BIKE BUYING CHECKLIST, and it'll help you through the decision process and explain more about setting your budget too.
If your child is too small or too big for the 20″ wheel bikes on this page, check out these other posts:
How much should I spend on a 20″ wheel bike for my 6 year old?
Usually, in life, you get what you pay for, and so it usually is with kids bikes. However, please rest assured that all the bikes recommended in this article are lightweight and well specified.
We do understand that everyone has different budgets, so we've included bikes within a range of price brackets to help you find the right bike for your wallet and your child.
However, we never, ever, recommend really cheap, heavy steel framed kids bikes. If you're tempted to spend under £100 on a new 20″ wheel bike, please please read our article WHY YOU SHOULD NEVER BUY A REALLY CHEAP KIDS BIKE first. You're better off buying a second hand one of the bikes listed below.
Best 20″ wheel bikes for 6 and 7 year old kids 
In this article, we're looking just at flat handlebar "go-anywhere" hybrid bikes for boys and girls.
Cycle Sprog is an family run, reader supported, website. We belong to several affiliate schemes so may receive a small commission from sales made from links on our site. We do our best to be impartial and recommend products on their quality not whether they are in a scheme.
CYCLE SPROG REVIEWED AND RECOMMENDED BIKE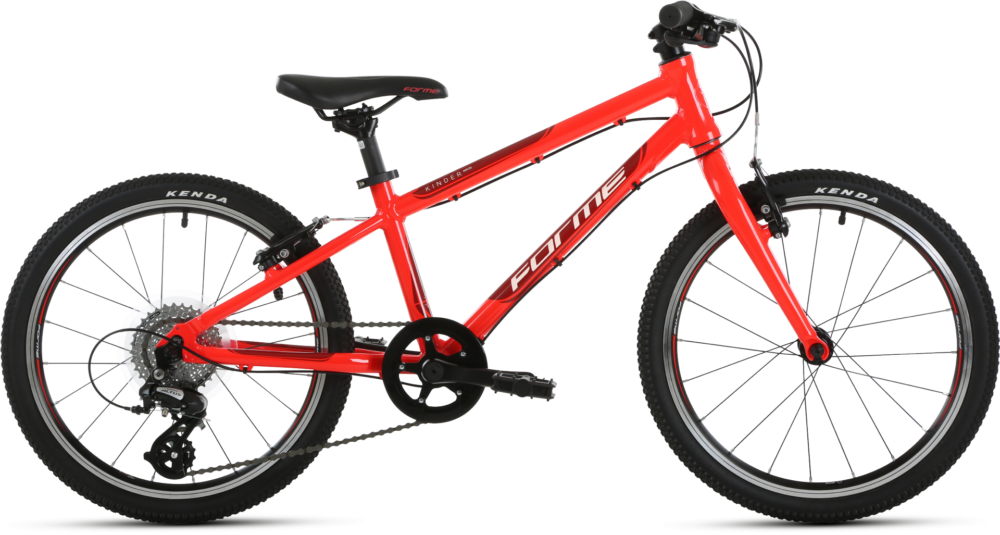 Forme Kinder MX20 Key Data: 
Price new: £325
Lease: from £13.90 a month
Inside Leg:  52cm to 62cm     
Saddle to floor:  59cm to 68cm 
Bike weight:  8.47 kg
Brakes: Tektro V Brakes
Gearing: 8 speed Shimano 11-34T cassette with 32T chainring with changes by Shimano Rapid Fire thumb shifter
Frame:  Alloy 6061
Tyres:  Kenda Small Block Eight 20″ x 1.5″
Available colours:  Red, Blue and Pink
Warranty:  Lifetime on Frame
If your child is ready to move up to a bike with gears you want the peace of mind of knowing that they're going to enjoy riding it.  The Forme Kinder MX20, which is named after Kinder Scout in the Peak District (close to Forme HQ), is designed to be both fun and easy to ride.
The 8 gears are simple to use for a first timer. There's a single chainring, which means your child only has to learn to change gears with one hand, rather than both.  Gears are changed by a Shimano Rapid Fire thumb shifter, which is easier than a twistgrip for small hands to operate. However, Forme has gone one better to really make changing gear a cinch by adding a Sure Shift lever extension which reduces both the arc of the lever and tension and also increases the contact point for the thumb.
The Kinder MX20 is really lightweight – just 8.47 kg – so your child will be able to pick it up and move it around, and you won't put your back out whilst trying to lift it onto a car rack or tidying it away once they're done riding.
These bikes were new for 2020, and we're pleased to see that Forme has paid attention to all the details we're used to seeing on the more established quality kids bike brands. For example, you get lightweight alloy rims and an appropriate spoke count on the wheels to reduce weight, an internal headset (the bit that joins the fork to the frame) to protect it from the British weather, plus Forme designed junior sized platform pedals that should give high levels of grip to stop feet slipping off. The compact frame is designed to give a low stepover, so the rider gets to ride the largest wheel for their size which improves stability and in turn helps boosts confidence.
We've been sent a couple of the new Forme Bikes to review - here's our first impressions review of the Forme Kinder.
One added bonus is that the Forme Kinder MX20 is available to lease via the Bike Club.  Many Cycle Sprog readers are now opting for this hassle free way of getting their kids bikes.  You pay them a monthly fee and upgrade to a larger size each time your child grows.  The environmental benefits of this are huge, as is the time/hassle saving.
CYCLE SPROG REVIEWED AND RECOMMENDED BIKE
THESE BIKES ARE AVAILABLE TO RENT FROM THE BIKE CLUB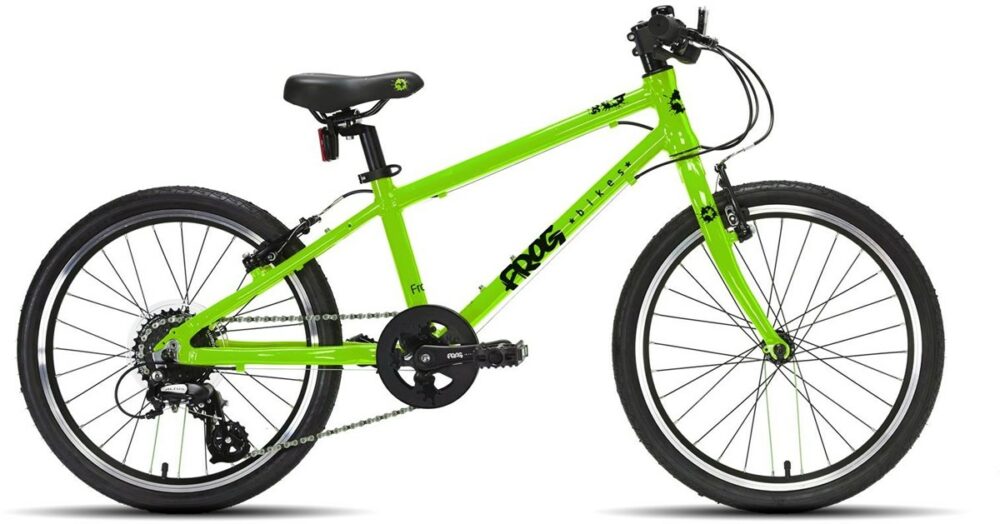 Frog 52 key stats (with Frog 55 in brackets where different):
Price: £325 (£330)
Suggest age range:  5-6 years (6-7 years)
Minimum inside leg:  52cm (55cm)
Bike weight: 8.54kg (8.55kg)
Frame: Lightweight Alloy
Gears: Yes 8 speed – easy to use thumb gear shifters  [Shimano Altus, HG-31, 8-speed, 11-32t x 32T]
Brakes: Tektro 837 with short reach levers
Tyres: Kenda K1047, 20″ x 1.5″, Hybrid
Other features:  Supplied with mudguards, junior saddle, adjustable handlebar height and quick release seat post.  Pannier rack compatible
Available colours: Green, Orange, Pink, Purple, Red, Spotty, USA and electric Blue
Frog Bike Warranty: 2 years - extended to 5 years for frame if you register the bike within 28 days of purchase
Frog has really taken the lightweight kids bike scene by storm in the past few years, and the 20″ wheel Frog 55 has been one of the mainstays of its range. We were sent one to review 5 years ago and it's now been ridden by at least 4 different kids and is still going strong.
The great thing about the Frog bikes is that they now do two frame sizes in their 20″ wheel bikes – the smaller framed Frog 52  suits smaller built children.
The inside leg measurement is what guides you to which size your child will need.
Both bikes have an all aluminium frame and fork, with an 8 speed Shimano Alivio thumb shifter controlling the changes.  This makes gear changes easy – it's all controlled by one hand, rather than having to worry about changing gear with both hands.
If your child isn't ready yet for gears, there's also a single speed version of the Frog 52.
One benefit of Frog Bikes is that they come with plastic mudguards so the bike can be ridden all year round. The 5 year warranty means you're getting a bike that will definitely last several kids and should reach a good resale value at the end of its life.  
If you've got an old Frog Bike that's been outgrown and needs selling get your Used Frog Bike quotation here. 
CYCLE SPROG REVIEWED AND RECOMMENDED BRAND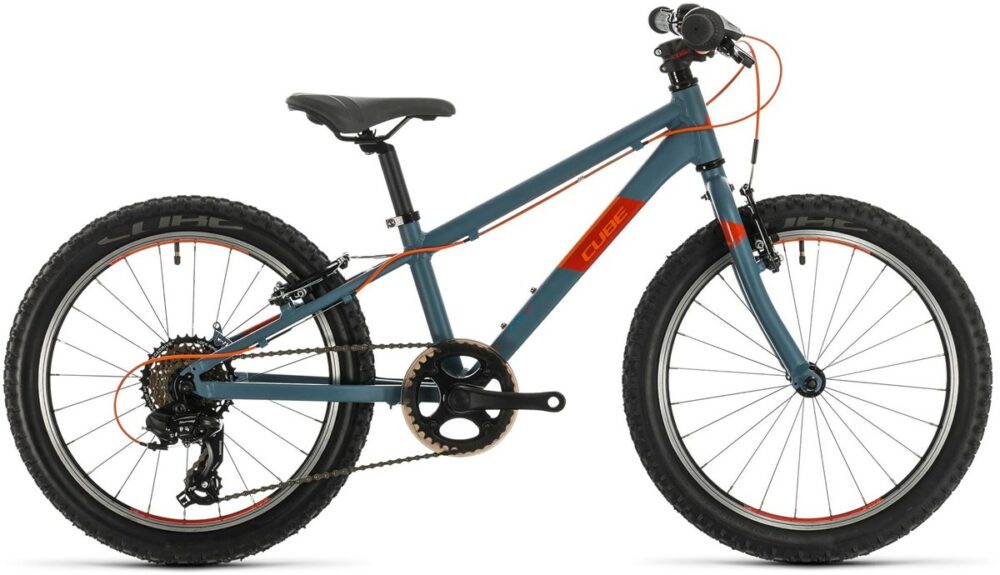 CUBE ACID 200 Key data: 
Price: £399
Height range: 115 – 125 cm
Standover height: 51.8 cm
Bike weight: 9.5 kg
Brakes: Alloy V-Brake with Powermodulator
Gears: 7 speed with grip twist gear change [Shimano RD-TY30 13-34T / 36T]
Frame: Aluminium
Forks: Steel
Tyres: CUBE IMPAC Smartpac
Available colours: Green, grey, white
Cube Kids Bike Warranty: Frame 6 years; rest of bike 2 years 
Cube is a German bike company, which designs robust bikes in a variety of styles and price points.
Their entry level  20″ wheel offering is a 7 speed bike, the Cube Acid 200, which helps make the transitions to gears easier (21 or more gears that you get on some kids bikes just confuses things – more to remember and more to go wrong!)
Cube realise that kids aren't always the most careful or thoughtful so features of this bike include a modulator on the front brake to stop them slamming on too quickly, plus an easily replaceable derailleur hanger – the bit that changes the gears that gets damaged when kids drop their bike on the floor gears side down (TOP TIP –  teach them to lay their bike down derailleur side upwards!)
We've reviewed a number of different Cube kids bikes over the years and have always been impressed with the quality.
CYCLE SPROG REVIEWED AND RECOMMENDED BRAND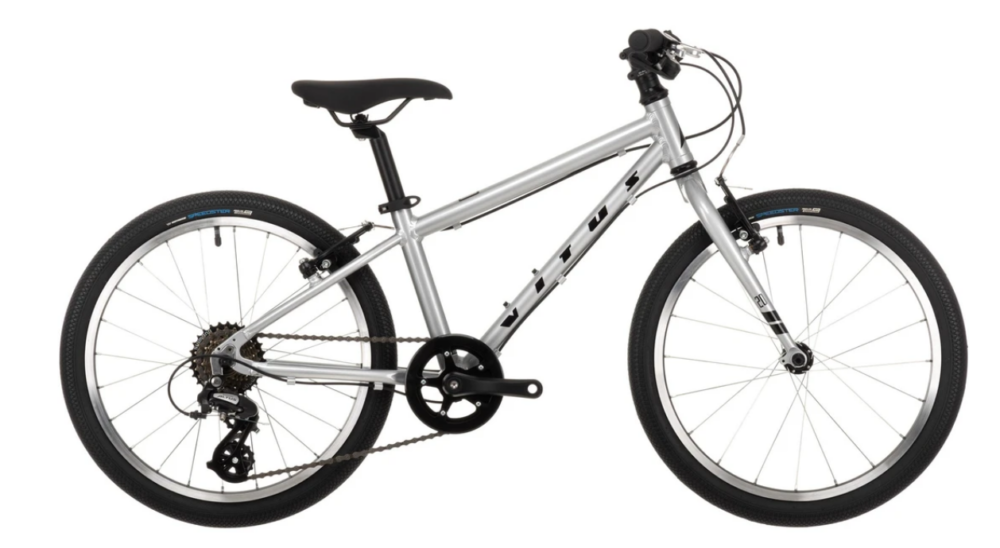 VITUS 20 Key Data:
Price: £310
Height range: 120 – 130 cm
Bike weight: 8.5 kg
Frame and forks: Aluminium
Gears: 7 speed with thumb shifter [Shimano HG200 14-28T /32T]
Brakes: Tektro V Brake with short reach levers
Tyres: Vee Rubber Speedster 20 x 1.75″ Skinwall
Available colours: Blue/Lime; Silver; Purple/Pink
Vitus Bikes Warranty:  5 year frame and forks, 2 year components
With a long, slack geometry the Vitus 20 is a stable bike for kids getting used to riding further and assist in developing their skills and confidence.
Vitus are working hard at keeping their new range of kids bikes in the premium band in terms of design and components. The 2020 model was upgraded to a lightweight aluminium fork (from steel previously) which reduces the weight of the bike from previous models.
Whilst we've not reviewed this particular bike we have reviewed the slightly wider tyred Vitus 20+ and our reviewer loved it!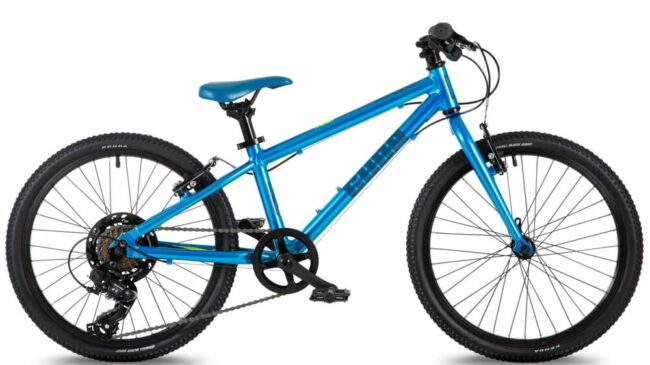 Cuda Trace 20 key data:
Price: £265
Saddle height:  57cm – 70cm
Bike weight: 8.96kg
Brakes: Alloy V-Brake with Alloy Tektro Junior Short Reach Lever With Adjustable Reach
Gears: 7 speed with 14-34T cassette and Shimano M315 7 Speed Shifter, compatible with Sureshift
Suspension: No
Frame: 6061 Aluminium
Tyres: Kenda Small Block 8 20 x 1.5″
Available colours: Purple, orange, blue
Warranty: 12 months
The Cuda Trace 20 was a brand new bike last year – launched during Winter 2020.   It's a lightweight aluminium bike ideal for both on-road and venturing off-road to tackle muddy trails and comes fitted with the ever-popular Kenda small block 8 tyres.
The Trace is the latest range from Cuda, who have merged their two previous ranges of kids bikes (a premium and budget range).  They've placed considerable emphasis on getting the contact points right with short-reach brake levers, correctly proportioned cranks and a correctly sized saddle, without compromising too much on price. 
CYCLE SPROG REVIEWED AND RECOMMENDED BRAND
THIS BIKE IS AVAILABLE TO RENT FROM THE BIKE CLUB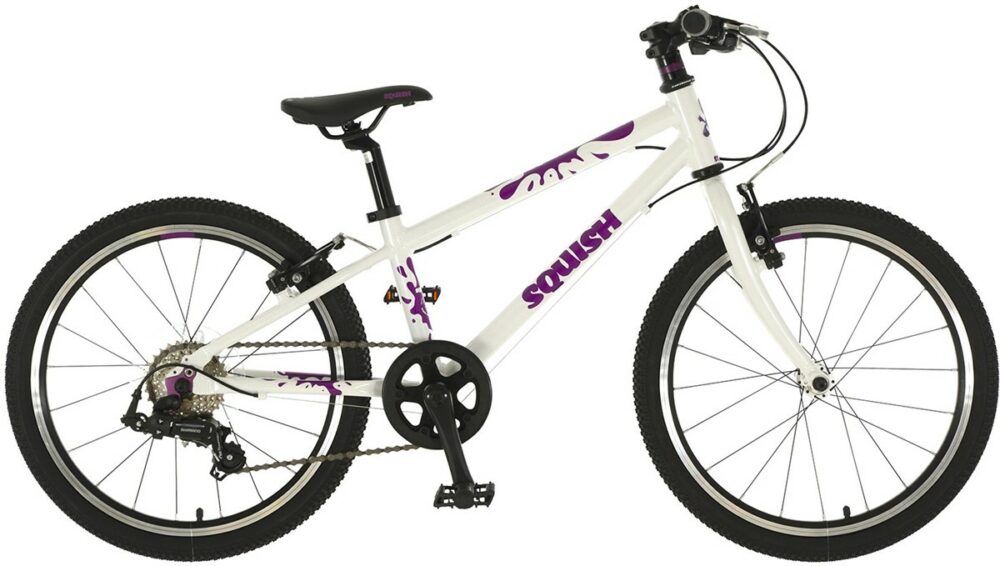 Squish 20 Key Data:
Price: £300
Suggest Age Range: 6 years +
Minimum height: 113 cm
Minimum Inside Leg: 53.5 cm
Bike weight: 8.1 kg
Frame: Alloy
Tyres: 20 x 1.5″ junior hybrid
Gears:  7 speed with thumb shifter [Shimano 11-28T]
Brakes:  Tektro V-brake – adjustable
Available colours:  Purple, green, white
Warranty: Frame and Forks – 3 years; components – 1 year (excluding wear and tear)
Squish Bikes is a reasonably new lightweight brand from Tandem Group Cycles, who also own Dawes Cycles. The range is designed to be cheaper than some of the more established name, whilst retaining child-sized components and a lightweight frame.
Components have been selected to offer reliable performance, low maintenance and easy access to spares and servicing if required.
The triple-butted alloy frame, custom Squish saddle, double-wall alloy rims and alloy micro-adjust seat post help keep weight to a minimum, whilst providing an enjoyable riding experience.
We were impressed with the Squish 18 single speed bike we reviewed – it's cheaper than many of its other rivals, but still offers a good specification.
AD:   Got an old Squish Bike to sell on?  The Bike Club have made it hassle free - click here for your valuation and to arrange a courier to come and collect your old Squish bike.  

Cycle Sprog reviewed and recommended bike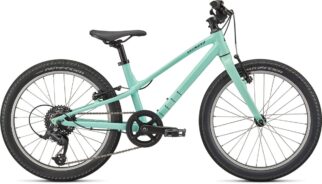 Specialized Jett 20 Key data
Price:  £369
Height range:  102cm – 132cm
Standover height:  51 cm
Bike weight: 8.76kg
Brakes: V-brake 
Gears:  7-speed drivetrain (Sunrace 11-34t x 34T) operated by a microSHIFT TS39 Trigger shifter
Frame and Forks:  Alloy
Tyres: Pathfinder Sport, 20×2.0″
Available colours:  Pale Green / Black / Blue / Raspberry
Warranty: Lifetime warranty on frame and forks
If you want your Sprog to be a bit different to everyone else, then now's your opportunity! The Specialized Jett range has only just been launched and with its understated branding it'll certainly attract comments when you're out and about.
The Jett 20 has all the features you'd expect to find on a quality kids bike, but also has the addition of two positions on the crank so you can move the pedals as your child's legs grow.  To help you size the bike for your child it comes with a nifty online Bike Fit tool. You key in your child's meaurements and it will tell you where to position the handlebars, pedals and saddle for correct riding position. 
This is all part of the attempt made by Specialized to keep your child on this bike for as long as possible – they claim it should last 30 months (or 3 summers depending on when you buy it) – obviously that does depend on how fast your child grows! 
The suitable height range is certainly very wide, making this a good option for a younger / shorter child wanting to move up to a geared bike from 102cm in height. 
You can read our review of the Specialized Jett 20 here. 
Buy Now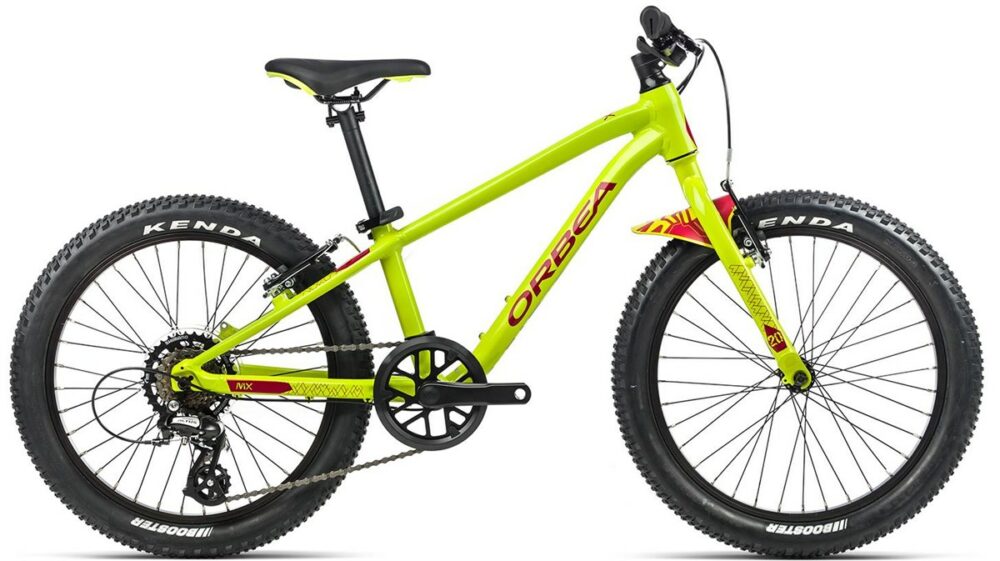 Price: £309
Height range: 115-135cm 
Standover height: 53.3cm
Bike weight: not given
Brakes: Alu V-Brake
Gears:  7 gears – thumb shifter  [Shimano TZ31 7-Speed  14-34t x 36T]
Frame: Alloy
Tyres: Kenda 922 20″ x 2.00
Available colours: Lime Green / Blue
Orbea Warranty: 2 years - register bike within 30 days for lifetime warranty on frame and forks and 3 years on paint, varnish and corrosion
If you're lucky enough to be able to ride off road trails with your Sprog then the Orbea MX 20 Dirt is a great choice. For just over £300 you're getting a bike with a lightweight frame, child specific components and easy to use gearing (it has the modern design –  single chainring so you don't have to worry about changing gear with two hands – which you don't always find on a bike in this price range)
CYCLE SPROG REVIEWED AND RECOMMENDED BIKE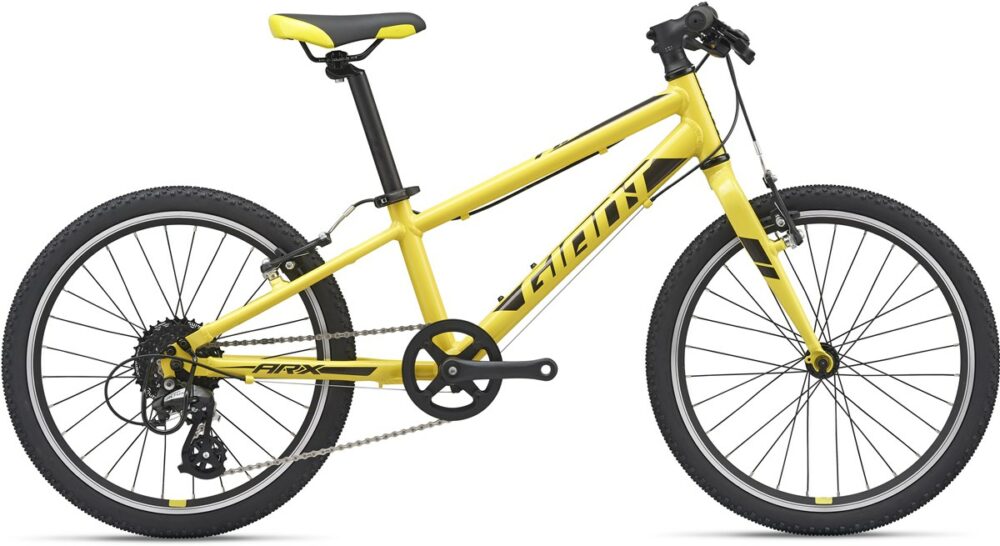 GIANT ARX 20 Key data:
Price: £389
Height range: 120 – 140 cm
Standover height: 50.9 cm
Bike weight: 8.76 kg with pedals
Brakes:  Giant own brand alloy v-brakes
Gears: 8 speed with thumb trigger shifters [Shimano HG200, 12 – 32T / 32T]
Frame and forks: Aluminium
Tyres: Innova IB-3010, 20×1.5″
Available colours: Purple, yellow, green, blue, orange, red
Warranty:  Frame - lifetime, Forks - 10 years, All other components - 1 year
Giant are one of the world's largest bike manufacturers so it's not surprising that economies of scale mean they can make a decent kids bike at a reasonable price.   However, up until 2019, their kids bike offerings had been rather dated in both design and specification as they'd not kept pace with how quickly design has progressed.
All that changed with the launch of the ARX range late in 2018.  It's got the style, the components and the quality you want from a lightweight, quality kids bike.
The ARX 20 is their smallest geared offering and is a great all round bike for riding on and off road.
The bike will cope well with the pressures that more regular riding during lockdown are putting on kids bikes and still be good for when this is all over.
We were very impressed with the bike when we saw it, and our reviewer had a great time riding it to school every day.
CYCLE SPROG REVIEWED AND RECOMMENDED BRAND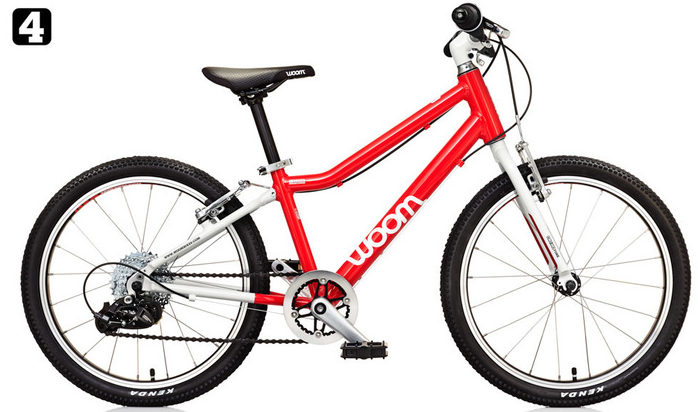 WOOM 4 Key data:
Price: £435
Typical Age range: 6 to 8 years
Inside leg range: 52- 67 cm
Bike weight: 7.9 kg
Brakes:  Tektro V-brake (rim)
Gears: 8 speed with twist grip shifters [SRAM x4 11-32T / 29T]
Accessories: Mudguards and kickstand available as extras
Frame and forks: Aluminium
Tyres: Kenda Small Block 20 x 1.5″
Available colours: Blue, purple, red, yellow, green
Warranty: 2 years
The Austrian kids bike brand Woom is a relative newcomer to the UK, with a range of very lightweight bikes that are proving popular with Cycle Sprog readers.
The Woom 4 is their 20″ wheel offering, and at 7.9 kg it's one of the lightest bikes on the market. If you're looking for a quality bike for general use, that will get people talking, then the Woom is worthy of consideration.
The Woom 4 is a good choice for urban cycling, as you can add in an optional extra kickstand for ease of parking up when you've got where you want to go.
However, as it's fitted with Kenda Small block tyres, you can also venture onto gravel and grass without any worries.
We've reviewed two single speed, smaller Woom Bikes – you can read our review of the Woom 2 and the Woom 3 to find out how they performed.
CYCLE SPROG REVIEWED AND RECOMMENDED BRAND
THIS BIKE IS AVAILABLE TO RENT FROM THE BIKE CLUB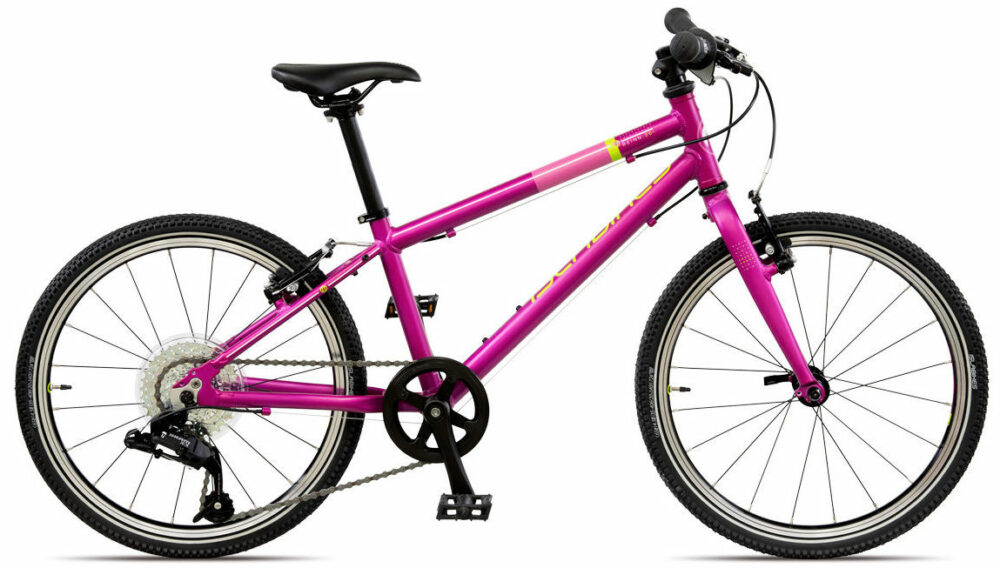 Islabikes Beinn Small (20 Large in brackets where different)
Price: £430
Suggest age range:  5 years + (6 years +)
Inside leg range:  47 – 57 cm (52 – 62 cm)
Minimum height: 112 cm (120 cm)
Bike weight: 7.4 kg (7.5 kg)
Frame and forks: Aluminium
Gears: Yes – 7 speed with twist grip shifter [Sunrace, 7spd, 11-34t / 32t]
Brakes: Aluminium mini V-brakes operated by Islabikes own design micro levers
Tyres: Islabikes Mixte, 20″ x 1.4 folding tyre with puncture protection, reflective sidewall
Other features:  Ergonomic youth saddle (small), slim grips. Pannier rack and mudguard compatible.
Available colours: Orange, pink, teal
Islabikes Warranty:  5 years on frame and forks and 2 years on parts
The Islabikes Beinn seems to have been around forever, with numerous early examples still looking fresh and zooming along paths and tracks near you!
They've recently had a complete refresh of their range, with lighter weight bikes, improvements to the specification and fresh new branding.
You know what you're getting with an Islabikes product – designed with geometry proportioned to fit a child; a lightweight build with no excess; and an excellent resale price when you come to move it on (or a 5 year guarantee if you're keeping it for more than one child).
That's why this is one of the most expensive, and popular, bikes on the list. It really is a "go anywhere, do anything" kind of bike.
We put a couple of the larger sized Beinn's to the test – you can read our review of the Islabikes Beinn 24 here and the Beinn 27 here.
The Beinn 20 comes in two sizes – large or small. So from about 5 years up, whatever your size there's a Beinn 20 that will fit.
The paintwork on Isla's products is always lush, and the Beinn 20 is no exception. Our Cycle Sprogs have been lucky enough to test ride Islabikes from an early age, and whilst they're some of the most expensive kids bikes around the saying "you get what you pay for" is true in this instance.
The design has changed over the years, but there are original models out there still going strong having severed over a decade of use.  There's also a Facebook group dedicated solely to buying and selling Islabikes!
Advert:  If you've got an outgrown Islabike that you haven't got round to selling on, why not get a quotation today from The Bike Club? They'll even send a courier with a bike box to come and collect it from you. 
Early Rider Seeker – RRP £675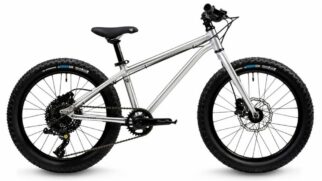 Early Rider Seeker 20w
Price: £675
Suggest age range:  5 -6 years 
Height range: 118 – 135 cm
Bike weight: 8.7 kg
Frame and forks: Hand Brushed AL6061, Forged Sliding Drop Out
Brakes: Promax DSK926 Hydraulic Disc, 160 Rotors
Tyres: Vee Crown Gem 20×2.25″, 27TPI WB
Available colours: Brushed Alloy
Early Rider Warranty: 1 year
The Early Rider Seeker is worth considering if your Cycle Sprog is planning to hit the trails as the wide ranging cassette means climbing hills should be easier. You can tell that the specification of this bike has been obsessed over. From the choice of lightweight rigid fork over heavier suspension to the tensioning of the chain there's been attention to the details on this bike that mean it's firmly aimed at those wanting to ride further and faster. You'd better buy in some bike cleaner to keep that hand brushed aluminium frame looking as good as new!
Buy New – Early Rider Seeker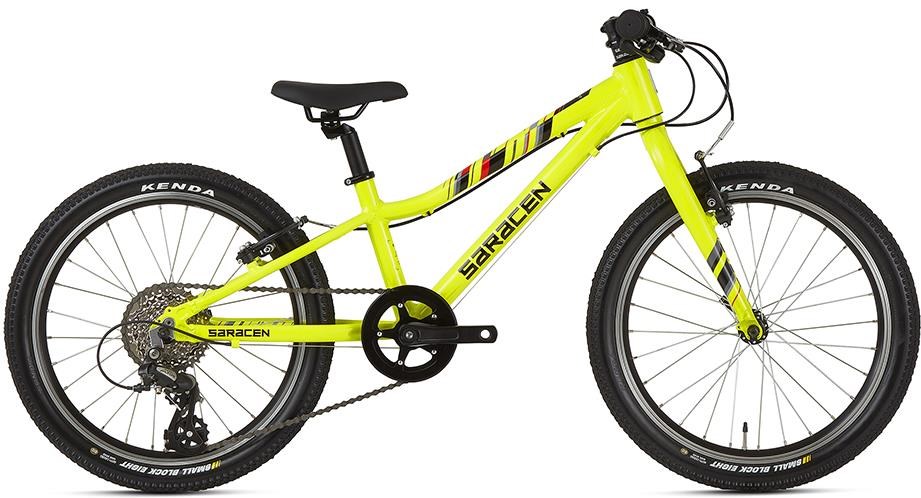 Saracen Mantra 2.0R Key Data
Price: £380
Height: 120 – 140 cm
Bike weight:  approx 7.35 kg
Frame: 6061 Alloy
Gears:  8 Speed  32T x 12-34T operated by Shimano M310 Rapidfire (thumb shifter)
Brakes:  Alloy V-Brakes
Tyres:  Kenda Small Block
Available colours:  Lime Green
Warranty: Frame - 5 years Components - 1 year
The Saracen Mantra 2.0R is one seriously lightweight bike that would be great for two different types of rider.  Firstly, those children who are struggling to ride a much heavier bike and need a lighter model to be able to manoeuvre easily.  Plus you'll notice the difference in the weight when lifting the bike up yourself to transport or store it.
Secondly, the bike will appeal to those kids who already cycle confidently and now want a geared bike to ride up hill and down dale fast at the weekend, and to be able to ride on the tarmac the rest of the time.     The bike has a low step over frame so little legs can get on and off easily, and the multi-purpose tyres and rigid forks result in a go-anywhere type bike that will be equally happy on the school run or local park as out on the trails.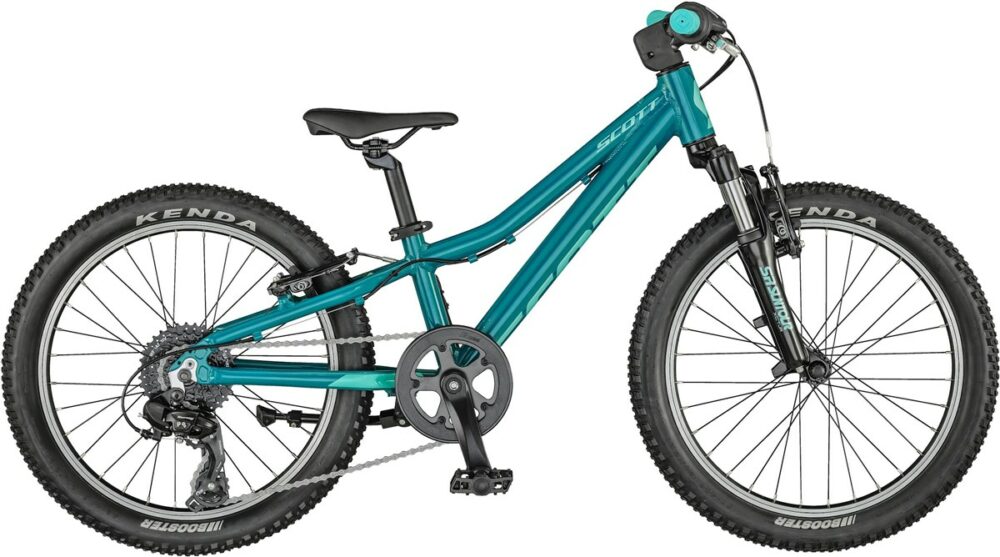 SCOTT 20″ wheel bikes Key data: 
Price: from £329 depending on model
Height range: from 115 cm depending on model
Bike weight: c. 10kg depending on model
Brakes: Rim and Disc Brakes available
Gears: 7 speed
Frame: Aluminium
Scott Kids Bike Warranty: Frame - 3 years
Scott have a range of different 20″ wheel kids bikes, which are well worth considering if you're intending to do more off road riding than on road cycling with your child.
However, one of the big attractions of Scott Bikes as I'm writing this is that they seem to be slightly ahead of other manufacturers in terms of getting their 2021 range into the UK – although by the time your read this they may have been snapped up given the general scarcity of kids bikes at the moment.
With bikes priced between £329 and £750, you can pick between rim and disc brakes, suspension and rigid forks, depending on your budget and the type of cycling you plan to do (and availability of the bikes).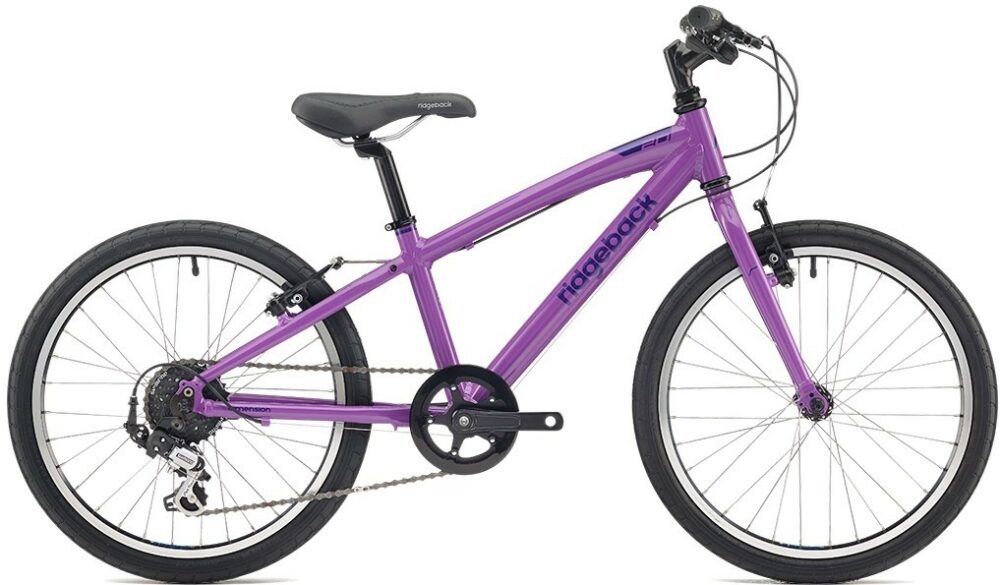 RIDGEBACK DIMENSION 20 key data
Price: £320
Suggest age range: 6 year +
Height range: 120 – 140 cm
Bike weight: 8.9 kg
Brakes: PROMAX TX-107C (V-brakes)
Gears: 7 speed with thumb trigger shifter [Shimano CS-HG200-7 / 12-28T]
Frame and forks: Aluminium
Tyres: Vee Speedster 20″ x 2″
Available colours: Purple, red
Ridgeback Kids Bike Warranty: One year
Ridgeback is an established bike brand who have recently branched out into making a light weight kids bike to rival some of the more established names.
They do have another range of slightly cheaper kids bikes which are heavier and less well specified (the cheaper 20″ ers are called the MX20 and the Harmony 20).  They are good bikes but if you can afford the little bit extra for their premium Dimension range your child really will notice the difference in the bike handling, plus you'll notice the bike is easier to carry and keep maintained.
Whilst we've not reviewed these bikes ourselves a number of Cycle Sprog readers report that they are very happy with these bikes, and have either handed them down to siblings or sold on when grown out of.
CYCLE SPROG REVIEWED AND RECOMMENDED BIKE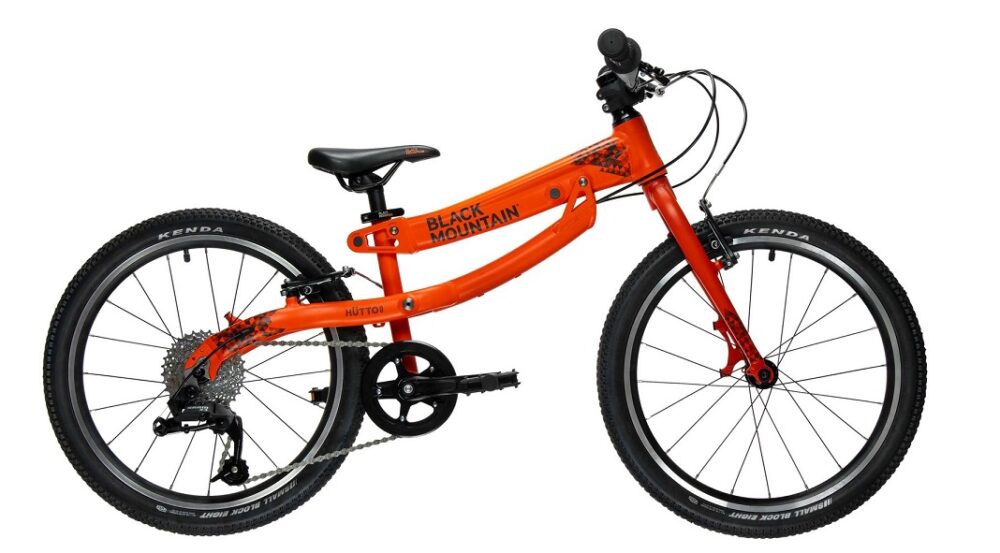 BLACK MOUNTAIN HUTTO Key Stats:
Price: £449
Typical Age range: 6 – 8.5 years
Height range: 118cm to 134cm
Bike weight: 8.3kg
Brakes: Tektro V-brake with adjustable brake levers;
Gears:  7 speed – grip twist shifter [Sunrace 7 speed, 11-32 x 32T]
Frame: Lightweight adjustable frame – two sizes
Tyres: Kenda Small Block 8
Other features:  quick release Go-Lo seatpost; balance bike conversion kit (extra cost)
Available colours: Neon Green, Azure Blue, Orange, Purple
Black Mountain Bike Warranty: 3-years on frame and forks; 2-years on non-consumable components. Warranty can be passed onto new user if you sell on (must inform Black Mountain of change of ownership)
At the moment we're living through a global kids bike shortage, so if your child fits the Black Mountain HÜTTO, it's really worth considering.
It's got a very clever "growing" frame that increases in size so it will last a lot longer than a standard bike.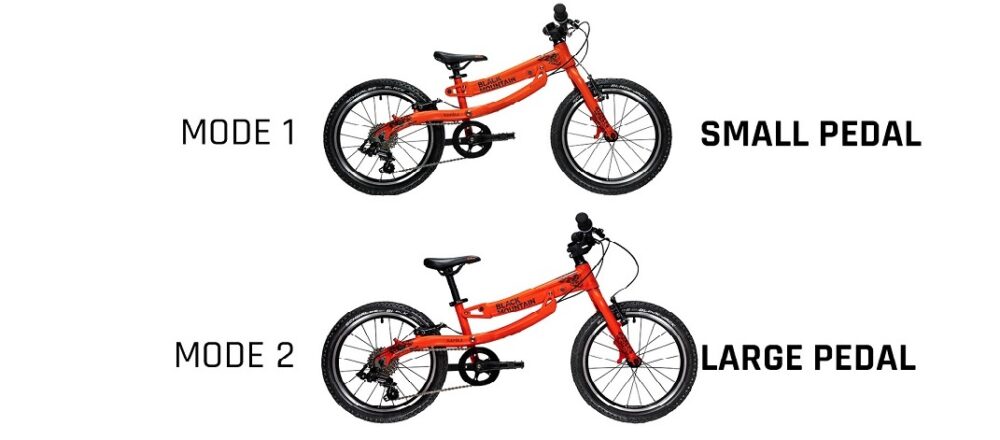 At the current time, when there is such a shortage of new kids bikes, having a bike that you know is going to last will be such a relief.   The HÜTTO is suitable for children 118cm to 134cm tall so your Sprog can do a lot of growing and remain on this one bike.
There's lots of other clever technology employed on this bike, which you can read our thoughts on here – including upgrades available to mountain bike mode with disc brakes and suspension forks if you're planning to do a lot of off road riding.
There are 7 easy to use gears, which are operated by a grip shifter (which your child twists with their right hand), which will make the transition to a "big" bike nice and easy.
Black Mountain Bikes really are targeting the top end of the quality kids bike market, with not only a very well specified bike, but also their attention to detail with their customer service and commitment to the environment (all their packaging is plastic free).   We also like the fact that the warranty is transferable – a nice touch not found with other brands.
Other good 20″ wheel kids bikes
If none of the above bikes meet your requirements (or you can't find any in stock at the moment given the huge demand for kids bikes), then the following brands of 20″ wheel bikes all have decent specifications and will be good choices.
If you're wondering how to tell if the bike you're thinking of buying is worth your hard earned cash, grab your free kids bike buying checklist, and work through the key information about each of the bikes you're interested in.
Cannondale 20″ wheel bikes NEW or SECONDHAND
Carrera 20″ wheel bikes NEW or SECONDHAND
Early Rider Belter 20 NEW or SECONDHAND
Merida 20″ wheel bikes  NEW or SECONDHAND
Orbea 20″ wheel range  NEW or SECONDHAND
Trek 20″ wheel bikes  NEW or SECONDHAND
ALSO, CHECK OUT OUR POST ON 20″ WHEEL MOUNTAIN BIKES IF YOUR SPROG IS GOING TO BE RIDING OFF ROAD
Discontinued quality 20″ wheel kids bikes:
We know that many of our readers like to buy second hand so in this section we'll list bikes that are no longer available to buy new but can still be found second hand.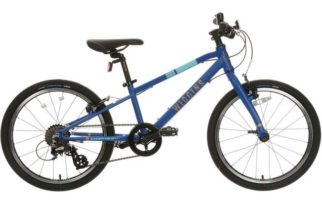 WIGGINS CHARTRES 20 Key Data:
Typical Age range: 6-9 years
Minimum height: 117 – 136 cm
Bike weight: 8.8 kg
Brakes: V-Brakes (rim brakes)
Frame and forks: aluminium
Gears:  7 speed with thumb trigger
Tyres: Vee 20″ x 1.75″
Available colours: Blue, orange
Wiggins Bikes have, sadly, recently been discontinued.  However we've kept them in here, as they're a good option secondhand. 
They've proved to be really popular with Cycle Sprog readers – we've had quite a few parents get in touch and tell us how impressed they've been with the bikes, given how cheap they were.  They're lightweight, well specified and with a price tag to keep your bank manager happy.
The Chartres 20 is named after one of the stages of Wiggins' victorious Tour de France, and the bike also delivers a winning combination of low weight, good looking design (with Wiggins' signature reverse forks) and child sized components such as saddle and brakes levers.
The original Wiggins Chartres 20 is getting increasingly popular on eBay as the bikes were released in July 2016 so many are now being grown out of and sold on.  The original range were slightly heavier (only by 200g) and came in one colour scheme only, to the newer look bikes that were updated in 2019.
Cycle Sprog reviewed and recommended brand
THIS BIKE IS AVAILABLE TO LEASE VIA THE BIKE CLUB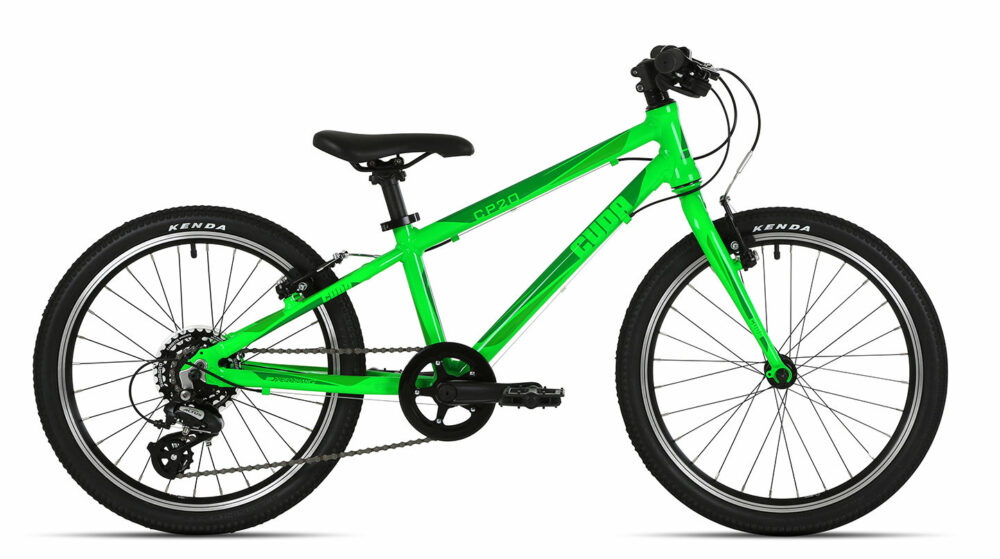 Discontinued end of 2019.
For several years Cuda Bikes sponsored the Triathlon Trust who bring fun and free opportunities to children who wouldn't otherwise be able to partake. So the Cuda CP20 is the bike many kids have their very first taste of triathlon on. The fact that these bikes can be carted around the country and ridden by so many children speaks for itself in terms of robustness and quality.
The Cuda Performance range was re-branded in 2019 with a new paint job and some improvements in the specification. We reviewed an earlier version of this bike two years ago when it was first launched, and were impressed with the build quality.
The 7 speeds are controlled by a thumb shifter, with 32T at the front coupled up with 12-32t at the back, which should suffice most requirements. It's light enough to allow young children to move it around easily, coming in at 9 kg with pedals.
Dawes Academy 20 (£329 in 2018)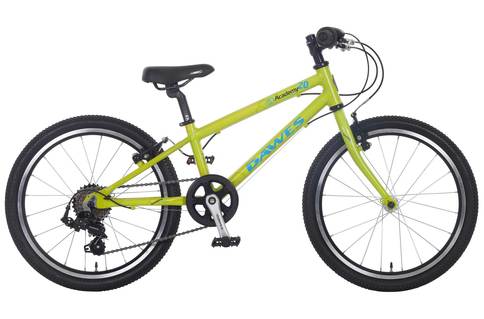 Sadly, the Dawes Academy range has been discontinued.  The Academy was a leading range of kids bikes for a number of years and were particularly popular with young triathletes.
These bikes are very well specified and lightweight (tipping scales at just 8kg), with child sized components. There's a simple to use gearing system, with just 7 gears ranging from 14 to 28T cassette at the rear and a 32T chainring at the front which should give a good range of gears for getting up and down any hills.
Obviously this isn't an exhaustive list of excellent 20″ wheel hybrid bikes for kids as there are so many to choose from. However, if you feel that we've omitted a bike that you think thoroughly deserves to be included then please leave us a comment below. Thanks!
Other articles you may find useful:
Affiliate Disclosure: Many, but not all, of the links within this article on 20″ wheel hybrid bikes contain affiliate links. This means that if you make a purchase from this links, Cycle Sprog may get a small commission, which is how we keep the website going. If you like what we're about and would like to help us along the way, you can make a donation through our Ko-Fi page. Thank you!