As the darker mornings and evenings of winter very much still with us, it's still worth looking at getting you and your family ready for cycling in the dark. It's really important that you're all lit up and visible when you're riding your bikes in low light and dark conditions.  Most bike lights are designed for adults – in terms of price and usability – so we've been busy looking for the best child friendly bike lights that are suitable for kids of all ages.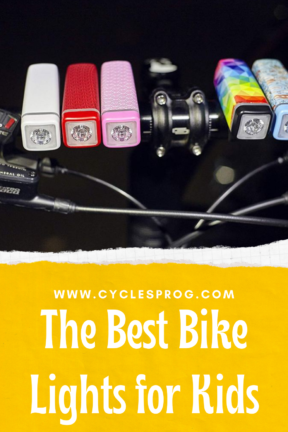 In this article we're looking at the best bike lights for kids of all ages, from small toddlers on balance bikes through to tech savvy teens.  And if you're looking for lights for your own bike you'll probably find something to suit too!
The Best Kids Bikes Lights – for cycling safely during the winter months
Cycle Sprog is an family run, reader supported, website. We belong to several affiliate schemes so may receive a small commission from sales made from links on our site. We do our best to be impartial and recommend products on their quality not whether they are in a scheme.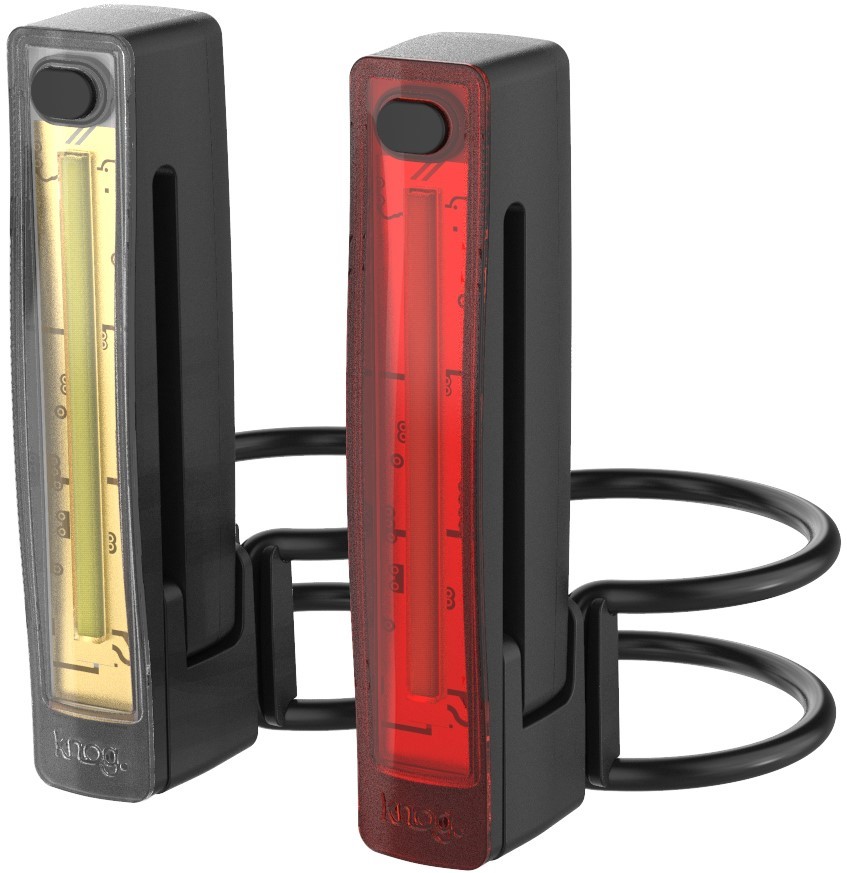 It can be very difficult fixing a rear bike light to the seat post of a small pedal bike or a balance bike – especially if the seat post is in the lowest position. Then when you finally manage it, you realise the light is so low that no-one can see it, or else it's obscured by a coat dangling down over the saddle!
The Knog + (pronounced Knog Plus) is a wearable bike light, meaning you can put it onto your child's coat, hood or backpack. It can also attach to the handlebars, forks, seat posts, pannier racks and stays, in a vertical or horizontal position, meaning you should be able to find somewhere to mount it.
In wearable mode, the movement of your child will help catch the eye of passing motorists, as the light will be bobbing up and down.  It's also a good light to use whilst walking, scooting or running, as this photo shows.  A great choice for active families, where mum or dad want to nip out for a jog once the Sprogs are in bed.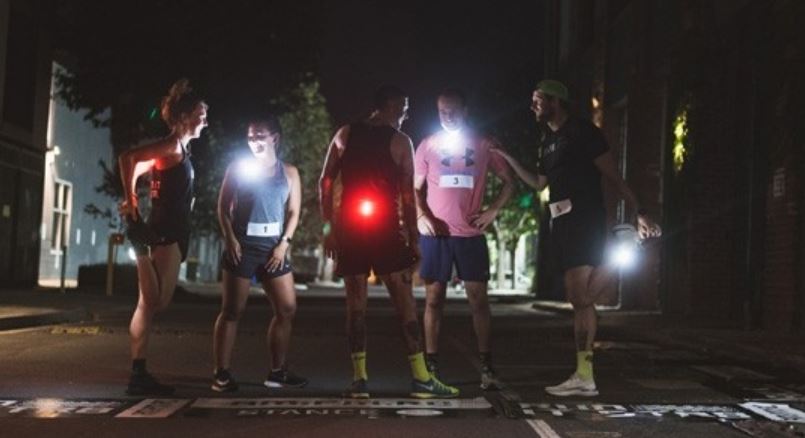 The Knog + claims to be 100% waterproof, is really lightweight (12 g) and is charged by plugging the light straight into a USB socket, so you don't need any cables.
We reviewed an earlier model of Knog wearable lights which you can read about here.
Buy now:  The Knog + Wearable Bike Lights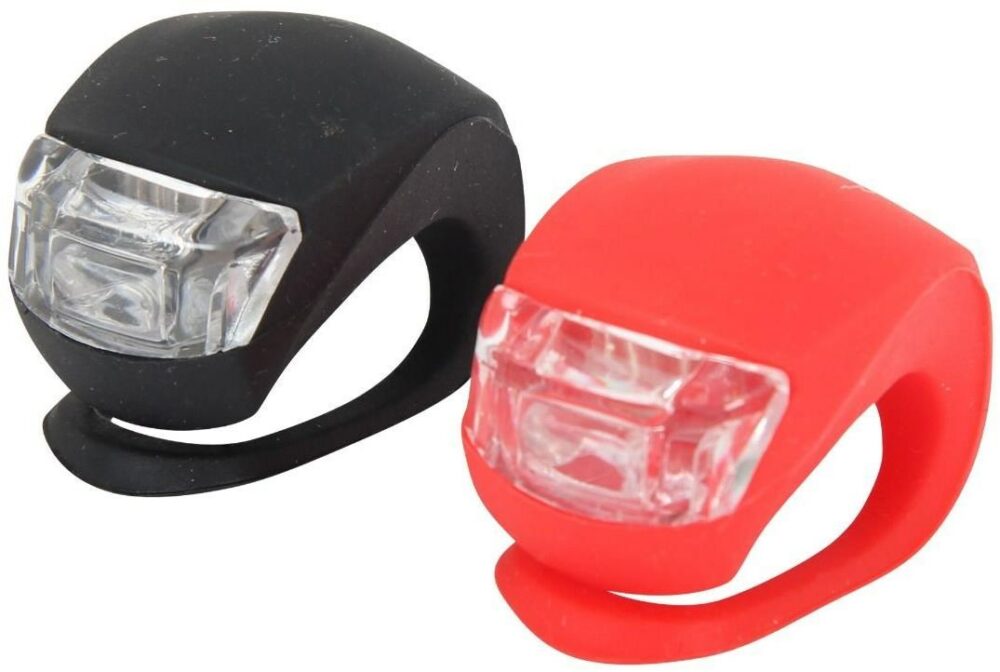 If you're looking for a cheap and cheerful set of bike lights to keep your child visible on their bike, but you don't want to pay too much as you know they're likely to go missing, get damaged etc, then the ETC front and rear light set could be what you're looking for.   At less than £4 for the set, they're cheap enough to buy a couple of sets so you're not panicking if you discover a little person has decided to remove them for a fun game just before you need to leave the house.
You're not going to light up a mountain side with these lights, but you don't usually need main beam lighting on a dreary afternoon on the ride back from school.
BUY NOW:  ETC Mini Bright Lights
Cat Eye Sync – Best bike lights for older kids with a gadget obsession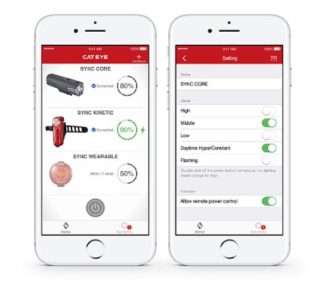 If you're struggling to get your growing Cycle Sprog to take their winter visibility seriously (we all know HiViz is not cool!) the Cat Eye Sync lights may be the answer.  By using an App on their phone, they can control up to 7 bike lights, with features like low battery alerts, one-touch turning on of all lights and a kinetic feature that detects when they're braking and increases the intensity of the light. They're not the cheapest lights – prices start at just under £50. However, bike lights haven't really been something to show off to your friends, until now…..
Buy now:  The CatEye Sync range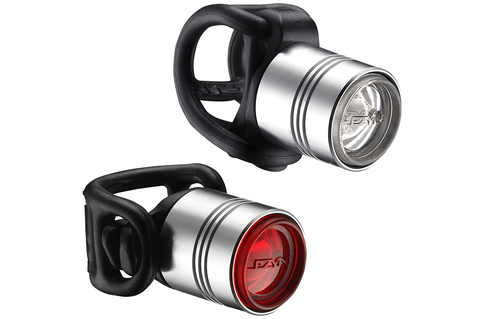 In the depths of winter, your Cycle Sprog doesn't want to have to take their gloves on and off to operate their bike lights. The Lezyne Femto Drive Light Set  are super easy to use – you just touch the front screen of the light and it switches on, touch it again to switch through the different modes, and then again to turn off.  No need to take any gloves off at all – as we all know how long it takes to get them back on again.
Buy now: Lezyne Femto Drive Light Set 
Infini Wukong Silicone – most fun bike lights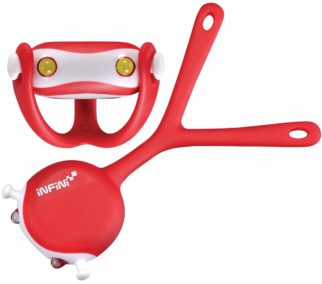 If you want your child to be enthusiastic about using their bike lights, it helps if there's a fun element to them. These cute little Frog shaped lights will bring a smile to a dark and dreary day.
The silicone strap is designed to fit smaller kid's bike handlebars, the unit claims to be waterproof and you get about 100 hours of battery life on flashing mode and 50 hours on steady.
The best bit is there are so many colours available there should be one to match your bike.
Buy Now: Infini Wukong Lights
Knog Pop I Front Lights – most stylish bike lights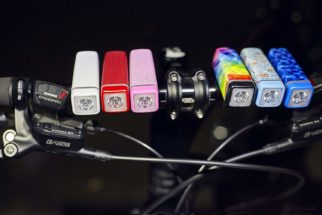 The picture says it all really, doesn't it? Why look at a dreary plastic case when you could be admiring one of these beauties?  The biggest problem is choosing which design!
However, these lights from bike light specialists Knog don't just look good – they have side illumination, are waterproof, have low battery indicators (these take normal batteries rather than needing USB charging) and a variety of modes so you can get a really bright light (for 4.5 hours) or a flashing strobe that goes on for 100 hours.
They also do a set of matching rear lights but of course, you can't see the patterns quite so well.
B'Twin VIOO 100 lights – cheapest single kids bike lights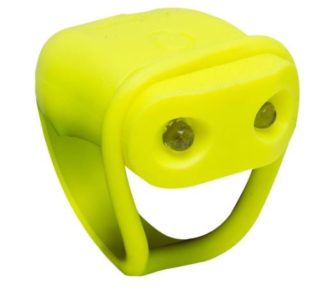 At just £2.99 per light, the  SL 100  are a good choice for kids who aren't riding on the road, and just want a bit of illumination. They're easy to fit onto the bike and are cheap enough not to get stressed about if your Cycle Sprog manages to lose or break them.
Buy now: SL 100 bike lights from Decathlon
Cycle Sprog Eva spent her birthday money on some bike lights so she could go nighttime off-road cycling with her family.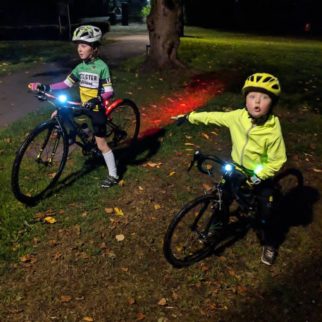 For the front light, she treated herself to the Cat Eye Volt 400 XC  and now when the family goes on their off-road adventures she rides at the front and illuminates the path for everyone else to follow. On the road, she uses the low power setting so as to not dazzle drivers and finds that setting more than adequate when in town.
Buy now:  Cat Eye Volt bike lights
For the backlight, Eva went for a Bikehut 50 Lumens light, which also has a 'road' setting which was useful again to be seen without being a nuisance.
Buy now: Bikehut 50 Lumens light 
Alpkit Tau Front Bike light – best for all types of use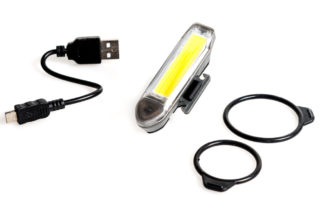 The Alpkit Tau comes recommended by several of the mums over on the Family Cycling UK Facebook Group. Beatrice told us "These are fab. They're very easy to use with a flexible rubber attachment which fits to kids bikes/ cargo bikes/adult bikes. Very bright!"
Buy now: Alpkit Tau front light from Alpkit 
This is our pick of some of the best bike lights for kids – there are obviously lots of others out there, so if you're using another make or model please drop me a comment in the box below as I'd love to know what you recommend.
Disclosure: To help fund Cycle Sprog we are members of some affiliate schemes. This means that on most of the links above we may get a small commission if you make a purchase after clicking the link. This helps us to keep the website going – thanks so much for your support.
Support Cycle Sprog!
If you've found this article useful you can buy us a virtual coffee (or two!) to say thanks and help us keep the Cycle Sprog website going. 
Other articles you might be interested in: