During a particularly cold spell of weather little heads and ears can get very cold when out on a bike. This is particularly so for smaller Cycle Sprogs sitting in cargo bikes, trailer or bike seats, as they're not expending any energy to keep them warm, but even those pedalling can get cold during the winter months. In this post, we've asked members of the Family Cycling UK Facebook Group to share the ways they keep their children's heads warm whilst cycling throughout the winter.
Cycle Sprog is an family run, reader supported, website. We belong to several affiliate schemes so may receive a small commission from sales made from links on our site. We do our best to be impartial and recommend products on their quality not whether they are in a scheme.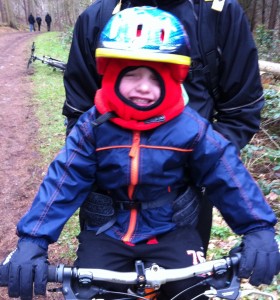 How to keep your child's head warm under their cycle helmet
Here are a few hints and tips on how to keep your child's head warm under their cycle helmet. Don't forget – there's not much point in your child wearing a cycle helmet if it's not fitted and done up correctly so: 
Make sure any layers don't affect your ability to do the helmet strap up properly.
Remember to resize the helmet back to your child's head when they're no longer wearing the additional layers so it fits snugly. 
Kids Buffs / multi-tubes
I love buffs – they're so versatile! If you don't know what one is, a buff is a tube of material that you can wear around your neck or head or knot into one of many different uses. They're great for both hot and cold weather use as scarfs, sweatbands, hair bands, hats, and even emergency hankies (or worse!) –  you imagine a use and a buff can probably do it! They wash and dry easily and can fit in your pocket when not in use. 
Buff is the trademarked name from the original manufacturers, so other manufacturers may call them multi-tubes. The great thing about buffs is they're thin so can fit easily under a helmet, and then can be manipulated to be positioned so it's not obscuring your child's vision – particularly important if they're riding themselves.  You can get thicker polar fleece ones, but these are harder to adjust around the helmet.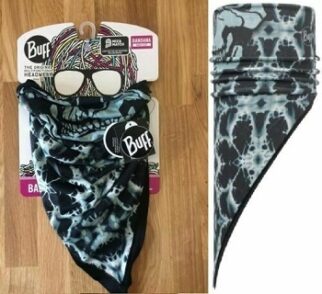 They come in lots of different colours and themes so you're bound to be able to find one that your Sprog loves!  
Kids sized skull caps for under cycling helmets
If you're wanting something more thermal and hat like, then a thermal skull cap that helps cover the ears will fit closely under their cycling helmet and also keep their ears warm. There are several kids sized under helmet cycling caps available: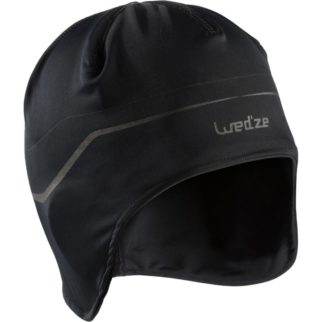 Decathlon stock a thermal helmet liner, which is designed for under ski and snowboarding helmets. This will have more fabric protruding from under a cycle helmet but will cover more of the head. It costs £5.99 and can be bought online or reserved for pick up in-store.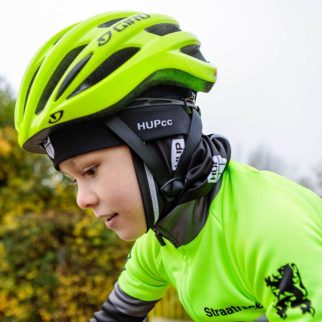 The HUP kid's winter thermal cycling skull cap is probably the best designed and thought through of all the skull caps. HUP only make quality products, designed for junior racers. This particular cap comes in a choice of four sizes:
Size XS: head circumference (at widest point) = 46cm – 50cm.
Size S: head circumference (at widest point) = 50cm – 54cm.
Size M: head circumference (at widest point) = 54cm – 58cm.
Size L: head circumference (at widest point) = 58cm – 60cm.
They cost £14 but at the time of writing, they were down to £10, exclusively from Kids Racing.   
Polarn O Pyret caps and hats for babies and kids
The Swedish company Polarn O Pyret makes a range of different caps and hats for babies as young as 2 months, through to kids of 12 years. If they're suitable for Swedish winter weather they should be able to keep British kids warm on a bike! Polarn O Pyret have got a wide selection of hats in different styles and thicknesses, some which will be suitable for under helmets, and other for kids in cargo bikes and trailers who aren't wearing helmets.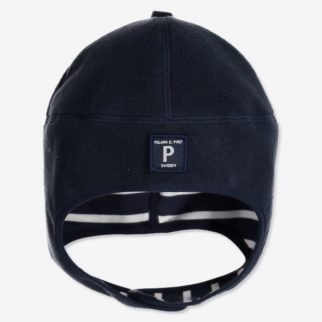 This wind fleece baby hat comes in sizes from 2 months and costs £16 with a choice of navy or pink.  It's designed with ear flaps to keep ears warm and protected from the wind and has a water repellent laminate finish. The popper fastening under the chin probably means this might interfere with helmet straps, but it would be ideal for a child in a trailer or cargo bike who isn't wearing a helmet.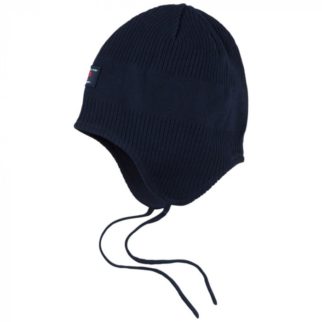 This helmet cap is made of a thinner fabric to fit more snuggly to your baby's head. It has a windproof and water repellent lining for rainy days. It comes in sizes from birth upwards and is available in navy or white.
Balaclavas and face masks
Balaclavas aren't great for kids who are pedalling themselves as they can obscure their peripheral vision, which can be dangerous if they're riding in traffic. However, for smaller kids in cargo bikes, trailers, and seats they can be a good way to keep their faces warm.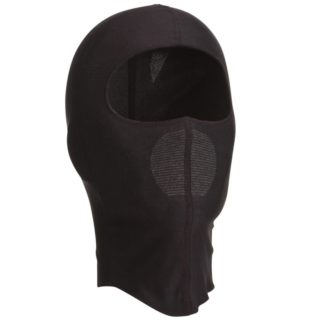 Decathlon do this kid's sized helmet liner balaclava for £7.99 – it's designed for use with a ski helmet, which should mean you can fit under a cycling helmet too. Face masks, which allow a greater field of vision, are better for kids pedalling themselves, but obviously, they don't have the same level of protection on the cheeks, nose and mouth.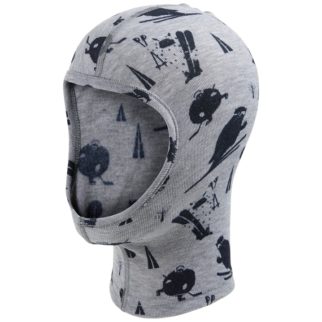 Odlo do this fun kid's face mask (£12) which is designed for active kids in cold environments (four-season) and is fast-drying and highly breathable. The material is extra stretchy the mask has a low-profile design so it can be worn comfortably under a helmet.
Hooded fleece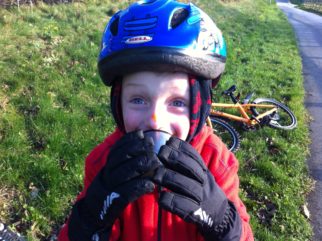 If it's a dry day then a quick and easy way to help keep them warm is to use a fleece with a thin hood.  However, this isn't such a good idea if rain is forecast and they're going to be wearing the fleece at your destination.  It can also be a bit uncomfortable if the fleece is slightly on the small side, as the helmet and hood combination can pull the fleece up under their arms. Go Outdoors and Mountain Warehouse are good places to look for cheap options – just make sure the hood isn't too thick (or lined) or it won't fit under the helmet.
Ski helmet or full face bike helmet
Cycle Sprog follower Tim recommends using a ski helmet, with the following advice: "We switch to a ski helmet for winter riding.  They have smaller vents (usually with the option to close them off), slightly warmer lining and removable covers for your ears. There's a longer off-season than cycling, which usually means really good deals once the weather warms up. The safety standards are pretty much identical to bike helmets (in some cases they're actually more stringent about how much of the head is covered).
I ride with one year round because I find the offset buckles more comfortable than the centered buckles on most bike helmets and fewer open vents on top means less risk of sunburn on a bald head. Full face helmets also work well for similar reasons – thicker padding and greater coverage area."
Obviously with this type of helmet you need to consider whether your child will be cycling in traffic and if their peripheral vision is impacted.
If you've got another way of keeping your Cycle Sprog's head warm under their helmet, then do please leave a comment below.  Thanks
Thanks to members of the Family Cycling UK Facebook Group for their wisdom and advice on keeping little ones warm whilst cycling in cold weather.
Other articles you may find useful:
Affiliate disclosure:  As with all online publications Cycle Sprog uses affiliate schemes which means that some of the links on this page may pay a very small commission if you make a purchase after clicking through from this page. It doesn't affect what you pay but helps us to keep the website going. Thanks for your support.