If you're going to cycle with your child during the cold weather, then I can guarantee that your ride will be a misery if they have cold fingers. It doesn't matter how many layers they have on their body, there is nothing you can do to stop the moaning if they're not wearing a pair of kids cycling gloves. In this article we're reviewing the Polaris Mini Attack kids winter cycling gloves to see if they stop the problem of cold fingers ruining our winter family bike rides.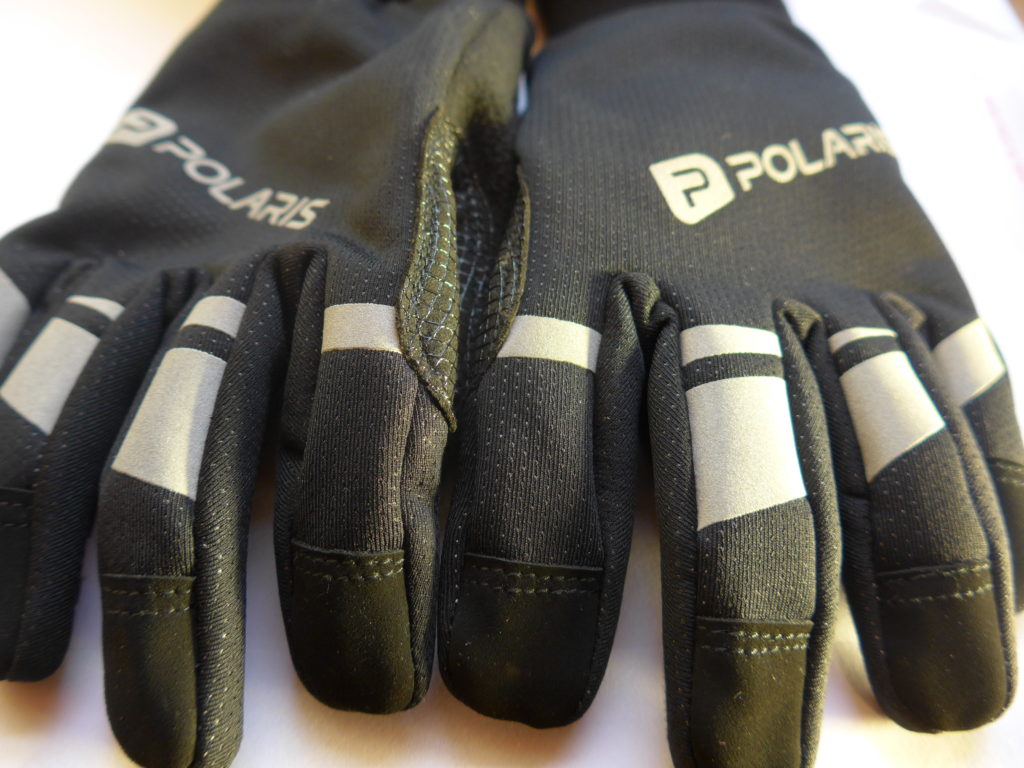 Polaris Mini Attack kids winter cycling gloves review
Over the years I've discovered there is an art to finding the correct weight winter cycling glove. Most kids long fingered cycling gloves are what I'd term "early winter" gloves and will do for most winter cycling where the temperature is above 5c, or for competition cycling where they're getting really warm due to the effort put in. But what for those days when the temperature is hovering around or below the zero point? Or those early morning rides to school, when the shock of leaving the warm house makes everything seem even colder? What about those family cycle rides you decide to go on because it's finally stopped lashing it down, but once you get all kitted up and ready to ride you realise it's actually a lot colder than you'd realised?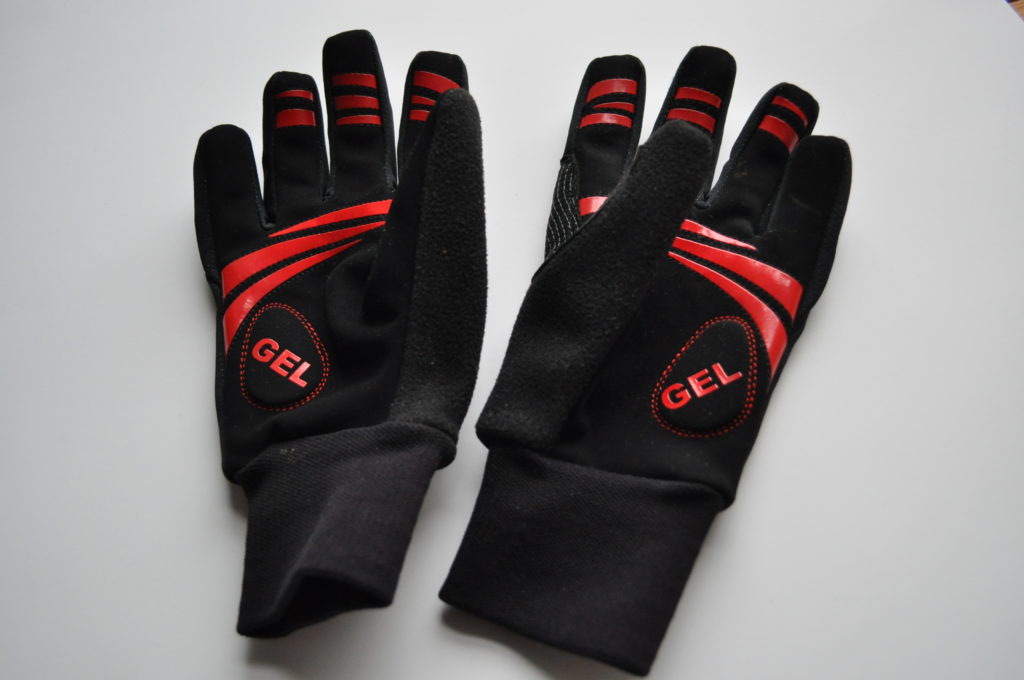 On these occasions, it's sometimes necessary for a proper kids sized winter cycling glove – one that provides protection to keep fingers and hands protected from the cold. This is a challenge, because whilst you want warmth, you don't want bulk. Kids ski gloves are a possibility, but they're not necessarily designed for the dexterity needed for braking or changing gear.
I was therefore pleased to learn that Polaris have a kid's size version of their winter Attack cycling glove, and even more pleased when they sent a pair for us to review.
Polaris Mini Attack children's winter cycling gloves – first impressions and construction
Let's get right to it. Out of the packet, the P0laris Mini Attacks are not a soft, silky type of glove. They look purposeful (which is a good start for a winter cycling glove) with a top layer that is rough to the touch. The Polaris website advises that the gloves are constructed from an abrasion resistant fabric which bodes well if your children are anything like mine! Finger ends are double layered and reinforced, which not only helps limit damage, but also adds an additional layer of insulation for fingertips. The cuff on the glove is made from a knitted material with plenty of stretch, so it's close fitting and with enough length to tuck up inside a jacket sleeve.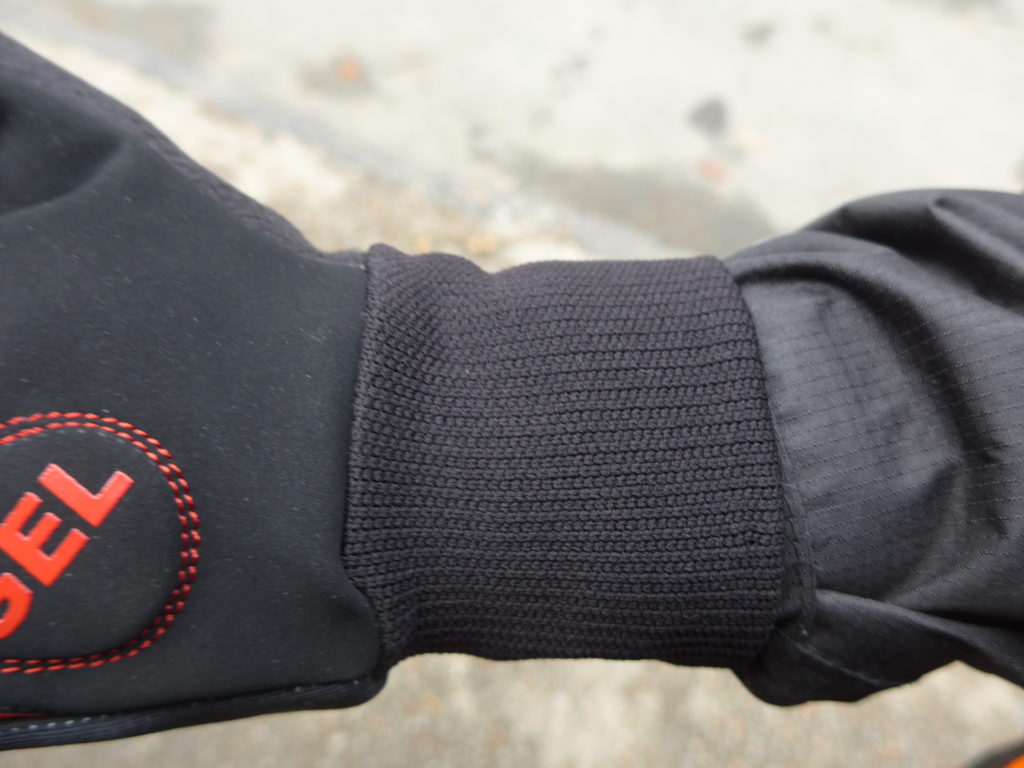 The glove is lined with microfleece to keep things toasty and which gives a lovely soft feel on the hand. The palm is made from Amara – a tough, synthetic leather commonly used on industrial and sporting gloves. There's also a gel insert at the palm to provide a bit of padding and additional comfort on the bars. A nice touch is the fleece wipe provided on the thumb to wipe dripping noses and stop faces and lips getting chapped, sore and very red!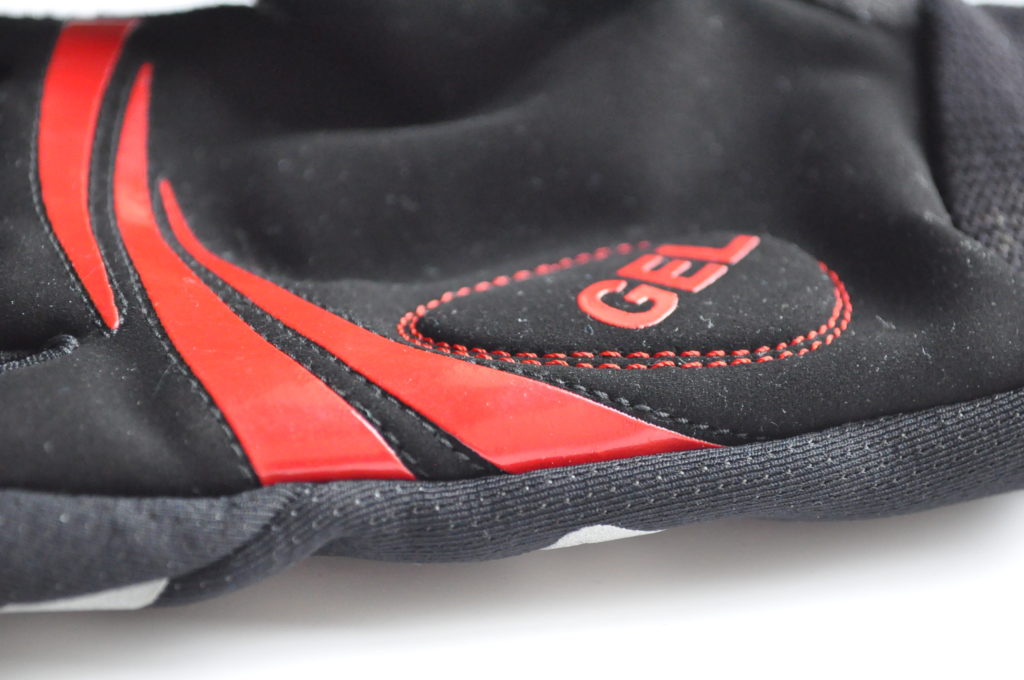 We've had problems in the past with the boys hands slipping on the bars in wet conditions, but Polaris have added a silicon print to the palm and fingers to stop this occurring.
Polaris Mini Attack – out on test!
The task of reviewing the Mini Attack kids winter cycling gloves fell to 8 year old T. It couldn't have come at a more apt time, as we'd had an incident on our previous trip to the trail centre at the start of December where his existing long fingered cycling gloves hadn't been warm enough. Luckily we had a spare pair of similar weight gloves with us, so by doubling up the two pairs of gloves had kept his digits warm enough.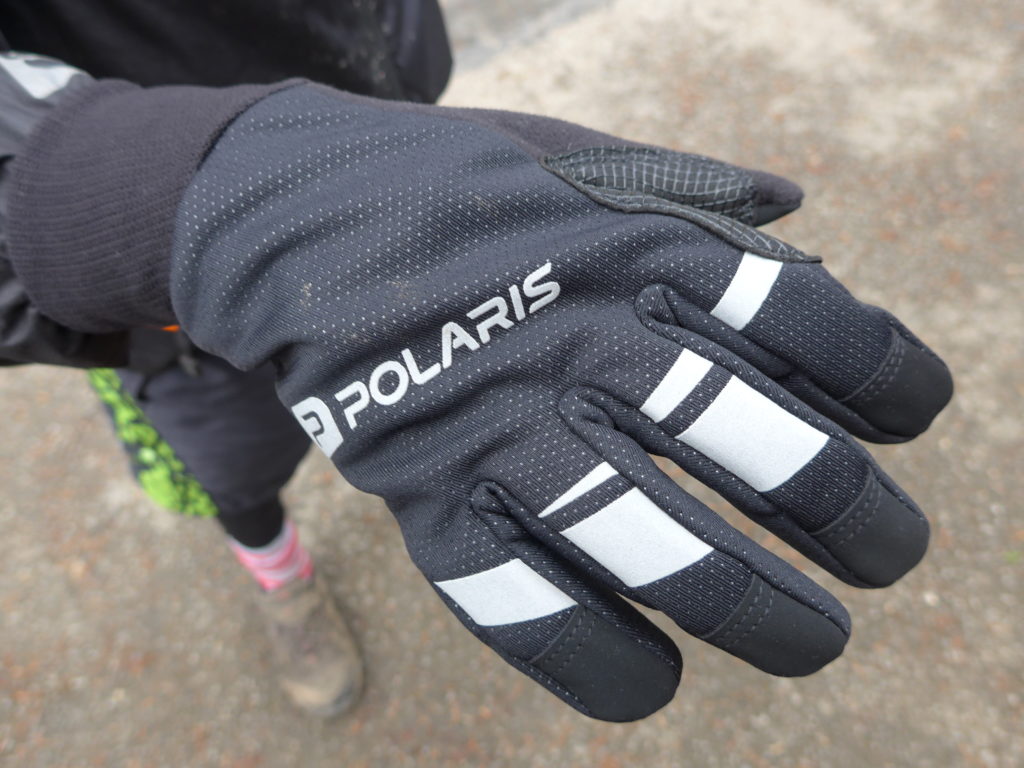 When we arrived at the trail centre at Whinlatter Forest near Keswick for our next ride, the difference the Polaris Mini Attack made was evident straight away. The temperature was about 2 degrees C, but rather than tears and moaning about how cold his fingers were, he was straight off tackling the trail. I had been worried that the thickness of the gloves would have hindered his braking or gear changing, so it was pleasing to note this wasn't the case. Even on the first use they were flexible enough to have no impact on his dexterity. The elasticated grip around the wrist is nice and tight so that cold air doesn't get into the glove, and will also help to protect from rain ingress too.
As we were cycling for several hours on challenging Lake District trails, it wasn't long before we all began to heat up. We were riding the blue rated Quercus trail at Whinlatter, which starts with some great descents but inevitably means some long, steady climbing. After about 15 minutes of cycling I knew that it was inevitable we would face a different problem. Sure enough, a few minutes later T ground to a halt, pulled the gloves off and declared his hands were too hot!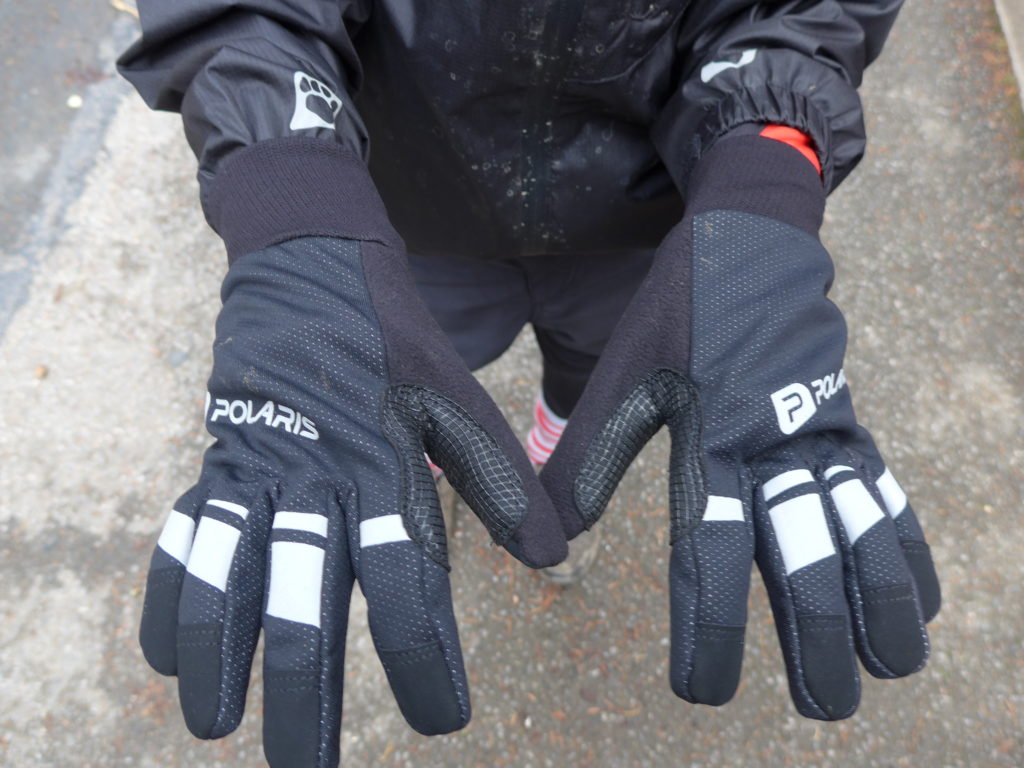 The grip around the wrist, which I'd be pleased at less than half an hour earlier, was proving to be a double-edged sword. What had initially kept him nice and warm, was now stopping any circulation of cooler air into the glove. A wiser woman than I would have packed the lighter weight gloves, but I recalled them sitting at home in the drawer! We agreed a compromise situation – gloves are a necessity on the trails as protection in case of accidents, so he would take the gloves off each time we stopped and let his hands cool down, before putting them back on for the riding.
This worked out really well and we had no more complaints. If we'd been on a flat, slow ride, or a much shorter one then his hands probably wouldn't have warmed up enough for this to be a problem. However, if your child is riding very fast, tackling steep hills, or is very sensitive to temperature changes then I'd suggest that you need a pair of lighter weight cycling gloves to change into. We now make sure we take two pair of gloves with us when we're using the Mini Attacks, as sometimes the sun comes out and the temperature increases, even if we're not doing any climbing, especially as spring approaches.
There were a few very cold days at the beginning of January when T wore them as his standard pair of gloves for playing outside, as they provided more warmth than his normal fleecy gloves.
Polaris Mini Attack kids winter cycling gloves – level of protection
During one of the test rides, T actually came a cropper. He was going too fast over some rollovers on a red rated loop and lost control of his bike. He landed heavily on the floor but thankfully he was unharmed, although the bike took a bit of a battering. His hands, which could have been badly hurt in the incident, were unscathed. He was very impressed with this, and it was one of the first things he commented on when he'd dusted himself down.
Sizing of the gloves
The Polaris Mini Attack kids winter cycling gloves come in sizes Small (Ages 5-6), Medium (Ages 7-8), Large (Ages 9-10) and Extra Large (Ages 11-12). The sizes are indicative only. Our 8 year old tester has very long fingers so we requested the Large size for him and they fitted him well.
Protection from wind and rain
A pet hate of mine is having soggy gloves as it inevitably leads to cold fingers. Very unpleasant! The Polaris Mini Attack gloves have a laminated waterproof and windproof fabric on the back of the glove – the area most susceptible and that takes the brunt of the weather. This should suit all but the most committed of young cyclists. However, please note that the cuff and palm are not fully waterproof, so you may well get some water ingress if cycling in heavy rain. In light showers we found them to be fine.
What other kids sized winter cycling gloves do Polaris make?
The Mini Attack isn't the most hard core kids size glove that Polaris make, so if you're going to riding frequently in torrential downpours you may wish to consider the Mini Torrent, which is a full waterproof winter cycling glove, which contains a Hipora membrame lining to ensure that no water seeps through from the glove surface to the hands. We haven't tested this glove, but it is designed for sub-freezing temperatures as it has thinsulate padding and additional insulation.
The Polaris Mini Hoolie is their wind-proof full winter glove offering, and as it comes in a striking yellow colour (as well as the more traditional black) this could be preferable for children riding their bikes home in the dark. The Hoolie has an adjustable Velcro cuff (again not fully waterproof, but able to let in more air if you're child is sensitive to changes in their body temperature).
Polaris Mini Attack kids winter cycling glove review – the final verdict
The Polaris Mini Attack kids winter cycling gloves are designed for chilly, reasonably dry winter days. The gloves are well insulated and fingers warm up quickly inside, yet very importantly, our reviewer had no loss of dexterity for braking/gear changing. Over the test period, they've proved to be robust having handled several spills, and provide a decent level of protection to the cold and wind.
We recommend the Polaris Mini Attack gloves for cycling to school on cold, crisp winter mornings, or for long, steady winter family bike rides where their heart rate isn't going to increase too much. We now always take a pair of standard weight long finger cycling gloves on long bike rides just in case of overheating, as these gloves are designed for cycling in winter conditions.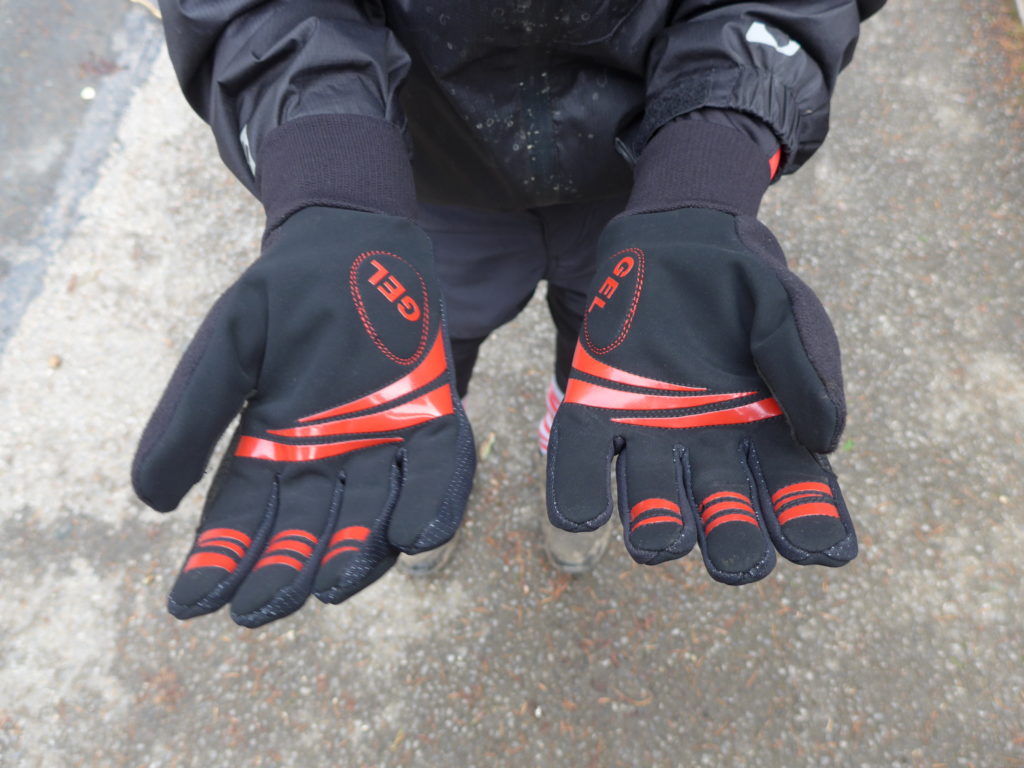 Where can the Polaris Mini Attack's be bought?
The Polaris Mini Attack children's winter cycling gloves can be bought at Tredz, Amazon, Little Pro and Leisure Lakes Bikes and retail for £15.99.
Other posts you may find useful:
The Polaris Mini Attack kids winter cycling gloves were provided for review by Polaris.
Affiliate disclosure: There are links within this review of the Polaris Mini Attack Kids Winter Cycling Gloves which contain affiliate links. The small commission we get from any sales made helps us to pay for the ongoing maintenance and hosting of Cycle Sprog. Thanks for your support.