The Cuda Performance CP700R is the largest drop handlebar offering from Cuda's new 'Performance' kids bike range and is pitched at the higher end of junior cycles in terms of both price and quality.   It can be run with either narrow road or wider cyclocross tyres, which makes it appealing to junior cyclists who enjoy riding on various surfaces but aren't quite ready for the transition to an adult sized bike.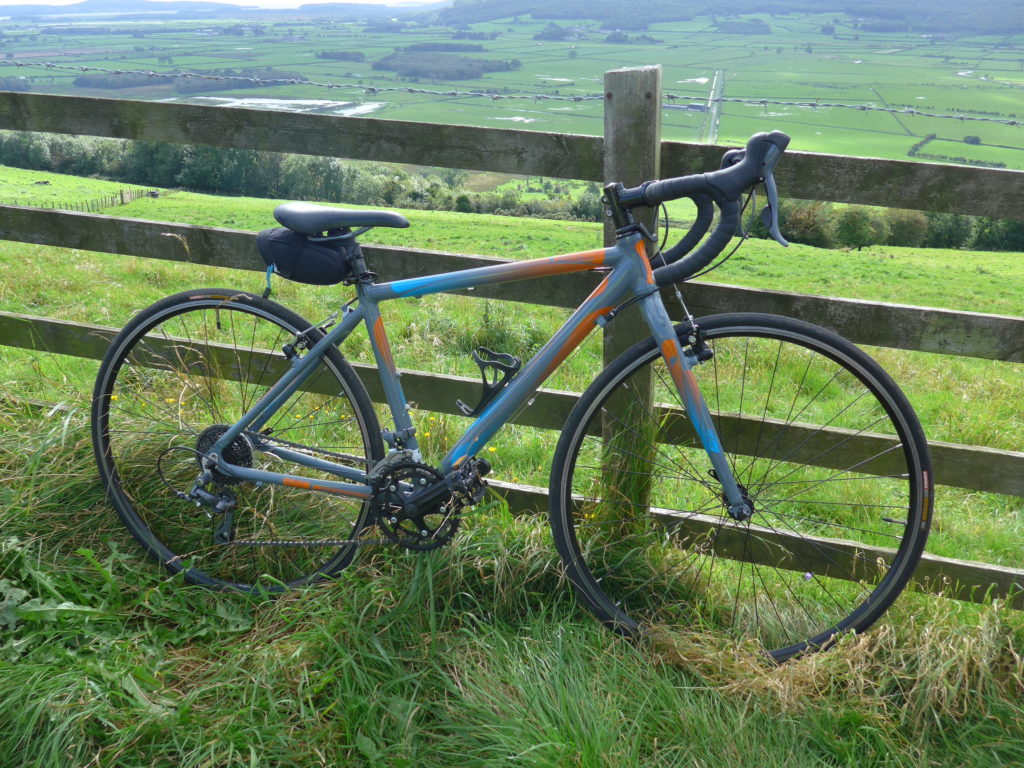 Cuda CP700R details:
Price – £480
Age – 11+ years old (depending on height)
Type – Road/Cyclocross – two sets of tyres supplied
Handlebars – Drop handlebars
Weight – 10.6kg (inc. pedals)
Colours – One option, grey, blue and orange design
Accessories – None identified 
Gears – 16 speed (Cassette: 11-32T / Chainset: 34-46T)
We like – Cuda have delivered a good looking frame with quality components at a fair price, which has been enjoyed by everyone who has ridden it. Definitely worth considering if your junior rider is into both road and cyclocross riding.
Where to buy – Buy Now
What age is the Cuda Performance CP700R aimed at?
The CP700R comes equipped with adult sized 700c wheels, but has a compact frame and low crossbar designed for junior cyclists aged around 11 years and up. At this age, kids heights vary so much it could fit a tall 10 year old or a small 18 year old!
The Cuda CP700R bike reviewers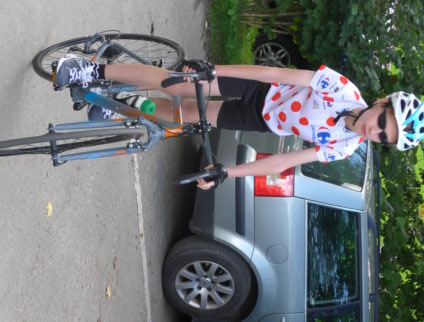 For this review we've managed to obtain the services of three Cycle Sprog reviewers, S, C and N, to put the Cuda CP700R through its paces.
The boys are well versed in the art of cycling, with C, now aged 15, having ridden the route of the formidable Fred Whitton race up in the Lake District when he was 13!
S is 14 years of age and most days of the week can be seen hooning about on a bike on his way to school, or to visit friends. N is a very tall 10 year old who rides and tests all manner of bikes on a regular basis.
Over a four month period they've put the Cuda Performance CP700R that we were lent from Moore and Large through it's paces on some very challenging rides in Cumbria, so we can get a feel for how the bike really performs.
Cuda Performance CP700R – first impressions
Well, first impressions are very favourable. The CP700R exhibits stylish paintwork in grey, blue and orange and this has been a revelation in terms of popularity. Don't get me wrong, I do like the paintwork but it's really exceeded expectations, having gone down a storm with kids and adults alike.
It can be tricky for a brand to get a suitable look that appeals to both primary school kids and teenagers, but Cuda certainly seem to have achieved this with the Performance range.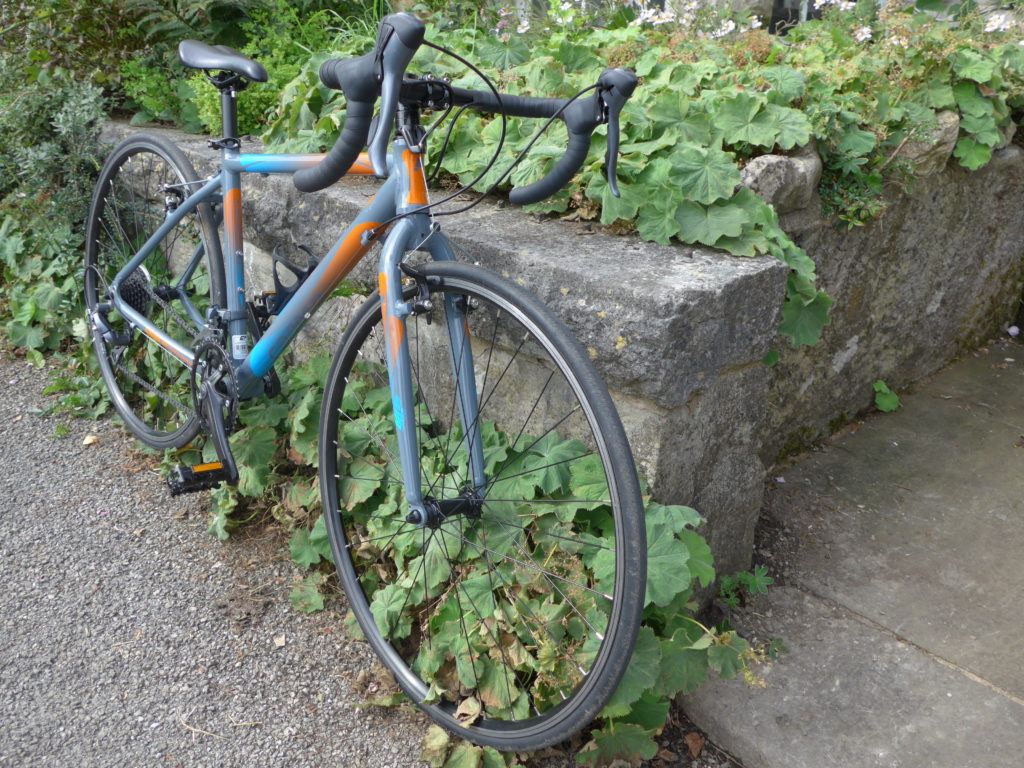 The frame is made from double butted alloy which is strong and helps to keep weight low. Taking a look at its construction, it's good to see neat welds with no unpleasant 'blobs' evident.
Clearances between the tyres and the frame are typical of a cyclo-cross bike, having plenty of space for earth and debris to pass through without adhering to the frame and causing hassle. Mudguard eyelets are also in place front and rear to further assist with keeping things clean(ish) during the winter months.
On the hydration front, Cuda have opted for bottle cage mounts on both the seat tube and the down tube.
What about the components on the Cuda CP700R?
Wheels
The quick release wheels that come supplied with the Cuda Performance CP700R have alloy hubs and rims, laced to 32 spokes. This number of spokes is at the higher end for a junior bike, so although being slightly heavier due to the spoke count, should make them robust over rougher terrain (which is important on heavily potholed roads).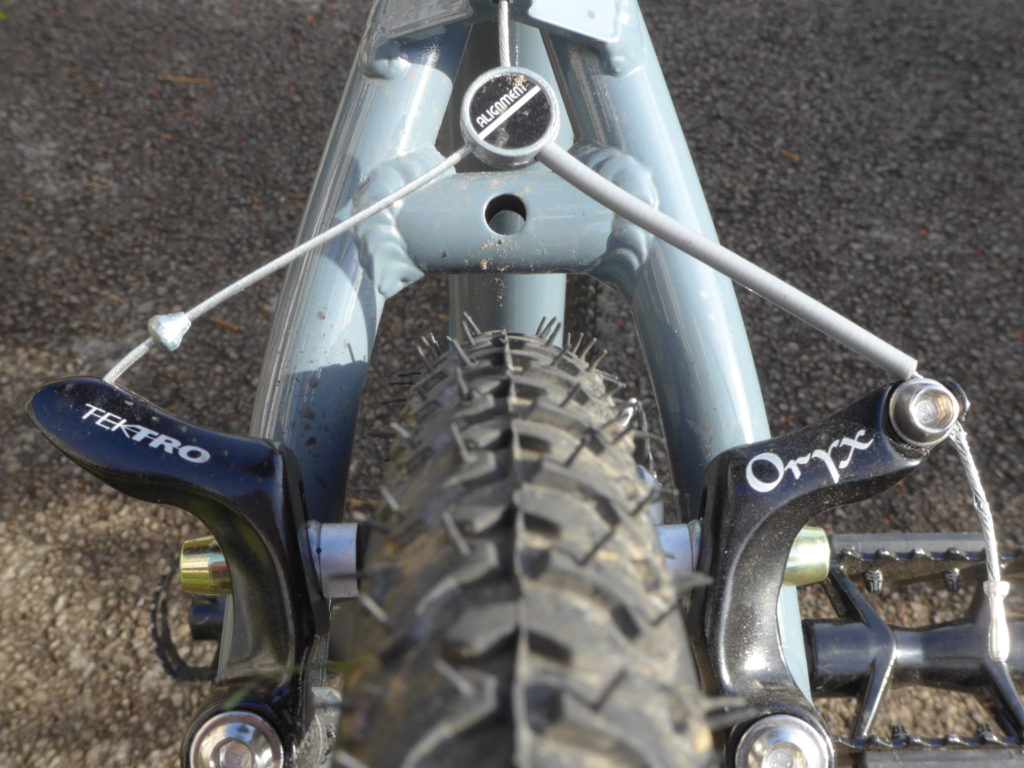 A nice touch is the provision of two sets of Kenda tyres – 700 x 1″ 3/8 for the road and  700 x 35 for cyclocross and off road use. This is great as it gives the rider options depending on what their uses for the bike are. It means the same bike can be used for an on road ride to school during the week using the road tyres, and ridden on the wider tyres at the weekend if needed. The process of swapping the tyres took me less than quarter of an hour (although if you were doing this all the time you may want to invest in a second set of wheels).
Gears on the Cuda Cp700R
The Cuda CP700R comes with 16 gears and is fitted with a 34/46T double chainset at the front with crank length appropriate for the riders age. This is married up to an 8 speed cassette at the rear with a wide spread of 11 to 32 teeth to allow for making quick progress on the flats and up hills and proved useful when tackling some of the larger Lake District hills. For anything more extreme, fitting a cassette with a couple of extra teeth would help the legs!
Controlling the gear changes are Shimano Claris STI levers, a popular choice on bikes in this price bracket with a good reputation for predictable and reliable performance.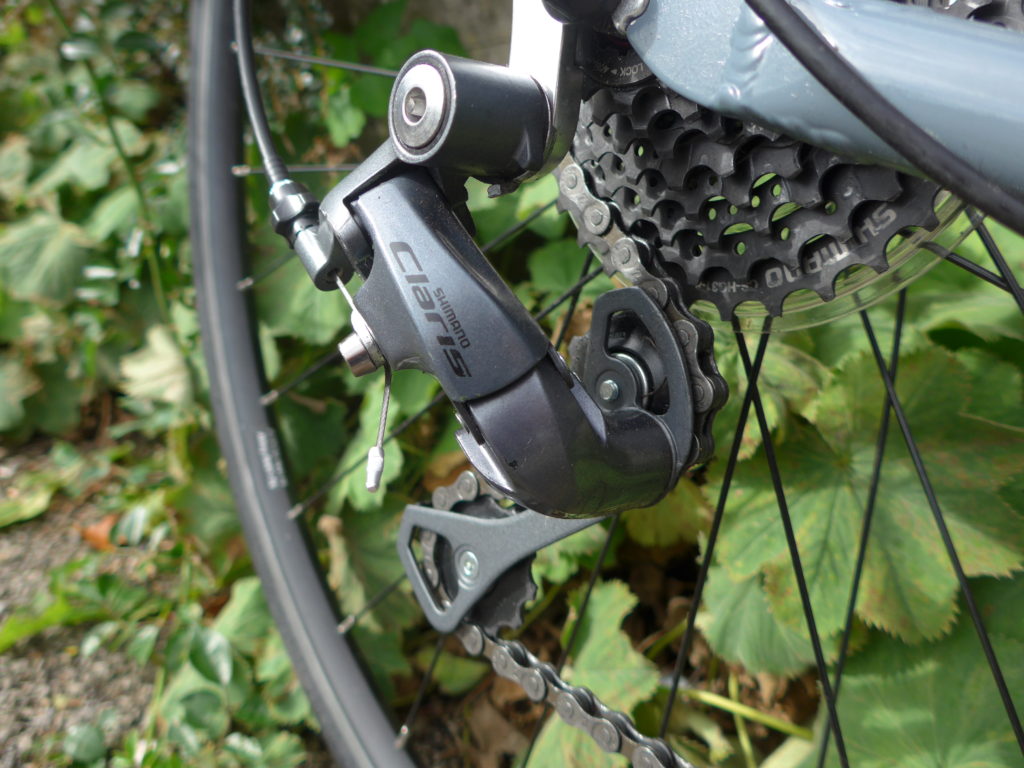 Braking on the Cuda Performance CP700R
Being a cyclo-cross style bike, the CP700R comes fitted with the tried and tested Tektro Onyx 'cantilever' style of brake, renowned for its light weight and ability to shed mud with ease. Our testers used them on wet roads and found them to be effective in use. One point worth noting is that 15 year old C was slightly disappointed that he wasn't getting disc brakes on the CP700R, but the younger riders didn't mention this at all.
Weight – how easy is it to lift a Cuda CP700R?
Coming in at a claimed weight of 10.6kg, the CP700R is a pretty svelte machine. This coupled with the fact that it's nicely balanced means that picking the bike up is a straightforward affair. One point of note though is the rear brake cable runs on the underside of the top tube, so shouldering won't be as comfortable as a concealed cable or one running along the top tube.
Putting it on our scales revealed a weight of 10.6kg fitted with pedals, road tyres and an additional water bottle cage.
Seat post length on the Cuda CP700R junior bike
When assembling the CP700R we found that the seatpost could not be lowered fully into the seat tube due to the bottom of the 300mm long seatpost coming into contact with the bosses for the water bottle cage.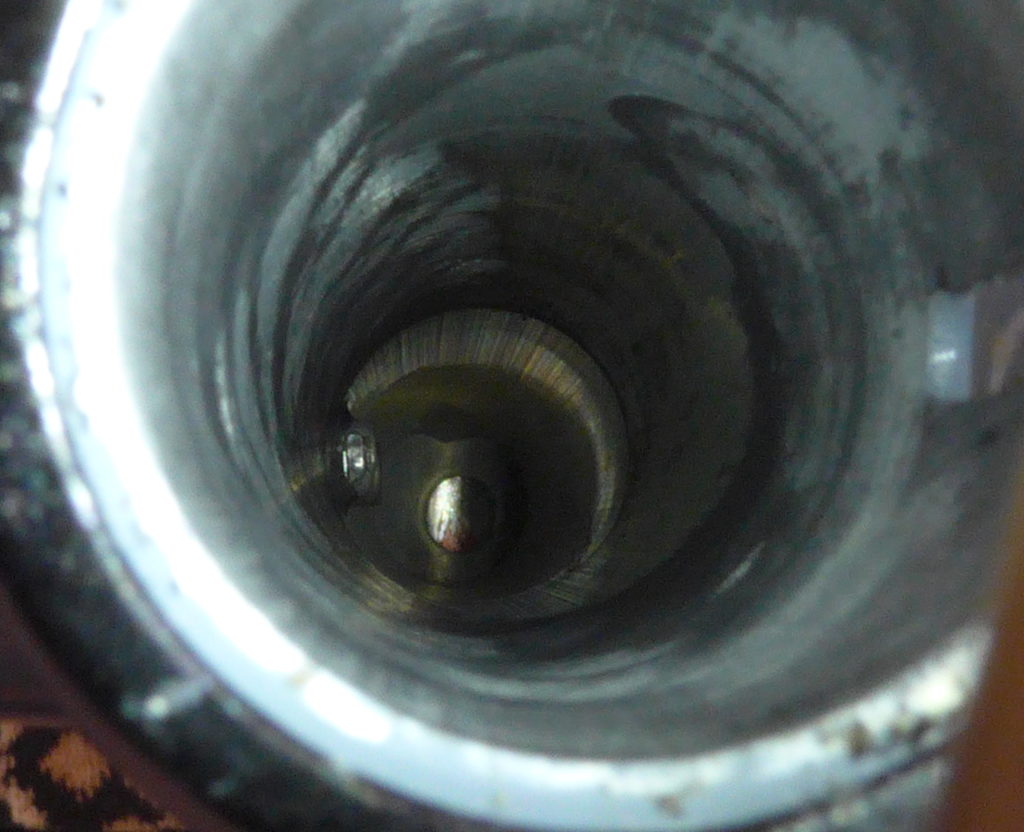 This meant the bike wouldn't fit our smallest reviewer as he needed the saddle in a lower position.  When we spoke to Cuda about this, they explained that they'd made a conscious decision to add in the additional water bottle cage mount as the bike is designed for serious road riding where hydration is of utmost importance. However, the trade off is that if you require the saddle lower for a shorter rider, a shorter seatpost will need to be fitted. This can be easily swapped out by your local Cuda dealer. We used a 225mm post and it was ideal.
I suppose you could cut the existing seat post, but you would need to mark on the new minimum insertion depth to avoid damaging the frame. Plus if you retain the original one you have the capability to change it back as your child grows.
How does the Cuda CP700R kids bike perform?
Well, if the reaction from our reviewers is anything to go by, it rides extremely well. The Cuda CP700R has been used for a variety of purposes, from fun days out tackling Cumbria's steep hills and gravel tracks, grass riding on the local Go Ride sessions, and the daily trip to school on the local roads. It even got the chance to ride up the brutal finish to Stage 2 of the Tour of Britain 2016 before school one morning!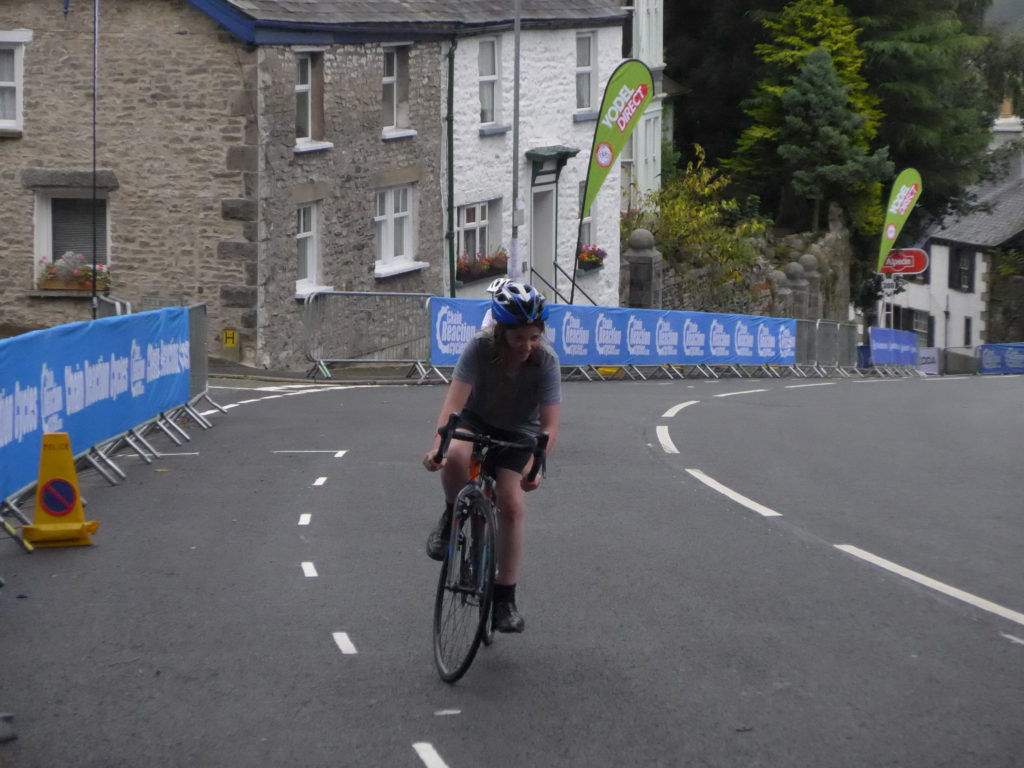 One thing we did find was that having gone through the hands of several boys in quick succession, the frame had picked up a number of marks. The scratches looked to have gone down through the paint where it had been leant against walls, bushes and other bikes but with a quick wipe over these pretty much polished out to leave faint marks. So the paintwork on our model is nice and thick and has proven to be robust with a quick polish to keep it looking in good order.
In wet weather, the slightly knobbly cross tyres inspire confidence and give a sure-footed ride. On loose surfaces and grass they're great too with their extra width and grip over road tyres.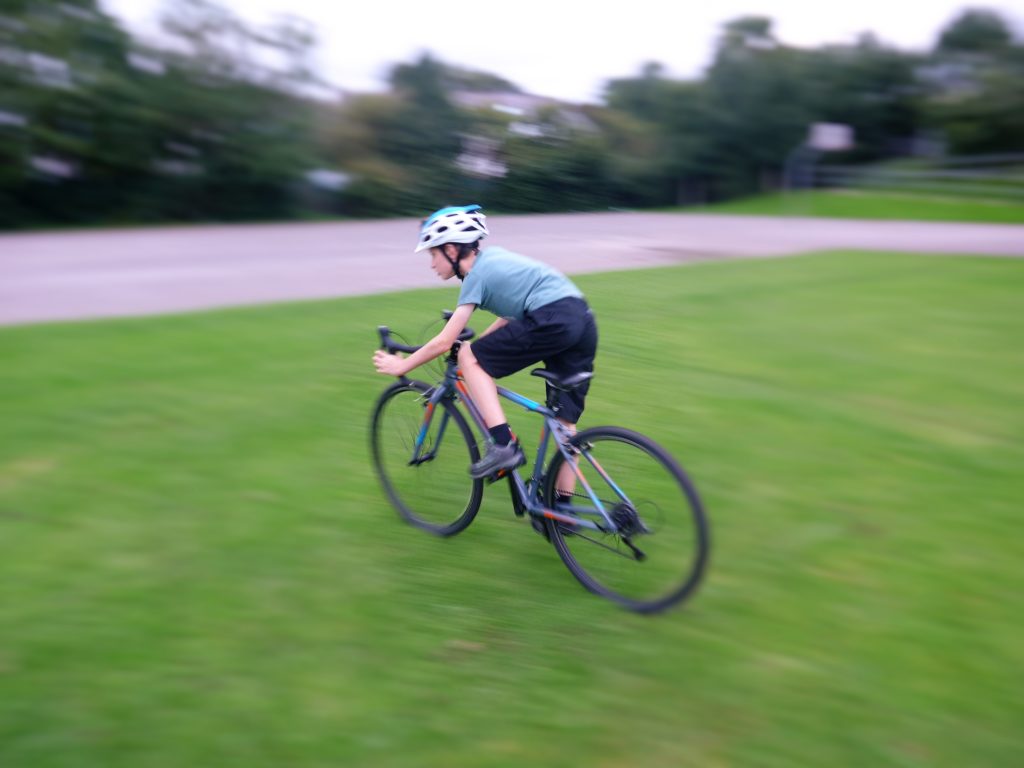 The wheels, comprising of unbranded alloy hubs and rims, spin really well and have held up pretty well to the potholed roads that they've been subjected to over a 4 month period. Just a single application of a spoke spanner has been needed to keep them true. 
Is the Cuda CP700R good value for money?
As with the other bikes in Cuda's new Performance range, the CP700R has it's sights set firmly on the established players in this segment of the market. We're not talking bargain basement here (the rrp is £499), so the CP700R has to deliver if Cuda intend on making inroads into other manufacturers market share. However, Cuda have set the price point slightly below some of the big name rivals, which makes is an attractive proposition.
For comparison, the equivalent road/cyclocross bike from Islabikes (the Luath) comes in at an rrp of £599.99, an extra £100 over the cost of the Cuda. Some parents, especially those that would be considering the Islabikes Luath will be willing to pay the extra for the Islabike name, the reputation and the kudos, but others will want something a bit different, and the Cuda CP700R would be a good choice.
For developing riders intending to spend their time purely on the road, Wiggins Bikes have the Wiggins Rouen Carbon Fork Junior Road Bike for £425. Remember however that a pure road bike removes the ability to ride multi discipline road and cyclo-cross which many youngsters are still doing at this age.
Cuda have to develop a strong position in the market as a producer of quality kids bikes that are worthy of the high price tags. We think they're definitely on the right track, having delivered a good looking frame with quality components at a fair price, which has been enjoyed by everyone who has ridden it.
Thoughts from the Sprogs
Trying to get anything other than a grunt from a teenager is no mean feat. Thankfully, we've secured the services of eloquent young men who are willing to impart their thoughts and describe their experiences of the bike.
Rider C
C is the older and taller of our testers and due to his size is at the point of moving to an adult bike. This was a good test as it allowed the thoughts of a rider at the upper end of the sizing spectrum to be determined.
C eats for Britain and as a result is a strapping 6 foot plus with riding strength to match. For him, the bike was a tad too small with not enough cockpit room, meaning that the distance between knees and bars was limited and he couldn't get stretched out enough to get truly comfortable.
However, he found the bike lightweight and certainly enjoyed riding it. One niggle he did highlight was a rubbing of the front mech when in first gear, but this was resolved easily enough with a slight adjustment, which is something your local bike shop could quickly sort if it did occur.
Rider S
Of our three testers, S was the one that 'really, really enjoyed' riding the CP700R. Having ridden it the most frequently, S really got to grips with the feel of the bike and found it lithe and swift. Gear changing and braking worked efficiently but he commented that he would like an easier gear if he were to tackle the notorious 'Struggle' up out of Ambleside (although most people would need an engine!!).  All in all, from the colour to the performance it's fair to say that it was a hands-down winner with S.
Rider N
Ten year old N is a keen cyclist, happy to sling his leg over a road, cyclocross or mountain bike at the drop of a hat. When the Cuda CP700R arrived and N was just a touch too small for it you could have cut the disappointment in the air with a knife! However, having enjoyed a recent and rapid growth spurt he was all set to go. That was once we'd swapped the seatpost out to a shorter 225mm one to allow the minimum seat height to be used!
N has said that he found the Cuda CP700R an excellent bike.
'It's light, changes gear nice and easy and is great for riding on and off road. I like the fact you can do both with it. It's not just a road bike'. 
N has used the Cuda CP700R for his weekly 'Go Ride' sessions on a grass track and found it to be a fun and versatile machine.  He even managed to get up a notoriously hard Lake District Hill on the first attempt – almost 125m of ascent in just over half a mile!
The Cuda Performance CP700R review – the final verdict
The Cuda Performance CP700R is a lightweight bike that can be used for both road and cyclocross, with a quick change of tyres. It's well specified, has a great paint scheme, handles hills well and is sensibly priced. All our testers enjoyed riding the bike, with S being reluctant to give it back – always a good sign!
Pricewise, the Cuda CP700R has been pitched competitively against its rivals and being the new kid on the block comes as a breath of fresh air. If you're looking to purchase a 700c junior road bike, we recommend that you find a stockist and go and take a look as it's definitely a contender.
Where to buy the Cuda Performance CP700R junior road/cyclo-cross bike
Availability of the CP700R should be good as the distributors, Moore & Large, use a UK wide network of local bike shops to give customers the chance to view before making a purchase. This can pay dividends if you're fortunate enough to have a friendly local bike shop, especially when it comes to servicing or the sourcing of accessories and spares.  It's also available on line at Kids Racing and is sometimes available to buy on-line via Amazon. 
The Cuda Performance road/cyclocross range offers several other sizes so that kids from about 6 years of age can enjoy this style of bike. Here on Cycle Sprog we've recently reviewed the smallest in the range – the  CP20R. You can read about this cracking little road bike here – Cuda CP20R review.
 Cycle Sprog were loaned the Cuda Performance CP700R for review by Cuda bikes
Other articles you may like on Cycle Sprog:
Want to know more about cycling with your kids?
If you'd like more advice on cycling with your kids, inspiration for family friendly cycle routes, or reviews of the best kids bikes and children's cycling accessories don't forget to sign up for the Cycle Sprog newsletter.
Please follow us on Facebook and Twitter. If you've found this article useful then it would be great if you could share it with your friends. Thanks!
Affiliate disclosure: Cycle Sprog may make a small commission on purchases made via some of the affiliate links on this site. This doesn't affect the price you pay, and helps us to fund this site – thanks for your support
This post was first published in September 2016, and updated in March 2017 to reflect availability of the bike