Kids bikes are a major purchase – both in terms of cost, and the amount of excitement that comes with them. But how do you know you're buying the best bike for your child, that will still be loved once the summer months are here?  Fear not, here's the Cycle Sprog guide to buying a kids bike.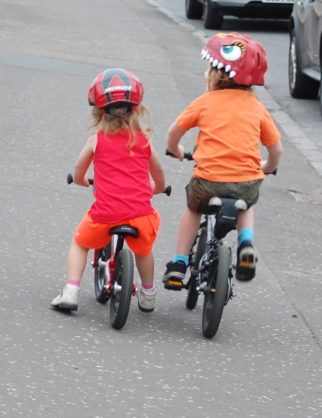 Cycle Sprog is an family run, reader supported, website. We belong to several affiliate schemes so may receive a small commission from sales made from links on our site. We do our best to be impartial and recommend products on their quality not whether they are in a scheme.
12 things you need to know before buying a kids bike 
1. Bikes can be difficult for a child to manoeuvre
Children's bikes should be light enough to lift and handle easily. Generally, an aluminium frame will be lighter than a steel one.  If you struggle to lift the bike, then think how hard it is going to be for your child to control.
It's not just the material of the frame, but the design that is important too.   A low step-through frame allows a child to get on and off the bike without difficulty. This is particularly important for smaller children who are on balance bikes and first pedal bikes, or for older children who are less confident cyclists.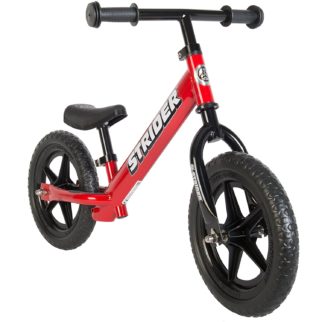 Top tube height is worth checking if you're buying a first road bike or mountain bike – you don't want a frame that is too high for them to get their leg over easily.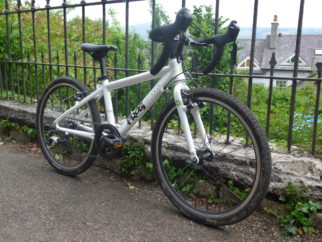 The Frog Road 58 is one of the smallest kids road bikes available. A road bike has a high top tube and this can cause issues for smaller kids, so make sure your child is ready for the move up to a road bike. You can read the Cycle Sprog review of the Frog Road 58 here.
2. Choose the right type of bike for your kid
I know this sounds obvious, but as your child gets older, the type of cycling they're doing will influence the type of bike they need.  From 20″ wheels and upwards this choice becomes very important. Don't buy them a mountain bike if they're going to do most of their cycling on the road. Don't buy a road bike with skinny road tyres and drop handlebars if they're going to ride muddy trails or go to the BMX track!
If they're going to do a mix of different cycling and you're only in the market for one bike, then a hybrid, such as an Islabikes Beinn,  Frog Bike or a Vitus, is your best bet.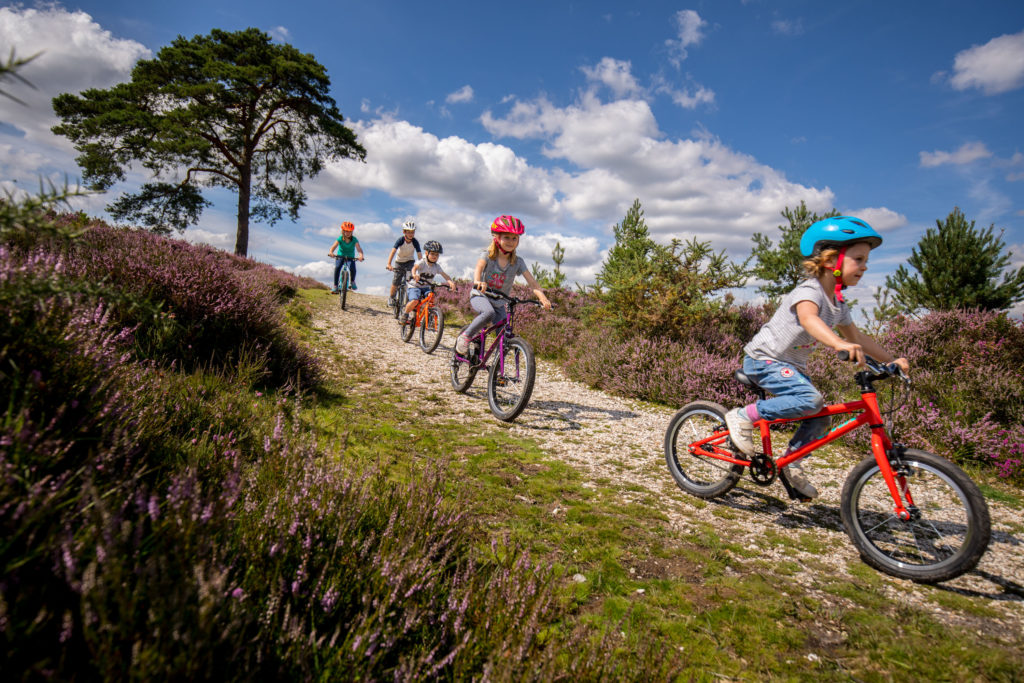 Vitus is a new range of kids hybrid bikes that are very reasonably priced and will allow your kids to ride comfortably on all but the rockiest terrain.
Alternatively, a cyclocross bike can be fitted with both road and knobbly tyres and is a great all round choice if you're not going to be riding serious downhill routes. The Cuda Performance range is a new range that's worth taking a look at too.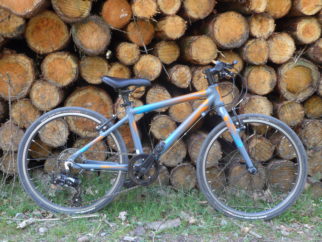 You can check out our reviews of the CP20R and the CP700R bikes if you're looking for a slightly different kids bike
3. Kids bikes need to be sturdy (not heavy)
Kids bikes are bound to get thrown onto the ground when it's time for dinner, not to mention a few crashes here and there, so the sturdier the better. As mentioned above, sturdy doesn't mean heavy. It means well made. If not protected steel will rust, so expect steel frames, seat posts, nuts and bolts to corrode quicker than their aluminium counterparts.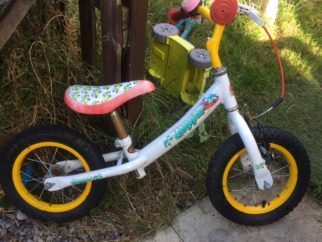 You can see the rust starting to form on the steel seat post on this balance bike.  Read our blog on why the type of bike you buy for your toddler really makes a difference.
4. Gears and gear shifters can cause problems
The smallest kids bikes don't need gears as they confuse young riders and just add weight.  Our advice would be to avoid gears until they reach at least the 20″ wheel size – and even then consider if they're really necessary.
Once your child is tackling hillier terrain, then of course gears become important. Start simple – a triple chainset at the front, providing 21 or more gears, will just confuse a 7 year old and add unnecessary weight. By the time they're riding a 26″ wheel mountain bike, then you do need to think about the best gear ratios to get them up and down the trails and tracks.
It's surprising how many gear shifters are difficult to operate. Good quality kids bikes will fit child sized components that can be operated more easily by small hands and thumbs. There are various types of shifter available, so make sure you know which type is on the kids bike you're buying. The alternative is lots of moaning as they have to push up hills.
5. Brakes on kids bikes need to be useable
Again, brake levers come in different sizes. Some kids bikes come fitted with adult levers that are far too big for small hands to reach and operate. Check that the bike you're buying has child friendly components, or there'll be tears when they can't stop the bike.
Coaster brakes can be found on smaller kids bikes, and can make it easy to slow down or stop by pedalling backwards, rather than having to use a handlebar brake. Some kids (and parents) love coaster brakes, others hate them, so make sure you know which type your chosen bike has. Remember coaster brakes tend to add weight and your child will still need to learn to brake when they move to the next size bike or borrow a friends bike which has handlebar brakes!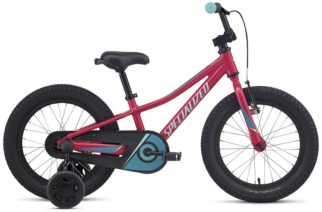 The Specialized Riprock comes with a coaster brake and stabilizers. Does your child need these?
If you're buying a drop handlebar road or cyclocross bike for the first time, consider whether your child can operate the brakes on the drops. Some models (such as Frog Road Bikes ) come with secondary brakes on the handlebars, which can help build confidence during this transition period.
6. Chainguards can save tears
A chainguard will protect little hands and legs from the bike chain, keeping your child from injury and reducing the chance of clothes being ruined.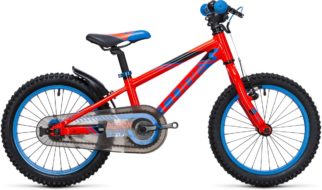 This Cube Action 16″ wheel kids bike has a chainguard to protect your child from injury and their clothes from oil stains
7.  Stabilisers aren't always necessary!
Fewer kids are actually using training wheels (stabilisers) these days, as they move from balance bikes straight to pedal bikes. However, if your child prefers to pedal earlier, but wants the stability that comes with training wheels then these can come as standard on bikes up to 16″ wheels.

8. Accidents do sometimes happen
Most parents prefer that their children wear a helmet when riding a bike (although in the UK there is no legal obligation).   Always ensure that the cycle helmet you're buying meets a relevant safety standard (EN 1078, BS EN 1078:1997 or US Snell B90), or it won't offer the protection required.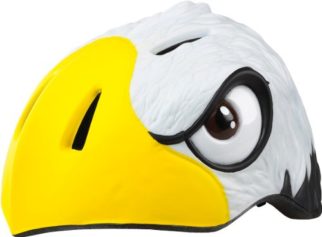 The Crazy Stuff kids cycling helmets meet safety standards and provide some fun too!
For mountain biking, BMX and jump parks it's especially important that your child wears a helmet as crashes are inevitable.  Some kids also wear elbow and knee protection that help minimise cuts, grazes and knocks.
9. Remember little hands and feet get cold
If you're buying a kids bike during the winter months, it stands to reason they're going to want to go out and ride it IMMEDIATELY!  This time of year it can be really cold, so a pair of kids sized winter cycling gloves can be a useful stocking filler.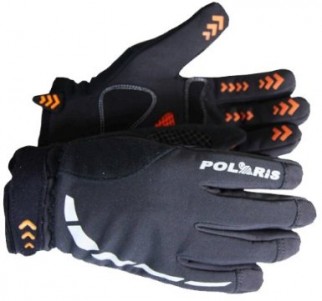 The Polaris Hoolie gloves keep small hands warm when cycling during the winter
Check out our post on keeping kids warm when cycling during the winter for more useful ideas on kids sized kit designed for winter.
The rest of the year a pair of fingerless cycling mitts is an excellent way to prevent scraps should they fall off.
10. Be seen, be safe
Remember, if your child is cycling in low light conditions they need to be visible to vehicles and pedestrians. Bike lights don't need to cost a fortune, neither does a hi-visibility vest.
11. Lock it, don't lose it
If you've spent your hard earned cash on a bike for your child you don't want it getting stolen.  Purchase a bike lock and teach your child how to use it!  The weight and thickness of the lock you need will depend on how much you spent on the bike and crime rates where you're riding (and locking) it.
12. A good quality kids bike should last for years
If you've bought a good quality kids bike then keep it clean and maintained and it should be grown out of and be in a good enough condition to be passed on or sold second hand to recoup some of your costs.  Teaching your child how to look after their bike will reap you these rewards.

Other articles you may find useful:
If you've found this article interesting, why not follow Cycle Sprog on Facebook, so you can hear about our next post?
Affiliate Disclosure: This post "12 things you should know before buying a kids bike" uses Affiliate Marketing. This means that if you purchase through these links it doesn't affect the price you pay, but Cycle Sprog gets a small commission. If you can purchase through these links it helps keep the website going.
Thanks so much for your support
Karen and Chris.
This article was first published in November 2016, and revised in May 2020 to reflect changes to bike availability.