The Frog 55 is a quality kids bike suitable for children aged 6 to 8 years, with a 20″ wheel size.  Frog Bikes got in touch back in 2013 and asked if some of our Cycle Sprogs could review the Frog 55. This was back in  summer 2013, so here's they got on – and how the bike has fared in the intervening years.
Frog 55 kids bike review
Frog Bikes are a British kids bike brand launched in Spring 2013 with bikes ranging from balance bikes (the Tadpole) through to the Frog 73, which is suitable for a 14 year old.
With lightweight frames, good quality components and a distribution network of local bike shops plus to lease via The Bike Club, Frog Bikes are aimed firmly at parents looking for a quality bike for their child, rather than a heavy, superhero/princess bike for half the price.
Who reviewed the Frog 55 bike?
The main reviewer was 7 year old N, who usually rides a Giant Mountain Bike.  He used the Frog 55 for riding on road (and footpath) to school, plus enjoyed off-road cycle sproggery on various surfaces.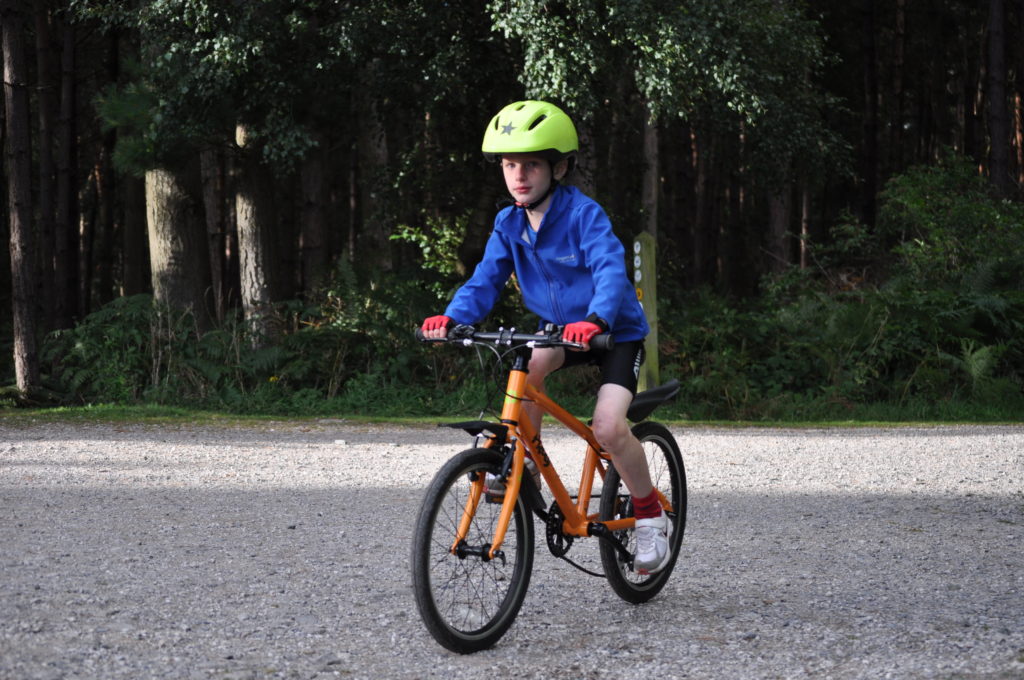 We also asked two of Cycle Sprog's other 7 year old experts, and their parents, to give us their views. Alice and Emily had, until this time, both been Islabikes fans so they and their parents were going to be hard to convince. Both girls had a number of rides out on the Frog 55.  Alice took it away on a holiday to North Yorkshire, where she rode it on some reasonably challenging terrain.
Frog 55 information:
Price – £355
Age – 6-7 years old
Weight – 8.8kg (inc. pedals)
Gears – 8 Speed Alivio thumbshifter
Inside leg (min) – 55cm 
Type – Road and trails 
Handlebars – straight 
Colours – Purple, Red, Orange, Green, Pink, Spotty, Union Jack, Team Sky Black
Accessories – 2x sets of Kenda tyres – hybrid and knobbly. Matching accessories available including side entry water bottle cage, helmet, mitts and backpack.
We like – Highly recommended by Cycle Sprog. The review bike is still going strong – it's on it's 5th rider in four and a half years. The Frog 55 is a great 20″ wheel bike with ample gears that can be used for on or off-road fun, and built to last.
What age child is the Frog 55 aimed at?
The Frog 55 is designed for a child with a leg length of 55cm, so in general this will be 6 and 7 year olds.  Our reviewers were all aged 7 years and just about to enter Year 3, so at the transition stage from Infant to Junior school.
First impressions
The Frog 55 is different to a lot of kids bikes on the market.  At the cheaper end of the children's bike spectrum are those that are obviously designed to appeal to kids, adorned with cartoon characters or childish motifs.  Most of  these "fun bikes" are either pink for girls or blue for boys and tend to be found in the toy section of large stores.
Then there are what experts refer to as "quality kids bikes", resembling adult bikes but in a minature form. Resplendent with high specification child size components and lightweight frames, they can be found at good bike shops and online retailers.
If we drew a Venn diagram, Frog bikes would fit firmly into the quality segment, but there is no doubting, they are also definitely fun!   The Frog 55 bikes are available in either one bold colour – Red, Purple, Orange, Green or Pink – or in Spotty, Union Jack or Team Sky Black designs.  The colour schemes, combined with the name itself and a fun frog motif on the frame and saddle, immediately tell you this is a bike designed to appeal to kids.
Look a little closer and the frame has neat welds, the paintwork looks deep with a good sheen and it comes equipped with good spec components, confirming the Frog 55 should reside in the "quality kids bike" camp.
What's the Frog Bike 55 like to ride?
All the kids who have ridden the Frog 55 have found it very easy to ride.  Alice got straight on it and rode up some very steep hills, and during a holiday play date N's friend came round and was racing round the garden on it in seconds.
There is no suspension on the Frog 55. This means the young cyclist can feel all the bumps along the way. There are two schools of thought on this – Alice's Dad thinks this teaches them to be more responsive to the terrain, and therefore become a better cyclist.  N moans it's too bumpy when the going gets a bit rough!
However, for riding on roads, cycle paths or relatively smooth tracks (which is what the majority of kids of this age ride on) then suspension isn't really needed, and just adds additional weight. Compared to the heavier mountain bike N is used to riding, the Frog 55 was light and very fast, something that definitely got the thumbs up!
View from the Sprog
It's all well and good an adult describing the bike and highlighting the pro's and con's, but to really get a feel for what it's like in terms of riding and its aesthetics you really need to hear it from the childs perspective. With this in mind, our resident Cycle Sprog reviewer gave his thoughts on the Frog 55:
I really liked the Frog Bike when coming downstairs and seeing it for the first time. I thought it looked great in orange and black. I wasn't sure if it was a road or mountain bike though. My daddy asked why, and I told him it was because it looks like a road bike because of the tyres, but has mountain bike mudguards
When riding it the Frog Bike feels smooth and the seat is comfortable. The brakes are good, not too sharp
It feels very light and so I can get up the hill to school a lot easier than on my bike
It gets a lot of looks at school. People are interested in it because of the name, and how it looks
---
Components on the Frog 55 Kids bike
Brakes
The Frog Bike's Tektro 836AL Aluminium V Brakes have been impressive.  During some very competitive races round our garden the Frog 55 stopped quickly in situations I was convinced were going to end in collision.   We didn't see any real deterioration in braking over time, except for expected wear and tear on the brakepads over time.  Remember for your child's safety it's important to ensure these consumables are regularly maintained and replaced as needed.
The Tektro Aluminium JL510-TS V Brake Levers are the right size for a 7 year old's hands, meaning we've had no worries at all about our reviewers being able to brake safely.
Gears
Frog 55 from 2015 
The Frog 55 has had a bit of a revamp since this article was written back in 2013. Gone is the Shimano twist grip for changing gear, replaced by a Shimano Alivio thumb shifter and associated 8 speed components. Twist grips can be difficult for small hands to operate, so we can understand why Frog have decided to give thumb shifters a try.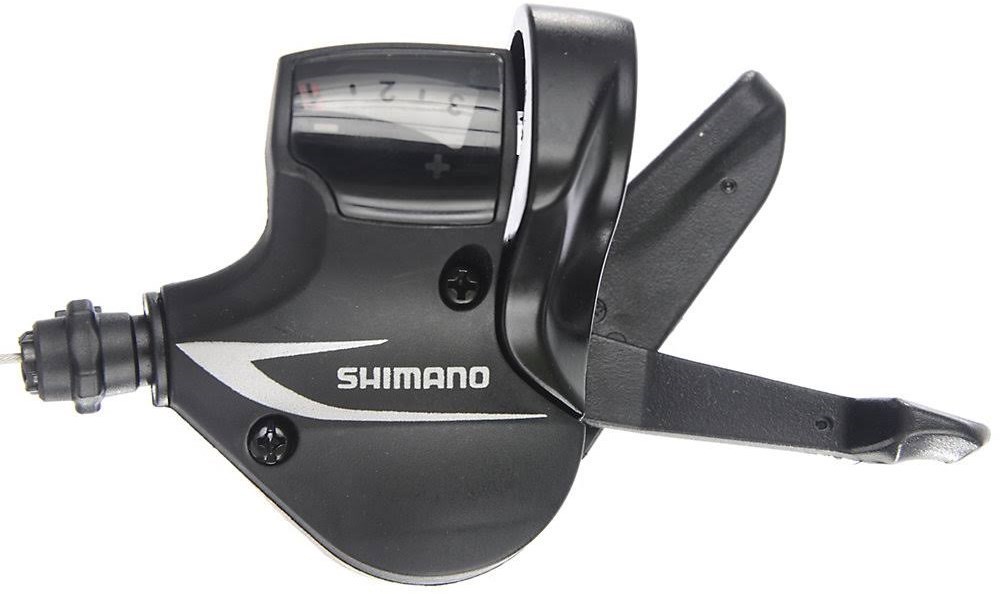 However, they can take some getting used to – with two separate levers for changing up and down through the gears. The shifter does have a visual window though so you know what gear you are in. Once mastered, they are an effective system and should be fairly easy to operate.
The original version of the Frog 55 – 2013 and 2014 models
The 7-speed Shimano easy-twist gears gears (Shimano SL-RS35-7R Revo-shifter if you're getting technical) are reasonably 'easy' to use, but it does take a while for young riders to work out which way to turn as only one number can be seen at a time.  This means they have to think which way to move the shifter, which can have variable results.
The Shimano RD-TX35 rear derailleur coped excellently with the rigours of being asked to leap from 1st to 7th gear from a standing start on many occasions.
 What size are the wheels on the Frog 55?
As most other kids bikes are defined by wheel size, it's helpful to know that the wheels on the Frog 55 are 20″. Whilst we're talking wheels, both are quick-release aluminium 20″ x 1.5″ with 28 spokes.
Tyres
The Frog 55 kids bike is supplied with two pairs of Kenda tyres. The Kenda 20″ x 1.5″ hybrid tyres were what we used for the daily ride for school. The second set supplied are Kenda K1153 20″ x 1.75 which are wider and more grippy for riding off-road tracks and trails.  The Kenda tubes have Schrader Valves.  This double set of tyres is worth factoring into your costings, as it will cost a few quid to buy a second set.
How heavy is the Frog 55?
The latest version of the Frog 55 is weighs 8.8kg and is one of the lightest 20″ wheel kids bikes on the market. All our 7 year old reviewers and riders found it very easy to pick up and move around.
There are four bolts at the front of the headset, which N says are very comfortable to rest his fingers between when he's carrying it.  This will be a real bonus if you're looking for a kids bike to take regularly on public transport, or lift over more challenging obstacles on rides out or during cyclo-cross races.


What accessories are available for the Frog 55?
A set of plastic mudguards come supplied 'in the box' as standard, so you can fit them if you desire. Size wise these are fine, and certainly kept N dry when he was putting the Frog Bike through it's paces in a "puddle test" he devised for this review. We have however needed to straighten and tighten up the front mudguard on a number of occasions – particularly after being buffeted by the wind whilst on the roof rack. However we should point out it's only the fixing bracket that is a little on the flimsy side (the plastic guards are fine). We fed this information back to the good people at Frog and we understand this has been improved on subsequent models.
The bike comes with a bell and reflectors as you'd expect. 
Setting up the Frog 55 kids bike
The Frog bike we were sent for review arrived in a large box, and it took about fifteen minutes to remove the packaging, read through the instructions, and set up with a check that all bolts were nice and tight. Bikes that come boxed up usually need a few items fitting, and in this case it was necessary to attach the front wheel and mudguards. We also checked the brakes and gears worked correctly before it was given a clean bill of health confirming that it was good to go.
If you're not confident in doing this yourself, Frog Bikes are stocked by a growing number of local bike shops, who will set the bike up ready for your child to ride safely away.
How does the Frog 55 last?
We used the Frog 55 for the school run for an entire year – in all weathers, including snow and heavy rain. It was kept outside the house a rickity summer house – so it was dry, but not exactly free from damp.  When N outgrew it he passed it on the younger Cycle Sprog, who rode it for a while.
UPDATE 4 YEARS AFTER THIS REVIEW WAS PUBLISHED:  We've since passed it onto two more friends who used it for weekend rides and cycling holidays.  It came back in very good condition – some new handlebar grips, a good clean, a bit of lubrication and paint touch up and it was ready to be passed on to it's 5th owner in four and a half years. They've got a younger sibling and I wouldn't be surprised if the Frog 55 makes it to its 6th owner without much problem.  You can't ask better than that!!
How much does the Frog 55 cost?
The Frog 55 has an RRP of £355.  
Is the Frog 55 good value for money?
At £355 the Frog 55 is at the middle to higher end of the 20″ kids bike market.  If you're looking for a quality children's bike that appeals to kids without being overtly childish, then the Frog 55 makes a sound investment.


The frame and components on the Frog 55 are all well made, making this a kids bike that can be passed down through the family –  and as the colour schemes are all unisex it doesn't matter whether it's a younger brother or sister who gets it next.
If you regularly maintain your child's bike you should anticipate recouping a high percentage of the value of the Frog 55 via Ebay or the local paper when they've outgrown it.
Frog 55 kids bike review – the final verdict
Our 7 year old reviewers have all enjoyed their time on the Frog 55 because it's lightweight, easy to ride and gets admiring glances. It's was a wrench to prise it away from N when the review was over!
As parents we've been impressed with how the Frog 55 kids bike stood up to daily use, and all the parents involved in the review feel the retail price of the bike reflects the quality of the frame and components.  The fact it's now on it's 5th owner in over four years and is still going strong shows what a good investment Frog Bikes are.
The Frog 55 comes highly recommended by Cycle Sprog.
Where can I buy a Frog 55 kids bike?
You can buy the Frog 55 new from authorised dealers, plus lease on a monthly basis from The Bike Club – with the bonus that you just send the bike back and upgrade to the next size when the bike gets too small.
Buying a second hand Frog 55
As Frog Bikes are such a good quality bike, the will usually be outgrown by the rider and still have lots of life left in it. This means there are a lot of second hand Frog 55 bikes available on Ebay.

There is also a Facebook page for the sale of second hand Frog Bikes if you prefer to sell independently – you need to apply to join the Pre Owned Frog Bikes closed group.
Other posts you may find useful:
Want to know more about cycling with your kids?
If you'd like more advice on cycling with your kids, inspiration for family friendly cycle routes, or reviews of the best kids bikes and children's cycling accessories don't forget to sign up for the Cycle Sprog newsletter.
Please follow us on Facebook and Twitter.
If you've found this review of the Frog Bike 55 useful then it would be great if you could share it with your friends. Thanks!
Disclosures: Cycle Sprog were lent the Frog 55 to review by Frog Bikes.  We may make a small commission via Affiliate Marketing schemes on some of the links on this page. Please see our Affiliate disclosure post to find out how you are supporting Cycle Sprog by using these links.
This article was first published September 2013 and updated November 2017  and March 2021 to reflect the availability and pricing of the Frog 55.