The Frog Road 58 bike review
Over the years, we've tested a number of kids bikes from the Frog 'pond' including one of their road bikes.  However, this bike was far too big for our 7 year old who has been desperate to ride a bike with drop handlebars for years.  He was delighted therefore to get to review the 20″ wheel Frog Road 58 to see if the smallest road bike Frog offer is as good as it's bigger brother.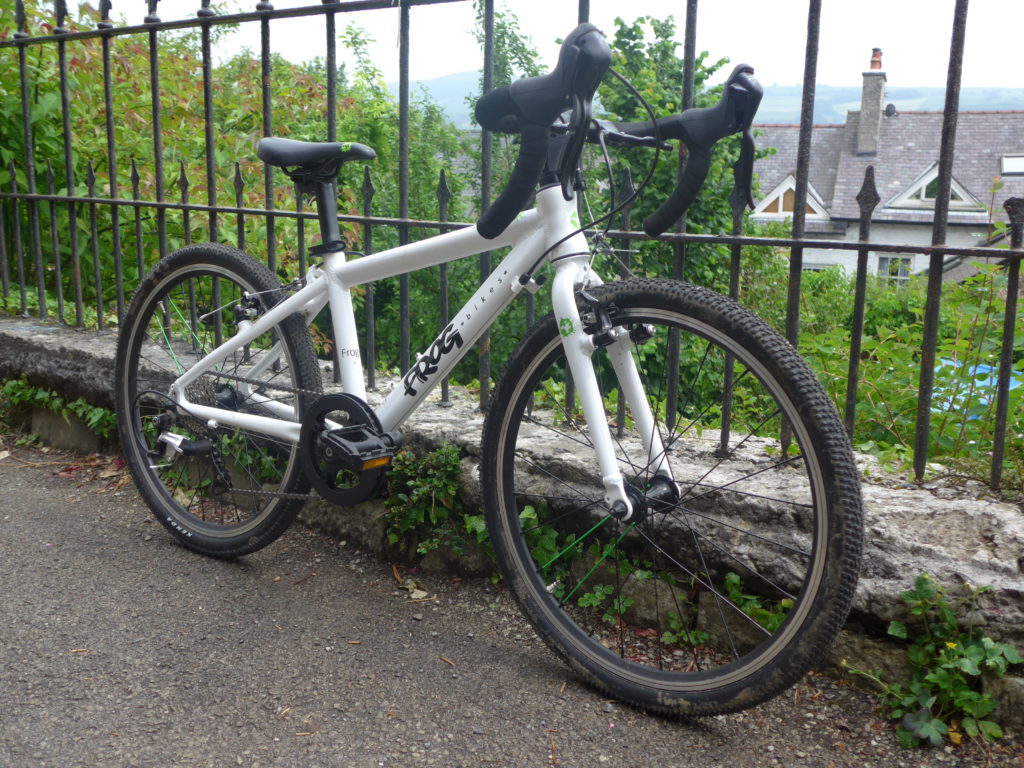 Affiliate disclosure: Cycle Sprog may get a small commission if you make a purchase from the links in this post. For more information please see our affiliate policy
Frog 58 details:
Price – £540
Age – 6-7 years old (average inside leg of 58cm)
Weight – 8.2kg (inc. pedals)
Colours – Electric blue 
Type – Road bike 
Handlebars – Custom drop bar 
Gears – Microshift 9-speed 
Accessories – Bell, bike reflectors (red/white), wheel reflectors (orange/white) paint plasters, frame protector patches. 
The Frog Road 58 bike reviewer
Our reviewer for this particular test is T, aged 7 years. Rather competitive and always up for fun, he's been desperate to get his hands on a suitably sized drop handlebar bike for as long as I can remember. The Frog Road 67 was definitely too big for him, although we did have tears and numerous claims that it fitted perfectly!
Being the competitive type and a bit of a dreamer, I'm absolutely convinced he'll have imagined himself hurtling through the French countryside on the Frog 58, wearing the yellow jersey, leading the Tour de France!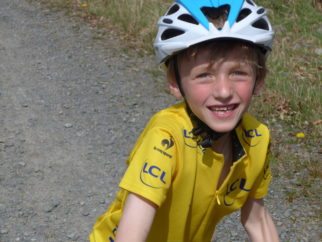 Several of his friends have also had a go, each of them excited to be riding a drop handlebar bike for the first time too.
What age is the Frog Road 58 aimed at?
The Frog Road 58 is the smallest model in the Frog road bike range. The Road 58 is intended for children with a minimum inside leg measurement of 58cm, which is usually about 6 or 7 years old.
There are two further models (the Road 67 and the Road 70) catering for children up to the age of 14 years. As you go up the range, changes are made to components to take account of the increased size of rider. The gearing is also altered to suit.
If you've got an old Frog Bike that's been outgrown and needs selling get your Used Frog Bike quotation here. 
Frog Road 58 – first impressions
Having previously had the Frog Road 67 on test, the Road 58 looks incredibly familiar – as though it's the same bike but it's just been shrunk in the wash! It's basically a Frog Road 67 in miniature and looks great for it, with the same striking colours and lines that work so well together on the bigger bike.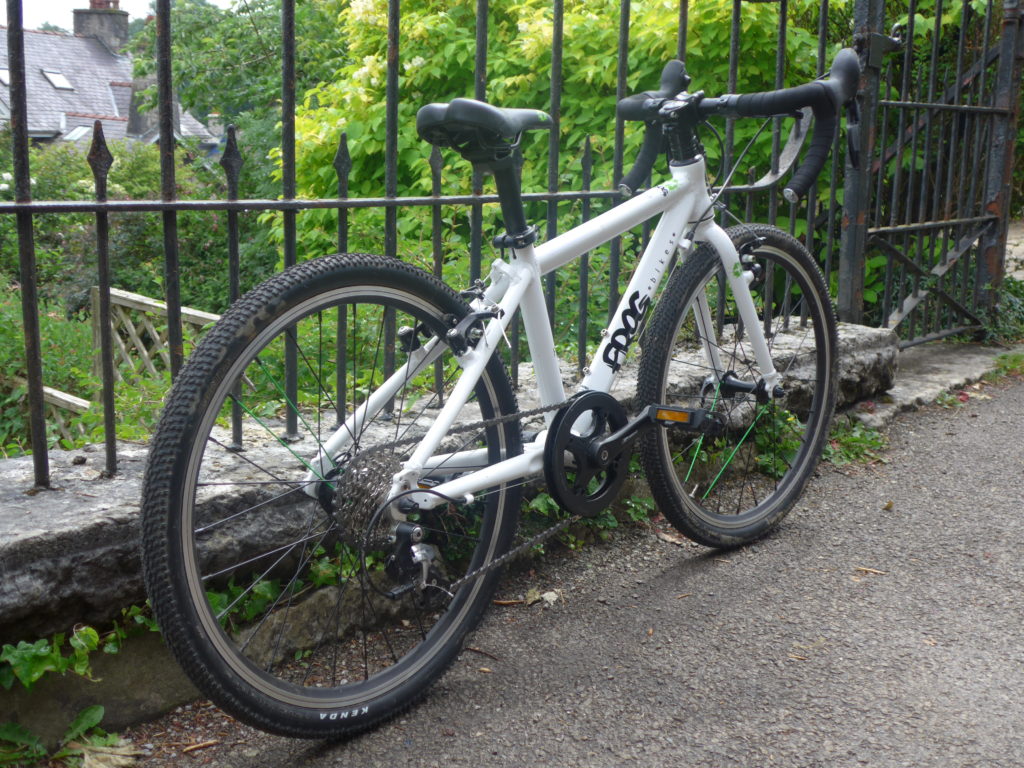 We were sent the white version, but the Frog Road bikes also come in Red, Black and two versions of the ever popular Team Sky design (Black/Blue and White/Blue).
The review bike we were sent from Frog Bikes has definitely seen some previous action, but apart from a few battle scars looks in good shape. It is a cyclocross bike after all, so the odd scratch and lashings of mud here and there seem somewhat appropriate. This bike is definitely not a show pony.
Due to it's miniature road bike stature, it's been very interesting to gauge the reaction of kids of all ages to the Frog 58. Tiny drop handlebar bikes are something of a rarity, so when a 20″ wheel one makes an appearance it does get noticed.
I definitely get the feeling that a lot of the older boys and girls that have been wanting to ride it would have loved something similar when they were six or seven. The younger kids looked on admiringly, and anyone who can fit on it has had a go! So from the perspective of kids of all ages, the Frog Road 58 seems to have universal approval as a desirable bike.
It's gone down well with parents too. A cute little drop handlebar bike – what's not to like?
What about the components on the Frog Road 58?
It's great to see how Frog have sourced parts that are the correct scale for the bike in question.
For example, having suitable crank lengths, handlebar diameters and widths and using brake levers that children can get their hands around to operate safely. Plus the use of saddles that are designed to accommodate children's bottoms aids comfort no end.
All of these considerations make the experience of riding a bike so much more enjoyable, especially the bit about having the ability to brake as and when required.
Gears and wheels
The Frog Road 58 is a drop handlebar bike and as such there's a whole new world of contact points and gearing for it's rider to contend with.
Firstly, let's consider the gears. On straight bars, kids bikes are usually equipped with twist grip or thumb shifter operated gearing systems but these don't really lend themselves to drop bars. Originally shifters on road bikes were placed on the down tube, but the issue with this is you have to keep taking a hand off the bars to change gear. Not great, especially if you were wanting to brake at that moment too.
So some bright spark created the integrated brake/gear shifter, sometimes known as STI (Shimano total Integration), brifters or ergolevers. This type of lever allows the riders hands to be kept on the bars when changing gear or braking. The Frog Road 58 is fitted with this type of shifter and it works extremely well.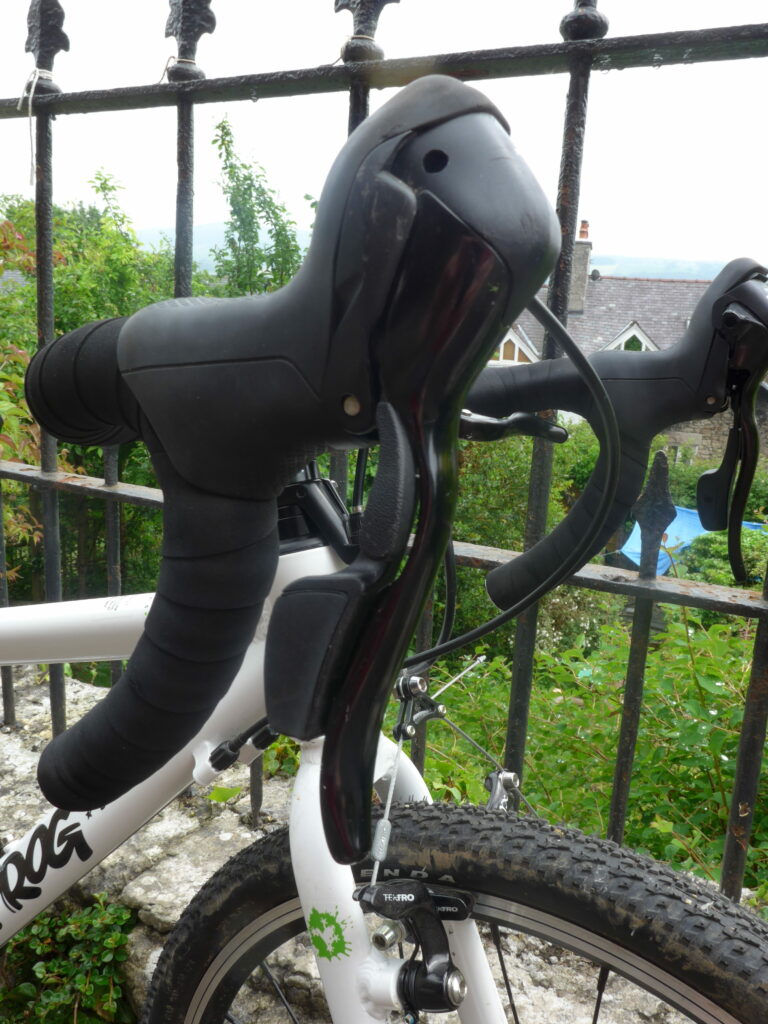 The Road 58 has a single 34T chainwheel at the front, so just the right hand shifter is used to click through the 9 speeds of the Shimano 12-27T cassette at the rear. T quickly picked up how to move up and down the gears using the levers on the STI shifter.
The left hand shifter can be moved, but as it is not connected to anything, it has no impact.  This did cause some confusion to each of the children who rode this bike until this was explained.
Larger models in the Frog Road bike range have a double chainset and so the left hand shifter is used to swap between the two chainrings at the front.
The wheels are 20″ in diameter and built with alloy rims and Quando quick-release sealed hubs front and rear. They spin well and seem tough enough to cope with the lumps and bumps that they'll have to deal with at the hands of a speedy child. The wheels are also supplied with two sets of Kenda tyres – one for road and one for cyclocross. 
Braking on a Frog Road 58
The brake setup on the 58 is the Tektro Oryx, a cantilever system that is efficient and great at clearing mud.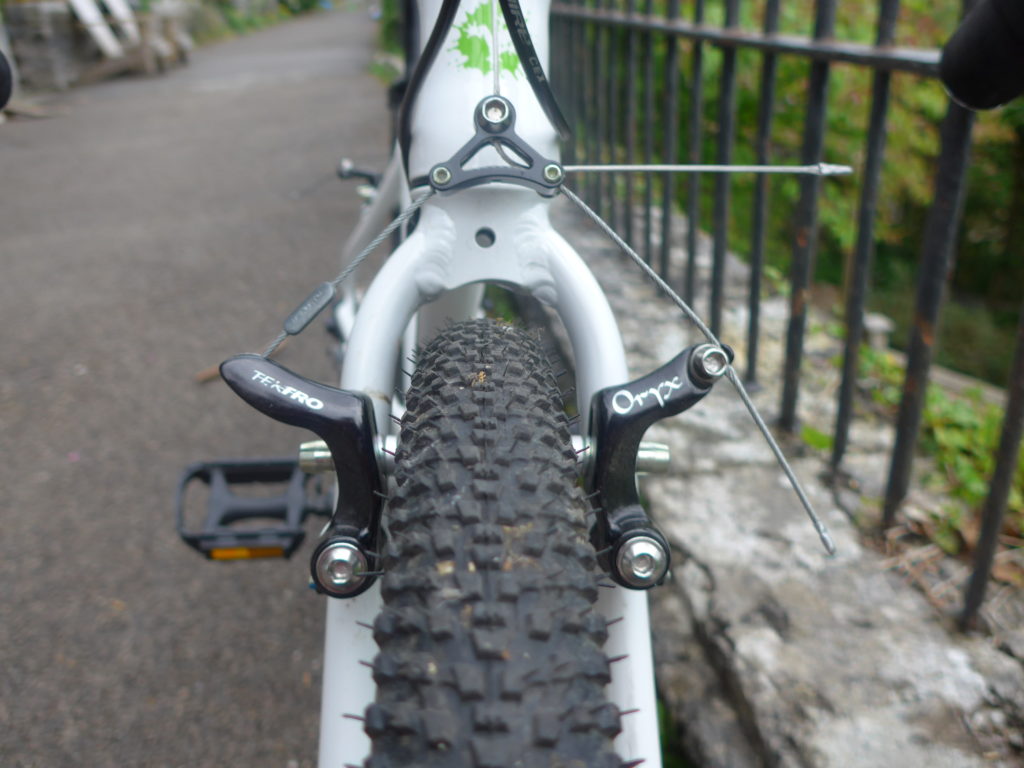 As mentioned, the Frog Road 58 is fitted with integrated primary brake levers, with the right hand lever also in charge of gear change duties.
A very useful addition are the supplementary brake levers found on the top of the bars. Levers at this position are very common on cyclocross bikes and are an extremely welcome addition on a drop handlebar kids bike. Irrespective of whether hands are positioned on the drops or on the tops, there is a brake lever close by should it be needed.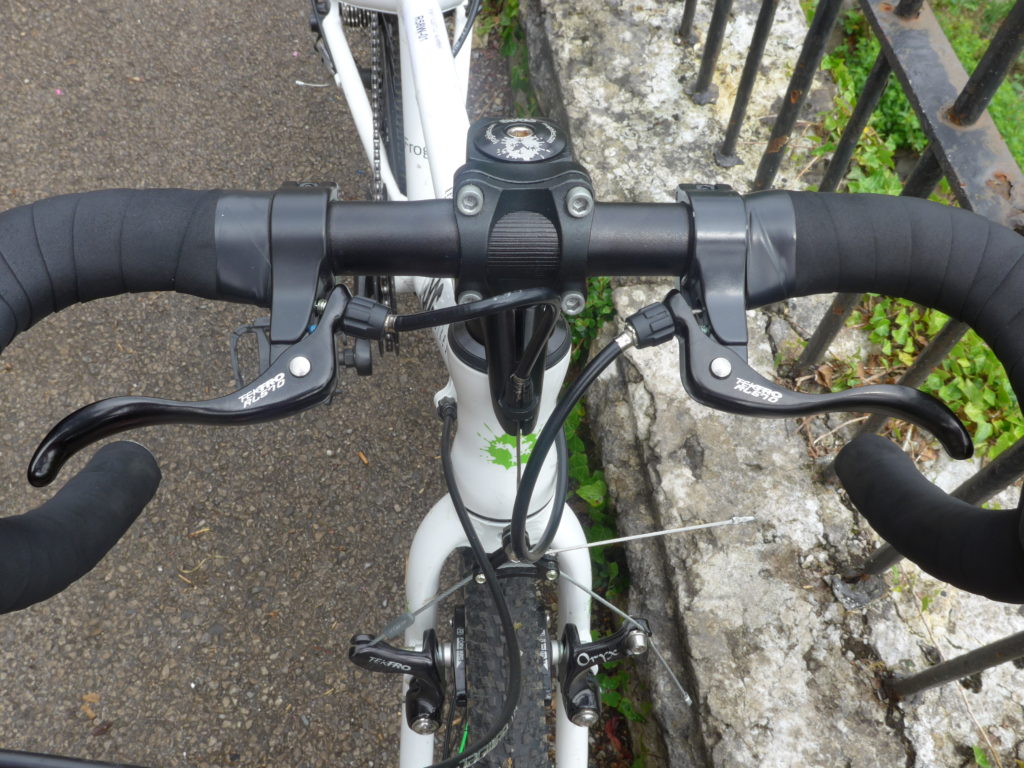 T has found braking on the Frog 58 to be straightforward considering it is his first time using drop bars. It took him a short while to get used to the new riding position, and he has spent most of his time with his hands on the tops, but use of the drops is slowly increasing as his confidence in riding the bike has grown.
Saddle and pedals
The saddle is a Frog Bikes racing saddle and seems to provide good levels of comfort. Pedals are plastic Wellgo R090 and come fitted with toeclips and straps. It may be prudent to remove the clips and straps (easy to do by undoing two hex screws) whilst your child familiarises themselves with this drop bar style of bike. We did this for T.

Weight – how easy is it to lift a Frog Road 58?
T can lift the Frog Road 58 easily, but he's not comfortable lugging it up and down steps. It's highly likely that this is due to lack of experience and possibly his height more than anything, as the bike seems well balanced when he picks it up.
The stated weight from Frog is 8.2kg and when we measured it the Frog 58 came in at 8.3kg WITH pedals.
 
How does the Frog Road 58 kids bike perform?
Like a demon to be honest, as we've had trouble keeping T off of it! If he so much as sniffs the hint of an opportunity he'll make a break for it; sneaking off for a quick ride, little legs spinning and face grinning happily. He's also having to fight off his friend, who is equally keen to get herself acquainted with the drop handlebars.
They've developed a little circuit near our house that is hilly, has some grassed sections with tree roots and a stretch of tarmac thrown in for good measure. It's short but steep, so they've been having great fun getting used to the bike and improving their strength and fitness for tackling hills.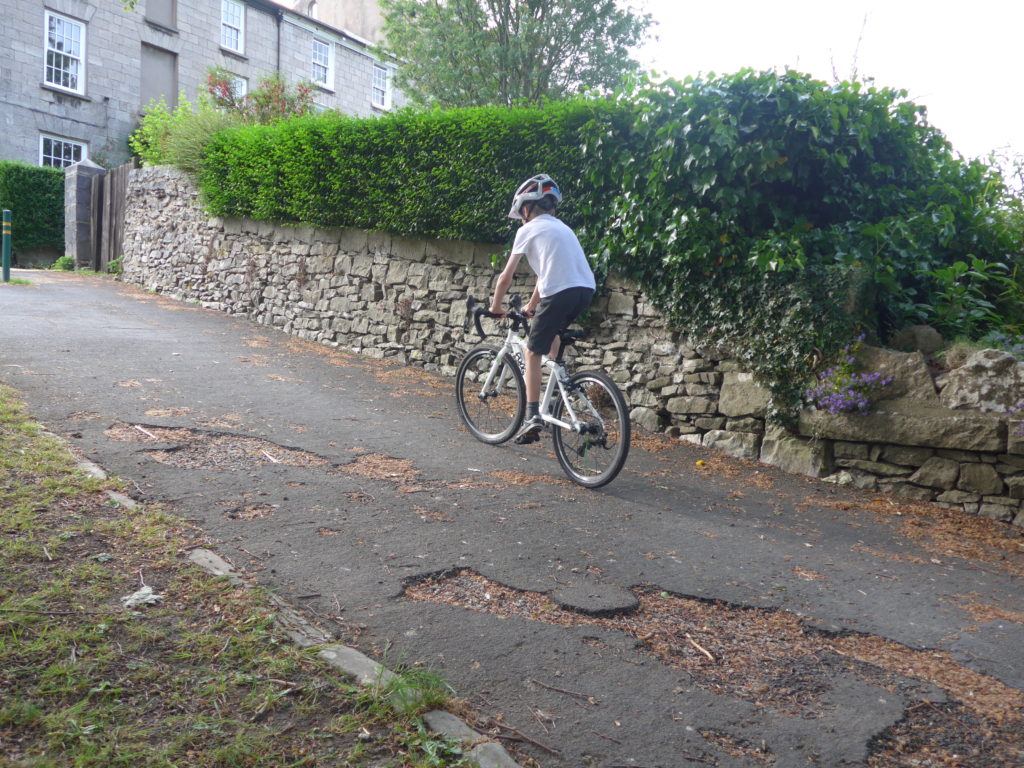 We've shod the wheels with the cyclocross tyres and these have been great for building confidence when riding the grassy sections.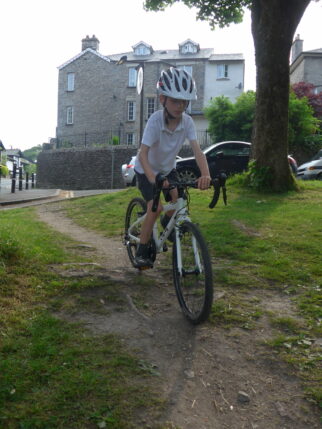 T has also been using the Frog Road 58 at British Cycling coaching sessions for children aged 6 to 10, where he's been keeping up with older kids on bigger bikes. It's proved itself to be a great bike for him to hone his handling skills on.
Alternatives to the Frog Road 58
At this age range (6 to 7 years old and 20″ wheels), there are very few drop handlebar bikes for kids.  It's best to decide whether drop handlebars are a necessity, or whether your child is happy to continue with straight handlebars for several more years (and as T has preferred to use the supplementary brakes rather than the drops I suspect it's more the thought he's riding on drops rather than the reality that he likes at this stage).
If your child is already racing and drop handlebars are the next natural step for them, then there are very few alternatives on the market. As our article on drop handlebar bikes for kids explains, there really isn't much alternative, especially at this price point. Most options become available once they are able to ride a 24″ bike.
Is the Frog Road 58 good value for money?
With a RRP of £400 the Frog Road 58 is over £100 more expensive than the standard Frog bikes that kids could be riding at that age. The Frog 55 retails at £260 and the Frog 62 at £275.  However if road cycling or cyclo-cross is their chosen sport, or they are just desperate to get a bike with drop handlebars, then the Frog Road 58 is probably the best bike on the market.
Due to the quality of manufacture of Frog bikes and the unisex nature of the frame and paintwork, you can expect this bike to last several kids and also retain a good resale value when you're ready to sell the bike on.
When compared to the quality 24″ kids drop handle bar road/cyclo-cross bikes on the market, then the 20″ Frog Road 58 does seem fairly priced for the specification. The ability to choose from a range of colours, including the popular Team Sky designs, is a bonus.
Where can the Frog Road 58 bike be bought?
The Frog Road 58 can be bought new,  leased on a monthly basis via The Bike Club, or you can look out for them secondhand. Frog Bikes are also stocked by a wide range of local bike shops, so it's worth checking out your local one.
The Frog Road 58 review – the final verdict
You can always get a good feeling for a bike by how well it's received by the children that are going to ride it. The Frog Road 58 has been very, very popular with reviewer T. He's really enjoyed riding a bike with drop handlebars at long last, and having the cyclocross setup and tyres has meant he's tackled routes on it that he might not have done on a standard road bike.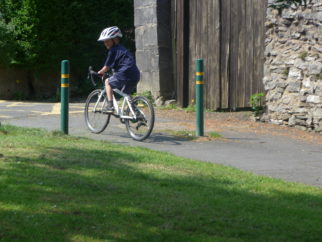 In terms of quality, it's what we've come to expect from Frog Bikes – well built, looks good, rides well and is priced accordingly. Plus there's the added exclusivity factor due to the lack of drop handlebar bikes for this age group.
I know that some say drop bars are not suitable at this age (and the lack of 20″ bikes proves that other manufactures may feel there isn't a market). Well, if T and his reaction to the Frog 58 are anything to go by, I'd be looking to review that thought – he's not stopped asking to ride the bike since it arrived for review!
The Frog Road 58 is that rare beast – a drop handlebar kids bike with 20″ wheels. It delivers fun in spades and is recommended for your budding road racers and cyclo-cross riders.
Cycle Sprog were lent the Frog Road 58 bike for review by Frog Bikes
Want to know more about cycling with your kids?
If you'd like more advice on cycling with your kids please follow us on Facebook or sign up to our newsletter
Other posts you may find useful: