Choosing the best bike for a 6 year old girl can be confusing, but it's such an important decision. Is it going to give her a love of cycling for life? Will it be the start of regular exercise, that will reduce her risk of childhood obesity and type 2 diabetes? Will it sow the seeds of adventure, leading to a lifetime of exploration? Will it one day mean she's got an independent means of transport (rather than relying on you)?  There's a variety of things to consider when searching for the best bike for a six year old girl and here at Cycle Sprog we're here to help!
First we'll look at some important things to consider before parting with your hard-earned cash, and then move on to look at some of the bests bikes available for a 6 year old girl.
Take a moment to GRAB YOUR FREE KIDS BIKE BUYING CHECKLIST which will help you record all the information you need to find the perfect bike for your child. 
Cycle Sprog is an family run, reader supported, website. We belong to several affiliate schemes so may receive a small commission from sales made from links on our site. We do our best to be impartial and recommend products on their quality not whether they are in a scheme.
UPDATE ON BUYING KIDS BIKES - January 2022
During lockdown 1.0 the nation went mad for cycling and all the kids bikes sold out, and many brands and retailers are still struggling to restock again (add in the issues with Brexit, shipping costs and the Suez canal hold up and it's not surprising really).  This means that there aren't as many quality kids bikes as usual at the moment, BUT there are a few to be had.   
We've kept all our usual recommendations at the end of this article (especially useful if you're buying secondhand), but this shorter list are the current places we're recommending who have stock ready to dispatch. 
QUICK LIST OF WHERE TO CHECK FOR IN STOCK KIDS BIKES:
If you're in a real hurry, just check these places that should have quality kids bikes in stock and ready to dispatch.  
If you're not sure what makes a great kids bike take a moment to download our FREE kids bike buying checklist, so you know what you're looking for and don't get tempted by a dodgy deal.  Don't forget a lightweight, well made bike will be LOADS more fun to ride than a heavy, poorly made toy bike, that has a tendency to fall apart - I'm not joking - check this out!) 
Tredz stock a good range of quality kids bikes, and we really like that they are honest and upfront about how long delivery should be before you place your order.
To be extra helpful Tredz even have an "in-stock now" button which is a real timesaver and saves so much frustration.  This is especially  handy if you need a bike in time for a birthday. 
They have bikes from a wide range of quality brands, including Forme, Frog, Squish, Cube, Giant, Orbea, Cannondale, Puky, Specialized, Scott and Saracen.   
If you can't find what you're looking for elsewhere it's worth checking back at Tredz quite regularly as they are getting new stock in all the time. 
The Bike Club is a brilliant way to get a great quality kids bike for your child without the upfront cost.  It works like this: you sign up to their membership scheme and select your chosen bike, which they send out to you in return for a monthly payment (so you do have to pass their credit checks).  When your child gets too big for the bike you send it back and upgrade to a bigger bike. 
So with the Bike Club you get peace of mind that your child is riding a really great quality bike at a bargain price, rather than a really cheap bike. 
They only stock Cycle Sprog recommended brands such as the brand new Forme Bikes as well as Squish Bikes and Frog Bikes.
Sponsored content start: 
If you have an old kids bike you've been meaning to sell on, then The Bike Club also have a hassle free way to do this, called reCycle.
They will even send a courier with a box to pick it up!  Get a valution of your old bike here.  

Sponsored Content End
CRC sell the great value Vitus Kids Bikes and the popular Commencal range (which is more suited to off road riding).  Stock has been appearing on their website  (although they are selling fast!)
They also have an "In stock" button on their website which saves so much time. 
 Check Availability at Chain Reaction Cycles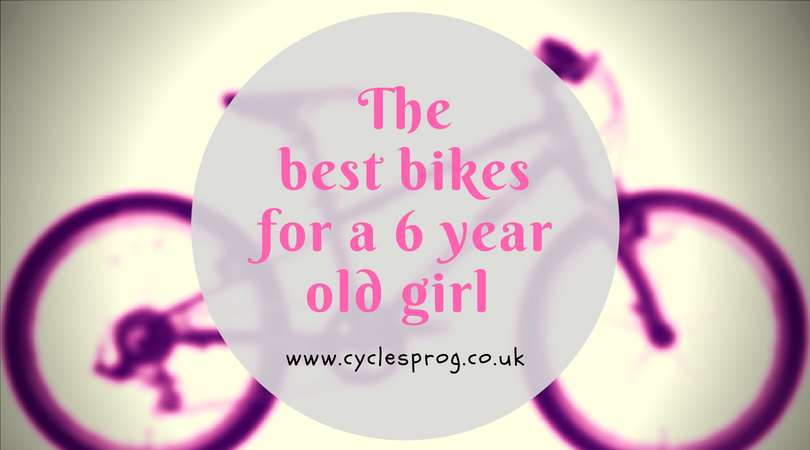 2 things to consider when buying a bike for a 6 year old girl:
1) Can she lift it up?
Please don't buy a bike that feels heavy to 'you'. If you groan when you pick it up, how do you think a 6 year old girl is going to feel when she's trying to ride it? Think how you're going to be able to carry it up steps, lift it into the car boot or onto a cycle carrier.
2) Is it safe for her to ride?
6 year old girls have small hands. They need small brake levers to stop safely. Can she reach the brakes and apply them easily?  If it has gears, can she work the gear shifter easily?  If not, then don't buy the bike.  If you are tempted to buy a really cheap bike then you'd better take a look at this post to see why we don't recommend it. 
We've got lots more advice on what to look for when you're buying a bike for a child in our post 12 things you need to know before buying a kids bike
What size bike does a 6 year old girl need?
According to the "official" charts, 6 year old girls range can in height from 106 cm to 129cm. A girl on the 50th percentile will be 115cm on her 6th birthday and grow to be 122cm by the end of the 12 months.   This means there's not going to be one bike that fits every six year old girl, especially as some will have long legs and others, shorter legs within that range.  When buying a kids bike it's important that you get one that is the right size. If it's too big she won't be able to ride or brake safely.
The majority of 6 year old girls will either be on a 16″ single speed bike or moving up to a 20" wheel geared bike, with some very tall girls needing a 24" wheel. There is also an 18″ wheel size available for those who are in-between. Don't be tempted to buy a bike that's too big as she'll struggle to control it safely.  We've tried to help by listing the size measurements for each bike below, to help you find the correct sized bike for your 6 year old.
How to measure what size bike she needs:
Most decent kids bike manufacturers will state a minimum and maximum inside leg measurement and we've listed them below where known. Measure her inside leg (from crotch to floor) by standing her against a wall with her legs almost closed and gently sliding a book between her legs and marking the point at which it reaches her crotch.  Use this measurement, together with her height, to ensure you're getting a bike that fits.  If she doesn't reach the minimum size, then look for a different bike, or go down a size.  Sizing can vary by manufacturer, so always check.  If possible get sized up in store, although the online retailers we've listed allow you to return a bike if it's the wrong size.
Does a 6 year old girl need gears on her bike?
There isn't a correct answer to this, but by the time she reaches 6 years she'll probably be wanting to go faster and further, like Amy who is pictured here riding the Battle on the Beach at Pembrey Country Park.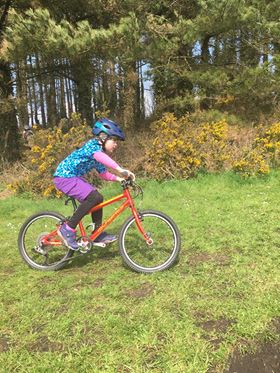 Gears can help, especially if you're going to be cycling in areas with hills. The majority of 20″ wheel bikes come with gears so make sure that they're easy to use because if they're not, you're going to receive complaints. Make sure the gears are simple to understand – you don't need a triple chainring and 27 gears at this age – she'll just get confused and not use them, plus they add unnecessary weight to the bike.  There are a few single speed 20″ wheel bikes for children who live in very flat areas or aren't yet ready to deal with the complexity of gears. Smaller 16″ and 18″ wheel bikes don't come with gears.
Does a bike for a 6 year old girl need suspension?
For the majority of 6 year old girls that are gaining their confidence and getting used to riding further distances, suspension isn't required.  A lightweight, aluminium frame with rigid forks combined with an all-purpose tyre will suffice for most surfaces. You can then fit off-road tyres if they progress to doing more technical off-road riding.  Suspension will only add weight, cost and maintenance. However, ignore this if you've got a future Rachel Atherton in your family – you may want to consider suspension if she's doing downhill mountain biking or similar!  If you're looking for a 20″ mountain bike, check out this post.
My 6 year old can't ride a bike – does she need stabilisers?
By the age of six, the majority of children should be able to ride without stabilisers. However, cycling is a skill that needs lots of practice, so if they've not had much experience they could be feeling nervous, or maybe just aren't able to pedal yet. Give her plenty of time to hone her skills and don't compare her to other children of the same age – after all, they grow and develop at different rates.
At Cycle Sprog we don't recommend stabilisers in the majority of situations – check out this great video from Cycling UK about how to teach a child to ride a bike.
Some children do require additional support when cycling though, so stabilisers may be great for this. If they have additional needs, then do visit our post on Cycling with older kids who have a disability or special needs which also includes details on balance bikes and adapted cycles suitable for a 6 year old girl.
Best Bikes for a 6 year old girl
In this section, we take a look at some of the bike brands we'd recommend for a 6 year old girl. We're just considering hybrid (i.e. flat handlebar) style bikes without suspension, which are suitable for riding on paved surfaces, tracks and some technical off road riding. We're mainly featuring 20″ wheel bikes, but all the brands listed have 16″ and 24″ wheel offerings if required.
If you've got a very skilled and experienced rider on your hands, she might want to try a drop handlebar road bike or a mountain bike. However, we tend not to recommend spending your money on specialist bikes at this point, unless she's absolutely certain she's only going to be doing one particular type of cycling (or you're going down the N+1 route at an early age!)  These posts will help you if this is the case:
Take a moment to GRAB YOUR FREE KIDS BIKE BUYING CHECKLIST which will help you record all the information you need to find the perfect bike for your child. 
Cycle Sprog reviewed and recommended bikes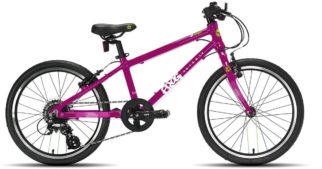 Frog key data (suitable for most 6 year olds):
Price: £280 – £485
Wheel Size: 16″ – 24″
Weight of bikes: 6.75kg – 9.2kg
Types of bike: Hybrid, road.
Warranty: 2 years - extended to 5 years for frame if you register the bike within 28 days of purchase
Frog Bikes have a great range of bikes for 6 year olds. For those of you who haven't come across this award-winning British bike manufacturer, the bikes are named after the minimum inside leg measurement. So the Frog 55 fits kids with a minimum inside leg of 55cm. Frog Bikes have so many size and gear combinations, there's bound to be one that fits!
SAVE £5 ON FROG BIKES AT TREDZ: Sign up for the Tredz Bikes newsletter (you can do this from the bottom on any bike page) and they'll immediately send you a code to get £5 off your first purchase
Their 20″ wheel model comes in two frame sizes – the Frog 52 (  £325) and the Frog 55  (£330) and provides a great introduction to riding a bike with gears.  The single chainring at the front keeps things simple, with a child-sized thumb shifter the only thing needed to move through the 8 speeds.   If your child isn't ready for gears, then there's even a single speed version of the Frog 52 S (£310).
For smaller 6 year olds, the single speed 16″ wheel version is the Frog 48 (for those with an inside leg of 48cm and over).
All Frog Bikes come with two sets of Kenda small block tyres, one for off-road trail riding and one for on-road riding, proving what a versatile bike this is. They come in a wide range of colours and patterns, including pink, spotty, red, orange, blue, union jack, purple and green.
Frog also do a 20″ wheel drop handlebar bike (Frog Road 58) for girls wanting to do cyclo-cross or serious road riding, but please remember she will need to be a very competent cyclist to handle this type of bike.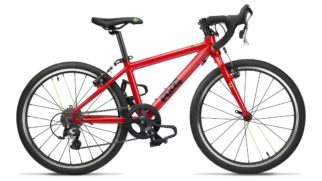 Frog Bikes are available to buy from a number of online retailers, including Tredz, and are also sold in a network of local bike shops. 
You can also rent Frog Bikes via The Bike Club for a monthly fee – when you child outgrows their bike you just upgrade to the next size.
BUY NEW: If Tredz don't have the size you need, check out eBay to see if it's available there
BUY SECONDHAND: Due to their longevity, there is a roaring trade in second-hand Frog Bikes and you can often pick up a great deal on eBay.
For more information, please read our review of the Frog 55 hybrid and the Frog Road 58.
If you've got an old Frog Bike that's been outgrown and needs selling get your Used Frog Bike quotation here.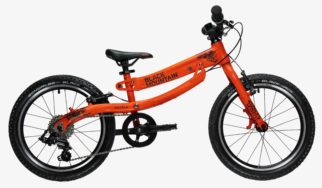 Black Mountain Bikes (suitable for most 6 year olds) key data:
Price: £450 (up to £650 for the hard-tail mountain bike)
Wheel Size: 18″ – 20″
Weight of bikes:  8.1kg – 10.1kg
Types of bike: hybrid, mountain bike
Warranty: 2 years - extended to 5 years for frame if you register the bike within 28 days of purchase
The great thing about Black Mountain Bikes is that they grow with your child, meaning you need to buy fewer bikes.  The frame is extendable so once it becomes too small you make a series of adjustments to the connecting points and it increases in size, increasing the life of the bike.  These bikes are also a good choice if your daughter hasn't quite mastered pedalling, as you can buy it in balance bike mode and it will convert to a pedal bike when the time is right.
A 6 year old girls will probably be looking to ride the HUTTO – currently the largest size in the Black Mountain Range – which is sized for children 118cm to 134cm or the slightly smaller KAPEL, which is for those 110cm to 128cm in height.  Both these bikes come with gears, plus the Hutto has the option for disc brakes and front suspension too if you're planning some off road riding.
Buy now:  Black Mountain Bikes can only be bought directly from their website, or by arranging a visit to their base in the Welsh Black Mountains.
Cycle Sprog recommended brand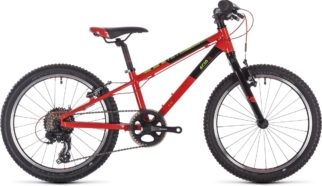 Cube Bikes (suitable for most 6 year olds)key data:
Price: £269 – £449
Wheel Size: 16″ – 20″
Weight of bikes:  8kg – 12.2kg
Types of bike: hybrid, mountain
Warranty: Frame 6 years; rest of bike 2 years
Cube Bikes are another brand with a wide range of bikes, so there should be something to suit most 6 year old girls.  They aren't always the lightest, but Cube are renowned for producing good quality bikes that should withstand everything your child throws at it.  Their 20″ wheel offerings are called the Cube Kid 200, and there are lots of options to choose from, including this great specification, lightweight (8.8kg) off road bike, the Cube Acid 200 SL, which has 7 gears, great off road tyres and a good range of gears for getting up hills.
Cube also do a step through "Ella" bike for girls who prefer a more continental style city bike with smooth rolling Kenda tyres, cargo rack, full length mudguards and dynamo LED lights. This is a good choice for year round commuting to school, as it's designed for carrying school books and riding in a skirt whilst keeping dry and being visible to other traffic users.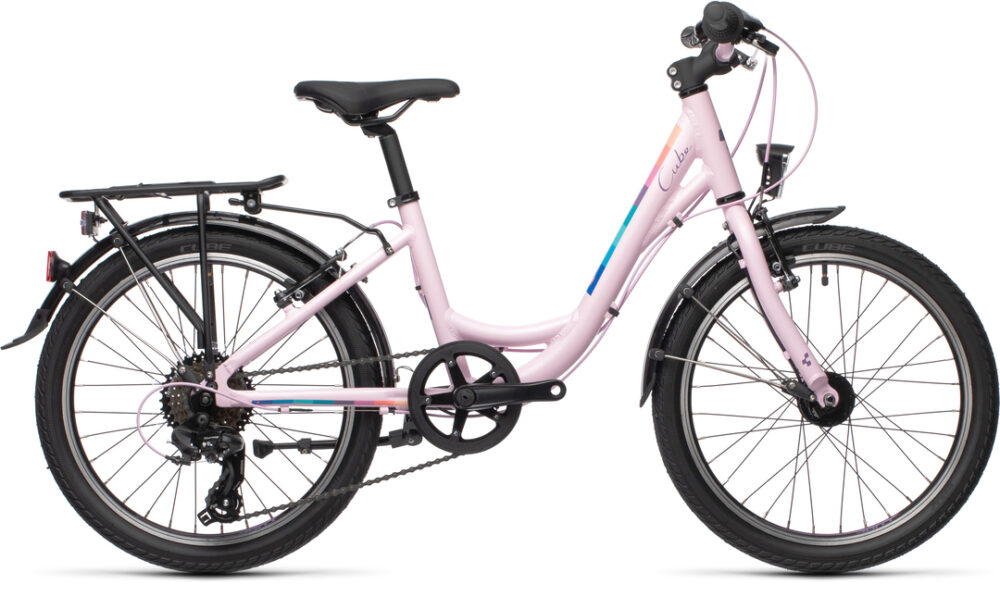 Cube also have an 18″ wheel bike, the Cubie 180 (RRP £349) which would be great for girls who aren't quite tall enough for their 20″ offering. It's styled on a mountain bike, so is also great for getting some off road fun at the weekends!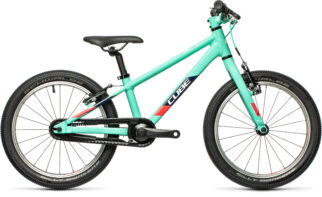 For much smaller 6 year olds, Cube's 16″ wheel single speed bike is called the Cube Kid 160 and the "girls" version comes in pink/berry, whilst you can get a white and blue unisex version too. The Cube Kids range has lots of different colour and accessory options, so you may need to spend some time choosing the right bike! We haven't reviewed the small Cube bikes (yet!) but have been very impressed with the larger Cube Mountain Bikes that our Sprogs have been reviewing.
BUY NEW: Cube Kids Bikes
BUY SECONDHAND: It's worth having a look at eBay to see if there's a bargain to be had on Cube Bikes
Cycle Sprog Reviewed and Recommended bike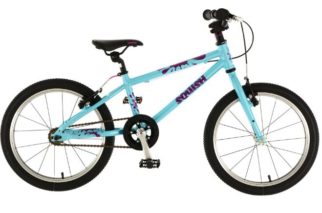 Squish Bikes (suitable for most 6 year olds) key data:
Price: £250 – £300
Wheel Size: 16″ – 20″
Weight of bikes: 6.3kg – 8.63kg
Types of bike: Hybrid
Warranty: Frame and Forks - 3 years; components - 1 year (excluding wear and tear)
There aren't that many 18″ wheel bikes available, and the majority are very heavy steel framed affairs. One of the few exceptions is the Squish 18, which is a lightweight aluminium framed, single speed bike, that gives an option for girls who are too big for a 16″ wheel bike but not yet ready to move on up to a 20″ wheel geared bike.  You can read our review of the Squish 18 here.
The Squish 18 is available for £279.99.  Squish also do a geared 20″ wheel version and a small 16″ wheel bike if these sizings suit your Cycle Sprog better. The bikes are also stocked at a wide range of local bike stores if you prefer to shop local.
BUY NEW: If you struggle to find the size Squish Bike you'd like, click here to see if it's available via eBay
RENT NOW:  You can rent Squish Bikes from The Bike Club for a monthly fee. You just upgrade to the next size bike when your child grows. 
BUY SECONDHAND: Squish Bikes are coming up for resale more and more now, so click here to see if you can snag a bargain!
AD:   Got an old Squish Bike to sell on?  The Bike Club have made it hassle free - click here for your valuation and to arrange a courier to come and collect your old Squish bike.  

 Cycle Sprog reviewed and recommended brand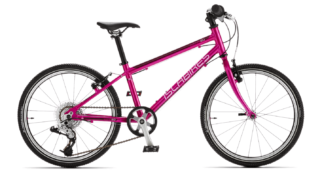 Islabike (suitable for most 6 year olds) key data:
Price: £250 – £300
Wheel Size: 16″ – 24″
Weight of bikes:  6.1kg – 9kg
Types of bike: hybrid, mountain
Warranty: 5 years on frame and forks and a 2 years on parts
If you've got the budget to spend, every 6 year old girl would love an Islabikes Beinn.  They're the premium kids' bike, with every bit of the bike designed specifically to fit the rider and to give an excellent ride. Having been the pioneers of quality, lightweight kids bikes for well over a decade, Islabikes continually evolve their range and they now offer a small and large framed Beinn 20,  plus a 20″ wheel single speed Cnoc, so there should be a bike to fit all 6 year olds. We've reviewed lots of Islabikes over the years and have always been highly impressed with them. The bikes come in a stunning range of colours – red, green, pink or teal. There is a thriving second-hand market, as the bikes are so well made they're good for several owners at least!
BUY NEW: Islabikes are available directly from their website
RENT NOW:  You can rent Islabikes from The Bike Club. You pay them a monthly subscription in return for use of the bike. When your child grows you send it back and upgrade to a larger bike
BUY SECONDHAND: Islabikes are much sought after secondhand and come up on eBay a lot – click here to see what's currently available.
Advert:  If you've got an outgrown Islabike that you haven't got round to selling on, why not get a quotation today from The Bike Club? They'll even send a courier with a bike box to come and collect it from you.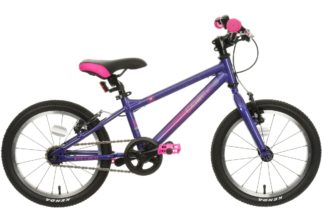 Carrera key data:
Price: £205 – £260
Wheel Size: 16″ and 20″
Weight of bikes:  6.8kg and 10kg
Types of bike: Hybrid
Warranty: Frame and Forks - lifetime guarantee - all other parts 1 year
Halfords offer a range of bikes at some very low prices, but you do need to remember the rules of what makes a good kids bike and avoid anything that you struggle to pick up. The Carrera range offers some lighter weight children's bikes with alloy frames, so these should be much lighter than the majority of their steel framed kids bikes. The Carrera Cosmos (£205 but often reduced) is their 16″ wheel offering – the general height guidelines are 112 – 127cm, but you're best trying in store if you can to check the sizing suits. There's no gearing to worry about – it's just a simple bike with reliable brakes and tyres that should be fun and safe to ride.
For taller girls, the Carrera Saruna (£260 but often reduced) is the 20″ wheel option, which comes with gears – hence the step up in price. The general height guidelines are 117 – 136cm.   The 7 speed gears use a Shimano Altus rear derailleur, which is a reputable and reliable set up, and there's only one grip shifter to operate. The Kenda tyres will cope well with paved and off-road surfaces and should give good stability and traction.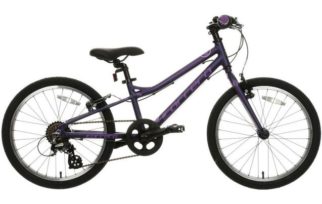 The bikes are both available from Halfords. You can order online and get it delivered to your nearest store, where they will assemble the bike for you free of charge.
BUY SECONDHAND: Check here for Carrera Bikes on eBay
Cycle Sprog reviewed and recommended bike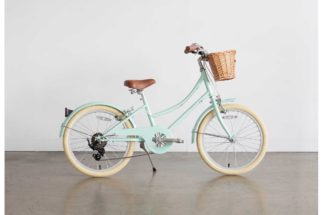 Bobbin Bikes key data:
Price: £185 – £220
Wheel Size: 16″ & 20″
Weight of bikes:  9kg & 11.5kg (approximately)
Types of bike: hybrid
Warranty: Frame: 12 months, Rest of bike: 6 months
Bobbin Bikes make some beautiful bikes. In their own words, they aim at "people who love life but aren't bike nerds. We are united with our customers through a shared love of aesthetics, freedom and fun. We design bikes for everyday life."   This is their 20″ wheel Bobbin Gingersnap, aimed at 5 to 8 year olds (inside leg of 52cm to 59cm).
As you can see, their bikes are beautifully styled, with no compromises made on quality as all the bikes are specified with good quality components.
Bobbin take their cues from the Dutch style steel framed city bikes, so they are heavier than the other kids bikes we tend to recommend (11.5kg), but as they're designed for more sedate leisure riding rather than tackling fierce uphill stretches of mountain bike trail, this shouldn't matter too much.
Their 20″ wheel bike will happily handle normal gradients though, as the 20″ wheel Gingersnap has a Shimano Tourney 6 speed with grip shifter.  The smaller 16″ wheel Gingersnap 16 is single speed.
The components are sized for smaller hands, and you can rest assured the bike will stop when asked to, through the use of alloy dual-pivot brakes with easy-reach levers.
This is also a vegan kids bike – the "leather look" saddle and basket straps are fully vegan. Even better, you can match your bike with your daughter's as they have a great range of adult city bikes too!
We reviewed both the kids and the adults' Bobbin Bikes and our reviewer was very impressed with the bikes, particularly compared to the cheaper bikes they'd previously been riding.
BUY NEW: Buy the Gingersnap from the Bobbin Bike website
BUY SECONDHAND: Bobbin Bikes on eBay 
Still looking for the best bike for a 6 year old girl?
There are so many other decent kids bikes out there that are suitable for 6 year old girls. We've put together a number of specific articles that cover both 16″ and 20″ wheels, so if you want more choices then take a look at the following posts:
Last updated in November to reflect current stock levels
If you've found this article useful, please tell all your friends about us, and follow us on Facebook. We'd love to know which bike you end up buying, so do drop us a comment below. Thanks! 
Affiliate Disclosure:  To make a living we belong to several affiliate marketing schemes, which mean that if you click on a link on this page, we may make a small commission if you make a purchase. This doesn't affect which bikes we recommend (not all makes are linked to affiliate networks) and doesn't impact the amount you pay for the bike. It does, however, allow us to keep the website going, so thanks for your support.