If you're looking for a proper bike for your child (i.e. one that is light enough for them to pick up, has well designed components and brakes and gears that really work) you may have come across the leading brands of kids bikes – Islabikes. 
Now, Islabikes produce fabulous kids bikes and if you can afford them, it really is worth considering investing in them.  However, for many families, the outlay on such a quality bike is just too much.  In this post we explore some of the alternatives to a new Islabikes – but which don't compromise on lightweight or child-sized components – meaning your child will love riding them.
Take a moment to GRAB YOUR FREE KIDS BIKE BUYING CHECKLIST which will help you record all the information you need to find the perfect bike for your child. 
Cycle Sprog is an family run, reader supported, website. We belong to several affiliate schemes so may receive a small commission from sales made from links on our site. We do our best to be impartial and recommend products on their quality not whether they are in a scheme.
Is there a quality difference between buying an Islabike and a cheaper bike?
Yes! Obviously, if you're buying an Islabike you're getting over 15 years of R&D. They offer a 5 year warranty on the frame and forks plus 2 years on the components. This speaks volumes about the quality of these bikes.
We've reviewed most of the Islabikes range over the years, and never fail to recommend them. However, the differences between Islabikes and some of the slightly cheaper bikes are in the detail – the gleam of the paintwork, the purr of the hubs turning, the ease with which the chain moves across the gears.
They're all minor details for a child who's going to ride the bike around the park, but start to become important if cycling is a big part of your child's life (or you enjoy – and can afford – the finer things in life).
Why aren't REALLY cheap bikes featured on this page?
There are lots of reasons, but the main one being that a REALLY cheap bike is usually designed as a toy, rather than a bike. These types of bikes tend to be frustrating for kids to ride, difficult for parents to maintain, and usually don't get ridden anywhere near as much as a slightly more expensive bike.
If you're still thinking of buying a new kids' bike for under £100, read this first.  For this reason, we only feature lightweight kids bikes with components such as brake levers, crank length and saddle size that we know have been proportioned correctly for the age and size of the child riding it.
Why not rent an Islabike? It's much cheaper than buying!
If you're looking for an Islabike but want to avoid the upfront cost, then it's worth taking a look at The Bike Club.  They have some secondhand (but great condition) Islabikes available on their monthly rental scheme, and if they don't have Islabikes in stock you can rest assured that the other bikes they stock are really good quality, durable bikes too, as they're sent out time and time again to kids to ride.
It's all very simple with The Bike Club – you just pay a monthly subscription and your child uses the bike until they outgrow it. Then you send it back and upgrade to a larger bike.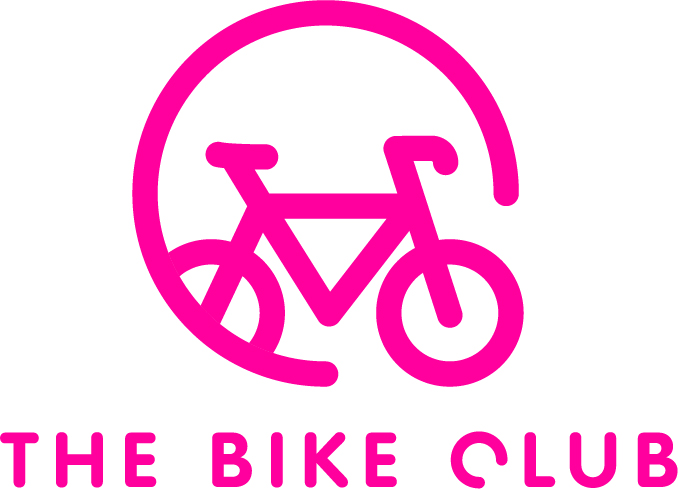 Their Islabikes are always very popular, but they're adding to the collection all the time, so it's worth a check in case they have the size / model you're looking for available.
RENT NOW:  Islabikes to lease at The Bike Club
Advert:  If you've got an outgrown Islabike that you haven't got round to selling on, why not get a quotation today from The Bike Club? They'll even send a courier with a bike box to come and collect it from you. 
Buying a second hand Islabike is better than buying a new really cheap kids bike
At the present time, the only way you're going to get hold of a genuine Islabike is to buy secondhand.
CLICK HERE TO BUY SECOND HAND ISLABIKES ON EBAY CLICK HERE TO BUY SECOND HAND ISLABIKES ON PRELOVED
The bikes have been outgrown by their current owners but have plenty of years use left in them. You can quite often get a real bargain, and many parents manage to resell on each second bike after use to keep their overall costs of bike ownership close to zero (the really clever ones actually manage to make a profit over 10 years of Islabikes ownership – let us know if you manage this!!).
Cheaper alternatives to Islabikes 
Take a moment to GRAB YOUR FREE KIDS BIKE BUYING CHECKLIST which will help you record all the information you need to find the perfect bike for your child. 
Frog Bikes (£££)
Cycle Sprog reviewed and recommended brand Frog Bikes can be rented via The Bike Club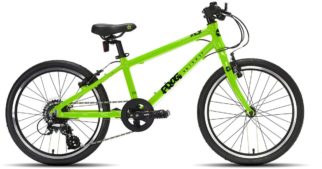 Once upon a time, not so long ago, if you wanted a cheaper alternative to an Islabike, the answer was Frog Bikes.  Now, as you can see from this article, there are lots of other options, but Frog remains one of the most popular choices for parents and kids. 
The reason is the quality of the bikes (they offer a 2 year warranty on all their bikes, with the frame and forks extending to 5 years if you register the bike). So quality wise, they're expecting their bikes to last as long as an Islabike, and this is reflected in their resale values. They're not the cheapest bikes featured on this page, but they are certainly cheaper alternatives to Islabikes at every bike size.
We've reviewed a wide range of Frog Bikes over the years – and always been very impressed. Frog have a huge range of bikes – balance bikes, starter bikes, hybrid bikes, mountain bike, road/cyclocross bikes and even track bikes (something Islabikes don't do).  Also, Frog have a network of local bike shops who stock their bikes, meaning you can try before you buy.   
If you want to avoid the up front costs of buying a new Frog Bike, you can lease them (either new or used) for a monthly subscription from The Bike Club.  You just pay a monthly subscription, and when you child outgrows the bike you return it and upgrade to a larger bike – either a Frog or a different model.
If you've got an old Frog Bike that's been outgrown and needs selling get your Used Frog Bike quotation here. 
BUY NEW NOW:  FROG BIKES  
RENT NOW:  FROG BIKES FOR LEASE AT THE BIKE CLUB
BUY SECONDHAND:  Frog bikes have been around for such a long time, and are so popular, that there are now lots available second hand. 
As with Islabikes they're built to last so it's possible to get some great bikes – check out  SECOND HAND FROG BIKES ON EBAYand USED FROG BIKES ON PRELOVED  
Forme Bikes (£££)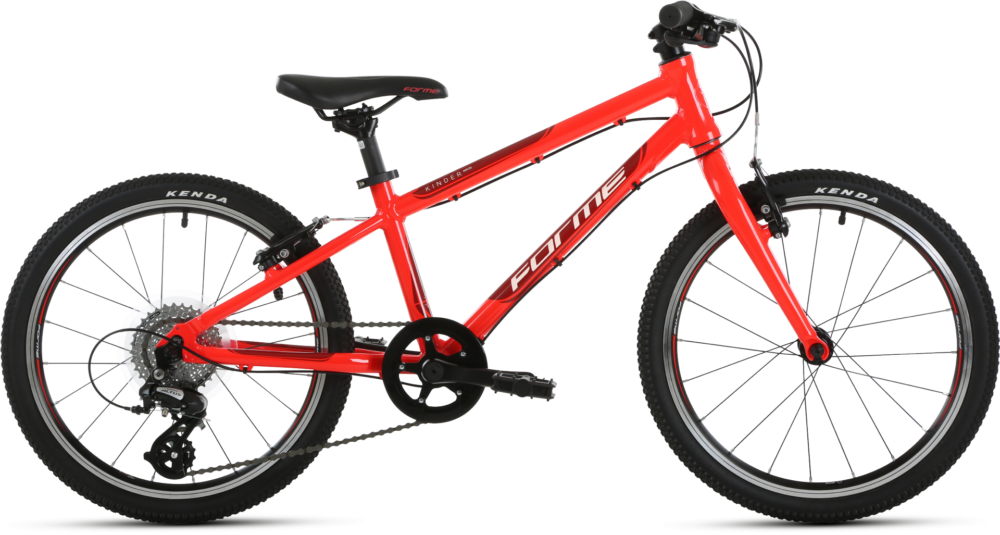 Forme have been making great quality adult bikes for a number of years and are now turning their attention to the quality kids bike market.  Their single speed Cubley and geared Kinders come in range of 6 different sizes and bright colours.  
They've got all the features we've come to expect from a quality kids bike – light weight, child sized components and a well thought through design.  
These bikes are available to buy new from a network of local dealers, or you can lease one from The Bike Club, thus avoiding the upfront costs.  They're too new to find secondhand at the current time. 
We've been sent a couple of the new Forme Bikes to ride and review - here's our first impressions review of the two bikes in the range - the Forme Cubley and Kinder.
Squish Bikes (££)
Cycle Sprog reviewed and recommended brand This brand is available to lease at The Bike Club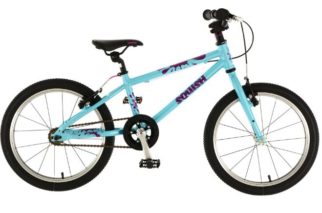 Squish Bikes have a range of well thought through bikes designed for young riders, that start at £250 for their 14″ wheel bike and go up to £350 for their 26″ wheel bike.  Squish launched their first mountain bikes in November 2018 and they retail from £450.
Squish bikes come with a 3 year warranty on frame and forks, and 1 year on components. Here at Cycle Sprog we've reviewed the Squish 18 kids bike and found it to be a decent bike for the money – it stood up to the daily commute to school by our reviewer.
Squish Bikes are available at a wide network of small local bike shops, so are a good choice for those of you wanting to shop local.  As well as being competitively priced you have the advantage of being able to take advice from experts in all things bike. 
They're also available to rent at The Bike Club if you want to avoid the upfront cost of a new bike.
BUY NEW: SQUISH BIKES  BUY NEW: CHECK NEW SALES OF SQUISH BIKES ON EBAY
RENT NOW:  Squish Kids Bikes are available to lease on a monthly subscription from The Bike Club
BUY SECOND HAND:  Squish Bikes are still relatively new, so there are only a few second hand bikes starting to come through. This does mean you may be able to negotiate a good bargain! 
Check out Squish Bikes on eBay to see if there's any available.  
AD:   Got an old Squish Bike to sell on?  The Bike Club have made it hassle free - click here for your valuation and to arrange a courier to come and collect your old Squish bike.  

Vitus Bikes (£)
CYCLE SPROG REVIEWED AND RECOMMENDED BRAND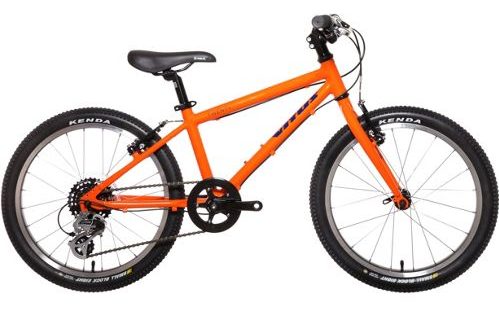 Vitus bikes were released in 2018 so are a relatively new brand. They're clearly taking on the more expensive Frog Bikes and Islabikes, at a much cheaper price point. You get a lightweight 6061 alloy frame, child proportioned components, Kenda tyres, and easy to use gearing (where fitted).
Vitus kids bikes come in 14″, 16″, 2o" and 24″ wheels, as well as a balance bike. They are still too new for there to be many cheap ones available secondhand.
BUY SECONDHAND: CLICK HERE TO BUY VITUS BIKES FROM eBay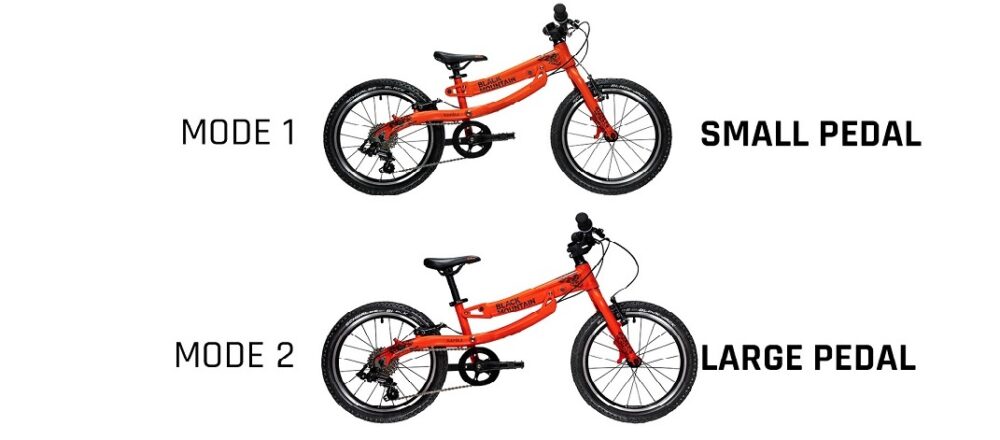 Black Mountain are the first kids bike brand to really revolutionise the industry since Islabikes themselves over a decade earlier.  They've taken the concept of a bike that grows with your child and turned it into a high quality reality.  We're seeing loads of parents rave about these bikes, and our own reviewer was mightly impressed.
On the face of it, these bikes look to be far too expensive to be considered a cheaper alternative to Islabikes.  However, they're a very clever design that can help reduce your costs over a number of years.  The bikes can start out in balance bike mode if you need, and then be converted to a pedal bike (or you can just start in pedal mode if your child is already pedalling).   
The frame has two size settings, so as your child grows you don't need to buy a new bike, you just adjust the frame setting and away they ride.  Clever, and saving you time and money in the long run as one of these works out a lot cheaper than two Islabikes.
Buy new:  Black Mountain Bikes are available exclusively from their website.
Buy secondhand:  They're quite new, but the first secondhand models are starting to appear on eBay, so always worth checking!      
Sponsored Content Start
Want to make some quick cash from that too small bike?
Do you have a good quality kids bike that's been outgrown and you've been meaning to sell on? 
Luckily The Bike Club are making it REALLY EASY for you to sell on old kids bikes. 
Just get an online valuation for your old bike, and if you're happy with the price they'll send a courier round with a bike box to pick it up. 
No hassle - just more space and more cash for the next size bike. Easy! 

Sponsored Content End
Specialized Jett Range (£££)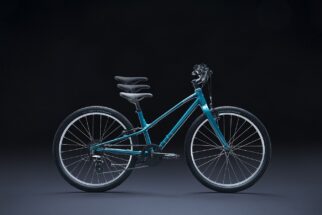 Specialized have also gone with the concept of trying to make your kids bike last as long as possible – they claim their bikes will last 3 summers, or 30 months. Their Jett Range of kids bikes have two pedal positions on the crank to allow you to adjust as your child grows, plus there's a clever online Bike Fit tool which allows you to input your child's measurements to check exactly how to set the handlebars, pedals and saddles for optimum fit. 
The bikes come in 16″, 20″ and 24″ sizes, but their low standover height means your child may be able to access these bikes earlier than others mentioned on this page.
You can read our review of the Specialized Jett 20 here. 
Buy new: Specialized Jett kids bike range
Saracen Bikes (££)
Saracen make a great range of lightweight kids bikes, which are ideal if you're looking for something that little bit different to everyone one else. They have a range of rigid fork and front suspension bikes in a wide range of wheel sizes.
BUY NOW: SARACEN KIDS BIKES FROM TREDZ
SAVE £5 ON THIS BIKE AT TREDZ: Sign up for the Tredz Bikes newsletter (you can do this from the bottom on any bike page) and they'll immediately send you a code to get £5 off your first purchase
BUY SECONDHAND: CLICK HERE FOR SARACEN BIKES FROM EBAY  
Wiggins Bikes (£)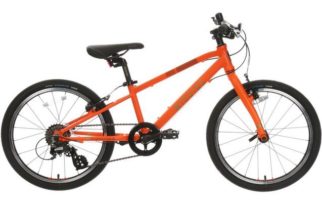 Wiggins Bikes were designed, as you've probably guessed, in conjunction with Sir Bradley Wiggins.  They start with a balance bike and go all the way through starter bikes and flat handlebar hybrid bikes, to some of the best value drop handlebar road bikes available for kids.  
Sadly the Wiggins kids bike range was discontinued in early 2021, but there's still loads available to buy secondhand on Ebay. 
Both Wiggins and Islabikes went for new colour schemes and branding in autumn of 2019 and they're some similarities in the styling of both. 
The older, original, Wiggins Bikes have a much more "Mod" look with red, white or blue paintwork.
BUY SECONDHAND:  Wiggins kids bikes have just been around long enough for there to start to be a quite a few becoming available second hand (always a sign of a good bike!)
Check out Wiggins Bikes on eBay 
Cheap Islabikes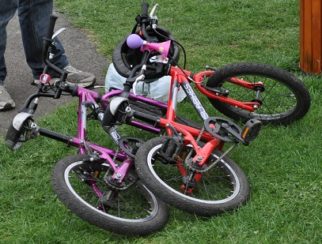 If none of the above brands take your fancy, and you're absolutely set on getting your child an Islabike, then check out our post on where to find a cheap, second hand Islabikes. Due to the longevity and build quality of these bikes you can reliably buy second hand, sometimes at a fraction of the cost of a new bike.
BUY SECOND HAND ISLABIKES ON EBAY BUY SECOND HAND ISLABIKES ON PRELOVED
We hope you manage to find the perfect bike for your Cycle Sprog – do leave a comment below and let us know how you got on. 
If we've missed off your favourite brand, do tell us about it too!
Other posts you may find useful:
This post was first published in December 2018 and updated in January 2022 to reflect stock availability.
Support Cycle Sprog!
If you've found this article useful you can buy us a virtual coffee (or two!) to say thanks and help us keep the Cycle Sprog website going.