Specialized have just launched a brand new range of kids bikes called the Specialized Jett, and they've got an interesting twist on using technology to help parents make sure their child is always riding a correctly sized bike.
Here at Cycle Sprog HQ we've been sent a 20″ wheeled Specialized Jett 20 to review, but before we sent it out to our young tester to put through it's paces we wrote our first impressions on the bike and the new tech provided by Specialized.
Sponsored content:  Specialized have paid us to write this content, however all opinions of the bike are our own. 
Affiliate disclosure: Cycle Sprog may get a small commission if you make a purchase from the links in this post. For more information please see our affiliate policy
Specialized Jett 20 first impressions review
When thinking about bikes you would be hard-pressed to find a bigger or better known brand than Specialized. They have been a dominant force in cycling for decades and make pretty much every type of bicycle you can think of.
Kids bikes are nothing new for Specialized, but it's fair to say that as a brand, they haven't been on the cutting edge of design and innovation.  The children's bike market is booming and it's many of the smaller brands which are leading the way.
With that in mind, Specialized have gone back to the drawing board and produced the Jett, a series of kids bikes based around getting the best possible fit for your child and making sure it will last, not just in durability, but also in 'expanding' to meet the growth of the rider.
Combining their industry know-how, extensive research and keeping focused on longevity and ease of use, the Specialized Jett was born.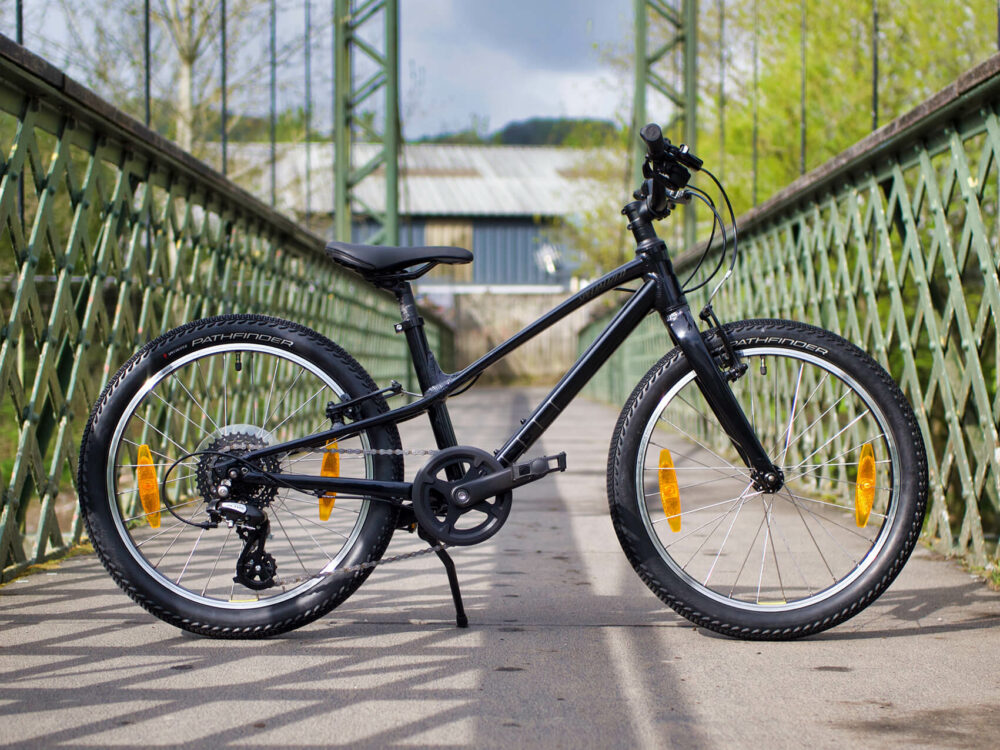 At a Glance – the Specialized Jett 20
The Specialized Jett 20 we've been sent to review looks refined, and has all the right parts in the right places, but doesn't initially scream innovation. It's a kids bike, it's light enough, the price (£369) is pretty good, but there is nothing that immediately stands out.
What the Jett requires is a slightly closer look to uncover the efforts that Specialized has gone to in their design process.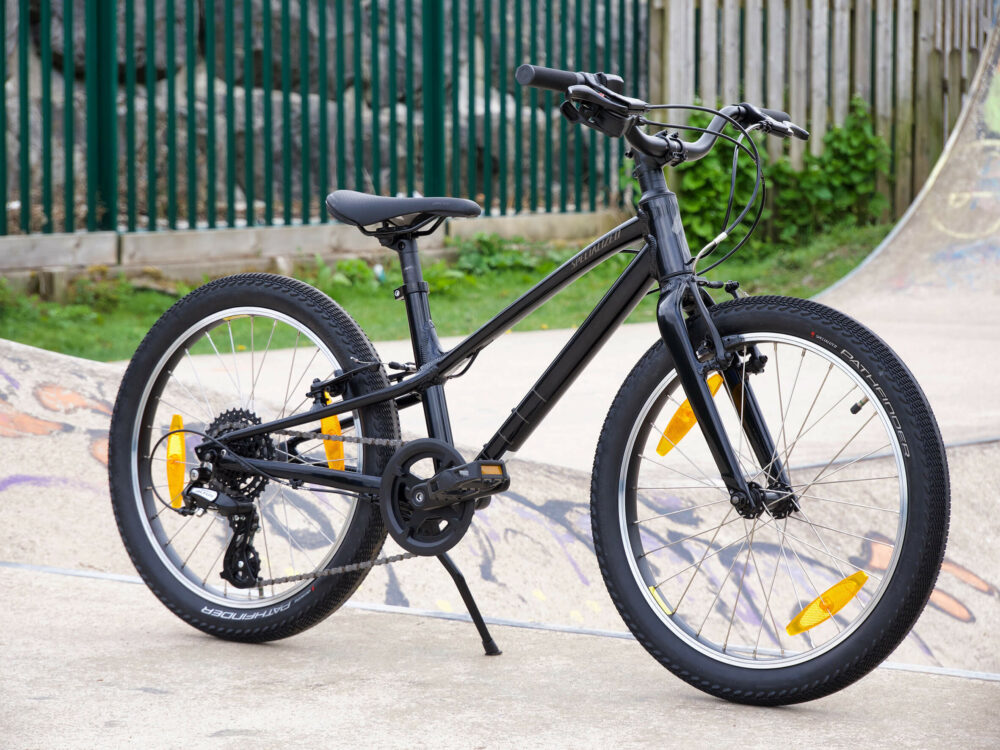 First up, on our Jett 20, we have a very low standover (51cm), which is great, but it's also combined with a very long seatpost with markings all the way up giving a huge range of saddle height.
Up front, the handlebars have plenty of rise and markings on the bars and stem to allow rotation forward and backwards to bring the bars closer. Under the stem are 20mm of spacers so bar height can be adjusted up and down.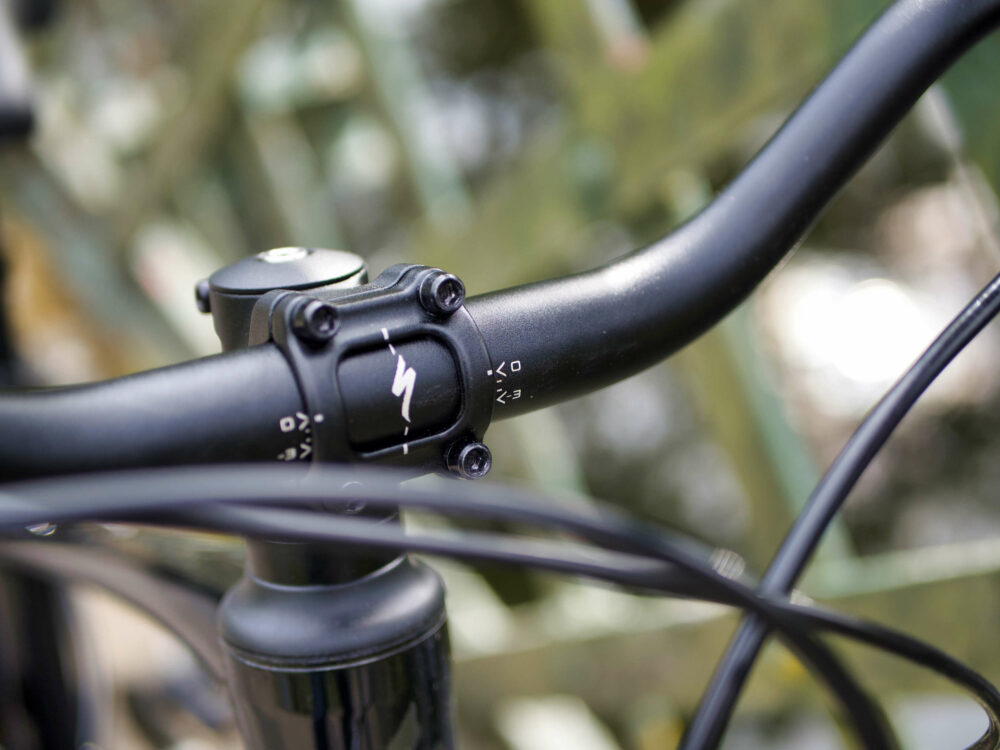 So far so good. However, a long seatpost and adjustable handlebar height is nothing new on quality kids bikes, but as always, it's good to see the flexibility.
Less obvious are the cranks, which have two positions for the pedals, which gives you two different cranks lengths. Crank length is something that grows with kids bikes as you move up, so this certainly is something new and allows for a better pedalling experience in proportion to the child's size.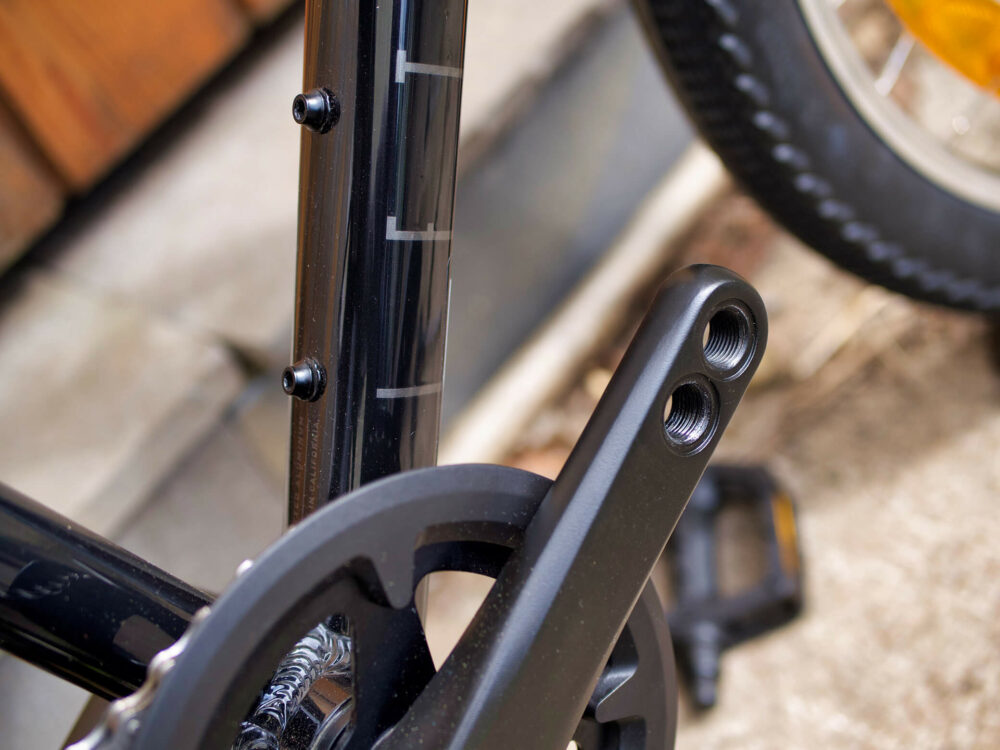 So with all this adjustment, it could seem like a confusing set of adjustments for a parent.  But fear not, because Specialized has invested heavily in making the buying process and subsequent bike adjustments as easy as possible. Hold that thought, we will look at the Fit Tool shortly!
Adjustability, correct sizing and ease of use are the core values of the Jett range, focusing on making the cycling process easy. The rest of the Specialized Jett 20 also ticks the boxes for a good quality bike, with 7 gears controlled by a Microshift system and V brakes with adjustable reach levers for small hands.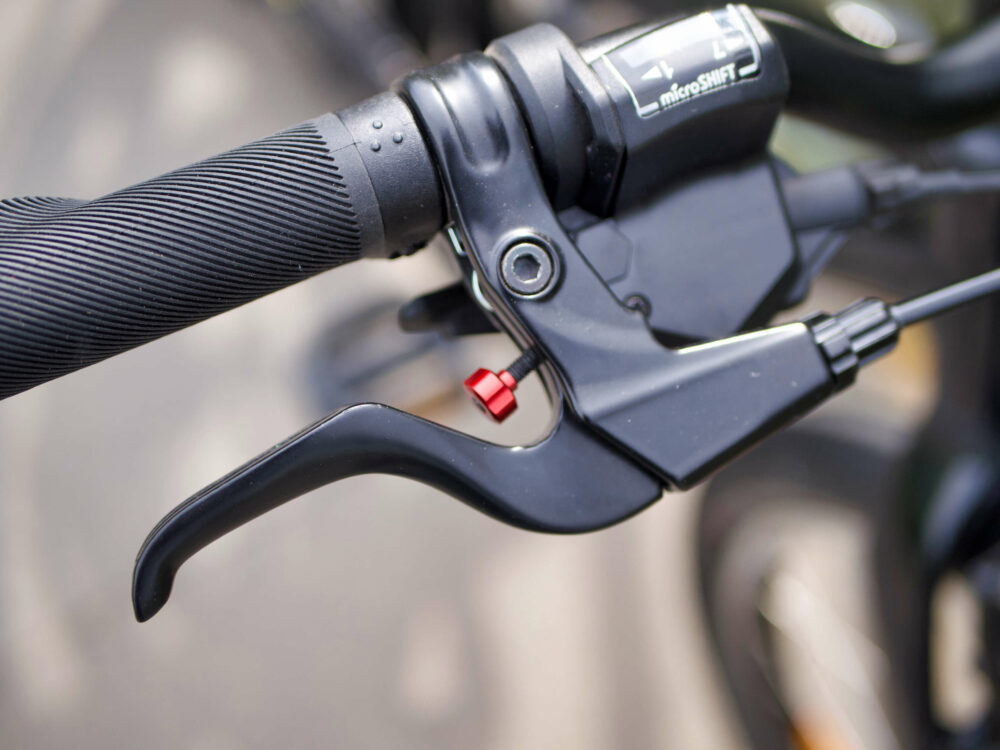 There is a kickstand which is a nice touch for a bike-about-town and may well stop the bike being thrown on the ground… maybe.
It's clear that the Jett 20 is not your next kid's mountain bike with the tyre choice, which has a slick centre line for fast-rolling efficiency and understated knobbles on the shoulders. If your child has an adventurous streak for thrashing their bike around on wet grass then you may need to think about a tyre swap.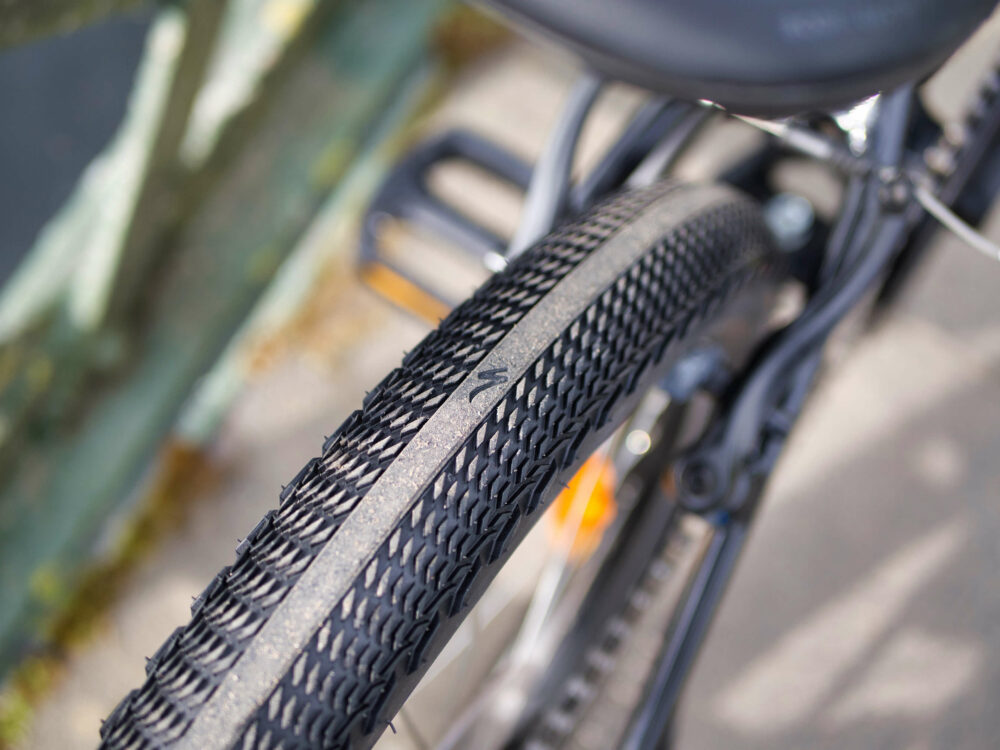 Online Fit Tool to help size your kids bike correctly
Specialized has simplified the process of setting up the the Jett range of kids bikes with their Online Fit Tool. Simply head to the website and input the measurements to find the perfect fit. Height, shin and arm length are all measured before the numbers are crunched and the advice is dispensed.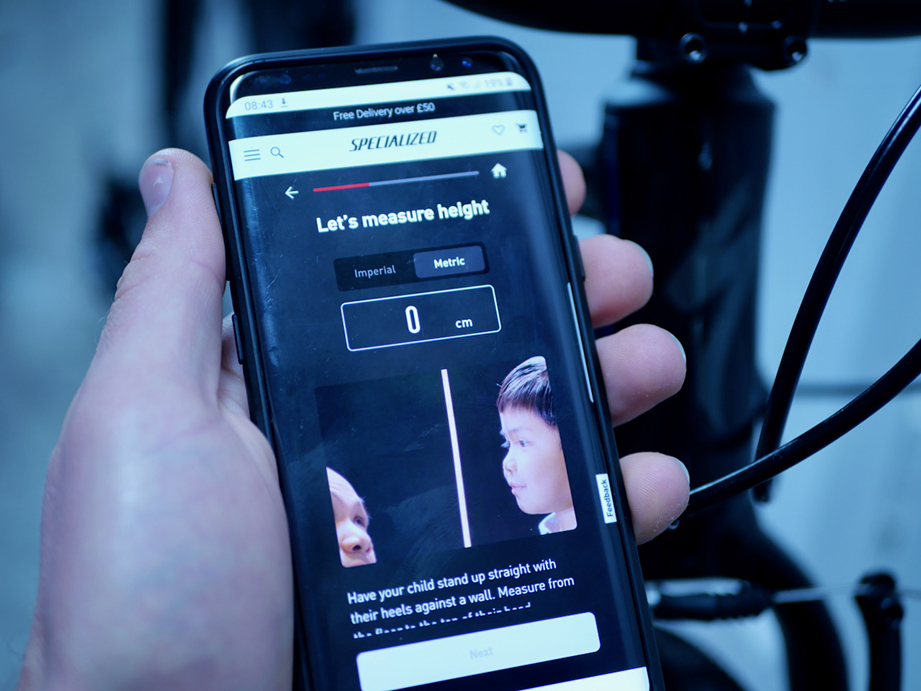 The key adjustments on the Jett are the seatpost, which is marked with numbers and you simply move it to the number suggested from the Fit Tool. The handlebars, which can be rolled back and forth and again a number is given in relation to your child's measurement, and finally, the crank with options advised, whether to go for the short or long setting.
Specialized recommend measuring your child every 6 months and making any adjustments to the fit that the online tool recommends.  This will also need doing sooner if your child has had a growth spurt and is clearly getting too big for the current set up.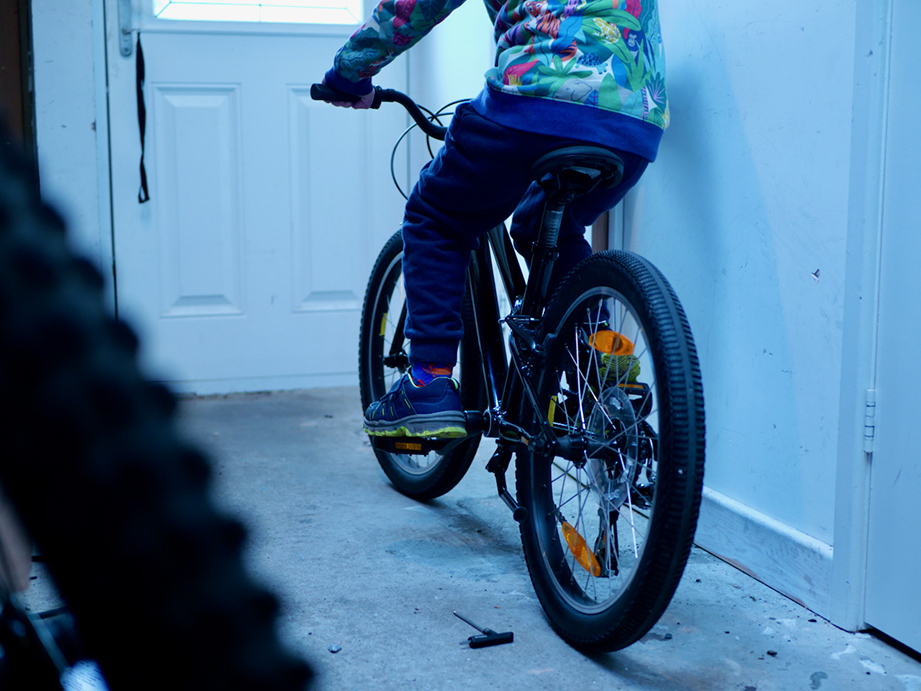 After measuring up my Cycle Sprog I plugged in the numbers into the online tool and hey presto, we had some settings for the bike!
Having already got the bike set up I was keen to see how it compared to my ideas of bike fit. As it turns out it's pretty good, although my tester is still enjoying a lower saddle for confidence.
The Fit Tool seemed a little ambitious and was aiming for pedalling efficiency over confidence, so you do need to take into consideration your own child's circumstances and not rely 100% on the numbers.
Curiously there are a bunch of spacers under the stem which give 20mm of adjustment up and down, but this is not mentioned in the Fit Tool but will help fine-tune the bike to the rider.
Based on plenty of research Specialized have looked at growth rates for children and aimed for 30cm of growth or three summers of use. So with this in mind, to get maximum value out of a Jett 20 you'll be wanting a child to hop on at the lower end of the sizing, which for the Jett 20 is a height about 102cm tall (the stand over height of the bike is 51cm).
The Competition
The direct comparison when it comes to adjustable bike size is a Black Mountain Hutto, which at £449 is a good chunk more cash than the Specialized Jett 20, which costs £369. Elsewhere we have the Islabike Beinn 20 at £500, but perhaps the most similar in price is the Forme Kinder 20 at £325. Neither of these two claims the same size range but do both provide a quality cycling experience.
It would seem the Specialized Jett 20 fits comfortably into the mix of other quality kids bikes out on the market, and might be particularly attractive to those parents who don't feel confident resizing a bike as their child grows and would really benefit from the guidance of the online Bike Fit tool.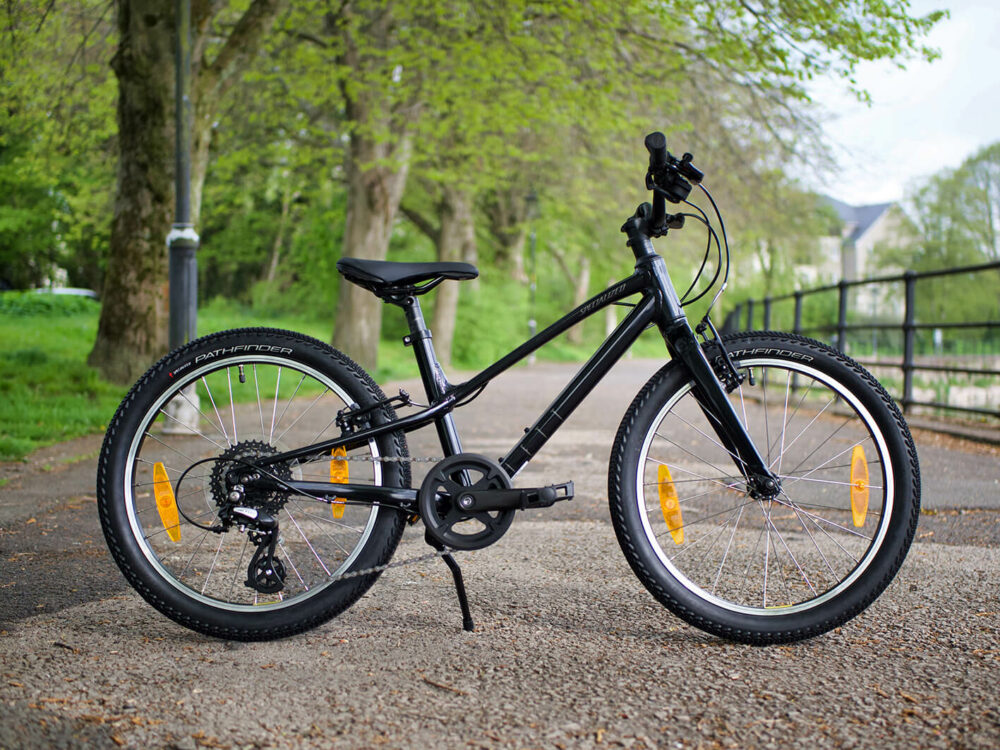 What happened next to the Specialized Jett 20?
We sent the Specialized Jett 20 to one of our reviewers to put through its paces – you can read our rider review of the Specialized Jett 20 here. 
We will also need to check out the size range and find some different sized kids to see how it stacks up. I have very little doubt this will be a fun bike to ride and we look forward to finding out more about it in due course!
Where to buy Specialized Jett kids bike range:
The Specialized Jett series is currently available in the UK in two sizes – 20″ and 24″. The bikes come in a good range of colours. We've been testing the black option and the 20″ wheel also comes in pale green, bright blue and a deep raspberry red.  The 24″ wheel bike is available in grey, bright red, deep orange and teal.
Later in the summer a single speed 16″ wheel version of the Specialized Jett will be available too.
Specialized have a network of local bike shops, or you can buy online for home delivery.
Other articles you may be interested in:
If you want to keep up to date with all things Cycle Sprog then sign up to our newsletter and you won't miss a thing!