Specialized have recently launched a new range of kids bikes called Jett and here at Cycle Sprog HQ we've been sent the smallest of the geared bikes, the Jett 20, to review.
All the bikes in the Jett range come with an online bike fit tool to help you make sure the bike saddle, handlebars and pedals are in the correct position.
We asked our 5 year old reviewer and his dad to put the Specialized Jett 20 and the online fit tool to the test – here is how they got on.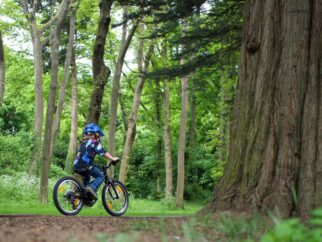 Affiliate disclosure: Cycle Sprog may get a small commission if you make a purchase from the links in this post. For more information please see our affiliate policy
Specialized Jett 20 Kids Bike Review
Brand – Specialized
Model – Jett 20
Child height – 102 to 139cm
Standover height – 51cm
Gears – 7-speed trigger shift
Weight – 8.76kg
Cost – £369.00
Warranty – Lifetime warranty on frame and forks
Available from – Specialized Stockists or online
We like – Fun to ride, urban-focused bike with a well thought out frame. Good online tool to help adjust the bike to fit.
Overview
Specialized launched the Jett range of bikes earlier this year and it shows a change of attitude towards their kids' bikes.
More investment and research has gone into these bikes than previously and as a result Specialized have a great looking new kids bike with a glossy, stealthy paint job and good quality components. Everything you would expect from one of the biggest brands in the industry.
In addition to the physical bike, they have invested in an online Fit Tool, which given the adjustability of these bikes, guides you through how to measure and fit the bike to the child.  Specialized claim you can get three summers worth of riding from one bike, or about 30cm of growth.
The Specialized Jett 20
The bike rolls on 20-inch wheels and is adorned with a great selection of components, much of which is Specialized's own-brand equipment. 
There are 7 gears operated by a mix of a Shimano rear mech and a Microshift trigger shifter, operated by thumb and finger.
The brakes are standard v-brakes which have a reach adjuster on the levers to bring them closer to the handlebars for smaller hands.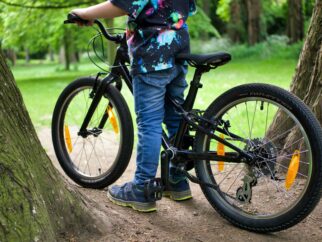 The 2.0 inch tyres are quite big for a kids bike and make the diameter of the wheel larger than other 20 inch bikes that tend to have a 1.4 or 1.5-inch tyre.
As well as giving the Jett some of its unique style these tyres give plenty of comfort and shock absorption and what the tyres lack in knobs, they make up for in surface area to help give a controlled ride.
The frame has plenty of clearance for tyres, so switching out to an off-road tyre with knobs on would be easy to do if you're planning to ride mainly on muddy / wet surfaces. 
The low-slung top tube is great and gives better stand-over clearance for children with shorter legs, with any additional seat height simply created with the long seat post.
There a narrow 'q factor' (horizontal distance between pedals) of about 14cm which is good as it makes pedalling more efficient and is more comfy on young, narrow hips.  This is in line with what other specialist kids bikes do.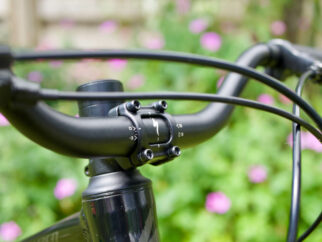 The high-rise handlebars give a comfortable riding position and the contact points of grips and saddle are all small in size so appropriate to a kids bike of this size.
The adjustability elements of the Jett range are in the seat post, stem/bars, and cranks.
The seat post is long to allow the seat to be raised as a child grows, the stem can 'roll' the high rise bars forward which gives more room for growth, and the cranks have two locations of pedals to cater for legs of different lengths.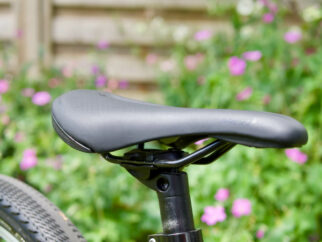 Finally, the bike includes an optimistic kickstand, but whether a child will ever use it is another matter…
Adjustment and Fit of the Jett 20
Adjustability is a key selling point of the Jett range so let's look at a few numbers. On the Jett 20 the seat height ranges from 58 to 75cm from the ground, based on my measurements.
The handlebars can be rolled forwards which gives up to 2cm of extra reach as your child's arms grow, and the ends of the bars move upwards slightly by 1cm too so they won't be as cramped in that cockpit area.  
The cranks have two positions for the pedals which move from 105 to 125mm, which will allow them to continue to ride efficiently as their legs lengthen.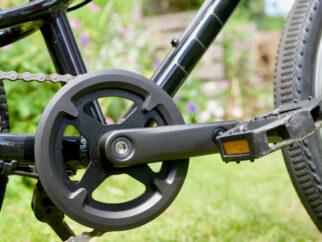 As well as these key adjustments that Specialized focus on there is also 25mm for height adjustment with spacers on the stem (speak to your local bike shop who can help you with this if you're not into your bike maintenance) and the saddle can be slid back and forth as you can on pretty much any bike.
If you combine all these you have plenty to play with to ensure a good fit for your child now and as they grow. The Jett is claimed to last three summers of growth or about 30cm, although this obviously depends on how much of a growth spurt they have. 
So where do you even start with setting up the bike with all these different adjustments to be made? 
Well, first up is the Fit Tool. Simply measure your child then follow the online instructions to enter the appropriate numbers. In return it will give you the set up positions for your child. 
The seat post has marks on it, the stem has an indicator and the cranks have two holes. This is backed up with information on how to perform the required adjustments.
I popped my tester's measurements into the system and got a very similar set-up to my estimated adjustments.  The cranks needed to be at the long setting, the bars rolled back and the saddle positioned reasonably low.
The main difference I made to the recommended set up was to the seat height which was a bit too high as my tester still enjoys the confidence that a lower saddle offers.
This is a good reminder that you need to observe and listen to your child rather than blindly follow the instructions, but overall the tool certainly helped get the bike set up quickly and easily. 
How the Jett 20 rides
I'll cut to the chase on this and state this bike was a winner from the very start with my tester – he loved it!
It's sometimes hard to tell why but I put this down in no small part to the upright riding position and comfy tyres.
My tester likes nothing more than spinning up and down the street and messing about on the kerbs. We're not into high-performance stuff and this bike just put a smile on his face straight away.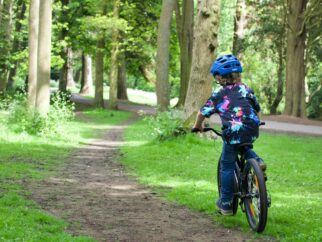 The brakes and gears were easy to reach and our reviewer found the action of the 7 speed trigger shifter light and simple to operate.
One thing I noticed is that the brake levers are quite large and encourage full hand braking which can be somewhat dramatic. Other brakes he's used in the past allow him to brake with just a couple of fingers. 
The tyres give a good amount of comfort and what seems like a good balance of low rolling resistance with their smooth surface but enough grip due to the large surface area. Strangely we've had some very good weather and I've been unable to find any real mud to test the tyres, but on dry, dusty trails and grass they've been great.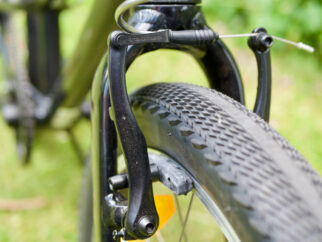 The bike is stable, comfortable and confidence-inspiring in part due to its handlebar height which is a few cms higher than equivalent sized bikes he's ridden in the past and gives him a more upright position on the bike.
This upright position is not only comfortable but as it keeps the torso, and therefore the head, upright it makes me hope he might look where he's going!
Thoughts on the Specialized Jett 20 kids bike
Now if you have a budding road racer or mountain biker this bike may seem a little tame or middle of the road, but for a do-it-all kids bike, it is excellent.
The Specialized Jett 20 represents bikes as transport and bikes as fun, not part of an elite performance pathway, and that is its charm.  It's designed for playing in the park and riding to school, which is what most kids do on their bikes!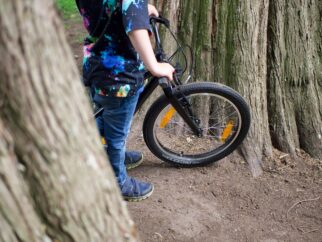 Looking to the three summers of riding claim my tester, who is 122cm tall, fits pretty much in the middle of the sizing, so could have started on it before now. 
The seat post still has plenty of height left in it and the handlebars can roll upwards and forwards so I would expect plenty of growth room.  More than an 'ordinary' bike? Possibly, but if you're looking to buy a bike for your child I'd concentrate firstly on the Jett as an excellent example of a fun, functional urban bike, then look at the great size range and Fit Tool.
It's pretty light at 8.76kg.  There are certainly lighter options out there, usually for more money. On the topic of price the Jett 20 comes in at £369 which is competitive with the existing quality kids bikes on the market.
The only potential technical issue is on the brakes which have a flimsy reach adjust dial which although hidden behind the lever looks like it may not last very long.  
The rest of the components and bike have performed flawlessly throughout our review period. The biggest challenge is going to be returning the bike to Specialized!
The Competition
The direct comparison when it comes to an adjustable 20″ wheel bike is a Black Mountain Hutto, which at £449 is quite a lot more than the Specialized Jett 20, which costs £369.
Alternative options if you've a bit to play with in your budget would be the Islabike Beinn 20 at £500 or the Frog 55 at £410, with the Forme Kinder 20 coming in slightly cheaper at £325.  These bikes don't claim the same size range but do all provide a quality cycling experience.
Verdict on the Specialized Jett 20  
Even without the Fit Tool and adjustability, the Jett 20 is simply a great kids bike aimed at promoting a fun cycling experience from an early age. It shows real investment in kids cycling from a big name brand.
Those looking for performance road or mountain bike style bikes will need to look elsewhere, but for the majority of young riders, the Specialized Jett 20 offers a brilliant start to using gears and exploring further. 
The Fit Tool is easy to use and the instructions are very clear. It's a slick little addition and will certainly help users to navigate the adjustments on the Jett.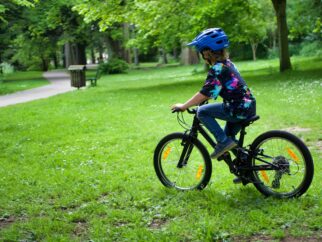 Where to buy the Specialized Jett 20
The bike comes in four different colour options and you can buy from a network of Specialized dealers or alternatively you can order online.  
Cycle Sprog were loaned the Specialized Jett 20 for the purpose of this review. We were not paid to write this article and all opinions are our own. 
If you want to keep up to date with all things Cycle Sprog then sign up to our newsletter and you won't miss a thing!
Other articles you might like: