With road cycling becoming increasingly popular, more and more kids are asking for a road bike so that they too can emulate their favourite cyclist.  In this article, we look at the best 20″ wheel kids road bikes currently available in the UK. These bikes are aimed at children aged about 6 to 8 years old, so if you've got a budding Geraint Thomas or Lizzie Deignan in the family you can help encourage their love of cycling.
Take a moment to GRAB YOUR FREE KIDS BIKE BUYING CHECKLIST which will help you record all the information you need to find the perfect bike for your child.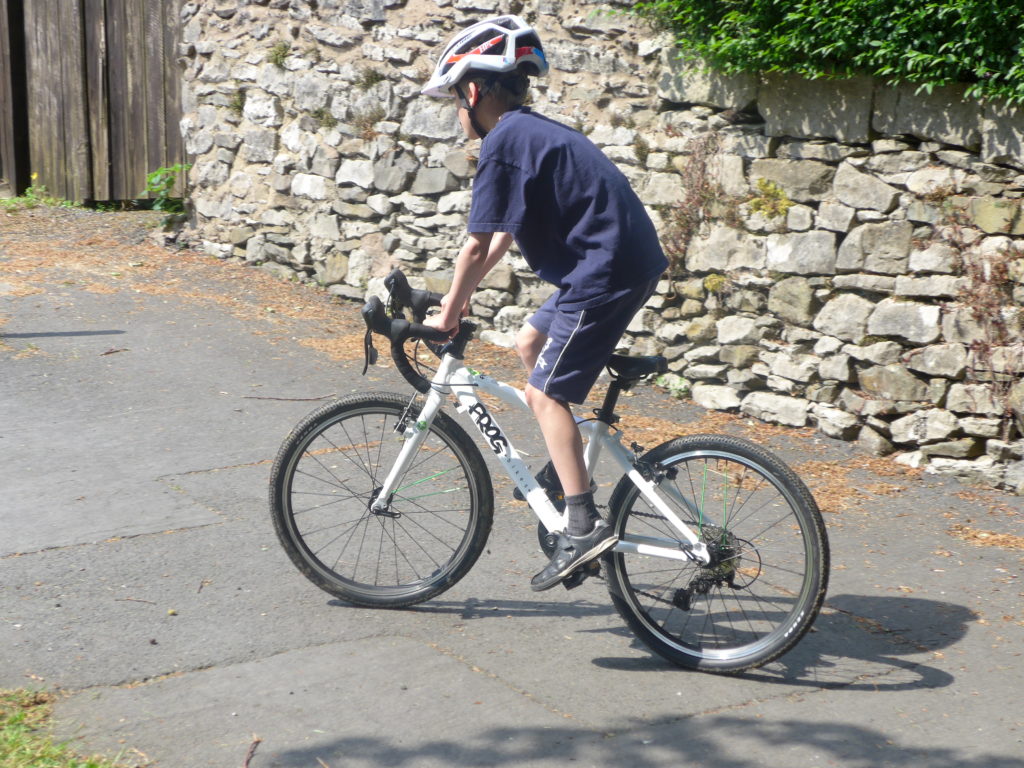 Is your child able to cope with a drop handlebar road bike?
One thing to note is that there are very few 20″ wheel drop handlebar kids road bikes available. This is because children at this age don't tend to ride fast on the roads and those riding on tracks and in other traffic-free environments can struggle with braking and changing gear whilst using the drop handlebars.
A drop handlebar road bike requires a high level of rider competency in terms of balance (tyres are skinnier than other bikes) and usage of the controls (brakes and gear changing on the drop handlebars).
Unless your child is a very competent cyclist, we recommend a flat handlebar 20″ wheel hybrid bike or a mountain bike. See these articles:
What age can my child ride a road bike from?
Kids road bikes have different geometry to other styles of children's bike. Many kids bikes have short seat tubes and sloping top tubes, giving plenty of clearance for them to get on and off the bike. However, with a kids road bike the seat tube is longer and the top tube (crossbar) higher, so your child will need to meet the recommended inside leg dimension to have clearance over the 'crossbar'.
Most manufacturers don't start to make specific road bikes until the 24″ wheel size (which is for kids aged about 8 and over). However, in this post, we've brought together those smaller bikes with a 20″ wheel.
It may seem obvious, but unless your child is able to cope with riding on roads with the associated traffic then a road bike, with its skinny tyres, might not be the best choice.  Some of the best road bikes for kids also come with cyclocross tyres and this allows for on and off-road cycling.
Always check the manufacturers height guide and please don't buy your child a road bike for them to "grow into".  Also, remember that riding a kids bike with drop handlebars for the first time can cause some wobbles and nerves, so always start gently on quiet roads or traffic-free areas.
Cycle Sprog is an family run, reader supported, website. We belong to several affiliate schemes so may receive a small commission from sales made from links on our site. We do our best to be impartial and recommend products on their quality not whether they are in a scheme.
The best 20″ wheel road bikes for kids aged 6 and 7 year olds
In this post, we bring you the best small road bikes with 20″ wheels for the youngest of road riders. There's a range of prices, catering from novices through to those seeking a podium finish, however, you'll see that the vast majority are now discontinued and can only be found second hand. If we've missed off your favourite, please do let us know. 
Take a moment to GRAB YOUR FREE KIDS BIKE BUYING CHECKLIST which will help you record all the information you need to find the perfect bike for your child. 
Cycle Sprog reviewed and recommended bike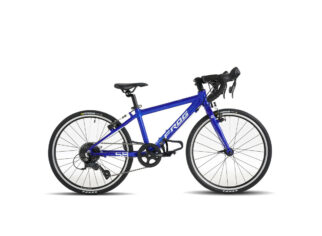 Frog Road 58 key data:
Price: £485
Typical age range: 6-7 years
Inside Leg: 58cm
Bike weight: 8.2kg
Brakes: Tektro Oryx, 992AG, alloy cantilever
Frame: 6061 T6 heat treated Aluminium alloy
Tyres: Kenda K-1018
Available colours: Electric Blue, USA and White
Warranty: 2 years - extended to 5 years for frame if you register the bike within 28 days of purchase
Frog Bikes are one of the best know quality kids bike brands and the Frog Road 58 is their smallest drop handlebar offering, designed for riders with a minimum inside leg of 58cm (approximately 6 to 7 years old).
The Frog Road 58 comes with 9 gears, narrow and short-drop child-specific handlebars, with Microshift short-reach brake levers. When we reviewed the Frog Road 58, one thing our 7 year old tester really liked is that it comes with auxiliary brake levers on the handlebar tops. These are very useful if your child is not confident enough to lean forward onto the drop handlebars.  The Frog Road 58 weighs in at only 8.2 kg, making it easy for young riders to manoeuvre.
The Frog Road 58 makes a good first drop handlebar bike for those wanting to start riding on roads, circuits or at cyclocross events.
If you've got an old Frog Bike that's been outgrown and needs selling get your Used Frog Bike quotation here. 
BUY NEW: Frog Road 58
LEASE:  Renting Frog Road 58 via The Bike Club can be a cost effective way of finding out whether your child will take to a road bike – it's much cheaper than buying outright and you can swap for a different bike if they don't enjoy it, or upgrade to a bigger size when they've outgrown it
BUY SECONDHAND: There's usually quite a few Frog Road 58s available secondhand. Do check that the bike you're buying has been well looked after, as some may have done several race seasons! Click here to see if there's one available on eBay in your area
Discontinued 20″ wheel kids road bikes
Over the years there have been a number of 20″ wheel road bikes that are no longer being sold in the UK.  If you see these on eBay or any other second hand forums they're definitely worth a look.
Cuda Performance CP20R
Cycle Sprog reviewed and recommended bike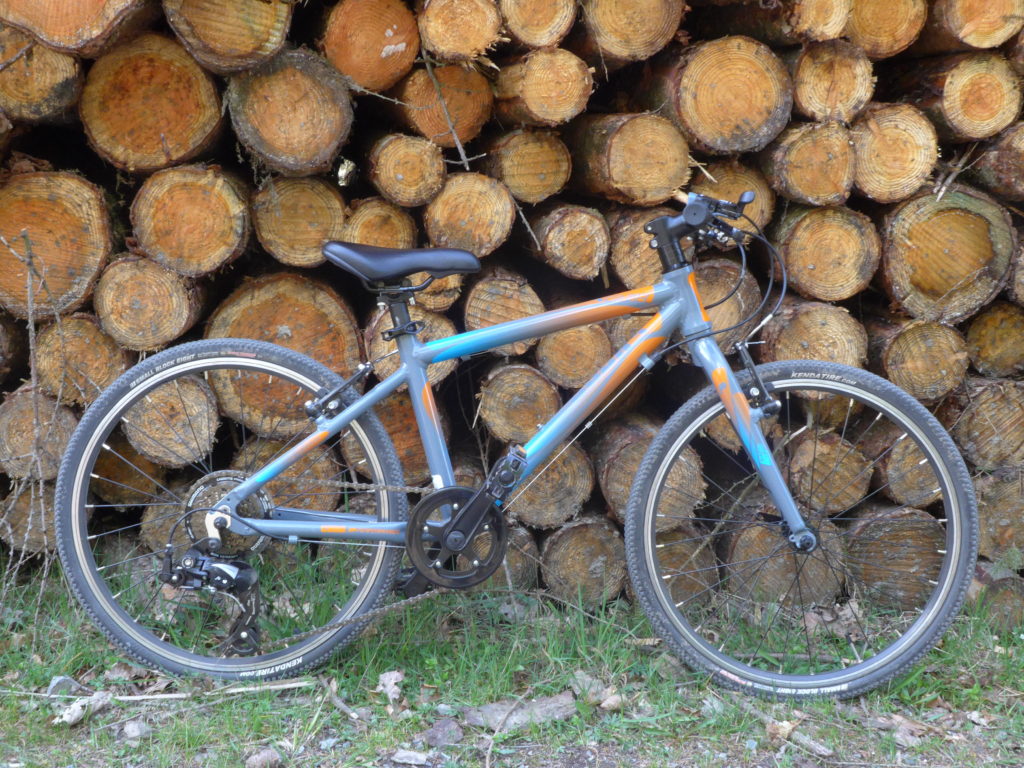 Cuda Performance CP20R key data:
Price: will vary if secondhand
Typical age range: 7-10 years
Minimum Height: 120cm to 135cm
Bike weight: 8.2kg
Brakes: Tektro alloy V brakes
Frame: lightweight double butted 6061 alloy frame
Tyres: Kenda 'Small Block 8' 20″ x 1 1/8″/Kenda Road 20″ x 1.00″
Warranty: Limited if purchased secondhand  – 12 months
The Performance Range from Cuda was launched in 2016 and they had a lightweight road/cyclocross offering in the CP20R.  As you'll see from the picture this is a road bike but not a drop handlebar bike, so you need to be certain what it is that your child is wanting. Is it the ability to ride comfortably and quickly on road tyres (for which the CP20R is great), or is it to have a bike with drop handlebars as they've seen Froome et al riding?
Our 7 year old tester loved riding the CP20R – it's easy to lift, performs well on different terrain (when the cross tyres are fitted – as they are in the picture above) and it looks great.
The Cuda CP20R weighed in at 8.4kg with pedals and has 7 gears. It was supplied with two sets of tyres.   It no longer forms part of the Cuda Performance Range, with their largest road bike now being the CP24R – which comes with drop handlebars.  They also do a standard 20″ wheel hybrid bike called the CP20.
Sponsored Content Start
Want to make some quick cash from that too small bike?
Do you have a good quality kids bike that's been outgrown and you've been meaning to sell on? 
Luckily The Bike Club are making it REALLY EASY for you to sell on old kids bikes. 
Just get an online valuation for your old bike, and if you're happy with the price they'll send a courier round with a bike box to pick it up. 
No hassle - just more space and more cash for the next size bike. Easy! 

Sponsored Content End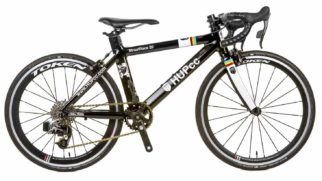 HUP StraatRace 20″ key data:
Price: £1,635
Typical age range: approx 5-years old and up
Bike weight: 6.9kg
Brakes: Tektro R525 callipers
Frame: 7005 alloy hydroformed aero frame
Tyres: Schwalbe 20″ road tyres
Available colours: Black
Warranty: TBC
One look at this bike, and the associated price tag, tells you this is a serious bike for those Cycle Sprogs who are taking their racing very seriously.
The HUP StraatRace 20″ Aero is only available in very limited numbers and is built to order.  
The frame is built in Taiwan using aero road tubing from 7005 alloy and built up to your exact specification by Kids Racing. You can have any colour, so long as it's black.
The bike barely weighs anything, coming in at an eye-wateringly light 6.9kg which can be reduced with further upgrades. This is due to the attention to detail of the spec, including dedicated aero carbon seatpost, handbuilt carbon aero wheels and the lightest, size appropriate components on the market.
A dual-position seat post offers scope for the rider to grow. Super-short, narrow-Q factor cranks with 30T chainring coupled with Shimano HG50 12-28t cassette means they can climb with ease, in comfort.  When you order you can specify various upgrades, such as child-friendly SRAM eTap, to ensure your little racer gets every possible advantage to help them get on the podium.
For more details about the HUP StraatRace 20″ Aero contact Kids Racing. 
Mini Moda 20″ kids road bike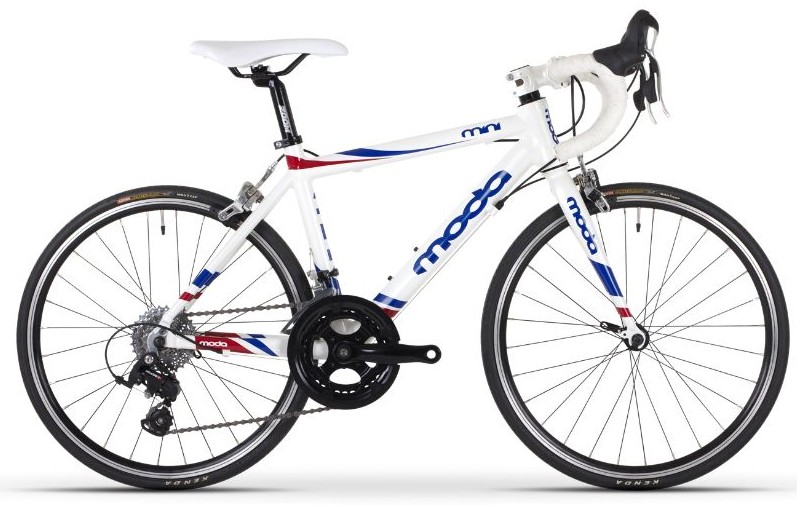 Moda 20″ key data:
Price: will vary if secondhand
Standover height: 47cm
Bike weight: 9.05kg
Brakes: Dual Pivot Road Calliper
Frame: LDA Butted Aluminium
Tyres: Kenda K196 20×1″
Warranty: Limited if purchased secondhand
The Moda Mini was one of the first lightweight (9.05 kg) kids road racing bikes with 20″ wheels available in the UK, but sadly it's now almost impossible to get hold of new.
A classy machine with a lightweight 16cm alloy frame, and kitted out with 8 speed junior STI gear levers, the Mini Moda is still seen at kids cycling events up and down the country, a testament to its longevity and good build quality.  It's definitely one to look out for second-hand.
Check eBay for the Mini Moda 20
Dawes Sprint 20 
One of the few drop handlebar bikes available in 20″ wheels, the Dawes Sprint 20″ was discontinued several years ago. It's worth keeping an eye open on eBay and forums as this is a good little bike for budding road cyclists and triathletes.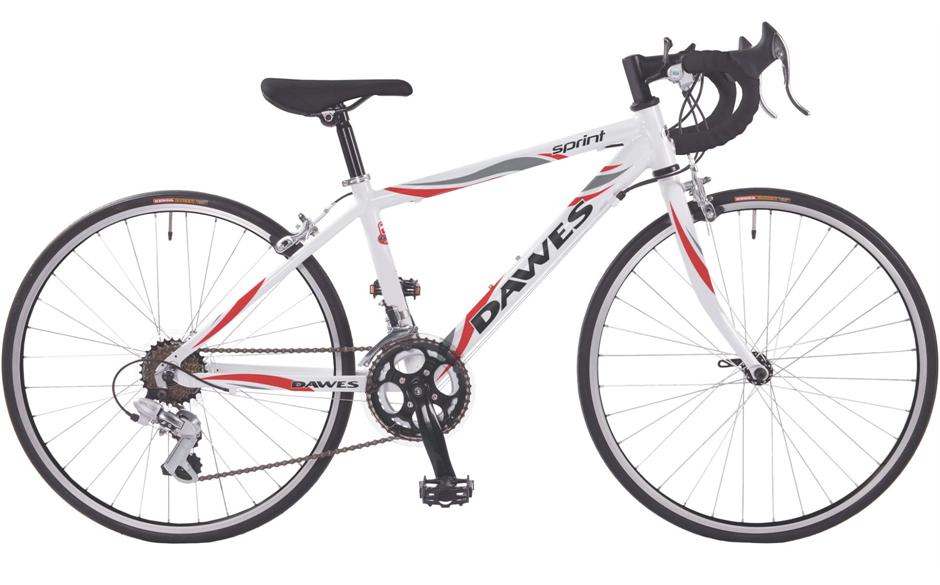 Built around an 11″ aluminium frame, the Dawes Sprint is fitted with junior specific components, including Shimano handlebar mounted gear shifters and brake levers and weighs in at 9kg. When still being sold the spec stated:
Lightweight 6061 aluminium junior road frame
Shimano 7 speed gears with handlebar mounted shifter
Promax calliper brakes with Junior alloy levers
Double wall alloy rims with Kenda 20″x1.25″ tyres
Dawes junior road saddle
Effective top tube length 435mm
Check eBay for the Dawes Sprint 20 
Culprit Junior 1 racing bike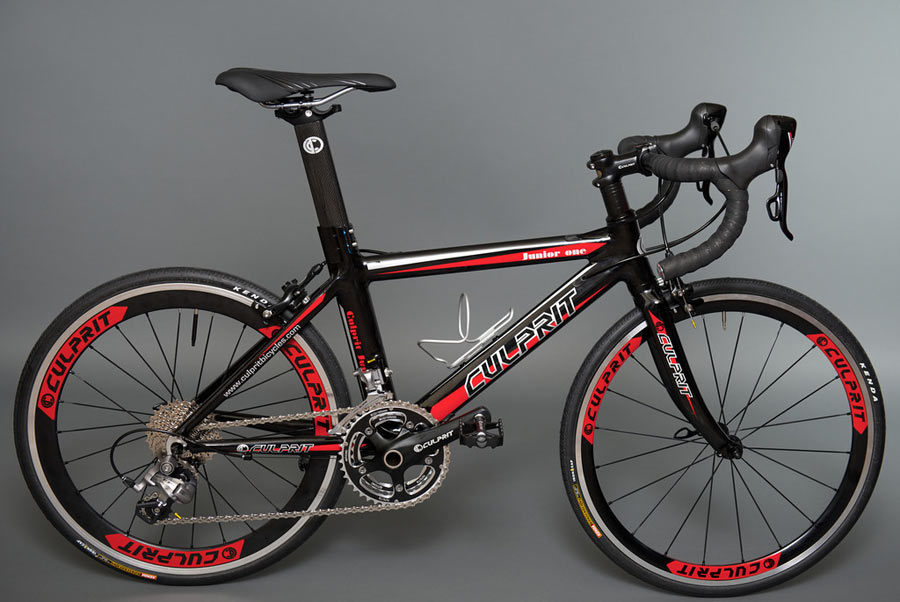 Culprit Junior 1 key data:
Price: will vary if secondhand
Typical age range: 6-9 years
Standover Height: 55cm
Bike weight: 7.76kg (without pedals)
Brakes: TRP brakes
Frame: 7005 Alloy
Warranty: Limited if purchased secondhand
The design of the Culprit Junior 1 had just one thing in mind – racing! It was a top level kids road racing bike with 20″ wheels and designed for young and aspiring cyclists.
With a Shimano 105 ten speed drivetrain, and complying with British Cycling Youth Category gear restrictions, it was aimed at the serious competitor in the house and was priced accordingly (£1,100 when it went on sale in the UK in 2016).
The stated weight of the Junior 1 is 7.76 kg without pedals.  You can read more about the Culprit Junior 1 in this post.
BUY SECONDHAND: Check eBay for the Culprit Junior 1
Summary of the best 20″ wheel kids road bikes
As you can see, the selection of kids road racing bikes with 20″ wheels isn't what you'd call extensive. Kids bike manufacturers don't seem that committed to producing a drop handlebar bike for the 6-8 years age range. This is disappointing for a child who has set their heart on drop handlebars, but thankfully there are plenty of flat handlebar hybrid bikes available to plug the gap. Once they're cycling, the majority will forget they ever wanted drop handlebars anyway!
If you have found another kids road racing bike with 20″ wheels that you'd like to see featured, do please let us know via the comments section below.  We'd also love to hear what bike you ended up buying.
Support Cycle Sprog!
If you've found this article useful you can buy us a virtual coffee (or two!) to say thanks and help us keep the Cycle Sprog website going. 
Other articles you may find useful:
Affiliate disclosure:  Please note that Cycle Sprog may make a small commission if you make a purchase through some of the links on this page. This doesn't affect the price you pay and helps us to fund the ongoing hosting of the website. Thanks for your support!