If you're looking for a cheap Frog Bike this New Year we're here to help!  If you've already been searching, you'll probably realise that there's quite a shortage of new Frog Bikes – particularly in certain sizes.
It seems Frog Bikes have had a real problem with supply since Covid-19 struck, and recent shortages and transport disruptions have made things even worse. 
You may even have seen them on the news before Christmas, saying there was going to be a shortage in December!
So, being honest, you're going to struggle to get a really cheap deal on a Frog bike, but don't despair – all is not lost! 
Cycle Sprog is an family run, reader supported, website. We belong to several affiliate schemes so may receive a small commission from sales made from links on our site. We do our best to be impartial and recommend products on their quality not whether they are in a scheme.
In a hurry to get a cheap Frog Bike this January?
Our top places to look for a deal on a Frog Bike are: 
For LEASED Frog Bikes: 
BIKE CLUB – long term monthly lease a Frog Bike – prices range from £6.99 – £25.49 per month depending on the size and type of bike.   
You can subscribe to the Bike Club and get the ALL FROG BIKES for a low monthly cost. When it gets too small just upgrade it for a bigger Frog. 
For NEW Frog Bikes: 
TREDZ –  Tredz have two offers at the moment – they're not huge savings, but it's something. 
You can get £5 off a Frog Bike if you sign up for their newsletter.  Just scroll down to the bottom of their page, sign up and you'll get a voucher code to get £5 off.  
OR you can get a FREE KIDS RUCKSACK – just use the code FREEBACKPACK at checkout.  It's one or the other – you can't have both. 
For SECONDHAND Frog Bikes: 
eBay – plenty of second hand Frog Bikes available – not just for Christmas, but at all times!
And if you've got an outgrown Frog Bike sitting at home that's no longer being used, PLEASE, PLEASE sell it on, as there are so many people out there looking for a Frog Bike. 
If you don't have the time to do all the maintenance, listing and dealing with a buyer, then get a valuation from The Bike Club, who will come and pick it up from your house. 
Read on to find out where to find a cheap Frog Bike for your child…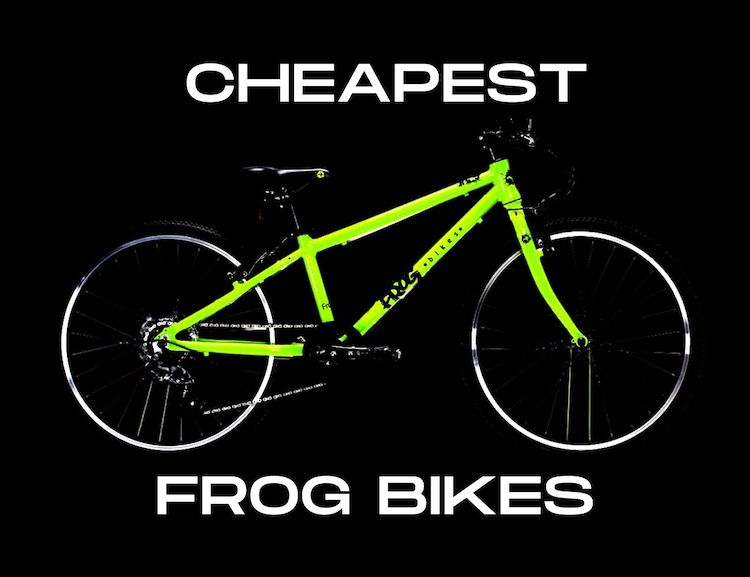 CHEAPEST FROG BIKES – January 2021
There is such a shortage of Frog Bikes at the moment, so don't hold out for getting a massive bargain this Christmas, but here's where we suggest looking:
Places to check if you want a discount on a new Frog Bike
Lease a Frog Bike from The Bike Club and get your first month FREE!
The best place to try and get hold of a cheap Frog Bike at the moment is to sign up for a monthly rental from the Bike Club.   
They operate a really great kids bike leasing service, where you pay them a monthly subscription payment, ranging from £6.99 per month for a mini balance bike through to £25.49 per month for the largest Frog Mountain Bike.
In return, they take away all the hassles of having to find a new bike every time your child grows.
Rent Now
The Bike Club is a great idea and a lot of our friends and family use it.  Just select the size bike your child needs now, and return it for an upgrade when it's too small.
They have a range of brands and models so if they don't have the size in stock you need you can try a different type of bike for a while and return to Frog if you want to next time around.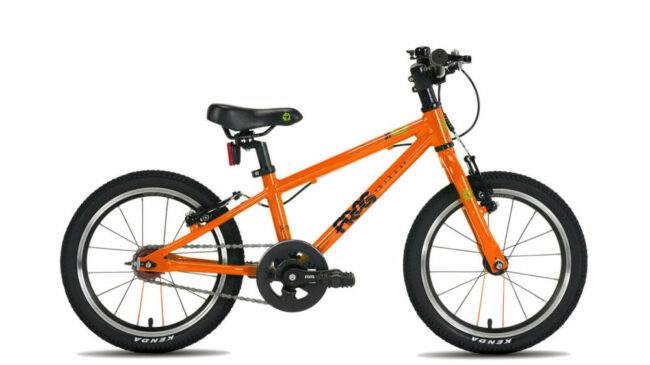 You can opt for a new bike or a reUsed bike, and all returned bikes get serviced and send out to the next user, meaning this is a really environmentally friendly model of bike ownership. 
It's worth noting that if they have Frog bikes available this January they're quite likely to be reUsed given the overall shortage of Frog bikes.
However, everyone we know who's had a reBike has been really impressed – they get put through the workshop before being sent out again, and as we all know Frog Bikes are built to last you end up with a really good bike, for even less money than if you were renting a brand new one. 
If you really want a new bike and Frog's aren't in stock then you can opt for the brand new Forme Bikes, which launched late last year and is a great alternative option to a Frog Bike.
The Bike Club seem to have good stock levels of Forme bikes whereas they have gaps in their stock of Frog Bikes. 
If you have an old Frog Bike, Hoy Bike or Islabike that your child has grown out of they will even buy this from you so they can add it to their fleet.

£5 off Frog Bikes at Tredz if you sign up for their newsletter before purchasing
Tredz Bikes have a very easy to use website and often have availability of Frog Bikes (although like everywhere else they're restricted as to what colours and sizes are available).
They offer free home delivery and a 365 day returns policy plus interest free finance if you need it.
We regularly use Tredz ourselves and they have a very high Trust Pilot rating.  We particularly like their "In Stock" filter so you can see which bikes they actually have available, which avoids wasting time clicking loads of out of stock bikes. 
If you sign up for the Tredz newsletter before you pay (which you can do from the bottom of any page), you will get sent a £5 voucher off your first purchase immediately which you can apply before you checkout
CHECK AVAILABILITY:  FROG BIKES AT TREDZ
Buy new Frog Bikes via eBay
Another good place to look for a Frog Bike at the moment appears to be eBay – there are a number of independent bike shops who are listing their stock there. 
Sadly you won't get a discount on these, but with such a shortage of new Frog Bikes at the moment, this might be your best place to look.
Second hand Frog Bikes
The good news is that Frog bikes are so well built that they will last numerous children, so if you don't want to lease a Frog Bike it's well worth looking for a second hand option. 
We can attest to Frog Bikes longevity as we recently passed a Frog 55 onto its 5th rider in 5 and a half years.
Take a moment to GRAB YOUR FREE KIDS BIKE BUYING CHECKLIST which will help you record all the information you need to find the perfect bike for your child. 
Check out these eBay links to find a bargain Frog Bike (ages are approximate)
Frog Tadpoles (balance bikes):
Buy Now
Frog 43 (ages 3-4 years – 14″ wheels) Note – the 14″ wheel bike has now been renamed the Frog 40 – the standover height on the older Frog Bikes requires the child to be taller:
Buy Now
Frog 40:
Buy Now
Frog 48 (ages 4-5 years – 16″ wheels): Note – the 16″ wheel bike has now been renamed the Frog 44 – the standover height on the older Frog bikes requires your sprog to be at least 4cm longer in the leg.
Buy Now
Frog 44:
Buy Now
Frog 52's (ages 5-6 years – 20″ wheels, small frame):
Buy Now
Frog 55's (ages 6-7 – 20″ wheels large frame):
Buy Now
Frog 62's (ages 8-10 years – 24″ wheels):
Buy Now
Frog 69/73/78 (ages 10 and over – 26″ wheels):
Buy Now
Frog mountain bikes:
Buy Now
Frog road bikes:
Buy Now
Other places to check for a second hand Frog Bike:
PRELOVED:
Buy Now
GUMTREE:
Buy Now
FACEBOOK GROUP:
Buy Now
Bike shops which usually stock Frog Bikes and offer home delivery
Whilst Frog Bikes are in incredibly short supply, you may wish to call around some independent bike shops and see if they have any stock remaining.
They won't have any discounts, but if you're desperate for a new Frog Bike then you will have to pay full price and hunt around for somewhere with the size you need. 
You can't be too fussy in terms of colour at the current time – sorry!
Places that offer home delivery to check for in-stock Frog Bikes: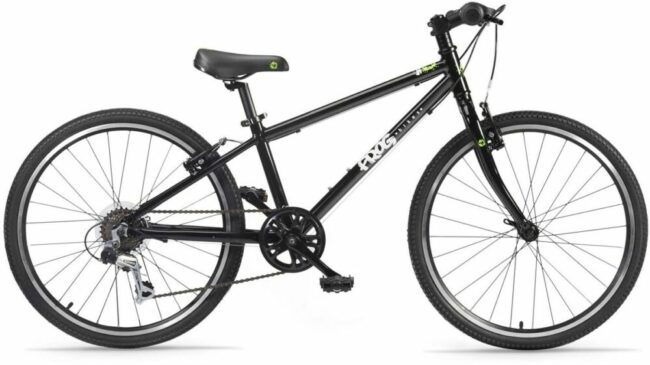 Your local bike shop
Your local bike shop may do discounts if you're a member of a local cycle club, or if you buy several bikes from them at one time.  They may also from time to time do discounts on ex-display models.
You can find your nearest local Frog stockist here.  This comes with the advantage that they will build the bike up for you, and you'll also have the satisfaction of knowing you're supporting a local business.
If you've enjoyed reading this article, please do sign up for our newsletter - we'll keep up updated when we have new articles which may be of interest. Thanks! 
Support Cycle Sprog!
If you've found this article useful you can buy us a virtual coffee (or two!) to say thanks and help us keep the Cycle Sprog website going. 
If you've found this post on the Cheapest Frog Bikes useful, you may like these other articles: