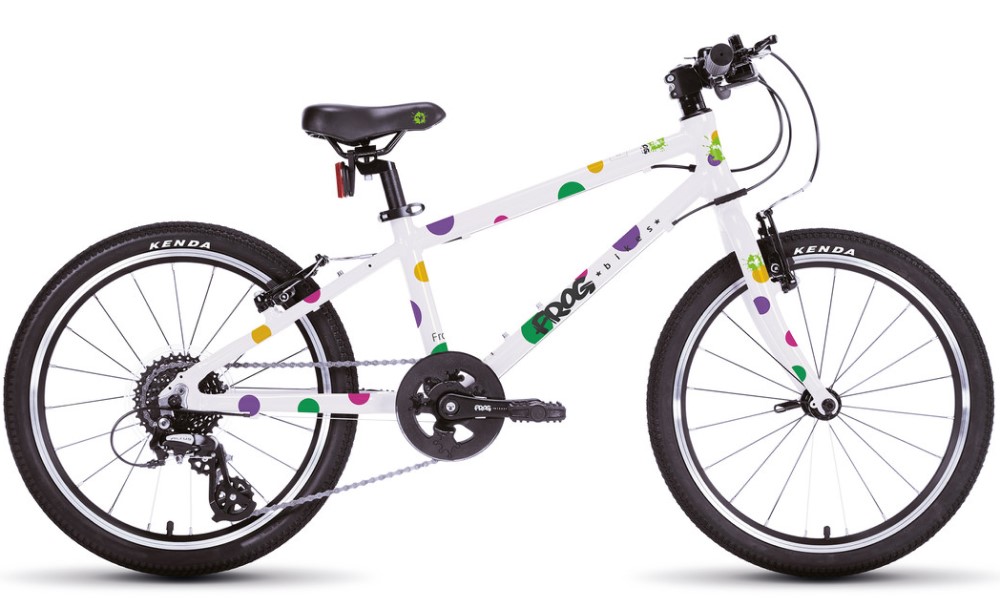 Reviewed and Recommended by Cycle Sprog
The Frog 55 has been reviewed by our testers and got the thumbs up!
Read our review
Frog 55
The Frog 55 is the larger of Frog's two 20″ wheel hybrid bikes – it's suitable for a child with an inside leg of 55cm.  It's a good all round bike that's equally suited to riding trails and paths as doing the school run. 
You get mudguards supplied as standard, and you can also fit a pannier rack if you're carrying school books or camping equipment. 
For most children this will be their first experience of using gears on a bike, and Frog have specified an easy to use 8 speed set up with an easy reach thumb shifter. 
The range of gears is good enough to get up most hills, and if it does get a bit too steep the bike is lightweight enough to hopefully allow your child to keep on pushing (although we can't promise this – and if you do end up carrying it you'll be appreciative that it only weighs 8.55kg) 
We reviewed one of the very first Frog 55's to be released years ago, and were very impressed by the comfort of the ride, quality of the bike and it's longevity.  Since then Frog have continued to improve on the specification, making it a great choice 20″ wheel hybrid bike for children aged approx 6 or 7 years of age. 
You can subscribe to the Bike Club and get the Frog 55 for a low monthly cost. When it gets too small just upgrade it for a bigger Frog. 
UPDATE: We have just heard that the Frog 55 has been discontinued and is being replaced by the Frog 53 – limited stock is available of both bikes at the moment
NEW YEAR OFFER!  Get your first month and delivery FREE on all bikes at the Bike Club
Not the bike you're looking for?
Search our database of kids bikes to find the perfect one for your Cycle Sprog