If you're hoping to buy a kids bike for a 5 or 6 year old child you need to know that there's not that many kids bikes at the moment.  Covid, Brexit, Suez Canal - there's lots of different reasons!
We've worked hard to bring you details of all the retailers who do have some stock of 18" wheel kids bikes, which will make a great choice for kids aged 5 or 6 years old. 
Before we start, do please remember that there's a REAL difference between buying a really cheap and heavy kids bike and a quality kids bike that's been discounted.
If you're not sure what makes a great kids bike take a moment to download our FREE kids bike buying checklist, so you know what you're looking for and don't get tempted by a dodgy deal. 
Don't forget a lightweight, well made bike will be LOADS more fun to ride than a heavy, poorly made toy bike. If you're tempted to buy a cartoon character or toy bike then check this out!
Here's our pick of the best places to look for a 18" kids bike:
Cycle Sprog is an family run, reader supported, website. We belong to several affiliate schemes so may receive a small commission from sales made from links on our site. We do our best to be impartial and recommend products on their quality not whether they are in a scheme.
Where to find an in stock 18" wheel kids bike:
If you're in a real hurry, just check these places for a quality kids bikes ready to be delivered.   Alternatively you can scroll down to find our recommendations for specific 18" kids bikes, 
The Bike Club is a brilliant way to get a great quality 18" wheel kids bike for your child, without the upfront cost.  You subscribe to their membership scheme and select your chosen bike, which they send out to you in return for a monthly payment (so you do have to pass their credit checks). 
When your child outgrows the bike you send it back and upgrade to the next size bike. 
We know a lot of people who are using The Bike Club and they all rave about it!  It takes the hassle out of having to buy and sell bikes and means you can pick a  great value bike that fits your child now, rather than worrying they're going to out grow it.
Plus it's much more environmentally friendly - you can pick from new or previously used bikes, and when you return your bike it gets fully serviced by their qualified mechanics before being sent out again.  
If you've got a smaller bike that your child has already grown out of it, they may also be able to buy that off of you to enter into their reCycled fleet - get a valuation here.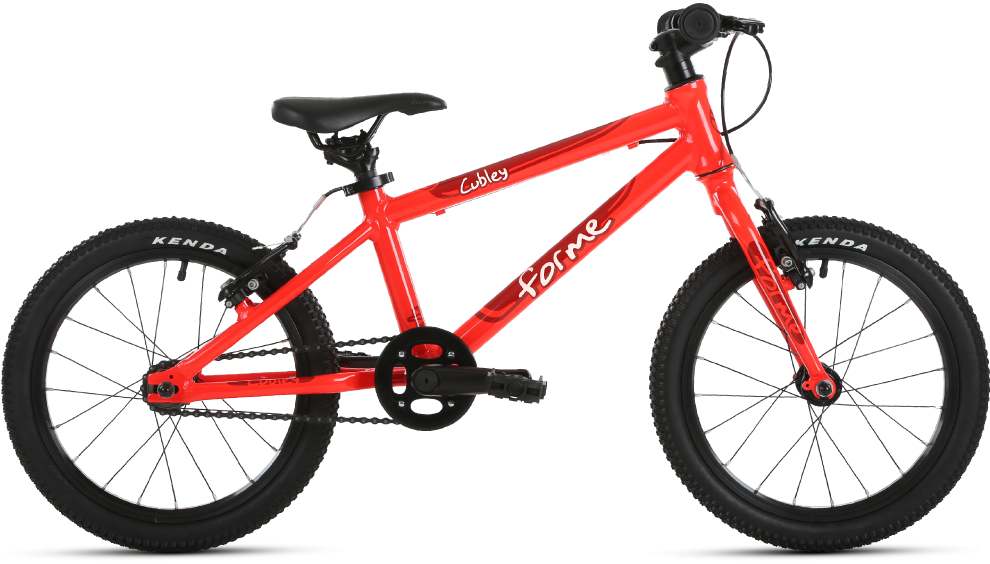 You also get peace of mind that your child is riding a really great quality bike at a bargain price, rather than a really cheap bike. 
They only stock Cycle Sprog recommended brands such as the brand new Forme Cubley 18 , as well as Squish Bikes and Frog Bikes 
UPDATE: Monday 19th July 2021 - The Bike Club have been in touch to let us know that they've just taken delivery of some NEW COLOUR FORME BIKES. 
These three new paint schemes are currently exclusive to The Bike Club lease scheme, so if your child wants a purple, green or orange bike check them out (these are in addition to the standard red, blue and pink Forme kids bikes). 
Sponsored content start: 
If you have an old kids bike you've been meaning to sell on, then The Bike Club also have a hassle free way to do this, called reCycle.
They will even send a courier with a box to pick it up!  Get a valution of your old bike here.  

Sponsored Content End
Tredz stock a good range of quality kids bikes, and we really like that they are honest and upfront about how long delivery should be before you place your order.
Tredz also have an "In Stock" filter on their website which makes life easier if you need your bike now rather than in a few weeks or months time.   
So many retailers at the moment don't have stock, but you have to click through every bike to find out!  
Tredz sell quality kids bike brands including Forme, Frog, Cube, Squish, Giant, Orbea and Cannondale.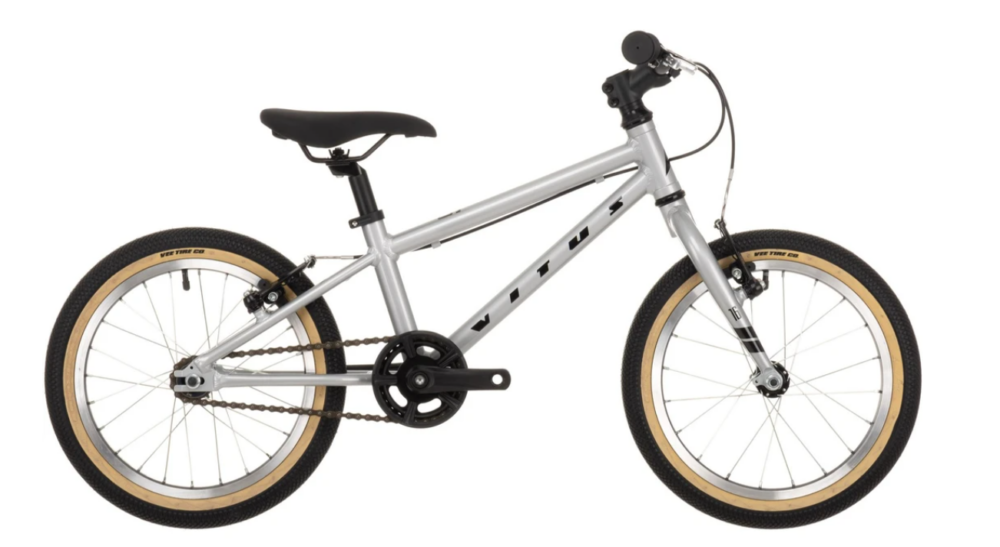 Chain Reaction Cycles (otherwise known as CRC) sell the great value Vitus Kids Bikes that are perfect for kids aged 5 or 6 years old and stock has been appearing on their website every few days (although they are selling fast!)
They also have an "In stock" button to make life a whole lot easier when you're searching for a bike - a real time saver!  
 Check Availability at Chain Reaction Cycles 
The above are recommended places to look for reliable, in stock 18" wheel kids bikes for immediate dispatch. 
Obviously this isn't an exhaustive list, and other bikes are arriving, both on line and in local bike shops.  If you've not managed to find what you are looking for in the above selection, here's our usual article with lots more details about fabulous bikes that in normal times you'd be able to choose from.  
The best 18″ wheel kids bikes for a 5 – 6 year old
There's a strange anomaly within the kids bike market. There are lots of 18″ wheel bikes out there, which fit in the gap between a 16″ wheel starter bike and a geared 20″ wheel bike. However, the vast majority of 18″ wheel bikes available are what we'd term "Bike Shaped Objects" – they're heavy and not particularly well made and we wouldn't really recommend them to you.
Most quality kids bikes manufacturers didn't have a bike in this in-between wheel size.  However, in the past year or so we're really pleased that several decently specified, lightweight  18″ wheel kids bikes have come along.
If your child is at that in-between stage then here's our advice on the best 18″ wheel kids bikes.
Take a moment to GRAB YOUR FREE KIDS BIKE BUYING CHECKLIST which will help you record all the information you need to find the perfect bike for your child. 
Cycle Sprog is an family run, reader supported, website. We belong to several affiliate schemes so may receive a small commission from sales made from links on our site. We do our best to be impartial and recommend products on their quality not whether they are in a scheme.
Why would you want an 18″ wheel bike for your child?
Younger but very tall children, or those with additional needs, might not be able to handle the complexity of gears that most 20″ wheel bikes have.
Other children of around about the age of 5 or 6 years of age may have outgrown their 16″ wheel bike but are a little bit too small for the larger frames sizes that come with 20″ wheel bikes.
18″ wheel bikes with gears
Some children can cope with gears on an 18″ wheel bike, others will not need them. Gears add weight and complexity, and usually don't make an appearance until a 20″ wheel bike. However, some Cycle Sprogs are ready for them earlier, and they can also be useful if you live in a very hilly area (even if you need to change them yourself!)
The best 18″ wheel kids bikes
If you're a bit confused about all the different things to think about when buying a bike, then there's a lot more help in our free kids bike buying checklist, which will take you through the process step by step and gives a handy table to record details about the bikes on your shortlist. 
CYCLE SPROG REVIEWED AND RECOMMENDED BRAND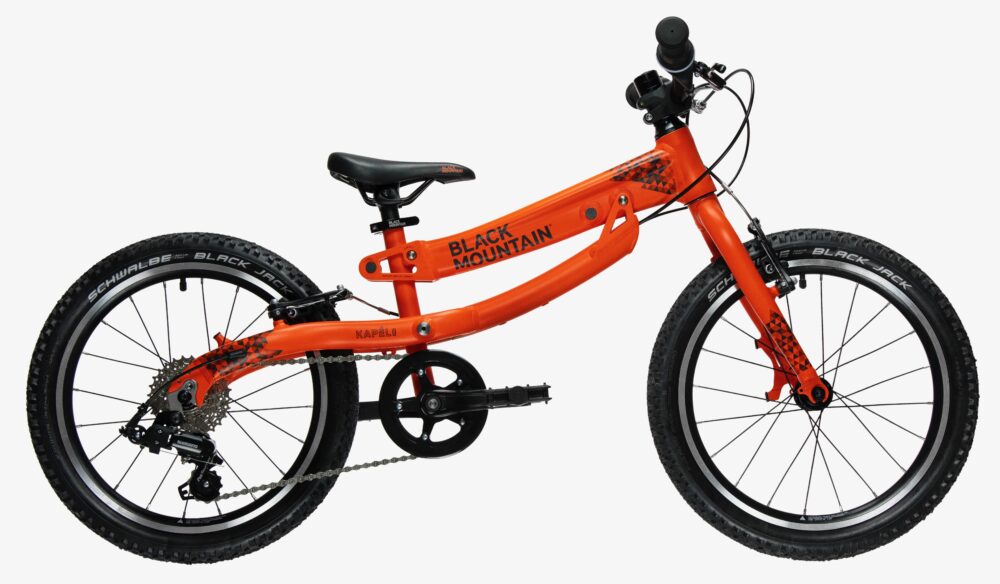 Black Mountain KAPEL Key data
Price: £449
Suggested Age Range: 5 – 7.5 years
Height range: 110 – 128cm
Standover height: 47cm
Bike weight: 6.7kg in Balance Bike Mode;  8.1kg in standard setup (without pedals) and 8.4kg with pedals.
Frame: Adjustable "growing" frame
Gears:  Yes – 7 gears (Sunrace 7 speed, 11-28 x 32T)
Brakes:  Tektro V-brake with micro-adjust lever
Tyres: Schwalbe Black Jack 
Colours:  Orange, Green, Blue, Purple
Warranty: 3-years on frame and forks; 2-years on non-consumable components. Warranty can be passed onto new user if you sell on (must inform Black Mountain of change of ownership)
Buy Now
If you've got the cash, and are looking for a really good quality bike to see your child through the uncertain times ahead, then look no further than the  Black Mountain KAPEL.
It's the latest release from this innovative Welsh company – a "growing" bike with gears.  The unique frame design has two different size positions the bike grows with your child so you don't need to worry about replacing the bike as quickly as a standard bike.
This is particularly good at the current time, as bike retailers are struggling with stock levels, so you won't have to worry about your child growing out of it for a long time!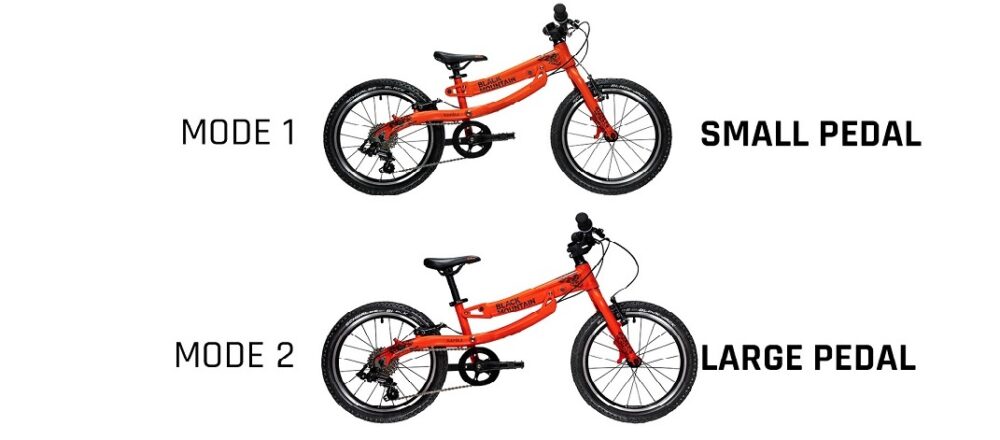 The bike can also start off in balance bike mode (with an additional adaptor kit) if required so is a good way to get your child off stabilisers and learning to balance at speed before they start pedalling.
You can find out how our reviewer got on with the slightly larger version of this bike (the HÜTTO)  and how she went from nervous balance biker to confident cyclist.
Black Mountain gives an upper age for the KAPEL of around 7 and a half years, and an approximate height range of 110 – 128cm.
If this is a bit small for your child, then they also do a bigger 20″ wheeler called the HUTTO, which has the same technology but is sized for children 118cm to 134cm tall.
Buy Now
Cycle Sprog reviewed and recommended bike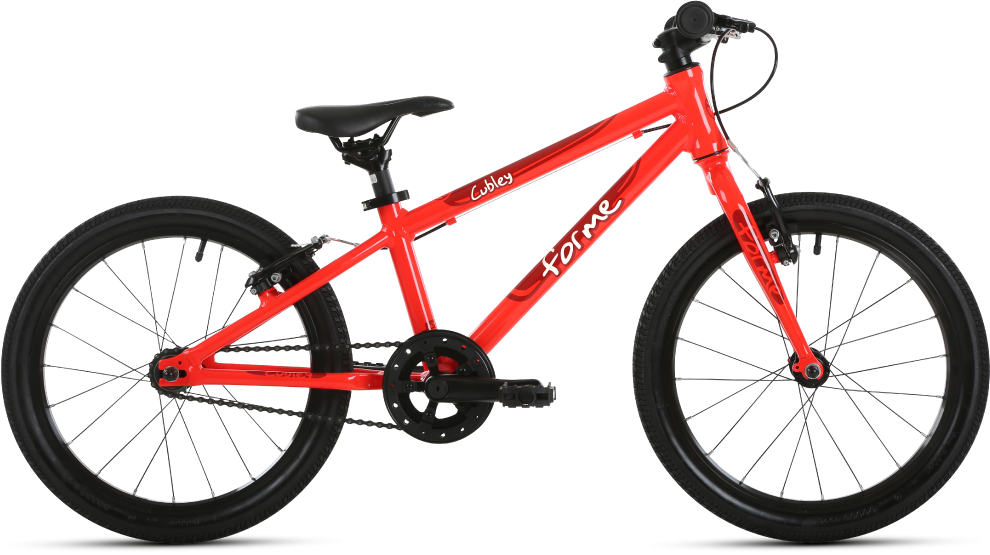 Forme Cubley 18 Key Data: 
Price new: £250
Lease: £11.95 a month
Inside Leg:  50cm to 54cm  
Saddle to floor:  55cm to 59cm
Bike weight:  7.56 kg
Brakes: Tektro V Brake
Frame:  Alloy 6061
Tyres:  Deli all weather 18″ x 1.5″
Available colours:  Red, Blue and Pink
Warranty:  Lifetime on Frame
The Forme Cubley 18 is the newest 18″ wheel bike on the market and is proving a popular choice for kids who aren't quite ready for a 20″ wheel bike with gears, but have outgrown their smaller bike.
Forme is a UK brand, based in Derbyshire and with over a decade's experience of designing and manufacturing adult bikes. They're now taking that expertise and applying it to their junior range, which they launched in 2020.
With the Cubley 18 you're getting a very lightweight bike (it weighs just 7.56kg) so your child will be able to pick it up and move it around themselves (useful for climbing up and down any steps or obstacles on their route), and you'll notice the difference too when you're carrying it or trying to put onto a car rack.
Forme have specified this bike to have all the features we'd expect from a quality kids bike. So you get appropriately sized pedals which are designed to keep pressure off the rider's heel.  This helps your child ride faster and reduces the risk of their foot slipping off the pedal.
The components are junior sized, for example, the cranks are proportioned for a child's legs and the handlebars and stem have been sized for their arm length. Kids want to ride their bike all year round so Forme have made the headset (the bit that connects frame and fork) fully internal to fend off foul weather and aid longevity.
Because kids tend to grow so quickly at this age it's good to know that the Cubley 18 is available to lease via the Bike Club.  You just pay a monthly subscription in return for a bike that fits your child now. As soon as they grow you upgrade to a larger bike, thus taking away that temptation to buy a bike now that's a bit too big for them because 'they'll grow into it'.
We've been sent a couple of the new Forme Bikes to review - here's our first impressions review of the Forme Cubley.
Cycle Sprog reviewed and recommended bike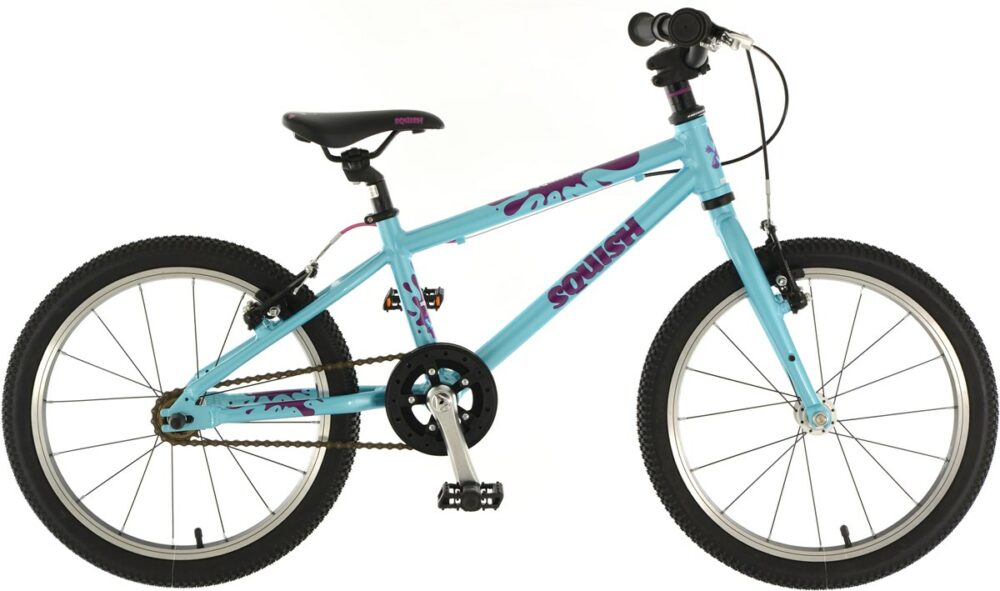 Squish 18 Key Data:
Price: £280
Lease: £12.10 per month
Minimum height: 110cm
Minimum Inside Leg: 50cm
Bike weight: 6.98 kg
Frame: Alloy
Tyres: Dawes Cadence
Gears:  No
Brakes:  Tektro V-brake – adjustable
Colours:  Aqua, Blue
Warranty: Frame and Forks - 3 years; components - 1 year (excluding wear and tear)
Lightweight and packed with great components, the Squish 18 looks great with its vivid blue and green paintwork.
It's a single speed bundle of fun, that has a long wheelbase to give confidence and easy to use 'child-sized' components that are perfect for smaller hands.
The colour is really attractive, and when our tester feasted her eyes on it, she was smitten!
The Squish 18 is adorned with lightweight alloy components including chain wheel, wheel hubs, and rims. Small block tyres are fitted to give good grip on a variety of surfaces, so the Squish 18 can be used for fun in the mud too.
It feels as though it's been well thought out and put together, not only in its structural design but also in how it has taken the desires of a child into account too. A cool sticker set accompanies the bike and these can be used on the frame or anywhere else that takes their fancy.
Paintwork is hardwearing, the colour scheme works well and it's just fun. As a little one, you'd want to ride it as it looks a blast.
The Squish 18 is very light, due to its triple butted alloy frame. Weighing in at just 6.96kg, it really is class leading, with virtually all other 18″ wheel bike currently available being made of much heavier steel frames, or else aluminium frames with steel forks and components.
You can read our full review of the Squish 18 here.
Squish Bikes are available on monthly rental from The Bike Club, helping avoid the upfront cost of a bike your child is going to grow out of quite quickly.  They're also sold through a network of local bike shops, where you can check the bike is the correct fit for your child before you purchase. Plus you're also supporting your local independent bike shop at the same time.
AD:   Got an old Squish Bike to sell on?  The Bike Club have made it hassle free - click here for your valuation and to arrange a courier to come and collect your old Squish bike.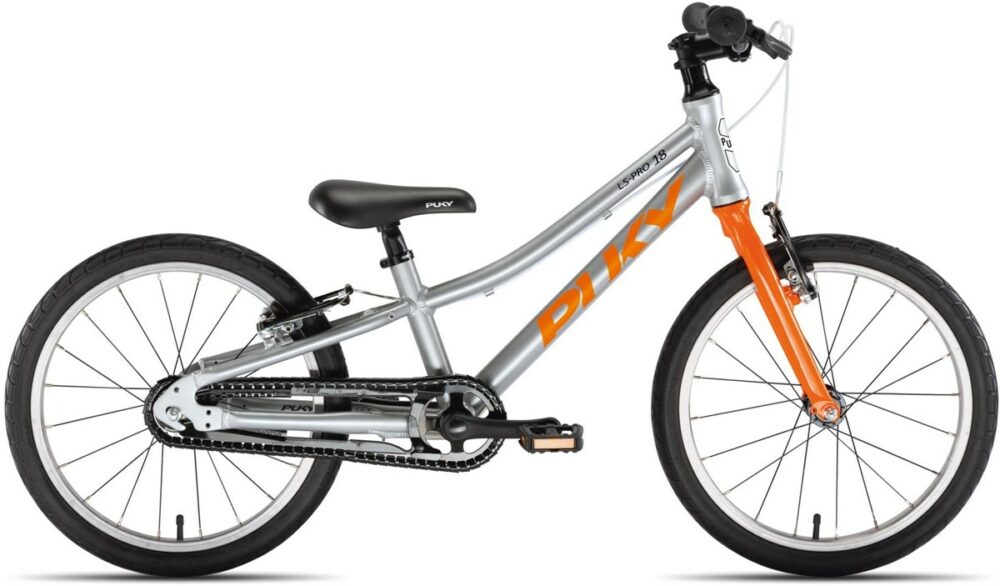 Puky LS Pro 18 Key Data
Price: £300
Minimum height: 105cm
Bike weight: 6.3 kg
Frame: Aluminium
Gears:  No
Brakes:   V-Brakes
Colours:   Silver-orange, silver-blue and silver-berry
Warranty:
 5-year on frames, forks and handlebars if registered online with Puky within 4 weeks of purchase
The new Puky LS Pro 18 is a really lightweight 18″ wheel bike that comes from a brand that is renowned on the continent for building really reliable kids bikes and balance bikes.  They've got the weight so low by having not only an aluminium frame but fork, crank and seat post  too.  The Puky LS Pro also features the new HEBIE Chainlooper – which is designed to protect little fingers.
The bike has a special coating applied to the paint to make sure it doesn't chip, so you can expect this bike to still look great when you come to sell it on when your own child has outgrown it.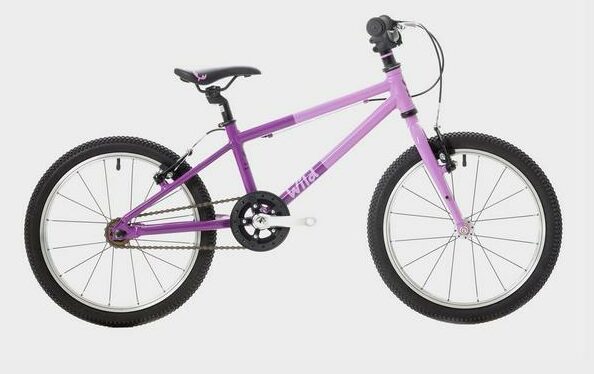 Wild 18 Key Data
Price: £225
Height range: 110 – 120 cm
Minimum inside leg: 49cm
Bike weight: 7.2kg
Frame and forks: Alloy
Gears:  No
Brakes:  Tektro alloy with Tektro full alloy short reach levers
Colour:  Yellow/red
Warranty: 1 year
Wild Bikes are a relatively new bike range launched in 2018.
Everyone we know who has bought a Wild Bike is really impressed with it because you're getting a good quality, well designed and lightweight bike at a lower price than most of the established names.
Obviously there are differences in the quality of the build and components to come in this cheap, but it's a great choice if you're not sure you're ready to spend on a higher end bike.
The Wild 18 has an upright riding position for a low centre of gravity, and narrower cranks which bring their legs closer together in line with their smaller hips, which combined with the low weight of the bike gives an enjoyable and easy riding experience.
Buy secondhand:  Wild 18's come up occasionally secondhand, but they're a relatively new bike so there's not that many available yet.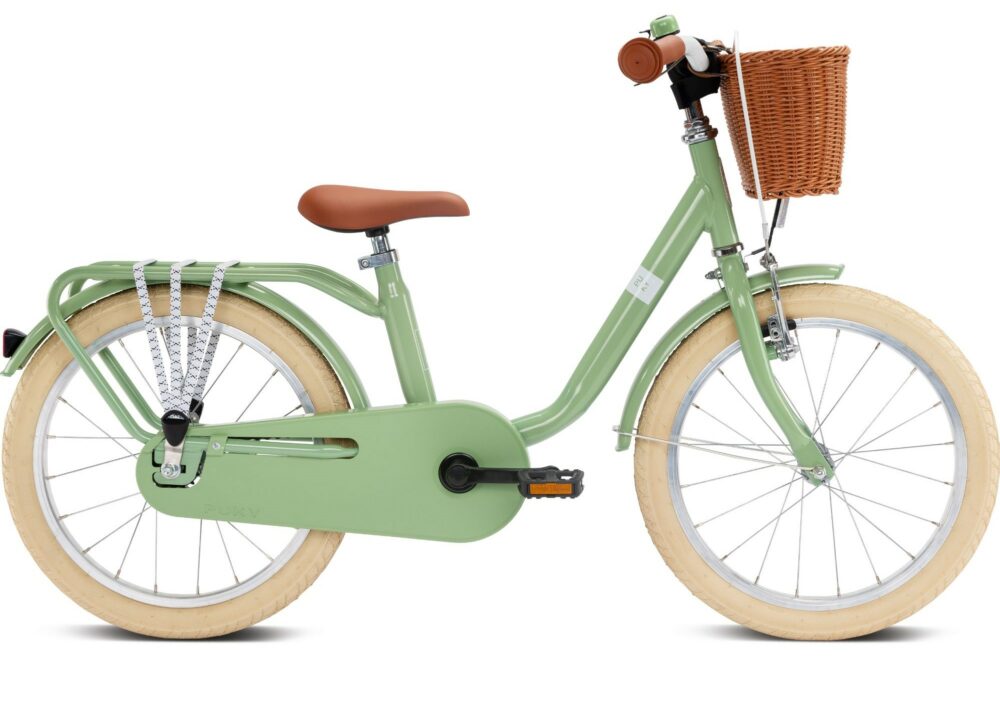 Puky 18 Key Data:
Price: from £187
Height: 115 to 130 cm
Inside Leg: 49 to 58 cm
Bike weight:  10.3 kg
Frame: Steel
Brakes:  Rear coaster brake, front v brake
Gears:  No
Features:  Luggage rack, low step through frame, chain guard, kick stand (plus basket on some models)
Colours:  Green and Pink
Warranty:
 5-year on frames, forks and handlebars if registered online with Puky within 4 weeks of purchase
In terms of bike design the Puky 18 is about as far removed from the Black Mountain Kapel as you're going to get!  With a very traditional step through style "city bike" frame and an upright riding position this is a classic continental style bike from a very long established German brand. Puky are more well known for their robust balance bikes here in the UK, but have recently started making their pedal bikes available.
These bikes are designed with a more sedate urban style cycling in mind than some of the smaller mountain bikes that seem to be the trend at the moment with many brands.  The bikes are steel framed, which is reflected in their heavier weight, but this is a well designed steel frame bike, compared to some of the really cheap offerings you can get at catalogue retailers. Puky apply an impact-resistant and durable powder coating to the bike which encases the metal components like a plastic coating and is UV and weather resistant. It's apparently also free of toxins and pollutants.
You must also be aware that the rear brake is a coaster brake, which are popular on the continent, but not so much here in the UK. This means your child needs to back pedal to activate the rear brake. Some kids love this, others struggle to transition from using two lever brakes.
Puky have several have different designs available, with varying amounts of accessories (such as baskets) and components fitted.
We know someone who has used a Puky bike for riding to school all year round and they've been very pleased with it, especially as their Sprog wanted a more upright riding position.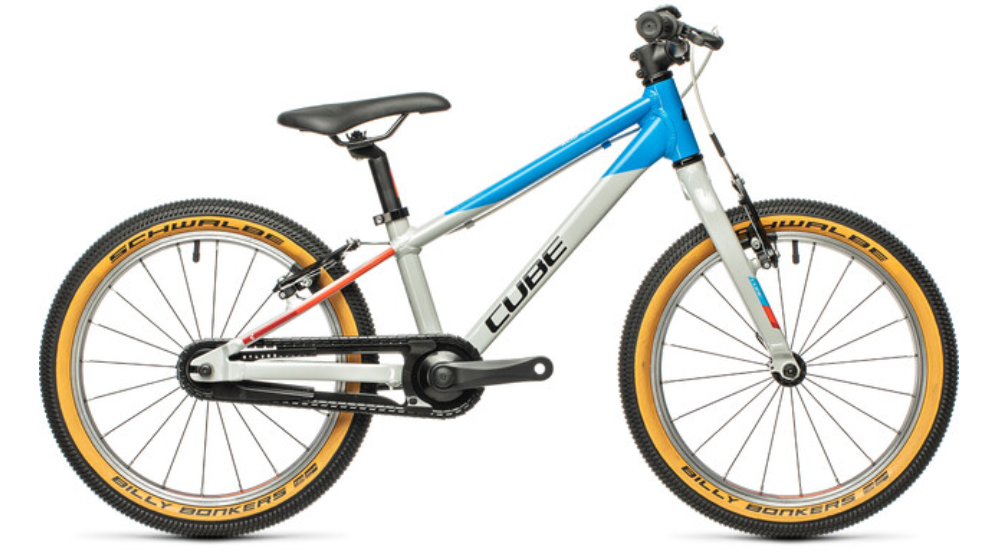 Cube Cubie 180 Key Data:
Price: £349
Standover height:  48.5cm
Bike weight: 7.5kg
Frame: Alloy
Tyres: Schwalbe Black Jack
Gears:  No
Brakes:  Alloy V-Brake With Powermodulator
Colours:  Blue/White and Indigo/Mint
Accessories: Can be fitted with training wheels/Stabilisers
Warranty: Frame and Forks – 6 years; components – 2 years (excluding wear and tear)
If your Cycle Sprog is desperate to get a proper mountain bike but isn't quite old enough to handle a 20″ wheel bike with gears, then the Cube Cubie 180 should keep them happy during the waiting phase.
The Cubie 180 is inspired by Cube's adult and junior range of mountain bikes – we've reviewed a couple of Cube's kids mountain bikes and have been really impressed.
Cubes only 18″ wheel bike has a lightweight aluminium frame and forks that have been designed to take the knocks and scrapes a little shredder will undoubtedly give it.
The Cubie 180 has front and rear V brake bosses so your child can learn how to control their speed using brake levers designed for little hands.
The single-speed Hudson 25T chainset is fitted with a chainguard to keep the chain away from legs and clothing.
The Cubie 180 comes with new width Schwalbe Black Jack tyres which are a mountain bike tyre suitable for all terrain types.
The good news is there's no heavy suspension or gearing to weigh the Cubie 180 down, meaning it weighs only 7.5kg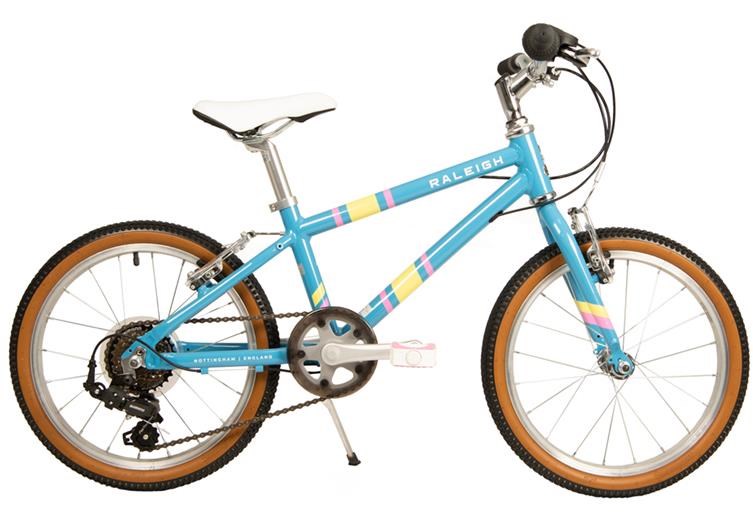 Raleigh Pop 18 Key Data:
Price: £230
Suggested Age Range: 5 – 7 years
Height range: 112 – 125cm
Bike weight: 9.9kg
Frame: Aluminium
Tyres: 18 x 1.50, black tanwall with puncture protection
Gears:  Yes – 6 gears (Shimano Tourney TZ20 14-28 x 32T)
Brakes:  Aluminium V-brake with adjustable 3-finger brake levers
Colours:  Green, Blue
Warranty:  Standard 12 months – register bike on Raleigh's website
If you're looking for an 18″ wheel bike with gears, but don't have the cash to spend on the Black Mountain, then at the other end of the price spectrum is the Raleigh Pop 18.
Whilst the Pop is almost 2 kg heavier than the Black Mountain it is lighter than a lot of similarly sized kids bikes because it's got an alloy frame.
Other components on the Pop 18 are mainly steel, so will be heavier and may rust more easily than some of the more expensive bikes so do make sure you keep it well maintained, especially after riding in the rain.
If you're looking for a geared 18″ wheel bike for some fun and don't want to spend too much then the Raleigh Pop 18, with its eye catching paintwork, is well worth considering.
DISCONTINUED 18″ WHEEL KIDS BIKES
The following bike(s) have been discontinued, but we've left them in here in case you are buying one secondhand
Cycle Sprog reviewed and recommended brand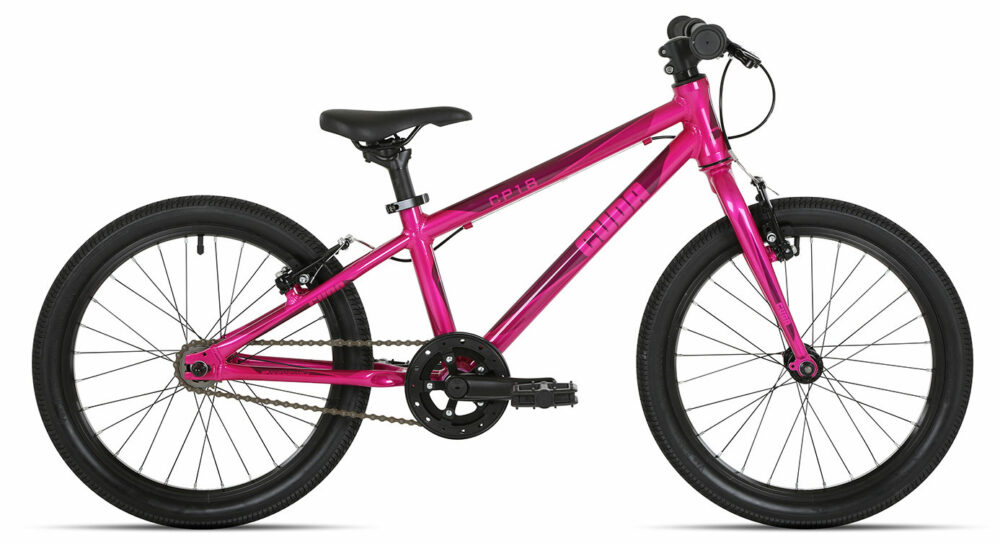 Cuda CP18 Key Data
Price: £250 in 2019
Saddle height: 53cm to 66cm
Bike Weight: 8 kg
Available colours: Pink, green, red
The Cuda CP18 was a well specified 18″ wheel bike which had a lot of thought and consideration going into the design.  The bike was sadly discontinued at the end of 2019, but The Bike Club already had a few in their fleet, so it is possible to get to lease one when they become available.
We've reviewed a few of Cuda's larger geared bikes and have always been impressed with the build quality and performance.  
The Cuda CP18 wasn't around for very long and therefore doesn't often come up secondhand on eBay but it's worth checking as they do sometimes make an appearance. Cuda do other bike ranges in 18″ wheels, which are heavier and less well specified, so make sure you check the listings so you're aware of which bike you're getting. 
This post was first published in December 2017 and updated in April 2021 to reflect the 18″ wheel bikes currently available.
If you've enjoyed reading this article, please do sign up for our newsletter - we'll keep up updated when we have new articles which may be of interest. Thanks! 
Support Cycle Sprog!
If you've found this article useful you can buy us a virtual coffee (or two!) to say thanks and help us keep the Cycle Sprog website going. 
Other articles you may find useful: