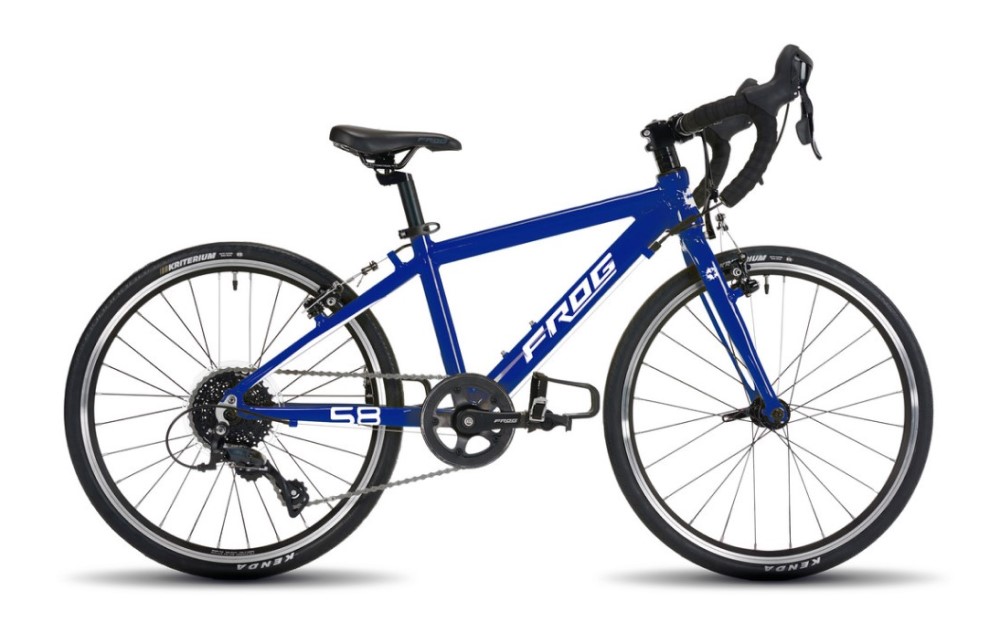 Reviewed and Recommended by Cycle Sprog
The Frog Road 58 has been reviewed by our testers and got the thumbs up!
Read our review
Frog Bikes are one of the best known quality kids bike brands and the Frog Road 58 is their smallest drop handlebar offering, designed for riders with a minimum inside leg of 58cm (approximately 6 to 7 years old).
The Frog Road 58 makes a good first drop handlebar bike for those wanting to start riding on roads, circuits or at cyclocross events.
The bike weighs in at only 8.2 kg, making it easy for young riders to manoeuvre.   It's specified with 9 gears, narrow and short-drop child-specific handlebars, with Microshift short-reach brake levers. 
The frame has clearance to fit both slick road tyres and more grippy cyclocross tyres, which makes this a good choice kids bike for youngsters racing in triathlons and cyclocross as well as riding on the roads. 
When we reviewed the Frog Road 58, one thing our 7 year old tester really liked is that it comes with auxiliary brake levers on the handlebar tops. These are very useful if your child is not confident enough to lean forward onto the drop handlebars.   
You can subscribe to the Bike Club and get the Frog Road 58 for a low monthly cost. When it gets too small just upgrade it for a bigger Frog. 
Learn more: Introducing Bike Club subscription kids bikes, a better way to get your child riding?
Not the bike you're looking for?
Search our database of kids bikes to find the perfect one for your Cycle Sprog