If you're buying a bike for a child, then you're probably wondering where the best place is to buy one from.  A new bike day is such a memorable occasion for a child – whether it's a birthday, start of the school holidays or just because they've grown.  And you certainly want to make sure you buy the best bike possible, at the best possible price. Buy wisely and you'll be giving a bike that brings so much joy all year round. Get it wrong, and there could be tears by this time next week (Read this post about what happens if you buy a really cheap kids bike).
This year, it's slightly more complicated when it comes to buying a kids bike, as there is such little stock left in the shops after the huge surge in cycling during the first lockdown, coupled with various supply issues.
Don't expect to get any huge discounts on kids bikes in the sales this year, and be prepared to shop around to find retailers that have quality kids bikes in stock.  Our advice is to buy or rent early to avoid disappointment, and if you do find one in stock that you like don't expect it still to be available when you come back in a day or two's time.
Take a moment to GRAB YOUR FREE KIDS BIKE BUYING CHECKLIST which will help you record all the information you need to find the perfect bike for your child. 
The best places to buy a kid's bike
In this post, we will take a look at the pros and cons of each place to buy a kids bike so you can decide which option is best for you and your wallet.
At this point I must make it clear that some of the links in this post are "affiliate" links, which means if you click on them and make a purchase then Cycle Sprog may get a small commission. It doesn't affect what you pay but does allow us to keep on writing helpful posts about cycling with children (our own Sprogs need feeding!) Thanks for your support.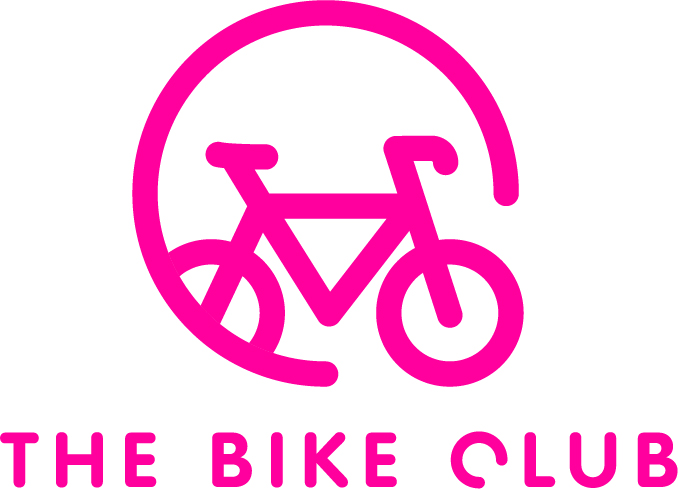 OK, so you're not actually buying a bike outright with The Bike Club, but with things so uncertain financially at the moment they offer a hassle free and cheap way to get your child a great quality new or used bike.  You pay them a monthly subscription fee and choose the size bike your child is riding now. 
When they grow you send it back, and either cancel your subscription or upgrade to the next size bike.  It's cheaper and more environmentally friendly than buying a bike and has become a really popular way for parents to keep their Sprogs in quality bikes since they launched several years ago.
The only rent great quality bikes which have been through their workshop before being sent out. We've reviewed all the brands they lease including Forme, Frog, Squish, which is why we are happy to recommend them all to our readers. 
Pros of renting a kids bike through The Bike Club
No upfront costs – you pay a small monthly subscription fee
You can choose a bike that fits your child now without worrying they will grow out of it by the time the nice weather arrives
Environmentally friendly method of bike ownership – each bike is serviced and used many times
Easy upgrades when your child outgrows the bike
All their bikes are really good quality brands – decision making is much easier
At the time of writing, they had stock in every wheel size – not many other places had this!
They will even buy your old kids bike from you – in a really hassle free way. 
Cons of renting a kids bike through The Bike Club
You need to pass their credit checks
Unless you choose the option to buy the bike at the end of the lease period there is nothing to hand down to younger siblings.
You need to send the bike back in a reasonable condition, so must look after it during the rental period
They may not have the bike you want when the time comes to upgrade to the next size (but you can just cancel your subscription)
Rent Now
Option 2: Proper bike shops with online ordering
Buying online from a reputable bike shop is one of the best ways to ensure you're getting a decent bike, delivered straight to your door.
Most have low stock levels at the moment, but are worth keeping an eye on everyday as some bikes are coming in (and then selling v quickly).
Online bike shops that sell good quality kids bikes include:
Tredz – stockists of Forme, Specialized, Frog, Giant, Orbea, Cannondale, Cube, Cuda, Ridgeback, and Scott. 
They have a really handy check box that means you can choose to see only in-stock bikes, which really speeds things up. 
Buy Now
Chain Reaction Cycles – stockists of Vitus Bikes and some other brands when stock is available  
Chain  Reaction  Cycles  are another good place to check, as they too allow you to filter only on in-stock bikes – and they even allow you to see from their main selection pages which colours and sizes are in stock.  When you've been searching for ages only to find that a bike that's listed on a website is out of stock when you get to the checkout, you really appreciate these things!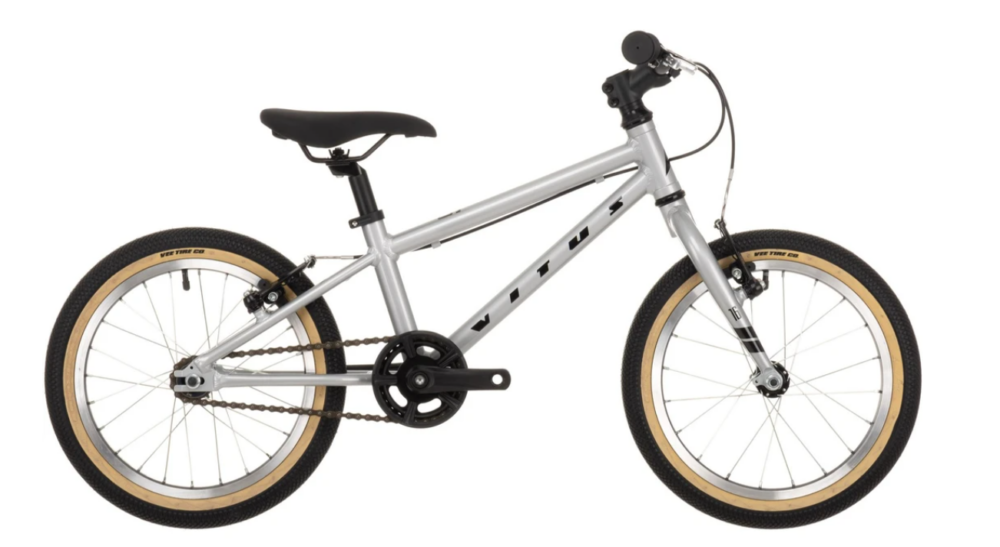 Buy Now
Little Bike Company – stockists of Woom Bikes
The Little Bike Company are a lot smaller – a small independent bike shop who sell nothing but kids bikes.  Their stock of Woom Bikes sells really fast, so you need to get on their mailing lists and keep an eye on their website.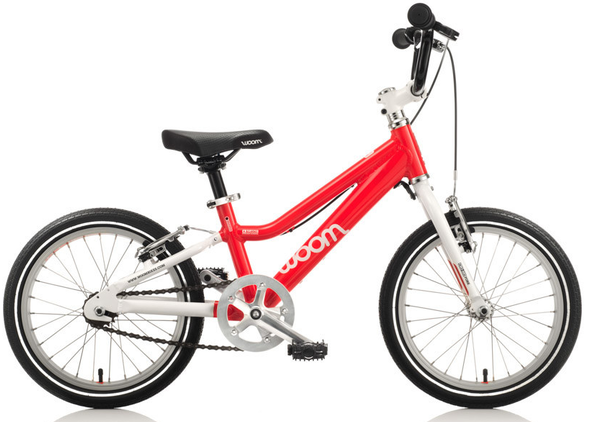 If you're buying a bike online, here are a few things to think about: Pros of buying a kids bike through an online bike shop
Quick and hassle free ordering at a time and place to suit you
Online bike shops stock a range of brands allowing you a choice of models, sizing, and colours
The store will do the pre-sale checks on the bike, ensuring it is safe prior to dispatch (note you will probably have to do some minor adjustments when it arrives)
You're dealing with a "proper" bike store – they sell nothing but bikes, so they will be able to answer any questions you have – look out for their "pop up chat" facilities, or drop them an email if you have any questions
Reputable online bike shops will have a returns policy, so if the bike isn't right for your child you can return it for one that is (for example, Tredz has a 365 day returns policy for unridden bikes – there is a £35 return fee to pay for collection)
Cons of buying online from a bike shop
You will have to do some element of assembling the bike – this may involve straightening the handlebars, or adding pedals – if you're not comfortable doing this, take the bike to your local bike shop and pay them to do it
You'll have to be in to take delivery of the bike
You can't try before you buy
You may have to pay to return the bike if it's not correct
Option 3: Your local bike shop
The other end of the scale to the large online bike shops is your local bike shop (if you're lucky enough to still have one).  Every local bike shop is different, with different specialisms so try and choose one with a good range of kids bikes on display. Brands popular in local bike shops include Frog Bikes, Squish, Cuda, Giant, and Cube. Bike shops were deemed an essential service under lockdown rules, so don't forget that you need to use them to avoid losing them.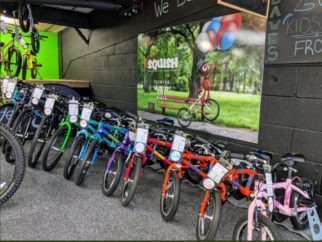 Pros of buying a kids bike at your local bike shop
You get to try before you buy and see exactly what you're buying
They can fully assemble the bike for you ready for your child to ride
If you have any after sales issues they're close by and you can resolve in person
You're supporting your local bike shop – use them or lose them
Cons of buying from your local bike shop
You will be limited to the brand(s) that the shop stocks – most independent bike shops stock just one or two brands
Some people feel intimidated going into a bike shop – you shouldn't and, hopefully, the staff have been trained in how to sell kids bikes. Don't feel embarrassed to ask questions, to ensure that you're getting the right bike for you.  Download our free bike buying guide and you'll be prepared.
Local bike shops aren't always able to offer the same discounts that the online shops can
IT IS A DIFFICULT TIME FOR INDEPENDENT BIKE SHOPS – PLEASE DON'T GO AND USE UP THEIR TIME TESTING LOTS OF BIKES AND THEN GO AND BUY FOR £5 CHEAPER ONLINE. 
Option 4: Direct from the bike brand
Some kids bike brands are only available to buy online direct from the manufacturer.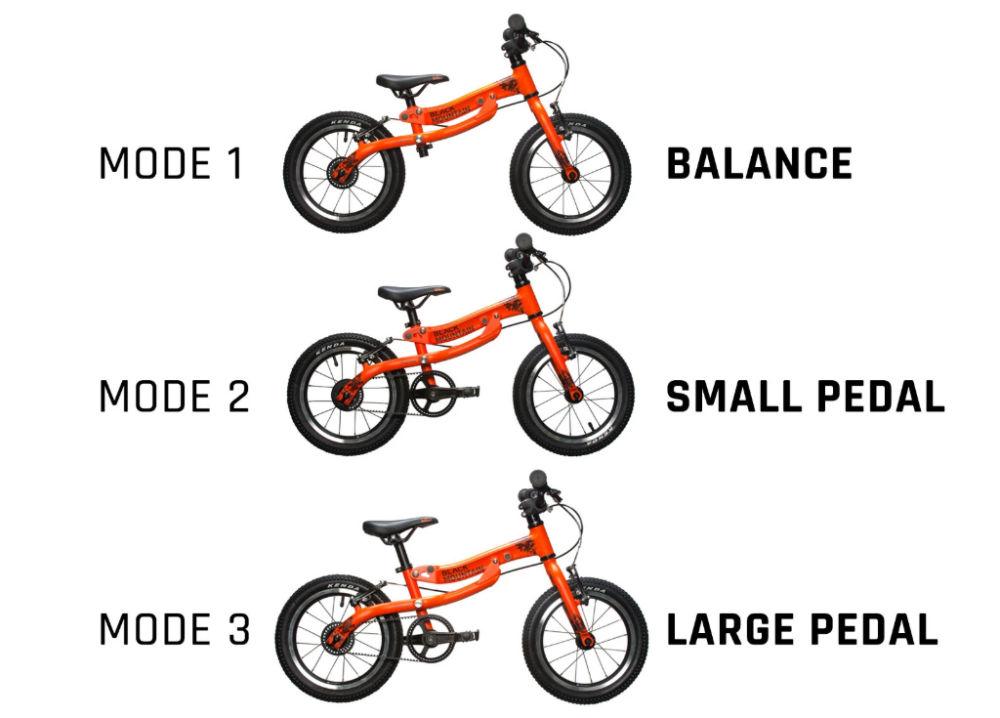 These include:
Black Mountain Bikes – innovative new "growing bikes" (pictured above) that mean you don't need to buy a new bike as frequently.  They've already sold out of the smallest PINTO with no new deliveries until 2021.
Islabikes – the original quality bike manufacturers
Early Rider and Canyon – for those who prefer off road riding
Pros of buying direct from the manufacturer
It's the only way to get a new bike from the brand
They're experts in kids bikes and selling online so you should get excellent service
Cons of buying direct from the manufacturer
You can't try the bike before you buy
These brands rarely have any Black Friday or Christmas discounts – they know they sell as premium products and keep their prices steady all year round
Option 5: eBay or other second hand sites
If you're looking for a great bike at a low price, buying second hand may be the best option given the low stock in shops and the difficulties in getting to them. There are now so many decent quality kids bikes around from names such as Islabikes, Frog, and Hoy that there's usually plenty of options available second hand, as children are growing out of the bike long before it comes to the end of its natural life.
Buy Used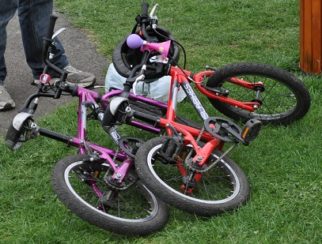 Pros of buying second hand
You can often get a decent expensive bike for the price of a cheaper, lower specification model
You're helping the environment
Cons of buying second hand
Option 6: Halfords
Halfords are one of the most popular places in the UK to buy a kids bike, but do be careful that you're picking a decent, lightweight bike that you're child is going to enjoy riding for several years to come. They have unfortunately just discontinued their Wiggins brand, but their Carrera bikes are good value. 
Beware that Halfords also sell some very heavy, cheap bikes that your child will not enjoy riding anywhere near as much. You're much better off buying a quality second hand bike a the same price. They have very limited stock at the moment, but say that they do have more stock arriving in early December.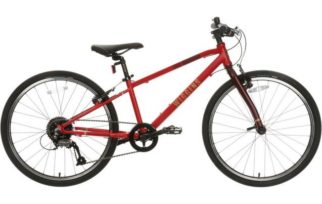 Pros of buying from Halfords
Halfords sell some very reasonably priced, aluminum framed kids bikes such as the Carrerra range.
You can buy online or in store, and have home or instore delivery
Cons of buying from Halfords
They sell some very heavy kids bikes so don't get tempted by the cartoon characters or handlebar tassels if you want a quality bike your child is going to love riding for years to come whatever the weather, whatever the terrain
Frame: 3 years Fork: 2 years Parts, Paint, Decals: 1 year
Option 7: Discounting warehouses
Traditionally the large discounting warehouses only sold very heavy kids bikes, and we'd never recommend buying a bike from them. However, Go Outdoors have recently started stocking their own brand called "Wild Bikes" which are good quality, lightweight kids bikes.  **Update January 2021 – We suggest you check the Trust Pilot reviews for Go Outdoors before ordering online to see if their issues with stock have been resolved.  Since they went into administration they seem to have been plagued by difficulties – the bikes are good, the logistics and reliability not so, it may be best to actually go to the store and have the bike in your hand before passing over your cash ***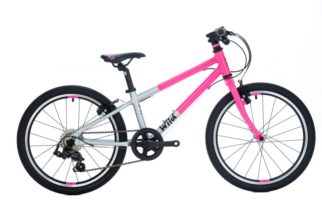 Pros of buying from a discounting warehouse
Price – due to the quantities shifted, the prices are very keen
Cons of buying from a discounting warehouse
Staff don't all have the same depth of knowledge about bikes as in a bike shop so you need to know what you're looking for
Variety of bikes varies – they do tend to sell heavier bikes
Can be issues with ordering process and can be difficult to sort any problems out.  We recommend you check Trust Pilot for the current position on their customer service and order times before making a purchase online.
Option 8:  Catalogue stores
We don't recommend you buy a bike from a catalogue store. Not on Black Friday, and not any time of the year.  If you want to know why, select a kids bike on their website and sort the reviews from the lowest to the highest. Read the reviews with the lowest reviews and you'll understand why. Alternatively, read our blog which has done this for you. Pros of buying a bike from a catalogue store
You'll get a cheap item (usually under £100)
Cons of buying a bike from a catalogue store
There's a chance it won't make it to Boxing Day – some of the "bikes" on sale via catalogue stores are incredibly poorly made and we often hear tales of children disappointed when their bike breaks during the first ride
You need to have peace of mind that the brakes will work properly on any bike you buy. Many very cheap "bikes" have issues with brakes snapping, and won't have brake levers designed for children's hands.
Many people report bikes being broken on arrival, or impossible to assemble
Option 9: Toy Shop
In general, we don't recommend you buy a kids bike from a toy shop. A bike isn't a toy, it's a bike. Usually, bikes from toy shops are cheap, heavy, and gimmicky. However, there are some exceptions to this rule, so if your local toy shop stocks a well made, reputable brand that we recommend on this website, then go ahead and support them.
We hope we've helped you make up your mind on the best place to buy a kids bike.  Now all you need to do is choose which bike will suit them best, and make sure you get your order in before they all sell out!  Do drop us a comment below and let us know where you ended up spending your money, and what you thought of the experience.
If you've enjoyed reading this article, please do sign up for our newsletter - we'll keep up updated when we have new articles which may be of interest. Thanks! 
Here's a few other posts that may help you make that decision:
Disclosure:  Cycle Sprog uses Affiliate links, which means we may get a small commission if you buy through the links on this page. This helps us to keep the website going – thanks for your support.
Support Cycle Sprog!
If you've found this article useful you can buy us a virtual coffee (or two!) to say thanks and help us keep the Cycle Sprog website going.