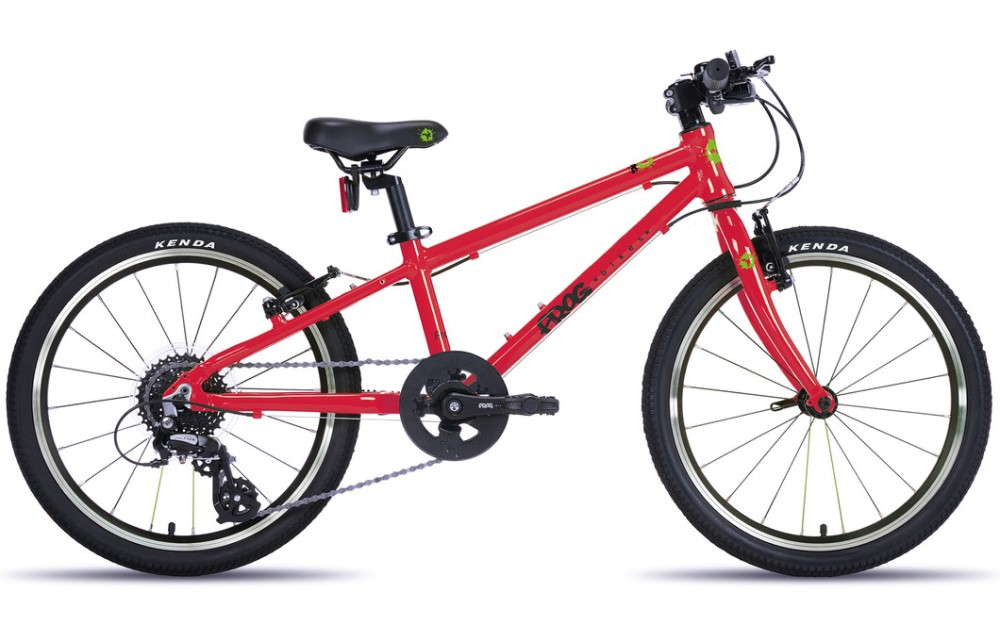 Recommended by Cycle Sprog
We've not tested this bike, but have reviewed other Frog bikes and are happy to recommend them.
The Frog 52 is Frog Bikes smallest geared bike and is designed for children with an inside leg of 52cm and over. This can be about 5 years of age, but all children are different so do measure them carefully to check you're buying a bike that fits. 
Frog Bikes are renowned as one of the most popular and reliable kids bike brands, and the Frog 52 therefore has everything you'd expect to see on a bike of this size.   
The gears are easy for a novice to use – there's a single chain ring at the front so your child doesn't have to worry about changing gear with both hands.  The 8 gears are operated by an easy to use thumb shifter designed for small hands, and the spread of gears should help them get up all but the steepest of hills. 
When they do have to get off to push the lightweight frame makes this easy, plus it's kind on your back if you're lifting the bike up stairs / steps or onto a car roof rack. 
There's plenty of room for growth with the Frog 52. The handlebars can be lowered or raised within a range of 54mm and it's easy to adjust the seat height using the quick release system. 
There is a slightly bigger 20″ wheel bike in the Frog pond, so if your child has an inside leg of 55cm or over it's worth getting them the Frog 55 instead as they'll have more room for growth. 
If a bike with gears isn't suitable for your child, there's also a Frog 52 single speed which is slightly lighter and cheaper. 
The resale value of a well maintained Frog Bike is excellent, so look after it well and you should be able to sell it on when your child outgrows it. 
We've not reviewed this particular bike, but have reviewed the Frog 55, which is a slightly larger 20″ wheel bike. We were impressed with its handling and longevity and are therefore happy to recommend this bike. 
You can subscribe to the Bike Club and get the Frog 52 for a low monthly cost. When it gets too small just upgrade it for a bigger Frog. 
NEW YEAR OFFER!  Get your first month and delivery FREE on all bikes at the Bike Club
Not the bike you're looking for?
Search our database of kids bikes to find the perfect one for your Cycle Sprog