Having made a significant impact upon the kids bike scene with their hybrid, road and track bikes, Frog has recently introduced mountain bikes to their range. These hard tail MTB's are a natural progression for those looking to take their riding adventures a little deeper off-road and come with a front suspension fork. The Frog mountain bikes are available in three sizes to cater for kids aged from around 8 up to 14 years. There's a 24″ wheel bike (Frog MTB 62) and two 26″ wheel versions – the Frog MTB 69 and Frog MTB 72 (for slightly taller kids).
Frog Bikes kindly sent us one of their Frog MTB 69 26″ wheel mountain bikes over the 2018 summer holiday for our 9 year old Cycle Sprog T to review.  
Cycle Sprog is an family run, reader supported, website. We belong to several affiliate schemes so may receive a small commission from sales made from links on our site. We do our best to be impartial and recommend products on their quality not whether they are in a scheme.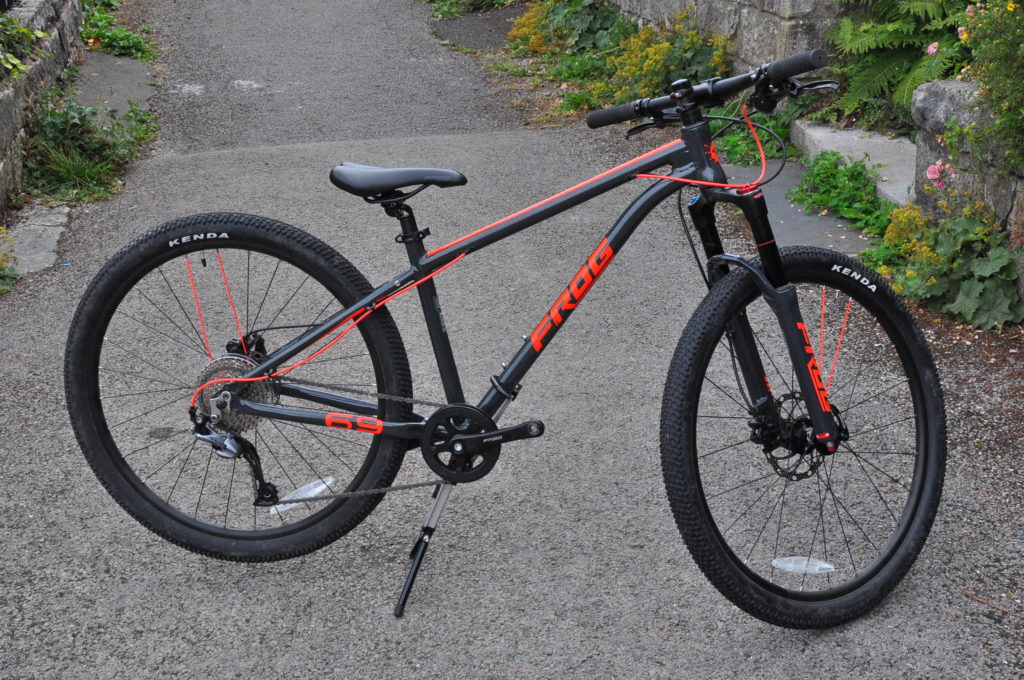 First impressions of the Frog MTB 
Whilst you can buy Frog Bikes from internet retailers and have them delivered to your door, Frog have a wide network of local bike shop distributors, who they were keen to showcase. It certainly made a nice change just driving to our local bike shop (in this case Wheelbase Cycles in Staveley, Cumbria) to pick up the fully assembled and safety tested bike, rather than having to deal with unpacking a bike box and spending time building it up.
SAVE £5 ON FROG BIKES AT TREDZ: Sign up for the Tredz Bikes newsletter (you can do this from the bottom on any bike page) and they'll immediately send you a code to get £5 off your first purchase
Our first impressions of the Frog MTB 69 were very positive. We'd obviously seen photos of the bike, but it looked much better in real life. 
The bike has a clean, retro look – the frame (6061 T6 heat treated, aluminium alloy) has quite narrow tubing that we're more used to seeing on steel framed bikes. It's a look we like, as it makes a change from the majority of wider tubed mountain bikes that dominate the market at the moment.   
The welds are fairly industrial, and in a slightly unusual feature on kids bikes there's an insert between the junction of the head tube and the down tube, and (in our opinion) an attractive bend in the downtube.
The paintwork has an almost glittery sheen in the sunlight, yet the gunmetal grey looks as if it will hide some mud – always a positive!  The cables are internally routed through the top tube, helping to reduce the risk of snags when lifting the bike.
The Frog branding is more mature on their mountain bike range than on their smaller bikes.  There is only one small Frog 'splash' logo on the front to keep the consistency going. 
Both our Sprogs really liked the colour scheme – the orangey red against the grey is really quite striking, and there's the trademark Frog coloured wheel spokes on both of the quick release wheels, which caused quite a few positive comments during the test period. The bikes also come in grey and green colour options for the 26″ bikes and grey/blue for the 24″ wheeler.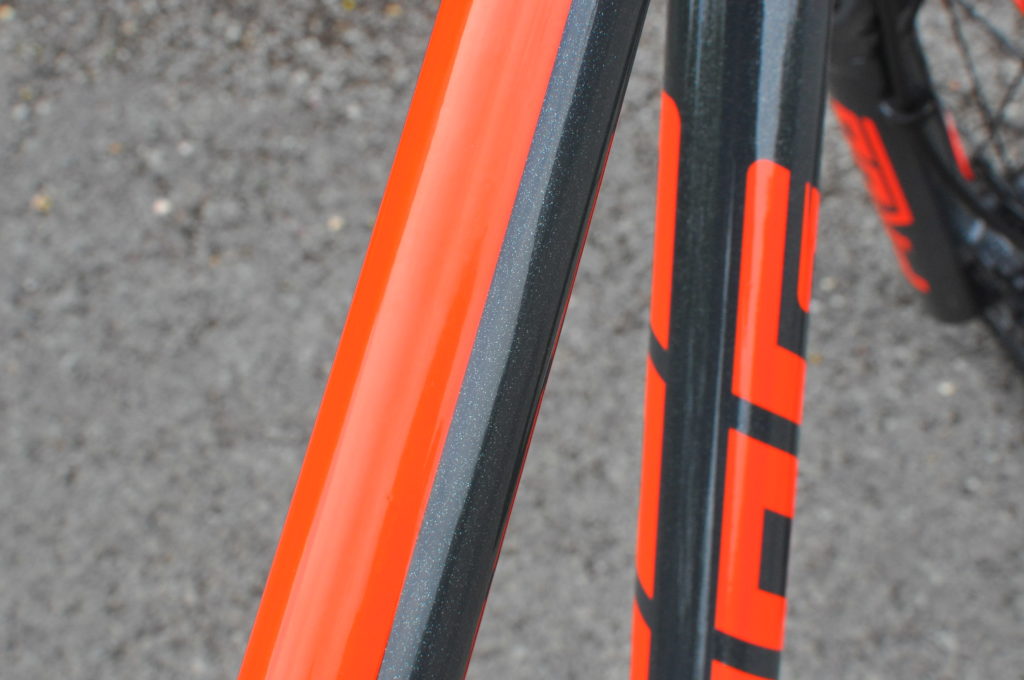 Weight wise, the bike was light and easy for our reviewer to pick up and manoeuvre. The Frog website gives the weight of the bike as 11.4 kg and we measured it at 11.8 kg including pedals.
In terms of sizing, the seat post has plenty of adjustment – our 9 year Sprog was at the lower end of the spectrum, with plenty of room for leg growth. There's also a flippable stem so you can adjust the handlebars to suit the height of the child.
The saddle and cranks look proportional to the bike, and the brake levers can be easily adjusted to suit hand size.   The wheelbase is pretty long and the head angle looks fairly slack, so should be stable and fairly easy to ride.
The bike has mounting points for a rack or mudguards on the rear as well as bottle cage mounts on the down tube.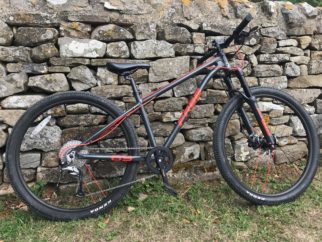 The handlebars on the Frog MTB 69 aren't all that wide (560mm) – so no need to cut down, although we did wonder how Cycle Sprogs who prefer wider bars would fare.
Our only initial concern was on the tyres – the Kenda K1153 are 1.95″ wide and didn't appear to have very big lugs (the raised bits on the tyre that give traction).  We were expecting them to look quite different to the standard Frog hybrid, but they seemed rather familiar. 
A quick visit to the Frog website confirmed that they are indeed the same tyres as those fitted to the Frog 69 hybrid bike.  Not quite what we were expecting as this is the mountain bike of the range. Great for hardpack or dusty trails, but would they cut it when the going gets sloppy?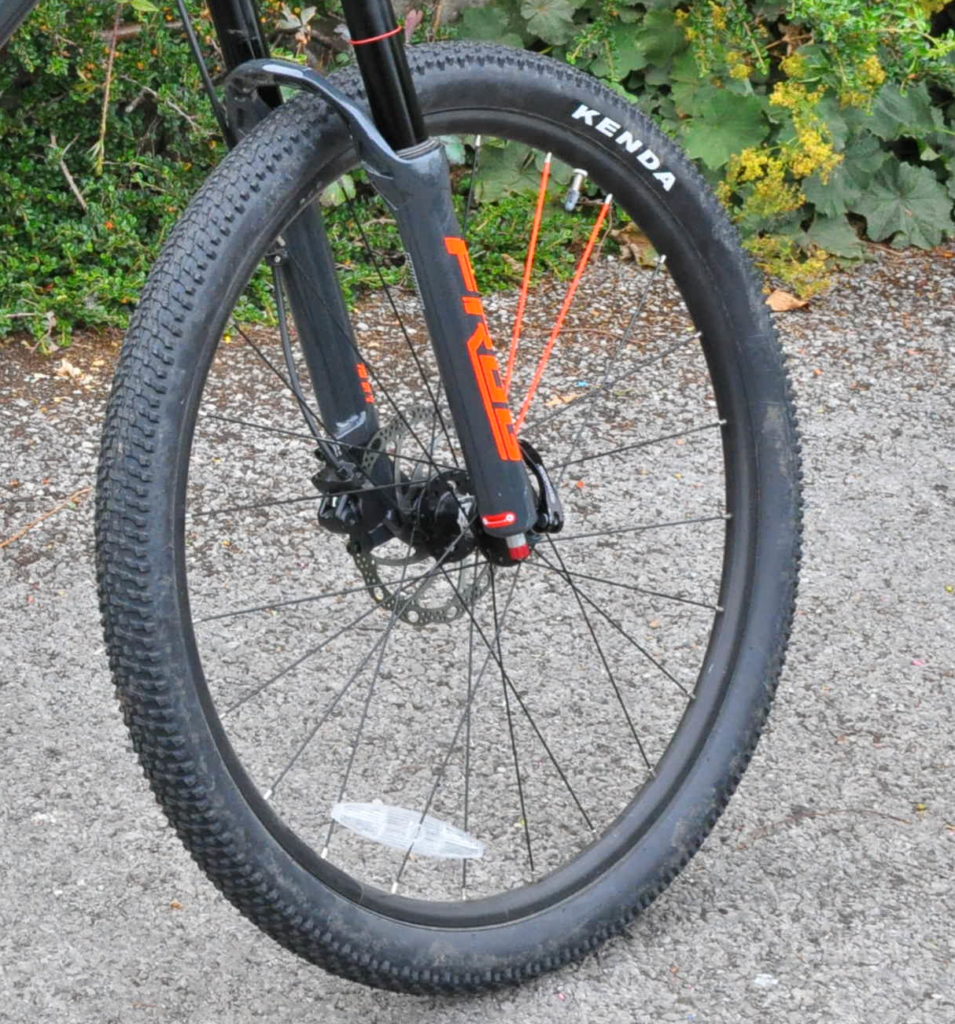 Of course, we all know that looks can be deceptive, so we headed out onto the trails to see how the Frog MTB 69 would handle all that T could throw at it.
Frog MTB 69 Review
First ride out for the Frog MTB 69 was quite a big one – we'd been invited to go to ride the newly opened Swale Trail in the Yorkshire Dales.  The start of the trail from Keld is rather technical, so it gave T a chance to immediately put the Frog MTB 69 through its paces.
The bike handled well, with the Tektro hydraulic disc brakes getting an early work on the steep terrain. This meant T quickly gained confidence in the bike, and he was happy to ride it hard and fast down the gravel descents, such as this one.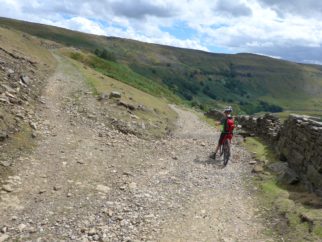 Our test period started towards the end of the 2018 heatwave, and the bike handled well on the dry rocky and gravel surfaces, with the tyres gripping sufficiently for T to remain confident.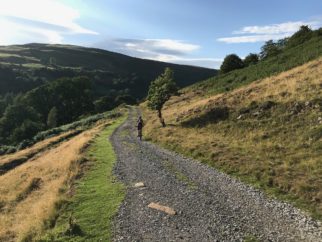 Short sections of the trail were on road, and the tyres were nice and quick rolling on the tarmac.  Frog have fitted their own brand cranks, and we had no complaints about comfort of the ride or any difficulty pedalling.
It was a long day (28 miles), and on the return journey there were a couple of steep sections at the end that tired legs couldn't manage.  Thankfully the lightweight of the Frog meant that T was able to do most of his own pushing – always something we're very keen on with a kids bike!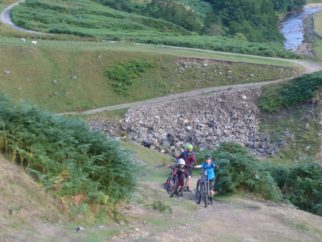 After our cross country Swale Dale adventure we headed over to Dalby Forest on the edge of the North Yorkshire Moors to put the Frog MTB 69 through it's paces at a trail centre.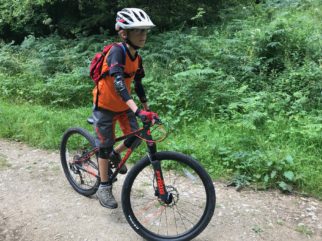 On the first day we rode just over 17 miles – doing the fabulous single track of the Newclose Rigg red graded trail, and then spent some time on the pump track and skills loops. The air suspension forks got most of their 100mm of travel tested and performed well.
Frog have designed the forks themselves, and they come with lockout, damping and rebound control. (Note, the Frog MTB is NOT intended for aggressive downhill riding, jumps, dirt jumps or freeride, as it will void the warranty of the fork).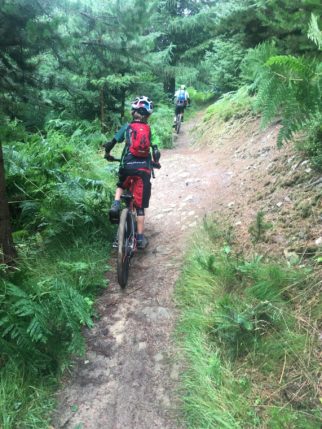 For the entire day the Frog handled everything T asked of it, including a very steep 14% ascent on road at the end of the day.
Tyres on the Frog MTB 69
On the second day at Dalby, the heatwave broke, and we ended up riding through a torrential thunderstorm whilst on the Jerry Noodle red graded route.  The trail quickly turned muddy, and this gave us a chance to test the Frog over 9 miles in slightly more muddy conditions (although nothing like winter conditions as the trail was drying quickly in the heat). 
As we'd suspected, the lugs on the tyres just weren't going to cut it in these conditions. The tyres very quickly clogged up, and due to the small and tightly packed lugs they remained that way as they weren't able to shed their sticky load. This resulted in T really struggling to maintain grip and traction on the trails.  Here is a picture of his clogged up hybrid tyres: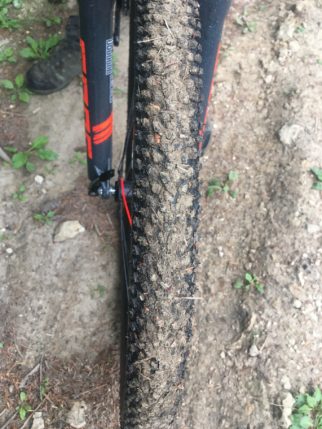 And now his brothers mountain bike tyres, which had ridden the same section of trail: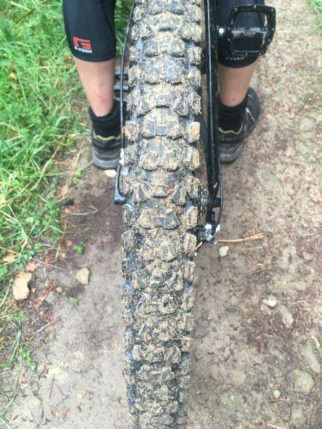 This loss of traction obviously affected his confidence in his ability to ride the trail. It is disappointing that Frog haven't specified a tyre more suited to year round off road conditions, as most kids who go out mountain biking will end up riding through sticky wet stuff at some point.
Editor update 2021: Since this review was published in October 2018, Frog have updated the tyres on this bike to be Kenda K1134, 26″ x 2.1″ MTB tyres, so hopefully you won't have this problem on a newer model. 
Soaked to the skin, we returned home and swapped the Kenda K1153 tyres for something with a bit more grip that we had lying around. The clearance between back wheel and frame is not massively generous but we managed to fit a pair of 2.2 width Continental Mountain King tyres to the bike which were just fine for the job in hand. The rest of our review is therefore based on riding with our own tyres.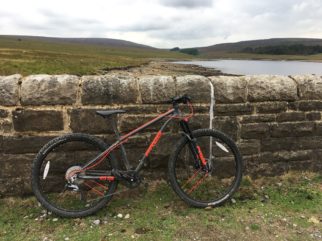 Testing out the new eco rice pedals
Interestingly, the Frog is supplied with new eco-friendly rice pedals which they've been working on perfecting. I'd been really keen to find out how these would work when wet, as I know that Frog's main rival in the quality kids bike market had been struggling with their rice pedals being too slippy in the rain.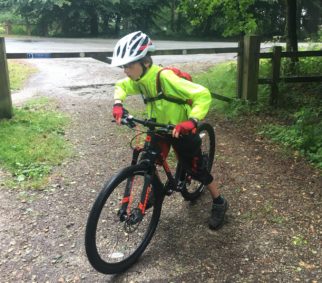 The good news is that T had no problems at all with the pedals during the downpour, although obviously he was wearing heavy duty trainers rather than smooth bottomed school shoes.  He also really liked the fact the pedals were made of rice husks – it's great to see these environmentally friendly features becoming standard issue on kids bikes.
Suspension on the Frog MTB 69
On our next adventure, we returned to Dalby and camped at a site that had a little bump in the grass that was just perfect for practising some skills on, with a bit of manualling thrown in for fun.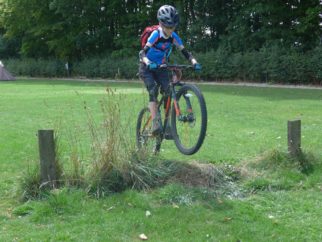 T is much better than me so he ran a little teaching session where we did the same technique over and over again, until I got it sussed. Suddenly he complained that the forks on the Frog weren't working as he'd expect – they were low on pressure.
Thankfully the onsite bike shop at Dalby Forest were really helpful and it required nothing more than pumping little extra air into the system to get them functioning again, but it's worth noting this isn't something we've experienced with the other mountain bikes he's tested previously.
We headed out onto the trails, and with the new tyres and fully working forks T was back to full confidence and putting the Frog MTB 69 through its paces once more.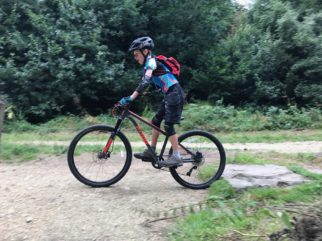 We had no more problems and a great couple of days at Dalby clocking up another 30 miles on the red and blue trails and perfecting our techniques at the skills area.
Getting up hills
Next stop for the Frog MTB 69 was the Hebden Bridge area of West Yorkshire, for some more cross country riding.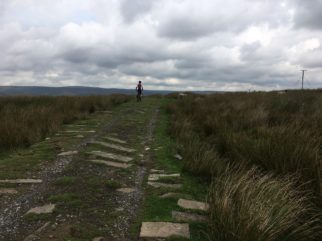 As the town is in a base of valley, and all the routes go up the steep valley sides, this was a great opportunity to put the 9 speed Shimano gearing on the Frog MTB 69 to the test.  One day we climbed over 1,000 feet in just 3 miles – the return journey was much quicker!!  T found the gear shifter easy to use, and the single 32t chainring at the front means there's no additional complexity of a left hand shifter.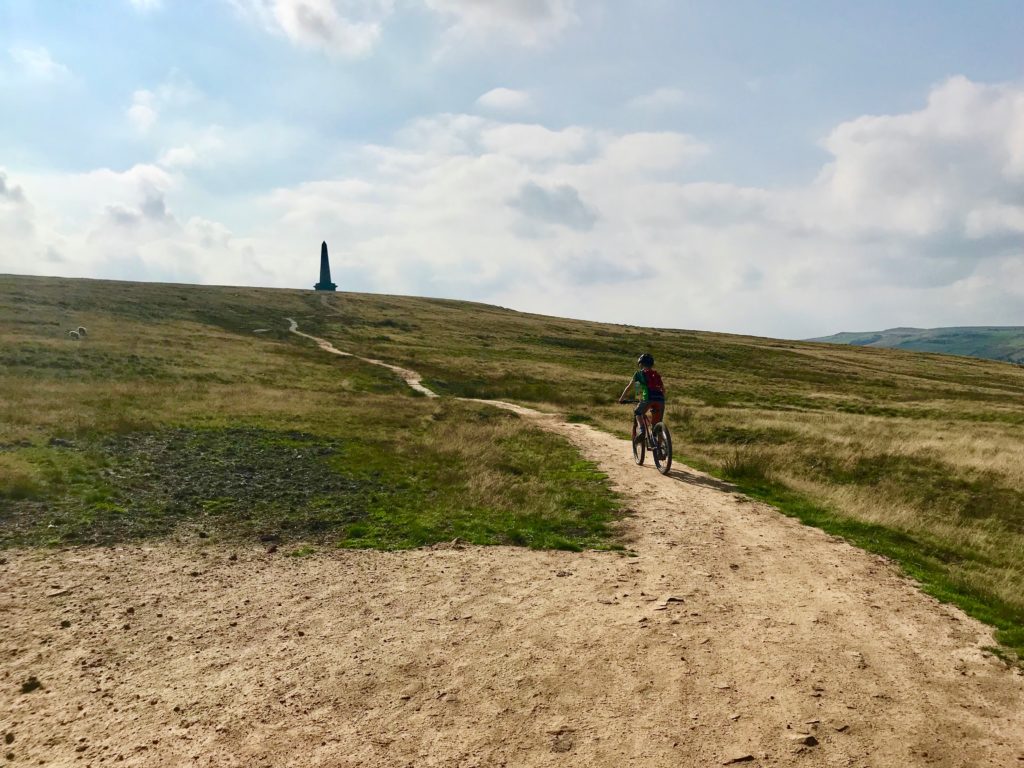 The gear shifter is operated by pushing away from the rider to go into the lower gears and pulling towards them to shift into a higher gear. T found these easy to adapt to and we had no complaints with changing gear during the review period.
The Shimano Alivio HG-400 12-36t cassette was sufficient to get him up everything we rode, although he did have to readjust his riding style to being out of the saddle most of the time to get him up the steeper sections. The last bike he had on test came with a cassette featuring a huge 46T sprocket, so he had got used to being able to just sit and spin his way up very steep hills!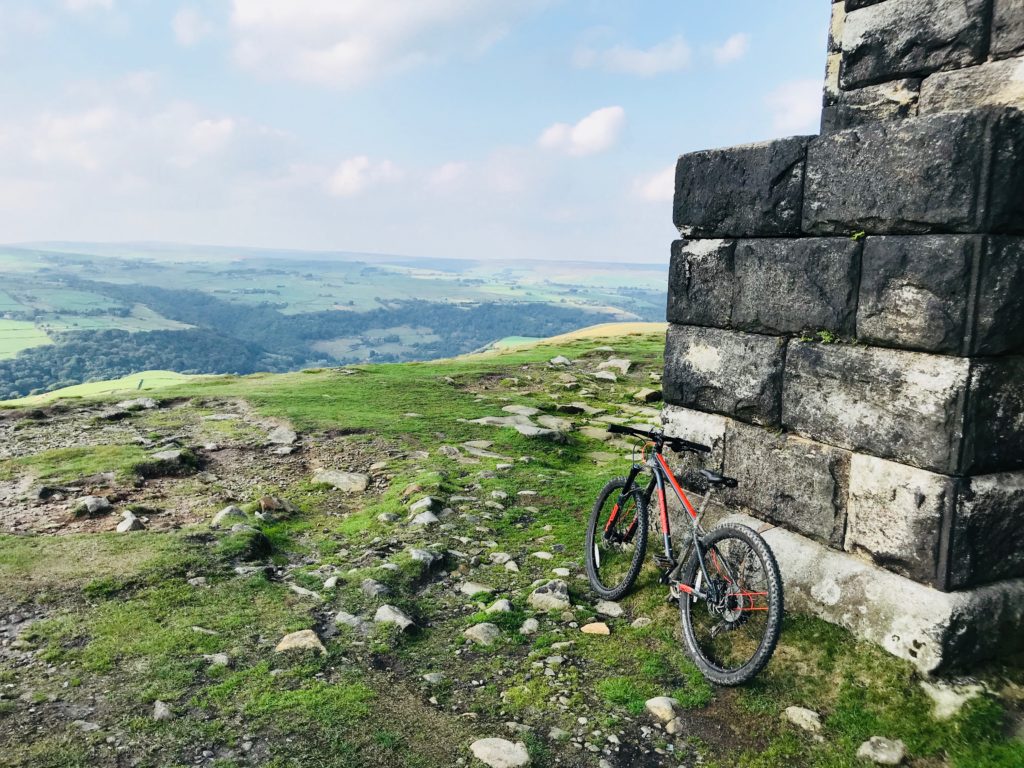 Rideability and comfort of the Frog MTB 69
Over the entire test period we had no complaints about the comfort of the bike – saddle, crank length, grips, gear shifter, brake levers and bar width all went without comment – which we always take as a good sign.
T enjoyed riding the Frog and once when we'd replaced the tyres it coped with everything that he asked it to do.  However, for the last week of our holiday we were heading off to Scotland to ride some more serious trails at Glentress, and he elected to leave the Frog at home and take another higher spec (and more expensive) bike that he'd ridden in more extreme conditions. I guess that he had more faith in this bike due to the earlier grip issues encountered with the Frog.
The Frog MTB 69 is priced and specified as a great mountain bike for beginner and intermediate riders at trail centres (greens, blues and reds in fair weather conditions) and has proven comfy over long distances on bridleways in non-sloppy conditions. A jump or downhill bike it is not, but shod with appropriate knobbly trail friendly tyres, the Frog MTB 69 will see you venturing further off-road and creating great family riding memories.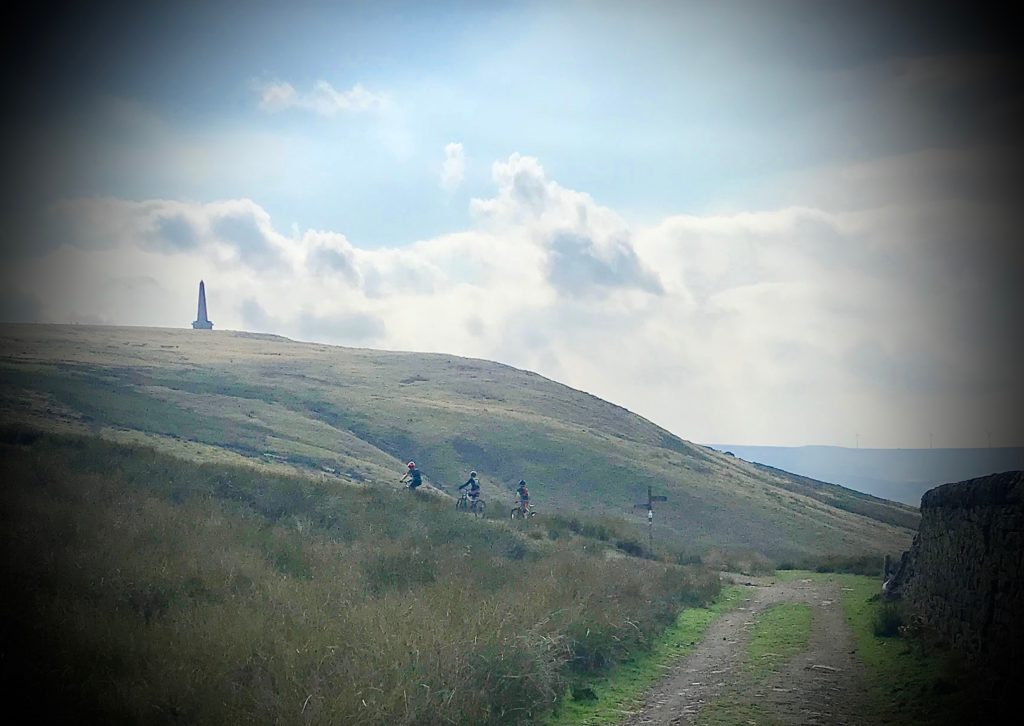 Frog MTB 69 Review – the final verdict
Frog have produced a great looking entry level mountain bike, that is fun to ride both cross country and at trail centres. The tyres are OK on road and in non-muddy off road situations such as hardpack trails, but if you've got an earlier model may well need upgrading if you're planning muddy or winter rides.
The Frog MTB 69 would make a great bike for those riding green or blue trails and wishing to upgrade from a standard hybrid bike, and it also has enough capability to make the transition to red trails too if required.
Editor update 2021: Since this review was first published in October 2018, Frog have updated the tyres on this bike to be Kenda K1134, 26″ x 2.1″ MTB tyres. 
Where to get hold of a Frog MTB 69
The Frog MTB 69 is available to buy new or to lease on a monthly basis from The Bike Club.  There's also a network of local bike shops around the UK which stock Frog Bikes.
Sponsored Content Start
Want to make some quick cash from that too small bike?
Do you have a good quality kids bike that's been outgrown and you've been meaning to sell on? 
Luckily The Bike Club are making it REALLY EASY for you to sell on old kids bikes. 
Just get an online valuation for your old bike, and if you're happy with the price they'll send a courier round with a bike box to pick it up. 
No hassle - just more space and more cash for the next size bike. Easy! 

Sponsored Content End
Disclosure: Cycle Sprog were loaned the Frog MTB 69 for a month by Frog Bikes. We were not paid to write this review, and all opinions are our own.  
Other articles you may find interesting:
This review of the Frog MTB 69 was first published in October 2018, and updated in April 2021 to reflect upgrades to the specification