Do you have problems with having somewhere to store the bikes for all your family? We do! As our Sprogs are getting bigger and starting to ride their own bikes we desperately need additional outdoor storage space to keep all our bikes. 
They just won't all fit in the garage or the shed any more, and I don't want them in the house.
So imagine my delight when I received a 'Bike Cave' from Tidy Tent to review – could this be the answer to all my bike storage problems??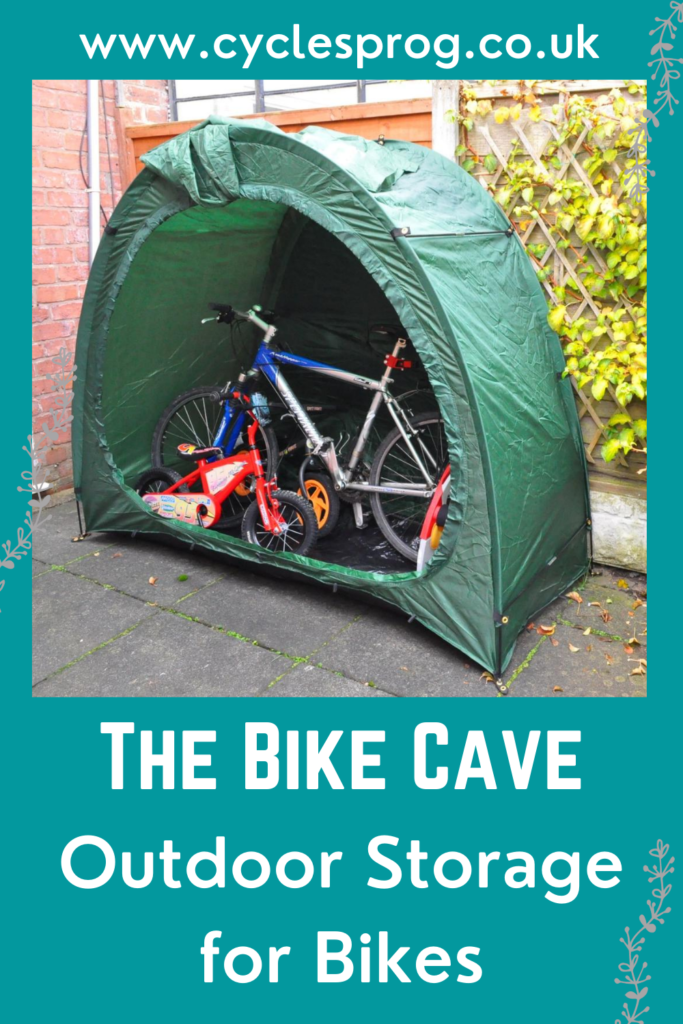 No time to read now?  Just pin this image and read it later!
Outdoor storage tent for bikes – review of the Bike Cave cycle store
Cycle Sprog is an family run, reader supported, website. We belong to several affiliate schemes so may receive a small commission from sales made from links on our site. We do our best to be impartial and recommend products on their quality not whether they are in a scheme.
The Tidy Tent Bike Cave Xtra
is basically a tent designed to accommodate bicycles and associated paraphernalia, whilst maintaining a footprint that is not too obstrusive such that it takes over your garden, patio or driveway.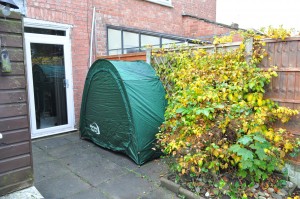 Coming in a handy storage bag, emptying out the contents revealed various lengths of fibreglass pole, some guy ropes and pegs and the bike cave itself.
Reading through the instructions it becomes apparent that if you've ever erected a tent then setting up the Bike Cave will be a breeze, and if you haven't fear not as it's a straightforward process.
I set it up alone in about fifteen minutes, and that included reading through the instructions and finding a suitable place to erect it.
As it is a tent-like structure, my advice would be to secure it to the ground (either with the guy ropes or some heavy rocks/paving slabs inside the tent) otherwise you could return home on your bike to find your neighbours unknowingly now have a Bike Cave.
How big is the Bike Cave storage tent?
Size wise it's 2 metres long, 0.8 metres wide and 1.6 metres tall long, so can easily swallow a couple of adult bikes.
Wanting to see how much I could stuff into it, my Bike Cave is currently looking after an adult mountain bike with FollowMe hitch attached, a rear child seat and two bikes suitable for a three year old.
Even better, there is still plenty of space! As the Tidy Tent if modular, if your bike collection (or your family) expands, you can zip additional tents together to form additional cycle storage space.
How easy is it to get bikes in and out?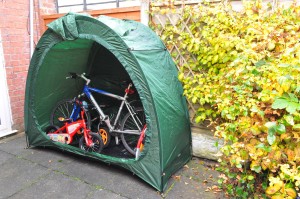 The front and rear sections have a zip running all the way round, so you can unzip as much or as little as you need.
If you're putting an adults bike in, then unzip all the way, pop the front cover onto the roof and wheel the bike into place, repeating the process for getting them out.
Security of bikes
Leaving your prized possessions in a tent does not sound like a particularly responsible action, so the people at Tidy Tent have created a Anchor Point Wall Fixing Security Bracket
.  
This sturdy bracket can be secured to a wall or other fixing, allowing your bikes and other items to be chained and locked to deter thieves.
This usually has to be purchased separately, and is obviously only a deterrent. 
It won't stop a really determined thief, so you need to consider whether this is a suitable solution for the crime rates where you live, and the value of your bikes.
Is the Bike Cave tent waterproof and weatherproof?
The Bike Cave is constructed from a polyester/polyurethane mix and is tough to the touch, which is very important if it is going to endure knobbly bike tyres rubbing against it. 
It's survived full on downpours plus it's often wet on the outside with morning dew.
The Bike Cave has been keeping its contents nice and dry – result! The last few weeks have seen some serious coverings of snow in our area, with many roads impassable, and with the thaw taking hold numerous houses having lost their guttering due to the weight of snow dropping down from rooftops. 
However, as you can imagine I have been a little bit worried as to how the Bike Cave would stand up to this inclement weather, and if it would have the stamina to repel the white stuff and provide protection for its contents.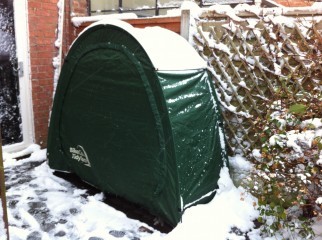 Well I can report back that the Bike Cave has carried out its duties with aplomb, with not a flake of snow making its way inside.
Even though the roof was covered entirely with snow and showing signs of deformation due to the excess weight, the contents have remained dry and protected.
Even with the fierce winds that have been ripping up the back garden, the Bike Cave has stood happily in its corner of the garden and got on with the job of looking after my bikes, and I for one am very impressed with it and its reliable performance. Top marks!
Will it help keep my bikes safe and dry on holiday?
Yes! One of the other uses of the Bike Cave is as a storage solution for bikes when on the move. 
Whether you are in a caravan, a tent or any other holiday accommodation, the Bike Cave would be an excellent way to keep your bikes together and secure, out of the elements.  It packs up into a small carry case that won't take up much room in the boot of a car.
Verdict
We have had a Bike Cave bicycle storage tent on trial for many months, and it has been ideal for our needs, being cheap, sturdy and waterproof.   
It's a great piece of kit if you need extra space to store your bikes, or anything else for that matter.
It can be used for bike storage in your garden or patio, but also on the move if you want to keep your bikes dry whilst camping or caravanning.
Buy now: The Bike Cave Tidy Tent can be bought from Amazon.
Disclosure: Cycle Sprog received the Bike Cave Xtra for review.  We are a member of Amazon's affiliate scheme, meaning if you make a purchase after clicking on the links in this post we may receive a small commission.
This post was first published in October 2012 and updated in August 2020 to reflect availability of the Bike Cave
Other posts you may like whilst you're here:
Support Cycle Sprog!
If you've found this article useful you can buy us a virtual coffee (or two!) to say thanks and help us keep the Cycle Sprog website going.