It's always exciting to receive new products here at Cycle Sprog headquarters, and today is no exception. We've taken delivery of a rather pleasingly designed box containing a great invention for parents keen to get out mountain biking with a Sprog aged between 2 and 5 years of age.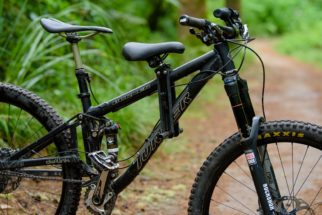 I have to confess that when the good folk at Kids Ride Shotgun got in touch to ask us to write a sponsored post about their Shotgun front bike seat, the first thing that went through my mind were the George Ezra lyrics:
"There's a mountain top that I'm dreaming of
If you need me you know where I'll be;
I'll be riding shotgun,
Underneath the hot sun
Feeling like a someone"
George was right on point in capturing the feeling of freedom that the Shotgun is hoping to bring to your next mountain bike ride.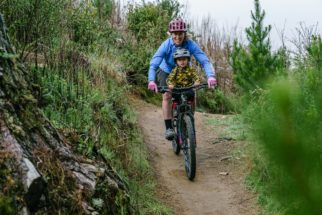 Passing on your passion for MTBing
If you're anything like me, parenthood has been a real juggling act. Trying to balance being a mum and all the responsibilities that brings with retaining a portion of the old me who can still get out and enjoy the life she had prior to having a baby is never easy. Over time I've realised that one of the joys of being a parent is not just doing the old things again, but the act of introducing them to your child for the first time.
So yes, it's great riding the trails once more, and there's certainly times when you want to leave the Sprog at home and enjoy the unfettered freedom of riding a mountain bike. But it's a different level of feeling taking your child along for the ride, watching and hearing them enjoy the same sensations as you, and realising you're planting the seeds of a love of cycling that will hopefully last a lifetime.
The Shotgun seat is designed for parents who want to pass their passion for mountain biking on to their Sprog, but don't want to wait years until they're able to pedal themselves. Designed to fit virtually any size mountain bike frame, it's a very simple piece of kit that quickly attaches to your frame. Your child sits slightly ahead of you, so you will have them cocooned in your arms as you ride along.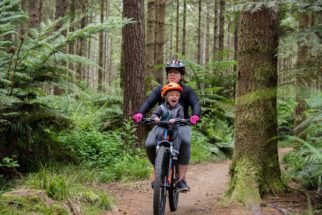 The great thing about the design of the Shotgun front seat is the closeness between you and your child. You are almost cuddling your child as you ride along, meaning you can hear everything they're saying as well as chat about the experience. Because they're up front they can see the trail ahead, getting to experience the thrill of the ride with you and your friends and family.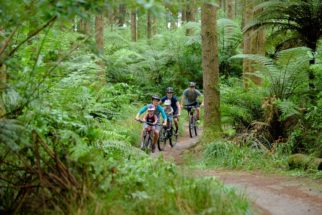 Compare this to a rear mounted bike seat where your child is looking at your back and it's really difficult to interact with them during the ride. Don't get me wrong, a rear seat is great for certain types of cycling (especially for younger children who need to nap frequently). But if you're out to experience the exhilaration of riding the trail, then a rear seat means they're missing out on most of the fun.
At the start of the article I referred to the Shotgun as being new, however this is technically incorrect as the seat has been on sale in New Zealand and Australia for 18 months. What's new is that Kids Ride Shotgun are now making the seat available to parents here in the UK, with the first shipment now arrived on our shores.
As with many kids cycling products, the Shotgun came into being because company co-founder Dan Necklen couldn't find a solution to suit his family.  He wanted a front bike seat to fit his full suspension mountain bike, so he could take his 3 year old son along for the ride when his bigger brothers were out enjoying themselves. His friend (and now business partner) Tom used his product development skills to design a suitable seat, and when other parents saw them out the trail they too wanted one. The rest, as they say, is history!  In the 18 months since launch, the Shotgun has become a firm favourite with mountain biking parents in New Zealand and Australia.
Technical specification of the Shotgun front bike seat
The Shotgun seat fits mountain bikes with a top tube of between 35 and 68 mm wide, and with downtubes of 35 to 100 mm width, which is the vast majority of MTB's on the market.
The Shotgun front bike seat is designed for children aged 2 to about 5 years and up to 22kg / 48 lb in weight. It's important to note the seat doesn't have a back support or a harness, which is why your child needs to be older to cope with sitting up, holding on and moving about with the bumps of the trail.
In the box you receive the saddle, frame attachment, foot pegs and straps plus some spanners and hex key for fitting.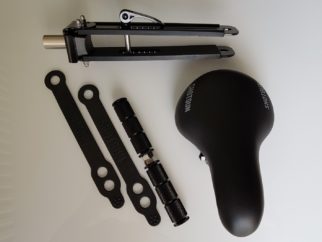 If you're worried about damaging your frame, then you'll be relieved to hear that there's no need for any long-term attachments. There's a protective silicon layer over all parts that come into direct contact with the frame and you can quickly remove the seat and attachment once your ride is over.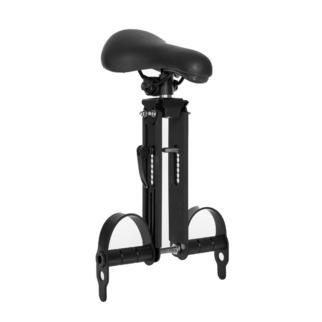 It's not just a seat that Kid Ride Shotgun make – they also have a set of mini handlebars that you can attach to your own bars, meaning your Sprog doesn't have to stretch so far to reach them when they're riding shotgun with you.
Where to buy the Shotgun Front Bike Seat
The shotgun seat is £120 and the handlebars are £27. Customers can either order from kidsrideshotgun.com.
SHOTGUN SEAT SCAM UPDATE May 2022:  Be aware of deals that appear too good to be true on Shotgun seats - they probably are.  There's a problem at the moment with scam social media adverts and cheap imitation products.  We recommend only buying directly from Shotgun Seats or one of their recommended retailers to avoid being caught out.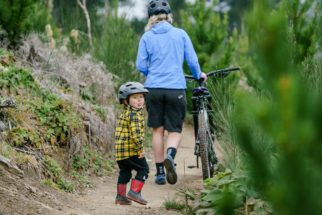 Disclosure: Kids Ride Shotgun have kindly paid us to write this sponsored post and provided the photos of the seat in use. After writing it we passed the Shotgun front bike seat and handlebars to one of our review panel for a full (unpaid for) review which you can read here. 
Other posts you should read whilst you are here: