Front bike seats are a lovely way to cycle with your young child because they are in a brilliant position as you ride – directly in front of you!  This allows you to chat as you cycle along, pointing out everything you see during your ride.  It also allows you to keep an eye on what they are doing, which is more difficult if they are in a rear seat behind you.
Front bike seats are extremely common as a means of transporting small children in Holland and Denmark, and as the benefits of family cycling are becoming more widely realised here in the UK, we expect to see more and more families starting to use front seats to transport their children.  Your child must be old enough to sit upright and have developed their neck muscles sufficiently to use a front seat. This is usually about 9 months for those seats with a full back support, but check with your health care professional if you have any concerns.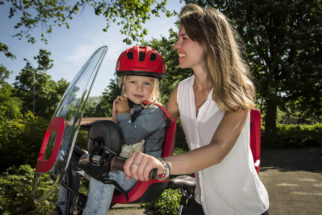 If you're starting out, you may want to read our introductory post "How to start cycling with a small child in a bike seat, cargo bike or trailer" first. 
Cycle Sprog is an family run, reader supported, website. We belong to several affiliate schemes so may receive a small commission from sales made from links on our site. We do our best to be impartial and recommend products on their quality not whether they are in a scheme.
The best front bike seats for toddlers and young children
Here's our pick of the best front bike seats currently available in the UK.  (Please be VERY careful of buying cheap imported front bike seats on auctions sites. These may place all the weight of the child onto a flimsy piece of metal that attaches to your seat post or stem, and which don't meet British Safety standards).
Each seat will have restrictions on the type of bike that it is suitable for, so please check the manufacturer's instructions carefully before purchasing and using the seat.  Front seats are not recommended for carbon fibre bikes and can be tricky with drop handlebars.
If you're unsure if a particular seat will fit your bike we recommend;
1) Emailing the seat manufacturer to ask
2) Speaking to your local independent bike shop
3) Joining the Family Cycling UK Facebook Group and searching the group for similar questions. If someone hasn't asked about your specific type of bike then post your own question – there's usually someone who has fitted a seat to a similar type of bike.
**** If you've got an older / heavier child (from about 3 years) who you want to carry in a front seat, then check out our other post The best front mounted bike seats for older kids****
The Thule Yepp Mini
is a light, colourful, and easy to use front seat. It gives your toddler a full view of the road (or cycle path) and because it is made out of the same material as Crocs, they are easy to keep clean (great during those potty training months!)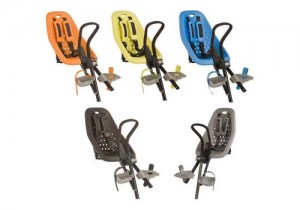 The Yepp bike seat range also includes the roomier back seat, the Yepp Maxi
.  If you have kids of different ages, you can have one of each, as is a popular sight in Amsterdam.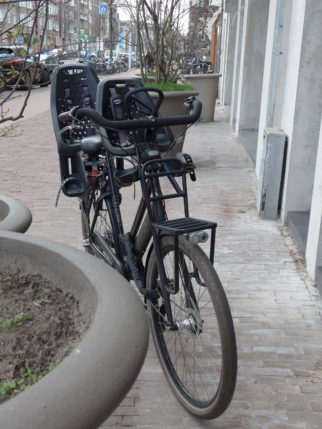 The Yepp Mini Front Seat is suitable for carrying children on the front of your bike from 9 months up to a maximum weight of 33 lbs (approx 3 years).  It is mounted onto your bike's handlebar stem using the adapter supplied. Your stem must be made of steel and have a diameter of between 0.8 to 1.1 inches (28 mm).  It's easy to fix the seat into place, but also to detach it if you don't have your child with you (or if you need to leave the seat at nursery for someone else to do the pick up (additional Yepp Mini mounts are available for this purpose).   There's also an integrated lock to prevent theft if you're leaving the seat in situ.
As you'd expect, there is a 5-point harness with an easy-to-use buckle, which also has soft shoulder pads to protect against chaffing.  The footrests are adjustable and have straps.
Where to buy:
You can buy the Thule Yepp Mini new from Tredz website or second hand from eBay. 
Cycle Sprog reviewed and recommended seat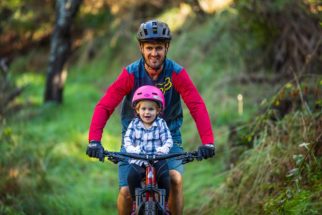 Once your child reaches the age of two, they're old enough for a Shotgun seat, which is designed to get off road and enjoy mountain biking together. Designed to easily fit onto virtually every size mountain bike frame, the Shotgun is really popular with parents wanting to introduce their children to the joys of off road cycling from an early age.
It doesn't have the same levels of safety restraints as seats designed for younger children, which is what it isn't suitable for younger children. 
We've recently been testing out the Shotgun front seat and you can read our review here – 3 year old Rosie and her dad loved it! 
Buy New
Hire
SHOTGUN SEAT SCAM UPDATE June 2022:  Be aware of deals that appear too good to be true on Shotgun seats - they probably are.  There's a problem at the moment with scam social media adverts and cheap imitation products.  We recommend only buying directly from Shotgun Seats or one of their recommended retailers to avoid being caught out. 
Oxford Little Explorer Top Tube Seat
The Oxford Little Explorer is one of the simplest kids front bike seats on the market. This is a seat aimed at the older end of the age range, where your child isn't going to fall asleep and wants to feel close to the action. It's simple to get your child up and into and is ideal for short, sharp rides out. It's also easy to cycle with when the child isn't in the seat, so good for dropping off at nursery or preschool and continuing your journey. Safety features are limited but include a two-point belt that fastens around the waist and non-adjustable foot straps.  Please note that this seat differs from some of the other cheap imported bike seats at a similar price, as it fastens to the top tube (crossbar) and not the seat post or stem.  For this reason, it's not suitable for step-through frames (or if you have a very small frame size).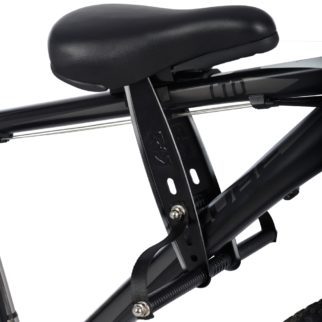 The best thing about this seat is that you really get to cuddle your child as you cycle along – and for this reason the Little Explorer's predecessor, the Oxford Leco has been a firm favourite of ours.  See our blog article about having to give up using the Leco once our son got too big.
Where to buy: 
The Oxford Little Explorer is available to purchase new or secondhand on eBay. 
Buy Now
The Weeride Kangaroo is the "Classic" Weeride seat and is a good choice if you're looking for a cheaper seat, or perhaps aren't sure if it will get much use.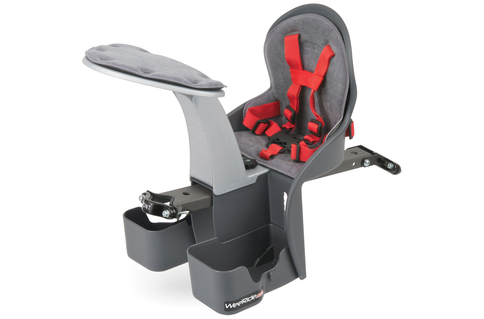 The Classic comes with standard and deluxe models (the deluxe having thicker padding on the headrest and the seat).
What's the difference between the Weeride 'Kangaroo' and the 'Safe Front' bike seats?
The Kangaroo is the older Classic WeeRide.  The latest model is the Safe Front and has the following upgrades: higher sides for increased child stability added strap underneath the bar for extra stability, 2 movement thumbscrew, and 2 movement buckle release for enhanced safety; additional straps on foot holders; increased seat size.
Where to buy:
You can buy the Weeride new from Halfords or sometimes found secondhand on eBay. 
Buy New
Buy Used
Dutch designed Bobike seats are very popular on the continent, but sadly they don't have a good distribution network in the UK. Thankfully given the modern world we live in, they are relatively easy to get hold of from The Netherlands.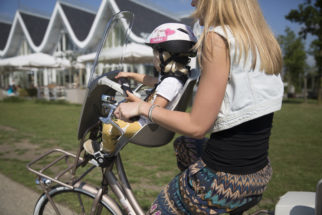 They have three front bike seat offerings – the Bobike Mini, the new Bobike Mini One, and the Bobike Exclusive Mini. You can probably guess that they go up in price through the range!
The entry-level Bobike Mini is a rival to the Yepp Mini, coming in a range of colours and with supporting accessories and spares.  The Bobike Mini One is the newer version and comes with a few added designs and comfort features.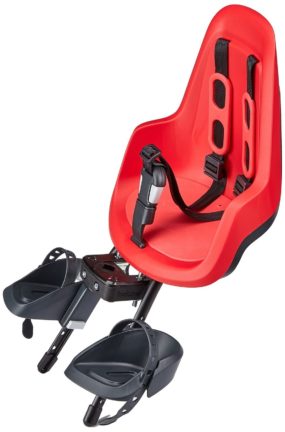 The Bobike Exclusive Mini is their premium stem mounted front seat, which is packed with additional safety features, including straps with purport to keep your child's head from lolling down or sideways if they fall asleep. Best of all, the Bobike Exclusive Mini comes with a little handlebar, so your child can play at steering!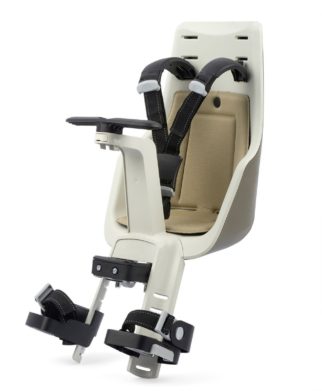 Where to buy:
It is possible to order new Bobike front bike seats and accessories from The Netherlands via Amazon and eBay, but unfortunately, they are hard to find in UK stores at the present time. Additionally, they are occasionally up for grabs secondhand on eBay. 
Norwegian company Hamax are renowned for their wider range of rear seats.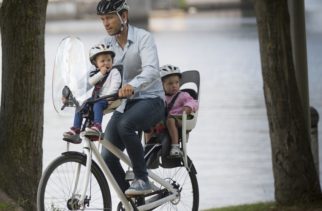 Their current front seat option is the Hamax Caress Observer – a good name as you can caress (and observe) your child, and they will have the vantage observation point on your bike.  The user manual can be found here to check whether it suits your bike.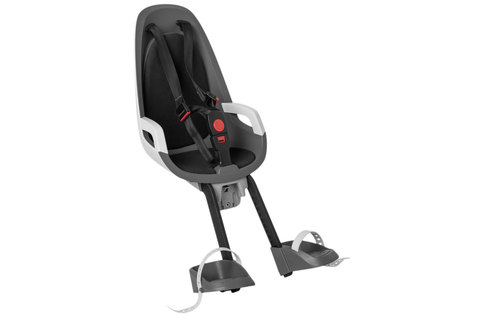 Where to buy:
The Hamax Observer front bike seat can be purchased new from AlpineTrek or secondhand on Ebay. 
Some of the cheapest front bike seats available are from Polisport. Again, these are a popular brand on the continent and offer a no-frills, cost-effective way of transporting your child.  It may not be the most luxurious ride, but if you're just popping them to the nursery, or doing a quick ride to the park or shops, then you're needs are going to very different to someone heading out for hours on end across various terrains.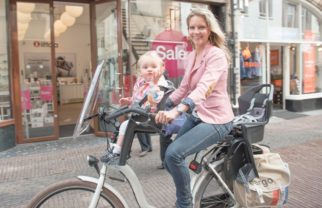 The Guppy Mini and the Bilby Junior have slightly different specifications (the Bilby comes with front support bar).  You must make sure you buy the correct fittings, as you can get a stem mounted version and a frame mounted version (suitable for bikes that don't have the required space to install the seat on the head tube).  Click here for the Polisport website, to check whether these seats will fit your bike.
Click here to read our review of the Polisport Guppy Front Bike Seat.
Where to buy:
You can buy the Polisport Guppy Mini and the Bilby Junior new from Tredz or secondhand from eBay. 
Buy New
Buy Used
Weeride Safe Front
The Thule Yepp shown above is mounted on the stem of your bike.  In contrast, the Weeride
is a frame-mounted front seat, as this picture shows.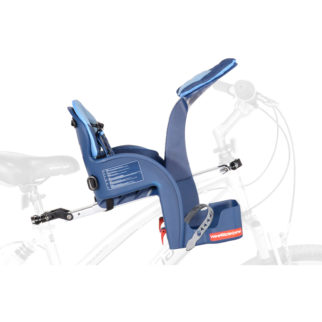 Going frame or stem mounted is a matter of personal preference.  Parents with short arms and small frames (or pregnancy bumps) will probably gravitate to a stem mounted seat, and they are popular around town options.  Some parents find a stem mounted seat can affect balance or steering (particularly off-road) as the weight is over the front of the bike. In this case, some parents favour a frame-mounted seat where the weight is more towards the centre of the bike. Others just prefer having their child closer to their body.
The Safe Front is WeeRides latest front seat offering, which comes in two models – the standard, and the Deluxe.
The Weeride SafeFront Child seat has movable enclosed footrests to ensure no dangling legs or feet and a 5 point safety strap. The SafeFront claims to fit 99% of bikes as long as they are 16" frame or above, but please note this seat does not fit drop handlebar bicycles.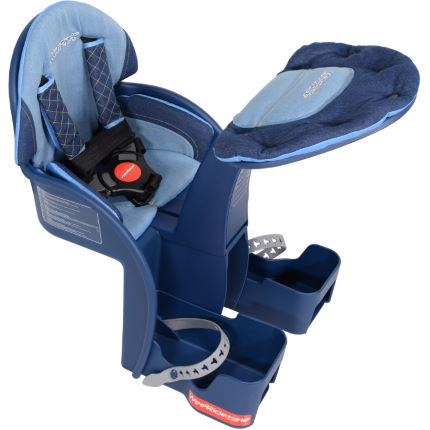 The SafeFront comes either as the standard seat, or the deluxe version, which has additional seat and strap padding, which may prove more comfortable if you're going on longer rides or if your child is smaller and needs the extra padding.
You'll note in the picture that the Weeride comes with a headrest – this is to support your child's head and neck if they fall asleep when you're riding. Again very useful if you're out all day, or if your child has a tendency to fall asleep the moment you start moving!
Fitting takes about 20 minutes but once in place, the seat can be removed in seconds for solo riding.
Where to buy:
You can buy the WeeRide Safe Front bike seats new from Amazon or secondhand from eBay.
Buy New
Buy Used
I do hope you've found this article useful – do drop me a comment below to let me know which bike seat you ended up buying.
Other articles you may find useful:
This article was first published in August 2012 and updated in January 2022 to reflect the availability of the front seats.