Using a front bike seat for the first time is always a nerve racking experience – for the parent at least! Here, Juliet Kemp, mum to 13 month old Leon, tells us how she got on using the Polisport Guppy Mini front bike seat for the first time.
Cycle Sprog is an family run, reader supported, website. We belong to several affiliate schemes so may receive a small commission from sales made from links on our site. We do our best to be impartial and recommend products on their quality not whether they are in a scheme.
How easy is the Polisport G

uppy Mini front bike seat to fit?
The Polisport Guppy Mini is a child seat that fits on the front of your bike. The version we were sent to review attached to the head tube between the top tube and down tube brazing. Helpfully, it comes with an extra piece to make the seat work even if that space on your bike isn't big enough (a couple of inches) for the fixing. (I didn't need this so can't comment further.).
There is another version of the seat that fits to the frame if necessary, so make sure you're aware of which version you're buying (check out the specifications on the Polisport website)
The fixing was very easy to fit; it took me about 10 minutes from opening the box to having the seat securely fitted for the first time. It took maybe 5 more minutes to get the foot supports in the right place, the foot straps shortened, and the seatbelt to the right length. Most of that was taken up with the foot straps, which were annoyingly tough to get back onto their clips.
The one thing I really disliked about it was the difficulty of fitting the seat to the quick-release fixing. In theory you just push it in until it clicks. In practice I found it difficult to push in hard enough – the plastic flexes as you push, and you can't put much pressure on the metal bars due to their position.
The first time I used it, I didn't hear it click in and eventually decided it must be in as I couldn't pull it out again; I've since tried again and realised that it wasn't fully clicked in at all that time. If I were taking the seat on and off daily I'd find this very frustrating to struggle with, but it may loosen up with time.
If you're regularly going to swap the seat between bikes, you can buy an additional fixing kit for your second bike
. This is really useful if one parent is dropping off at nursery in the morning, and the other is picking up at night. For the occasional use on a second bike you'd have to switch the fixing between bikes – I did this once, and it only took about 5 minutes.
What was it like using a front bike seat for the first time?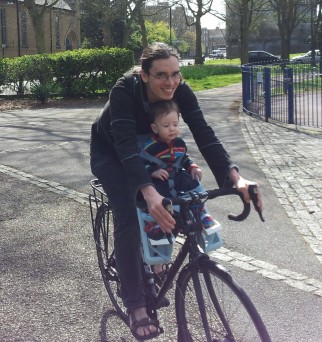 I fitted the Guppy to my fixie, which has bullhorn bars, and it was easy to reach the bars and brake around Leon, and to see over his head. My partner also tried it out on a drop-bar bike, and was happy with it as well. Please note however, that the instruction manual says it's not compatible with drop handlebar bikes, so you do this at your own risk.
The Guppy would certainly be fine with any bike with a more upright riding position.
Leon seemed very content when strapped into the front seat for his first ride. I, on the other hand, was a bit nervous!
In practice, the front seat doesn't significantly affect bike handling, as the weight is over the main part of the frame rather than over the wheel, but it does make the bike feel a little different. However, once I got underway it was fine.
What I really loved about using the Guppy front seat was that Leon was right there in front of me. I could see him, chat to him, and he had the reassurance of my arms around him. I loved that enough, in fact, that I tried it on both my bikes just to see if I could make it work! I also liked the fact that, unlike with a rear seat, I would be able to put a pannier on the bike as well, as I don't like to cycle with a rucksack.
What effect does a front child seat have on your riding?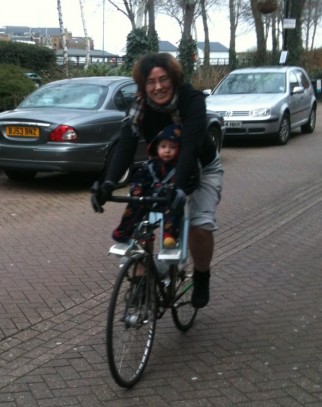 The big problem (and, ultimately, dealbreaker) for me was the lack of room between the seat and my saddle, which meant two things. Firstly, I couldn't get off my saddle when I stopped, which is my usual preference as my saddle is (deliberately) quite high.
I could probably adjust to that with a little practice, but secondly and more importantly for me, there isn't enough room to cycle with my legs straight, as my knees hit the seat at the top of each pedal stroke. I had to cycle with my knees slightly outwards, which for me is an ergonomic disaster and would rapidly lead to wrecking my knees (again!).
However, both of these problems are very much about your bike size and setup, and your personal cycling preferences and limitations. Someone with more forgiving knees might well be happy cycling knees-out; a different bike geometry would also make that unnecessary.
Polisport Guppy Mini review – the final verdict
The seat itself is great, and I'm sorry I won't be able to use it for any significant distance due to my knees. Sadly my hopes of riding Leon around town on a fixie were dashed! I will carry on using the Guppy for short slow jaunts to our local park, where my knees will be less at risk.
Trying it out with a similar bike geometry, my partner Jon agreed that it was lovely to be able to chat to Leon, and he too would happily use it for short/gentle local rides. He agreed that he probably wouldn't be using it for longer distance or on busier roads, either.
Where to buy the Guppy Mini Front Bike Seat
You can buy the Polisport Guppy Mini and the accessories from Halfords.
The Guppy Mini comes in three colour combinations – brown and cream, dark grey and silver, or ice blue and white.
There is also a range of accessories, including various coloured style kits to personalise the seat
, a wind shield to protect against the elements (read the Cycle Sprog review here), and the spare fixing bracket already mentioned.
The Polisport Guppy Mini front bike seat was provided to Cycle Sprog for review. This article was first published in April 2013 and updated in May 2020 to reflect the latest availability of the seat
About the reviewer:
Juliet Kemp is a writer, permaculture designer and mother who lives in London – you can read more at her blog. Her latest book is Permaculture in Pots: How to Grow Food in Small Urban Spaces
Other articles you may find useful:
Affiliate Disclosure: Some of the links on this page use affiliate marketing, which means that if you may a purchase via the link we may get a small commission. This doesn't affect what you pay, and helps us keep the website going. Thanks for your support.