A rear bike seat is a great way to get cycling with your young child as they're designed to carry toddlers from about 12 months to 3 years or over.  There are three main price and quality bandings for children's rear bike seats – your budget and what you need the seat for will help determine which one you go for – check out our article about what to consider before purchasing a rear bike seat if you're not sure what you need.
What is the best seat for my bike?
If you're unsure if a particular seat will fit your bike we recommend;
1) Emailing the seat manufacturer to ask
2) Speaking to your local independent bike shop
3) Joining the Family Cycling UK Facebook Group and searching the group for similar questions. If someone hasn't asked about your specific type of bike then post your own question – there's usually someone who has fitted a seat to a similar type of bike.
A word about fixing a rear child seat to a bike
There are two main ways of fitting a rear child seat to your bike – either using a luggage rack or by a fitting on your seat post. Many of the seats available have different models for different fixing methods, so do make sure you're buying the correct one for your needs.
Here we take a look at some of the best rear bike seats available, and where to buy them.
Cycle Sprog is an family run, reader supported, website. We belong to several affiliate schemes so may receive a small commission from sales made from links on our site. We do our best to be impartial and recommend products on their quality not whether they are in a scheme.
DEAL OF THE DAY ON REAR BIKE SEATS
Tredz currently has the Bellelli Pepe Frame Mounted bike seat reduced down to just £37. The seat is made in Italy from certified non-toxic plastic and meets European Regulation EN 14344.  The seat is certified for children weighing up to 22 kg / 48.5 lbs.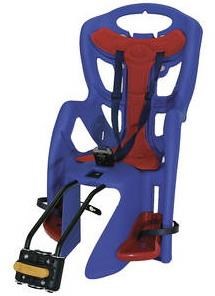 Belleli claims it can be switched from one bike to another in seconds, and it has features such as reclined angle for the neck plus ergonomic shoulders support, high sideboards to increase support, wider and safer legs/feet side protection, and a childproof, parent-friendly safety buckle, with two depth settings in the centre of the seat. Only one hand is needed to fasten and release it.   The cushion is washable.
We've not been able to test this seat, but it gets good reviews as an entry-level seat usually and is now even further reduced so a great choice if you're on a budget, or don't plan to get much use out of the seat.
Buy now (while stocks last) – The Bellelli Pepe Frame Mounted Rear Bike Seat
Bellelli also do a rack mounted version of the same seat if you require that option: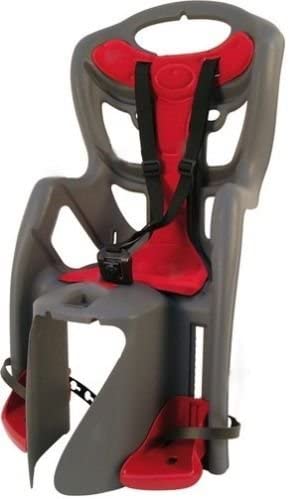 Buy now –The Bellelli Pepe Rack Mounted Rear Bike Seat
The best 'top end' rear bike seats
These rear bike seats are at the premium end of the bike seat range, meaning they're made to be extra comfortable for your child to sit (and sleep!) in, and easy for you to fit. They're built for everyday usage, so ideal for daily commuting or long adventure trips.
The Thule Yepp Maxi is an award-winning children's rear bike seat that is now widely available in the UK.  The range of colours and accessories make the Yepp Maxi a popular choice for both parents and children.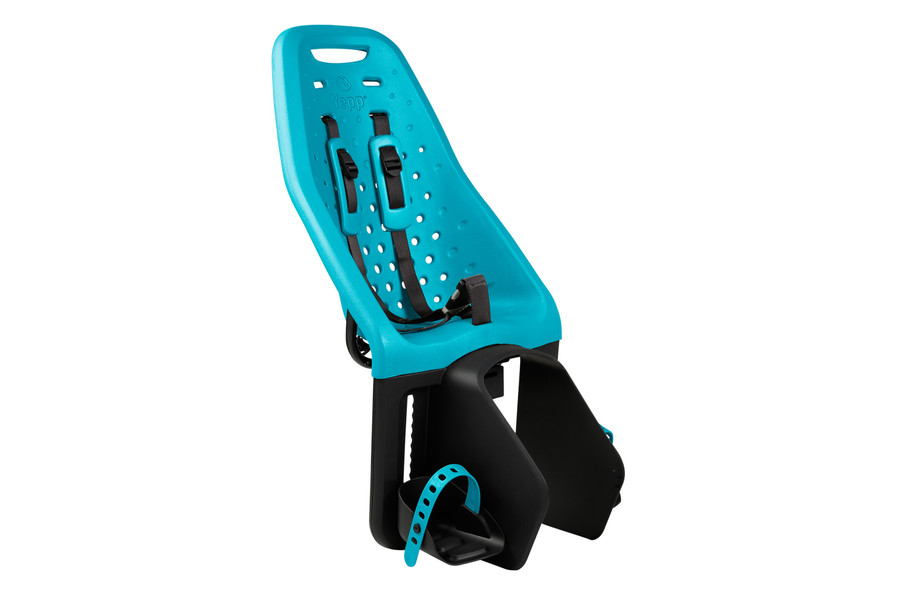 The Yepp Maxi bike seat is made from the same rubber-like material (EVA) that is used to make Crocs shoes, which is antibacterial, shock-absorbent, water-resistant, and really easy to clean, which means they are designed for daily use, year-round. There are no seat cushions to worry about keeping dry from the elements.
The 5-point safety harness has a childproof buckle and soft shoulder pads to help avoid rubbing. There are two height levels for the shoulder straps which allow the seat to grow with your child.
There are two models of Yepp Maxi available. One is the Easyfit and secures to a luggage rack on the back of the bike.
The second type is mounted on your bike's seat post using the Yepp Maxi seat post adapter (fits 95% of bike models). The seat is quick and simple to snap into place and also detach. Additional Yepp Maxi seat post adapters can be bought to allow use on more than one bike.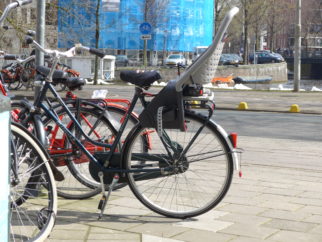 The Yepp Maxi Standard can be attached to bicycles with a frame size of 21 inches or larger and a seat post diameter of 1 1.8 inches (28-45mm). However, there are some bikes with a frame smaller than 21 inches, which can also be used with the seat. Please consult your bike shop or Yepp to check whether your bike is suitable for use with the Yepp Maxi rear seat.
An integral anti-theft lock helps give peace of mind when leaving your bike unattended, making it ideal for both adventurous cycling days out or the daily commute. There are also three rear reflectors for nighttime and low light levels when road cycling.
As you can see from this picture, Yepp also do a front bike seat, called the Yepp Mini if you need to carry more than one child at the same time.
BUY NOW: Yepp Maxi bike seat 
If you're not bothered about colour, at the time of writing, the silver seat was discounted by 18% to just £90!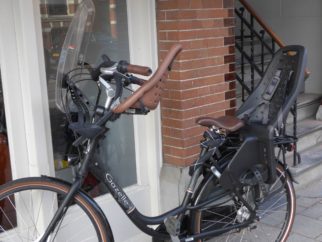 Bobike makes a large range of different bike seats, and if you ever venture over to Holland you'll see that they rival Yepp for popularity. The Exclusive Tour is their premium model, which has been designed with longer bike rides and cycle touring in mind.  This is shown in features such as an adjustable headrest and a contoured belt which is designed to keep your baby upright, even if they fall asleep.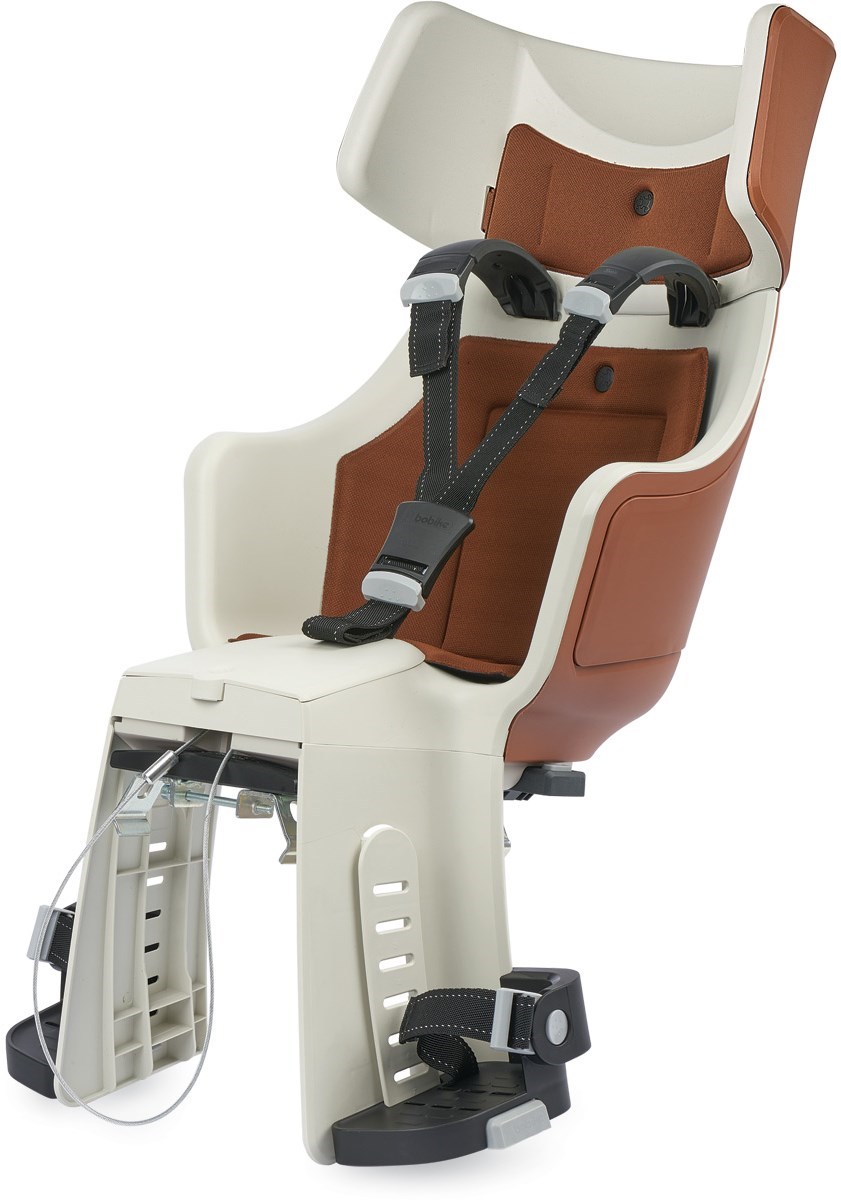 The "Click and Go" mounting system allows you to switch the seat easily between bicycles, which is useful on long bike rides or if you're sharing the nursery drop off and pickups and the seat belt is designed to be fastened with just one hand.  There is a flashing LED light on the rear for safety during the winter months.
A waterproof cushioned seat (and we know sometimes it's more than the rain that gets a seat wet!), spoke protectors, adjustable foot support trays and helmet recess all combine to make this a premium kids bike seat, which is of course reflected in the price.
The Bobike Exclusive range has two different mounting systems available – one that fits onto a rear pannier rack (called the "carrier mount"), and another that mounts directly onto the frame, which can be specified at the time of purchase.
BUY NOW: The Bobike Exclusive Tour is available from Halfords 
The slightly less expensive Bobike Maxi Exclusive is very similar in design to the Tour shown above but doesn't have the headrests and head cushion support. This will be more suitable for older children who don't sleep so much, or for shorter daily commutes where your child wants to see what's going on and is unlikely to fall asleep.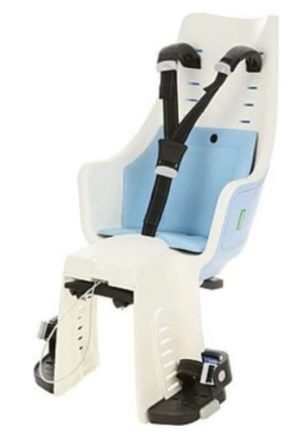 All other aspects of the Bobike Exclusive Maxi rear seat are the same as the Tour version, and the seat is available from Amazon.
Hamax's top of the range kids bike back seat, the Siesta, as the name suggests, is great for toddlers who like a snooze while you do the hard work. The seat can be reclined by 20 degrees without impacting on the centre of gravity, allowing your child to enjoy their siesta in comfort.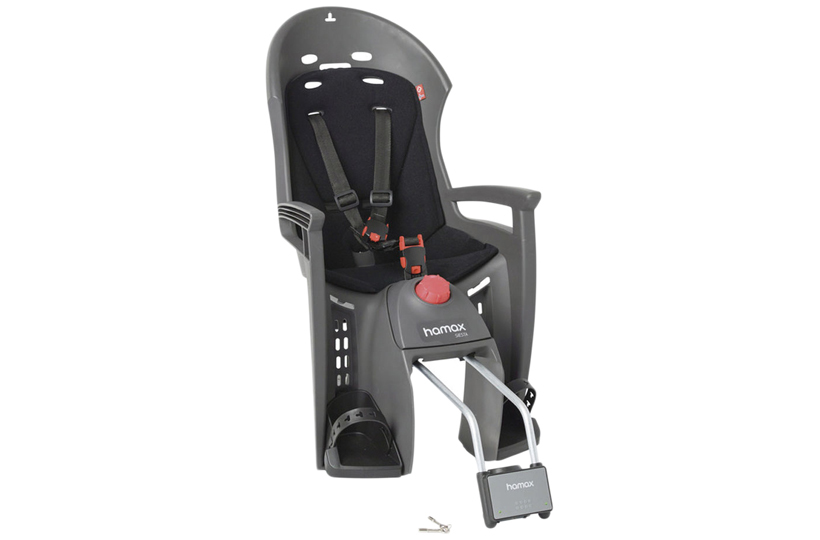 The standard Siesta model uses the Hamax Safety System which is quickly and easily fitted to most types of bikes using only 4 screws. You can remove the bike from the fixing point, but it will still have the metal carrier bars attached to the seat.   The Siesta has a curved head area to allow space for the back of the helmet (resulting in a more ergonomic ride, as your child's head is not pushed forward by the back of the seat).
The Hamax Siesta comes with a double buckle system, which only requires one hand to fasten and keep the child securely in the seat, leaving your other hand free to support the bike.  It can also be fastened without going over the child's head (or helmet).
Hamax also produce a wide range of accessories, including a neck support pillow and waterproofs, plus additional fixing points so you can carry on more than one bike.
BUY NOW: The Hamax Siesta Rear Bike Seat
Cycle Sprog reader Andy has provided us with the following details of the Hamax:  "I have used the Hamax Siesta on a full-suspension Specialized Bicycles Stumpjumper 2010 without problem for several years. The seat is very good, and although you can release the buckles with one hand it is pretty stiff and isn't easy. Much easier to use two hands." 
The best mid-range rear bike seats
These rear bike seats are slightly cheaper than the premium ranges featured above, meaning there are slight differences in terms of quality, ease of use, and comfort. However, they're all really good rear bike seats that would be perfect for getting out and about with your Cycle Sprog, especially if they don't need to nap during your rides.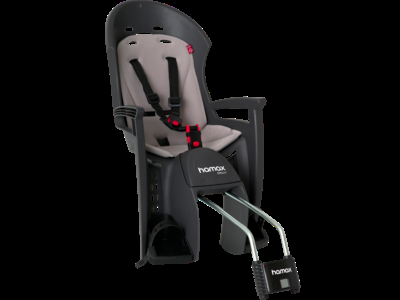 Billed as Hamax's "Comfort" model, the Smiley comes with built-in suspension, to protect your child's spine.
The Hamax Smiley (like the more expensive Siesta) comes with Hamax's double buckle system, which only requires one hand to fasten and keep the child securely in the seat, leaving your other hand free to support the bike.  Ventilation in the backrest is also provided, to keep your child cool on a summer's day.
As with the Siesta, there are two versions of the seat, with different ways of fixing a bike.
This version uses the Hamax Safety System which is quickly and easily fitted to most types of bikes using only 4 screws. You can remove the bike from the fixing point, but it will still have the metal carrier bars attached to the seat.
BUY NOW: The Hamax Smiley Rear bike seat 
All the rear seats we've looked at so far have been designed for smaller children, but once your child grows out of their first rear seat you can continue to carry them using the Yepp Junior seat – usually between the ages of 5 and about 9.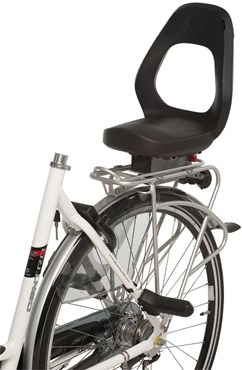 This type of seat is incredibly popular in Holland, where you see lots of primary school-aged children being carried this way.  Yepp do two models – the more robust junior seat shown here (RRP £85)  is designed for daily use. It has solid folding footrests to ensure feet and spokes don't mix, and the backrest is designed to be comfortable and also a bit "cooler" for older kids who don't necessarily want to look as if they're being contained too much.
They also do a budget version, which is £12 cheaper and has an over the head buckle system and slightly different styling. Both versions are available at Amazon.
If you want to see other bike seats for older children, go to the post The best front-mounted bike seats for older kids
Basic Models of rear bike seat
If you're using your rear child seat on a daily basis, and have several younger siblings coming along to use it, then it can make sense to invest in a more expensive version. However, we all know kids grow so quickly so if you're only going to use the seat for a few weekends and holiday rides you can get a perfectly good rear bike seat and still have change from £50.  Don't expect to have all the fancy features, but do expect to have a fun ride!
7)

Avenir Snug

(RRP £45.99, but currently on offer for £39.99)
The Avenir Snug from Raleigh comes in two models – one secures straight onto the bike frame and the other onto a rear-mounted pannier rack.

Both versions come with a 3 point safety harness, adjustable foot straps and some seat padding, plus it has a reflective rear sticker.
BUY NOW: The Avenir Snug is available at Tredz
As with the other brands mentioned in this article, Polisport do a range of bike seats, mainly at the mid to low price range.  Their entry-level seat is the Koolah, which comes with  Adjustable Foot Rests, an ergonomic shape for the helmet to rest in and a reasonable amount of protection to the sides.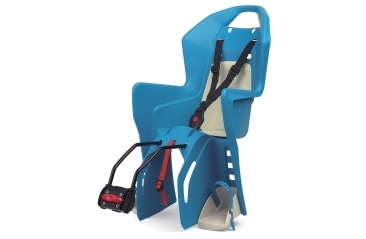 There is a rack-mounted and a frame-mounted version, so check you're ordering the one to suit your bike.
The feature that distinguishes the Koolah is that you can get a model designed to fit a 29″ mountain bike (and paradoxically it also fits a bike with a smaller frame) as you're able to push the seat up as shown in this diagram.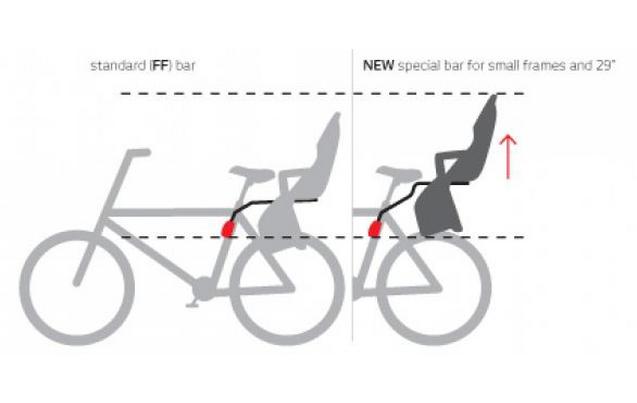 As you can see, each manufacturer has a wide range of bike seats to suit different ages, bike types and riding requirements.  Most retailers will stock a wider range than shown here, so have a look at each model in the range to see which suits you and your child best.  If you'd like to share your photos of you out and about enjoying riding with your rear seat then tag them #cyclesprog on Instagram and we'll repost the best of them.
Why not sign up for our newsletter to keep up to date with what's going on in the world of family cycling, or pop over and find us on Facebook
Other articles you may find useful:
This article on rear bicycle seats was first published in February 2013, and last updated in May 2021 to reflect the current selection of rear seats available.
Affiliate disclosure: This post about rear bike seats contains a number of links that use affiliate marketing. This means that if you purchase using this link Cycle Sprog get a small commission payment. This doesn't change the amount you pay, but really helps us to keep the website running, so thanks for your support in using these links