There's no escaping it – e-bikes (or electric bikes) are becoming more and more popular. There's a good reason for this – the battery on an e-bike makes cycling easier and more accessible.  For families with young children, an e-bike can make cycling with a front or rear bike seat a possibility.  The extra weight that can make cycling with a child on-board too difficult, is cancelled out by the battery, which gives that little bit of a boost to help you cycle up hills, or to keep up speed on the flat.
In this article we've answered lots of the questions that parents often ask when they're thinking of moving to an e-bike and child seat combination.  I asked my contacts at Tredz Bikes to help answer some of the more technical questions – with over 350 models of e-bike in stock they're much more of an expert in all things electric bike related (and they stock a wide range of kids bike seats too!)
Is it legal to carry a child in a bike seat on an e-bike?
Yes – in the UK it is legal to carry a child in a bike seat (front or rear) on an e-bike. There is nothing in the Electrically Assisted Pedal Cycles Regulation 1985 or the 2015 amendment to the regulation which prohibits this.
Is it safe to carry a child in a bike seat on an electric bike?
An e-bike is a bicycle with a battery to help it maintain or increase speed up to a maximum of 15.5 mph, which it is possible to reach (or exceed) on a standard bike with a bike seat fitted. Therefore, all the standard considerations as to riding with a bike seat need to be thought through. However, unless you're already a fast cyclist you may be travelling faster than you would be normally, so it's important that you are very confident riding the e-bike without your child in the seat first. Visit our post on preparing to ride with a child in a bike seat for the first time for more advice.
Which are the best type of ebikes to fit a kids bike seat to?
You can fit a child seat to most e bikes, although urban e bikes and hardtail mountain bikes are best suited for child seat fitting. Alloy framed electric road bikes may also be an option for experienced cyclists.
You can fit a pannier rack mounted child set to any bike that will take a pannier rack, which includes many urban e bikes and hardtail eMTBs.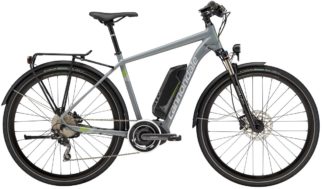 Seat tube mounted child seats can be fitted to nearly all e-bikes that have a round seat tube. The only exceptions would be those with things attached to the seat tube like gear cables and battery packs.
Handlebar mounted front child seats are suitable for most electric bikes too.
Does the position of the battery make a difference when fitting a child seat?
Yes – obviously e-bikes with the battery fitted to the pannier rack mean that it is very difficult to use a rear bike seat.
What is less obvious is that adding weight high up on the bike will make them more unstable, especially when riding slowly. On the other hand, adding weight low down will actually increase the stability of the bike.
E bikes that have the battery pack positioned lower on the bike, on the down tube for example, will be more stable than e bikes with the battery positioned on a pannier rack. As child seats add weight higher up on the bike we think that e bikes with batteries positioned on the downtube or integrated within it are better suited for front child seats.
Are there any particular types of e-bike that can't be fitted with a front / rear seat?
Full suspension mountain bikes are the only type of e-bike that really are unsuitable for child seats. Carbon e-bikes are not suitable for clamp style child seat fittings.
There are different types of mounting for front seats (stem and top tube) – does this make a difference when fitting to an e-bike?
E bikes use the same types of handle bar and stem as regular bikes, so stem mounted front child seats are fitted in the same way.
Top tube mounted child seat compatibility is a little more complicated as the shape and position of the top tube varies so much from bike to bike. For example, many of the urban ebikes that are aimed at women have a step through frame, making a top tube mounted seat difficult.
Some top tube mounted seats require you to fix foot rests onto the downtube – this may not be possible if the battery pack is in the way.
What effect will carrying a child on the bike have on the battery life?
The gradient of the road, the strength of the wind, how many times you need to stop at junctions or traffic lights, how fast you like to accelerate and combined rider/bike weight all effect how long your e bike battery will last. Although a child and child seat will add some weight, the range will not be affected very much when compared to all the other factors. However, you will obviously see a small degradation in performance if you were riding the same route, in exactly the same conditions, with and without a child on board.
Will fitting a child bike seat to an electric bike affect the e-bike warranty?
As long as it is properly fitted to a compatible e bike, a child seat will not affect your electric bike's warranty.
I'm going to be relying on my e-bike to get the kids to nursery every day. How reliable are they, and do they work in the rain?
Electric bikes are designed to work in wet as well as dry conditions. Reliability is generally very good, so they are suitable for daily use. Like all bikes it is important to maintain and store e bikes correctly to keep them working properly day after day.
My child is currently in a front bike seat, but as they grow I'm going to want to move them to a rear seat, and then possibly a trailer and a tag-along. Is all this possible on a single e-bike?
Yes, as long as the e bike has suitable mountings (pannier mounts and/or round seat tube with nothing attached) for a rear child seat and/or tag-a-long.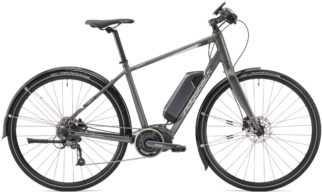 The Ridgeback Cyclone Hybrid e-bike has a round seat post suitable for fitting a tagalong when your child grows out of a bike seat
I find it hard to wear a rucksack when my child is behind me in the rear seat. Is it possible to fit a front pannier to an e-bike?
This will be possible for all e bikes that have suitable mounts for a front pannier rack.
I want to carry my older child in a specialist junior bike seat, which will mean our combined weight keeps on increasing. Is there a maximum weight limit for using an ebike?
E bikes are designed to take more weight than regular bikes, so in most cases this shouldn't be an issue. If you have concerns, it's best to check with the manufacturer.
Which is the best child's bike seat to fit to an e-bike?
Sadly, there isn't an easy answer to this question! Front and rear seats are a little bit like mudguards – different mud guards fit different bikes and are used for different purposes. Different child seats fit different bikes and suit different purposes and ages of child!
Many Ebikes do have the functionality to fit seats, but when it comes to picking the correct seat and bike combination for your family, it's best to speak to a specialist (like the Tredz Bike Specialist Team) who can advise further.
We hope that this article has helped you to decide whether or not to take the plunge and start using an e-bike to transport your child in a front or rear bike seat.   There's lots of different e-bikes and bike seats available to allow you to create a combination for your family. Do leave us a comment to let us know what combo you've ended up with, or tag us #cyclesprog in Instagram.
Other posts you may find useful:
Thank you to the e-bike specialists at Tredz Bikes for all their help in compiling this article.
Afffiliate Disclosure:  Cycle Sprog is an affiliate of Tredz Bikes, which means that if you make a purchase of any of the bikes featured in this post, after clicking on the link, we may get a small commission.