In recent years e-bikes (also known as electric bikes or e-assist) have started to become more popular here in the UK. It's been taking a bit longer for them to become widespread than on the continent, where e-bikes are already rivaling traditional pedal bikes for popularity.
Electric bike design and technology has been evolving quickly over the past few years, and there are now so many different types of e-bike available, making them more and more popular with cycling families.
There are four main reasons why you may want to consider an e-bike when cycling with your kids – carrying, commuting, clan and keeping up.
AFFILIATE DISCLOSURE:   When you buy through links on our page we may get a small commission if the retailer has an affiliate scheme. You can find out how this works in our affiliate policy. Thanks for supporting us in this way! 
1) Carrying kids using an e-bike
Until your child is old enough to pedal where ever they need to go, you have to be able to carry them when you're cycling. There are a number of ways of doing this, including trailer, bike seat, cargo bike, tagalong, FollowMe – which are all covered in our Carrying Kids section.
However, even carrying a 6 month old child adds weight, which can be a problem if you've had a difficult pregnancy or birth and not been able to get back to full fitness, or are perhaps new to cycling.
Then of course, when your Cycle Sprog is several years older and heavier, or have siblings and friends that need to come along, it can be a real struggle for many parents to pedal with them on board, especially if you've not been carrying them from a young age.
An electric bike will provide that extra oomph that's needed, and means you don't need to be seriously fit to start cycling with a baby or toddler on board.
If you're going down the cargo bike route then e-assist will make life so much easier – you can get up hills and carry heavier loads, meaning you'll potentially get a lot more use out of your investment.
The Babboe Curve – E (from £2,599) can be used for transporting kids and groceries – with the e-assist making it possible to keep on pedalling as your cargo gets heavier and heavier.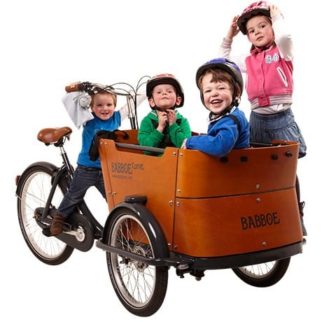 2) Commuting the school-run with an e-bike
There's a dawning realisation that certain aspects of our society are going in the wrong direction. Every week there seems to be another article on things that are getting worse: childhood obesity and type 2 diabetes, concentration spans and behaviour in classrooms; air pollution and respiratory diseases; mental health and general well being.
At the same time, there's all the studies that show active travel, such a cycling to school and work, improves all these factors.
So why isn't everyone commuting to nursery, school and work by bike???
One of the reasons I hear that parents don't cycle their children to nursery / school is that they then need to drive onto work.
It's either that bit too far to cycle, they don't have enough time, or the don't want to arrive all sweaty. Every time this decision is made, a child is missing out on a healthier and active start to their day.
An e-bike can help you drop your child at the school gate and then get to work in a reliable time scale (you don't have to worry about getting stuck in traffic jams).
Plus, recently studies conducted by Shimano have shown that e-bike commuters sweat three times less than regular pedallers!
An "Easy Entry" urban e-bike, such as the simply named "Cube Touring Hybrid Pro 400 Easy Entry 2018" (£2,199) is designed with a step through frame, which provides an upright riding position for riding in traffic, and means your clothes don't get creased when riding. It's designed for daily commuting or longer distance weekend cycling or touring, so is a great all-rounder.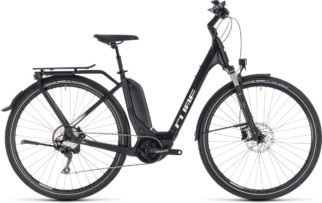 For those of you needing to get onto public transport once the kids have been accompanied to school by bike, you can even get an electric folding bike, such as the Raleigh Stow E-way
3) Your entire clan can use e-assist bikes
We all have our own social groups, or clans if you want to keep on with the "C" sounding alliteration – be they family or friends. Not everyone in your clan may be able to cycle, or keep up at the pace the kids want to ride.
E-bikes can be a good way for those members of your clan who would normally not venture out on a family bike ride to get involved, and can be a good way for grandparents to cycle with their grandchildren.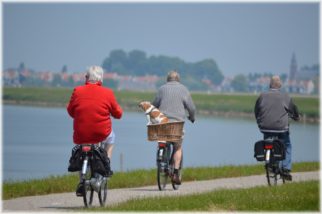 4) Keeping up with your kids by using an e-bike
There comes a time in every cycling parents life when they realise the generational tables are turning. Perhaps it's when you watch your child disappear off into the distance and you just can't keep up, or maybe when they head off down a feature on a trail that you don't have the skill to ride.
Once this happens, your thoughts are bound to start turning to e-bikes! It's that, or the realisation that your days of cycling together are numbered.
They probably are anyway, as at some point they're not going to want to be seen anywhere near you, but whilst you can still eek out a bit of time with them an electric bike will help.
The Orbea Gain range of electric road bikes are designed to look like normal road bikes, meaning you can keep your pride intact whilst trying to keep up with your offspring, and range in price from £1,700 to £3,000.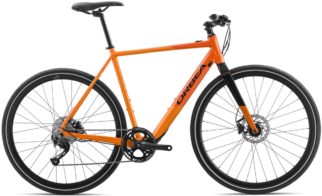 If you're struggling to keep up (or down!) with your Cycle Sprogs on their mountain bike, then there's so many e-assist MTB's to choose from these days. If you still can't keep up on the Mondraker Crafty (£5,299) then it's probably time to admit defeat!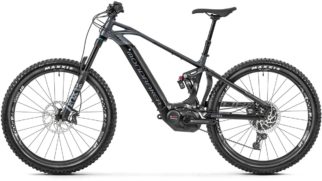 If you've incorporated e-assist into your family cycling, do let us know in the comments section below how it's gone. Would you go back to "normal" pedalling, or are you a convert to e-bikes for life?
Other articles you may find useful:
Support Cycle Sprog!
If you've found this article useful you can buy us a virtual coffee (or two!) to say thanks and help us keep the Cycle Sprog website going.