Rear bike seats are a great way to keep cycling when you have a toddler or young child who needs to come along for the ride. The Polisport Koolah
is an entry level rear bicycle seat, with a RRP of £58, making it one of the cheapest rear bike seats around.

Yet to become a household name in the UK, Polisport seats are more common on the continent.  There are two different Polisport Koolah rear seats on the market – one that fits directly onto the bike frame, and the other that fits to a rear rack.
We asked Juliet Kemp (mum to Leon, blogger and author
) to test out using the Polisport Koolah on the back of her bike – here is her review:
Polisport Koolah rear bike seat review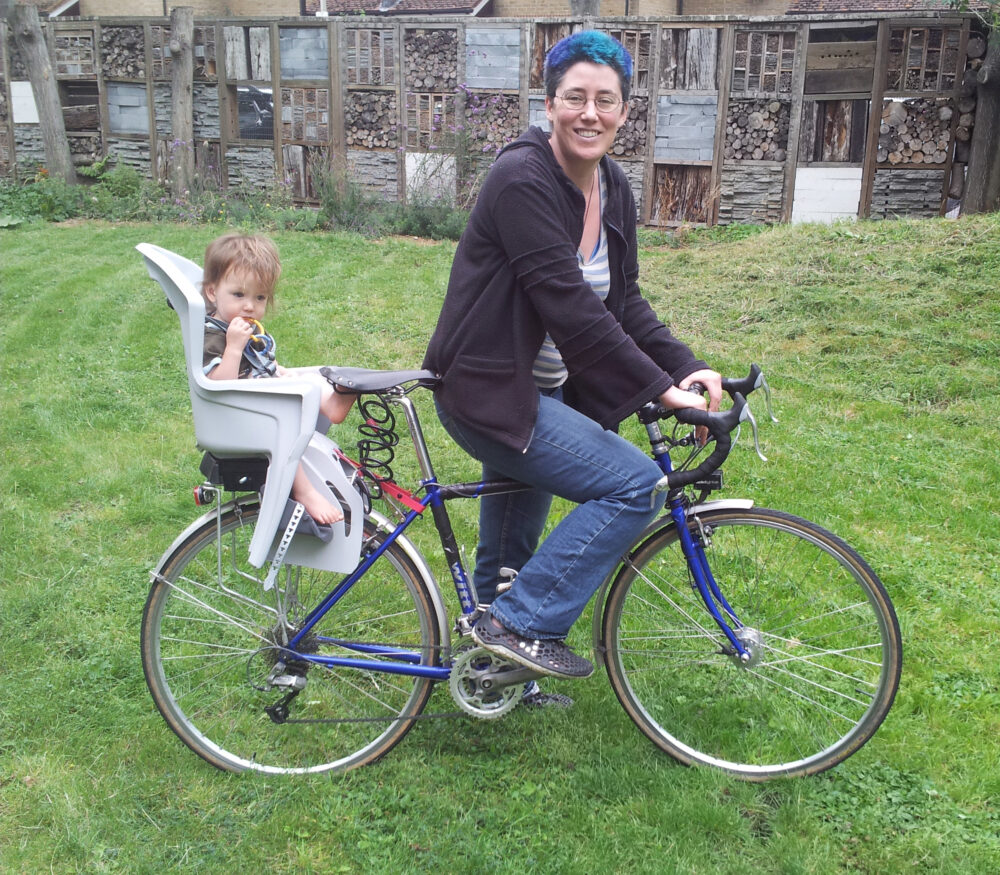 I was sent the Polisport Koolah rear bike seat to review with Leon. He's now 17 months, but we tried it for the first time at around 13 months.
The model of the Koolah I am reviewing is the bike seat which fits to a rear rack (model name Koolah CSF).  You need to have or install a rack to use it, and your bike must have rack mounting holes.
It's possible to carry luggage on a rack fitted with pressure clips rather than mounting holes, but I would not recommend this for carrying a child.
How easy is it to fit the Polisport Koolah rear bike seat?
The Koolah took about 10 minutes to fit, from opening the box to ready-to-go. Like the previous bike seat I reviewed (the Guppy Mini front seat),  I found both foot rest and toe-straps a little awkward to move, although I got better at wrangling the toe-straps over time. Later, when switching the seat between bikes, it took about a minute to take off one bike and another minute to put on the other bike. (Quicker would be nice, but that's probably unreasonable of me!)
The fitting is a big screw that tightens the 'jaws' holding the seat to the rack, so it's simple to operate. There's also a little restraining strap to attach, though the purpose of this is a little opaque to me (surely it wouldn't do much if the seat somehow fell off?).
For a brief overview on how to fit the rack mounted rear seat, there is an instructional video on YouTube.
What did the passenger think of the Koolah bike seat?
Leon was happy to sit in it from the first ride onwards, and it's remained popular. He pats me on the bum if I'm going too slowly for his liking! We've used it a lot for trips when I haven't wanted to take our cargo trike, and have been using it for more trips recently as Leon has asked for it over the trike.
How difficult is it to ride with a rear bike seat?
The Koolah rack mounted seat is pretty lightweight at 2.45 kg but feels solidly fixed once on and firmly tightened. I didn't notice any real difference with the handling (though I'm used to riding with luggage on the back), and even when stopped it didn't feel precarious or unbalanced.
On a long ride out in the countryside I was happy descending at very nearly my normal (fast) speed, which Leon seemed highly enthusiastic about. A speed demon in the making…
It it possible to carry luggage with the Polisport Koolah?
My main problem with the Koolah is the same issue that I have with all rack mounted rear bike seats — there's nowhere to put my pannier. I am investigating solutions to this but haven't gotten anywhere yet.
You can tie a light bag to the back of the seat itself but the limit would be nappies and snacks; and after some experimentation, I found enough space to attach my locks to the rack behind the seat. But it's no good for carrying, say, shopping or library books.
Even if you're happy to ride with a rucksack or a messenger bag on your back, and your little one in the rear bike seat, I found that Leon often got upset after a few minutes, although this may be a function of size of the bike frame, passenger and of bag.
Things to note about the Polisport Koolah rear seat
On a minor note, it's a shame that the straps on the Koolah are unpadded webbing. A couple of times they've slipped in towards Leon's neck and chafed him a bit. I plan to add a bit of wrap-around padding, but would prefer a little lightweight padding to be the default.
Finally, bear in mind that the Koolah doesn't recline backwards and there's no head-rest bar. This also means that it's cheaper and lighter than seats with those features, so it really depends on what you want to use the seat for and your budget.
On the one longer (25 miles) ride we've done with it, when Leon fell asleep he just dangled forwards against the straps, bumping his head off my bum. He's right at the bottom of the weight range, so a larger child might be held in better by the straps, but I can't really see that it's possible to tighten them enough to support the dead weight of a sleeping child without being uncomfortable for the awake child. It wasn't unsafe, but it did make for a short nap and a grouchy child. Whilst I'd be happy to keep using the Polisport Koolah around town, I'd invest in a reclining seat before going on another long ride.
Polisport Koolah rear bike seat review – the final verdict
Overall, the Polisport Koohlah is a good basic seat for short trips.  Leon enjoys being in it, and I expect to keep using it.
Where to buy the Polisport Koolah rear bike seat
To find out if your local bike store is a Polisport stockist, click here. Alternatively, you can buy the Polisport Koolah online at Tredz.
The seat comes in 5 different colour combinations, although the one most readily available in the UK is the grey model.
A note about the differences between the Koolah frame and rack mounted rear bike seats
If ordering your Koolah rear seat online, please be aware that there are two models of the Koolah – the pannier rack mounted model reviewed here, and a frame/tube fitting model.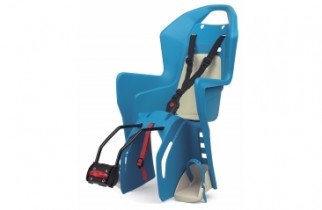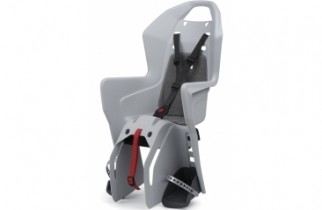 The manufacturer says the frame / tube mounted model (Koolah FF) fits round and oval tubes of 28 to 40cm diameter. The frame mounted seat is slightly heavier (3.13 kg), and requires tools to fit.  This means it won't be as easy to move the bike seat between different bikes as the rack mounted bike seat is. The frame / tube mounted Koolah rear seat therefore isn't as flexible for families where more than one bike needs to carry the bike seat.
In the Polisport catalogue there is a picture which shows a mum riding with her son in the frame mounted Koolah rear bike seat, which sits just above a pannier rack, which has a set of panniers in use – offering a potential solution to Juliet's conundrum.
About our review:
Cycle Sprog was sent the Polisport Koolah to review. 
The Polisport Koolah was reviewed by Juliet Kemp, who can be found blogging at Twisting Vines. She is also author of Permaculture in Pots: How to Grow Food in Small Urban Spaces
Other posts you might find useful;