The best balance bikes are loved, ridden and handed down to siblings and friends. They help children progress confidently to pedal bikes and can encourage a lifelong love of cycling.  A poor choice of balance bike may rust or (worse still) lie unridden and unloved in a dark corner.  Yet when it comes to choosing the best balance bike for your child the options can seem baffling. Sometimes it can really help to have a personal recommendation.
Cycle Sprog is an family run, reader supported, website. We belong to several affiliate schemes so may receive a small commission from sales made from links on our site. We do our best to be impartial and recommend products on their quality not whether they are in a scheme.
The best balance bikes, as recommended by parents
To help you choose the best balance bike for your toddler, I asked Cycle Sprog readers, plus the members of two cycling Facebook Groups which balance bikes their children used, whether they'd recommend them and why, plus included a couple of bikes we've been impressed with ourselves.   Many of these balance bikes have been ridden and loved over the years, often by more than one child.  Others are newer balance bikes, which are breaking boundaries in terms of their design.
The Strider Sport can be leased from The Bike Club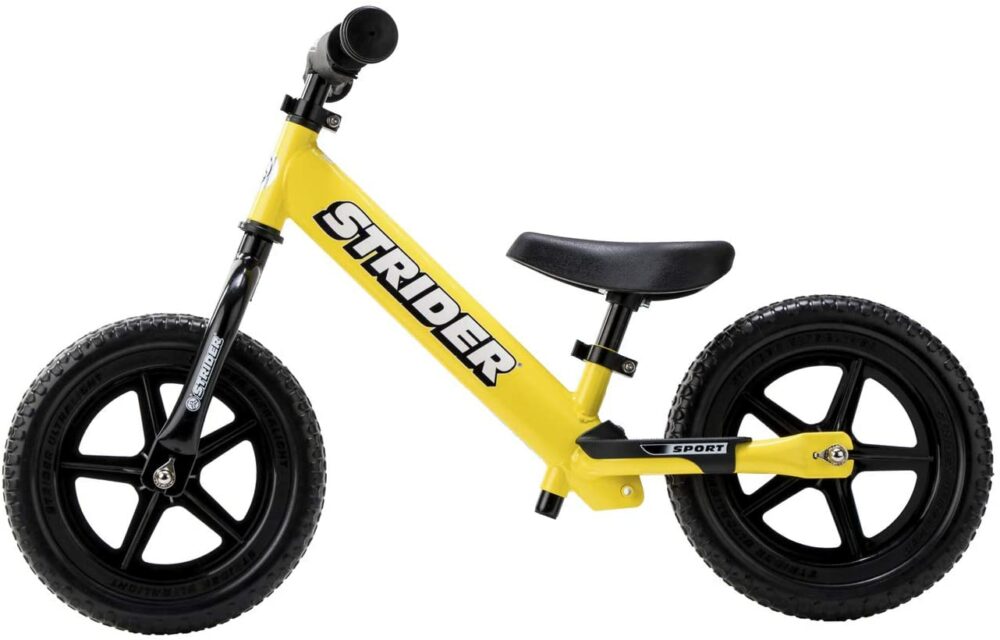 A very popular choice when I asked the parents to recommend the best balance bikes were the Strider Balance Bikes. These bikes have long been a favourite amongst racers due to the Strider Balance Bike Series that runs each year.
The Strider Sport is now available to lease from The Bike Club for a monthly subscription.  This means you can upgrade to a pedal bike when your child has outgrown the Strider.   We're seeing an increasing number of parents opting for this method of kids bike ownership as it not only takes the hassle out of things every time your child grows but is more environmentally friendly and  can be cost effective as well.
"Strider Bike for the win!  Ours has done over 600 miles with three children and still going strong. Lightweight, huge range of seat height and great quality. Only problem is you go through shoes like nobodies business as it doesn't have a brake! Our kids have sat on other balance bikes but are never as daredevil as when they were on their Strider Bike!" – Fiona
"My eldest (3) loves his Strider Balance Bike – it is the 'sport' version (pictured above) and is very light, although not the lightest on the market. It was a good price given it came with two seat posts to extend its lifespan. He's had no problem with the unrestricted handlebars and I doubt would use the brake offered on competitor brands (certainly not when he first had it aged 2). It's been brilliant off road in the woods and on pavement and he zooms around on it very happily. Another plus is that as the Strider doesn't have air tyres there is less maintenance and no risk of a puncture while out." – Louise
"We found the strider sport was great for a very short nearly 2 year old, as it was the only one that had a saddle that could go low enough and light enough. Once she was out of nappies though the seat was too uncomfortable (and still too short for the softer bigger saddle) but fortunately someone gave us an Islabikes Rothan (see below) which was much more comfy and having the brake did help with getting ready for a Frog pedal bike." – Heather
Rent now:  The Strider Sport Balance Bike can be leased from The Bike Club
Buy new: Strider Balance Bikes
Buy secondhand:  Because they are so popular and well made there are always plenty of pre-owned Strider balance bikes available on eBay 
Cycle Sprog reviewed and recommended bike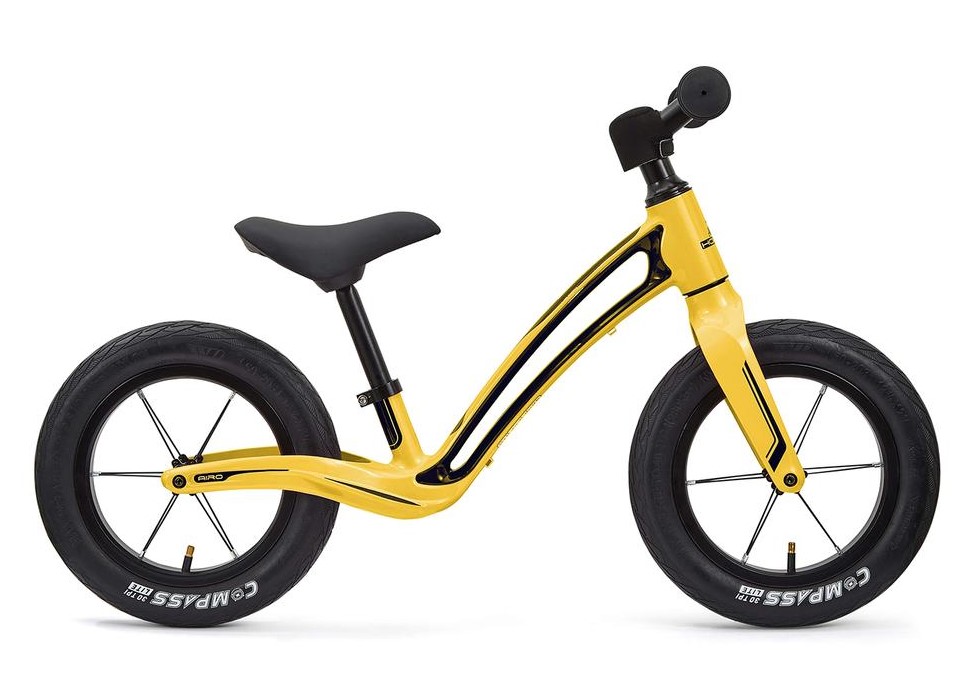 We've recently taken delivery of the brand new Hornit AIRO balance bike, and it was so lightweight I actually thought they'd forgotten to put it in the box!  Weighing it at just 2.95kg the AIRO combines a really lightweight bike frame with pneumatic tyres, which means that your Sprog should enjoy a much more comfortable ride than on a cheaper bikes with solid tyres.
We were impressed how Hornit have combined the best bits of so many different bikes in this one package.  You get some neat features such as a footrest for putting feet on when you're going fast and a cushioned stem cover to protect delicate parts if ever needed.   
They've also managed to come up with a really cool looking bike by using magnesium alloy, a lightweight material that is a more environmentally friendly, fully recyclable alternative to aluminium.
In fact, Hornit are so confident in the quality of this balance bike they're giving it a lifetime warranty on the frames and forks which can be registered for free on-line once you've received your bike.
"What was immediately noticeable compared to our old balance bike was the seat height. With the AIRO the saddle would go lower and he could confidently get going immediately and more comfortably" – Ewen
You can read our full review of the Hornit AIRO here. 
BUY NOW: The Hornit AIRO balance bike
Frog Tadpole Balance Bikes can be leased from The Bike Club
The Frog Tadpole is the smallest offering in a long line of kids bikes from Frog. If you start on a Tadpole then don't be surprised if you get hooked – they do all sorts of kids bikes from standard hybrids through to road, track and mountain bikes for those Sprogs that really get the cycling bug!
The choice of colours and designs was one feature parents liked in the Frog Balance Bike, plus the fact that there are three different sizes – the Tadpole Mini for ages 18 months and over, the Standard Tadpole (ages 2-3 years) and the Tadpole Plus, for ages 3-4 years.
Frog Bike Update October 2021 - Please note that at the moment Frog Bikes are having significant issues with their production / distribution and most places are out of stock of new bikes.  When they do come back into stock they tend to be selling very quickly indeed. 
The Bike Club have a fleet of Frog Tadpole balance bikes and you can lease either a new or used bike for a small monthly subscription.
"We have had the Frog Tadpole for a year and my daughter loves it. She got it at 3 and still uses it at just 4. she is a tall 4 year old at 110cm." – Rachel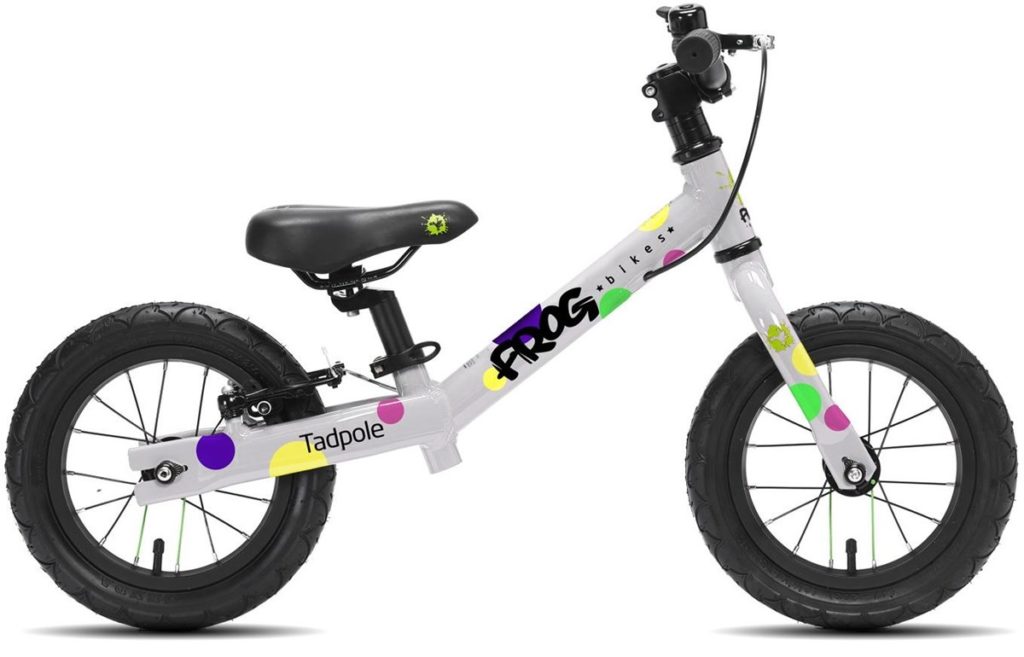 "My son has the tadpole plus and its fab, a few months on it and at three he can cycle a normal bike without stabilisers. It's light, it looks the same as his sister's bike (minus pedals), it's training him to use a brake instead of feet to stop (very important), its ergonomics are fab and the tyres are great as they have a good grip so no slipping when going around corners fast. Love it!" – Claire
"The Frog tadpole is brilliant. The paint chipped quite quickly so the company replaced it and we've had no problems since. It's easy to ride, light but stable. He loves it. I have just bought a 43 for Christmas now he's 3 1/2″. – Simon
Rent Now:  The Frog Tadole range is available to lease at The Bike Club
Buy New CLICK HERE TO BUY THE FROG TADPOLE
SAVE £5 ON FROG BIKES AT TREDZ: Sign up for the Tredz Bikes newsletter (you can do this from the bottom on any bike page) and they'll immediately send you a code to get £5 off your first purchase
Buy Used: There are usually plenty of Frog Tadpoles available on eBay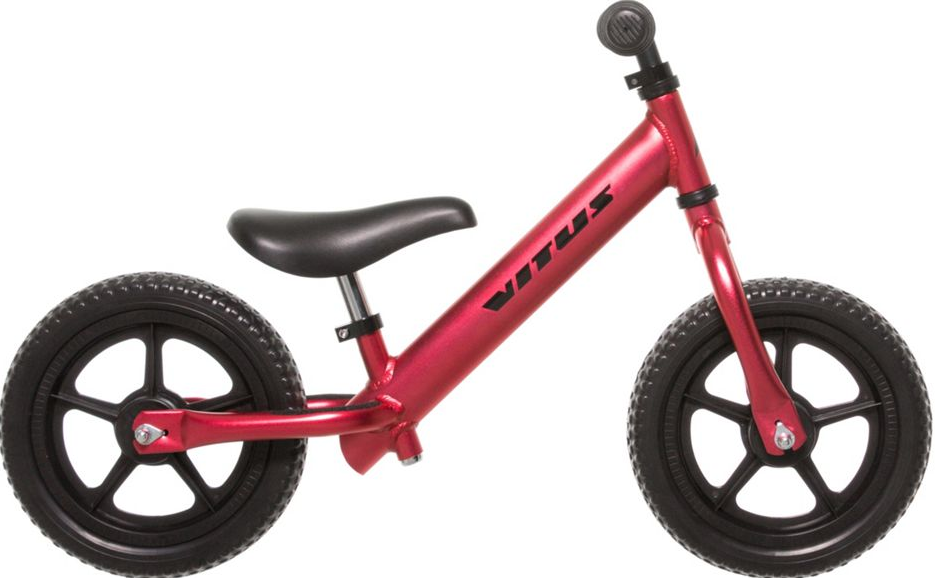 The Vitus Nippy Balance Bike is really lightweight! We've seen it displayed at the 2019 London Bike Show and were amazed at how little there was to it. At just 1.9kg it's perfect for young children who don't have the strength to manoeuvre a heavier bike, and who aren't ready for learning to use brakes.  The saddle height ranges from 31cm to 38cm allowing plenty of room for growth.  The tyres on this bike are plastic, rather than standard air-inflated tyres you get on a standard bike, so the ride won't be quite a comfortable as a more expensive balance bike, but it's a great value option for those just starting out on two wheels.
In recent months Vitus have released the Vitus Smooth, which comes with pneumatic tyres for a smoother ride, which would be more suitable if you're planning to get out and about a lot on the balance bike.
Buy New:  Vitus Nippy Balance Bikes
Buy Secondhand: Worth checking eBay to see if the Vitus Nippy is available secondhand – the original version was known as the Verenti Nippy
The Toddlebike is not strictly a balance bike, but as it was mentioned by so many parents I felt I should include it here. The Toddlebike is designed as a "pre-balance bike" for toddlers aged 18 months and over who are too small to ride a proper balance bike.
"The Toddlebike was really useful for when our youngest was too small for the Islabike Rothan" – Dominic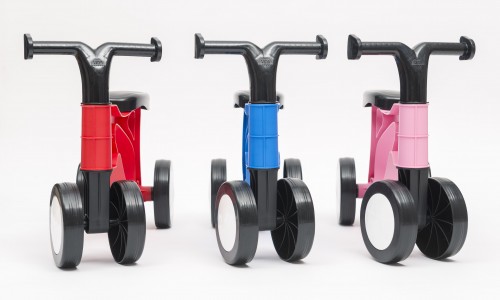 "We started with a Toddlebike at around 18 months of age, then graduated to a Puky, then pedals after that. I agree that Puky bikes are really robust and easy for them to ride and would heartily endorse the Toddlebike for tinies – it's so light it gives them a great intro." – Eilidh
Buy New: The Toddlebike (also known as a Lena My First Scooter) is available from Amazon
Buy used: As they are so cheap most Toddlebikes are passed on locally, however, you can sometimes find someone willing to post you one on eBay.
The Chicco Bullet is the best selling balance bike on Amazon, so there are a lot of kids out there riding this bike!  It gets recommended for its lightweight and for being great value for money.
"We love our basic Chico bullet, now using it with our second child, very light frame and easy to master" – Correen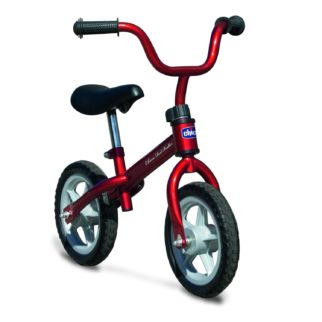 "Having had an Islabikes Rothan for our eldest, we went for the other end of the market, a Chicco Bullet, for P. Amazing bike. Super lightweight, tyres that don't go down. Having been on the Toddlebike, she was already a pro when she got the Bullet (age 2) and was only on it a few months before being ready for pedals. So in summary, given my kids were only without pedals for a few months each I would definitely go with the Chicco which is more than good enough for this stage – save your money for getting a really good pedal bike when they're ready!" – Jo
Buy New: The Chico Bullet is available from Amazon.
Buy pre-owned: You can usually find a really cheap Chicco Bullet second hand, but due to the low price they're usually collection only. Check out eBay to see if there's one available near you 
One of the balance bike recommended by loads parents was the Puky Balance Bike. These have been going for years (which is why so many people have them) and get a thumbs up for their simplicity and robustness.
"We love our Puky. Currently on our second daughter, hoping to transition straight to pedals without stabilisers as we did with our eldest. A solid little bike that hasn't let us down!" – Emma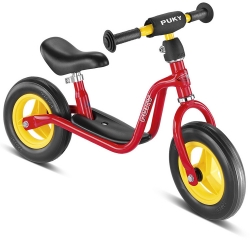 "Both my children had Puky balance bikes (a very hard wearing German make). They are really well made and robust enough for some off roading" – Helen
"Puky all the way! My little girl was riding an Islabike pedal bike by the time was just 3 years old thanks to the 2 Puky balance bikes we had bought her. My son likewise." – Louise
"My son had a Puky which had a brake which got him started riding. He's now 14, so this was a long time ago. We then had several other Pukys as they are very good." – Adam
We had so many recommendations for the Puky Balance Bike I couldn't fit them all into this article, so I've decided to write a separate one – Why do parents love Puky Balance Bikes?
Buy New: Puky Balance Bikes are available from Amazon 
Buy Secondhand:  Because these bikes are so robust there's always quite a few available on eBay
A number of parents raved about the Hotwalk telling us how much they like the design.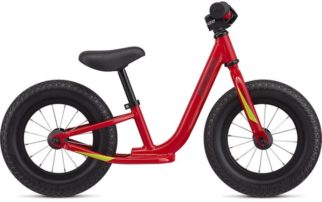 "We have loved ours, it's solid and robust without being too heavy and has the ledge where your child can put their feet up on (which most on here don't seem to have) when good at balancing and going down hill! Love ours" Lucy
"Pros: lightweight, nice step-over frame, really well made. The one con: no brakes, and no easy way to fit one. Our Small loved it, and after about a year of scooting around moved very easily onto his first bike with pedals."  Tom
Buy New: Click here to buy the Specialized Hotwalk Balance Bike
SAVE £5 ON THIS BIKE AT TREDZ: Sign up for the Tredz Bikes newsletter (you can do this from the bottom on any bike page) and they'll immediately send you a code to get £5 off your first purchase
Buy secondhand: The Hotwalk often comes up on eBay secondhand 
This bike is sometimes available to rent at The Bike Club
I'm sure many of our readers would be surprised if an article about the best balance bikes didn't feature an Islabike. However, opinion is split on the Rothan.   Some raved about it's lightweight and the fact that unlike some other balance bikes it comes with a brake. Others firmly felt it was far too expensive, that young children don't need a brake, and money should be saved for the larger Islabikes in the ever growing range.
"We had an Islabike balance bike when A turned two. I would highly recommend these as they are nice and light so easy for a little one to pick up and comes with brakes so saves the shoes! The brake levers are the perfect size for little hands. A moved onto a pedal bike with ease soon after turning three. C at 20 months is bike obsessed and is desperate to get going on the balance bike but his legs aren't quite long enough yet." – Emma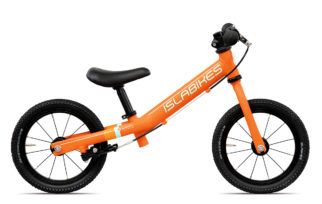 "We had an Islabikes Rothan for our two, and the youngest had a Toddlebike to start with too. The balance bike made it easy to transition to a pedal bike, eldest three and a bit, youngest getting on for four." – Dominic
"We went for Islabike Rothan for E and were quite pleased at the time – low stepover, relatively light and given his time on a Toddlebike he took to it like a duck to water." – Jo
Rent Now:  The Islabikes Rothan is available to lease from The Bike Club
Buy New: The Islabikes Rothan is available from the Islabikes website
Buy secondhand: There is a very strong second hand market for Islabikes on eBay.
Cycle Sprog reviewed and recommended bike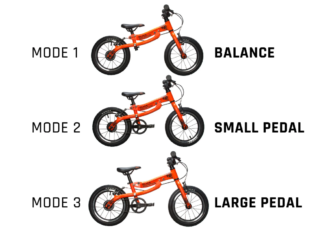 I know what you're thinking!  £349 or over for a balance bike!!! However, with the Black Mountain you're not just buying a balance bike, you're also buying your child the next two pedal bikes at the same time.
The reason they're proving really popular is because they convert from balance bikes into pedal bikes, plus they have a rather clever "growing frame" which means that one bike will last you the equivalent of up to three other balance bike/pedal bikes, saving you time, hassle and environmental impact.
With kids bikes being quite hard to come by at the moment as brands struggle to keep up with the surge of interest in cycling generated during lockdown, this makes the Black Mountain particularly attractive at the moment.  It's going to provide the peace of mind that you've got a bike for your Sprog that is going to last a number of years.  (UPDATE – THE SMALLER PINTO HAS NOW SOLD OUT FOR 2020 – see below on how to reduce the saddle height on the larger SKÖG)
There are various sizes of Black Mountain Bikes depending on how tall your child is:
PINTO – 14″ wheels  (OUT OF STOCK UNTIL 2021)
SKØG – 16″ wheels (OUT OF STOCK UNTIL 2021)
KĀPEL – 18″ wheels  (balance bike converter needed) (OUT OF STOCK UNTIL 2021)
HÜTTO – 20″ wheels (balance bike converter needed)
If your child is too small for the standard PINTO or SKÖG you can now buy a NOTCH balance bike saddle, which will lower the saddle position by 5cm, as well as bring the "scooting" position forward.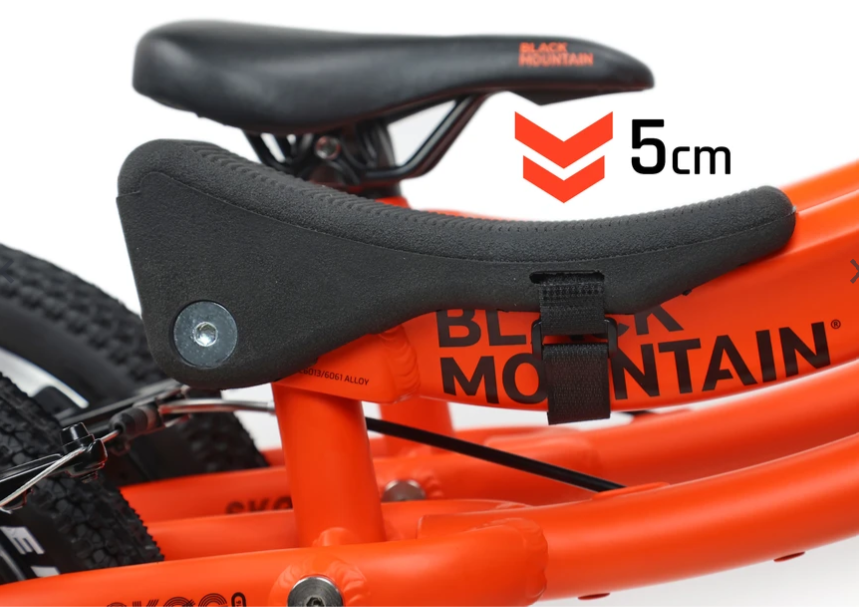 You can read our reviewer's experience of the 16″ wheel Black Mountain SKØG here and then how she got on transferring to the larger 20″ wheel HUTTO. 
"We have 2 in our reception/preschool class at my school, Michaelchurch Escley Primary in Herefordshire and they are fantastic. The children love them and are never off them."  Gary
"Black Mountain Bikes are fantastically engineered and negate the need for one of the bikes parents usually need to buy as the kids grow out of one size and into the next!" Jonny
Buy New: Black Mountain Bikes are only available directly from the Black Mountain website 
The Black Mountain range is too new for there to be any available second hand, as they transition from balance to pedal bike so the original owners are still using them! 
The best balance bikes – the verdict
As you'll see from the recommendations, the balance bikes recommended fall into several groups.  Those with solid wheels and no brakes (Puky, Strider and Chicco Bullet) are very simple for young riders to get the hang of.  Due to the lack of additional components, they're also cheaper than the balance bikes with brakes and pneumatic tyres, plus there is no risk of a puncture.
The Islabikes Rothan and Frog Tadpole are both popular because they are from well respected quality kids bike brands. They can help children master the art of braking before they progress to pedals. Puky balance bikes are also available with pneumatic tyres and a rear brake on the more expensive models.
The Hornit AIRO fits in between these two groups in terms of price and functionality, as it's really simple and lightweight, but with the benefit of pneumatic tyres. It doesn't have a brake (but does look great!)
The Black Mountain is a brilliant choice if you can afford it, as it will last a lot longer than any other bike on this page.
Finally, the Toddlebike/Lena Bike is a great option for those aged 18 months plus who aren't quite ready to progress to a full balance bike.
In all cases, the best balance bikes featured are lightweight and very easy for young children to manoeuvre. They are well constructed to last the abuse that their riders will inflict, and come recommended by many different parents.
There is no right or wrong answer as to which is the best balance bike for your child. Your budget, brand preference and amount of use the bike will get should help you make the correct choice for your family.
A massive thanks to all the Cycle Sprog Facebook followers plus the members of the Family Cycling UK and Preowned Frog Bikes For Sale Facebook Groups for taking the time to let me know their recommendations for the best balance bikes.
If you've enjoyed reading this article, please do sign up for our newsletter - we'll keep up updated when we have new articles which may be of interest. Thanks! 
Support Cycle Sprog!
If you've found this article useful you can buy us a virtual coffee (or two!) to say thanks and help us keep the Cycle Sprog website going. 
You may find these other articles useful:
Affiliate Disclosure:  Some of the links within this post on the best balance bikes use affiliate marketing, which means we get a small commission if you make a purchase. This helps us funds the ongoing hosting and maintenance of the website, and doesn't affect either the price you pay, or whether we recommend a product. Thanks for supporting Cycle Sprog by using these links when you buy your balance bike.
If you've found this article useful, please share it with your friends on social media, using the icons below.
This article was first written in November 2016 and updated in November 2020 to reflect available and prices of the balance bikes.