A Toddlebike is, as the name suggests, a bike for small toddlers aged 18 months upwards, who can walk confidently, but aren't ready yet for a traditional balance bike.
They're a brilliant way to start giving your child a love of cycling and are particularly good for a younger child desperate to be like their older sibling who already has a two wheeled bike.
A bit of history around the name – back in the mid 2010's there was a company that was called "Toddlebike" and sold these great little bikes under that name.
They were imported from Europe where they were known as Lena's.
Sadly the Toddlebike company has gone out of business but thankfully you can still buy the bikes – they're just now called Lena My First Scooters.
Don't ask me why they're called a scooter, when they clearly aren't!!
They've been upgraded slightly over the years to be stronger and more fun to ride too.
Affiliate disclosure: Cycle Sprog may get a small commission if you make a purchase from the links in this post. For more information please see our affiliate policy
Review of the Toddlebike / Lena My First Scooter
We were sent an original Toddlebike to review and asked Mum of three Anna and her 2 year old daughter to give it a go and tell us how they got on.
First thoughts of the Toddlebike?
It was not love at first sight!
Having ordered the primary colours version, I feared I had simply invited more cheap, brightly coloured plastic to idle in secret corners of our home.
Happily, I was very wrong – the Toddlebike is much more than it looks.
It may be bright but it's certainly not cheap plastic or idle.
It's deceptively lightweight, and therefore very portable, and yet extremely robust and with an eager 2 year old on board, it's satisfyingly fast!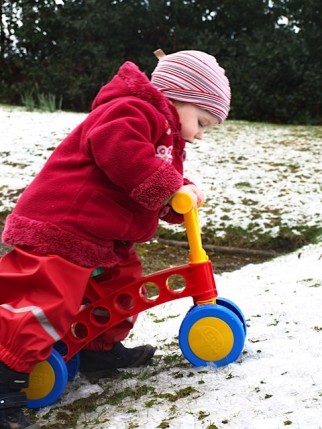 Any set up required?
None required. It was out of the box and toddled away on in less than a minute.
How is the Toddlebike / Lena Scooter in action?
Given the weather when we got the bike initially it was used indoors.
It's narrow width and feather-like weight means it is superb for simulating the flexibility of a real bicycle but also means it fits inside a house quite unobtrusively.
Our 2 year old soon learnt that keeping her feet up meant higher speeds across the kitchen floor and by leaning left or right, kitchen chairs were easily negotiated – all the basics of learning to ride a real bike.
Once outside, she really took off!
No terrain seems too much for this toddler bike.
Wherever her older brother ventures on his pedal bike she follows.
Whether on cycle paths, up and down hills, through woods; she nearly keeps up!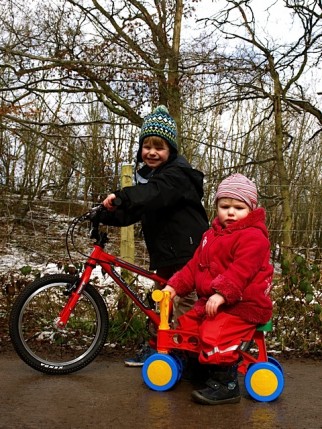 What age group is the Lena My First Scooter aimed at?
The Toddlebike / Lena Scooter is designed for children aged 18 months upwards.
Our 2 year old is quite small for her age and so whilst her brother was on a balance bike at her age, I think she may well use it up until she's three.
Does this toddler bike really teach a little one how to balance?
Yes. I think so.
Rival tricycles (and perhaps some balance bikes) can be heavy and inflexible and little ones learn nothing about how they might manoeuvre it themselves.
Instead they demand bigger people to push/pull/move them NOW! – quite tiring and uninspiring for everyone – especially a little two year old!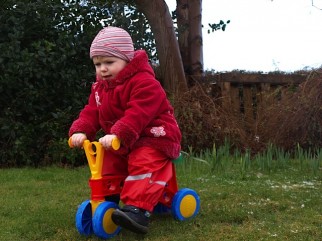 With a Toddlebike, little people not only learn the basics of how to move a real bicycle but they can be fairly independent and the real beauty is that when they've tired out (as they inevitably do) it can be popped on top of a buggy or held in one hand.
So all in all, a good experience for everyone and perhaps most importantly it gets used again and again making family bicycle trips great fun.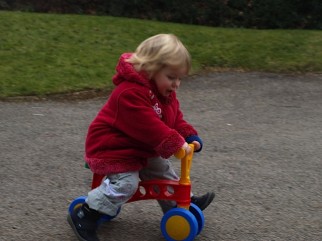 So, in summary, what do you like about the Toddlebike / Lena?
There's so much to like about this bike I'm not sure where to start!  So a quick list:
It's lightweight – easy to steer, easy to move, easy to carry, easy to pop in back of car.
It's practical – it teaches the basics of balancing and helps the transition to a balance bike.
It's robust – it can be thrown down hills, dropped out the back of a car and little people can jump up and down on it without even a dent. There are no small moving parts to break off or swallow.
It's great value for money.
What don't you like about the Toddlebike?
Nothing – I love it!!!  Unless perhaps they could also do a muted colour!
Toddlebike review update – 1 child on
Cycle Sprog editor Karen met up with the Toddlebike reviewer Anna at a party almost a year after she'd received the Toddlebike.
Her daughter had successfully progressed to a pedal bike, and her youngest son had started to use the Toddlebike, aged only 13 months.
He'd seen his older sister zooming round on it, and was desperate to get in on the action himself!
Where can I buy a Toddlebike / Lena My First Scooter?
As mentioned at the start Toddlebikes are now known as Lena My First Scooter, and have had a couple of upgrades.
They're available online via Amazon and come in a range of bright colours.
As they're plastic do please pass on to another family or charity shop once your child has outgrown it, to avoid unnecessary landfill.  They should keep going for decades!!
Before you go…
At some stage in the next couple of years your child is going to be ready to learn to ride a pedal bike.  Once they've outgrown their Toddlebike you may be tempted to move them onto a pedal bike with training wheels (aka stabilisers) but we almost always recommend not doing this – and using a balance bike instead.
They will progress to pedalling much quicker than if they rely on training wheels.   Here's more information on why balance bikes are better than stabilisers (and the few children for whom training wheels are a better idea).
You may find these other articles useful:
The Toddlebike used in this article was provided to Cycle Sprog for review.
This article was originally posted in April 2013, and updated in June 2023 to include the change of name to the Lena My First Scooter and update the links