If you're desperate to get your 1 year old toddler their first bike, you've definitely come to the correct place – welcome to Cycle Sprog!
We're here to give you independent advice on getting your child (and perhaps you!) cycling, what ever their age.
It's really exciting buying your child (or grandchild) their first bike, but please make sure you buy them one they fit now and will enjoy riding. 
In this article we cover a variety of different options of toddler bikes for 1 year olds. 
Can a 1 year old ride a bike?
There can be a real difference in the physical abilities of children at this age, especially between those who have just turned one and those who are approaching their second birthday.
Each toddler will develop at a different rate, so please be patient and don't force them to ride a bike if they're not interested or not ready.
If they're still crawling, then they're not ready to ride a bike.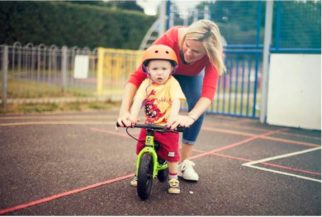 Cycle Sprog is an family run, reader supported, website. We belong to several affiliate schemes so may receive a small commission from sales made from links on our site. We do our best to be impartial and recommend products on their quality not whether they are in a scheme.
What type of bike can a one year old ride?
Of course a one year old won't be riding a pedal bike, but there are several options available which are mainly suitable from about 18 months and over, although some toddlers will be ready slightly earlier than that and others a lot later.
A pre-balance bike or toddle bike, which has 4 small wheels is a great choice to get them started and is suitable from as soon as they can toddle around.
After that, they can move onto a balance bike as pictured above. 
If you don't know what one of these is, see our cunning titled post What is a Balance Bike.
Can a 1 year old really ride a balance bike?
The majority of one year olds aren't ready to progress to a balance bike, but there will be some children who are physically mature for their age may start to be ready for a balance bike whilst they are still 1.
As most children won't be ready for a balance bike until the age of at least 2, balance bikes tend to be sized for slightly taller children.
In this post, we only feature smaller balance bikes which are suitable for ages 18 months and over, but have also included some "ride-ons" and other options that are perfect for slightly younger toddlers.
If you want a fuller list of balance bikes, then check out our other post on the best balance bikes.
The best bike for a 1 year old
Here's our selection of the best ways you can get a one year old onto wheels.
As you'll see they are roughly in age order based on a mix of physical development and inside leg measurement.
They're not all traditional "bikes" as most 1 year olds won't be ready for that – but they've all got wheels to start them on their cycling journey. 
Scramblebugs and Scuttlebugs
Scramblebugs and Scuttlebugs are a really popular choice with parents who have younger children desperate to get moving about on wheels but are still too young to master a more traditional balance bike.
We had a Scuttlebug for our Sprogs and they absolutely loved it, plus we appreciated the way it folded up for carrying and storage.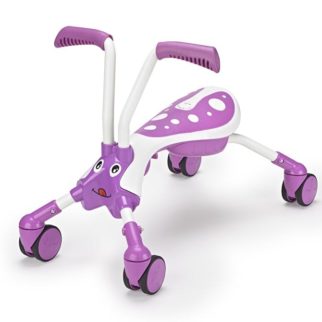 The Scramblebug is aimed at ages 10 months to 2 years and has 4 wheels to provide maximum stability.
The wheels move 360° so the rider can move around in any direction – forwards, backwards and even sideways.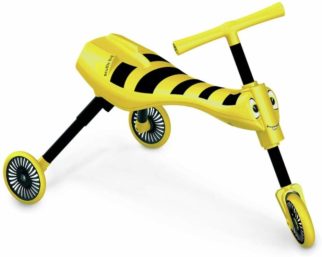 The Scuttlebug has three wheels and is aimed at slightly older toddlers aged 1 to 3 years.
It requires steering, so is the next stage in helping your child develop their motor-skills (whilst having great fun and getting exercise).
Both the Scramblebug and Scuttlebug fold up so they are easy to carry and transport.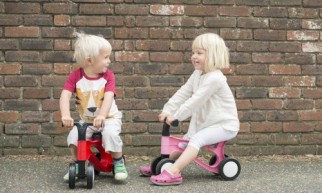 A Toddlebike (also known as a Lena First Scooter) can be used as soon as a  child is confidently walking (often about 18 months but can be earlier) and has an inside leg of 20cm. 
Designed to be more stable than a balance bike, the Toddlebike / Lena has two wheels rather than one at the rear.
The geometry is narrower than a traditional three wheel trike, which enables them to learn the balance skills needed to progress quickly onto a balance bike.
It can be used inside and outside the house and is REALLY lightweight (less than 1kg). 
This product is sometimes known as a Toddlebike but is manufactured by Lena – who for some reason call it a scooter! Confused? So are we!!
Buy New
Puky Toddler Bikes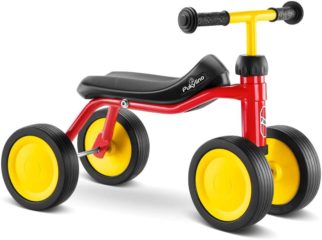 Puky are a German brand who make a very robust brand of popular balance bikes. 
Puky bikes last for years, and therefore make great investments for those planning large families, or looking to sell on when their child has outgrown it.   
All these bikes come with an ergonomically designed saddle, built in carrying handle plus a special knee recess so that children can keep riding them comfortably as they approach the maximum height limit.
The bikes are fitted with silent tyres for indoor riding, and steering limiters to prevent your toddler jerking the handlebars all the way round in one go, which can cause them to topple over, or hurt themselves on the handlebars.
The PukyLino  (above) is their offering for smaller toddlers, aged about 18 months and over.   
The seat height is 22cm and requires an inside leg of 24cm (and can go up to 34cm)  so it's ideal for taller toddlers approx 75cm – 90cm in height. 
It has a more robust feel to it than the Lena, but this does mean it weighs slightly more, tipping the scales at 2.3kg.
Puky Woosh
The next size up Puky bike, the PukyWutsch  (also known as the Woosh in English) may suit taller toddlers from ages about 18 months and over, who have a more developed sense of stability.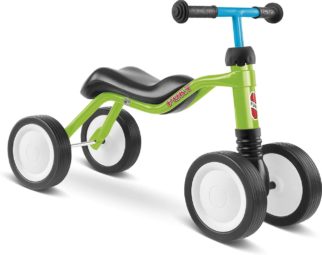 The Wutsch has a different front axle to the PukyLino – you'll notice it's more flexible.
This allows your child to start to master balance plus moving in different directions. 
The Puky Wutsch is sized for children with an inside leg of 26cm through to 36cm (roughly equating to a height of 80cm to 95cm).
This bike is available to lease from The Bike Club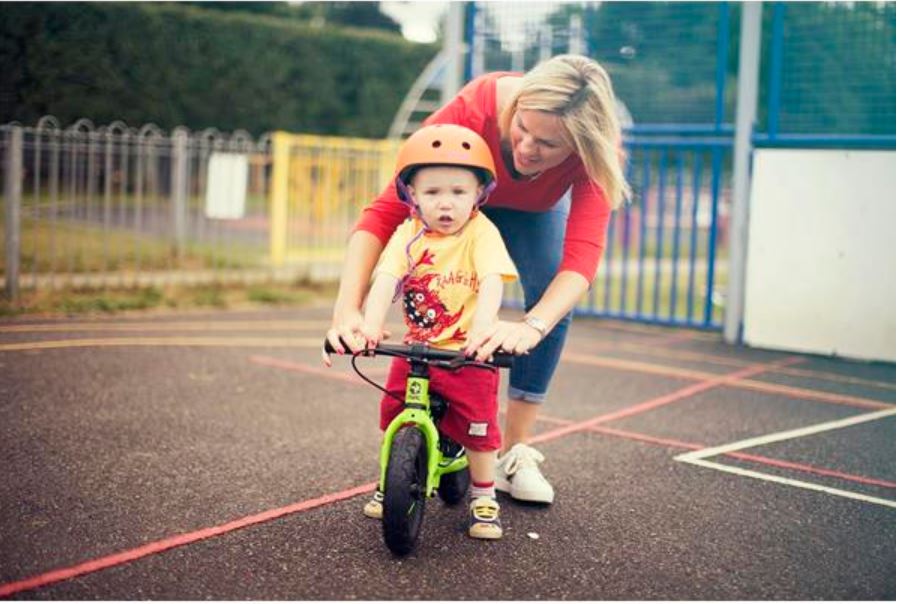 Welsh based Frog Bikes have a vast range of kids bikes, all designed with the age of the rider in mind.
Their very smallest bike is the Tadpole Mini balance bike, which comes with tiny 10" wheels.
It is the smallest balance bike we can find and it's suitable for children with an inside leg of just 24cm.
It has a safety steering lock which stops your child from turning the handlebars too vigorously which can cause accidents.
The Tadpole Mini is  available to lease from The Bike Club – you just pay a monthly subscription for the bike and when your little one has outgrown it you send it back and upgrade to the next size. 
It takes all the hassle out of keeping your child in bikes as they grow, and is becoming a really popular way of "owning" kids bikes with busy parents.  It's also more environmentally friendly too!
Strider Balance Bikes
These bikes are available to lease from The Bike Club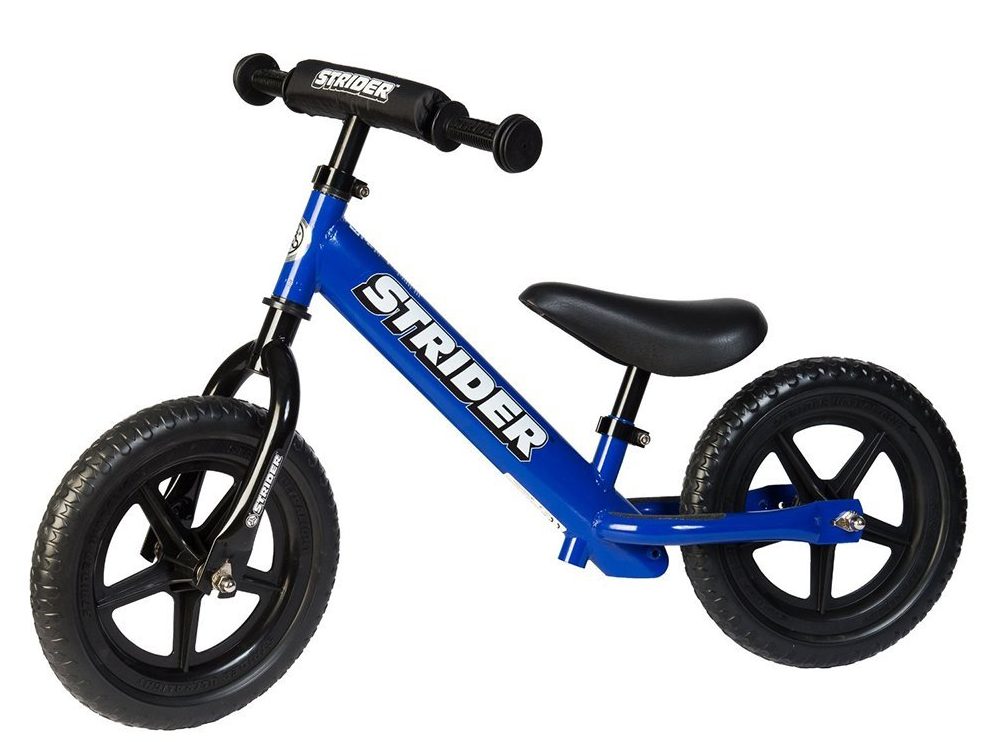 Built to be incredibly robust, fast and fun, Striders are used in balance bike racing the world over, as well as by children who just want to ride at a more leisurely pace.
The most popular model is the light weight Strider Sport which is readily available here in the UK.
The saddle goes as low as 28cm, which Strider claims is suitable for 18 months plus, but remember every child is different so measure them carefully. 
Strider Balance Bike Rocker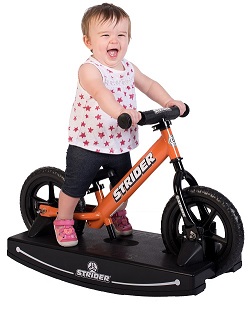 If your child can sit up unaided but can't yet walk (often about 12 months onwards) you can get them onto two wheels with the innovative Strider Rocking Base, which turns an ordinary Strider Balance bike into a rocker. No need for rocking horses any more!!
The minimum inside leg measurement needs to be 22cm to fit this. 
Cost wise, you do need to invest in both the bike and the base at the same time but this option means as soon as they're ready to progress to using the balance bike you just need to remove it from the base and away they go. 
Rent Now
Wishbone 3-in-1 bike (from £209)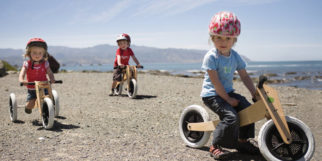 The Wishbone is a 3 in 1 bike that is designed to grow with your child.
It starts out as a three wheeler trike for toddlers with an inside leg of 27cm, which easily converts to a small two-wheeled balance bike.
For older children, the frame can be flipped and seat post extended to cater for children up to an inside leg of 46cm (probably about 4 years). 
There is also a 2-in-1 version that skips the trike bit if your child doesn't need it.
Wishbone is a New Zealand based company, and their environmental credentials are worth mentioning.
The wooden version is made from sustainably produced birch and the plastic version from recycled carpet fibres and only one product is needed to span several years.
Buy Used
A bike for a 1 year old is just the start – do keep in touch

!
We hope you've found this post useful, and you find the best bike for your one year old.
As they grow (rapidly!) over the coming years you're going to be facing lots of decisions about what bike to buy at different ages, where to ride and what to wear.
Keep up to date with all the news, views and opinions on family cycling by following Cycle Sprog on Facebook and Instagram, or signing up for our newsletter.
Welcome to the Cycle Sprog family!!
Other posts you may find useful:
Affiliate disclosure:  In order to keep Cycle Sprog going, we use Affiliate Marketing, which means that on some of the links on this page we may get a small commission if you make a purchase. This doesn't cost you any more but helps us to keep the website going. Thanks for your support.
This post was first published in July 2018 and updated in January 2022 to reflect current prices and stock availability.