Balance bikes are a great way to get children to learn to ride a bike. They provide a fun way to get used to moving around on two wheels, mastering balance, steering and braking, before introducing the complexity of pedaling. If your child isn't yet ready to move onto a pedal bike but is too tall for a traditional 12″ wheel balance bike, don't worry! In this article, we're taking a look at those bigger balance bikes suitable for older and taller children.
Sizing and age – is my child too old / tall for a balance bike?
The majority of balance bikes come with 12″ wheels and are suitable for children about 3 – 4 years in age. However, there are some larger balance bikes now available which are designed for taller children. These are usually marketed at ages 4 and over, but of course, the individual measurements of your child will vary.
Making your own balance bike
One option you have is to take a standard pedal bike and remove the pedals, cranks (and gearing if present) to make your own balance bike. If you're confident with your bike maintenance skills this can be a good way to save a bit of money over buying a bespoke balance bike. However, be aware that some kids bikes are really heavy, so make sure you're taking this into consideration if your child doesn't take to the bike. A lightweight balance bike (such as those featured below) may be what's needed to get them confident on two wheels.
Cycle Sprog is an family run, reader supported, website. We belong to several affiliate schemes so may receive a small commission from sales made from links on our site. We do our best to be impartial and recommend products on their quality not whether they are in a scheme.
Balance bikes for older kids
Here's our selection of the best balance bikes for children aged 5 and over.
Cycle Sprog reviewed and recommended brand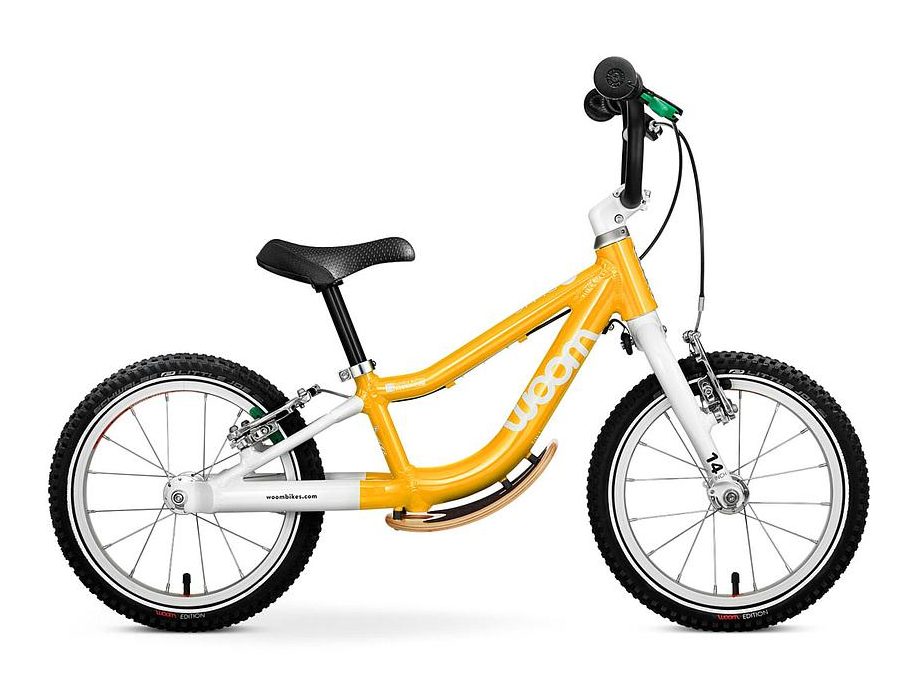 Woom Bikes are an Austrian company who are now available here in the UK via the Little Bike Company.  They have a "big balance bike" available – called the Woom 1 Plus (as you can probably guess their standard 12″ wheel balance bike is called the Woom 1!).
This 14″ wheel balance bike is sized for children aged between about three and a half to 5 years of age, with a height of between 95cm and 110cm.   The saddle height ranges from 37.5cm to 47cm.
The Woom 1 Plus is available in 5 different colours – including yellow (which isn't the easiest colour to find!). It comes with both front and rear brakes.
We've reviewed a few Woom Bikes (including their 14″ wheel pedal bike, the Woom 2) and our reviewers have always been very impressed with the quality and longevity of these bikes.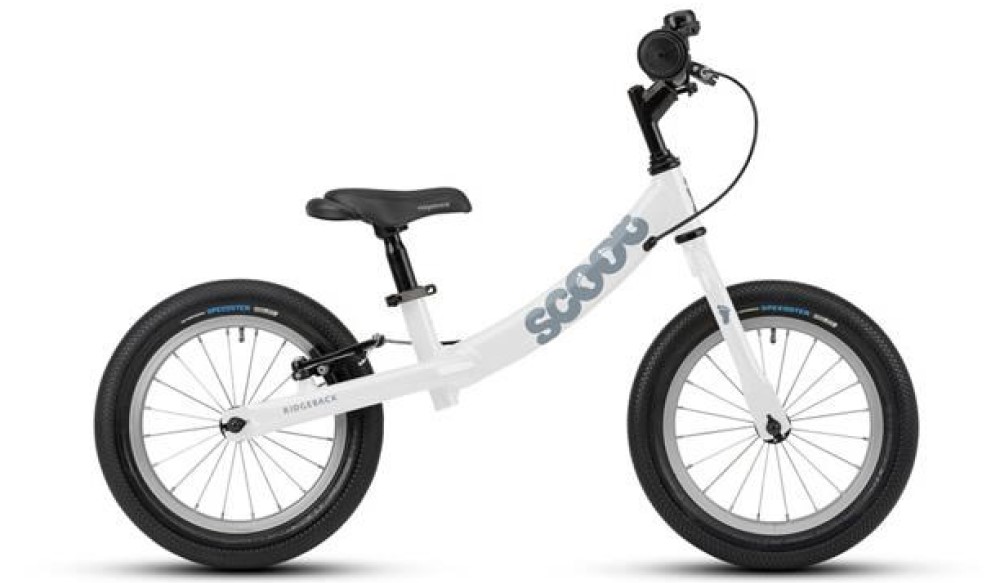 The Ridgeback Scoot XL is a 14″ wheel balance bike aimed at children who are too tall for their smaller 12″ wheel offering. Their website states that the Scoot XL is suitable for children between 100cm and 110cm in height, which is roughly up to age 5, depending on how tall your child is.  There are 6 different colour choices available, including black, lime green, purple and pink and the bike is fitted with a rear brake.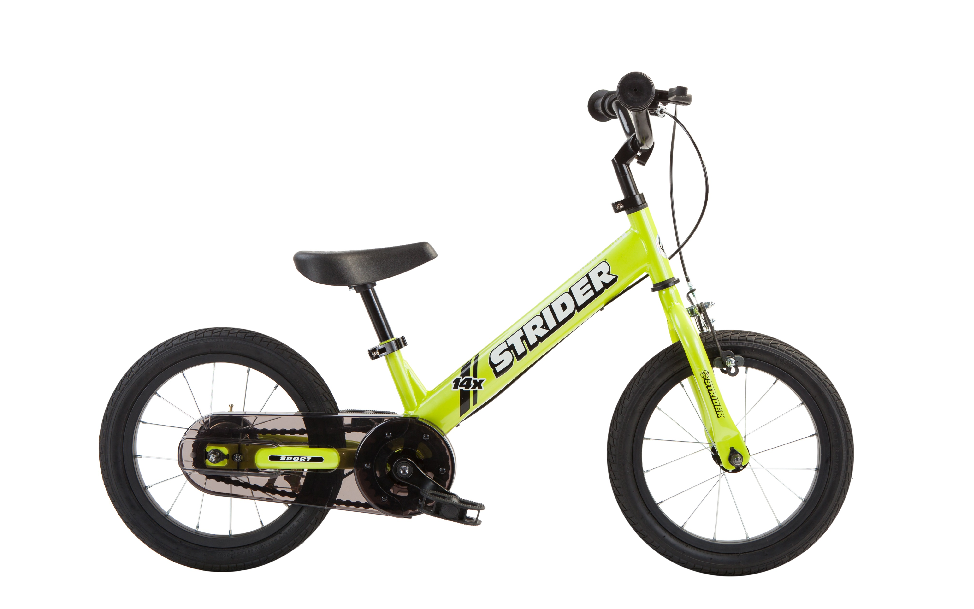 Strider are a well know American balance bike brand, who have a 14″ wheel bike that is suitable for taller kids who have outgrown their standard 12″ wheeler.
Again, the good thing about the Strider 14x is that you can buy a separate pedal conversion kit so your child can transition easily from balance bike to pedal bike.
It's a lightweight option (5.7 kg in balance bike mode and 6.1 kg in pedal bike mode) and is sized for children with an inside leg of between 40 and 58 cm which is up until about 6 years of age.
Buy Online
Strider 16 Sport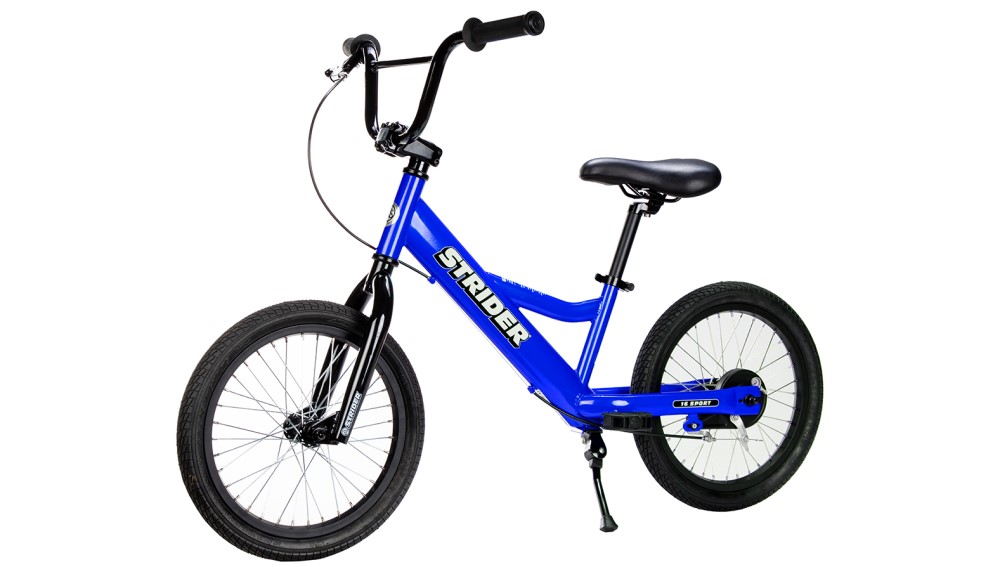 If your child is aged over 6 years of age, then the next sized bike, the Strider 16 Sport is a good choice. It's designed for an inside leg of 52.1cm to 67.3cm and comes in a choice of two colours – blue and red. The frame is made from steel and the bike weighs in at 8.0kg
Buy Online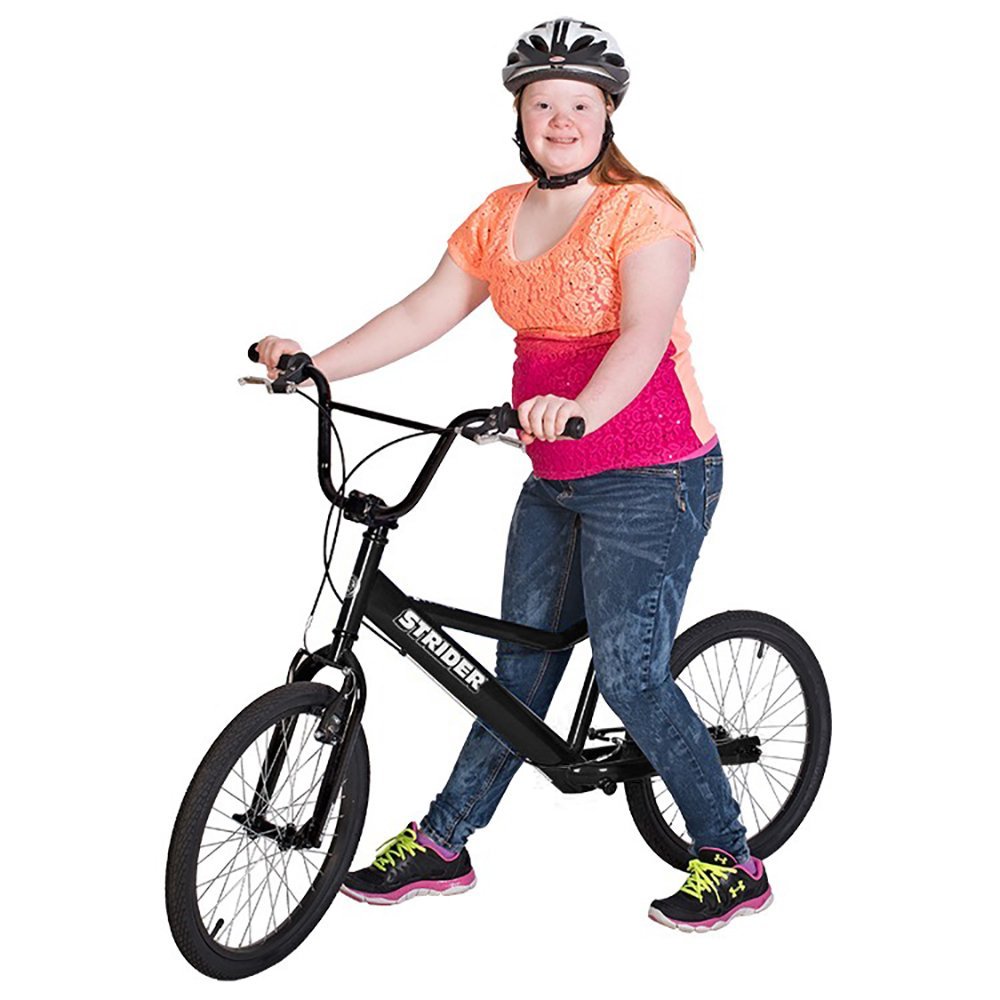 The largest Strider balance bike is the Strider 20 Sport which is designed for teenagers and adults, with an inside leg measurement of between 69.9cm and 84.6cm.
It's available in two colours – black and white and has a weight of 9.6kg.
Buy Online
Cycle Sprog reviewed and recommended brand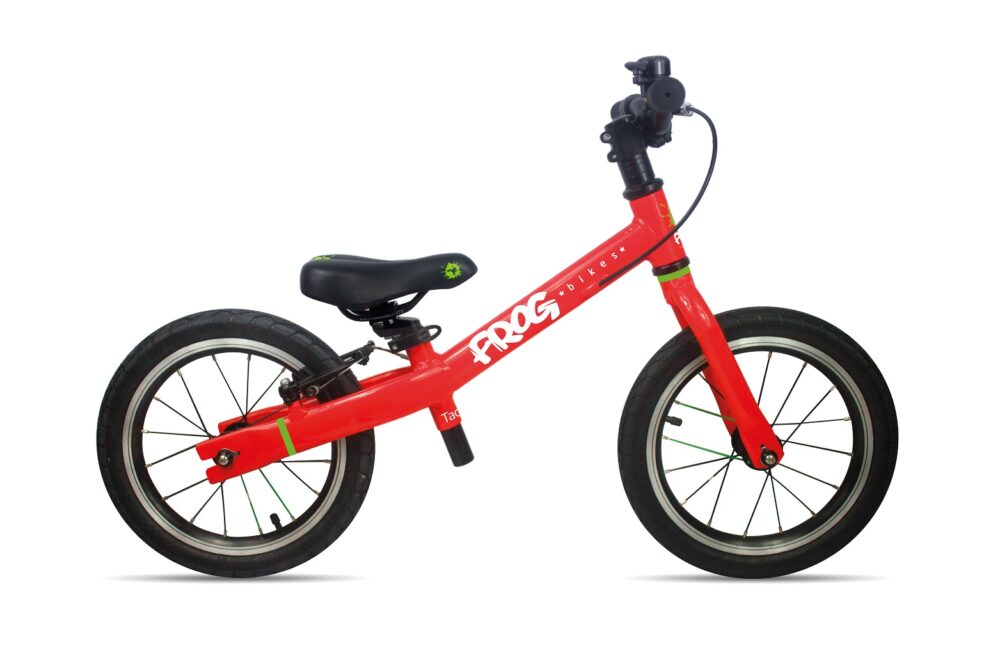 Frog Bikes are one of the most popular brands of quality kids bikes, and they have three balance bikes in their offering – from a tiny tiny one with 10″ wheels through to the larger 14″ wheel Tadpole Plus. This is a balance bike designed for taller children, with a minimum inside leg of 38cm. It comes in four colour choices – red, pink, green and blue.
It has a rear brake, but not a front brake, which will help ease a child into learning to brake gently.
We've reviewed a wide range of Frog Bikes over the years although not this specific model, and have always been impressed with their quality.  This is reflected in their second hand values – these bikes are designed to be outgrown and passed on!
Buy new: FROG TADPOLE PLUS
Lease now:  FROG TADPOLE PLUS FROM THE BIKE CLUB
Buy secondhand:   Used Frog Tadpole Plus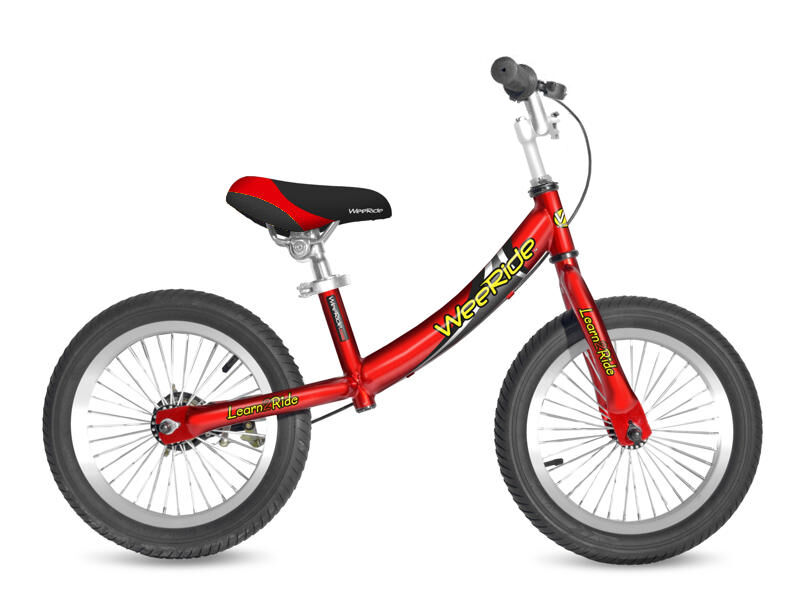 WeeRide are another brand making balance bikes aimed at the 3 to 5 year old age range.  As with the other bikes, the WeeRide Delux has 14″ wheels, but this bike differs from others shown as it has a rear band brake.  This type of brake is not usually found in Europe, but is a more popular option in the Asian market. Worth considering if you're either a bike nerd who would love this type of brake, or the complete opposite and who may struggle to find a mechanic who could fix if anything went wrong.
IslaBikes: Rothan 14
Islabikes are the leading children's bike brand with a comprehensive collection of bikes. After releasing their Rothan 12″ wheeled balance bike they have recently progressed further and released, a sibling bike, the Rothan 14″ which is aimed at children with an inside leg of 36cm upwards.
The new 14" wheeled balance bike fits children from approximately 3 years old and is perfect for mastering two-wheel balance ready for their first pedal bike. It weighs in at 3.4kg, meaning it is effortless for young children to pick up and ride, and easy for parents to carry.
Available in two colours; Teal and Orange.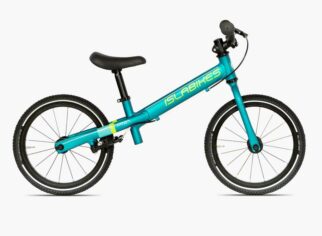 Black Mountain "growing bikes" – most versatile option for kids up to 8 years
OUT OF STOCK UNTIL 2022
Cycle Sprog reviewed and recommended bikes
The really clever thing about Black Mountain Bikes is that they're a bike that can be configured to be either a balance bike OR a pedal bike.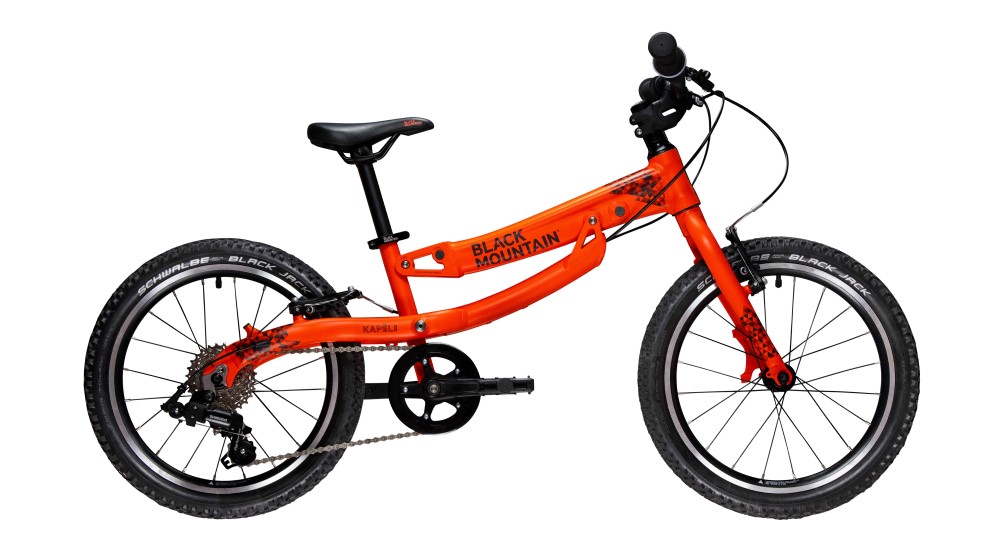 Their larger wheels sizes come with gears so your child can continue to progress with their riding once they've mastered pedalling. Plus, the frame size of their bikes is adjustable, so as your child grows you can extend the frame, meaning the bike will last longer.  Because these bikes will ultimately end up as pedal bikes, they come with both front and rear brakes (which you don't always get on other balance bikes). This means your child can get used to the braking action before progressing to pedalling.
At the current time, when we really don't know what is going to happen with the longer term availability of kids bikes as supply chains are proving problematic and kids bikes are selling out really quickly. A Black Mountain Bike will help give peace of mind that you've got a bike that will grow with your child.  It also saves you money as you're not buying multiple bikes and they will have a great resale value when you finally sell them on.  You can read a cost comparison here.
Black Mountain Bikes (who are based in the Black Mountains of Wales) currently have four different models – it's the 18″ wheel KAPEL or the 20″ wheel HUTTO that you need to be looking at if you've got an older child (shown below with the smaller 16″ wheel SKOG)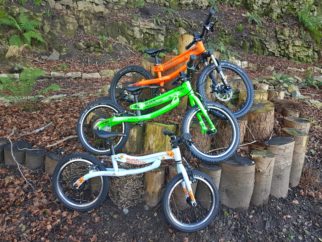 Black Mountain Bikes suggest the KAPEL would be suitable for a child from 110cm, or approx 5 years old when in mode 1 and when the bike is fully extended they should be able to enjoy it until they're around the 128cm height or about 7.5 years.
The HUTTO is aimed at slightly taller children, from 118cm, around the 6 years old mark, until they reach 134cm or about 8.5 years.
You can read how our reviewer got on using the HUTTO in balance bike mode and then progressing to pedalling.
Obviously, all children grow at different rates, so the ages are a guide only and we'd recommend basing the bike you need on height.
These two larger models don't come with the balance bike option as standard, but you can specify when you order that you want it delivered in balance bike mode rather than pedal bike mode. There's an extra cost for a balance bike conversion kit for these large bikes – they'll send the pedal/gear kit in a box for you to fit when your child is ready.
We've reviewed the smaller Black Mountain SKOG and were very impressed with how quickly our reviewer took to the bike, and the difference it made to her confidence after having been on a much heavier bike previously.
Buy Now
Support Cycle Sprog!
If you've found this article useful you can buy us a virtual coffee (or two!) to say thanks and help us keep the Cycle Sprog website going. 
Other articles you should read whilst your here:
Affiliate Disclosure: Some of the links in this post use affiliate marketing. This means that we get a very small commission for every purchase made. This helps us to pay for the ongoing maintenance of the website. We would be really grateful if you could support our work by purchasing your balance bike through these links. Thanks! Karen and Chris
To keep up to date with all the latest family cycling news, reviews, blogs and routes, why not follow Cycle Sprog on Facebook?