Kids grow quickly. Fact! So, when Black Mountain bikes burst onto the scene in 2018 with the PINTO and SKØG bikes that had been designed to grow from balance bikes into two sizes of pedal bike there was, as you can imagine, huge excitement at Cycle Sprog HQ. Perhaps this was the unicorn of kids bikes – not only cutting out the need to research and source yet another bike as your child grows, but also doing it with a really quality product too. We've reviewed these bikes and we're impressed with them and recommend them to our readers.
So you can imagine how intrigued we were when we got a call from Black Mountain a couple of weeks ago with some very exciting news. It appears that they've only gone and done it again – shaking up the kids bike industry once more!
We've been under strict, strict orders not to say a word, but today's the day and we're excited to be able to share with you two new bikes from Black Mountain – the 18″ wheel KAPĒL and the 20″ wheel HÜTTO!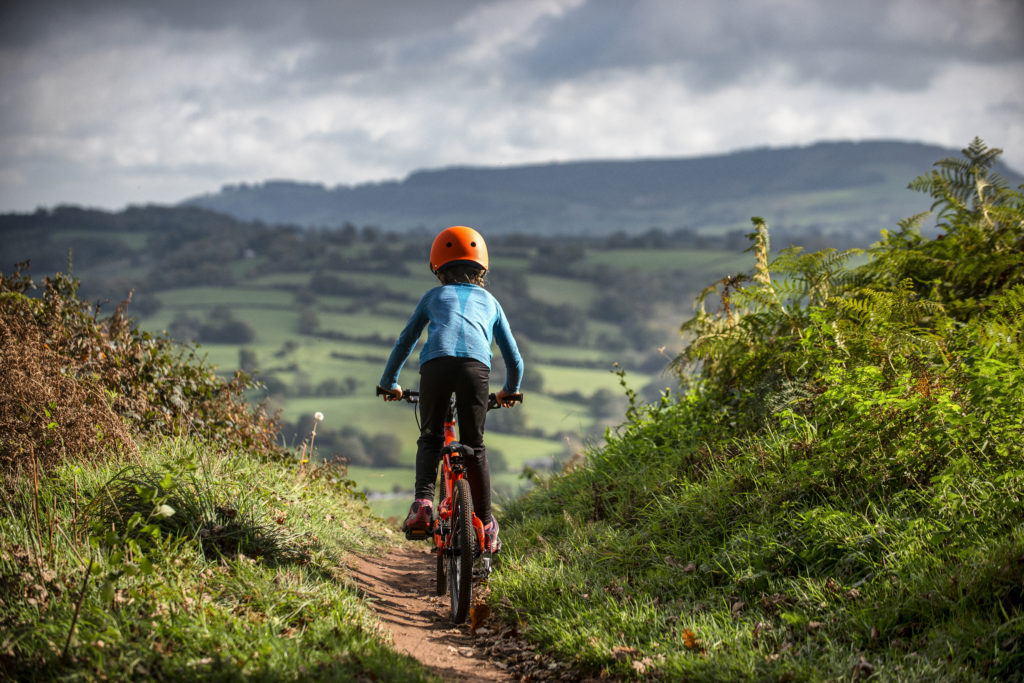 "Is that it?" you may ask! "Have they just created a couple of extra wheel sizes to boost their offering?" Erm, no.
With the runaway success of the PINTO and SKØG globally, Black Mountain being Black Mountain didn't just head back to the drawing board to rustle up a couple of bigger bikes. They stopped and listened; listened to parents and customers and the informed readers of websites such as Cycle Sprog that ask probing questions and have genuine feelings and a commitment in wanting to see kids learning skills and having fun on quality, lightweight bikes.
So, when you asked "why there are so few quality 18″ wheel bikes on the market to fill the gap between 16″ and 20″ bikes?" they listened. When some of you asked "why are there no small wheel bikes with gears?" because your son or daughter was ready to move on from single speed, they rose to the challenge.
Spoiler alert: They also heard mutterings about disc brakes and suspension for younger riders – and so the 20″ wheel HÜTTO has 'Options' that can be specified, but more on that later!!!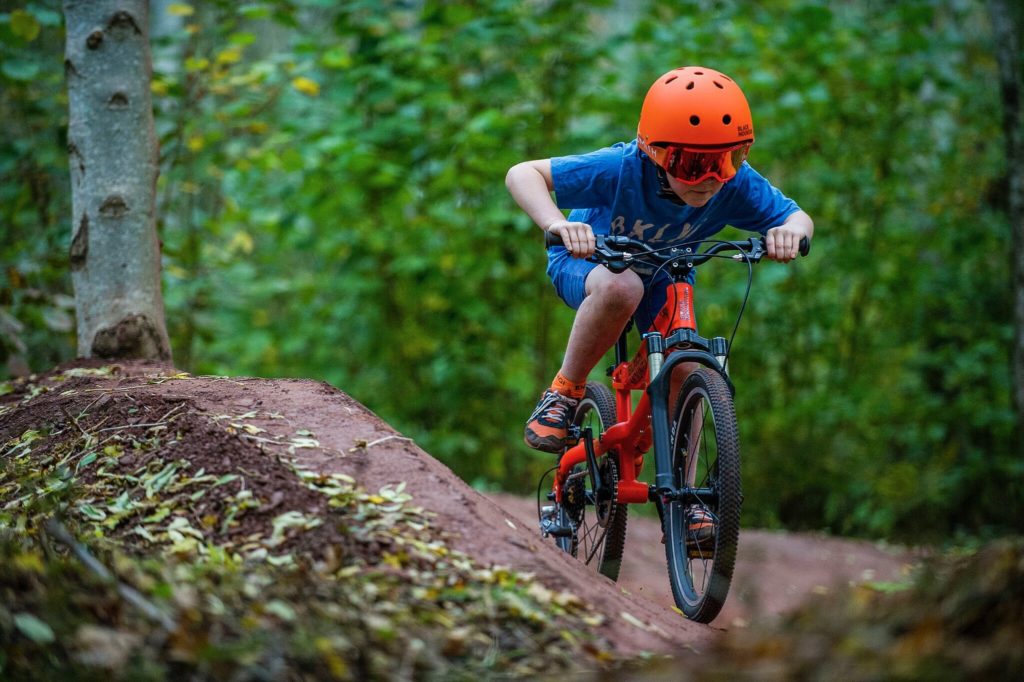 Let's get started: 18″ and 20″ wheel balance bikes
Okay, so there are some hugely competent little kids razzing around on bikes and doing things that I could only have dreamt of at their ages (and still now! Ed.), but there are also many kids that have not yet mastered riding and pedalling. After all, we all learn at different paces and also the opportunity to get some training and the chance to ride doesn't always exist.
A lot of parents don't ride a bike and so it may not have even entered their minds to teach their own children to ride – they may have never learnt to ride themselves. But it seems that Black Mountain truly want all kids to get the chance to enjoy their bikes.
They've shown a commitment and not forgotten about these kids, because just like the PINTO and SKØG, the new KAPĒL and HÜTTO can be set up as Balance Bikes too (with the add on balance bike pack). That for me is a true testament to the philosophy behind Black Mountain, and in these uncertain times, it really gives me a sense of hope that there are still good people out there.
More about the bikes please!
Black Mountain KAPĒL – a 18″ kids bike with gears
Black Mountain claim that the KAPĒL (£449) is an appropriate progression from the 14″ wheel-size Pinto for children aged around 5 years and up.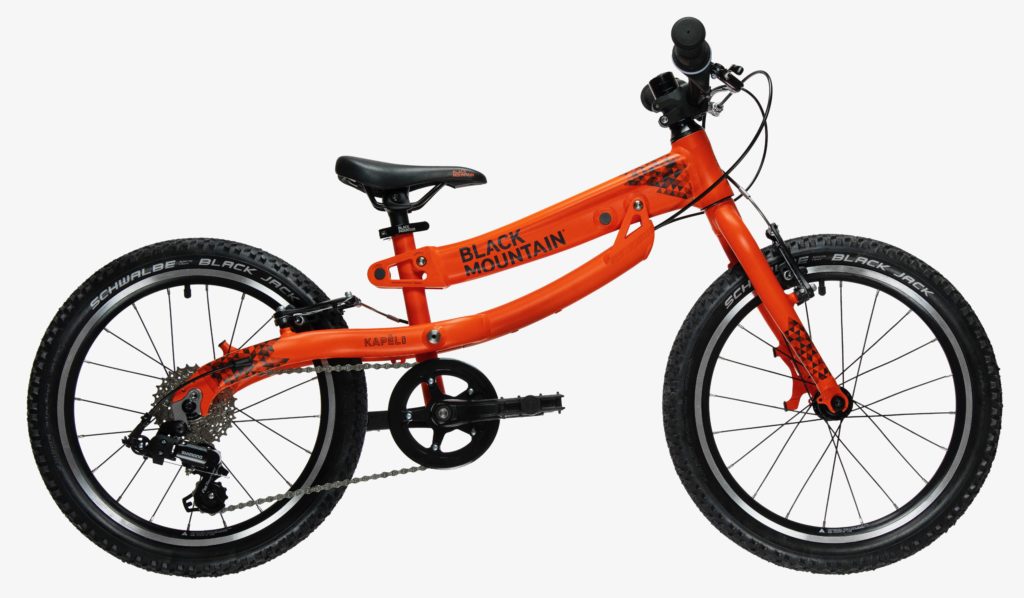 Whilst this sounds like a big step up, the foundation of the Black Mountain range is the cleverly designed EPOK system that allows the frame to be set in two Modes, with Mode 2 extending the frame by over 20% and greatly extending the useful life of the bike.
In the case of the KAPĒL, this equates to an expected upper age of around 7 and a half years, or an approximate height range of 110 – 128cm. So in effect you "dial down" the 18″ wheel bike to fit where previously you'd have had to go out and buy a 16″ wheeler when your Sprog outgrew their 14″ wheels.
Weights for the KAPĒL are given as 6.7kg in Balance Bike Mode and 8.1kg in standard setup (without pedals) and 8.4kg with pedals.
Other techy titbits
To supplement the growth in the frame, Black Mountain has also introduced what they call the UP:RISE – a stem extender that, as kids grow, can be adjusted to move the handlebars up by 30mm and further forward by 20mm to give more space in the 'cockpit' area of the bikes.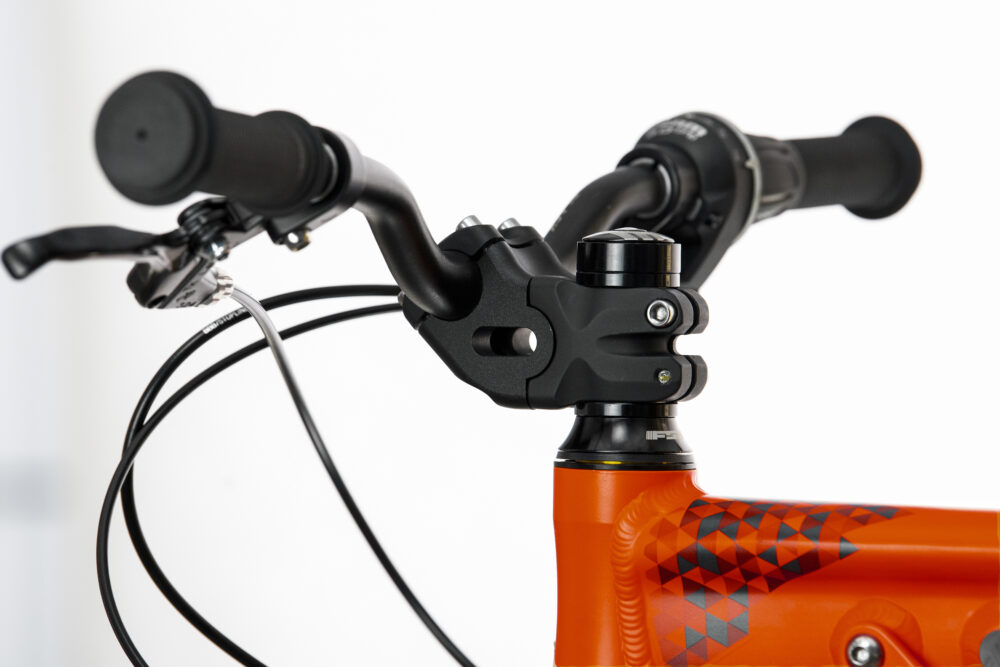 As we've come to expect from Black Mountain, all components have been carefully designed to fit little bodies. For example, the diameter of the handlebars is narrow, the reach to the brake lever adjustable and the grips sized for little hands.
Gears for younger riders!
Both the KAPĒL and HÜTTO are equipped with gearing that comprises a SRAM Gripshift shifter and Shimano rear derailleur making the changes on the 7-speed cassette. There's a slight difference in the specification here with the smaller KAPĒL having a cassette with cogs sporting 11 to 28 teeth whilst the HÜTTO has 11 to 32 teeth. On both bikes there's a single ring chainset with 28 teeth, so both have a good spread of usable gears to tackle most types of terrain.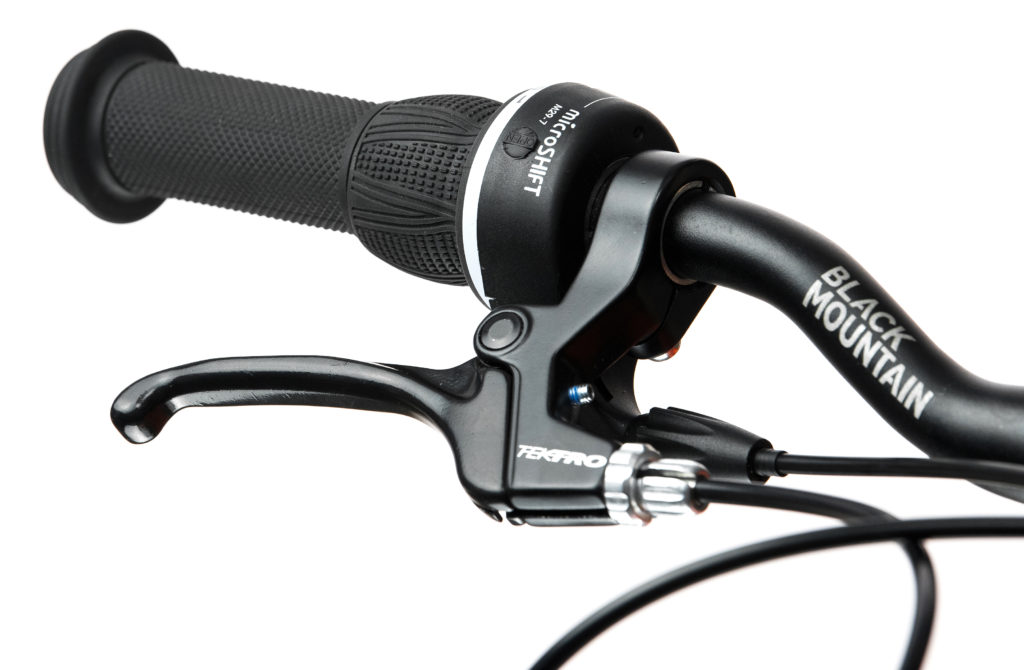 It will be interesting to see if young riders are able to cope with the gear changes – both physically and cognitively. How to explain gear changes clearly is going to be key in avoiding frustration. The good thing is they don't need to be used if your child isn't ready, but they're in place for when they are.
Black Mountain HÜTTO (from £499)
The HÜTTO is the largest bike in the Black Mountain range, with 20″ wheels and a frame suitable for a child aged around 6 years in Mode 1 up to around 8 and a half at the end of Mode 2, with an approximate height range is given as 118 – 134 cm. Black Mountain say this is the natural progression from their 16″ wheel SKØG. It too has the 7-speed transmission, with SRAM Gripshift shifter and a Shimano rear derailleur.
As mentioned earlier, the HÜTTO can also be set up as a balance bike by means of an additional kit that can be purchased from Black Mountain.
However, Black Mountain has decided to take the 'adaptability' theme to a whole new level, as the HÜTTO can also be configured to suit, shall we say, a slightly more 'aggressive' type of rider.
Disc brakes and air forks for a 6 year old!
If your Cycle Sprog likes nothing better than hitting the trails and carving up singletrack then you can opt for the HÜTTO Disc which comes ready fitted with a set of wheels incorporating sealed hub bearings to keep the mud out and grease in, Schwalbe Black Jack tyres for greater traction and a set of Tektro cable operated disc brakes to help keep the speed in check.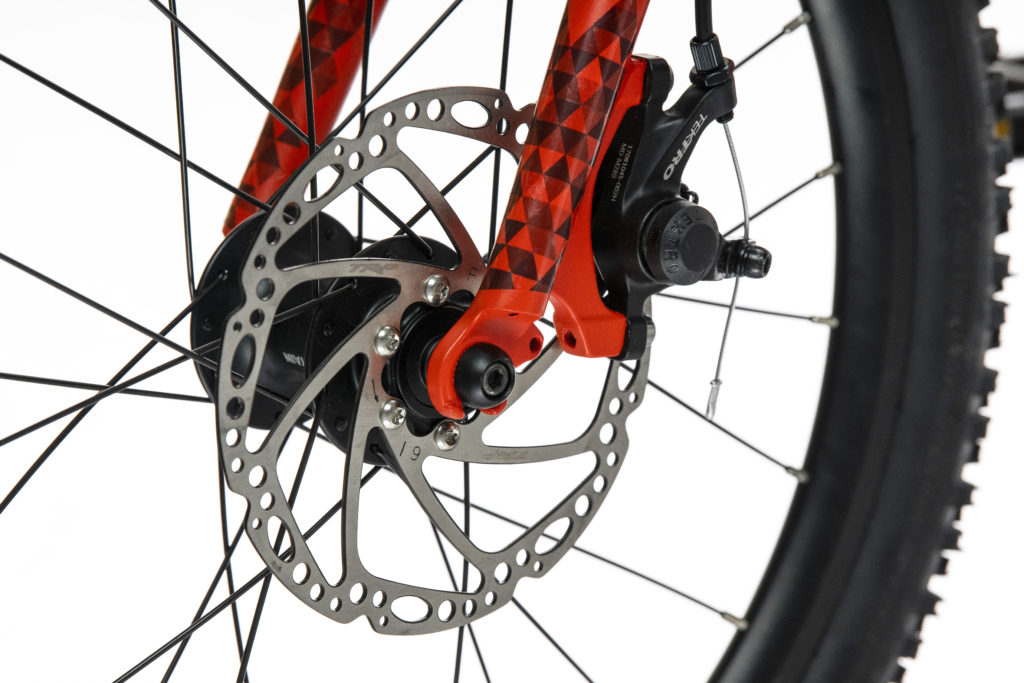 If that's not enough then there's the HÜTTO Trail that takes all of the above and then adds a set of Spinner Grind air suspension forks that give 50mm of travel.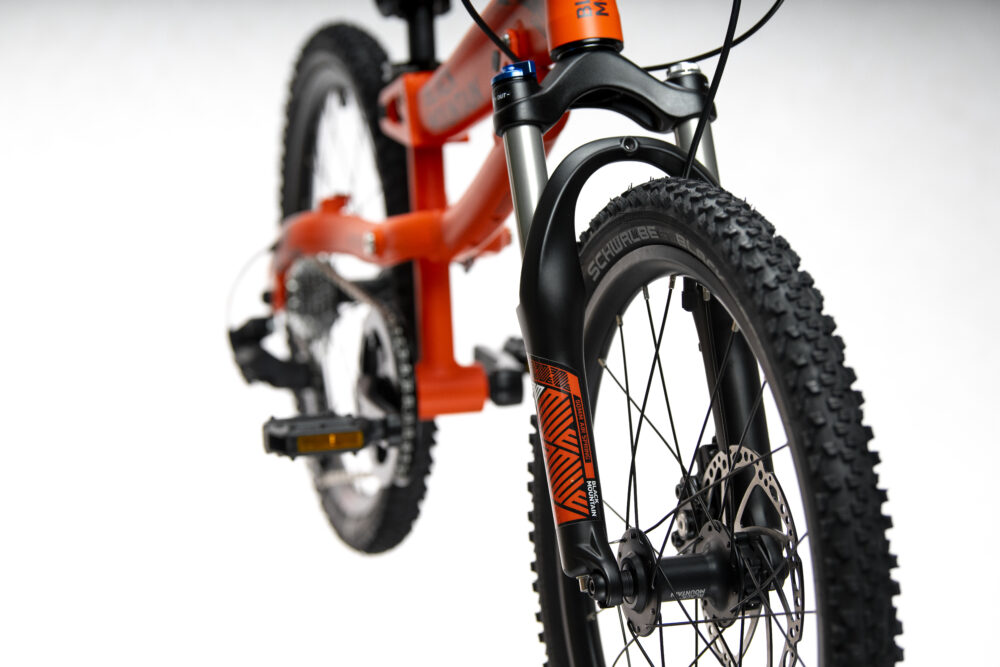 The standard version comes in at 6.9kg in Balance Bike Mode, 8.3kg in standard setup without pedals and 8.6kg with. We've got the weights of the HÜTTO in Disc and Trail mode too, with the Disc coming in at 8.9kg and the Trail 9.8kg.
Prices range from £449 for the standard HÜTTO, £549 for the HÜTTO Disc and £649 for the HÜTTO Trail.
Cycle Sprog thoughts on the KAPĒL and HÜTTO
It's really exciting to see a manufacturer take the kids bike market by the scruff of the neck and try something different. Islabikes were the trailblazers in this respect all those years ago, singlehandedly changing the mindset of both industry and public alike, but let's face it, most other brands have just followed in their footsteps. It feels like Black Mountain are similar pioneers forging forward and giving us fresh ideas.
Do we think they're onto a winner here? Well, if the success of the existing lineup is anything to go by then yes.
The fact that they've tuned in to what people have been asking for should certainly stand them in good stead too. Small bikes with gears may not be everyone's cup of tea, and I'm sure many will say it's too young, too complex and just plain overkill.
But on the other side of the coin, kids are coming through coaching sessions such as the British Cycling 'Go Ride' from the age of 4 and 5, having already picked up cycling techniques and skills that will last them a lifetime. These kids have a voracious appetite to ride their bikes and learn more, so there should certainly be a demand.
It's good to see that Black Mountain have used their 'in-house' mountain biking nouse when specifying the Spinner Grind fork as not only is it an air suspension fork, meaning that the pressure can be altered to suit the weight of the child, but also it has a sensible 50mm of usable travel. No doubt some of our readers will say this adds unnecessary weight and they should have just gone for a wider tyre!
As for the disc brakes? Some will say it's OTT on a kids bike, and they'll be heavier for sure. But if you're out in all weather on your bike and enjoy playing on technical terrain then the benefits of discs with better stopping power and wet weather performance certainly outweigh the negatives.
So on the strength of the release of the KAPĒL and HÜTTO, there are exciting times ahead for Black Mountain Bikes.
We just need to get in the queue now and get our hands on them to put through testing!
Where to buy the Black Mountain Bikes
The entire Black Mountain range, from the 14″ wheel Pinto through to the 20″ wheel Hütto are available exclusively through their website.
The two new models are available for pre-order now, with delivery mid to late October.
We'd love to hear your thoughts on these new kids bikes, so do drop us a comment in the box below.
Disclosure: Cycle Sprog were not paid to write this article. These are our own thoughts on the bikes based off of pictures and technical information (we haven't actually seen them or test ridden them yet) We are however affiliates of Black Mountain, so if you make a purchase after clicking on some of the links on this page we may get a small commission. We only work with brands we believe create great products, and these arrangements help us to fund our website.
Other posts you may like to read: