Here at Cycle Sprog we're always going on about why it's important to think carefully about the bike you're buying. We urge you to make sure it's easy to use (particularly the gears and brakes) plus light enough to make the ride easier and enjoyable. However, it can sometimes be difficult to think of ways to articulate why this is so important. But today something happened to me that made be realise why this is REALLY important – both when buying a mountain bike for your child, but also for yourself.
New mountain bike day!
Yes – I got a new bike!!! Well, to be honest I got a second hand mountain bike that had only been ridden once at Center Parcs by its previous owner, and then lived in the shed for several years!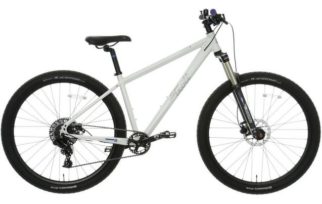 It's a Laura Trott MTB 1 and is a bike with a brilliant specification which Chris discovered for a great price on Ebay. Sadly you can't buy these new anymore – possibly because she changed her name to Laura Kenny! I think they were about £650 when first released in 2016, which at the time was a good price for the specification. They were then heavily discounted when the range was discontinued.
My new bike arrived a few days ago but the weather has been awful, so today was the first real opportunity to get out and test it. The Sprogs were at school and the sun was shining, so Chris and I headed out for a quick blast at lunchtime along some bridleways close to Cycle Sprog HQ. I was on a mission to get the white paint covered in mud……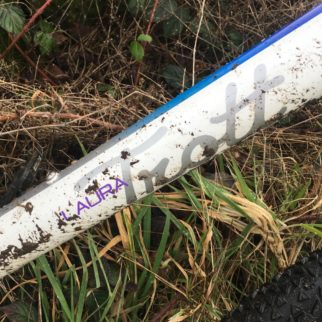 and to remove some of the rubber hairs from the tyres.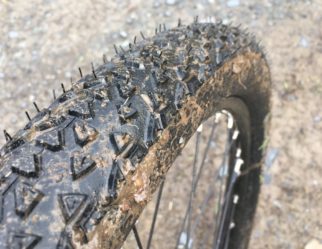 Mission accomplished! Wow – what a ride! Let's just say I'm smitten!!!
On a more serious note, riding the Trott MTB 1 has really reinforced why the things we say that are important about a kids bike, really are important – and also apply to adult bikes.
Now, don't get me wrong, my previous mountain bike wasn't that bad at all! For those of you interested in these things, it was a Commencal Meta SL frame with full suspension, that Chris had bought second hand and then built up into a bike to suit me.
However, riding the Trott MTB has really opened my eyes to two things:
1) there have been some significant changes in the world of mountain bikes in recent years, and
2) the little details are important – both on kids bikes and adult bikes
Here's a few thoughts on what it is important to think about when buying a bike of any kind, but particularly a mountain bike – either for your child or yourself.
1. Weight of the bike
We live up a flight of steps, and lifting the boys and Chris's bikes up them has always been very easy but my old MTB was always so much more difficult. It's pretty heavy with a very sturdy frame (Commencal are from Andorra in the Pyrenees) as it was designed for withstanding the stresses of fast descents in the mountains of the Pyrenees rather than the cross country riding that I do. Plus it had rear suspension and heavy front forks, which add weight. I've always struggled to keep up with Chris on climbs but put that down to his better fitness than mine.
In comparison, my new mountain bike is super lightweight. And guess what? I was flying up the hills!!! We live in a reasonably steep place for the UK – on the verge of the Lake District – so climbing is an inevitability. Today I actually enjoyed it and was able to keep up with Chris most of the way. Yes – he is fitter than me so when I tired at the end of the ride he was able to keep going, but for the majority of the time we were at the same pace. When we got home, lifting my bike up the steps was really easy.
All the kids bikes we recommend here on Cycle Sprog are lightweight. If you buy a really heavy hunk of steel for your child they will struggle to ride it. Similarly, if your own bike is really heavy and you're riding up steep hills, you'll notice the difference when you upgrade to something lighter.
2. A single chain ring makes changing gear really easy
My old bike had a double chain ring (the gears at the front by the pedals), meaning I had to change two sets of gears – the back gears with my right hand and the front ones with my left hand. Some people seem to be able to do this without thinking about it, but I have to regularly look down to check which gear I'm in, and worry about crossing my chain (being in the small front ring and small back ring at the same time or alternative in the large/large rings) which isn't to be advised as it can cause damage.
All this is a real distraction when I'm mountain biking. I need to be concentrating on getting myself safely down the trail, as well as looking out for the boys.
My new bike has a single chainring at the front, so all this worry immediately disappeared!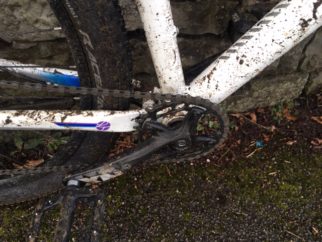 All I needed to think about was whether I was in an uphill or downhill gear using my right hand so I was in the correct gear all throughout my ride. The bike has a wide range of 11 gears, from a nice big 42 tooth gear for getting up steep hills to a small 11 tooth gear for descending.
I also found it hard on my old bike to quickly change gear in both rings when going from a steep descent into a steep ascent on challenging, gnarly terrain and sometimes ended up not being able to pedal. No such problems today – it was a simple movement through the gears, with no second set of gears to worry about.
All the top specification kids hybrid and MTB's now come with a single chain ring, but as you get to the cheaper kids bikes they often have two (or even three!) chainrings. They're complicated to use and can be distracting when riding. If you can afford it, then a bike for your child with a single chain ring at the front and a decent spread of gears at the back is much easier than a bike with 18 or more gears to think about.
3. Bigger MTB wheels do make a difference
My previous MTB had 26″ wheels. This wheel size is great for kids of a certain age, and used to be the only size available for adults. But now most adult bikes come specified with either 27.5″ wheels or 29″ wheels. I've always struggling to keep up with Chris, who is on a 29″ wheel MTB. Our eldest Sprog moved up onto a 27.5″ wheel Cube MTB last summer at the age of 12. I can still keep up with him on the climbs, as I've got stronger legs for now, but on the descents and flats he's faster because of the bigger wheels.
Today it was a different story! I really noticed the difference that the bigger wheel size makes. The ride was very comfortable, as the bigger 27.5″ wheels rode easily on the trail. I was keeping up with Chris at a similar pedal stroke rate and didn't keep getting left behind.
With kids bikes it's important that you don't buy too big a bike for them, or they won't be able to control it! Please don't buy a bike for them to grow into. If the frame is too big, they won't be able to get their feet on the ground safely, bend their arms properly or move back over the saddle when descending. BUT – if there is a choice between a bigger and smaller wheel in a frame size that fits them, I'd certainly advise going for the bigger wheel size.
For example, Frog Bikes do the Frog 52 – a small framed bike, but with 20″ wheels, so kids as young as 5 years of age can get the benefits of the larger wheel, rather than riding around on 16″ or 18″ wheels. Islabikes have recently brought out the Beinn 27 – a bike designed for 10 years and over, with 27.5″ wheels. In the world of premium kids racing bikes, it's possible to get a small framed 700c wheeled bike for ages 7 and over, which are proving popular with those serious about a podium place.
For any parents on 26″ wheels struggling to keep up with their Sprogs, then I'd definitely recommend going up a wheel size for your next bike – it'll be much easier!
4. Suspension – hard tail vs full suspension
My old bike was full suspension (a suspension fork at the front and a shock at the rear of the bike). This means it was a very comfy ride as the suspension soaks up many of the lumps and bumps on the trail. This is good for an aging body!! However, there were times when I know the bike was carrying me down features on the trail, rather than me honing my skills and actually riding the trail. Today I wasn't riding any seriously difficult terrain (no drop offs or large obstacles) but it was a muddy, undulating bridleway. The bike handled this just fine, and I probably rode better than I've done for a while. The lack of heavy rear suspension weighing the bike down helped me climb easily too.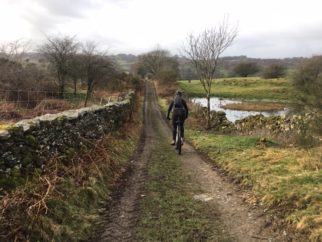 This made me reflect about the need for suspension forks on kids bikes. Yes, they're great for getting up and down features on the trail, and certainly make things easier and more comfortable when riding on the more extreme trails and at Bike Parks. However some of the best young cross country mountain bikers I know are honing their skills on hybrid bikes without any suspension. And of course, suspension forks haven't always been around – the original mountain bikes all had rigid forks. So, if your child is just starting mountain biking and isn't tackling anything too technical, then they probably don't need suspension forks. For example the Hoy Bonaly is a decent kids mountain bike that is really lightweight because there's no suspension fork to weigh it down.
5. Air sprung suspension forks allow fine tuning
The Trott MTB has an air sprung suspension fork (as compared to a coil sprung fork) which allows the suspension to be adjusted to suit the weight of the rider. It has 120mm of travel (the distance that the fork move to absorb the bumps) which is adequate for the type of riding I do. Air forks tend to be the choice of trail and cross country riders due to their lighter weight and ability to easily adjust them. They're also great for younger riders on kids sized mountain bikes who are getting heavier as time goes by and need the settings changing regularly.
For me the suspension setting on the Trott was OK – I was getting good response from the forks on the descents, but we'll probably tweak it a bit over the next few rides to get it spot on. We've got an air shock pump for this purpose, but it's something your local bike shop can do for you cheaply and quickly if you don't have one, or don't feel comfortable doing this.
Coil sprung forks are heavier than air sprung forks, and come in a range of qualities. Cheap coil forks will be found on cheaper bikes – particularly very cheap kids bikes where they add no actual suspension benefit but lots of additional weight. (Note – top quality (expensive) coil sprung forks are popular on Downhill MTB's and those with large amounts of travel as they allow a quicker and deeper movement if you're riding very aggressively.)
6. A bike designed for me
The Trott MTB is a female specific mountain bike so it's proportioned for a female body. The moment I got onto it I felt comfortable and in control. The female specific saddle didn't cause misery. The width of the bars was comfortable and didn't result in aching arms or wrists. Everything just felt good.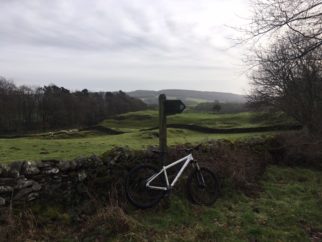 The same applies to kids bikes. If you buy an adult bike for a child, or a cheap and heavy toy (aka a bike shaped object) that hasn't had it's design thought through, then it's not going to feel right. The brakes may be too difficult to apply, the suspension may not work due to the lower weight of a child not being heavy enough to engage it. Perhaps the saddle won't be designed for a small bottom and cause discomfort, or the gears might be too difficult to change. It's all those details that combine to make or break your cycling experience, especially if you're out on longer rides. That's why we always recommend a correctly sized kids bike, with specifically designed child sized components. There's plenty of time for riding adult bikes once they're an adult!
7. When you trust a bike you enjoy the ride!
This final point is a bit hard to explain to someone who doesn't ride a bike, and is why I think that lots of new cyclists don't think it's worth investing in a "proper" bike for their child or themselves. You need to be able to trust the bike you're riding, as your safety and comfort are at stake. A cyclist of any age needs to know that their bike will stop quickly – it needs brakes that you can actually use. Brake levers that are too big for your hands, or brakes that don't actually work mean you're scared to ride the bike.
Saddles that are hard lumps of plastic aren't comfortable to sit on. If it hurts, you're not going to want to ride your bike.
Gears that don't change smoothly, or which have levers that are difficult to move, are annoying and distracting.
On today's bike ride I had to learn to trust my new bike. It took us a while to get to know each other, and the first half of our ride was mainly me testing it out. I noticed that I was very cautious on the descents as I didn't know if I could trust the brakes. After a while I felt something click in my mind – yes, I can trust this bike. It feels safe. I'm comfortable. I'm going to ride to the best of my ability, as I don't have to worry about my bike. That's when the joy of cycling really begins!
Looking for a new mountain bike like mine?
Unfortunately the Laura Trott MTB is no longer available to buy new, but you can sometimes find one on ebay. If I was looking for a comparable new mountain bike, I'd be looking at the following bikes – they all have women specific geometry, a single chain ring combined with a wide range of gears, front suspension, 27.5″ wheels and hydraulic disc brakes. Several also come in a men's equivalent which I've listed where appropriate.
Saracen Mantra Trail 27.5″ (RRP £900)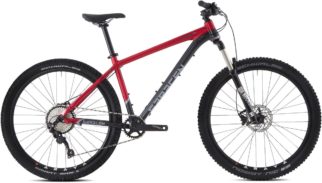 My friend has this bike and she is really enjoying riding it, having gone from a complete novice to confident mountain biker very quickly. It has a good spread of 10 gears for climbing, responsive brakes and a decent 120mm of travel on coil sprung forks. There are three different frame sizes to suit riders of most heights.
Buy now: Saracen Mantra Trail 27.5″ Womens Mountain Bike
Male / Unisex version: Saracen Mantra Trail 27.5″
Marin Wildcat Trail 5 (RRP £775)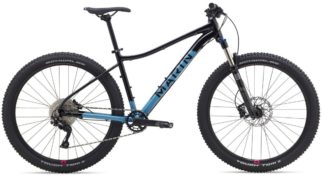 Marin's Wildcat Trail women's mountain bike comes in a good range of frame sizes, including a XS and S size. Marin have varied the coil sprung suspension fork size to take this into account, so the two smallest bikes have forks with 80mm of travel, whilst the larger bikes have 100mm.
Buy now: Marin Wildcat Trail 5 women's hardtail MTB
Men's / Unisex version: Marin Bobcat Trail 5 hardtail MTB
Boardman MHT 8.8 MTB (RRP £850)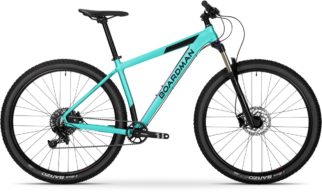 I've got a Boardman road bike as my winter commuting bike and have been really impressed with it's durability over several years of use. I've not had the chance to ride one of their mountain bikes yet, but if it's anything like their road bikes it should be a good one!
Buy now: Boardman MHT 8.8 Women's MTB
Men's Verion: Boardman MHT 8.8 Men's MTB
Whyte 802 Compact (RRP £899)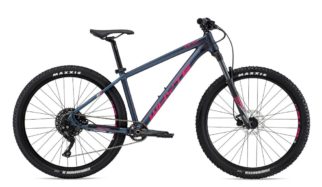 There's something about the look of Whyte's mountain bikes that I really like. The 2018 model of this bike was shocking pink – such an eye catching colour out on the trails (at the time of writing you can pick this model up with a good reduction). The 2019 model is more subdued, with the pink kept only on the decals. But looks aren't everything, and this mountain bike is well thought out for the smaller riders. It has compact geometry with sizing starting at XS, which means it's ideal not just for smaller adults but for teenagers looking to move onto 27.5″ wheels.
Buy now: Whyte 802 Compact 27.5″ MTB
Larger size model for taller riders: Whyte 801 27.5″ MTB
Liv Obsess Advance (£1,999)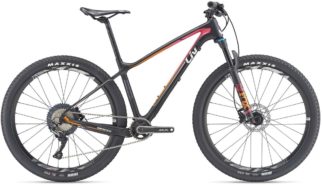 If money was no object, then I'd be treating myself to the Liv Obsess Advance 2! I have a Liv Road bike and absolutely love it, and have rented one of their mountain bikes on our travels and found it really responsive. The Obsess Advance 2 is their top of the range hard tail mountain bike so the super lightweight carbon frame is smothered in top end components. It's designed to be raced, so is a fast bike – just what I need for keeping up with the Sprogs!
Buy now: Liv Obsess Advance
Buying a mountain bike for your child?
We've got loads of information to help you find the perfect mountain bike (or hydrid bike) for your child. Check these out:
Kids Mountain Bike advice:
General kids bike advice:
I really hope you've found the article useful in helping you understand a bit more about what features to look out for when buying a mountain bike. If you'd like to help me continue writing more articles why not buy me a cup of coffee to keep me going!
Affiliate disclosure: As with all internet based businesses we are desperately trying to make enough money to keep running. We use something called Affiliate Marketing which means that if you make a purchase after clicking on some of the links on our website we may get a small commission. It doesn't affect what you pay, but helps us keep the lights on. Thanks for your support.