Update January 2019:  For the 2019 season, Cube have released the Cube Reaction 240 SL. It's essentially the Cube Kid 240 SL with a new name and colour scheme that allows it to slot into the already established 'Reaction' series to become the Reaction 240 TM.
Review of the Cube Kid 240 SL (now replaced by the Cube Reaction 240 TM)
There's always a selection of bikes and equipment passing through the doors of Cycle Sprog HQ and I know I've said it before, but I love it when a bike box arrives as the big kid in me enjoys nothing more than poring over the details of another review bike as it gets extracted from the protective wrapping. This time it was the turn of the Cube Kid 240 SL – a 24″ wheel mountain bike with front suspension, aimed at Cycle Sprogs aged between about 7 years and 10 years, depending on their size.
First impressions of the Cube Kid 240 SL mountain bike
Removing it from the box revealed the Cube Kid 240 SL in a rather fetching matt black and green paint scheme. Not only did this suit it well, but it also looked as though it might be pretty easy to keep looking clean after a hard ride or two. A bonus in my eyes, seeing as I'm the one in the household that ALWAYS seems to wash the bikes!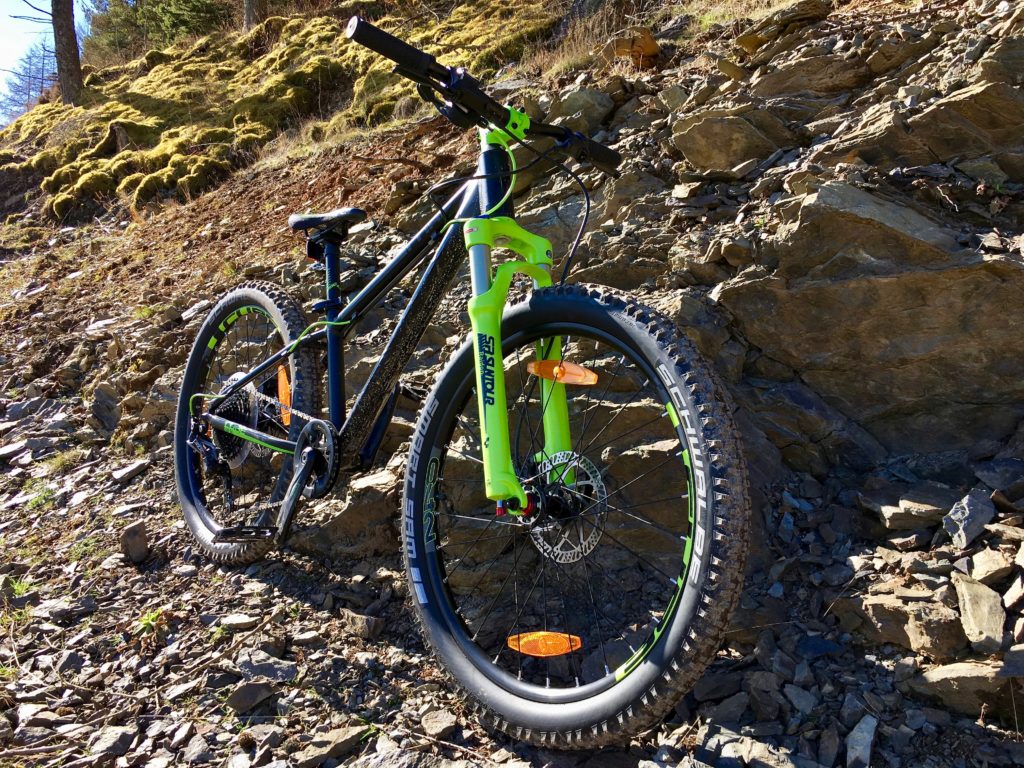 So tell me something about Cube Bikes? 
Cube are a German company and started out in 1993 as a small bike shop and distributor. However, the founding team decided that they could build better bikes themselves and so that's what they did. Now, Cube sell their bikes across the globe and seem to grow year on year judging by the number of Cube branded bikes I see ridden in the UK. That's probably helped by the significant product range, with everything from triathlon and trekking bikes to road and mountain, plus a healthy dose of e-bikes for good measure. We also like the fact that Cube decided some time ago to create models that are designed specifically for women and kids taking account of the associated differences needed in the ergonomics of a bike.
What age is the Cube Kid 240 SL and the Reaction 240 TM aimed at and how much do they cost?
The Cube Kid 240SL / Reaction 240 TM are front suspension 24″ wheel mountain bikes which is aimed at children aged from about 7 years up to 9 or 10, obviously depending on their size.  The new look Cube Reaction TM has an RRP of £849.
The 240 SL has now been discontinued – it did retail at £799 during the 2018 season.
Our reviewer
The rider that managed to get his hands on the Cube Kids 240SL for this particular review is 'Tester T'.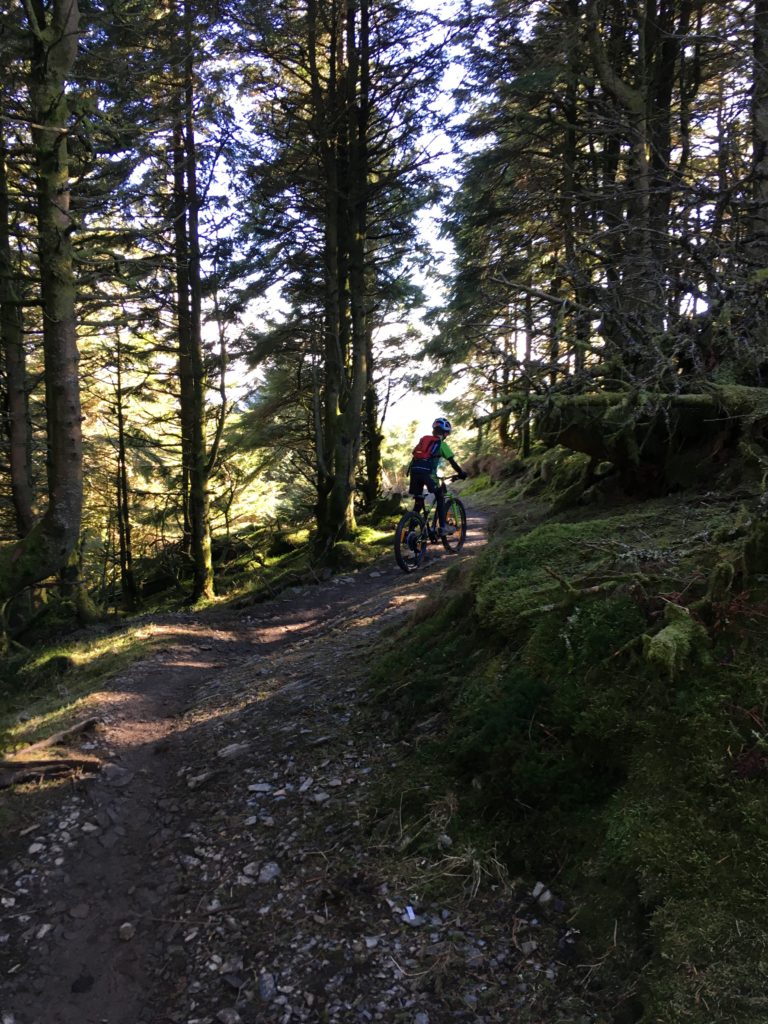 T is a Cycle Sprog extraordinaire who is a long and lean 9 year old, with an inside leg measurement of 71cm and height 145cm. The 240SL fitted him absolutely fine and there is still room for growth.  He's been using the Cube Kid 240 SL in preparation for his first mountain bike challenge event – the Sam Houghton Challenge which takes in 25km of the finest Lake District bridleways, so he's certainly been putting it through its paces.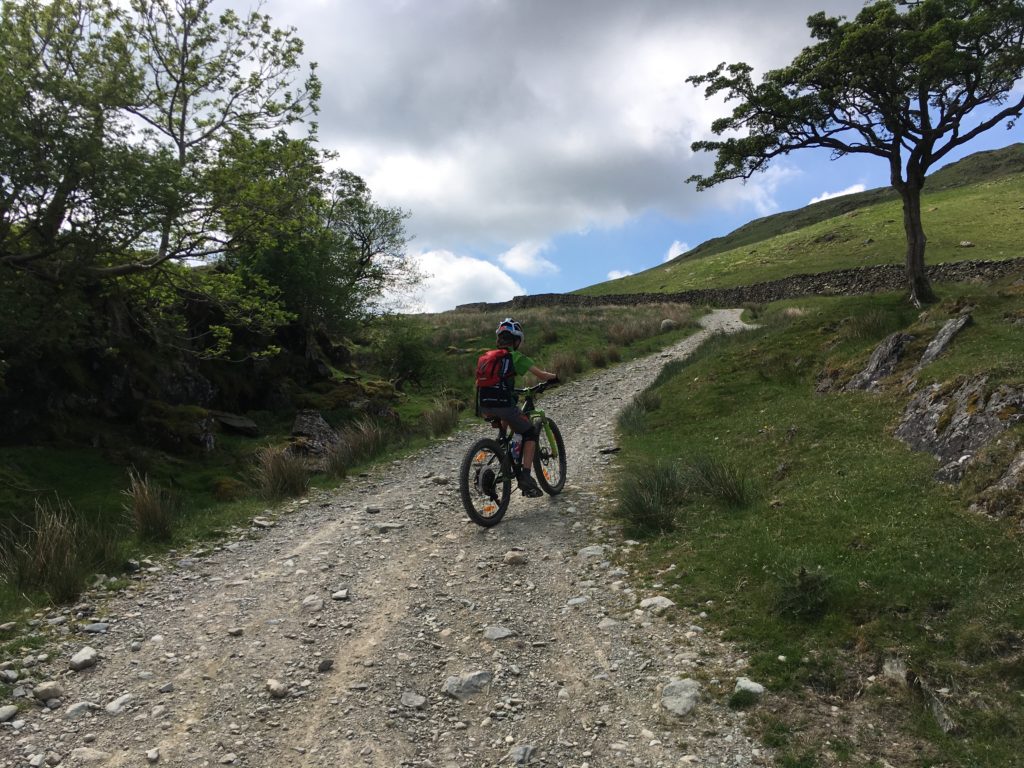 Specification of the Cube Kid 240 SL
Frame and forks
Cube have built a reputation for not cutting corners with their bikes, and it's very pleasing to note that this ethos continues through everything they do, filtering down nicely to the bikes and accessories in the kids range.
The frame of the 240SL is made from 6061 aluminium, and has a well crafted appearance with neat welds and shaped tubing to provide strength where required but with weight kept to a minimum. The area around the headtube is a point in question, with the change of downtube profile as it rises into the joint giving a strong, reinforced appearance that is suitably reassuring.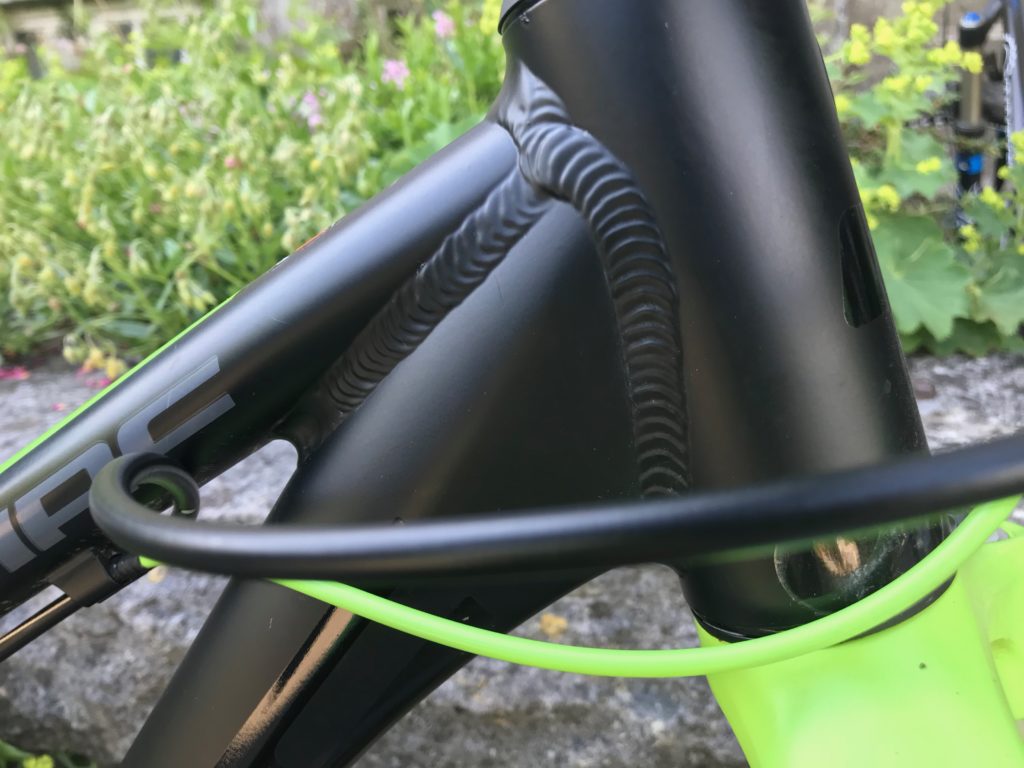 The geometry of the frame provides a stable riding platform with chainstays that are short enough to give fun handling for the turns, mated to a slack front end to give the rider confidence when descending. The top tube is nice and low, so no issues with clambering aboard and gives a feeling of space rather than riding a gate.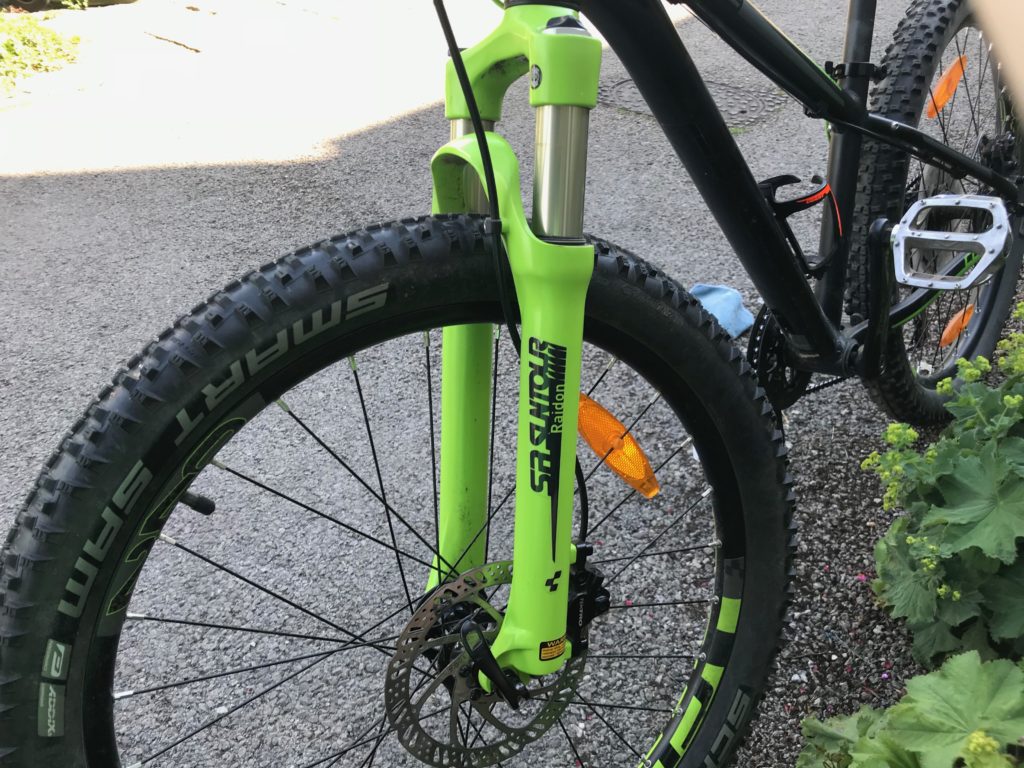 Cube have decided to fit the SR Suntour Raidon LO-R fork to the 240SL, which is an air fork for a 26″ wheel that has been fettled for the lighter weight of a child, with 70mm of travel and the installation of a lighter negative spring. This enables full use of that travel and also gives a plush feel. Having set the air pressure and rebound in the fork correctly for T he was a happy little chap!
Paintwork
The Cube Kid 240SL comes in the striking colour combination of matt black for the frame with lime green used as the accent colour and for the forks. The two colours work really well together and give it the appearance of a proper mountain bike with a bit of menace from the black while keeping the fun element that kids want with the funky green. Plus it looks great when splattered with mud.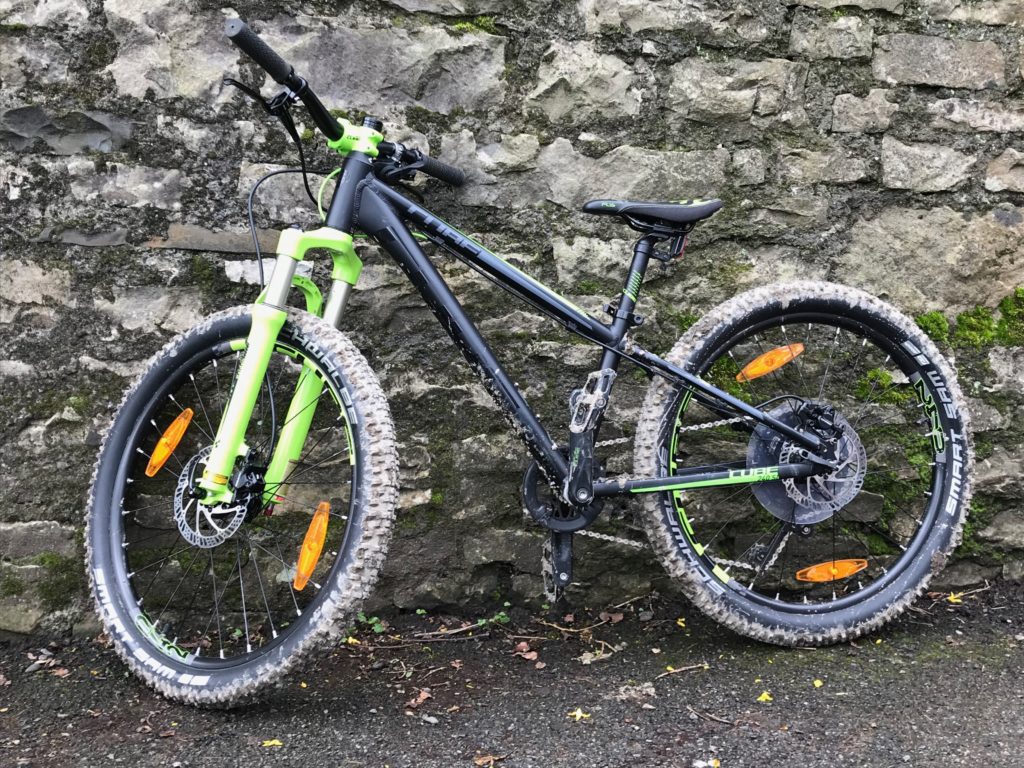 I think it looks lovely, and judging by the number of positive comments it gets, others do too.
Gearing on the Cube Kid 240 SL MTB
Giving the 240 SL a quick once over resulted in a wry smile spreading over my lips. Why you may ask?Well, one glance at the gearing that Cube have specified made me realise that I was up against it here and at risk of being dropped on hills!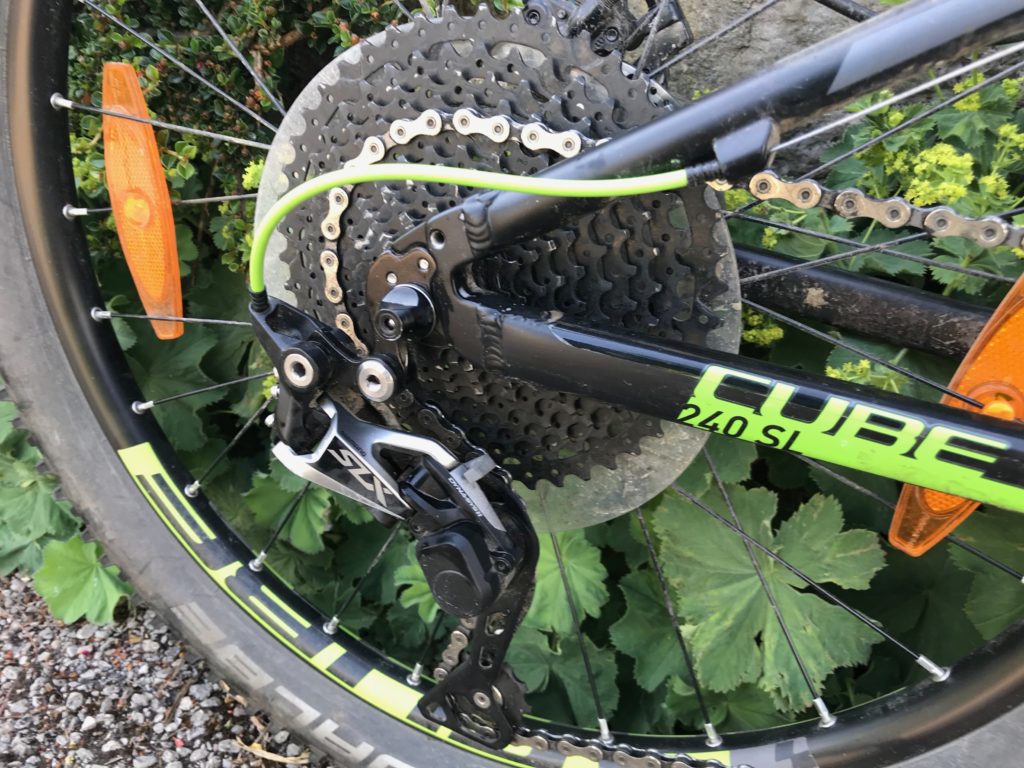 Fitted with Shimano SLX shifters and rear derailleur, the 240SL has a 1×11 speed drivetrain that caters for all scenarios. With a Sunrace 11-46T cassette mated up to a 32T own brand crankset, this bike has all the gearing a 'mud hunting' rider could want. It really is a fantastic little system, with slick changes and ratios that have helped Tester T to scale things that he has previously been unable to ride.
Here he is getting up a particularly tricky section of bridleway that he's struggled with in the past.  It was his first time on the Cube 240 SL, and we only started filming when he was part way up and realised he was going to make it all the way to the top. You can see from his smile how pleased he is with himself!
Although T is a good little rider there have been many times in the past when he's been riding a bike and I've looked across and seen him struggling to get up a very steep section like this and thought to myself 'why don't they sort out the gearing'. Well, Cube have.  He can get up some impressive terrain on this bike. Here he is on a particularly challenging section of the Sam Houghton route. If you look carefully you can just about see his thumbs up. It's where he stopped pedaling, taken from where Karen had collapsed in a heap a lot further down the hill!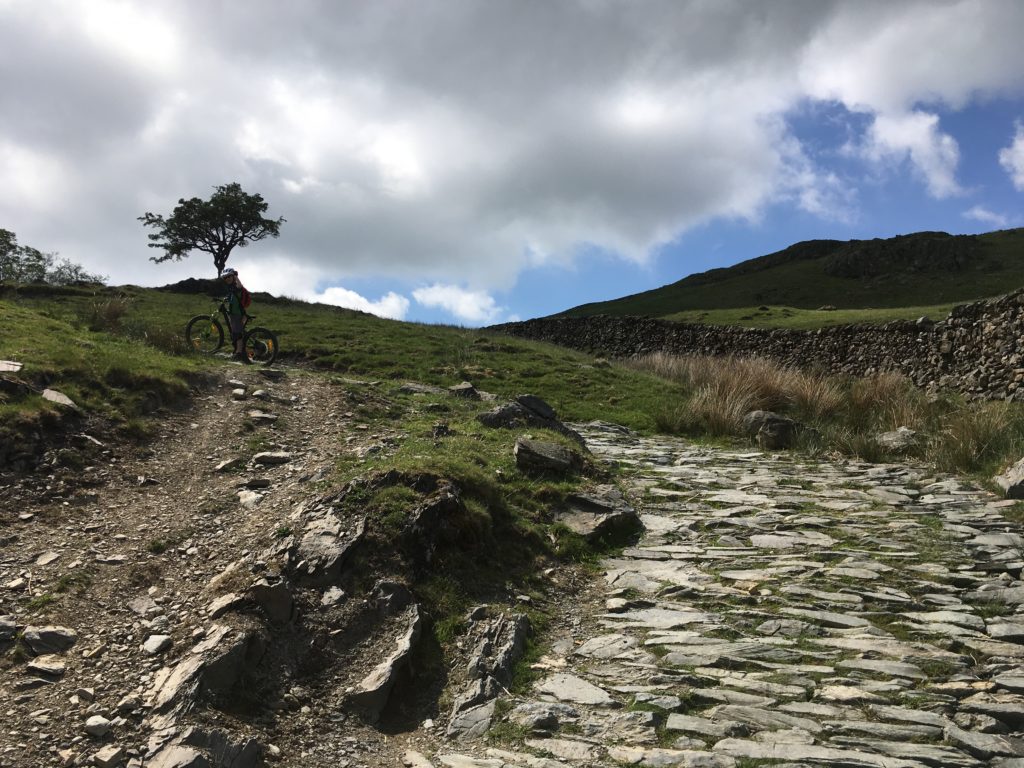 He calls the low ratio the "dinner plate" on account of its size, and when he's knackered or there's a tough bit coming up, he'll shout out that 'it's dinner plate time' and crack on. It should be noted that due to the tension in the rear 'clutch' derailleur, it can take a fair bit of effort for T to select first gear, but it is possible for your local bike shop to adjust the level of tension if you deem it necessary.
The dinner plate just adds that extra bit of fun to the ride, allows him to achieve more and let's him carry on riding. I love it!
Brakes – time to slow things down
When it comes to choice of braking components, Cube have been very selective, specifying the HD-M282 hydraulic disc brake setup from Tektro.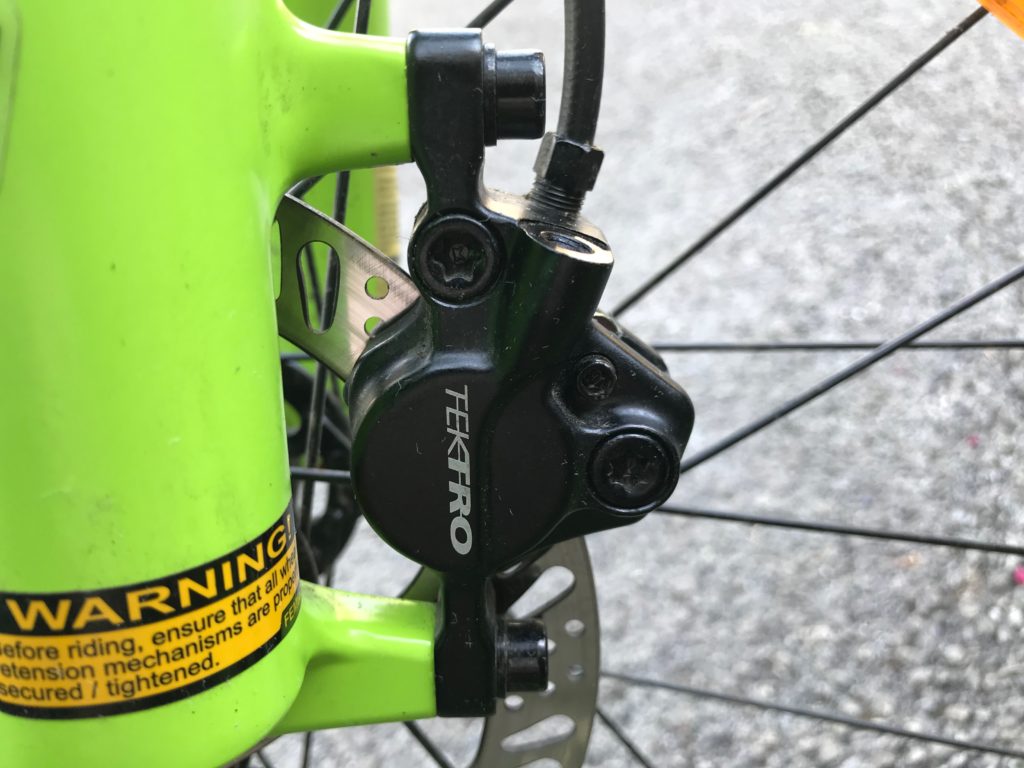 The great thing with this is that the levers are specifically designed for kids hands, so not only do they get a great set of hydraulic stoppers but they can also get their hands around the levers to actually use them! Reach can also be adjusted to obtain that perfect fit. Fitted with 160mm discs, they provide plenty of usable stopping power. Good work Cube.
Wheels and tyres on the Cube Kid 240 SL
I was really surprised by the wheelset on the 240SL, as usually, this is an area where costs can be reigned in by shrewd component choice. However, the Cube wheels really are lovely, with buttery smooth hubs and wide 23mm 'tubeless ready' rims that spin freely. I also love the loud freewheel click when coasting that sounds fantastic, with T also a fan – it puts a huge grin on his face every time. It's very 'Hope'esque and mimics what's on my bike, so when we ride together we sound as though we've got playing cards flicking our spokes!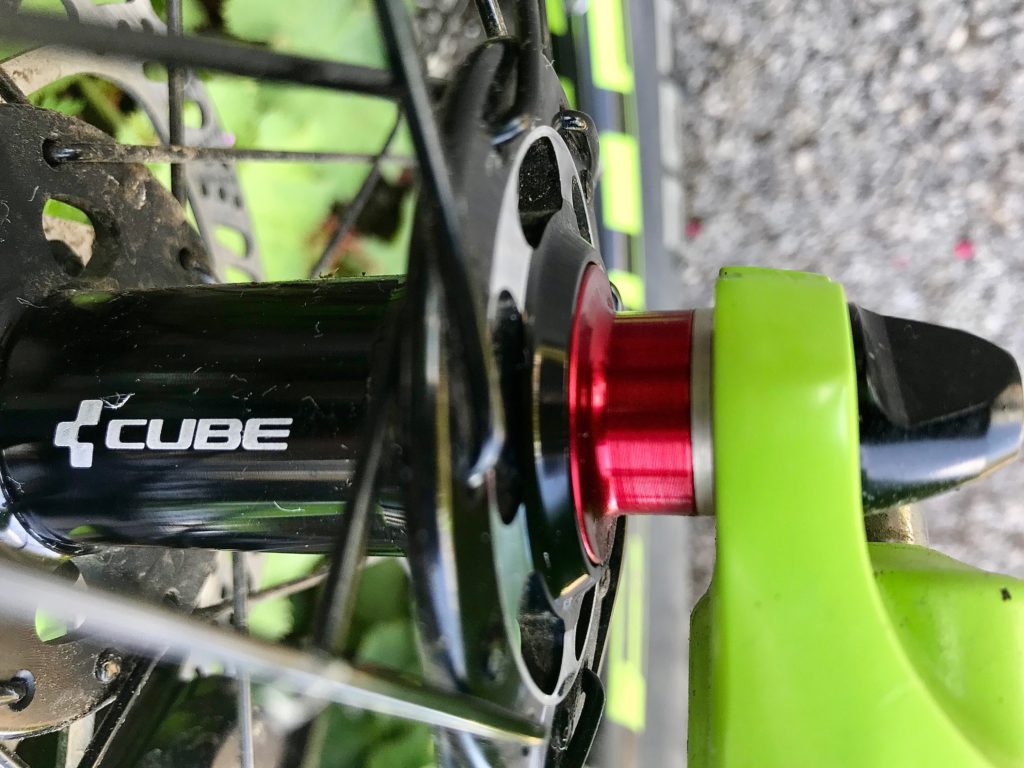 On the tyre front, Cube have shod the 240 SL with Schwalbe Smart Sams in 2.35 width, which have good volume and give the bike plenty of contact area. They're also pretty sticky, and in the conditions we've used them in have given T plenty of confidence.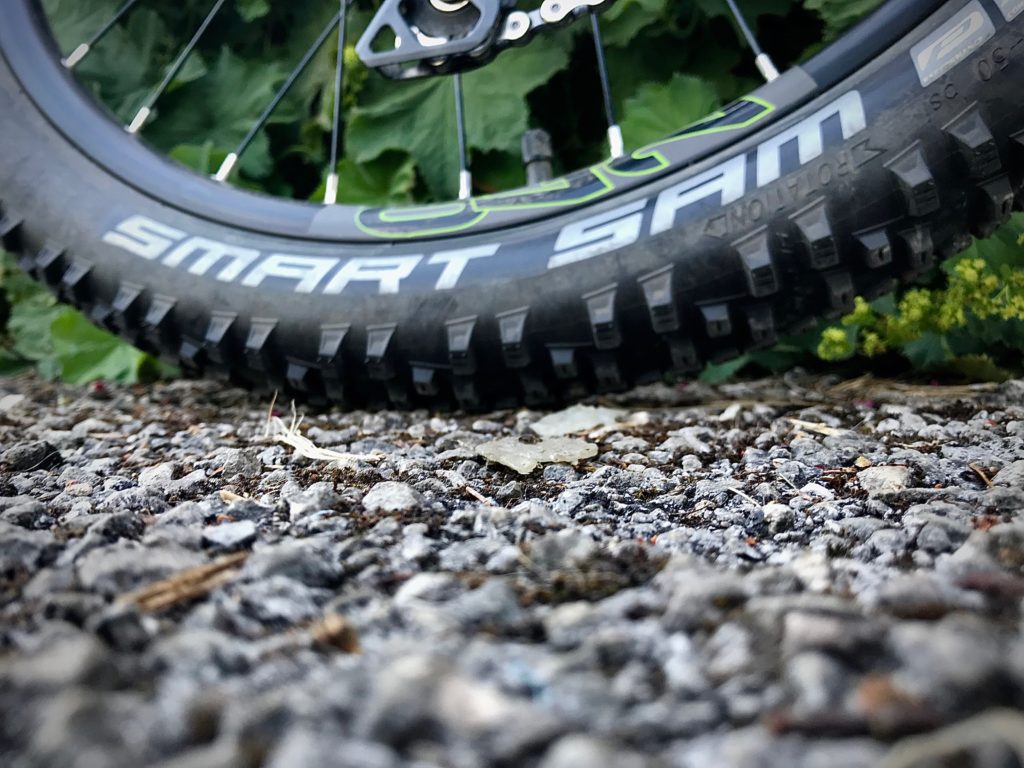 Finishing kit
For the handlebars, seatpost and stem, Cube have used their own branded components which are certainly up to the job and of a quality expected on this type of bike, while the saddle is a junior specific model from SDG and has proven comfortable for T.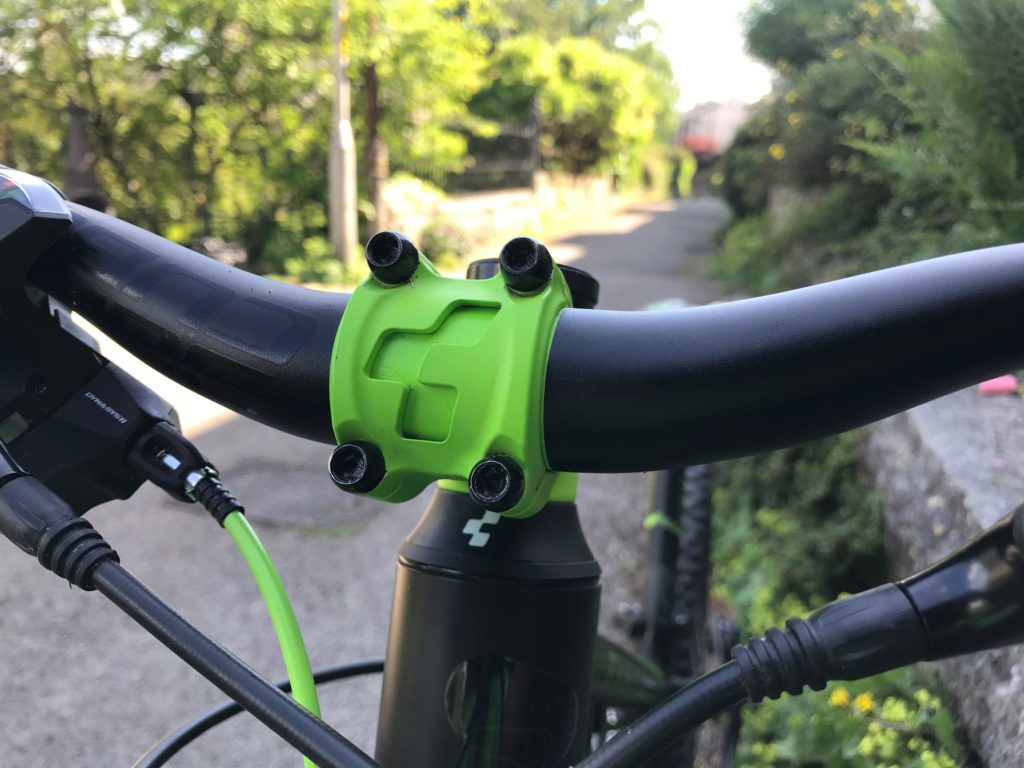 Sizing of the Cube Kid 240 SL
The Cube 240 Series are available in one size and come with 24″ wheels.
Some useful measurements
The Cube Kid 240 SL has the same geometry as the Kid 240 Disc on the chart given below.

Here are some additional measurements that are taken from floor level:
Minimum saddle height (top of saddle) – 67cm
Top tube height just in front of saddle nose when in lowest position – 64cm
Maximum saddle height (top of saddle) – 82cm
Standover height midway along top tube – 67cm
For information, Tester T currently has an inside leg measurement of 71cm.
For the new look Reaction 240 SL, the geometry is given as follows: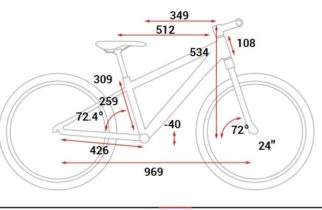 How does the Cube Kid 240 SL ride?

Of all the bikes that Tester T has cocked a leg over, I can say with a high degree of confidence that he has reached a level of synergy with the Cube 240SL that has not been encountered before. Initially, I had a few reservations regarding whether the frame and 24″ wheels would be a tad too small for him, but those worries proved unjustified.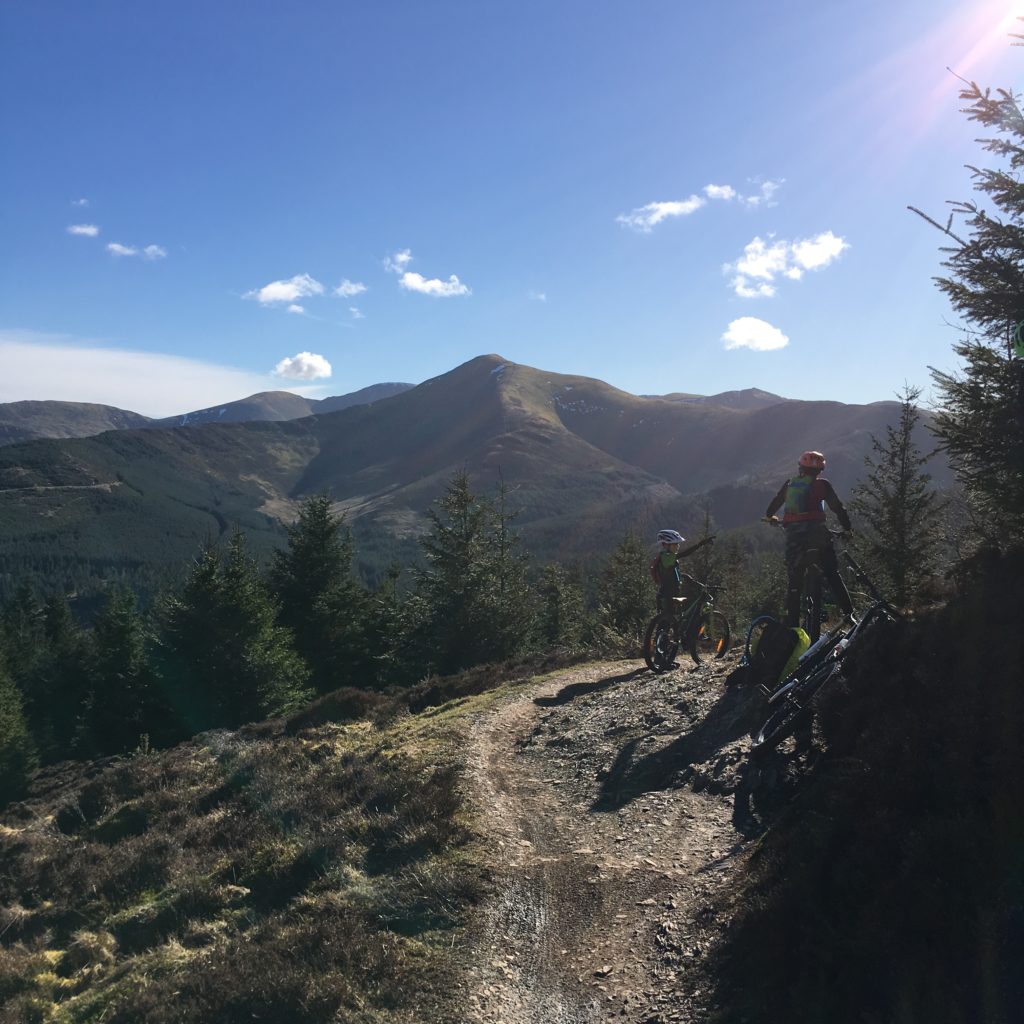 He can go days without riding but climbs aboard and looks comfortable and happy.  He's involved in British Cycling Go Ride training that is brilliant and is helping him to develop his MTB skillset, but I would go as far as saying that his riding has improved dramatically as a result of the relationship he has with the bike. He looks comfortable riding it, it fits him well, the components work as he wants them to work with no fuss.  He's trained for, and successfully completed, the 25km Lake District Sam Houghton mountain bike challenge on it, so it's certainly a bike that can handle rough terrain and longer distances.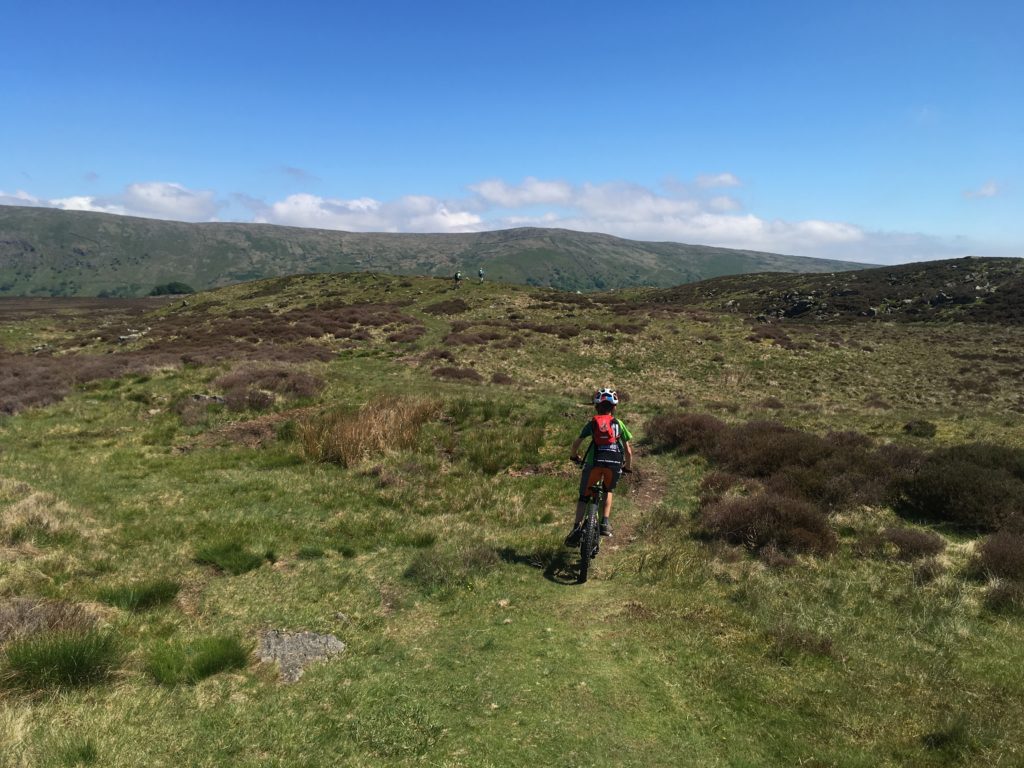 Review of the Cube Kid 240 SL – final verdict
Okay, so this isn't a cheap bike, but I do believe it's great value for money. We've taken the 240SL to various locations around the Lake District and it's performed equally well at trail centres and on cross-country rides. Our 9 year old tester has also used it to train for and complete the 25km Sam Houghton Mountain Bike challenge.  It's a quality bike with a great specification from a well respected manufacturer, and if it was my money I was spending then the nearest Cube dealer would be my first port of call. We've found the Cube Kid 240SL to be that good.
In conclusion, I'm actually dreading the day when I get the call from Cube asking for it back. I know for sure it'll be a very sad day indeed!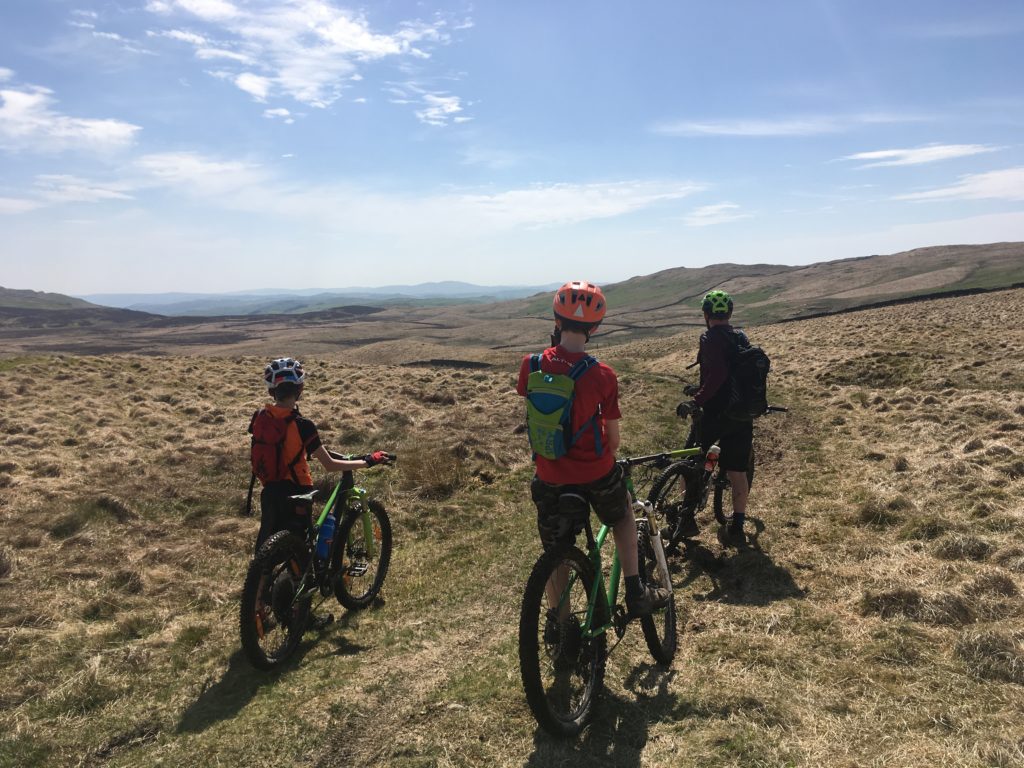 Where to buy the Cube Kid 240 SL and Reaction 240 TM
The Cube Kid 240 SL has been discontinued and has been replaced by the Cube Reaction 240 TM, which is available from Tredz.
Other articles you may like
Disclosures:  Cycle Sprog were provided with the Cube Kid 240 SL to review during the spring / early summer of 2018.   We were not paid to write the review.
We do use affiliate marketing on our website, which means that some of the links on the site contain affiliate links. If you make a purchase we may get a small commission, which helps us to keep the website going. Thanks for your support.
This review was written in July 2018 and updated in January 2019 to reflect the current situation with the bike.