When Cuda Bikes got in touch and asked if we'd like to review their new Impact 24 kids mountain bike, you should have seen the look on our youngest Cycle Sprog's face. Whilst he's used to riding a good quality front suspension mountain bike, he's had to look on enviously as his older brother has ridden small adult full suspension mountain bikes on our various travels, while he gets whatever kids bike the rental place has hanging around. If he's lucky, it'll have front suspension! So as you can imagine, the thought of riding a proper kids full suspension mountain bike with child-sized components was unbelievably attractive!
First impressions – Cuda Impact kids full suspension mountain bike
It's always a good feeling when you're removing the packaging and feeling excited about what you're about to put though its paces. When we lifted the Impact from the box, the first thing to hit was the very lively colour scheme! The images on the Cuda website doesn't really show how vibrant it is in real life.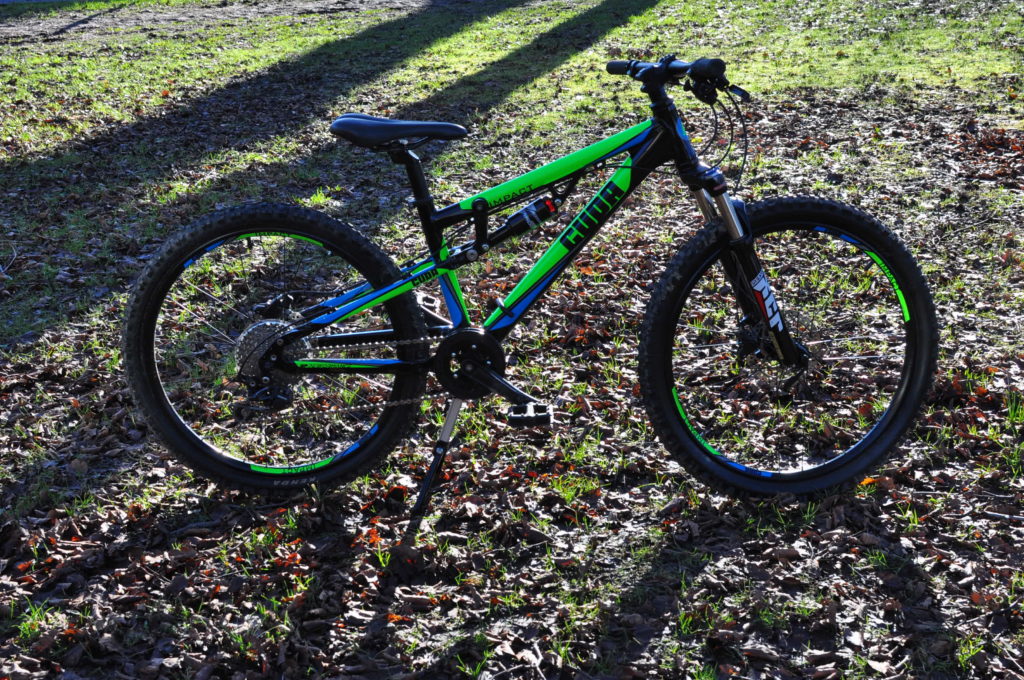 The colours are much more appealing with the blue, green and black working together really well. I was a touch dubious about it, but have to admit that it looks great.
What age group is it intended for?
The Cuda Impact comes with a 13″ frame and the website states that the saddle height can be set between 73cm and 87cm. However, testing it out we managed to get it down as low as 71cm.
The rider in this test is a long and lean 9 year old, with an inside leg measurement of 70cm. The Impact fitted fine and with it's long top tube and wheelbase still had room for growth.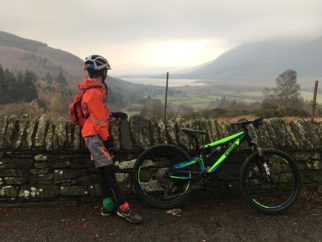 How much does it cost?
The Cuda Impact has a retail price of £799.
What about the components?
Taking a peek around the bike, the first thing that catches your eye is the fact that it has suspension front and rear. Yep, that's right – full suspension on a 24″ wheel kids bike. Unusual to say the least, and so this has to be one of its major selling points.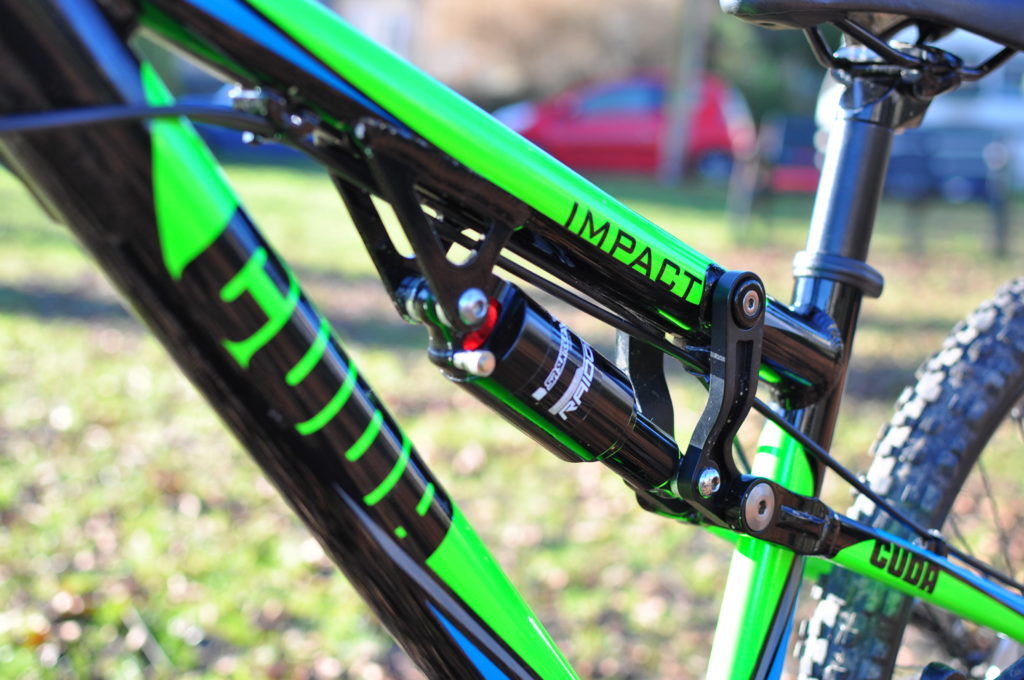 The frame is constructed from double butted alloy with geometry that gives a very slack head angle and a long wheel base to help make it a stable ride, especially when descending.
Then there's the bars. The handlebars are pretty wide (the website states 680mm) and we measured them at 690mm with grips (they're lock-on ones, so easy to replace – our tester found them comfortable and grippy) and bar ends in place.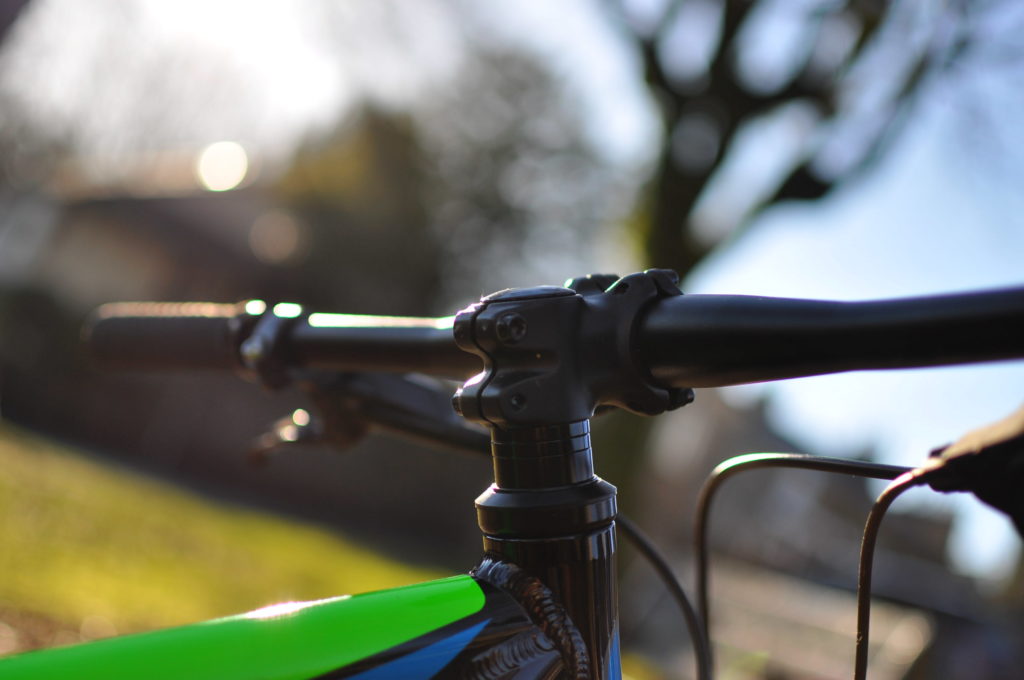 So the Impact is following the current trend with adult bikes for wide bars with a short, stubby 45mm stem. This gives good control for older kids but these may be too wide for younger riders, especially those with a smaller build. With this in mind, you may want to consider shortening the bars if you get complaints about aching shoulders and arms. It's an easy job for a bike shop if you're unsure.
Looking around the bike, there's a smattering of own brand components such as the 140mm length alloy cranks (child-sized) to keep the price in check. The wheels use own brand alloy rims laced to Shimano hubs that use the 'lock on' system for attaching the disc brake rotors, rather than the more common 6 bolt method.
Staying with brakes, Cuda have specified the ever popular Shimano M315 Alivio setup – a tried and tested brake set that's good value and popular with riders because it delivers strong performance for the price. Our tester was perfectly happy with them as he was able to stop on demand whilst riding the trails at Whinlatter Forest Trail Centre, and also on the steep Lake District roads that surround the forest area.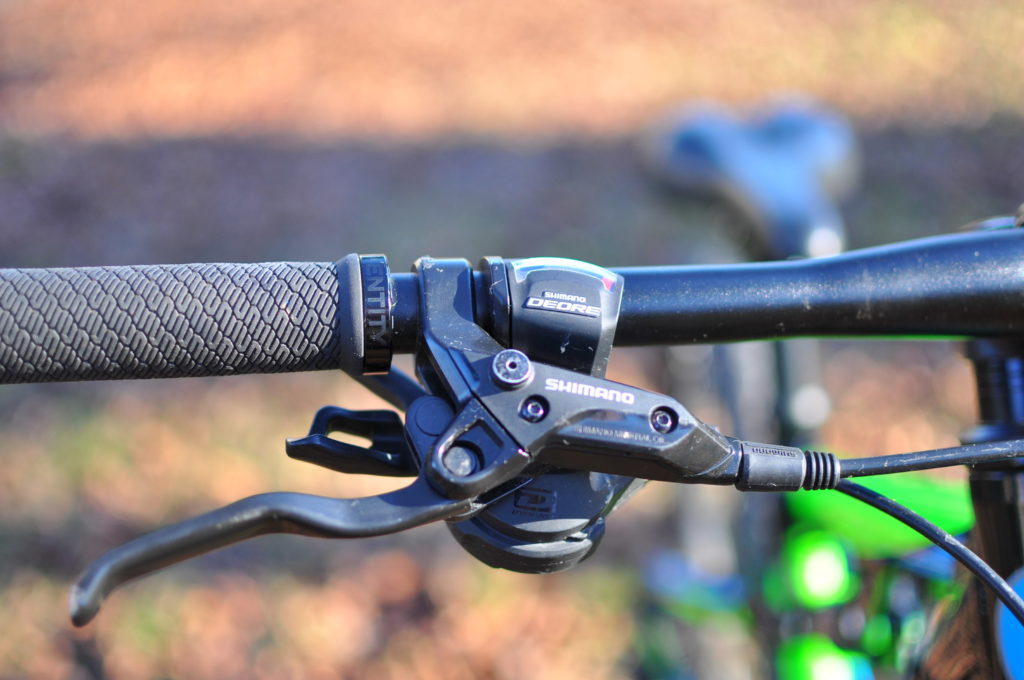 Cuda have been very shrewd in how they've allocated budget to respective components and they've directed a fair amount towards the drivetrain which is good to see. Going with a 1×10 setup, there's a 28 tooth chainring at the front coupled to a wide range 11-36T cassette at the rear to give a fairly broad spread of gear options.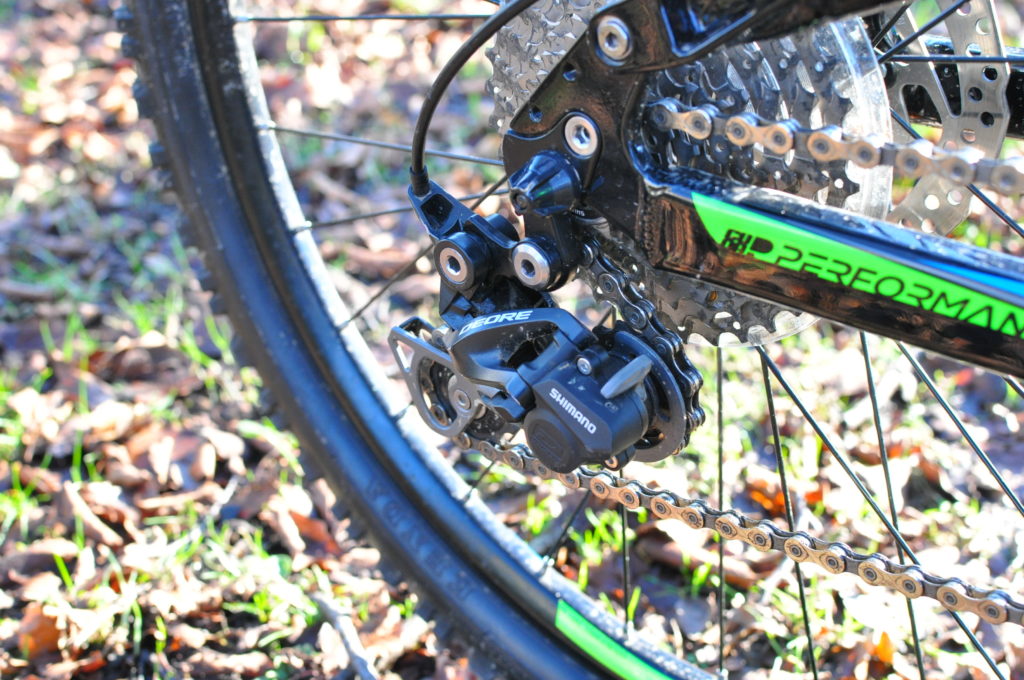 To make the changes, Cuda have gone for excellent performance and value by specifying Shimano's Deore RD-615 clutch rear derailleur which gives crisp and reliable shifting.
Suspension
The designers at Cuda are fully aware that kids weigh very little, so rather than fitting suspension only suitable for adult bikes, Cuda have fitted an air shock and forks to give adjustability all round. This way, the suspension can be tailored exactly for the riders weight, working with them rather than against them.
The Suntour XCR forks come with 80mm of travel, and although not the lightest fork available they've been redesigned to give a plush fork for the money that is fully serviceable when the time comes.
The rear shock is a SunTour Raidon Air "R" which would cost roughly £100 if buying separately. Once again it can be tweaked to suit and gives a useful 50mm of travel to soak up the rough stuff.
The tyres are Kenda Kinetics 24″ x 2.10″ – a good value tyre that performed admirably on test in a variety of conditions. Other components that often get overlooked are the flat pedals, which have proved grippy enough as T hasn't had any problems with his feet slipping off. Also, the saddle has proven to be comfortable as we've had no moans at all!
Just how heavy is the Cuda Impact?
Well, it's not the lightest bike I've ever had the pleasure of lifting. It comes in at 13kg, however, it is a full sus and to be honest, feels pretty balanced. T managed to lift it up and down the steps at home, but not as easily as he has been able to with other bikes.
Saying that, weight (or the lack of it) is definitely an important element in the makeup of a kids bike, but out on the trail T (who weighs less than a grown adults shoe!) found that the weight was a bonus as when he was riding it had no skittishness and tracked really well. Combined with the rear shock, this made riding a much smoother process for him.
How does the Cuda Impact 24 ride?
This is the all important test, and T rode the Cuda Impact 24 on a number of rides during the winter test period. It handled both trail centre and cross-country riding well and we found that T could get up and over some features that he'd not been able to manage before.
Here's a short film of him getting over a rock garden at Whinlatter Forest that he'd struggled with on previous visits:

There's bound to be debate about whether this is a good thing or not, as it could be said that it's the bike rather than his skill that's enabling him to do this (or maybe he was just stronger and more skilled than on our last visit). However, with so many adults riding full-suspension bikes these days, it's great when your 9 year old can match your riding as opposed to having to get off and push!
Due to its weight, the Cuda was slightly harder work on long uphill road sections than some of the lighter bikes T has ridden, but we didn't get too many moans and groans (I think the happiness at being on a full sus bike kept him going). This could be remedied by changing to an 11-40T or an 11-42T cassette at the rear to make life a touch easier for little legs to spin up hills.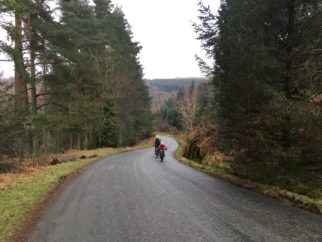 Thoughts from the Sprog
So, to get a better feel I guess we should really ask the 9 year old rider for his thoughts about the bike. Take it away T!
The good thing with the rear suspension is that you can adjust the amount of squishiness there is. This is good because when it came it was too hard – when I sat down it didn't squish and Daddy adjusted the air pressure for me
The brakes are good – they stop you when you want them to
The gears slip smoothly into position instead of grating and I can get up most things on it
This thumb shifter is a good size and hasn't hurt my thumb as some others have
For me it's good because I'm quite light. On some bikes I spin out, as I don't have enough weight to put over the back wheel to stop it slipping. I don't spin out on this as the weight of the bike holds me down. Of course, if I was wanting to do jumps, then a lighter bike would be better as I'd get air more easily
I wouldn't recommend this to people who are starting mountain biking, as I found starting with a bike that doesn't have suspension or has it on the front forks is better as you have to pick your line. Once you're able to pick your line, then it's worth thinking about. You've got to learn the ways of the trails before you get a bike that's capable of going over almost everything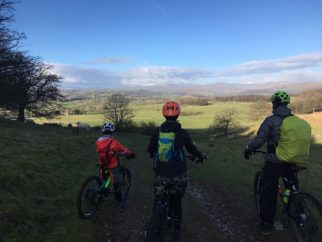 Upgrades
If you wish to personalise your Impact or think the weight could be reduced, the folks over at kidsracing.co.uk know all about the Impact and have a whole host of upgraded components to help you to create your dream beast of a bike.
The Cuda Impact 24 review – the final verdict
As a complete package, the Cuda Impact is a great looking bike with a good level of equipment and has some decent Shimano kit that is lovely to see at this level.
It's unusual in that it's a full suspension rig which is something we don't see too often and for that reason alone, it might be attractive to some would-be purchasers.
Weight-wise it's not the lightest bike out there, but tester T found that a bonus as it felt planted when heading downhill and also he didn't spin out as much as when riding lighter bikes when tackling steep climbs.
Importantly the front and rear forks work – they compress nicely under T's lightweight body and were actually assisting him when riding.
He's been able to climb the hills happily using the broad spread of gears and he's got up and over features he's not been able to ride before – one or two tricky rock gardens spring to mind!
Price wise it's not 'cheap' with the Impact coming in at £799 – a fair chunk of money for a kids bike. But at this level it has to be seen as an investment for someone that's into their riding and is looking for the right tool for the job. There are now a number of bikes at this price point, but this is the only one sporting full suspension – they're a rarity and usually come in at a much higher price.
One interesting thing about the Impact is that when it arrived I thought it might be a tad small for T. However, with the top tube length it was plenty roomy enough for him and he was able to play around on it with ease. The point is, parents are often too quick to move their kids onto the next size frame thinking that's the right thing to do, when really their skills will develop a whole lot quicker on one that is the correct size.
Summary
In summary, if you're looking for a quality 24″ kids full suspension mountain bike then seek out the Impact and give it a test ride, as it's rare in this price bracket, but it's got a fine specification and rides well.
Definitely worthy of consideration.
Where to buy the Cuda Impact 24 junior full suspension bike
The Cuda Impact retails for £799 and can be bought from your local Cuda stockist, as well as from kidsracing.co.uk who will do various upgrades to wheelsets and groupsets to lighten the bike and improve handling. It's sometimes available on Amazon.
Other articles you may be interested in:
Disclosure: Cycle Sprog were provided with the Cuda Impact Dual Suspension mountain bike to review by Moore & Large for a three month period.
This post was first published in March 2018 and updated in November 2018