Last year we were asked if we'd like to do a long-term review of the Islabikes Creig mountain bike. With two boys (N aged 10 and T aged 7) both keen to get their hands on "proper" mountain bikes with suspension, how could we refuse?
The boys have been riding them regularly for a year, so here's our verdict on how the Creig performs.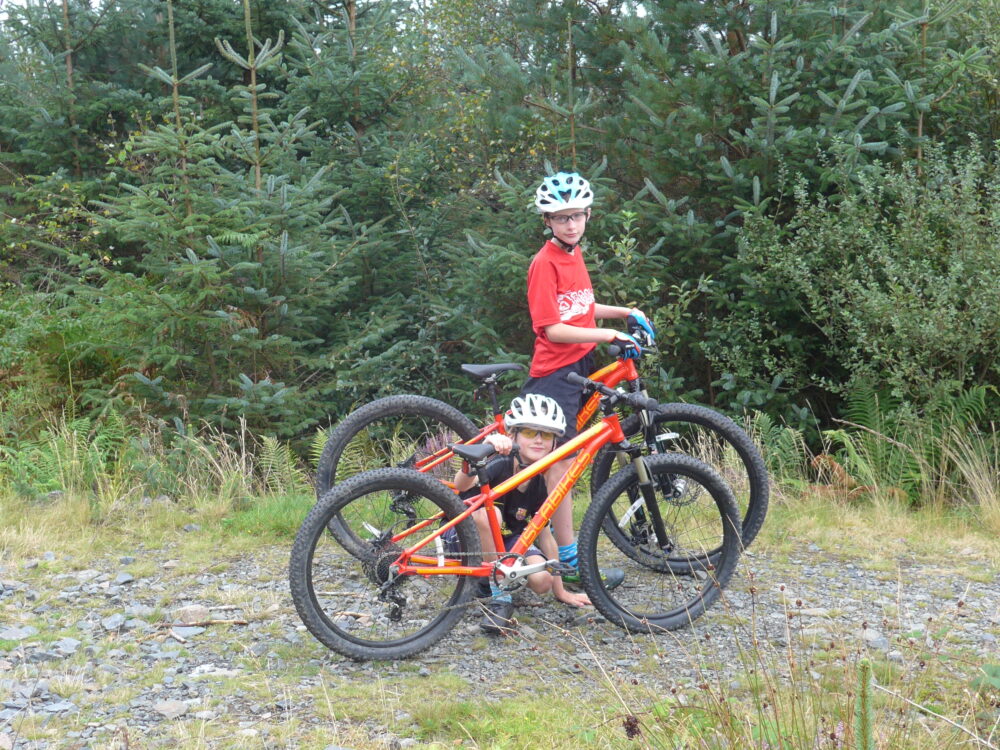 Islabikes Creig 24 & 26 details:
Price – £799.99
Age – 8+ years old 
Weight – 10.56kg – 11.30kg (inc. pedals)
Colours – Red
Type – Mountain biking – trail centres and cross country
Suspension – RST's air-sprung F1RST forks with 60mm of travel 
Accessories – Bottle cage, name transfer and Shimano clipless pedals available at additional cost 
Gears – 10 speed Sram GX Gripshift (SRAM 10 speed 11-36 cassette with 32T single chainring at the front)
We like – The Islabikes Creig is a proper mountain bike for kids – lightweight and comfortable with child-sized components and suspension forks that work. They look great and the paintwork scrubs up well. Whilst not the cheapest (and in no way the most expensive) kids mountain bike on the market, Islabikes trademark attention to detail and quality shows in the Creig. 
Islabikes Creig 24:  Buy Now
Islabikes Creig 26:   Buy Now
First impressions of the Islabikes Creig
The moment the two Creig mountain bikes arrived the boys were besides themselves.  There was a 24" wheel for T and a 26" for N. The lightweight, child-friendly components and the striking colour all got an immediate thumbs up. And we hadn't even hit the trails yet!
The first challenge was how to say the word "Creig" – it means rocky outcrop or crag in Gaelic and is pronounced "creeg".
At the time, the boys had just signed up for a Go-Ride mountain biking course, so the moment they rolled up on the Creigs heads were turning and the comments and questions started. The bikes really are conversation starters, with everyone wanting to know whether they justified the price tag.  At £799 these bikes are for those that take their cycling seriously (or have deep pockets!), so their performance is more important than their looks.
The pedigree of the Islabikes Creig
Islabikes are renowned for creating quality kids bikes and anyone who rides one tends to be smitten. They have a philosophy that kid's bikes should be designed for children, ensuring that all components are sized correctly for little hands, feet, arms and legs.  Over the past decade the Islabikes range has developed with a focus on the Beinn, their ever popular multi-purpose bike and the Luath cyclocross bike (Isla Rowntree is the 2016 Veteran Women's CycloCross National Trophy holder, and won 6 titles in the Elite Women's category between 1996 and 2002).
It's interesting, but perhaps not surprising, that their mountain bike range has been slower to evolve. The Creig 26 was first launched in 2008, and the range has required them to get to grips with the design and geometry of mountain bike frames, the introduction of suspension, appropriate gear ratios etc, plus the constantly evolving fashions and technological advances within the sport.
What age is the Islabikes Creig aimed at?
Islabikes have two sizes of Creig mountain bikes available. A 24″ wheel designed for kids aged around 8 years and over, and a 26″ wheeled version that caters for 9 years up to around 12 years and the transition to an extra small/small adult bike. Obviously this depends very much on the size of the child.
Specification of the Islabikes Creig MTBs
Frame and forks
The Islabikes Creig is based around a lightweight 7005 aluminium frame, 12″ for the smaller wheel and 14″ for the 26 inch. Standover is plentiful, as the geometry used generates a top tube with a slope that transfers elegantly into the rear stays.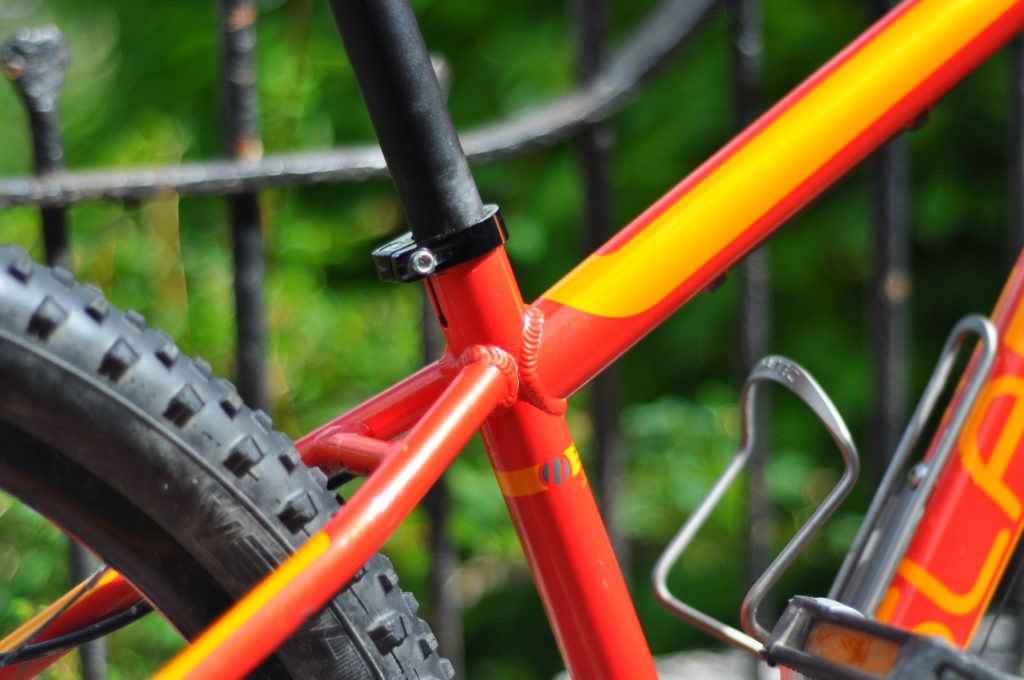 At the front, there is a set of suspension forks to soak up the rough stuff. Hmm, I hear some grumbling at the back about kids not actually being heavy enough to make suspension forks do anything. Well, yes and no. An adult fork won't cut the mustard for that very reason, but Islabikes have spec'd the RST's F1RST with 60mm of travel.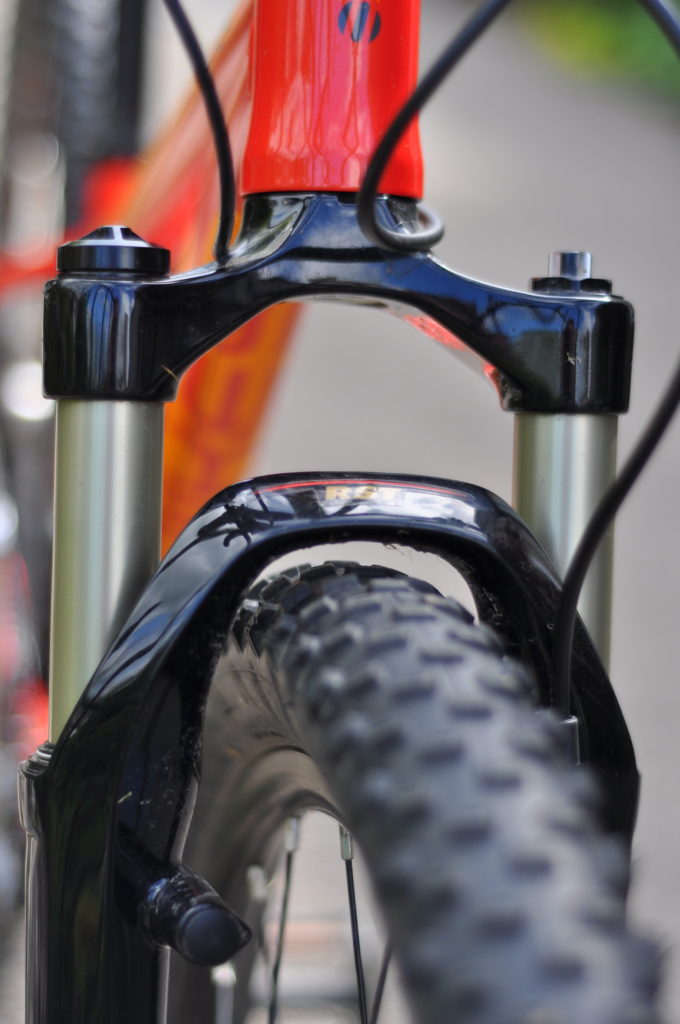 This cross country fork is air sprung and has been dialled in to take account of the lighter weight of a child. If necessary, the pressure can be fine tuned by shock pump to suit the weight of your child. It's adjustable for damping too, so that when returning to full travel the fork doesn't bounce back too quickly/too slowly. There's also a lock-out facility which can be useful when riding on tarmac or when out of the pedals and heading uphill on non gnarly terrain.
Gearing – making it go
They say less is more and in the case of the gearing on the Creig, that statement holds true. Absent is the triple front chainring seen on the majority of kids bikes, with a 32T single ring residing in it's place.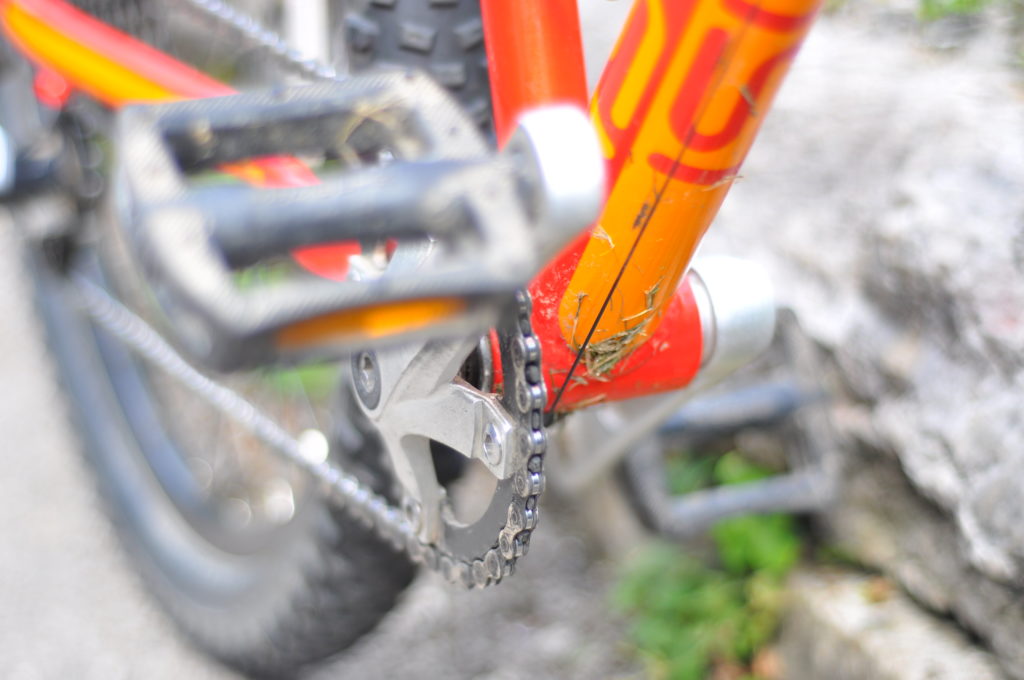 Ok, so you're thinking that means less gears, surely?
Yep – there's ten in total. But when you couple the single chainring to an 11-36T wide-range cassette at the back you get a spread of gear ratios that give plenty of options for the majority of situations. Plus your child doesn't have the faff of messing around with a left hand lever or twist grip. Plus it loses a bit of weight. Plus it's one less cable to lube. Plus there's only one chainring to replace when they wear. Plus there's only one derailleur. Plus……….you get the picture. I like single rings at the front. Keeps it simple.
The derailleur is a SRAM GX, and this is fitted with a clever clutch mechanism that keeps the chain in tension when going over rocks and bumpy stuff, thus avoiding it coming off the chainring (ouch!) and also from bashing against the frame. Told you it was clever.
Braking – making it slow
When it comes to stopping, Islabikes have opted for Avid DB1 hydraulic disc brakes on both bike sizes, with 160mm rotor at the front and 140mm at the rear.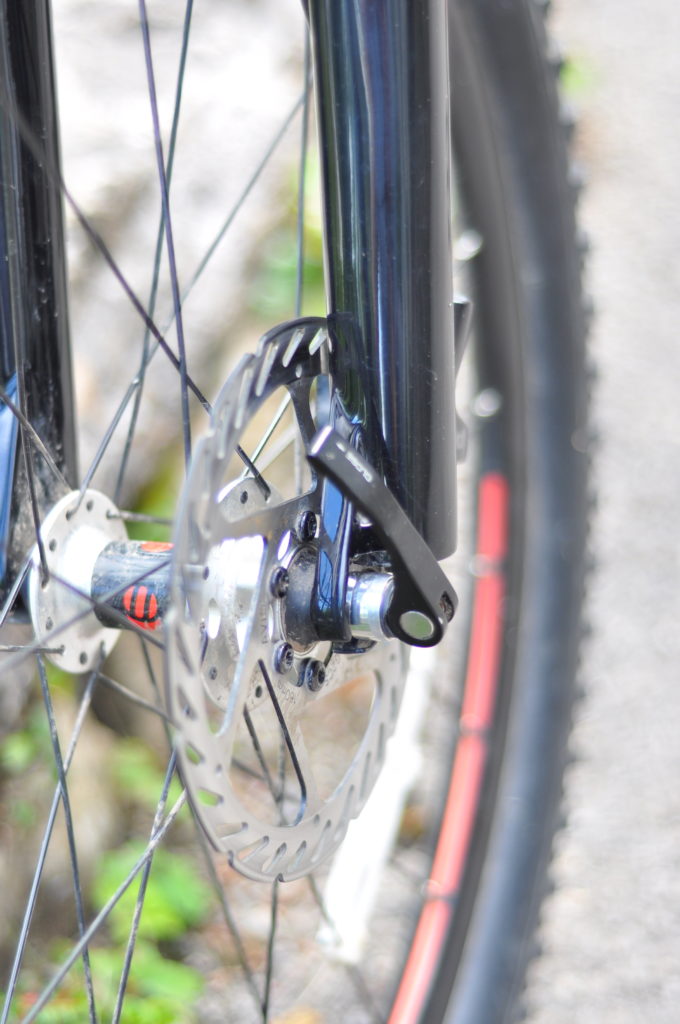 This setup provides plenty of braking power but has not caused any issues with either of the boys grabbing a handful and high-siding themselves over the bars. They do need a bit of care and attention though as they have a habit of squeaking, so keeping the brakes and especially the rotors clean goes someway to resolving this.
Wheels and tyres on the Creig
Here Islabikes use their own brand hubs, rims and spokes for their wheelsets. Call me a cynic, but I'm always a touch suspicious of wheels in this form, having had previous experience of rusting spokes and grumbling hubs after just a few jaunts out in the rain. So the Islabikes wheels have been a pleasant surprise. Visually, once they've been cleaned up they still look as good as new. The hubs spin freely; one could say almost buttery smooth. Which isn't bad going as they've been ridden through all weathers, surfaces including wet clay and sands, plus submerged  through the odd river or two. They've held up really well with minimal maintenance.
The tyres come from from a company called Vee Tire, have a good suppleness to the rubber and feel nice and grippy. The shoulders are pronounced, giving good dig in on corners and the pattern doesn't seem to clog up with mud. T, on the smaller Creig, does suffer from spinning out going uphill on loose surfaces sometimes, but that is probably a result of his light bodyweight and not getting what weight he has in the correct position to give him some traction.
Finishing kit
Finishing kit tends to be Islabikes own. The saddle and post are the same on both bikes and seem to be comfortable for both son's bottoms as neither has made any complaints – a rarity! Likewise, the handlebars and stem are the same, with the stem a flip-flop variety that can be fitted either way up to give some adjustment for height. The bars have the same 11 degrees of backsweep but with 560mm length and 580mm for the 24″ and 26″ respectively.
How does the Creig ride?
The boys have put the Islabikes Creigs through their paces over the past year, with the result that their riding has improved as confidence and experience have grown.  I can't got into the detail of everywhere they've ridden in this post, so here's a link to another post that explains how we've developed a love (or should that be an obsession!) with mountain biking over the past year.
The Islabikes have been an integral part of the journey, allowing the boys to push their skills knowing that the bike will respond, being more than capable of whatever they've throw at it. They started out riding at trail centres on skills loops and blue trails and have progressed to cross-country rides in remote areas of Cumbria and the Yorkshire Dales, and starting to ride the red routes at trail centres.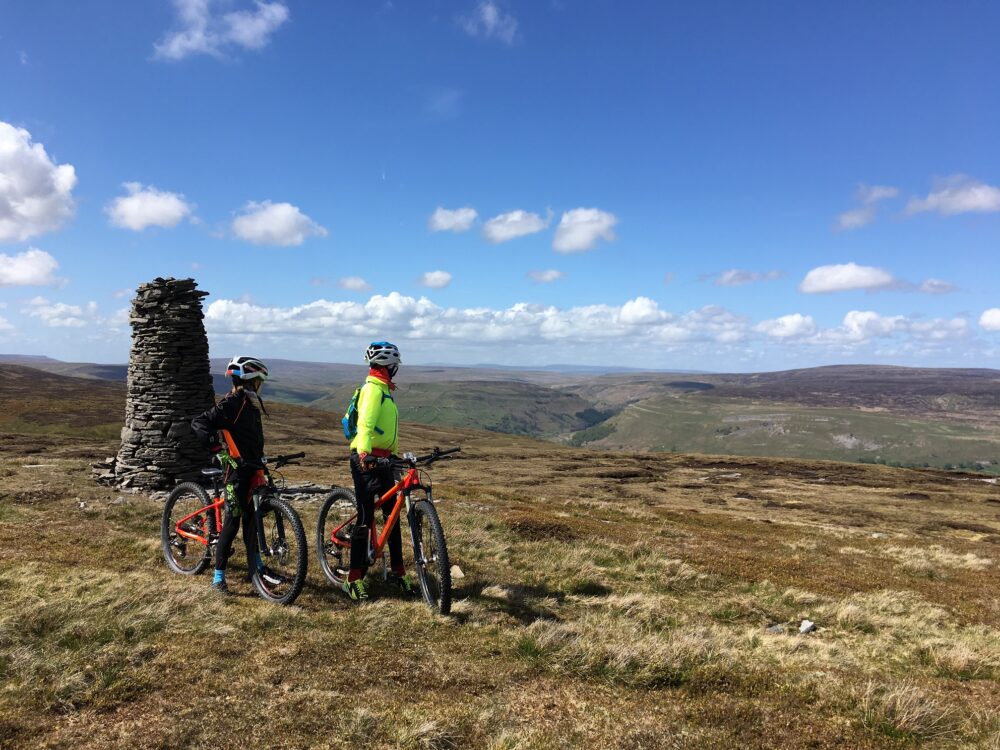 At this point, I need to split the review into two – the performance of the Creig 24 has been slightly different to that of the 26" version.
Review of the Islabikes Creig 26
Starting with the bigger bike, it's handled virtually everything that N has asked of it.  He's moved on regularly riding red routes at trail centres, including this one at the 7 Stanes Kirroughtree trail centre.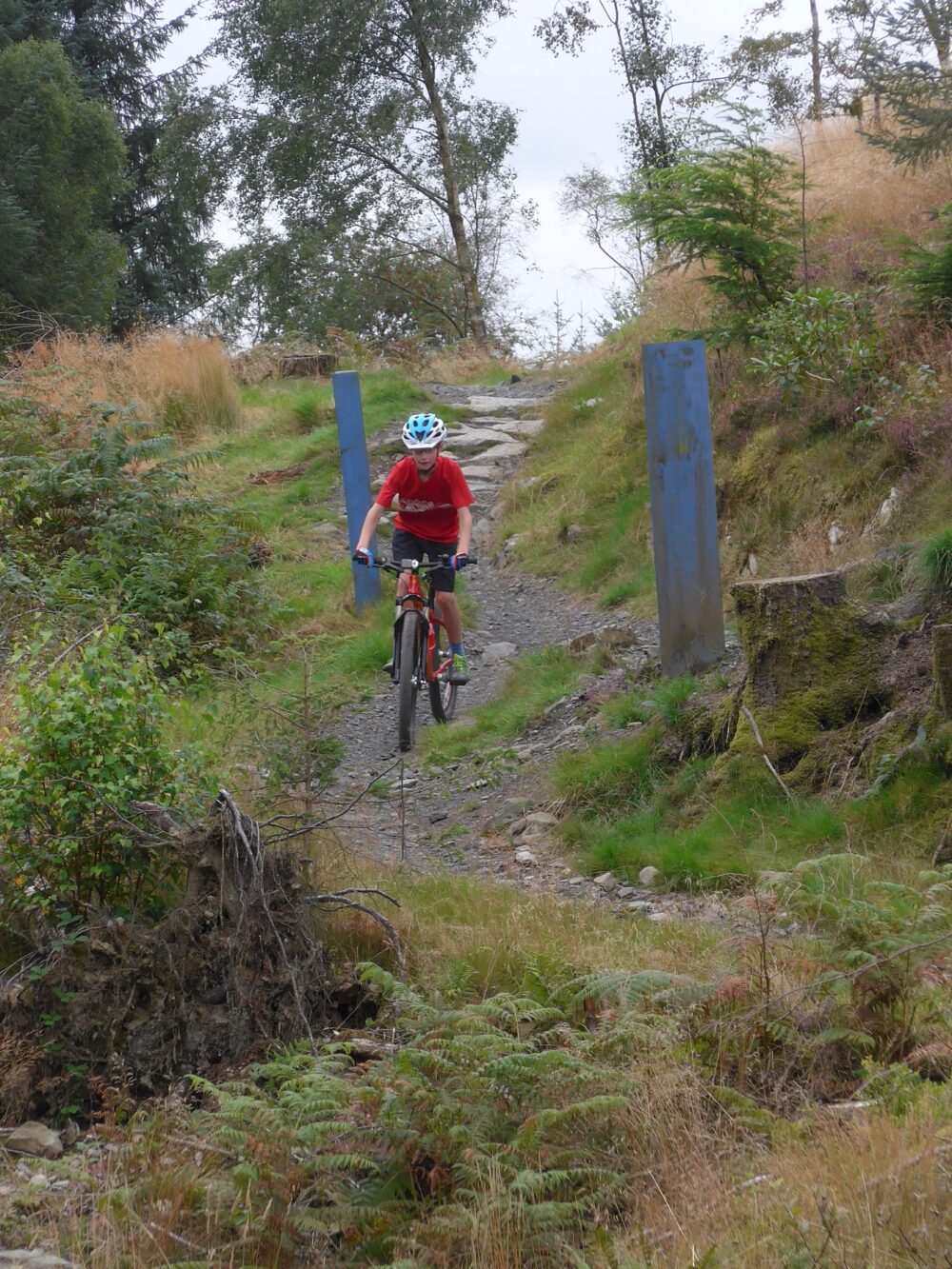 As with any bike used on a regular basis, the Creig's have demanded some attention over the year. The biggest issue we had with the 26" was with a bent derailleur hanger following a rock strike, resulting in the chain lodging itself neatly between the spokes and the cassette – a right, royal pain in the….foot. It's a common problem and as it's a sacrificial part was easily resolved by a phone call for a replacement.  Unfortunately when we ordered it, Islabikes sent one for another bike, but they sorted it quickly so we didn't have to miss a weekend's riding.
Sizing of the Islabikes Creig 26
N is taller than a tall thing, and so having just turned 11 is already on the verge of moving up to an adult size frame. Having ridden a few hire bikes in this size, we've found he struggles with the adult setup for handlebars, brakes and gears. Plus being a lightweight he doesn't get much movement from adult bike suspension forks.
It's a pity that Islabikes don't do a larger sized Creig for this age/height group, as they cater for road and cyclo-cross riders with the Luath 700 small and large, and for more general cycling with the Beinn 26″ large and three sizes of the Beinn 29″.
Review of the Islabikes Creig 24
There's a mantra in the world of family cycling that lightweight kids bikes equal good bikes, and heavy bikes are bad. However, we've found with the Creig 24 that in some instances it's been just a bit too light for our youngest. He's a tall, lithe boy, and doesn't carry much weight on him (he was on the 90th percentile for height and 10th for weight when he was little).  So whilst the Creig 24 has fitted him perfectly in terms of sizing, at times the bike has been a bit "flighty".  His lack of weight has resulted in spinning tyres and an inability to get traction.  This is most noticeable when he gets out of the saddle to get up very steep or technical sections of trails.  On the plus side, the light weight meant that it was very easy for him to push or carry the Creig over these sections.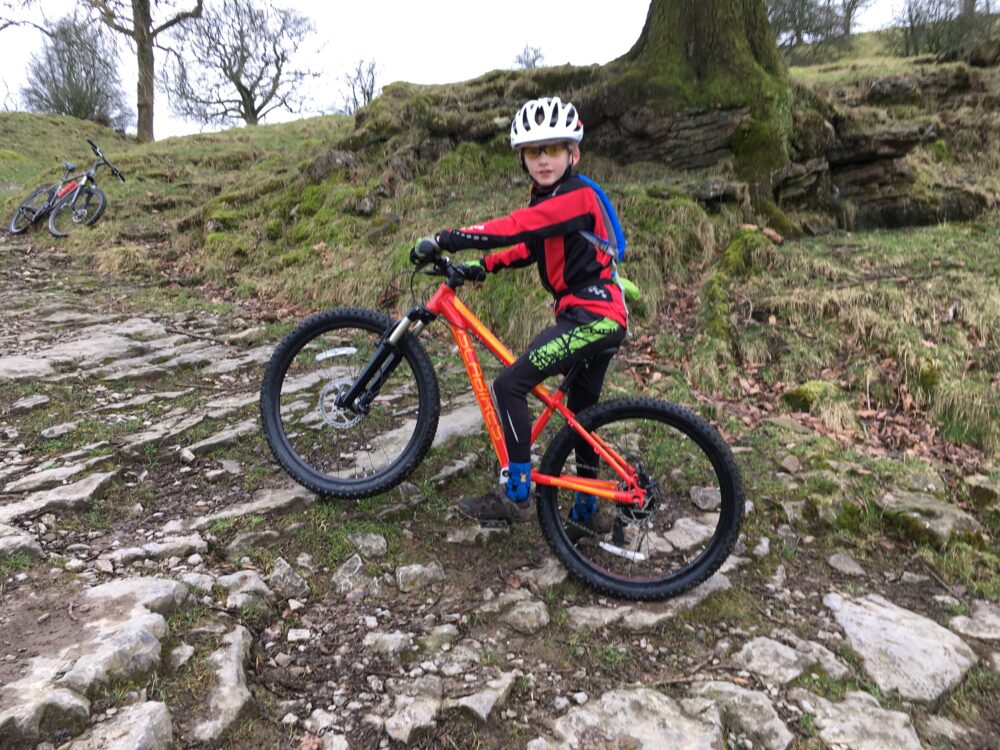 I suspect that a slightly heavier child (or one who stays seated whilst whilst climbing) would have a different riding experience, and if T gets heavier over the next year or so, then he shouldn't have the same problem moving up to the 26".  Our eldest is similarly proportioned and hasn't had this issue with the larger bike.
The other thing he has struggled with sometimes is shifting into the lowest gears, meaning he's been climbing out of the saddle in 3rd or 4th gear on occasions. It must be said that the SRAM GX twistgrip has been the best of it's ilk that we've seen over the years, but it does beg the question whether at this age a thumb shifter might work better?
On the downhill sections of trail, the Creig 24" has performed brilliantly, and it's done virtually everything he asked of it.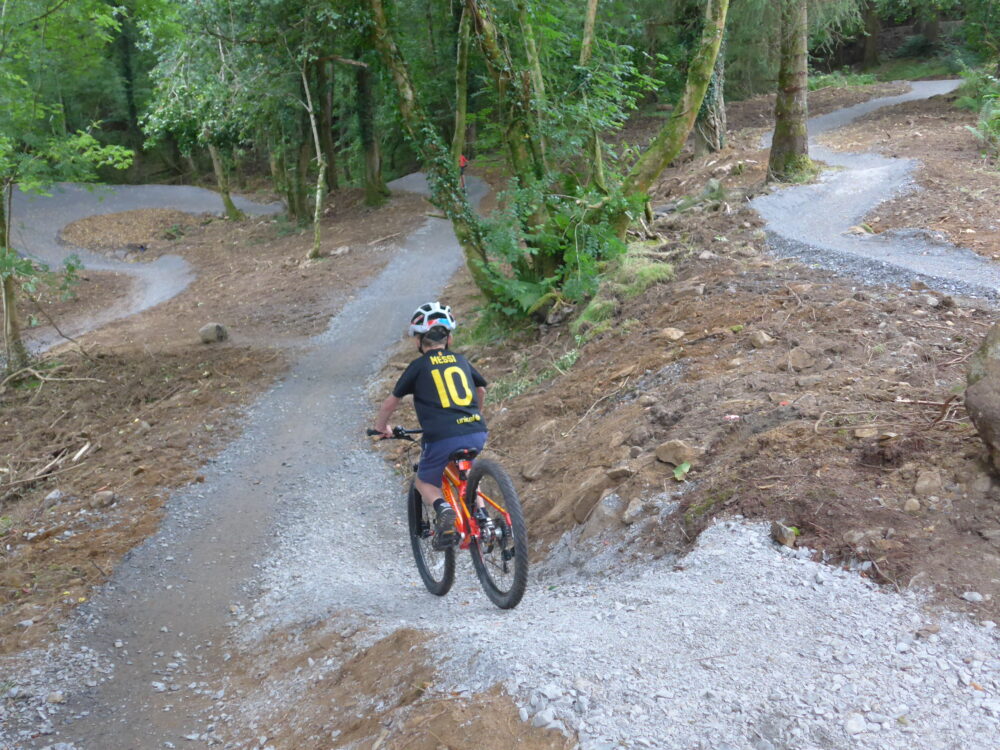 It's survived one high speed crash, when T lost control going too fast over some dirt rollers on a red route.   At the time the bike was unrideable (due to Karen testing whether the disc brakes were working without realising the wheel had come loose, thus pushing out the pistons and not allowing the disc back in!).  This was the point she really appreciated the lightness of the Creig 24, as she had to carry it for over 45 minutes back to the car park, and would have been cursing a heavier bike.
Review of the Islabikes Creig – the final verdict
The Islabikes Creigs have taken our boys from trail centre novices to confident mountain bikers who will happily do an all day cross country ride.  They are proper mountain bikes for kids – lightweight and comfortable with child sized components and suspension forks that work. They look great and the paintwork scrubs up well. Whilst not the cheapest (and in no way the most expensive) kids mountain bike on the market, Islabikes trademark attention to detail and quality shows in the Creig.
Where to buy the Islabikes Creig mountain bike
If you're looking to buy a brand new Islabikes Creig, you must buy direct from Islabikes – either in person at their Ludlow showroom, or via the internet. If you want to try before you buy and can't get to Ludlow, you can test ride the Creig at a number of cycling events around the UK.
There is a healthy second-hand market in Islabikes, as they really do keep either value if well looked after, although the Creig is much less common than the Beinn and Luath, as they don't yet have the same market penetration.  Ebay, and the Pre-Owned Islabikes Facebook Group are good places to look, although you may want to read our posts Buying a second hand kids bike before you set off down this route, as mountain bikes tend to get a lot more wear and tear than other types of bike.
Islabike Creig 24
Islabike Creig 26 
Accessories available for the Islabikes Creig
The Creig doesn't come with a bottle cage fitted. Whilst many young mountain bikers prefer to use a hydration pack to avoid a muddy bottle, if you do want a bottle cage they cost £4.99 with a colour co-ordinated bottle also available for £4.99.
A nice touch is the ability to have a transfer with your child's name on it for £9.99. This makes is much easier to find your bike if you turn up at an event and there's lots of kids riding Creigs.
Other articles you may like:
Disclosures:  Cycle Sprog were loaned the Islabikes Creig 24″ and 26″ mountain bikes for the duration of the review. We use affiliate links on this website, so some of the links may result in a small commission for us if you make a purchase. This doesn't affect the price you pay but helps us to keep the website going.