Islabikes Luath review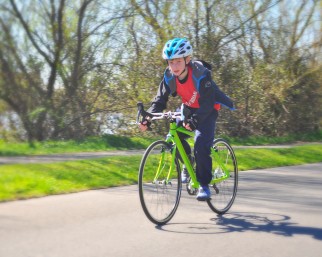 Islabikes, Islabikes…….If you head out on your bike and come across a family enjoying a cycling adventure, the probability of catching sight of a member of the Islabikes range is pretty high.  If you're on the road, and see a kid cycling past on a drop handlebar bike then it could well be the Islabikes Luath.
Over the past decade Islabikes have become 'the' kids bike of choice for discerning parents with the means available to invest in what is without a doubt, a high-end product. (Click here for our article about what's so good about an Islabike) In fact, such is the appreciation for Islabikes, an almost cult-like following operates through parts of the land, and woe betide anyone foolish enough to even consider mentioning the thought that an Islabike is not the greatest thing since home made sourdough bread.
Along with many others we've purchased Islabikes ourselves, used and abused them and after we have finished let others do the same. Islabikes products have always got up, dusted themselves down, and with a shrug of the handlebars rode off into the sunset – no fuss. They really are built that well.
But, there has been a revamp since we bought ours. An update. So the question now is whether the resilience and quality that Islabikes are famed for has been retained, or watered down to keep to a price point to compete with the new kids on the block. So in the face of ever stiffening competition, can the Islabikes Luath still cut the mustard? Luckily we've been sent an Islabikes Luath to review, so read on and see.
Islabikes Luath Review
Price – £449
Weight – 9.64kg (inc. pedals)
Gears – 8 speed Shimano STI
Type – Road and cyclocross
Handlebars – drop handlebars
Age – 9+ years old
Colours – Green and Red 
Accessories – waterbottle and cage, rack and panniers, mudguards
We like – A bike that has been well thought through, with a fine attention to detail and build quality that suggests it will take everything that young ones can throw at it and more. Excellent!
Buy Now

The Reviewer
For this one we sought the services of N, aged nine years, to put the Islabikes Luath through its paces. Having started to get into riding his way up hills, N was very keen to get the Islabikes Luath onto the predominantly wet black stuff to see how it faired.
What age is the Islabikes Luath aimed at?
Rather than just having a single Luath bike, Islabikes have developed the range from the Luath 24 (£450) through to the Luath 700 large (£550) so that anyone from approximately eight years of age up to adult can ride one. Our test bike, the Luath 26, is aimed at riders aged nine years and up, with an minimum inside leg measurement of 65cm.
Islabikes Luath 26 review – first impressions out of the box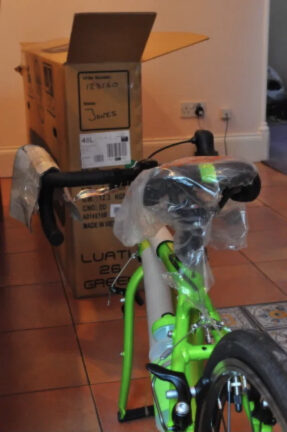 Woooooaaaaaahhhhhh!!!!!!!! Slicing through the packaging tape and lifting the carton cover was something akin to peeling back the lid on an ancient tomb with shafts of light bursting forth. However on this occasion the shafts of light stem from the unbelievably vivid green paintwork of the Islabikes Luath 26.
It is seriously in your face, but in an absolutely stunning manner. The paintwork is thick and rich of colour with a sparkle that really shows up in strong sunlight. A fellow parent commented on how it was perfect for being seen on the road. Ideal for making sure that two and four wheels notice you then! If you don't like the green then you can have the Islabikes Luath in any colour, so long as it's red! Saying that, it is a luscious shade and suits the bike well.
One worry when getting a bike delivered is how it will arrive after having potentially been knocked about in the back of a delivery van. With Islabikes the packaging is good, with plenty of cardboard and polythene employed to do a fine job of protecting frame tubing and vulnerable areas.
Once this has been stripped off there is very little required to get up and running. Just the fitment of the front wheel and popping the pedals on. Both tasks are explained clearly within the accompanying instructions and hopefully should not pose a problem. However, if this does cause you grief pop it down to your local friendly bike shop who should have it sorted in no time (although don't expect them to do this for naught unless you're a very regular customer).
Islabikes Luath components – some specs
The Islabikes Luath is based around a lightweight aluminium frame, with cro-moly forks that are nice and strong while also giving a compliant feel at the front that soaks up the bumps pretty well.
The geometry is such that the bike has been designed with versatility in mind, able to cater for all disciplines of cycling from road, touring, triathlon through to cyclocross. If touring is on the cards then rack eyes are fitted fore and aft as well as eyes for a set of mudguards. So you could fit panniers front and rear and head off into the sunset for that two week adventure!
Wheels and gears on the Islabikes Luath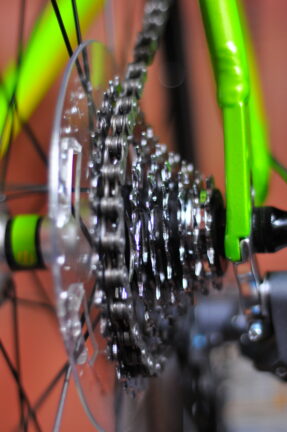 There is plenty of clearance between the wheels and frame so there should be no issues with fitting knobbly tyres for some off-road fun. The Luath 26 comes shipped with Kenda Kontender puncture resistant sturdy road tyres as standard, but other tyres can be specified during the purchase process.
Wheels are quick-release with an aluminium rim and hub exclusive to Islabikes and fitted with stainless steel spokes. They feel very strong and capable of dealing with the abuse likely to be thrown at them. There is also a wear indicator line on the rim to advise when they need replacing and considering these bikes are likely to get used a great deal and handed down through the family, this is a welcome addition.
The 8 speed gears are very easy to use. As this may well be the child's first bike with drop handlebars, they will need to learn how to use the combined brake and gear lever.   Our test rider had no problems adapting from using thumb shifters and twist grips on previous bikes and really enjoyed the ease of changing gear with the Shimano Sti combined brake/gear change lever.
At the back there is a Shimano Altus mtb dérailleur that works well, shifting cleanly in conjunction with the STI lever and the 8 speed wide ratio cassette (11-32 teeth). This has been carefully matched to the front chainring to keep you going whatever the terrain.
Braking on the Islabikes Luath
Braking is handled by Tektro Oryx cantilever brakes. There is plenty of clearance for frame and brakes so mud is banned from making a nuisance of itself. The brake levers are a great example of Islabikes philosophy, with short reach levers that are proportioned for small hands. These are supplemented by top mounted levers that are a real bonus, giving the ability to brake quickly whether hands are in the drops or on the top of the bars.
Brake cables are routed neatly with the rear cable running along the top tube rather than underneath which is a bonus for those intending to carry their bike on their shoulder, say in a cyclocross event or on/off trains, as there are no cables and mounts to dig into young skin. Plus if your child likes going off road, it keeps the cables away from the mud.

How much does the Islabikes Luath 26 weigh?
Islabikes have always been proponents of 'light is right' when it comes to making kids bikes and once again they deliver strongly. The Islabikes Luath 26 weighs in at a respectable 9.64kg so no feeling as though you're peddling a trailer full of scrap metal here!
A bike designed for kids, not adults
It's when casting your eyes over the Luath that you notice the attention to detail and the 'shrinking' of components that flows throughout. From the saddle and handlebars to the cranks, they've all been created and fitted with a smaller rider in mind.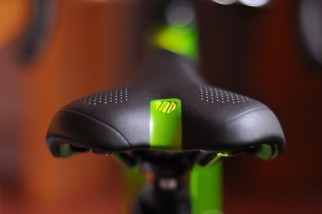 Having a comfy saddle to perch on is a necessity at any age, and our tester has ridden on this for a fair few miles with no complaints of numb bum whatsoever. It's child sized, so not too long or wide and seems to do the job well. The stem is 60mm long and known as a flip-flop, so can turned over to give a bit more 'rise' at the bars if needed. Bosses are fitted to the downtube, so you can fit a single water bottle to the frame.
Stealth branding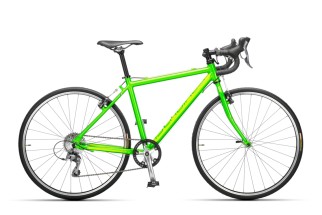 One of the first things I noticed about the new look Islabikes Luath was the distinct lack of visible branding on the frame. The new Islabikes logo's are fitted ever so subtly on top of the down tube such that with a bottle cage and bottle fitted it is actually very hard to pick out. Having taken the bike along to a cycle club, a number of parents were surprised as they hadn't realised that it was made by Islabikes.
Now I'm not sure if this is a conscious decision by Islabikes, but it brings to mind a couple  thoughts. Firstly, having your brand visible on your products helps to attract new customers. Parents in the market for a new bike for their child see a bike they like the look of out and about, see the name and register and log what they've seen for future reference and investigation. Also, kids like to copy what their friends have, so not being able to easily see the name may impact brand recognition.
However, the bike is so striking that once enough of them are out and about on the roads, tracks and trails, it will need no introduction.
Comments from Islabike Luath owners
We asked a couple of other Islabikes Luath owners for their thoughts on the bike – here's what they told us:
You asked me for my thoughts on the new look Islabikes Luath. What can I say it is lovely! It just works.
I believe Islabikes put more effort into the design and geometry of their bikes than other bike makers do for their kids bike ranges and the quality is consistently high. One important point – the Luath came with absolutely no reflectors of any kind and no bell! 
The Islabikes Luath 26 is light and fast with quality components and simple gear changing.
Really in my mind it is the best possible present you could buy a 9 year old.
In terms of cost they are really not cheap and you do want to be sure it is going to be well used. To help justify the cost, all Islabikes hold their value well. It is surprising to see what a second hand model will fetch.
View from the Sprog
Finally, what does our reviewer, N, think of the bike? He's ridden the Islabikes Luath 26 on roads and tracks for a number of months and is a real fan!
The gears feel just right for any type of riding and are a 'doddle' to change. It's really fast! The bike and saddle are comfortable and the brakes are really strong but not too sharp.

The colour is bright so it stands out. I really like it. Not seeing the name is a bit strange for the Company but doesn't bother me. A good bike in all.
Islabikes Luath 26 review: the verdict
The Islabikes Luath has long been seated at the top table as far as premium children's road/cyclocross bikes go and the new look Luath is likely to maintain this position. 
It is a kids bike that has been well thought through, with a fine attention to detail and build quality that suggests it will take everything that young ones can throw at it and more. Delightful!
The Islabikes Luath 26 can be purchased directly from the Islabikes website for £449.99.
Advert:  If you've got an outgrown Islabike that you haven't got round to selling on, why not get a quotation today from The Bike Club? They'll even send a courier with a bike box to come and collect it from you. 
Cycle Sprog was provided with the Islabikes Luath 26 for review by Islabikes UK.
Want to know more about cycling with your kids?
If you enjoyed this article don't forget to sign up for the Cycle Sprog newsletter to keep up to date with all things Cycle Sprog!
Other articles you might be interested in:
Please follow us on Facebook and Twitter.
If you've found this article useful then it would be great if you could share it with your friends. Thanks!