Here at Cycle Sprog we're passionate about helping more families enjoy cycling. One of the most important things that makes cycling fun is the bike you're riding, and that's why we're super keen on good quality, lightweight kids bikes that make pedalling an enjoyable experience. The only problem is that this type of bike doesn't come cheap, so it's great to see that leasing a kids bike on a long-term rental agreement is now an option for parents.
We all know that kids grow so quickly and buying a new bike (or even a second-hand one) every couple of years is a huge financial commitment. So it's not surprising that companies are starting to wise up to this, offering parents the option of leasing a quality kids bike which, down the line, can be exchanged for the next size up.
Take a moment to GRAB YOUR FREE KIDS BIKE BUYING CHECKLIST which will help you record all the information you need to find the perfect bike for your child. 
More and more parents are telling us that they're opting for a long-term bike lease. So we've decided it's time to take a closer look at these schemes and the costs involved with the aim of helping you decide if they're suitable for your family.  This article is fairly long, as we've tried to cover all sorts of topics about long-term rental of kids bikes, but hopefully you'll find it useful.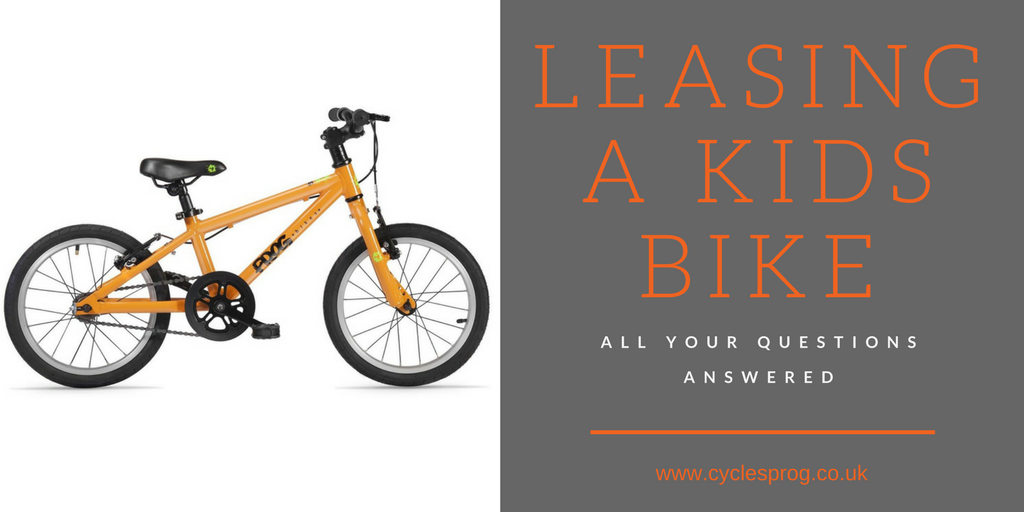 How does a kids bike lease scheme work?
Along the same model as car lease hire schemes, parents can make monthly payments in return for the long-term loan of a kids bike. You pick the right size bike for your child now, and when they've outgrown it you send it back and get the next size up. The attraction of bike rental schemes is that you can get a bike for your child without the need for an upfront investment, or worrying they will grow out of it in a few months. As with some car schemes, you may be offered the option of buying the bike at the end of the period for an additional cost.
Reasons why leasing a kids bike might suit your family
You aren't sure whether your child will enjoy cycling and want to "try before you buy" for a six month period
You can't afford the upfront costs of a quality kids bike, but can meet the monthly repayment schedule (subject to passing the credit checks) – this is particularly useful where you have more than one child and upfront costs for multiple bikes is significant (see costings below for more details)
Your child is going to grow into the next bike size soon, and you don't want to buy a new bike for such a short time of use
You're tempted to buy a bigger size bike than your child needs, so they can "grow into it" (which can put them off cycling as trying to ride a bike that is too big for you can be a scary experience). Much better to get them a size that fits now and exchange for a larger one when they've grown
You don't want the hassle of having to make decisions about buying a new bike for your child each time they grow
Your various children will only ride bikes of different colours so you'd have to keep replacing bikes
You're happy performing basic maintenance on a child's bike to keep it in good working order
Some families will have kids with overlapping sizes – one child may not outgrow their current bike before their younger sibling needs it. A lease scheme gives the option to have both children on the same size bike for a while
You're happy for your child to ride a secondhand bike (either now or in the future)
You want to limit the number of kids bikes sent to landfill by renting a bike rather than buying
You're willing to support start up businesses
You're living in the UK for a short time (min 6 months) and don't want the hassle or expense of buying bikes for all the family (note – this is subject to you passing credit checks in the UK)
Reasons why leasing a kids bike might not be the best choice for your family
You have a poor credit rating
You don't like performing basic bike maintenance
You want a particular make of kids bike that isn't available on lease
You enjoy spending hours, days or weeks, pouring over bike specifications and deciding which bike your child will have next
You want to customise your child's bike
You can afford the upfront costs or monthly repayments for a new bike and want to keep the bike at the end of the agreement period
Your child pushes their bikes to the limit on trails and bike parks – consider whether the bike you're leasing will withstand what they're asking of it
You will get stressed by the thought of your child damaging a rental bike
You need the bike in the next couple of days
You aren't willing (or able) to insure the bike under your own household insurance policy
Things to be aware of before signing up to a long-term rental of kids bikes 
You are entering into a legal and financial agreement with the supplier – make sure you read and fully understand all your obligations (i.e. payment terms, care of the bike, cancellation clauses)
Is the supplier you're signing up with registered with the Financial Conduct Authority (FCA)?  Reputable schemes will be. This will give you piece of mind that you're not going to be put at risk financially (e.g. payments suddenly going up). If you do have an issue with the supplier you can turn to the FCA to help. A quick search on the FCA register will tell you if the scheme is registered or not
You are responsible for returning the bike at the end of the rental period in a well maintained state. If it's in a bad state of repair you may have to pay extra repair charges (general wear and tear is acceptable – having had your dog eat the saddle or child repaint the frame isn't)
You have to insure the bike against theft/loss. Make sure you discuss this with your insurer so you know it's covered under your policy
You may be able to get a credit agreement with a bike shop or on-line retailer for similar monthly payments, which will give you a wider range of bikes available
All these schemes are new and their long-term business model hasn't been proven yet
Start up businesses can have problems of supply and demand, so you are relying on them having the correct size bike in stock at the time you need it
It's not unheard of for new businesses to have teething problems with IT systems and delivery suppliers, which can affect your experience as a customer
You have to meet the credit check requirements for the lease hire scheme, which may preclude people who aren't able to buy a new bike on credit schemes
On a quality kids bike you may be missing out on the resale value of the bike (more about that later)
Not all kids bikes are created equal – consider whether the bike you're being offered will be in a fit condition when you're asked to return it
AFFILIATE DISCLOSURE:   When you buy through links on our page we may get a small commission if the retailer has an affiliate scheme. You can find out how this works in our affiliate policy. Thanks for supporting us in this way! 
Schemes for leasing a kids bike in the UK

The Bike Club, founded in spring 2016, have taken the kids bike market and shaken it up with their leasing model (others are starting to follow!).  They have partnered with Frog Bikes, so are able to offer parents an excellent quality kids bike for a reasonable monthly payment. Originally servicing the South East of England, they are now expanding nationally and are fully accredited with the Financial Conduct Authority.  The Bike Club is proving increasingly popular with parents keen to ensure their kids are riding a quality kids bike, and want the flexibility to exchange bikes as their child grows.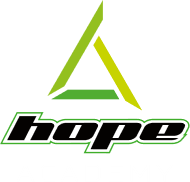 Established at the start of 2017, Hope Academy are a part of Lancashire based Hope Technology – makers of high quality mountain biking components. Hope Academy are offering high specification kids bikes fitted with Hope components (from balance bikes through to 26″ wheel mountain bikes) for a monthly fee.  Hope Academy is likely to appeal to serious mountain bikers who want their 'mini-me' to be riding a top-notch bike with a serious specification, but with an understanding of how much it would actually cost to customise a bike that is going to be grown out of in such a short period of time.
Do Islabikes do a leasing scheme?
No. Islabikes current range of bikes are only available for purchase.
However, Islabikes are currently working on a new and exciting project creating Imagine kids bikes, which will be available on a 'rental only' basis. This venture, known as 'The Imagine Project', is a long-term environmental vision, aimed at creating children's bicycles in the UK from locally sourced, sustainable and recycled materials that have been designed and engineered to last 50 years or more. It will be a number of years before they're commercially available.
Other places to find long term kids bike rentals
Some local British Cycling Go-Ride and other junior cycle clubs offer long-term bike lease or loan, especially for junior racers within their team.
If you know of other long-term kids bike rental schemes, please let us know and we'll add them in.
How does the cost of a lease compare to the cost of buying a bike?
There are a few things you need to factor in when considering the overall cost of a long-term lease scheme:
monthly payments
upfront membership costs
shipping costs
fines added if you return a damaged or poorly maintained bike
any additional costs that the scheme may add on
For example, The Bike Club charge an additional £1.50 per month to guarantee you a new bike, plus they also give you the option to buy the bike at the end of the rental period.  They also offer discounts if you're renting more than one bike at a time.
When considering the cost of a new bike you need to take into account:
any credit charges you may incur
shipping costs
resale values
Costs of renting a Bike Club bike vs buying new
PLEASE NOTE ALL COSTS WERE CORRECT IN SEPTEMBER 2017 WHEN THIS ARTICLE WAS FIRST PUBLISHED.  PRICES WILL HAVE CHANGED SINCE THEN, BUT THE SAME PRINCIPLES APPLY. 
As the Bike Club are the biggest scheme in the UK (and at the time of writing the only one regulated by the FCA), I've decided to focus on their pricing structure. Obviously, every bike size is slightly different and prices change, but I've done a detailed comparison of one example from The Bike Club against a comparable new bike – the Frog 55.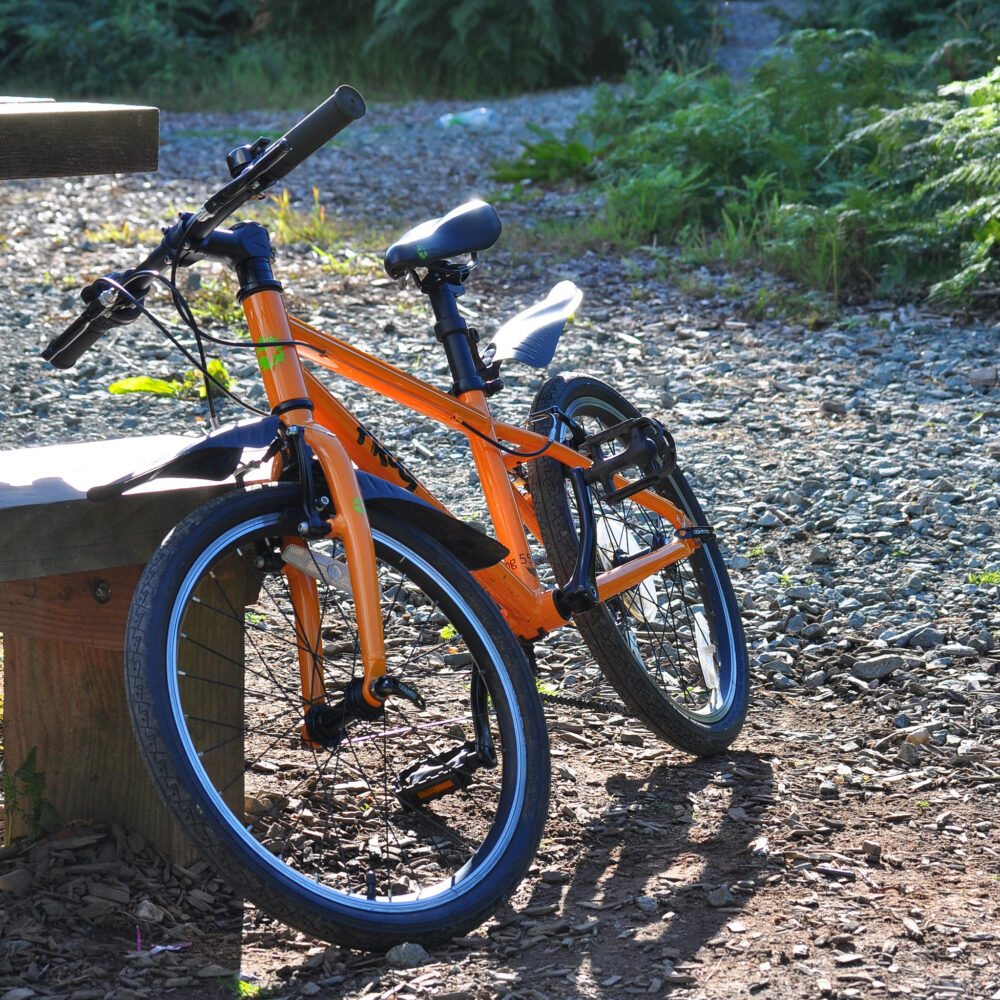 The Frog 55 is a great bike that we've used extensively and would have no problem recommending to you, either as an outright purchase or rental.  You can read our review of the Frog 55 if you're interested in knowing more.
The RRP at time of writing is £310 and they hold their value well, with many second-hand Frog 55's on ebay selling for over £200.  This gives you a total cost of ownership of just over £100 on a new bike that is then resold. This could be even less if you buy second-hand and then resell on.
Leasing a kids bike – costs of a Frog 55 with The Bike Club
With the Bike Club rental you pay an upfront membership fee of £15 and £19.99 for delivery of the bike.  Monthly rentals are currently £10.80 per month for a refurbished Frog 55.  This means your upfront payment is just over £45 – significantly less than the £200 to £310 you need to buy one.
This becomes a far bigger differential when you start to add in more kids, and The Bike Club will offer a 10% discount for siblings. If you've got two, three or more children, you need a significant up front investment to buy them all a bike outright. As most people with more than one child will be getting different sized bikes, the sums get complicated. To keep this as simple as possible, I'm sticking with a single bike example here, but if you go right to the end of this article there's a multi-bike example which helps to show the flexibility of the scheme, and shows how you may get the equivalent of a free bike over the course of your upgrades.
Back to our single bike example, if you only want to keep the Frog 55 for the minimum contract period of 6 months, then you'll currently pay £99.79 for the upfront and monthly fees to use the bike during that time.  You do need to pay to send the bike back (lets assume it's going to cost the same as delivery at £19.99) so total cost would come in at £119.78 for use of a refurbished Frog 55 for 6 months.
You could have opted to pay an additional £1.50 per month for use of a new bike (total £129.78).   That's less than 40% of the cost of a new bike, which is good value if your child has grown out of it, decides they don't like cycling, or only rides over the summer months. This total is broadly comparable with depreciation when buying new and selling on (although there is always a risk that you may not get the price you want when selling – you may lose 15%, you may lose 60% – and you may not be able to sell at all!).
If (and this is a big if, which we'll cover later) your child keeps the same bike for the full two years of the agreement period, you will end up paying an additional 18 months of rental payments, taking the total cost to £294.19 for 2 years.  By this time, you've almost paid the entire cost of a 'new bike' for the use of a refurbished bike that has to be returned (again factor in a cost of about £19.99).
Unless you're flush with cash, you'd be thinking very carefully about whether to send the bike back at the end of the two years, as you'd have no asset to sell on (remembering it could be worth well over £200 if in good condition).
If you decide you want to keep the bike then you can pay an additional 3 months rental (£34.20) – bringing the total cost to £326.59 for the refurbished bike.  If you'd opted for the additional £1.50 per month for a new bike, then you'd have paid £334.69 for the long-term rental over two years, and with you owning the bike at the end.
So, looking at these sums it's clear that the long-term lease on a single bike works out cheaper if:
a) you're going for a short-term loan of 6 months, or
b) swapping for a larger size before two years is up, or
c) you keep the bike for 2 years and purchase it, (when it more or less evens out).
It makes no sense financially if you rent the same bike for two years and send it back, as you do not have an asset and so lose out on the £200 resale value – so it's worth paying the extra small payment and gaining the asset.  However, one of the target markets for The Bike Club are affluent families where both parents work and are cash rich but time poor. The 'time and hassle' savings of having someone sort out your bike choices and arrange to take away the old bike may outweigh the financial loss of £200 for such families.
Costs of buying a Frog 55 
As previously mentioned, the RRP of a Frog 55 is £310 and can be bought online from retailers , or from the huge network of local Frog Stockists.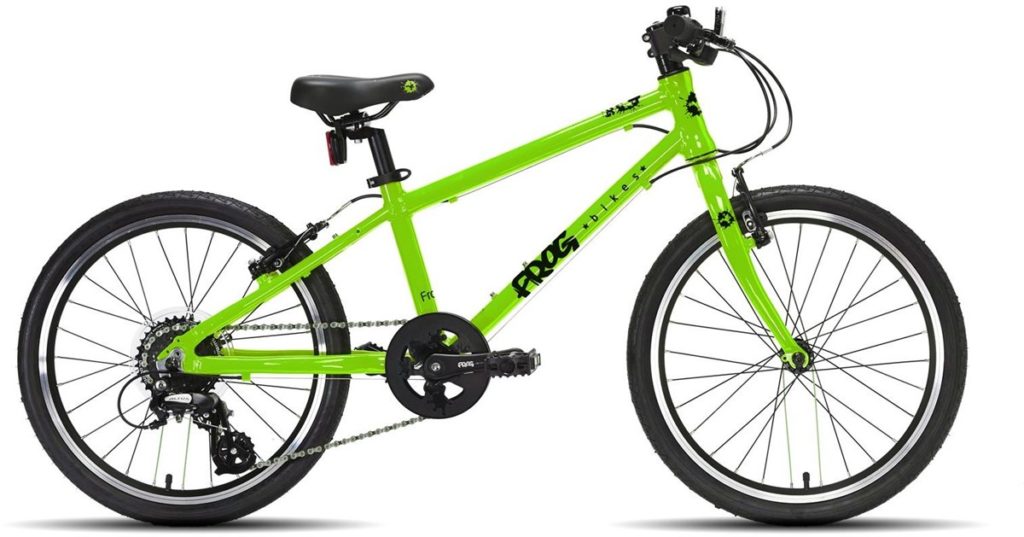 Used Frog 55's on Ebay tend to be around £200-£220  depending on quality and time of year.
If you want a new bike without the upfront costs the alternative could be to buy under a scheme that allows you to spread the monthly payments.  As an example Tredz offer a variety of financing options (most bikes shops offer some sort of financing). Plugging in a couple of figures into their calculator it appears that on the 0% finance option, I would pay either £26 per month over 12 months or £52 per month over 6 months. With no delivery charges, the total cost remains £310.
On their longer payment terms Tredz charge an interest fee. Their calculator tells me that with the current APR of 15.9% I could pay £15 per month over 24 months (with a total cost of £360) or £11 over 36 months (with a total cost of £386) – although my child is likely to have grown out of the bike in 3 years.
Obviously in both these cases I would then own the asset to sell on, but I'd be locked into the deal and can't send the bike back if my child outgrows it or just doesn't use it.
It goes without saying, you'll need to do the sums for whichever bike you choose, as each size has a different rental and retail price.  If you're thinking of the Frog 55 please check that the monthly prices, bike RRP and resale values haven't changed from when I last did the sums (September 2017).
It's not purely about the finances on one bike
Yes, a like for like comparison on the cost of one bike is important, and for some families this will be the deciding factor, but there are a few other considerations.
For families with more than one child, our example at the end of this article explores some of the more flexible options around exchanges and hand-me downs.
When your child outgrows their bike the process is there for you to follow. The hassle is removed – you just contact the Bike Club, who help you arrange the return of the Frog 55 and send you out the next size bike (the Frog 62 in this case) .  Your payments will increase slightly, and there is a small handling charge, but you don't need a further upfront investment (the Frog 62 costs £330).
We all know that children grow quickly, and the beauty of a lease scheme is that you can exchange the bike when ever your little cyclist has a growth spurt (or decides they're ready for gears, drop handle bars etc).  If you've bought a bike you're responsible for selling it on, and there's no guarantee you'll get the funds you need for the next size up. If they grow before you've finished paying for it, you're locked into the payment schedule for an unridden bike.
As mentioned at the start of the article, The Bike Club has only been going since Spring 2016, so it'll be interesting to see how their customer service and supply performs when large numbers of customers want to exchange at the same time (for example at the start of spring when the weather improves and everyone realises their children have grown over the winter).
Here at Cycle Sprog we think everyone should cycle at every given opportunity, but if you find your child just isn't using their bike you can always send it back after 6 months (before you do, why not take a look at our "Get Cycling" section for some inspiration).
We also think that having that monthly outgoing on your bank statement focuses the mind – you're seeing the money go out of your account each month, therefore you're likely to make sure your child is getting value for money out of it (although that never seemed to work for my gym membership!)
If your child really takes to cycling, and you find they're wanting to branch out into a specific discipline such as mountain biking, road, track, BMX or cyclo-cross, which demand a specific type of bike, you can return the bike and cease payments (or swap for a more appropriate model).
One thing worth thinking about with The Bike Club is that they lease out the Frog road /cyclocross bikes, so this could be a great way of getting one for 6 months to see if your child makes the transition to drop handlebars successfully, without committing to a purchase.
It takes between one and two weeks for The Bike Club to dispatch your bike, so take this into account if you're thinking of getting one for a birthday surprise. At Christmas they are likely to be very busy, so expect longer timescales.
Leasing a kids bike – is a long term rental scheme for you?
As you can see there are lots of factors to take into account when deciding whether such a scheme would work for you, or whether a new or second-hand bike would be a better option.   If you do decide to go ahead with a long-term lease, then remember to read the small print before signing on the dotted line – be clear on the cost of the monthly payments and also their duration. Then get out and enjoy cycling!!!
MULTI-BIKE EXAMPLE WITH THE BIKE CLUB:
OK – we said this was a bit complicated, but assume this scenario:
You have two children who need bikes – one wants a Frog 55 and one a Frog 48. In the future you will need to hand down the 55 to the younger child and get a Frog 62 for the older child.
Purchasing new option:
To buy new, it will cost you £310 for the Frog 55 and then £250 for the Frog 48.  At this point you've spent £560. When the oldest one outgrows the 55, you buy the Frog 62 (this costs £330).  You should be able to get at least £130 back for the 48.  We assume the younger child graduates to the 55 at the same time or later, and is happy with their older siblings hand-me-down bike and colour choice.  So in total you have spent about £750 on bikes.  Note, you hit a problem if your younger child is ready for the Frog 55 before your older one is tall enough for the 62.
Bike Club option:
With the Bike Club it will cost you £15 joining (you join once for the family, not per child), £15 for delivery on the Frog 48 and £19.99 for delivery on the Frog 55 – so £49.99 upfront expenditure (compared to £560).
You're then paying £12.30 for the 55, and £9.09 for the 48 with the 10% family discount, which is a total of £21.39 per month.  Let's assume that after 12 months both children have grown and you need to exchange, so that's £15. So you send back the Frog 48, the Bike Club send you a much needed Frog 62 and the family discount moves on to the Frog 55.  So at that point you've paid out £321.67 (compared to £750 owning) and you are paying £24.12 per month going forward.
In another 12 months you will have paid a total of £611.11 and you can opt to buy the Frog 55 so you would get the resale value on this bike. This adds on another 3 months payments (£36.90).  Let's assume you get about £175 back on the 55 (it's done two kids by now, so may not get the top resale value), this means you've spent under £480 over the two year period – a saving in the region of £250 (the cost of a new Frog 48 – so in this example you're saving yourself the cost of a bike!) Note however, if your youngest isn't big enough for the 55 at the same time your eldest needs the Frog 62, you'd need to send the 55 back, and then exchange the 48 for a different 55 later on, meaning you'd lose out on the option to buy, and incur an additional £15 exchange fee.
We're also comparing new bike costs with refurbished Bike Club costs. The differential is much less if you buy a second hand bike.
This is why it's so difficult to do a like for like comparison! What the above does demonstrate is how the optionality demonstrated by the Bike Club can benefit members with more than one child.  You can obviously change the scenarios to fit your family, and see what works for you.
BLACK FRIDAY DEAL AT THE BIKE CLUB :
Sponsored content start: 
If you have an old kids bike you've been meaning to sell on, then The Bike Club also have a hassle free way to do this, called reCycle.
They will even send a courier with a box to pick it up!  Get a valution of your old bike here.  

Sponsored Content End
If you've enjoyed reading this article, please do sign up for our newsletter - we'll keep up updated when we have new articles which may be of interest. Thanks! 
Other articles you may find useful: