How does the Bike Club work?
A user guide to subscription kids bikes
Join the (Bike) Club
You can now get so many things on a subscription - from underwear to coffee, cars to music.  So if it works for everything else, then why not kids bikes?
Enter Bike Club!  A hassle free way to ensure your child is always riding a correctly fitting, quality bike.
The process is simple. Go the website, choose a bike, and it will be delivered to your door so you're ready to ride.
Pay a monthly subscription and when your child outgrows the bike, you can easily swap it for the next size up.
However it can feel a bit daunting taking the leap to "not actually owning" your child's bike, so the Bike Club have asked us to be your guide as we de-mystify the process and review the various stages of using their subscription service.
Disclosure:  Please note Bike Club have paid us to write this article, but we only work with companies we'd be happy to use ourselves or recommend to our friends and family. And in the case of Bike Club, LOADS of our friends, family and even our team use them for their bikes!
Review of how the Bike Club works
Let's jump in at the start and go shopping!
The Bike Club operate entirely online, and have an easy to use website.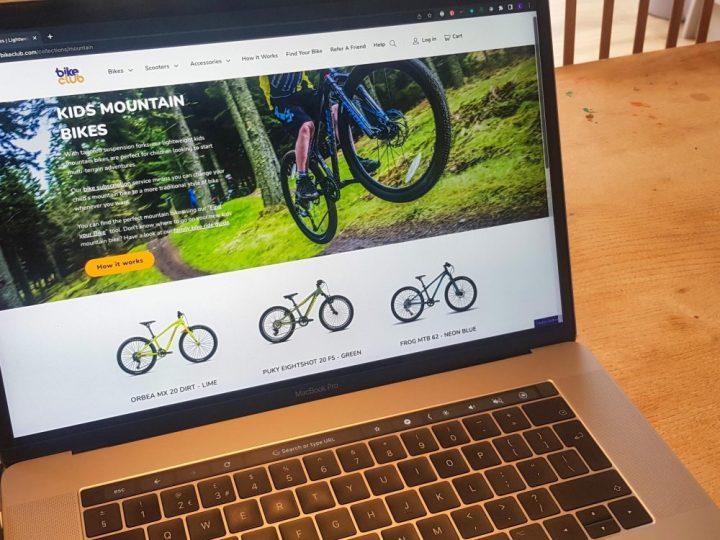 They stock all sizes of bikes from tiny balance bikes through to mountain bikes, BMX's, and road bikes, so there really is something for all ages and abilities.
One of the simplest ways to work the Bike Club website is to use the bike finder where you can pop in an inside leg measurement and get suggestions of bikes that are the right size, and that are in stock.  
You can also browse the bikes by brand, age bracket, or type of bike by using the menus to filter through their stock, so if you know exactly what you're looking for you can go straight to it. 
The excellent news is that they only stock good, well-respected bike brands, most of which we have tested here at Cycle Sprog.
This takes most of the worries out of the process of buying a child's bike as you won't find a shoddily made bike-shaped-object here - only the likes of Forme, Frog, Squish, and Woom to name but a few.
Select a new or ReBike
Bikes are available as new bikes or reconditioned bikes, which are known as "reBikes", and you'll be presented with the choice once you've selected the make, model and colour of the bike you're interested in.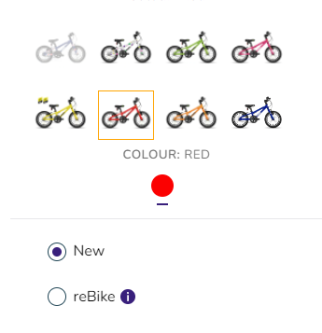 reBikes have been used by other members, who have outgrown them.  A reBike comes with the same guarantees of quality as a new bike and are fully serviced.
You pay slightly less for a reBike plus have the comfort of knowing you're doing your bit for the environment at the same time.
Depending on stock levels sometime you get to choose between New and reBike, sometimes you have to go with what they have.
Need extra help with your Bike Club order?
The online customer service chat is quick and easy to use, so questions on sizing, bikes and delivery are easily dealt with.  
You just need to click the purple chat box in the bottom right of the screen and choose your topic, and they'll connect you to someone who can answer your query.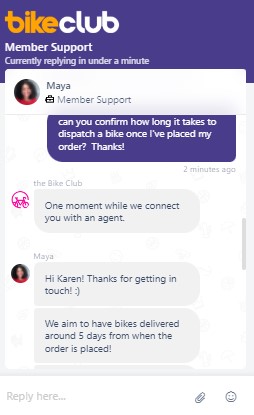 If you prefer to speak to someone then the contact number is published on their website.
Chosen a bike? Good. Time to pay!

Credit checks and finance
Let's try and keep this bit simple!
Once set up, the Bike Club take a direct debit payment from your bank account for a fixed amount each month.
If you return the bike and don't choose another bike, the payments stop.
If you upgrade to a different category of bike the payments will change (you pay more for a mountain bike than a balance bike!)
I've got a direct debit for my milk delivery. I now have one for a kids bike. Now I think about it, I pay more for milk per month than for the bike...
But what about the credit checks?
"Soft" checks are done before a direct debit is set up with your bank, but don't affect credit ratings and don't ask you for any additional information.
It's therefore prudent to consider your application for a subscription as "pending" until this check has been completed.  If you do not pass their checks your application will be declined.
Give yourself time for these checks if you're ordering for a special occasion such as birthday, Christmas or annual holiday.
Why might I fail a credit check?
Bike Club use a reputable credit ratings agency to perform the checks.  You'll have problems if you have a County Court Judgement (CCJ),  have a very low credit score, don't have a credit file in the UK or don't have a UK bank account.
Other things that might affect your application include having ordered a large number of bikes over a short period of time, or in multiple orders, placing orders from multiple email addresses, having outstanding arrears on previous or current rented bikes or scooters, or your IP address being a long distance from the delivery or billing address (so switch off your VPN before ordering!)
Do I pay to return the bike?
If the bike is not suitable from the start you can do a free swap within the first 2 weeks.
If you've had the bike 18 months or longer and are swapping to the next size up there's no charge - Bike Club will collect and replace the bike free of charge.
If you're returning the bike and leaving Bike Club, or swapping before 18 months, then there is a charge (currently £25).
What's in the box?
When the bike arrives you just need to straighten and tighten the handlebars and possibly add the pedals then you're ready to go!
If you've requested tools to do this then a set of allen keys and a pedal spanner will be included in your box.
There are also some clear instructions of how to get the bike ready for use, and if you've got any queries you can use the chat functionality on Bike Club's website.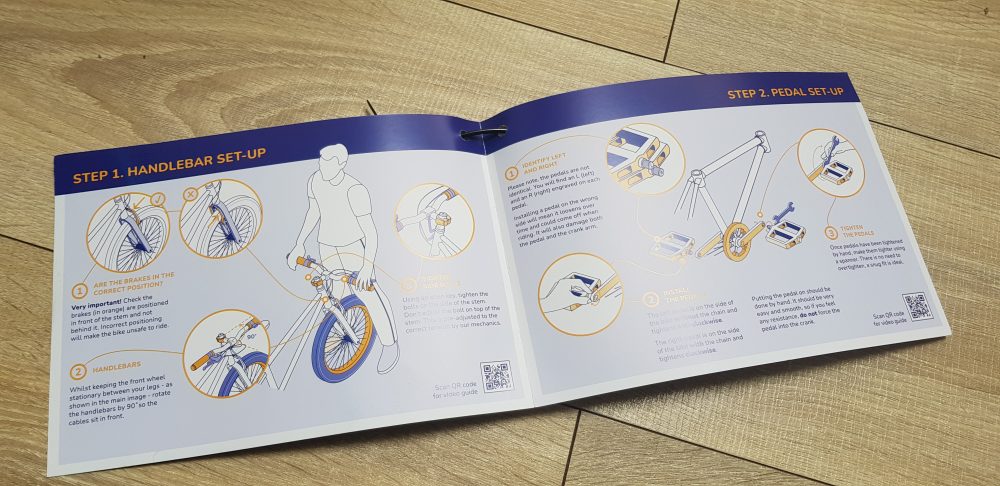 Within minutes you can have the bike up and running, or should that be rolling?
Swapping your Bike Club bike for the next size up
Part of the convenience of a Bike Club subscription is that you can very easily swap to the next size bike as soon as the current one is outgrown.  This peace of mind that your child is always riding a correctly sized bike is one of the big benefits of Bike Club membership.
No more knees hitting the chin when they've grown, or toes dangling dangerously off the ground on a bike "they'll grow into".
When the time comes to swap you just need to remeasure your child and then log into your Bike Club account and follow the instructions on line to choose the new bike.
The courier will arrive, deliver the new bike and take the old one away in one smooth manoeuvre, so your child is never left without a bike.
As mentioned above there is a fee for this process if you're swapping before the end of the 18 month period, but it is free if you realise you've ordered the wrong size within the first 2 weeks.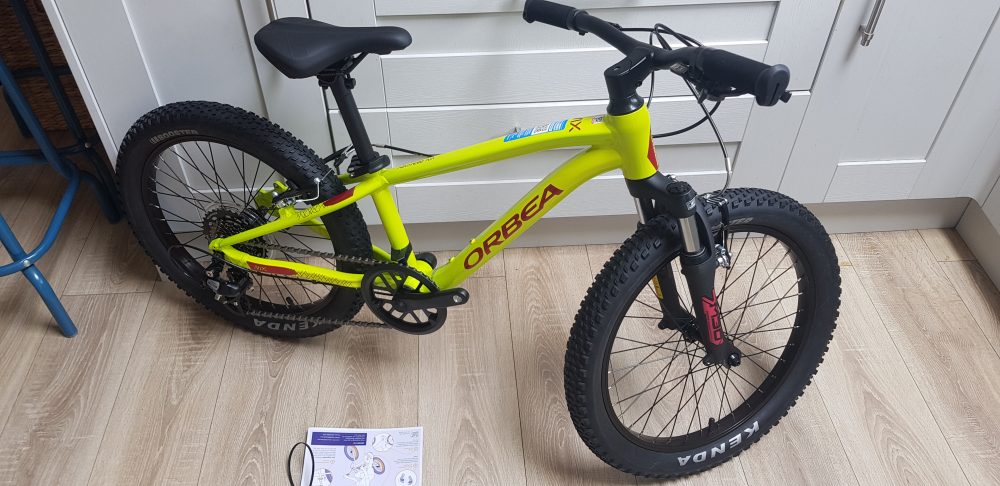 Looking after your Bike Club bike
As part of the T's & C's of the Bike Club you do need to make sure you look after the bike, so they can pass it onto the next rider.
This is no different to maintaining the good condition of any bike for year round riding.  Make sure the chain is well oiled and the tyres pumped up, and keep it secure and clean.
If you're not comfortable with this sort of thing speak to your local bike shop, who will be able to offer a quick once over for a very reasonable price every 6 months or a year, depending on how often you're using it.
As all the bikes in the Bike Club fleet are from premium brands you have the confidence they're built to last, so beyond routine maintenance there shouldn't be much to do.  And, if you do hit any problems you just need to log on to the chat on Bike Club's website for advice on what to do.
Need more than one bike?
If you've got more than one Cycle Sprog in your family who wants a bike that's no problem.
You can order more than one bike when you first subscribe, or add in additional children as you need to by logging into your Bike Club account.
If you're joining up children from or via different households (a popular option for grandparents!) or want each subscription to be paid out of a different bank account just get in touch with the customer service team and they'll be able to help you with these more complex transactions.
Bike Club Plus
For an extra £2 per month you can sign up for Bike Club Plus for additional peace of mind.
This is an insurance scheme that provides:
Accidental Damage Cover - such a frame or component damage, rust etc that may incur an additional charge when you return the bike
Repair Cover -  any reasonable repairs you need to make with your local dealer. You need to agree the work in advance with Bike Club and once the repairs have taken place they will reimburse you the service and repair costs
Total Loss Cover - if your bike is lost or stolen the entire value of the bike is covered, minus an excess (ranging from £30 to £110 depending on type of bike). For stolen bikes you need to provide a crime reference number.
It's worth considering Bike Club Plus if your home insurance policy doesn't provide cover for subscription bicycles.
Pedal Points
It's worth signing up for Pedal Points at the earliest opportunity, as you can redeem these against future bikes or accessories.
You gain points for things such as following Bike Club on social media, referring a friend, having had a bike for a year, leaving them a review.  It all adds up over the years and can lead to months of free cycling!
Is the Bike Club for you?
Bike Club's subscription service is designed to take the hassles out of kids bike ownership, giving you peace of mind that your child is always riding the correctly sized bike.
Their website is very easy to use, and it's all backed up by real people at the end of the phone or messaging chat if you need further advice.
The swap functionality means you're never left without a bike, and they only stock quality bikes to ensure maximum enjoyment and comfort for your child.
If you're still not 100% certain, check out this article where we look at the pros and cons of Bike Club subscription in more detail.
Keep up to date with the latest Cycle Sprog articles
Sign up to receive our newsletter straight to your inbox.
Everything you need to know to keep cycling through winter